Are you looking for a burner you can take on your family trips and use in versatile environments?
Then a portable electric burner is just what you need!
Keep reading my post to find out all about the designs and beneficial features that the 15 best models on the market have to offer. Compare their prices and find a model that meets your needs the best.
The Rundown
Portable Electric Burner: What Is It Exactly?
This is a unit that comes smaller in size and with a lightweight design. They can come in size between 10 and 25 inches, while their weight can be up to 22 pounds or less. Thanks to these specifications, it can easily be carried around, transferred, and stored.
Hot Plate, Stove, Or Burner?
A portable model is often called a hot plate, stove, and burner. Here are the explanations of the all confusing terms regarding this topic.
Hot Plate is a modern and portable appliance with a flat surface and cooktop. It can be used both indoors and outdoors and powered by electricity or gas. This model can also be found under the names portable electric stove and burner.
The countertop stove is a classic kitchen built-in cooktop.
A countertop burner is a type of hot plate that is specially designed for stable and secured countertop usage only. It can be used in both home and professional kitchens.
Portable Stoves: Electric vs. Gas
Portable stoves that use electricity may feature electric, induction, or infrared cooking operation with hidden coils, a more modern design, and smaller size. These models are ideal for home use. Gas stoves are mainly designed for commercial or outdoor use. They have an industrial design, exposed coils, an open flame to heat up and cook, as well as high power. Gas stoves need 4 minutes to boil water. Electric models do that in 7 minutes.
What Do I Get If I Buy This Portable Burner?
Additional burners while you're preparing big meals, a small appliance which you can use anytime you want and then store in the cabinet, a great camping stove you can use for preparing simpler but hot meals – pick the reason that suits you the best!
How Can I Use These Models?
The list of choices is endless. Here are the most usual types of portable models which can be used basically anywhere, depending on their wattage power.
A camping stove is one of the portable models designed specifically for camping trips. They come with low power so they can be connected with the portable accumulator. Such camping stoves are suitable for boiling water, preparing coffee, as well as simpler meals.
RV low-wattage hot plate is suitable for use in RVs as there, you have limited power source. They usually feature one or two burners and they are perfect for cooking both simpler and richer meals.
Additional home burner is great if you have a bigger family. This model comes with higher wattage as it can be used with a classic power source every household has.
Small or mini models are ideal for apartments, especially if you don't have space for a classic kitchen stove. They will do their job as they are suitable for any type of cooking operation.
Classic outdoor hot plates are also considered to be portable models. They do need a power source to work, however, you can easily place them in your backyard as you're preparing grill or steaming vegetables.
3 Types Of Cooking Methods: Here Is What Options They Offer
We already mentioned 3 different electric models that are considered to be portable burners. Now, before you get such a model, you need to find the one that is suitable for your needs, preferences, and – purpose of use.
The classic electric cooking process is the most usual operation a burner can have. It needs about 10 minutes to boil water, can withstand up to 50 pounds of weight, and is suitable to work with any type of cookware.
An infrared cooktop is made to use the combination of halogen lamps and radiant coils to transfer the heat to the cooking pot. This model combines ceramic and glass cooktop, but it can withstand up to 7 pounds of weight. On the other hand, it needs about 4 minutes to boil water and is suitable for any type of cookware.
Burners with induction operation are the most energy-efficient models. They use electromagnetic waves to turn the cookware into their own heating sources. These models are the safest type of burners and they need less than 4 minutes to boil water. However, they require special cookware that features magnetic bottom.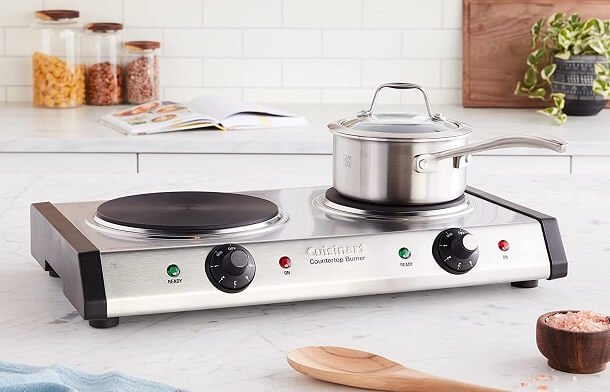 Electric Burners Designed For Mobility: Specifications In Common
Despite the fact there are 3 different types of electric models, here are the specifications and functions that make them stand out – design, construction, power, and more!
Designed For Easy Use
The best portable burners that use electricity as their main source of power come with simple dials which make them easy to use. You don't need to waste time on setting these burners. You just need to set the temperature and/or wattage, and that's it.
Construction Compatible With Portability
Portable models are often carried around so strong construction is a must. Most such electric burners are made of sturdy metals such as stainless steel and cast iron. These materials contribute to the strongest and most durable housings.
Cooking Capacity
Whether you wish to cook only for yourself or for more people at once, cooking capacity is one of the factors you need to consider. You can choose between single or double burners. Some models come with 3 burners too, however, they are often really big in size so they aren't exactly easy-to-carry plates.
How Powerful Can A Portable Model Be?
A single model burner can come with 600 to 1,000 watts of power. This is great for traveling and camping. On the other hand, double burner models usually come with 1,500 to 1,800 watts. Such models are more suitable for home use. Make sure to check the wattage of the model you like so you get the right one for your needs.
Great Feature: Adjustable Wattage Power
Now, this is a great factor if you want to get a 2-in-1 portable burner and use it both home and while camping. There are models that come with up to 15 wattage levels so you can set and adjust the unit to use that one specific wattage power – you can usually choose from 100 watts and up.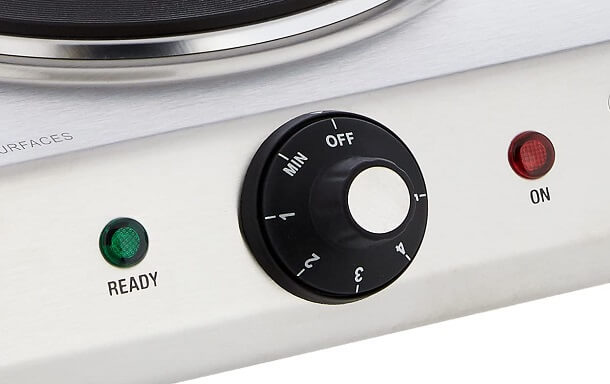 Do Portable Hot Plates Use A Lot Of Electricity?
That depends on the model and its wattage power. For example, a 600-watt model will use 0,6 kWh if it is set on the maximum heat. On the other hand, an 1,800-watt electric burner will use 1,8 kWh. That's why it is important to know the purpose of use before you buy it.
High-Temperature Range Provides Versatile Cooking
These models can have a range of temperatures from 100 to 500 Fahrenheit degrees. The temperature is adjustable on every model and usually, you can choose between 6 to 16 different levels of heat.
Affordable Models Ideal For Everyone
What is great about portable electric models is the fact that they come in a price range from $30 to $180. That means that you can easily find the right appliance within your budget.
What Can This Model Offer Me Regarding Cooking?
Both high wattage and low wattage models can boil water, cook soup, fry, and steam. The only difference is in how long does it take them to do so.
Can I Use A Griddle?
Yes, you can. A griddle is a great cooking tool that only needs to be placed on the cooktop of a portable burner and that's it.
Best 15 Portable Electric Burner Reviews
Sunavo Electric Hot Plate
Single Burner Volume
This portable electric hot plate features a powerful 1,500 Watt 7.1-inch heating element. It offers 6 different temperature levels you can easily adjust to your needs. It is suitable for use with versatile cookware as long as it is no larger than 7.5 inches in diameter.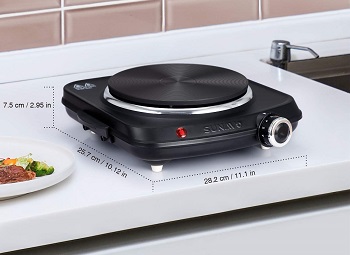 Safe To Use
You can be sure that this 1500 Wattage model is perfectly safe to use. Its non-slip feet give it the needed stability, cool-touch handles prevent accidental heat burns, overheat protection maintains the cooking temperature at the set level, etc. You can choose between a silver and black color.
CUKOR Cast Iron Hot Plate
Convenient Size
What makes this model such an amazing choice for camping trips is its convenient, compact size. It features a single cast-iron burner that offers exceptional conductivity. Its only restriction is that you can use it with versatile cookware that is up to 22 pounds heavy. Read more about camping hot plates and choose the best one.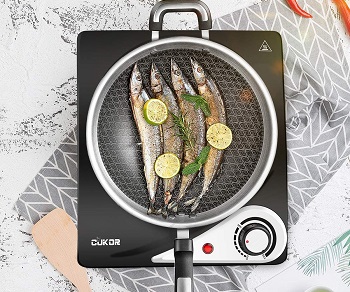 Multipurpose Use
This is another portable electric burner for camping you can use to boil water, cook soup, make stir fry, etc. It is even compatible for use with BBQ grill plates. Thanks to its size, it takes up very little storage space.
Oster 2 Burner Hot Plate
Double Volume
This portable 2-burner electric stove features one larger 900 watts burner and one smaller 600-watt burner. Both provide amazing performance and are highly conductive. Its compact size makes it great for use in kitchens as well as RVs, offices, dorm rooms, etc.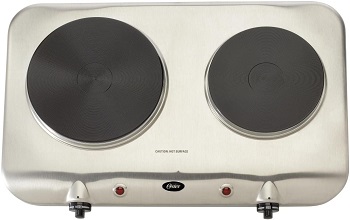 Independent Controls
Each burner comes with independent temperature controls you can adjust to your needs. The additional light indicators keep you informed about the burner's current status on this unit.
Cuisinart Countertop Burner
Stainless Steel Housing
This countertop burner features a brushed stainless steel housing. It provides it with quality, durability, and high resistance to versatile exterior damages. You can use all cookware on it, including cast iron skillets.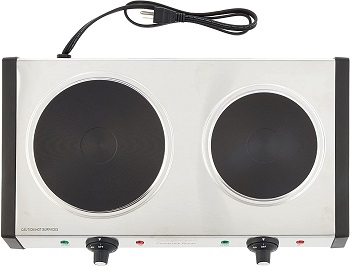 Temperature Control
By adjusting this portable countertop burner's temperature control you can use it both to cook and to keep the cooked food warm. The "on" indicators will let you know which burner is on while the "ready" indicators let you know when the burner reached the set cooking temperature.
NutriChef PKSTIND48 Ceramic Burner
User-Friendly Design
The great thing about this portable electric induction cooktop is that it offers a user-friendly design. It features a ceramic top surface, two induction burners, and an LCD screen with 2 digital backlit control panels. Its energy-efficient performance ensures that the burner doesn't waste any energy.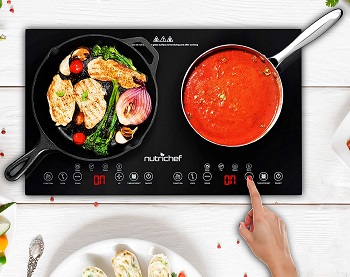 Cookware Compatibility
Note that this model is compatible for use only with special induction-ready cookware that features a magnetic bottom surface. A minimal diameter should be no smaller than 12 centimeters, while the maximum should be no larger than 26 centimeters.
NuWave PIC Flex Hot Plate
Wattage Settings
The great thing about this travel hot plate is that it comes with 3 different wattage settings, including 600, 900, or 1,300 Watts. Its magnetic induction coils are located inside the burner's surface and distribute heat evenly.
Wide Temperature Range
Its wide temperature range allows you to adjust the burner's temperature between 100 and 500 degrees Fahrenheit. Once you remove the cookware from its cooking surface, the heating process immediately stops. This feature makes it much safer to use as it minimizes the possibility of accidental heat burns.
True Induction 3-Burner Hot Plate
Ceramic Glass Surface
This 3-burner electric cooktop also features a flat ceramic glass top cooking surface. It provides the burner with additional elegance and makes it much easier to clean. You can easily wipe it down using only a damp kitchen cloth.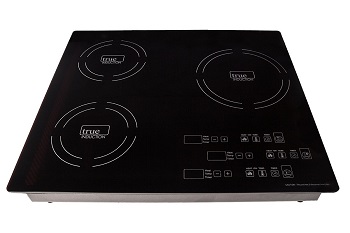 Power Sharing Technology
The best thing about this model is that it features a power-sharing technology. It is specially designed to ensure that you can choose whether you want to use one burner with full power, or share its power between the multiple burners.
Aroma AHP-303 Single Burner Hot Plate
Small Size
Due to its single burner design, this model comes in a somewhat smaller size. It makes it much easier to transport and store. Its black metal finish makes it much more durable and easy to clean.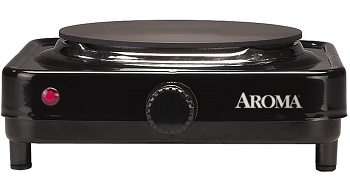 Heat Settings
The burner offers 4 different heat settings you can easily set and adjust to your likings and needs. Higher settings help you cook your food as quickly as possible while the lower ones help you keep the cooked food warm for a bit longer time.
Techwood Ceramic Top Hot Plate
Indoor & Outdoor Safe Design
The great thing about this ceramic cooktop is that it is safe for both indoor and outdoor use. Its stainless steel housing makes it durable enough for transportation and ensures its quality and lasting lifespan. The double crystallite glass burners are very powerful and ensure amazing performance.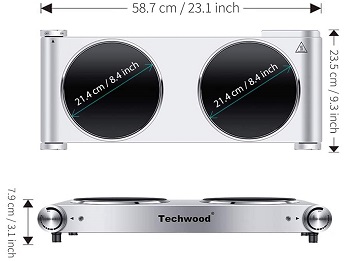 Efficient Performance
Both burners provide very efficient performance. They are specially designed to waste no energy during the heating process and need about 15 minutes to cool down once you turn them off.
Broil King PCG-10 Griddle
Griddle Plate Design
As opposed to the rest of the listed models, this model features a flat-top griddle design. You can use it to cook versatile food at once including meat, veggies, pancakes, eggs, etc.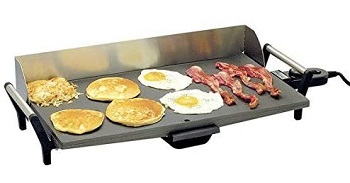 User-Friendly Features
This flat-top portable stove comes with versatile user-friendly features that make it a much more desirable choice. It comes with a splatter shield that ensures mess-free performance, has a fully coated non-stick cooking surface thanks to which you can make much healthier meals, etc.
Duxtop 9100MC/BT-M20B Hot Plate
Large Cooktop
As its category implies, this large portable burner features a bit more spacious cooking surface. This allows you to use it with versatile-size cookware. Since it features an induction cooking surface, you do need to have induction-compatible cookware with a flat bottom magnetic surface.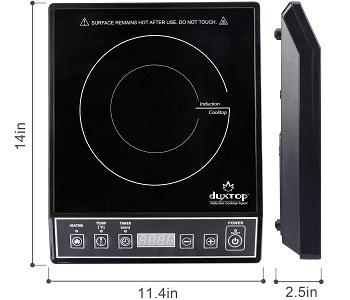 Simple Control Panel
This is another model that comes with a simple, user-friendly control panel. Amongst the many settings it offers, it also comes with a programmable timer you can adjust to your likings.
Elite Gourmet ESB-300X Hot Plate
Coiled Heating Element
This low-wattage hot plate comes with a coiled heating element. It works with all kinds of cookware including cast iron, aluminum, stainless steel, copper, etc. The great thing is that you can easily lift it to clean the bottom of the unit.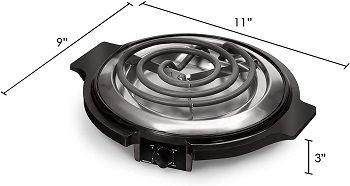 Affordable Price
Due to its lower price, this unit is an amazing choice for everyone looking for a more budget-friendly option. Its non-skid bottom feet provide it with the needed stability while its two side handles make it easy to carry around.
Proctor Silex 34103 Hot Plate
Small Size
This is another mini cooking stove that can accommodate all your needs while on the road. It comes with 4 non-slip feet that ensure you can safely place it atop your countertops, has a "power" light indicator that informs you when the machine is on, etc.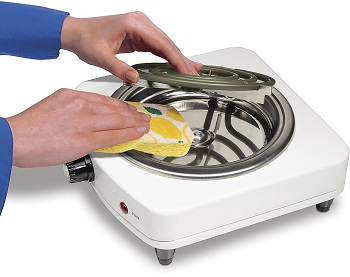 Cooking Restrictions
Even though this model provides powerful performance, it does have some restrictions. It should not be used for longer than 60 minutes within 2 hours so use it only for simple and quick meals.
Cusimax Glass Top Hot Plate
Elegant Design
With its dark black glass cooking surface, this glass hot plate features a very elegant design. All its controls feature backlit keys to ensure that you can easily adjust and re-adjust them when needed.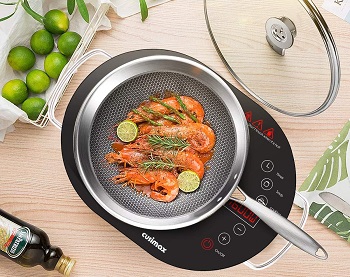 Infrared Heating Technology
This is another stove that uses powerful infrared heating technology. Its 1,500 Watt heating element heats the cooking surface in only a few seconds with minimal heat loss. Its built-in fan is specially designed to ensure that the burner cools down as quickly as possible once you are done using it.
Ovente BGI101S Countertop Burner
Slim Design
This portable infrared cooktop features a bit slimmer design that makes it a great choice for use in a bit more confined spaces. It has a small footprint and takes up very little storage space. It is also very lightweight and easy to transport.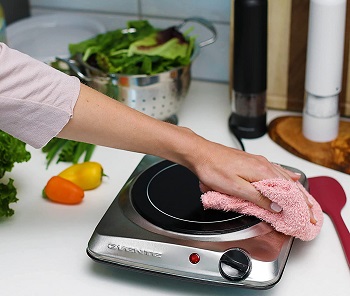 Cooking Surface
Its cooking surface is made out of high-quality crystallite glass material. It distributes heat evenly and efficiently and ensures great results in a very short time.
How To Use: Emphasize On Safety & Proper Handling
No matter the type of portable electric burner you want, they are mostly used the same way. But here are a couple of things you should look after while using such a model in different situations.
Usage At Home
Here is what you should know about using a hot plate in your home.
Make sure to place the hot plate at the countertop or a table. You can place something underneath it as additional protection.
Set the temperature and then place on the cooktop compatible cookware.
Never leave your hot plate unattended. Since you're using it as an additional burner, don't forget to monitor the temperature and the cooking operation stage.
Safe Usage While Camping
Place a burner in a steady place. That can be a collapsible table or mat on the ground. Connect the burner with your portable power source and then adjust the temperature to start cooking. Never use such an appliance in your tent or in any other way that would make it covered with some flammable material.
Safe Usage In Backyard
You can easily use an electric burner in your backyard. Just make sure to have a long enough power cord. Once it is powered, turn it on, set the temperature, and start cooking. Once you're done, do not leave a burner outside. Store it safely after every use.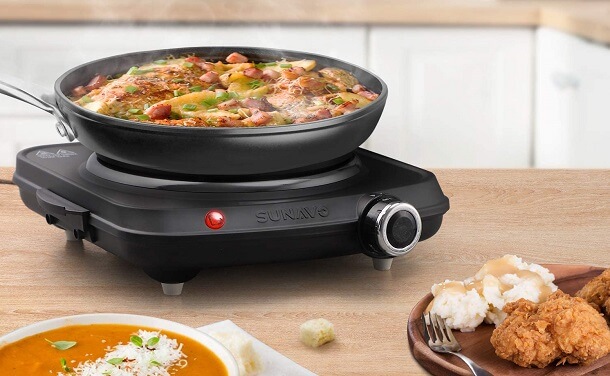 Lights, Overheating Protection, Stability: Features That Guarantee Safety
There are a couple of features you need to consider when buying a burner. As such models need to be suitable for various types of use, they need to have the highest standards of safety.
No Flame
This is the biggest advantage of these models. As they work with electricity only, the no-flame feature decreases the chances of burning yourself.
How Do I Know If A Burner Is On Or Off?
This is the main reason why almost every portable electric plate has light indicators. Lights alarm you when the unit is in operation, as well as when the temperature you set is reached.
Maintaining The Temperature As Overheating Protection
Overheating protection maintains the cooking temperature at the set level so you don't need to worry about burning your food or creating a fire hazard situation.
Stability At The Highest Level
Non-slip rubber feet ensure safety, stability, and security at the top of your countertop or table. This feature is important so the unit is stable enough to hold pots and pans with food and water. For camping trips, most models don't have rubber feet but they will have a well-designed stable bottom.
Safety Is Guaranteed By Regular Cleaning Too
Nowadays, cleaning a burner is a part of a safety check operation. All you need is regularly clean your appliance after every single use with a damp cloth and a mild detergent. Just make sure that the burner is not connected to a power source.