Undecided about which infrared hot plate to get?
This article will help you make a decision on which features to keep in mind when buying such a product.  Moreover, in this article, you can check for the best infrared hot plate reviews, including single and double burners, portable models, and even cheap models.
The Rundown
Best 6 Infrared Hot Plates
Best Of Best Infrared Hot Plate
Ovente Infrared Countertop Burner
Stainless Steel & Ceramic
This Ovente hot plate comes in a flat stainless steel housing and is equipped with a crystallite ceramic glass cooking surface. It weighs only 3 pounds and is slim so it does not take up a lot of space on any countertop. Likewise, it is also suitable for travel as it is easily portable.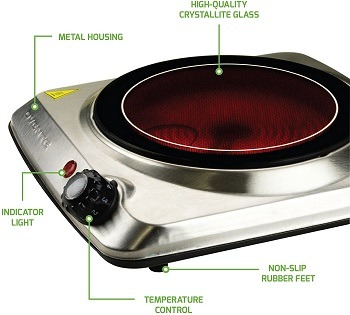 7-Inch Cooking Surface
The 7-inch infrared hot plate does not have any cookware restrictions and can be used with any kind of heat-resistant pots and pans. For the best results, however, it is recommended to use this plate with flat cookware with a diameter close to 7 inches. Apart from using this unit to help you in the kitchen, you can also take it with you when camping, cooking in studio apartments, or RVs.
Heats Quickly & Evenly
The infrared technology warms the surface very quickly and evenly for fast and precise cooking. Using a clean damp cloth to wipe the unit will be enough to keep it clean. The 1000-Watt model features a temperature knob and a power indicator light. The thermostat knob lets you choose the heat setting for precisely cooking a certain meal.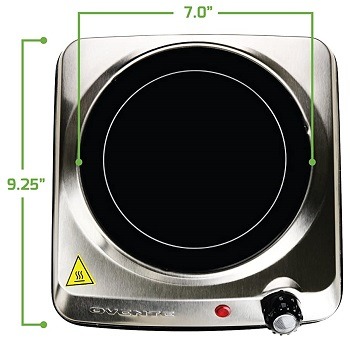 Safe To Use
The non-slip feet make it safe for any countertop without sliding while you are stirring the food, etc. Its sleek and modern design fits into almost any kitchen interior and even in front of guests. As it has no open flame, it is also easy and safe hot plate.
Short Description:
a 1000-watt infrared cooking surface
7-inch ceramic glass cooktop heats quickly
slim and sleek design for countertops
lightweight size for travel and portability
a thermostat knob for temperature adjustments
Best Double Burner Infrared Hot Plate
Cukor Ceramic Hot Plate
Ceramic Glass Burners
This double burner is equipped with a 7.1-inch and a 5.9-inch ceramic glass hot plates with a durable stainless steel body. Separate temperature knobs and power indicator lights for each burner are located in front of the burners. It is 10.2 inches long and 17.5 inches wide and can even be transported if needed.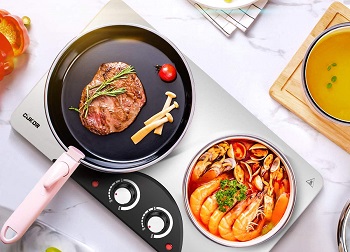 Cookware Restrictions
The 1800-Watt power supply is enough to perform different cooking needs such as frying, slow cooking, boiling water, barbecuing, etc. You can use it with any type of cookware, as long as its diameter isn't more than 7.1 inches and it doesn't weigh more than 22 pounds.
For Kitchen & Smaller Spaces
This type of infrared double burner hot plate can be used in the kitchen when you need an extra cooktop surface whilst preparing a lot of food. Moreover, it can also be used in smaller spaces without a stove, like kitchenettes in studio apartments, or on boats and other recreational vehicles.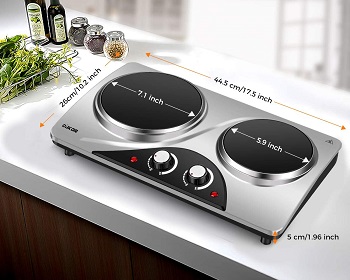 Even & Quick Heat Distribution
The built-in thermal fuse protects the unit from overheating. The hot plate cycles on and off to keep the cooking surface at a set temperature. The energy-efficient infrared technology spreads heat evenly and quickly without producing any smoke as there is no visible flame.
Short Description:
1800-watt double infrared burner
7.1-inch and 5.9-inch ceramic glass
separate temperature knobs and indicator lights
for kitchens and spaces without a kitchen
overheating protection and non-smoking
heat is distributed quickly and evenly
Best Single Burner Infrared Hot Plate
Techwood Infrared Plate
LED Touch Display
This single infrared cooktop has a 1500-Watt power supply and features a front turning knob for settings. The LED touch display lets you adjust the temperature, while you can also change the power level and set a timer with the turning kob. You can choose between 6 power levels from 400 to 1500 Watts, and set up the timer between 1 and 180 minutes.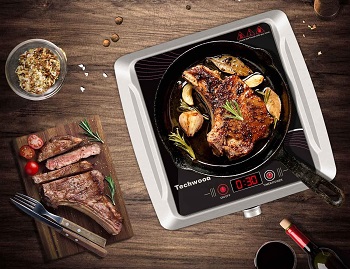 Durable & Stylish 
The infrared hot plate is safe to use and comes with brushed stainless steel housing for durability. The stylish design is a great addition to any kitchen or space without one. Unlike induction models, this model of a hot plate can be used with any kind of cooking pots and pans, including glass, ceramic, aluminum, and stainless steel.
Maintains The Desired Temperature
The single burner hot plate heats fast and evenly without any cold spots for delicious cooking. You can easily control the food you're making with the adjustable timer to make cooking easier and more precise. The desired temperature will stay obtained as the unit will cycle on and off with an automatic safety shutoff function.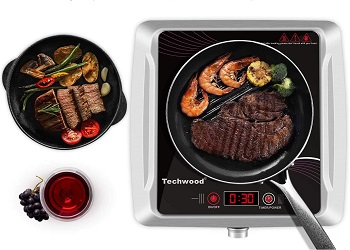 Packed With Safety Features
For fast dissipating of the heat, the built-in fan works to keep you safe by preventing the temperature levels from getting out of hand. In case that should happen, there is a feature that will safely prevent overheating. You can use this single burner safely as it won't slip around the countertops thanks to non-skid feet. It is also small in size and can be used for travel and in confined spaces.
Short Description:
infrared single burner with stainless steel housing
a turning knob and LED touch display
adjustable power, temperature, and timer
cycles on and off to maintain the desired temperature
cooks fast and precisely for travel and small spaces
fan dissipates heat, overheating protection
non-slip legs for safety on countertops
Best Countertop Infrared Hot Plate
Cusimax Infrared Cooktop
Two 900-Watt Burners
A stainless steel body houses double crystallite glass plates with independent temperature knobs and power indicator lights. Each burner has a 900-Watt power supply and measures 7.1 inches in diameter. It works with any type of cookware and should ideally be used with pots and pans that have a smaller diameter than the burners.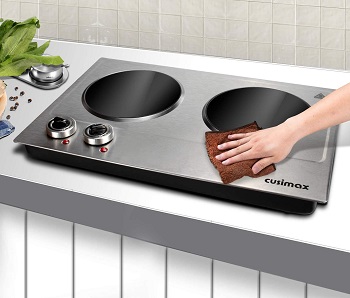 Suitable For Small Spaces
You can use it to cook vegetables, grill cheese, make eggs, fry foods, boil water and pasta, and more. Once you finish cooking, give the infrared hot plate about 15 minutes and then wipe with a clean damp cloth. It is great for everyday use as it is durable, but can also be used for travel or in small spaces where there is no room for a regular stove.
Cooks Two Meals At Once
By adjusting the temperature between low and high options, you get to cook more precisely on this countertop hot plate. It measures 13 inches in length, 19.7 inches in width, and 3.5 inches in height. It is big enough to let you cook two things at once, but also compact enough to use on the go and in small spaces.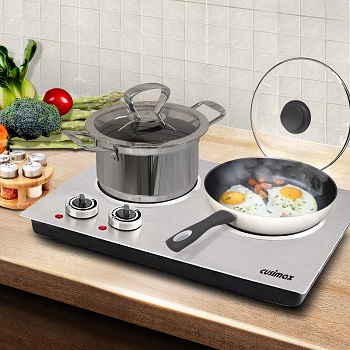 Modern & Stylish
For safety during operation, there is an automatic shutoff function. The design with ceramic and stainless steel materials makes it a stylish choice for any kitchen, giving off modern vibes. You can use this countertop hot plate in the office or studio apartment, but even at home when entertaining a lot of people.
Short Description:
two 7.1-inch ceramic glass infrared burners
modern and durable stainless steel body
independent temperature controls for each burner
temperatures adjustable from low to high levels
13 inches long and 19.7 inches wide
Best Portable Infrared Hot Plate
Cusimax Glass Hot Plate
LED Screen With Touch Buttons
This portable hot plate features a glass surface with a single burner and an LED display screen with touch buttons. The burner is fitted into a stainless steel body and features side handles for ease of portability. The unit lets you adjust the temperature and the power level on the touch screen while also allowing you to set up a timer.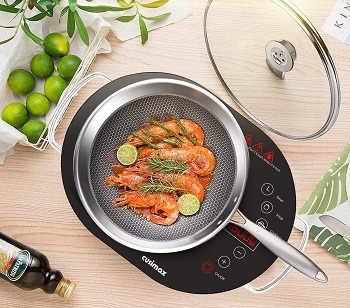 Adjustable Power Levels
The available power range is between 100 and 1500 Watts and the plate takes only a few seconds to heat for faster cooking. The oval ceramic portable plate can be used with any type of cookware with a diameter under 7.9 inches. You can cook pasta, boil water, make warm sauces, cook vegetables, etc. The cooking timer can be set between 1 and 180 minutes.
Portable & Compact
This infrared hot plate is 18.5 inches long, 12.13 inches wide, and 4.13 inches high. The portable compact size with a weight of 1.13 pounds is ideal for travel and use in confined spaces. The temperature is regulated by a thermostat and there is an automatic safety shutoff function, as well. The fan is built-into the unit to help cool it down quickly.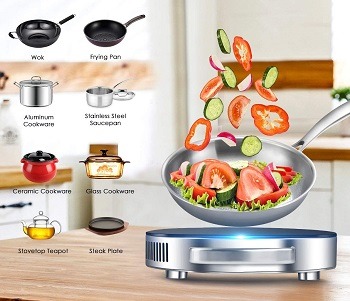 Safe For Countertops
The legs on the travel hot plate help with security so that the unit doesn't slip on tables and countertops while you are cooking. You can use it in your kitchen or pack it in your suitcase to use on your boat, recreational vehicle, hotel room, etc.
Short Description:
LED screen with touch button controls
power range between 100 and 1500 Watts
durable stainless steel body with side handles
18.5 inches long and 12.13 inches wide
for cookware with a diameter up to 7.9 inches
built-in fan for quicker cooldown
Best Cheap Infrared Hot Plate
Sunavo Infrared Burner
1200-Watt Power Supply
This single burner comes in silver color and is powerful enough to boil one liter of water under 5 minutes. The 1200-Watt unit allows you to choose between 6 levels of power supply to better control temperature for precise cooking. The temperature knob has a minimum temperature option along with 6 other levels.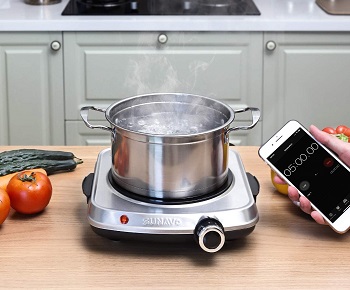 Suitable With Flat Cookware
The infrared hot plate is suitable to use with flat cookware and the 7.5-inch burner can be used with pots and pans with a maximum diameter of 7.9 inches. It is 10.12 inches long, 11.1 inches wide, and 2.52 inches high. Thanks to its small and compact size, you can use it any big or small cooking space.
Energy-Saving & No-Noise
The handles on the sides are installed for safe moving of the unit, letting you use it in your RVs or while living without a kitchen, in dorm rooms, studio apartments, etc. Without noise and with fast heating, you can save energy while cooking on this model. It is listed for the price of around 30 dollars on Amazon, which makes it an affordable option.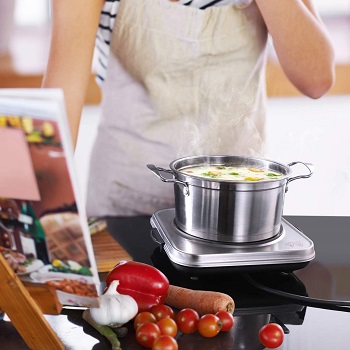 Durable & Easy To Clean
This cheap burner hot plate is protected from overheating and automatically turns on and off to maintain the desired set temperature. With a durable design, you can use this burner for extra help in the busy kitchen or small spaces. It is easy to keep clean after you are done with cooking by simply wiping the surface.
Short Description:
1200-Watt single infrared burner
turning knob with 6 power levels
suitable to use with flat-bottomed cookware
durable for busy kitchens and small spaces
12.12 inches long and 11.1 inches wide
heats quickly and saves energy while cooking
overheating protection and auto-turn on & off
What To Consider In Infrared Hot Plates?
When you search the market for the best hot plates, you are bound to find out about infrared models and here you can find out how they work. If you decide to purchase such a model, we suggest you consider their size, as they can come as single and double burners. Also, consider options with temperature knob control or touch screens to figure out which way of heat adjustments you would prefer. Finally, look for smart space-saving designs and ease of portability if you plan to cook on the go.
How They Work? – Infrared cooktops do not need gas or flame to be able to cook food. They rely on the infrared light bouncing off of molecules that makes them vibrate and thus produce heat. They come with glass surfaces so that the heat spreads fast and evenly for precise cooking. The surface glows a radiant red color as the halogen lamps inside are combined with radiant coils to transfer  the heat to the cookware placed on top.
Single & Double Burners – If you plan to cook larger meals at once, you should consider going for a double burner. They usually come with separate heat controls so that you can even cook different foods at once. On the other hand, single burners are usually very light and compact and can be easily transported and used in very small spaces without kitchens.
Temperature Controls – Whether you decide to get a model with a turning knob or a touch screen to regulate the temperature and the power, infrared hot plates will let you choose between different heat settings for different cooking needs. From low to high temperatures, you can cook vegetables, pasta, make eggs, boil water, cook soups, etc.
Portability – Look out for the overall measurements of the unit to make sure it can fit in the space where you plan to use it. Most models come with non-slip legs for safe use on any countertop surface. Side handles are also convenient if you want to move and relocate the unit, and store it when not in use. The small hot plate means you can use it in your office, dorm room, RV, when camping, and more.
Safety Features – Although there is no open flame for danger, it is still important to ensure your safety while using a hot plate. Consider buying models with overheating protection to prevent the temperature from rising abnormally, which can cause damage and injuries. The built-in fans can also help to dissipate heat faster here. Cycling the heating element on and off to maintain the set temperature is another way of preventing burning temperatures.
To Wrap It Up
In sum to this article about infrared hot plates, we would like to recommend the Ovente infrared countertop burner. It features a 7-inch single burner and a temperature dial for fast cooking. It can be used with any type of cookware and is suitable for small spaces, such as dorm rooms, RVs, and offices. To check out other kinds of hot plates with a glass surface, read this article with my list of the best glass hot plates. For ceramic cooktops, take a look at my selection of ceramic hot plates on the market.