Hot plates can be a very practical cooking solution for versatile places that don't have enough room for full-sized stoves. They are also a great choice for on-the-road use.
This post will provide you with all the needed information about the 25 best models you can find on the market. Read about their designs, features, power, performance, price, etc., and find out which one suits your needs the best.
The Rundown
Hot Plate: Definition & Use
A hot plate is a simple portable appliance with 1, 2, 3, or more heating surfaces called burners. The appliance has an internal heating element that is used for cooking or heating food. This model can be powered by electricity or natural gas, and used at home, professional kitchens, RV, camping, and more.
Different Names & Terms
A hot plate is often called a portable stove and a portable burner, so don't get confused with these names, they both refer to a hot plate.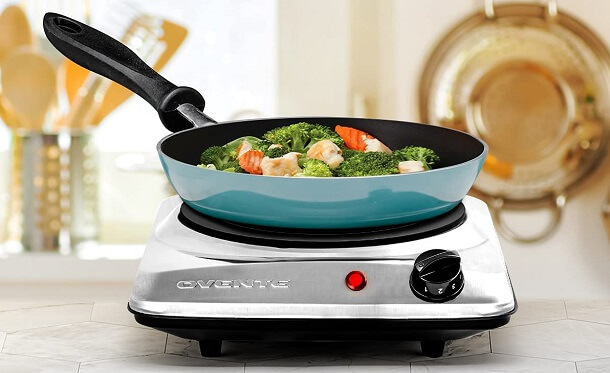 Hot Plate vs. Classic Stove: What's The Difference?
Both appliances basically serve the same purpose as they are designed and used to produce and conduct heat into the cookware for cooking food. The difference is that a hot plate is a singular, portable heating unit, while a stove is a classic built-in kitchen appliance.
How Much Electricity Does A Hot Plate Use?
This depends on the size of the unit and the number of burners such a model has, but most electric hot plates with a single burner use up to 1,8 kWh, while double burner models use about 2 kWh.
Should I Get A Hot Plate? Here Are The Advantages Of Having A Portable Cooking Appliance
Owning a hot plate is beneficial for many reasons as it presents a ready-to-use appliance that can be used whenever and wherever. But here are the details.
Kitchen, Backyard, Travel: Suitable For All
Yes, a hot plate is suitable for indoor and outdoor use. Here are a couple of models that are designed for specific use so you can easily find the one suitable for your needs.
Classic countertop burners are designed for indoor use in both home and professional kitchens.
Portable models are defined with size and weight, they are easy to carry, move, and store, and therefore great for use whenever and wherever you need them.
Outdoor hot plates are specifically designed for backyard use or some other outdoor activity.
Camping burners are known as low-wattage models and they are great for cooking, warming food, or preparing coffee while camping.
Commercial models are usually powered by gas, as they need the highest possible power to meet all the needs of a professional kitchen.
Warming hot plates are specific models designed just for keeping your food or beverage warm.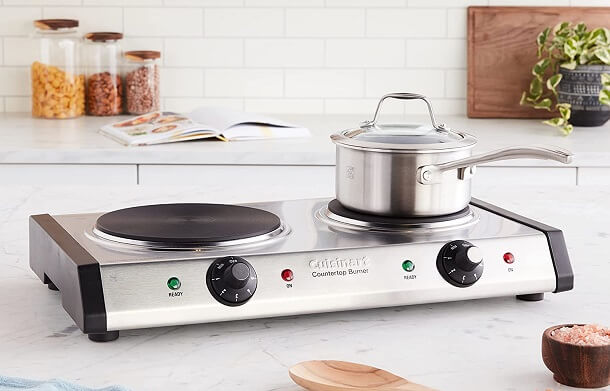 User-Friendly Features
When it comes to hot plates, they are really easy to use. Most of them feature a simple control panel or just a control knob. Therefore, hot plates can easily be used by beginners, as well as professional chefs.
Boiling Water? No Problem
You can easily boil water by using a hot plate. Electric models usually need up to 10 minutes to boil water, while gas models can do that in 7 minutes. Hot plates that have induction or infrared cooking operation, need about 4 minutes to boil water.
Additional Appliance With Suitable Price
A hot plate is often described as an additional cooking appliance, so most people don't want to spend too much money on it. Nothing to worry about, the price for a hot plate varies from $10 to $250 and more so you can easily find a model suitable for your needs and budget.
Functions & Specifications: Details You Should Know Before Buying
When buying a hot plate, besides knowing its purpose of use, you should understand all the functions such a model can offer so you can find the most efficient hot plate for your needs and preferences.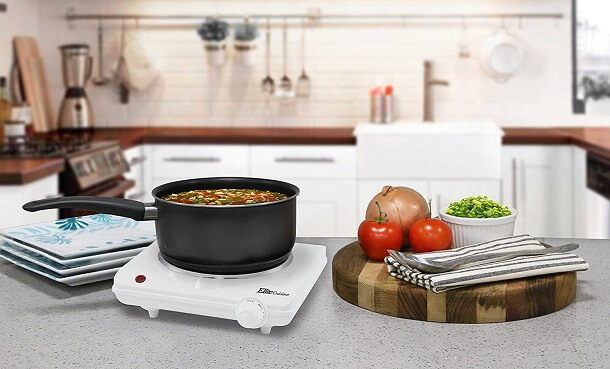 Models By Power: Gas & Electric
A hot plate can be powered by gas or electricity. When it is powered by gas, it usually uses butane or propane, or some other type of natural gas. Such a model is suitable for outdoor use or for indoor use in a professional kitchen. Electric hot plates are great for both indoor and outdoor use, they do not feature open flame as gas do, so they provide a safer cooking operation.
Models By Coils
Besides power, hot plates are divided by the location of their coils too. Coils can be exposed or hidden. Those models with exposed coils heat up faster, while coilless hot plates are modern appliances covered with glass, and thanks to that, they are easier to clean.
Heating Operation: Different Options For Electric Models
Electric burners can have cast-iron burners with the classic electric heating operation, an induction cooking unit, or an infrared model. While cast-iron cooking operation works the same way as any classic built-in kitchen, there are often confusions between induction and infrared operations. Here is what you should know about each of the models.
The induction hot plate features a glass heating surface. Such a model uses electric currents to directly heat the cookware through magnetic induction. The induction model is expensive and it requires special cookware that features magnetic bottom. This hot plate is energy-efficient and easy to clean.
The infrared hot plate features a ceramic heating surface. This model combines halogen lamps and radiant coils to transfer the heat to the cookware by using direct infrared radiation. Infrared models are budget-friendly and they do not require any special cookware.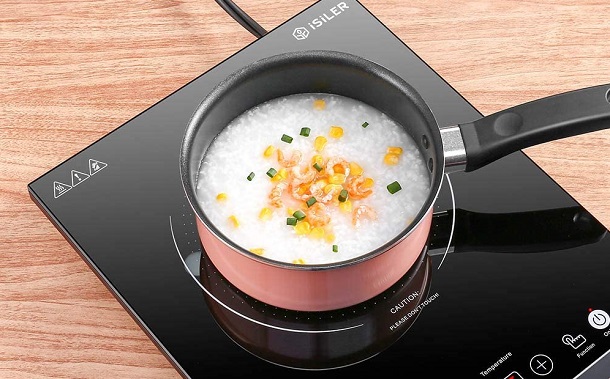 Power Rating Defines The Use
Since hot plates are divided according to their primary use, the power of such models varies from one type of hot plate to another. Most electric hot plates have a wattage power of up to 1800 watts which is suitable for home use and outdoor activities, while gas models have power between 7,000 BTU and 100,000. That BTU power is ideal for professional use. For both models, power depends on the number of burners the unit has.
Temperature Range Ensures Wide Cooking Options
Most hot plates feature a temperature range from 100 to 500 Fahrenheit degrees. The temperature is adjustable and easily controlled. It is usually divided into 6 to 16 heat levels so you can precisely choose the temperature you need.
Cooking Volume: Singles, Doubles, Or More Burners
You can choose models with 1, 2, 3, or 4 burners. Usually, single burner and double burner models are used for private purposes, while units with more burners are more suitable for professional kitchens. The size of burners can vary from 5 to 15 inches.
Constructed To Last
Most hot plates come with metal housing so they can ensure good durability and sturdy construction. Usually, that material of the making is cast iron, stainless steel, aluminum, or some other metal that can endure time, weight, and countless uses.
Best 25 Hot Plates
Best Portable: Sunavo Hot Plate
Single Volume
This portable electric cooktop features a single volume capacity. Its powerful 1,500 Watt 7.1-inch cooking plate is compatible with versatile cookware up to 7.5 inches in diameter. With its front-mounted temperature control knob, you can easily set and adjust the desired cooking temperature. Click on the enclosed link to learn more.
Easy To Transport
You won't have any trouble carrying this burner around. It comes with 2 small side handles that remain cool-to-touch throughout the cooking cycle. Its non-slip bottom feet give it the needed stability and ensure that it sits firmly atop your countertops, benchtops, etc.
Best Countertop: Cuisinart Double Hot Plate
Highly Conductive Plates
Compared to the previously reviewed model, this one features a double cooking volume. Both its cooking plates are made of cast iron that provides exceptional heat conductivity. The larger burner on this countertop hot plate features 1,300 Watt while the smaller one features a 500 Watt power rating.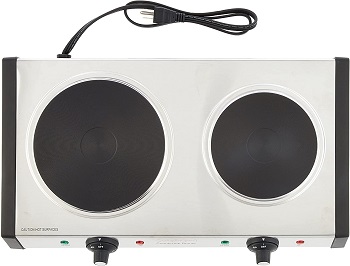 Independent Controls
Each cooking plate comes with its independent temperature controls. Thanks to this feature you can use them to cook versatile meals at the same time. They even come with separate light indicators that inform you about the burner's status.
Best Single: Elite Cuisine ESB-301F Electric Burner
Temperature Control
This is another electric single burner that provides a very simple temperature control system. You can adjust its cooking temperature between off, warm, low, medium, and high settings with a simple turn of the control knob.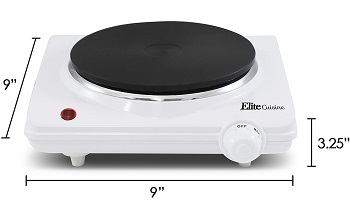 Versatile Use
Just like the rest of the listed models, this one is also suitable for versatile use. Most importantly, it is compatible for use with versatile cookware including stainless steel, aluminum, cast iron, copper, etc. It is suitable for pots, pans, grill plates, tea kettles, etc.
Best Double: Oster CKSTBUDS00 Hot Plate
Durable Design
With its high-grade brushed stainless steel design, this burner provides amazing quality and durability. It is also highly resistant to all kinds of exterior damages including rust, corrosion, dents, scratches, etc. You won't have any trouble keeping it perfectly clean.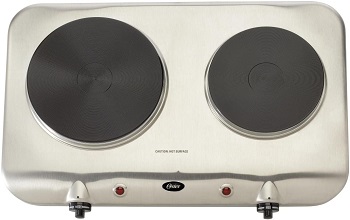 Powerful Performance
Another great thing about this double burner hot plate is that it provides a very powerful performance. With its 1,500 Watt power rating, it will help you achieve perfect cooking results with every single use.
Best Induction: iSiLER Induction Hot Plate
User-Friendly Design
This induction hot plate features a user-friendly design. It comes with a backlit control panel with touch-sensitive keys. Its flat glass cooking surface is non-stick and very easy to clean.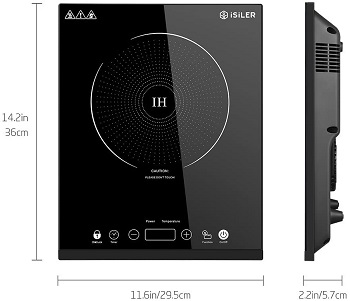 Safety Features
You can be sure that this model is perfectly safe to use. It comes with a built-in thermostat that maintains the set cooking temperature and keeps the burner from overheating. It also offers a child-safe locking mechanism that allows you to lock up the control panel and prevent your kids from activating it.
Best Cast Iron: Durabold Metal Hot Plate
Space-Saving Size
Even though this model features double burners, it still has a space-saving footprint. Thanks to this feature you won't have any trouble finding the perfect place for it atop your kitchen countertops. Each cooktop comes with temperature controls and light indicators that make it much easier to use.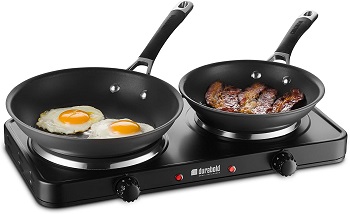 Power Rating
The larger burner of this cast iron hot plate features a 1000 Watt power rating and has a 7-inch diameter. The smaller one is a bit weaker, has a 700 Watt power rating, and 6-inch diameter.
Best Gas: Chef Master 90019 Butane Stove
Butane Power Supply
This gas hot plate requires a butane gas canister to work properly. Its powerful 15,000 BTU performance and an adjustable temperature dial allow you to control the burner's performance.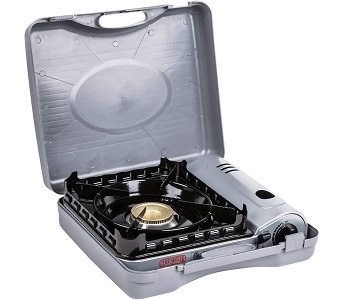 Indoor & Outdoor Use
The best thing about this model is that it is safe for outdoor use. It comes with wind guards that are specially designed to ensure that the wind doesn't mess up your flame. They also make the burner much safer to use.
Best Coffe: Mr. Coffee Hot Plate
Convenient Design
This burner features a highly convenient design. It comes in a somewhat smaller size and has a bit longer power cord that increases its mobility. Its built-in light indicator will inform you when your beverage is hot and ready to be served.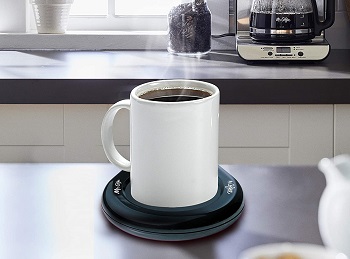 Quick Performance
The best thing about this coffee hot plate is that it provides very quick and efficient performance. It needs only about 2 minutes to warm up versatile beverages including coffee, tea, cocoa, etc.
Best Large: Duxtop 9100MC/BT-M20B Hot Plate
Simple Controls
This is another burner that comes with very simple touch-sensitive controls. They allow you to control the cooking temperature and the timer in small increasements. Its built-in display helps you make the adjustments in only a few seconds.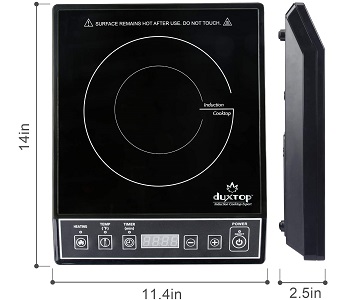 Automatic Shut-Off
The best thing about this big model is that it offers an automatic shut-off feature. Once the timer runs out, the burner will automatically stop the heating process. Thanks to this feature you will never have to worry wheter you turned it off or not.
Best Mini: Ovente BGI101 Hot Plate
Small Size
As its category implies, this model comes in a somewhat smaller size. This makes it a highly convenient choice for use in small kitchens, dorm rooms, offices, RVs, etc. Its 7-inch cooking surface is made out of high-quality crystallite glass material which makes it very easy to clean.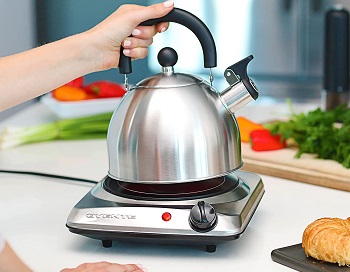 Simple Design
The Ovente hot plate features a simple metal housing with non-slip bottom feet that provide it with the needed stability. It also features a temperature control knob and a light indicator that informs you about the burner's current status.
Best 12-Inch: Star-Max 502FF Hot Plate
Lasting Use
The great thing about this 12-inch electric hot plate is that it is designed for lasting use. It is constructed out of durable stainless steel and aluminum materials and has highly conductive cast iron cooking plates. Its bottom feet ensure that it stands level atop your countertops.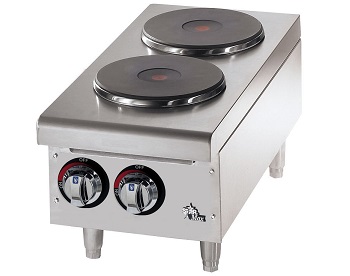 Infinite Temperature Adjustments
Another amazing thing about this model is that it comes with infinite temperature adjustments. Its control knobs are located on the front side of the machine to ensure that you can easily access them and adjust to your needs and likings.
Best 1,500 Watt: Cusimax B101 Single Burner
Versatile Use
You can use its 1,500W power to fry food, simmer, deep fry, or keep the cooked food warm. The best thing is that it is compatible for use with all kinds of cookware. This includes stainless steel pots, aluminum pans, steak plates, casserole pots, glass pots, ceramic pots, and even teapots.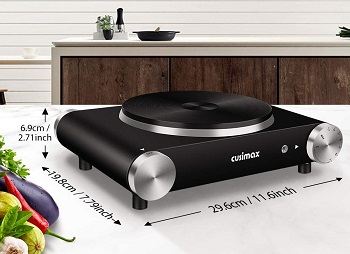 Efficient Performance
Due to its high cooking power, this model provides very efficient cooking results. Thanks to this feature you never have to worry that you might end up with raw or burned spots.
Best 3-Burner: Prestige Magic Glass Top GTMC 03
Durable Glass Design
This 3-burner hot plate features a highly durable shatter-proof glass surface. It comes with 3 separate gas burners that are specially designed to prevent accidental spillage from entering the unit. Each one comes with its independent temperature controls you can adjust to your needs.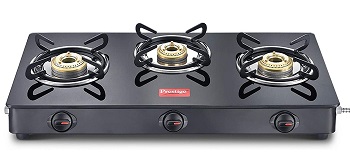 Tri-Pin Burners
The mentioned burners are made out of brass material and have completely removable grids thanks to which you can use versatile-size cookware. They allow you to make up to 3 different dishes at the same time. Its ISI certificate ensures that it is perfectly safe for use.
Best 4-Burner: Toastmaster Gas 4 Burner
Commercial & Home Use
The best thing about this model is that it works perfectly in both commercial and domestic environments. It is constructed out of durable stainless steel material that provides it with high quality, durability, and resistance to versatile exterior damages.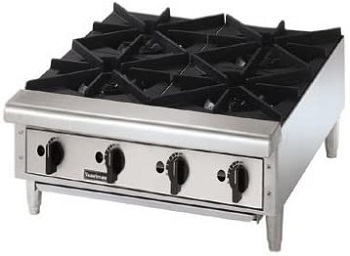 Natural Gas Compatible
Another thing you should keep in mind is that this 4-burner hot plate is compatible with natural gas. However, it does require a 0.75-inch NPT gas connection. Each burner has its temperature adjustment knobs to ensure that you can make multiple meals at once.
Best Camping: Coleman PowerPack Propane Stove
Simple Design
Even though this camping hot plate is gas-powered, it features a very simple design. It can distribute heat evenly over versatile cookware with a diameter of up to 12 inches. Its bottom base is large enough and provides the burner with proper stability.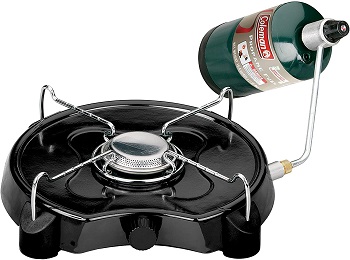 Perfect Flow System
Due to its specially designed perfect-flow system, the fuel stream will remain steady throughout the cooking process. Thanks to this feature you will be able to enjoy an undisrupted performance in versatile conditions. It works perfectly on camping trips, picnics, etc.
Best Ceramic: Techwood Electric Hot Plate
Infrared Technology
This model uses a very powerful infrared technology that provides uniform heating performance with minimal energy loss. Bots its cooking plates come with individual temperature controls you can adjust to your likings and needs. The small light indicators will let you know when the burner is ready to be used.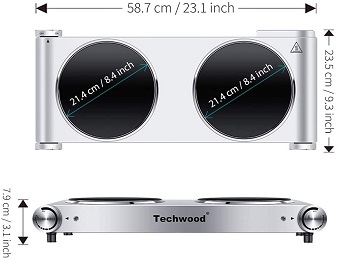 Low Maintenance
You won't have any trouble keeping this ceramic burner perfectly clean. Once you are done using it you can simply wipe its cooking surface using a damp kitchen cloth.
Best Cheap: IMUSA GAU-80305 Single Burner
Coil Burner
This cheap hot plate features an exposed coil burner that features a high 1,100 Watt power rating. The best thing is that you can easily remove it to clean its bottom drip pan.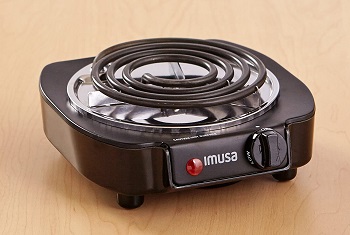 Safety Features
Even though it comes with an exposed heating element, this burner is perfectly safe to use. Its bottom non-slip feet provide it with the needed stability while its light indicator lets you know when the burner is pre-heating and when it is ready to be used.
Best Commercial: Waring WDB600 Hot Plate
Commercial-Grade Design
What makes this model such an amazing choice for use in restaurants and hotels is its commercial-grade brushed stainless steel body. It provides high durability and resistance to exterior damages such as rust and corrosion. Most importantly, it is very easy to clean.

Vent Holes
You will be able to use both burners continuously for several hours. You can be sure you will prepare any meal perfectly every time because those cast iron burners make sure there are no cold patches present during cooking.
Best Glass: NutriChef PKSTIND48 Hot Plate
Tempered Gass Surface
This glass hot plate features a high-quality tempered glass cooking surface. It offers 2 separate burners, each with its independent backlit touch-sensitive controls. Its low power consumption ensures great performance with a minimal energy loss.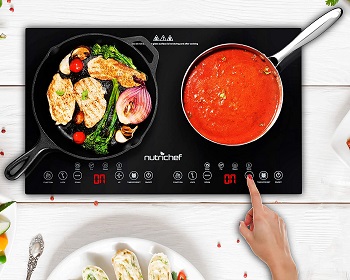 Child Lock Feature
The best thing about this model is that it offers a child-lock safety feature. It allows you to lock up the control panel and prevents your kids from accidentally turning the burner on. This makes it a highly convenient choice for households with small children.
Best Griddle: Presto 07061 Electric Griddle
Griddle Plate
As opposed to the previously reviewed models, this one is a griddle cooking plate. Its flat cooking surface is fully coated with a non-stick layer thanks to which you don't need to add any fat to your food. It also makes the plate much easier to clean.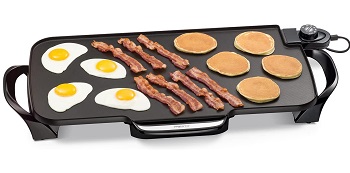 Simple Performance
Although it is slightly different, it also provides a very simple performance. To use it properly simply connect its temperature gauge to the plate and use the rotating control knob to adjust its cooking temperature.
Best Infrared: Cusimax Glass Hot Plate
User-Friendly Design
The best thing about this infrared burner is that it features a user-friendly design. It has a flat glass cooking surface, touch-sensitive backlit controls, two side handles that make it easy to transport, etc.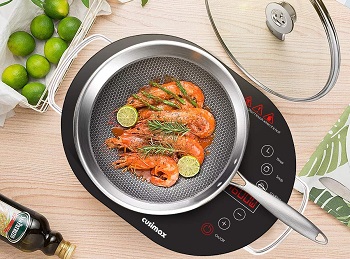 Built-In Fan
This is another model that comes with a built-in cooling fan. It is specially designed to keep the burner from overheating and makes the cooling process very efficient. Due to its size, you can easily store it in your kitchen cabinets or even drawers.
Best Japanese: Zojirushi EA-BDC10TD Griddle
Triple Layer Coat
This is another model that provides amazing non-stick properties. Its titanium ceramic-enhanced triple-layer coat keeps your food from sticking to the cooking surface. With its two cool-touch side handles, you can easily move it around when needed.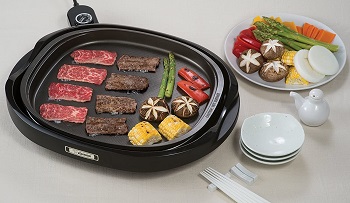 Top Lid
Another convenient feature of this Japanese hotplate is its top lid. It is specially designed to keep your ingredients from drying out. It also minimizes the possibility of splatters and keeps your countertops clean.
Best Korean: TECHEF Korean Food Hot Plate
Gas Burner
This Korean hot plate consists of two separate parts. The first one is the bottom gas burner that is specially designed for countertop use. It features a simple temperature control knob that will help you regulate the flame throughout the cooking process.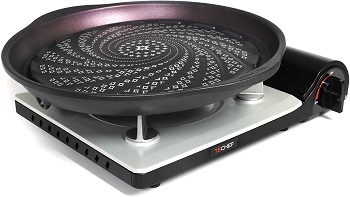 Non-Stick Pan
The other part is its top non-stick coated cooking pan. It features a swirling design that helps to draw the excess fat away from your food. Due to its non-stick properties, it requires very little maintenance.
Best Low Wattage: Maxi-Matic ESB-300X Hot Plate
Low Wattage Rating
Compared to the rest of the listed models, this one features a somewhat lower wattage rating. Although it is not as powerful as the rest of the listed models, it is still an amazing choice for use in domestic environments.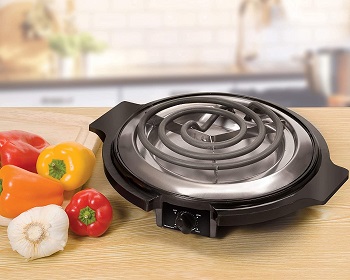 Easy To Store
Due to its size, this low wattage hot plate requires very little storage space. You can easily fit it into your kitchen drawers. Its size makes it a great choice for on-the-road use.
Best Outdoor: Cusimax Outdoor Plate
Modern Design
Due to its stainless steel housing and dual control infrared cooking plates, this outdoor burner features a much more modern design. It will easily fit into versatile kitchens, offices, dorm rooms, campers, RVs, etc.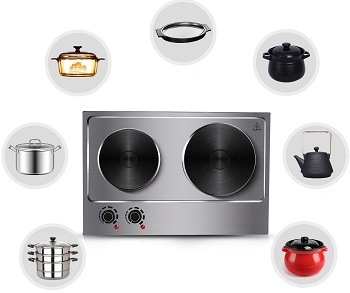 Double Cooking Volume
This is another model that provides a double cooking volume. Both its burners provide a 900-Watt power supply and ensure efficient results in a very short time. The best thing is that it is compatible for use with versatile cookware.
Use By Model: Instructions On Usage Of Electric & Gas Hot Plates
Whether you have a classic hot plate, portable model, camping burner, or an industrial unit, the usage is rather simple. Here are the instructions based on the hot plates' power source.
Electric Hot Plates
Follow these simple steps and get the best out of your burner.
Place the hot plate on a stable table or countertop.
Put the pan or pot on the heating surface, add oil if you need it.
Plug the cord into an available power outlet.
Turn on the appliance and set the temperature.
Add ingredients and start cooking.
Once you are finished, turn off your hot plate and remove the pan.
Let it cool down before you wipe it and store it in a safe and dry place.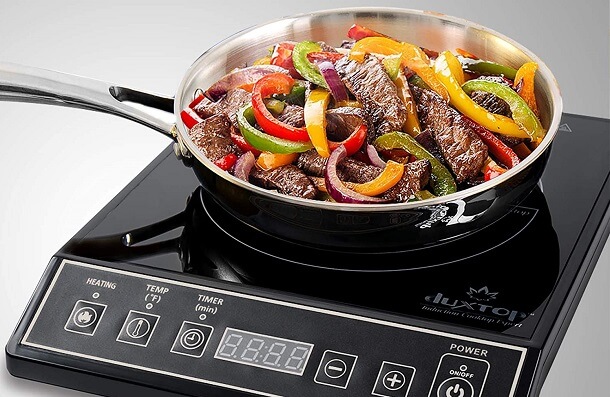 Gas Hot Plates
The usage operation is a bit different for gas models, but the process is still rather easy.
Before turning it on, place the device on a stable surface.
Connect the gas canister to the unit. You must either place the gas canister into the compartment or use a connecting pipe, this depends on the model.
Place the pan or pot on the heating surface.
Turn on the hot plate. These days, most models have electric ignition so you won't be needing matches or a lighter.
Adjust the temperature and begin to cook.
When you're finished, turn off the appliance, and remove the cookware.
Let the hot plate cool down before cleaning and storing.
Are Hot Plates Dangerous? No, Here Are The Details On Their Safety Features
Hot plates are designed with the highest safety standards and features in order to provide safe usage. Those features are the following:
Child-Safe Locking Mechanism
This feature locks the control panel in order to avoid accidentally turning on the appliance.
Automatic Shut-Off
Some models have a timer with an automatic shut-off feature. Once the timer runs out, the burner automatically stops the heating process.
Overheat Protection
This feature is presented with a built-in fuse that protects the unit from overheating.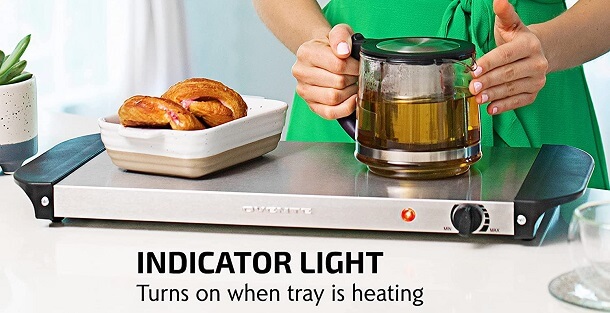 Built-In Light Indicators
Lights indicate when the device is on, as well as the exact time when the heating surface has reached the set temperature.
Heat-Resistant Handles
Cool-to-the-touch handles are a great feature that allows you to safely move or touch the hot plate without burning your fingers.
Anti-Slip Bottom Feet
This is an important feature. Rubber feet placed on the bottom of the unit ensure stability and security during the cooking operation.
Safe Handling Tips
Of course, safety features mean nothing if you don't handle your new hot plate properly. Due to that, here are a few tips on how to safely handle such an appliance.
Never leave a working hot plate unattended.
Never use a hot plate near flammable materials.
Use oven mitts and treat this burner as you would your built-in kitchen cooktop.
Use metal or wood utensils but never leave them inside the pan while cooking.
If you're camping, never use a hot plate inside your tent.
How To Clean A Hot Plate: Maintaining Guide
Hot plates are simple appliances with a simple design so they also feature an easy-to-clean factor.
Ideal Materials
You can use a soft cloth, sponge, towel, or toothbrush.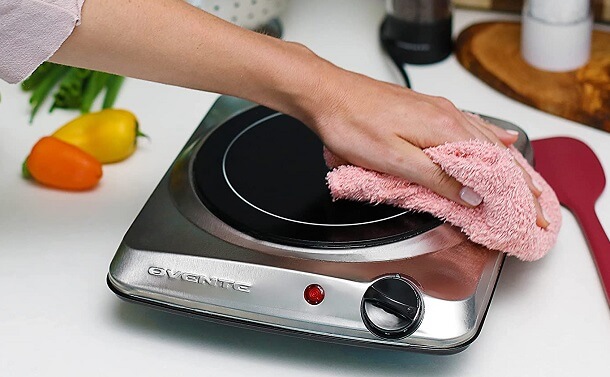 Suitable Liquid
You can use water for cleaning, a mild detergent, soap, natural degreaser such as lemon, as well as baking soda and vinegar.
Regular Cleaning
To make your hot plate last, it needs to be cleaned after every use. You can just wipe it with a damp cloth and a bit of mild detergent or soap, dry it, and that's it. However, make sure to deep clean it once a month. That would include cleaning with a mixture made from vinegar and baking soda. Just place the mixture at the surface, let it be for 15 minutes, and then wipe it and dry the unit.
Answering Additional Questions About Hot Plates (FQAs)
After we've talked about all the important functions and specifications of hot plate models, here are a few more answers to the most frequently asked questions.
How Long Does A Burner Take To Heat Up?
This depends on the model, but it usually takes 10 to 15 minutes for a hot plate to reach maximum temperatures.
How Long Does It Take To Cool Down?
Most of the models need about 20 minutes to get cool.
Can I Put Glass On Hot Plate?
No, unless you have instructions for your model that states otherwise.
Can I Put A Pan On A Hot Plate?
Yes. Most hot plates are compatible with almost any type of skillet material, including cast iron, stainless steel, aluminum, and copper.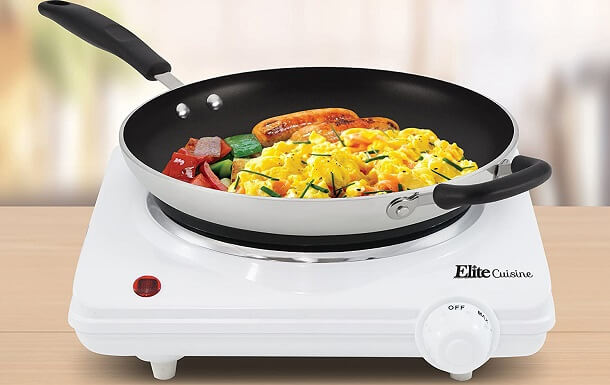 What Pans Don't Work On Induction Models?
Glass, aluminum, and copper pans aren't suitable for induction cooking plates.
What Can I Cook On A Hot Plate?
You can cook almost anything, as long as your cookware matches the size of the hot plate. That includes soup, pasta, various meat, eggs, bacon, coffee, tea, and more. You just need to set the precise temperature and you're good to go.
My Hot Plates' Cord Is Too Short. Now What?
Most models do have a long enough cord. However, if you end up with a shorter one, you can intervene with a power cord that can transfer the needed power. This is important as you don't want to be at risk of power reduction. Most suitable power cords have at least 13 amp.
How Many Times Can I Use One Gas Canister?
Most hot plates that are powered by a classic 8 oz will last for 3 to 5 uses.
I Want A Hot Plate For Camping. What Should I Look For?
Small in size low-wattage model with a power range between 100 and 1000 watts. Go with a classic model with cast-iron burners because such a model is stronger and more durable than induction or infrared appliances with glass and ceramic cooktops. If you want a gas model, choose the one with lower BTU power with a maximum of 7,000 BTU. That should be more than enough for your camping needs.
Can A Low-Powered Hot Plate Boil Water?
That depends. Models that have at least 700 watts need between 7 and 10 minutes to boil water. Hot plates with less than 700 watts will need a bit more time for that operation. On the other hand, 50-watt models won't boil water, but only warm it up.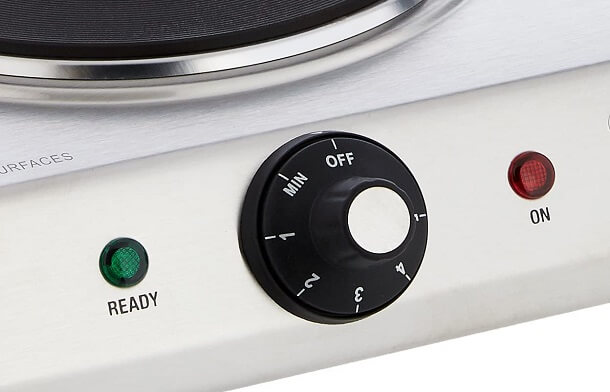 Can I Use A Standard Model Just For Keeping The Food Warm?
Of course. In that case, just make sure to set your appliance at the lowest possible temperature. The perfect level of heat for warming food goes up to 250 Fahrenheit degrees.
I Saw There Is A Coffee Warmer. Is It Worth It?
If your coffee often gets cold because you're busy or easily distracted, then yes, it is definitely worth it. Such devices have a maximum power of 50 watts and they can warm your coffee for a continuous period of a couple of hours. However, if you're not interested in new expenses, you can easily warm your coffee on a classic hot plate or in a microwave.
Is There A Battery Operated Hot Plate?
Such models are still in the developing phase as they aren't durable nor strong enough to cook food and boil water.
What Is The Purpose Of A Stone Hot Plate?
This model is also known as the heating stone. It presents a granite, volcanic, or some other natural stone plate that needs to be heated up and then used as a plate for cooking simpler meals or just warming up leftovers. A stone can be heated up in the oven, microwave, or placed over the open flame.
Aren't Hot Plates Considered A Serious Fire Hazard?
Like any other kitchen appliance, a hot plate can be dangerous only if it is poorly made or improperly used. As long as the device has a UL mark, it has been tested and it meets all electrical safety standards.