Looking for a ceramic hot plate for cooking?
Then look no further, you've come to the right place. In this article, we singled out the best ceramic models that can be used for cooking in your kitchen. Check out the reviews of induction and infrared models to learn more about what the market has to offer. Also, read about the features to consider when purchasing to end up getting the best product available.
The Rundown
Best 6 Ceramic Hot Plates For Cooking
Best Of Best Ceramic Hot Plate
Cusimax Ceramic Top Hot Plate
Double Infrared Burners
This double burner large hot plate features two cooking zones which include separate temperature knobs and indicator lights. The burners are constructed from ceramic material and work with infrared technology to cook food. The stainless steel housing is easy to maintain clean along with the burners and is also durable even for everyday use.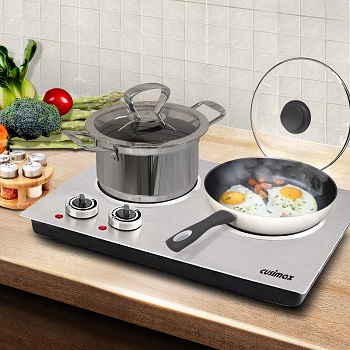 1800-Watt Power Supply
The non-skid rubber feet prevent sliding on busy kitchen and other countertops, including small spaces without a kitchen. The power lights indicate when the burners are turned on for added safety. Each burner uses a power supply of 900 Watts and can be used with pots and pans up to 7.1 inches in diameter.
Cooks Various Meals
By adjusting the heat and setting it to the desired temperature, you can cook a variety of meals, including sauces, vegetables, steak, soup, pasta, or boil water, etc. You can use it as an extra surface for cooking when you need more burners in your kitchen from time to time, or in dorm rooms, studio apartments, and RVs where you usually don't have access to a regular cooking stove.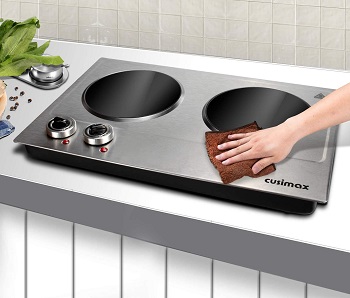 Space-Saving Design
This ceramic hot plate is also compact enough to store away when not in use with the space-saving design that lets you cook proper meals without being large and heavy. It is compatible with all cookware types and suitable to use in any space with access to a power outlet.
Short Description:
two ceramic burners work with infrared technology
for pots and pans with a diameter under 7.1 inches
non-skip feet and power indicator lights for safety
each burner uses 900 watts of power
independent temperature knobs for each burner
Best Portable Ceramic Hot Plate
Techwood Ceramic Top Hot Plate
Two 900-Watt Ceramic Burners
The double crystallite glass cooking surface with a stainless steel body and individual temperature knobs is easily portable. It is 23.1 inches wide, 9.3 inches long, and 3.1 inches high. Each burner has a power supply of 900 Watts and has individual temperature selectors. The turning knobs for heat adjustments give you control overcooking.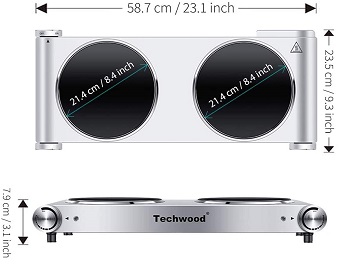 For Indoor & Outdoor Use
Once you choose the desired temperature, the travel hot plate will cycle on and off to maintain that temperature, so that it also doesn't overheat. It works with any type of cookware. This ceramic hot plate is portable so you can use it both indoor and outdoor, in your kitchen, in your backyard, or recreational vehicle, among other spaces. Its stylish design will fit into any space.
Heats Quickly For Cooking
You can use it for preparing a variety of meals, including steak, fried rice, and vegetables, pasta, soup, grilled cheese, etc. You can use only one burner at a time, or even both at once, depending on your needs. The surfaces heat quickly and waste minimal energy and take about 15 minutes to cool down after they are turned off.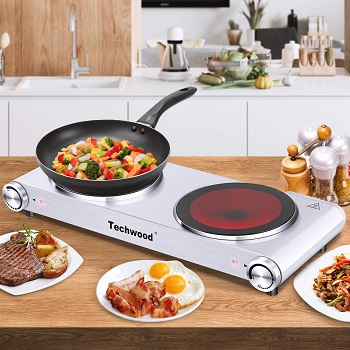 Even-Heat Distribution
The premium ceramic hot plate is easy to clean. The ceramic material spreads heat evenly throughout the burner so that you can cook food precisely and without cold patches. As each burner has a diameter of 8.4 inches, it gives the best results when used with pots and pans with a maximum diameter of 7.1 inches.
Short Description:
23.1 inches wide and 9.3 inches long
portable for indoor and outdoor use
two individual thermostat turning knobs
easy-to-clean double ceramic burners
all types of cookware for versatile cooking
durable and compact design with stainless steel
Best Single Ceramic Hot Plate
CUKOR Ceramic Cooktop
Stainless Steel Body
This single ceramic hot plate features one infrared burner fit into a stainless steel body that is durable for frequent use. With a 12oo-Watt power supply, it uses infrared technology to cook food. It comes with a power indicator light and a thermostat knob for controlling the temperature of the burner.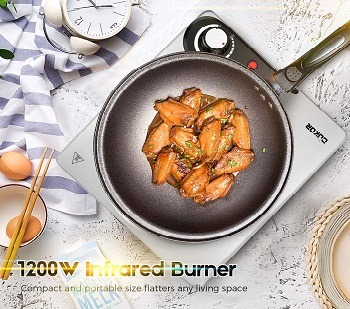 Compact For Confined Spaces
The single electric hot plate is compatible with any type of cookware as long as the diameter doesn't go over 7.1 inches and doesn't weigh more than 22 pounds. You can use it for slow cooking, fry, deep frying, cooking soup, and many other meals. As it features only one burner, it won't take up a lot of space in your busy kitchen. It is also great for cooking in confined spaces of dorm rooms, studio apartments, and recreational vehicles.
Easily Wipes Clean
Infrared radiation distributes heat evenly on the ceramic top surface so that there are no cold patches. It takes only a few seconds to heat up so you can enjoy faster cooking. After you are done with cooking, leave the unit to cool down and then wipe with a damp cloth to keep it clean.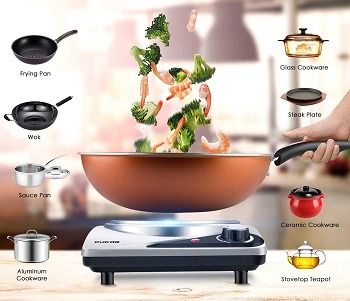 Safety Features
The unit automatically turns on and off to maintain the set temperature and has a built-in thermal fuse to protect it from overheating. Upon first time use, a protective coating on top may cause a little smoke, but after one use, it should be gone.
Short Description:
1200-Watt single ceramic infrared burner
a thermostat knob regulates the heat
can be used for a variety of cooking applications
wipes clean with a damp cloth when cool
auto-turn on and off to maintain the temperature
the built-in thermal fuse prevents overheating
durable stainless steel housing
Best Double Burner Ceramic Hot Plate
Cusimax Infrared Hot Plate
No Noise Or Radiation
The 1800-Watt hot plate features two ceramic burners that take only several seconds to heat up, compared to cast-iron electric models. This unit has no radiation as it works with infrared technology to cook food without making any noise. It also works with all types of cookware with a maximum diameter of 7.1 inches.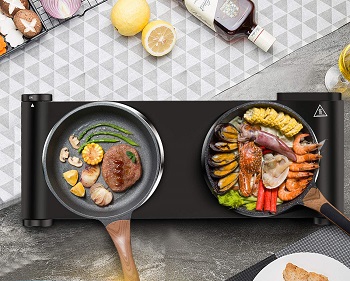 Space-Saving Size
Even though the electric hot plate features two burners that let you cook two meals at once, this model has a compact size that doesn't take up too much space. Thanks to that, it is ideal for adding more cooking surface to busy kitchens when entertaining guests to be able to cook more food at once. It is also great for offices, camping sites, RVs, and dorm rooms.
Sleek & Stylish Design
This hot plate takes about 15 minutes to cool off after it is turned off and can then be cleaned with a damp cloth. The black stainless steel design with sleek ceramic burners is stylish enough to complement any interior design. It measures 23.11 inches in width, 9.26 inches in length, and 3.12 inches in height so that it is suitable for any countertop.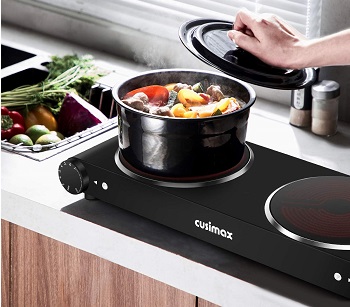 Safe To Use
Designed to prevent overheating, it is equipped with a thermal fuse and features a cycling function that turns the unit on and off automatically to maintain the set temperature. By adjusting the heat of the burners individually, you can cook different things at different temperatures at the same time.
Short Description:
23.11 inches wide and 9.26 inches long
two separate thermostat knobs for heat
black stainless steel body and ceramic plates
easy to clean when cool with a damp cloth
heats in a few seconds with infrared technology
Best Induction Ceramic Hot Plate
NutriChef Double Ceramic
Digital Control Panel
Compared to the above-reviewed models, this 1800-Watt unit works with electromagnetic induction to be able to produce heat and cook food. It features a ceramic top surface with two burners and two individual control panels for setting adjustments. The digital LCD screen display is easy to use to control the settings.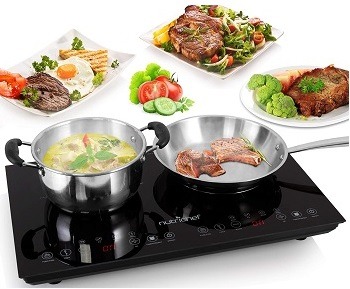 Included Preset Cooking Modes
Both control panels feature a child safety lock for added safety. They also feature preset cooking modes that let you boil water, fry, steam, or keep food warm with one click. The controls have a sensor touch and also lets you set a timer and adjust the temperature level to your liking.
Cookware Restrictions
This ceramic hot plate has a non-stick coating that is resistant to stains. It can be used with special induction-ready cookware that comes with a magnetic bottom. The minimum cookware diameter is 12 centimeters, and the maximum is 26 centimeters. It can be used both indoors and outdoors to prepare homemade food.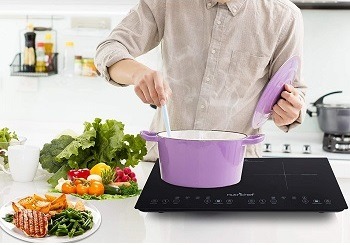 Energy-Efficient Model
This commercial electric hot plate is 23.6 inches long and 14.2 inches wide so that it saves space while providing you with two burners for cooking. It is very energy efficient and doesn't waste a lot of energy as the heat is usually not lost between the burner and the cookware.
Short Description:
23.6 inches long and 14.2 inches wide
ceramic top surface with two induction burners
LCD screen and 2 digital control panels
adjustable settings with preset cooking modes
requires induction-capable pots and pans
non-stick coating and stain-resistant
Best Small Ceramic Hot Plate
Ovente Single Hot Plate
7.3-Inch Induction Cooktop
A 7.3-inch diameter of the induction cooktop with a ceramic surface comes with a power supply of 1800 Watts. It measures 11 inches in length and 13.8 inches in width for taking up minimal cooking space on any countertop surface. It is only 2.5 inches high to also help save space.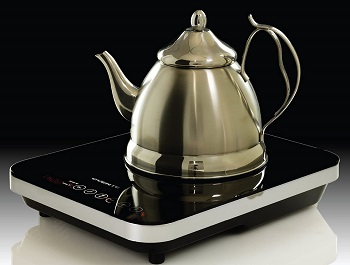 8 Temperature Presets
The induction cooktop comes with a control panel that features a setting display along with buttons such as a child safety lock, a timer button, and an on and off button. The temperature can be adjusted in 8 preset settings from 140 to 460 Fahrenheit degrees. It also features a diagnostic error system and is protected from overheating.
Portable Size
It is easily portable and can be used in any space with a power outlet. This ceramic hot pot is also very easy to keep clean thanks to its material. The ceramic material also makes sure the heat is spread evenly across the cooking surface. It can work with any cookware that has a magnetic bottom.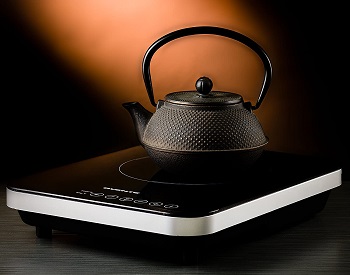 Time Your Cooking
This induction mini hot plate cooks food faster and can be used in the house, as well as in some small spaces, such as dorm rooms and offices. By controlling the temperature, you can cook precisely and not burn your meals. You can even set up a timer between 1 minute and 3 hours.
Short Description:
7.3-inch ceramic induction burner
control panel for setting adjustments
11 inches long and 13.8 inches wide
8 preset temperatures from 140 to 460°F
compact size for portability and travel
requires induction-capable pots and pans
uses a power supply of 1800 Watts
What To Consider In Ceramic Hot Plates?
Deciding to buy a ceramic hot plate implies knowing about their features and benefits. They can use either electromagnetic induction or infrared radiation to produce heat and cook food. They also come in different sizes and usually feature one or two burners. Their size makes them more or less portable. It is also important to check out their power supply and temperature range to make sure they can endure your cooking needs.
Induction Plates – This type of ceramic plate uses special electromagnetic induction to make the cooking pot or pan the source of heat. To be able to do so, it needs induction-capable cookware. Usually, this cookware comes with a magnetic bottom, so you can check if it's compatible by sticking a magnet to its bottom. They are energy efficient and have minimal heat waste.
Infrared Plates –  This type of plate uses infrared technology to heat up the ceramic surface and usually takes only a few seconds. Unlike induction models, it is not restricted by cookware type so you can use it with any type of cooking pots and pans. They make less noise and can achieve higher temperatures in less time for fast cooking.
Single Or Double Burner? – If you plan to use your hot plate to cook more things at once, a double burner could be ideal for you. However, if you want the unit to take up even less space, you should consider a single burner. Usually, both types are easily portable and mostly come in designs that help to save space so they can even be used in confined spaces and on the go.
Power Supply – When it comes to wattage, most single and double burners have a power supply between 1000 and 2000 Watts. This makes them powerful enough to keep food warm but also to cook full meals. The higher the wattage is, the more powerful the unit is, so make sure not to burn your food. Finally, some models let you choose between different power levels depending on what and where you are cooking.
Temperature Settings – Either regulated by a turning knob or a button on a control panel, hot plates let you control the heat for different cooking needs. The most common temperature range is between 100 and 450 Fahrenheit degrees, which should be good enough for versatile cooking. That means that you can boil water, cook pasta, vegetables, fry, and deep fry, among other things.
To Wrap It Up
Finally, we think the best ceramic hot plate that lets you cook food is this Cusimax double burner. With two burners compatible with all types of cookware, you can cook two meals at once while regulating the temperature of the burners individually. The stainless steel housing makes it durable, convenient to clean, and easy to fit into any design. For other hot plates with glass cooktops, check out this glass hot plate list. If this article got you interested in infrared models, learn more in this post about infrared hot plates.