Searching for an outdoor hot plate?
Not sure whether you should go for electric or gas models?
We've got you covered! This article breaks down all the important information that you should keep in mind when buying a hot plate to use outdoor. Moreover, you can also read the reviews of our selected models to help you choose the one that best fits your demands.
The Rundown
Best 6 Outdoor Hot Plates
Best Of Best Outdoor Hot Plate
Cusimax Outdoor Plate
Two-Sized Burners
This double electric hot plate with a stainless steel base and a cast-iron heating plate can be used both outdoors and indoors. It features two burners with two individual temperature control knobs, each with 11 settings. The two burners are not the same size, so they can be used for smaller and larger pots at the same time. One burner has a 6.1-inch diameter, while the other one is 7.4 inches.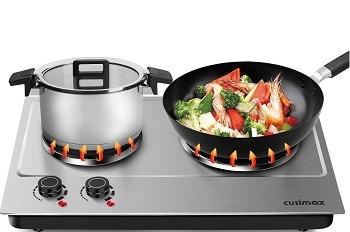 Safe & Durable
The stainless steel body is durable even for everyday use. It is also easy to keep clean by using a damp cloth to clean when the unit cools down after each use. The feet on the bottom prevent sliding and keep this outdoor hot plate stable. It is safe to use thanks to the function that prevents overheating and an indicator light that warns you when it is on.
Portable Size
It is lightweight and portable so that you can take it with you when traveling, going camping, or entertaining large groups. The 1800-Watt unit offers a temperature range between 392 and 1162 Fahrenheit degrees. The cast-iron plates heat up fast and spread heat evenly. They usually take around 20 minutes to cool off after each use.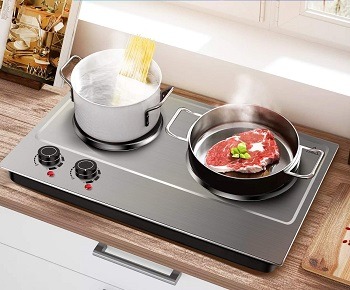 Cooks Two Meals At Once
With individual thermostats, you can cook two meals at once, and adjust the temperature of each burner. It is ideal for use anywhere with a power outlet. Apart from outdoor use, it is also a great choice for students in dormitories, studio apartments, or recreational vehicles.
Short Description:
two cast-iron burners with individual thermostats
6.1-inch and 7.4-inch diameter hot plates
safe to use and easy to clean
temperature between 392 and 1162 Fahrenheit
for outdoor and indoor use
Best Gas Outdoor Hot Plate
GasOne GS-3900P Hot Plate
Uses Butane Or Propane
Unlike the first option on the list, this model is powered by either butane or propane gas. The 15000 BTU unit operates by using an 8-ounce butane canister or a 16.4-ounce propane cylinder. Once loaded with one of the two gas options, you won't have to use matches or a lighter to start the flame thanks to the electric ignition.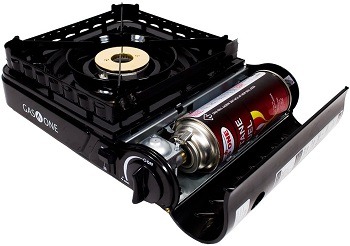 Adjustable Flame Intensity
The temperature dial is adjustable so that you can choose the intensity of the flame while cooking. It has many safety features that prevent any accidents that could happen when using and loading a gas cartridge to cook. As it is designed for outdoor use, you don't have to worry about the wind turning the flame off. The four-corner wind guard prevents it from happening.
Portable Carrying Case 
This travel hot plate is ideal for camping, backpacking, and other outdoor recreational use. It comes in a carrying case and weighs only 4 pounds to make it easily portable. The top plate is easily removable for cleaning. The drip pan underneath is made out of enamel and to resist heat and is easy to maintain clean. The brass burner head supports a dual rotating flame.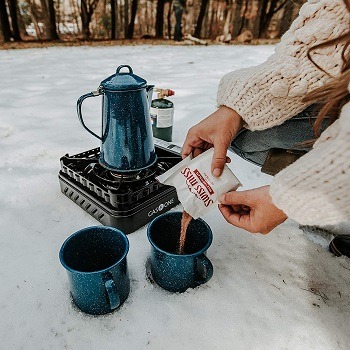 Outdoor Recreational Use
As it can be powered by butane or propane, this outdoor gas hot plate can be used in any outdoor area, as long as you have a gas supply. It is designed to support both smaller pots like teapots, and larger pots and pans. You can use it for camping, backpacking, and spending time outdoor for cooking different meals.
Short Description:
powered by butane or propane gas
needs an 8-ounce butane canister
also works with 16.4-ounce propane cylinder
electric ignition is convenient for outdoors
carrying case for ease of portability
for outdoors, camping, backpacking
Best Grill Outdoor Hot Plate
Blackstone Hot Plate Outdoor
Two Individual Burner Controls
This tabletop grill is ideal for outdoor use and comes in a 22-inch size. It is operated by propane gas and ideal for use in the backyard, or when camping, backpacking, or tailgating. It is ideal for grilling meats and vegetables and has two burners with individual controls for cooking different food at a different temperature.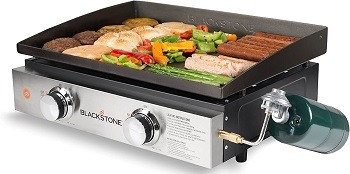 Grease Channel & Catcher
The griddle hot plate offers a 330 square inch surface with a hole in the back for draining grease. The system includes a grease channel that catches fats and oils as they are drawn away from the food. It is easy to clean up after. You can use this outdoor hot plate to cook various dishes while also being able to keep food warm.
Removable Design
The griddle on this outdoor hot plate grill comes with handles that are resistant to heat for a safe and convenient grip. It can be easily attached and removed in case you want to change it and also helps with maintenance.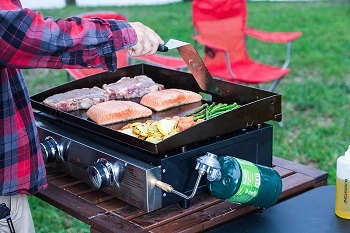 For Tabletops
As it is easily portable and doesn't require electricity, you can use this model anywhere, as long as you have a gas supply with you. It can be placed upon any tabletop surface so that you can grill away and enjoy your time in the outdoors.
Short Description:
22-inch size for cooking different foods
a non-electric model operated by propane gas
330 square inch surface with a grease drain
two individually adjusted burners
for grilling meats and vegetables
removable with a heat-resistant handle grip
for outdoor barbecues, camping, tailgating
Best Electric Outdoor Hot Plate
Techwood Hot Plate
Infrared Coil Burner
This outdoor electric hot plate features a single infrared coil burner with stainless steel housing in black color. It comes with an indicator light and a control knob for temperature adjustments. By regulating the temperature, the coils distribute the set heat to cookware sitting on top. Any type of cookware is suitable to use with this unit.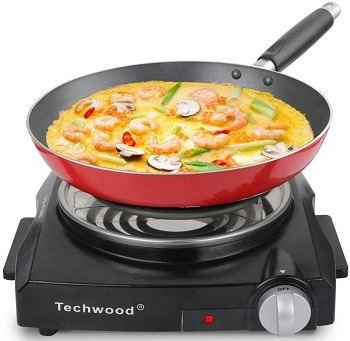 Versatile Use
This electric model lets you simmer, fry, grill, or boil by choosing the appropriate temperature. The ceramic panel is located under the coils for collecting any spillage and is easy to clean. It has non-slip feet for stability on surfaces and is designed for safe use and transport.
Heat-Resistant Handles
The 1100-Watt outdoor hot plate can be used when camping but is also great for when you need an extra burner in your kitchen. Moreover, it can be used in offices, RVs, dorm rooms, etc. Moving the unit is easy as the handles are thermo-insulated so that you don't burn and injure yourself.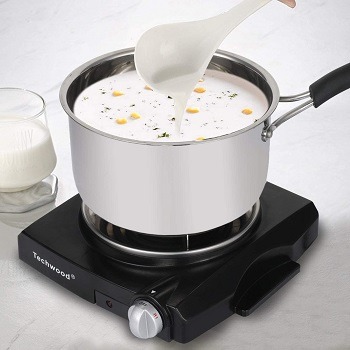 Automatically Turns On & Off
The thermal fuse inside of the electric single burner hot plate prevents overheating for no burning accidents. The indicator light warns you when the unit is heating and this model also automatically turns off when the temperature goes above the set one. When the temperature goes down, it will automatically turn on again.
Short Description:
infrared coil single electric burner
black stainless steel housing for durability
the thermal fuse prevents overheating
control knob for temperature regulations
1100-Watt unit with automatic shutoff
Best Double Burner Outdoor Hot Plate
Ovente Outdoor 2 Burner Hot Plate
6-Inch & 7-Inch Burners
Housing two electric burners, the metal base is durable even for everyday use. It includes individual control knobs and indicator lights so that you can set the temperature for each burner. The cast-iron hot plates come in 6-inch and 7-inch diameters, allowing you to cook two meals at once.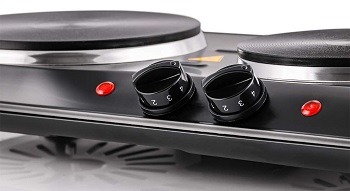 For Medium-Sized Cookware
This 1700-Watt double burner outdoor hot plate spreads heat evenly and heats quickly. The indicator light stays illuminated until the burner reaches the desired set temperature. The black metal housing is durable and easy to clean by using a sponge or a damp cloth. The burners are most suitable for medium-sized pots and pans.
Infrared Heating Elements
The overall dimensions of the infrared hot plate measure 9 inches in length and 18.5 inches in width. The infrared technology lets you prepare delicious meals and cook two things at once, even when you are not using your kitchen. The non-slip feet are made with rubber to stay safe on any surface while cooking.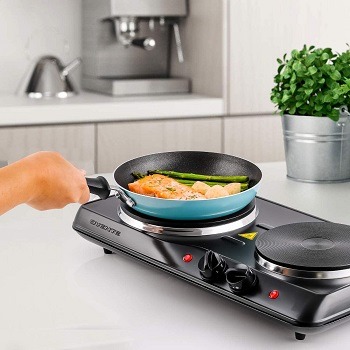 Portable Electric Unit
The portable size of this outdoor hot plate makes it ideal for grilling food in your backyard or taking it with you on travels. It provides two cooking elements in any space with an electrical plug.
Short Description:
6-inch and 7-inch burners
infrared technology spreads heat evenly
two temperature controls and indicator lights
ideal for grilling indoor and outdoor
9 inches long, 18.5 inches wide
suitable for medium-sized cookware
Best Commercial Outdoor Hot Plate
ATOSA Outdoor Cooking Plate
Uses Propane Or Natural Gas
This commercial hot plate with double burner can be operated by natural gas or liquid propane and is ideal for commercial outdoor use. The 50000 BTU model is 27.6 inches long, 12 inches wide, and 12.7 inches high. It comes with adjustable legs that are also easy to remove. Each burner has a control dial for regulating the temperature.
Detachable Grease Tray
The stainless steel housing is durable, resistant to corrosion, and easy to keep clean. The grease and debris are caught in the full-width tray under the hot plate that is easily removable for cleaning. It lets you cook two meals at once, regulating the flame of each burner individually for different cooking.
Compact Size For Outdoors
It is lightweight and compact enough to store when not in use and also won't take up too much space when in use. This outdoor hot plate can be used when camping for large family gatherings, or even in food trucks, and small cafes.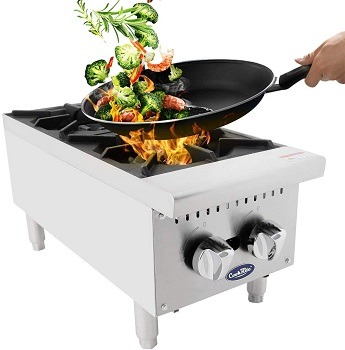 Fast Cooking For Many People
As it is suitable for both propane and natural gas, you can choose the option that works for you better. Even though it is designed for commercial use, you can even use it if you like picnics and camping. Especially so where you need a powerful model to cook enough food for larger groups of people fast.
Short Description:
27.6 inches long, 12 inches wide, 12.7 inches high
comes with removable and adjustable feet
removable full-width grease tray
two burners with individual control knobs
stainless steel housing is corrosion-resistant
suitable for outdoor camping and picnic cooking
suitable for food trucks and small spaces
What To Consider In Outdoor Hot Plates?
When looking for a hot plate to use outdoors there a few things to keep in mind. Firstly, you can choose between electric and gas models, so you will have to consider the wattage or the type of gas an outdoor hot plate can use. Outdoor hot plates can have one or two burners to suit your cooking needs. The size is also important so that you can transport it with ease and use it in small spaces.
Electric Models – This type of hot plate is great to use in any space, as long as you have access to an electric plug. The heating element can have visible coils, or be coilless, and even use infrared technology to cook food. The higher the wattage it comes with, the bigger the temperature range it offers. Electric plates usually use between 1000 and 1500 Watts.
Gas Models – Gas hot plates are usually operated by either butane, propane, or natural gas. It is convenient for outdoor use, as it doesn't require a power outlet like electric models. However, they require a gas supply, which includes refilling, unlike electric units that run constantly when plugged in. The flame can usually be adjusted by turning a knob.
Number Of Burners – Outdoor models usually feature one or two burners. The single burner hot plates are small and can be used in small spaces. Double burners usually have individual temperature controls and are great for preparing more food at once. Both designs are usually compact enough for portability.
Designed For Outdoors – Most models of hot plates come in a metal housing, especially stainless steel, which is easy to keep clean and is durable for long-lasting use. Non-slip feet help to keep the unit stable on any surface. When it comes to gas models, some are designed with electric ignition, so you won't have to use matches or lighters to start the flame. The wind guard also helps to keep the flame alive in the outdoor conditions.
Uses – Designed for a variety of uses, outdoor models can be used to grill meats and vegetables in your backyard, at picnics, or camping sites. You can also take compact models along with you on backpacking and trekking adventures. Outdoor hot plates are also practical for tailgating parties. Apart from grilling, you can also boil and fry foods at different temperatures making the hot plates extremely versatile.
To Wrap It Up
In my opinion, the best outdoor hot plate is the Cusimax double burner plate. It has two-sized burners and lets you grill, cook, and boil food wherever you have access to a power plug. To check out the best models for camping, read my reviews in this in-depth article about camping hot plates. To learn more about butane and propane models, take a look at my piece on gas hot plates and read the reviews of different models on the market.