Looking for a large hot plate that is convenient and easy to use?
Then keep on reading!
Whether you want to keep your food warm, cook on an electric burner, or buy an induction hot plate, in this article you can read the reviews of different models the market has to offer. Furthermore, you can read the guide that will help you focus on the important features when buying a large hot plate.
The Rundown
Best 6 Extra Large & Large Hot Plates
Best Of Best Large Hot Plate
Duxtop Hot Plate Induction
1800 Watts
This single burner hot plate works with magnetic induction and 1800 Watts for 83% more energy efficiency compared to gas stovetops. It requires induction-ready cookware such as cast iron and magnetic bottoms on stainless steel pots, otherwise, you will not be able to cook on this large hot plate. By using magnetic induction, the pot heats up but keeps the plate unit otherwise cold to touch.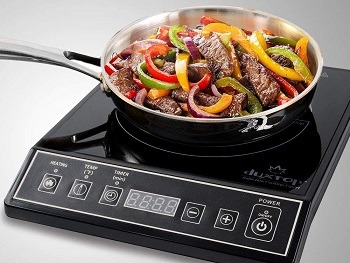 Control Panel With LED Display
It lets you adjust the temperatures in 15 settings between 140 and 460 Fahrenheit. The wattage can also be adjusted in 15 power settings between 200 to 1800 Watts. The adjustments are easily done on the control panel with an LED display. The panel also features a timer up to 170 minutes in one-minute increments.
Alignment Guide For Cookware
This unit comes in black color and can either have gold or silver detailing. Its glass plate size is around 11 inches and has a cookware alignment guide so that you know where to position the pan or the pot for cooking. It can be used for frying eggs, boiling water, sauteing vegetables, and even frying steak.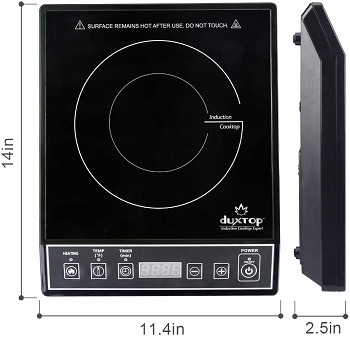 Can Be Used On The Go
This model is lightweight and compact enough to use while on the go, but also big enough to cook meals on when needed. It can be used in the kitchen as extra help or in spaces without a kitchen, such as dorm rooms and recreational vehicles.
Short Description:
1800-Watt induction hot plate
15 settings of power wattage adjustments
15 temperature settings between 140 and 460 Fahrenheit
requires induction-ready cookware
features a control panel with a screen display
Best Food Warmer Large Electric Hot Plate
Classic Kitchen Large Plate
300-Watt Power
This hot plate is suitable for keeping food warm and should not be used to used for cooking food. This 300-Watt hot plate comes with an on and off switch and a power indicator light for added safety. The knob is used to adjust the temperature between 110 and 230 Fahrenheit and can be removed as well.
Extra Large Size
The frame of this hot plate is finished in aluminum material and the warming surface is constructed from tempered glass. It is 20 inches long and 24 inches wide to fit several dishes on at once. Therefore, it is ideal for holiday meals and parties so that you can always serve your guests with warm appetizers and other meals.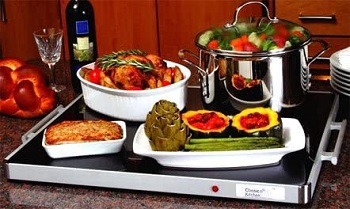 Portable Design
This extra-large hot plate is easy to store when not in use and also easily portable as it comes with sturdy aluminum handles located on the sides. The included storage bag lets you put it away and protect it when not in use. It is also easy to clean the glass surface.
Spreads Heat Evenly
As it is big in size, it allows you to put several pots and pans on at once to keep the food in them warm. After choosing the temperature you want to keep the food warm on, the glass surface will obtain the heat evenly throughout so that each meal can be kept warm.
Short Description:
measures 24 inches in width and 20 inches in length
aluminum housing with tempered glass surface
heat is spread evenly throughout the hot plate
temperature adjustable between 110 and 230 Fahrenheit
aluminum handles for portability
keeps several dishes warm at once
Best For Canning Large Hot Plate
Cadco Large Cooking Plate
Electric Unit
If you are passionate about canning food to preserve it for winter and wish to use a hot plate for such a job, then this model might be ideal for you. It is powered by electricity so that you can use it in any space with access to a plug. It features a cast iron element with a 7.125 diameter that delivers heat to the cookware evenly.
For Simmering & Boiling
Unlike induction hot plates, electric hot plates can be used with any kind of heat-resistant cookware. The large hot plate for canning is built on stainless steel housing and designed to keep the heat when you need to keep canning food simmering or boiling. You can choose between 12 temperature settings on the control knob.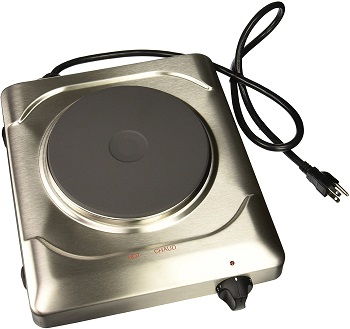 Can Endure Weight
The size of this electric countertop hot plate is 14 inches in width, 12 inches in length, and 3 inches in height. You can easily store it away after you are done with cooking your canning food. As it is constructed from hard cast-iron material, it can endure the weight of a pressure canner as well as a water bath canner.
1500 Watts
This unit can be used with pots up to 12 quarts in size. The 1500-Watt product can be used for canning food while you are using your kitchen cooktop to prepare other foods so it doesn't take up space on the stove. You will just have to put it somewhere stable with a power outlet and keep an eye on it while it is cooking.
Short Description:
7.125-inch diameter heating element
electric single burner spreads heat evenly
hard cast-iron material endures canning food weight
14 inches wide, 12 inches long, and 3 inches high
suitable for up to 12-quart pots
1500-Watts with a turning knob
12 settings of temperature level
Best For Pots Large Electric Hot Plate
NuWave Plate For Large Pots
Control Panel With Display
This hot plate for large pots comes in black color with golden details and features a magnetic induction cooktop with a control panel. The control panel features a screen display along with buttons for adjusting the temperature and programming your cooking performances. It can program and memorize up to 100 hours.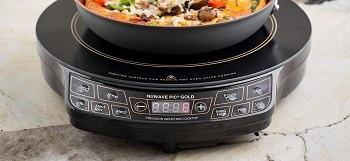 Induction-Capable Pots
As it works with the help of induction, you will need to use induction-ready cookware to ensure proper functioning. You can check whether your cookware is suitable for use on this large hot pot by sticking a magnet to the bottom. If a magnet sticks, you can use the cooking pot or pan on this unit.
9-Inch Cooktop
The 1500-Watt large hot plate stove top lets you cook on the lowest heat of 100Fahrenheit, or on the highest heat of 575 Fahrenheit. It also allows you to adjust the heat anywhere between in 10-degree increments. It has a large 9-inch cooktop but is also lightweight and compact enough for portability. It is also safe to use.

70% More Energy Efficient
The heating area of this cooktop is 8 inches so that you can prepare many different meals on it, from small breakfasts to bigger lunch and dinner. This type of hot plate is more energy-efficient than its gas and electric counterparts, as it saves up to 70 percent energy while cooking. It can be used to boil and steam, grill, slow cook, fry, and stir-fry, among other things.
Short Description:
1500-Watt unit with a control panel
a large 9-inch cooking surface
temperature adjustable between 100 and 575 Fahrenheit
offers up to 100 hours of programmable memory
more energy-efficient than gas and electric models
Best Single Burner Large Hot Plate
Cusimax Electric Single Hot Plate
Maximum 7.4-Inch Cookware
This large single burner electric hot plate features a cooktop suitable for cookware with up to 7.4-inch diameter. The 1500-Watt unit has stainless steel housing for durability and easy maintenance, along with a cast-iron hot plate. It can be used as a help in the kitchen when needed, as well as in spaces without kitchens. For example, camping sites, parties, recreational vehicles, dorm rooms.
Temperature Thermostat
This durable large single burner hot plate is also stable thanks to non-slip feet so that you can cook without it sliding on the countertop. It is safe to use as it has an automatic safety shutoff and a thermostat for regulating the cooking temperature. To store it, you can wipe it when it cools off to clean it, and then you can store it in any cupboard or other storing space.
Keeps Food Warm & Cooks
This cast iron hot plate works with any cookware type and can be used to keep food warm, as well as stir-fry and deep-fry food. The turning knob offers 11 temperature settings. The temperature level between 1 and 3 should be enough to keep food warm when needed. If you want to stir-fry, you can set the temperature between levels 5 and 7. Deep-frying is possible with levels 9 to 11.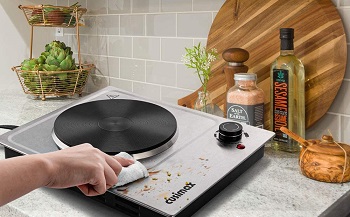 Corrosion-Resistant
This model is enough to help you cook when you are away from home for travel and work. You can easily transport it, as it is built to be durable with corrosion-resistant housing. It measures 12.99 inches in width, 11.02 inches in length, and 3.54 inches in height.
Short Description:
12.99 inches wide, 11.02 inches long, 3.54 inches high
7.4-inch diameter cast-iron hot plate
11 temperature settings on the turning knob
corrosion-resistant stainless steel for durability
non-slip legs for stability when cooking
uses 1500 Watts for different cooking needs
Best Induction Large Electric Hot Plate
Cosmo Hot Plate With Timer
For Up to 10.5-Inch Pans
This 1800-Watt induction large hot plate weighs only 6 pounds and is 14 inches wide, 11.5 inches long, and 2.5 inches high. It is suitable for pans up to 10.5 inches. This induction hot plate can be used in your kitchen when you need an extra burner, and can also be used on the go. It can transform any room into a kitchen, allowing you to cook while camping, in your recreational vehicle, as well as in hotel and dorm rooms.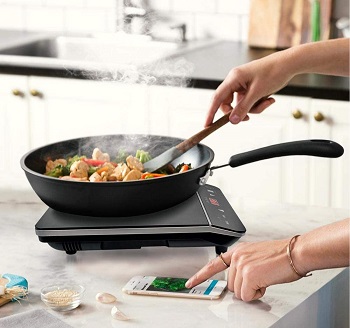 Automatic Shutoff
The induction cooktop with rapid heating lets you boil water in only 50 seconds. It is safe to use with a child lock for safety and automatically turns off after one minute of no use. It works with an induction-capable type of cookware and transfers more energy than other types of hot plates. This helps you save electricity and thus money.
Adjustable Temp & Power
Depending on where you are using this commercial electric hot plate and what you are cooking, you can adjust the power and the temperature needed to do so. Temperature can be set on 10 different levels between 140 and 464 Fahrenheit, while there are 9 available power levels between 200 and 1800 Watts.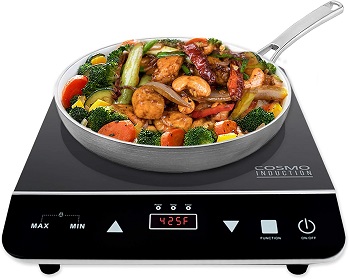 Features A Timer
When cooking, you can set the timer between 5 minutes and 3 hours to cook precisely. Apart from cooking, this unit also lets you keep your food warm. The high-quality glass is durable and easy to clean up. The cooling system makes sure the unit cools off and also prevents overheating.
Short Description:
14 inches wide, 11.5 inches long, 2.5 inches high
 for pans up to 10.5 inches
high-quality glass hot plate with rapid heating
adjustable temperature and power
140 to 464 Fahrenheit, 200 to 1800 Watts
child safety lock and automatic shutoff after one minute
can also be used as a hot plate to warm food
What To Consider In Large Hot Plates?
When buying an extra-large and large hot plate, you should know about the main differences between large electric hot plates and induction hot plates available on the market. It is also important to look at the wattage of the hot plates and the temperature it can produce for your cooking demands. Here you can also read about other features and accessories made for bigger hot plates.
Induction Vs. Electric – Induction hot plates are more energy-efficient than electric models, as they work to heat up the induction-ready cookware, thus saving energy. On the other hand, electric models work to heat up the burner which then heats up the cookware, so more energy is lost. However, it can work with any kind of heat-resistant cookware, unlike induction models.
Wattage Of The Unit – When choosing the wattage, it is important to keep in mind what you plan to use your large electric hot plate for the most. According to your cooking needs, you should know how much power you might need. If you go for high power, make sure you don't end up burning your food. Most hot plates have between 1000 and 1500 Watts.
Temperature Settings – Most electric and induction hot plates allow you to control the temperature between 100 and 450° Fahrenheit. However, induction plates usually come with control panels that let you choose the exact temperature, wheres some electric models only offer low, medium, and high settings without revealing the exact temperature.
Design – Buying a hot plate firstly means you probably want to be able to transport it and store it away easily. Glass hot plates can be riskier for portability as they are easier to break. Lightweight design with handles is always convenient so that you can use your hot plate while traveling, or living in a space without a kitchen.
Keep It Safe – When looking to buy a large hot plate, make sure it comes with safety features that will prevent injuries and damage. That way you can stay safe as the hot plate won't be able to overheat the unit which can burn your food and your cookware. Safety switches and indicator lights also help here.
To Wrap It Up
Finally, in my opinion, the best large hot plate is the Duxtop induction hot plate that lets you cook on a glass surface of around 11 inches. The temperature, power, and time can be adjusted to fit your cooking needs and this product can also be easily transported when needed. If you are interested in double burners instead, take a look at my selection of electric double burner hot plate models available on the market. To browse other bigger options of hot plates for kitchen use, take a look at my article about the best 12-inch electric hot plates.