Searching for a Korean hot plate that allows you to enjoy preparing and eating food with your family and friends?
Then keep reading!
Here you can read about the features of Korean hot plates for BBQ and find out about the models popular on the market, including electric Korean hot plates, indoor models, models for gas stoves, as well as different sized ones.
The Rundown
Best 6 Korean Hot Plates For BBQ
Best Of Best Korean Hot Plate
TECHEF Korean Food Hot Plate
Teflon Non-Stick Pan
This Korean hot plate for BBQ includes a grill pan with a portable single burner gas stove. It is also available to purchase separately without a gas stove set. The grill pan is made with Teflon so it is not sticky for stress-free cooking and cleaning. It also features a swirl design on the cooktop surface, which helps to slowly drain oil for delicious Korean BBQ food.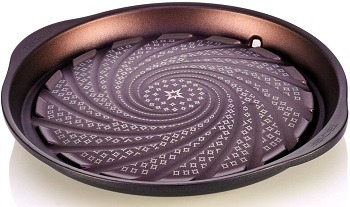 Butane Gas Stove
The portable gas stove features a compartment with a butane cylinder that can be easily accessed and replaced when needed. Igniting the burner can be done by using a knob and turning it clock-wise in one quick motion. The gas canister has to be 8 ounces to fit the compartment. The stove works with the help of a magnetic lock and can be automatically shutoff for safety.
Swirling Design With Drain Hole
As it is made in South Korea, you get a premium quality authentic product. The swirling design features a small draining hole on the edge of the pan so that you can use any small bowl to collect the draining oils and juices. It is ideal for pork belly and other types of meat used for Korean BBQ.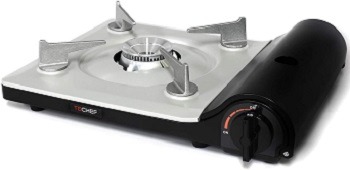 Portable Design
As it comes with a portable gas stove, you can use it separately as well for some other cooking needs. The travel hot plate has a grill pan with slots on the back so that it stays stable on the gas stovetop. You can enjoy your time cooking Korean barbecue with your loved ones in any space thanks to this non-stick grill pan with a portable gas stove.
Short Description:
includes a swirling design pan and a portable gas stove
single burner stove works with butane
non-sticking Teflon layer on the grill pan
grill pan with slots for stability on the stovetop
a small draining hole on the edge of the pan
Best Countertop Korean Hot Plate
Zojirushi Electric Hot Plate
For Indoor Countertops
This countertop Korean hot plate for barbecue works with the help of electricity and can be used indoors. It is designed to grill chicken, vegetables, steaks, burgers, as well a fish and can be used for a fun evening of a Korean barbecue with family or friends. It is easy to take apart for cleaning and the included drip tray is even dishwasher-safe so you can clean it easily.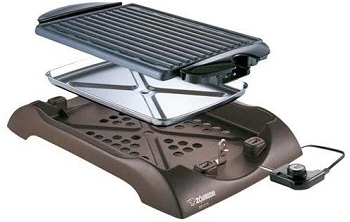 176 To 410 Fahrenheit 
The overall countertop plate measures 12.625 inches in width, 18.75 inches in length, and 3 inches in height. The non-stick grilling surface is 12.5 inches long and 9.25 inches wide. The electric hot plate has a 1300-Watt variable heat control element and allows you to adjust the temperature between 176 and 410 Fahrenheit. It includes plastic housing and is also constructed from aluminum material.
Drip Tray For Excess Oils
When grilling food, all the excess oils drip through the holes into the drip tray underneath for healthier meals. The handles are cool to the touch, as well as the base so that you can use it on the countertop and move it easily when needed. You can use it inside your house which is especially convenient for colder weather and restricted outdoor options for enjoying a Korean BBQ even in your house, without going to the restaurant.

Preparing & Eating Food Together
As the love for Korean barbecue is a growing trend that involves a group of people preparing and eating food together, this electric hot plate lets you do that. You can enjoy preparing food close to the dining table and enjoy the healthy food anytime you want. It can be a fun experience that involves a group of people preparing and eating food together.
Short Description:
indoor 1300-Watt electric grill with drip tray
excess oils drip into the dishwasher-safe tray
12.625 inches wide, 18.75 inches long, and 3 inches high
the surface is 12.5 inches long and 9.25 inches wide
temperature can be adjusted between 176 and 410 Fahrenheit
plastic housing with cold-to-touch handles for portability
Best Electric Korean Hot Plate
SEAAN Hot Plate Korean
Hotpot & Grill Sections
This Korean hot plate comes in black color and includes a baking tray separable from the electric cooking base. The baking tray includes a hotpot and a grill section so that you can enjoy all of the Korean BBQ food with side dishes. The cooking base features two control knobs so that you can adjust the temperature for the hotpot and the grill separately.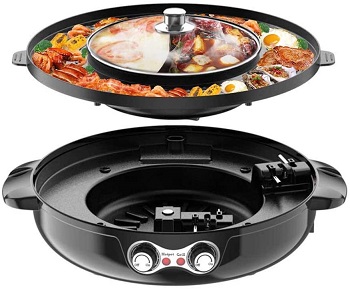 Non-Sticky Material
This 2200-Watt electric hot plate has a circle ring for collecting heat and takes 8 seconds to heat up. The baking tray for the grill is separated from the pot with the embedded design. It is great for separate washing and is non-sticky for easy maintenance.
Hotpot With A Divider
The various uses of this electric Korean hot plate allow you to boil, simmer, as well as fry and stir fry, and roast food at once. Its circular shape is ideal for a real experience of a group of people preparing their own food while hanging out and enjoying the food together. The hot pot features a divider inside so that you can make two different hotpot meals at once. It is enough for preparing food for up to 6 people.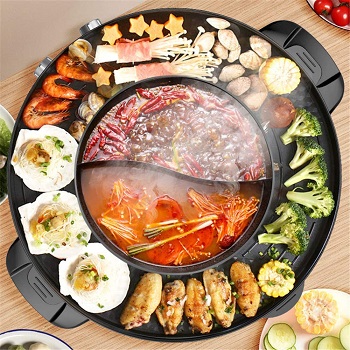 Oil Draining Drawer
The base has a cooling bottom for dissipating heat to prolong the lifetime of the unit. The waste drawer is perfect for draining oil from the tray into it to keep the food healthy. After this electric single burner hot plate reaches the set temperature, it will automatically turn off and then reconnect after the temperature goes lower.
Short Description:
2200-Watt electric hot plate
features a non-stick hot pot and grill tray
separate temperature knobs for the hotpot and the grill
the hot pot can prepare more dishes at once
suitable for preparing food for up to 6 people
cooling bottom dissipates heat for longer runtime
oil waste can be drained into an oil drawer
Best Cheap Korean Hot Plate
Elite Gourmet Grill Hot Plate
14-inch Grill Plate
This Korean hot plate features an electric non-sticking grill with a transparent lid and is available in black color. The 14-inch grilling plate lets you prepare a variety of foods at once. The thermostat allows you to adjust the temperature from 250 to 450 Fahrenheit in 5 settings. The 1300-Watt heating element works to spread heat evenly throughout the Korean hot plate.

Glass Lid Prevents Splashes
The edge around the grilling plate grants all the juices and oils can drip away from the food and keep it healthy and delicious. The non-stick hot plate can also be removed from the unit for easy cleaning with a removable drip tray, as well. The domed transparent glass lid is also included so that you can cook without oil splashing.
Dishwasher-Safe Parts
The glass lid, along with the grill and the drip tray, is dishwasher-safe for convenient and easy cleaning after each use. As it is powered by electricity and suitable for inside, you don't have to wait for the nice weather to be able to enjoy your Korean barbecue.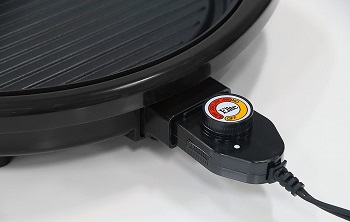 Affordable Price
The cool-touch base and handles let you transport the hot plate at any time without burns and injuries. Another great thing about this Korean hot plate is its price as it is considered a cheap hot plate. At an affordable price, you can get an appliance that will make cooking fun and easy.
Short Description:
a non-sticking grill plate is 14 inches in diameter
1300-Watt heating element spreads heat evenly
5 adjustable temperature settings from 250 to 450 Fahrenheit
dishwasher-safe removable parts for easy maintenance
cool-touch base and handles for portability
Best Big Korean Hot Plate
Iwatani Hot Plate
Designed For Gas Stoves
This Korean hot plate differs from the previous models in this article as it requires a gas cooking stove to work with. The 12-inch diameter Korean hot plate is designed to support gas stoves with a perfect size to fit different food on at the same time. It comes in grey color.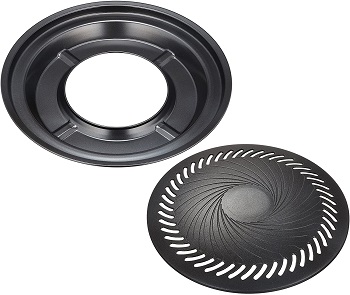 Removable Handle
The overall measurement of this plate is 13.6 inches by 2.2 inches and it weighs 2.16 pounds. It is not suitable for dishwashers. The grill hot plate can be removed from the ring that has slots to fit the stove hob for stability. The removable handle is included to help you with taking the hot plate off the base.
For Three People
The large hot plate is designed with die-cast aluminum with fluorine processing and a steel saucer. It is enough to cook food for three people and drains the oil and fat away from the meat for healthy eating. The smokeless design is great for use in the kitchen without setting the smoke alarm off.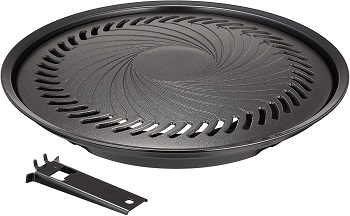 Non-Stick Material
The non-stick surface needs to be washed carefully to prevent scratching of the material. However, washing should not be a hassle as the oil and fat are drained away and the grill plate prevents sticking of the food. It is ideal for smaller gatherings or small families.
Short Description:
requires a gas stove to cook food
12-inch diameter hot plate in grey color
not suitable for dishwashers
die-cast aluminum hot plate drains oil and fat
smokeless design is suitable for indoor use
the non-sticking surface is easy to clean
Best Gas Korean Hot Plate
CookKing Plate For Cooking
Aluminum Non-Stick Plate
This Korean hot plate is suitable to use with a gas stovetop as it features a special design on the bottom that fits the gas cooktops for stability. It is made in Korea and constructed from aluminum material and features a non-stick layer for stress-free cooking. As it can be used both indoors and outdoors, this Korean hot plate is suitable for all kinds of barbecue parties.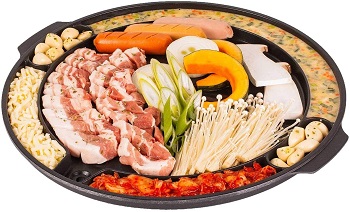 Sloped Design Drains Fats
Its sloped shape makes sure all the fats and oils drain away from the food and is ideal for cooking different types of meat pork belly, chunks of beef, and even seafood like fish and shrimps. It can also be used for vegetables. The separate compartments on the hot plate allow you to cook different foods at once, including runny food and garlic which is a tradition in Korean cooking.
Handles For Portability
The 12.25-inch diameter hot plate measures an additional 3.5 inches with compartments around the edge of the plate. The edge of the plate also features two handles so that you can easily transport and position this Korean hot plate on the stove. With the handles, it measures 17 inches. As it is sloped, it is 2 inches high on one side, and 1.5 inches on the other side.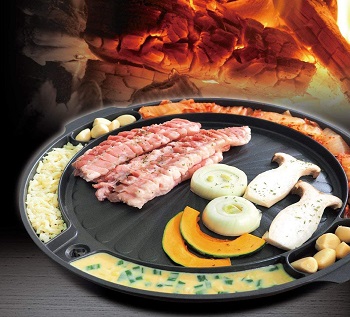 For Traditional Korean BBQ
As it can cook various dishes at once, this gas hot plate is ideal for several people to each cook their own food while spending time together. That way you can enjoy a real Korean barbecue party together, whether it be inside or outside. You can enjoy your favorite Korean BBQ food without having to go to a restaurant.
Short Description:
designed to fit gas cooktop surfaces
sloped design drains grease and fat through a hole
comes with handles for easy carrying
constructed from aluminum with a non-stick layer
separate compartments for cooking different foods
ideal for various meat and seafood meals
suitable for indoor and outdoor use
What To Consider In Korean Hot Plates?
If you enjoy Korean barbecues and want to give it a go at home, look out for models with the following features to enjoy delicious food. Have in mind the type of power source you wish to use, as well as the size of the plate you will need. Likewise, make sure to go for non-stick materials and designs that drain the excess fats and oils away from the food.
What Is A Korean Hot Plate? – A Korean hot plate is usually an electric or a gas grill plate used to make different Korean BBQ style meats and vegetables. It usually involves a group of people preparing food together, so that each individual can cook their food to their liking.
Power Source – The models of Korean hot plates in this article are either suitable to use with gas stoves or are powered by electricity. Some of the plates suitable for gas cooktops come with a portable gas stove, while some require a separate purchase.
Size & Design – When choosing the size of the Korean hot plate, go for a model that can cook enough food at once for your needs. They are available to purchase in smaller and larger sizes that can cook enough food for up to 6 people or more. If you don't want to stress over cleaning, go for models with dishwasher safe parts.
Fat Draining – Most models on the market have a non-stick layer suitable for cooking both meat and vegetables. As the meat cooks and releases grease and fats, it is good to have a plate designed to drain all the excess oils away. This is achieved with different shapes of the plate and allows you to enjoy the healthy food that stays delicious.
Temperature Adjustment – Electric Korean hot plates usually come with a knob that lets you adjust the temperature to your liking and you should usually know what the lowest and the highest point measure in Fahrenheit degrees is.
To Wrap It Up
In my opinion, the best Korean hot plate is the TeChef hot plate for Korean BBQ. It features a portable gas single burner and a hot plate with a swirl design. It is ideal for cooking different types of food while making sure the excess fats and greases drain away from the food for healthy eating. If you wish to use a hot plate for different outdoor cooking, check out my in-depth article about outdoor hot plates. If you like cooking the Japanese style, check out the best Japanese hotplates available on the market.