Have you been trying to find the best travel hot plate to take with you?
Not sure how to choose one that meets your demands?
Continue reading this article where you can find out all this information and more. You can check out the reviews of double burners, as well as electric and induction hot plates in different sizes. Learning more about the features of travel hot plates can help you focus your mind on the most important specifications to help when choosing a model.
The Rundown
Best 6 Travel Hot Plates
Best Of Best Travel Hot Plate
Duxtop 1800W Induction Hot Plate
Induction Cooktop Surface
This 1800-Watt travel hot plate works with the help of magnetic induction. It comes in black color and features a digital control panel and a cooktop surface with a cookware alignment line. The control panel features temperature and power mode indicators, as well as a timer mode indicator. It also has an LED display screen and buttons for increasing or decreasing mode levels.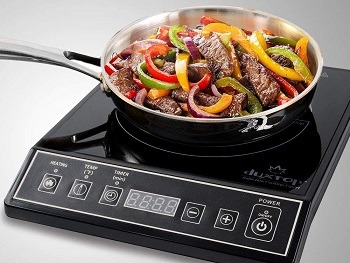 Adjustable Temp & Power
This model allows you to choose between 15 power levels (200 to 1800 Watts) and a temperature range between 140 and 460 Fahrenheit. The built-in timer has increments of one minute and can be set up to 170 minutes. It can be used for boiling water or frying eggs and steak, among other things. The heat is only felt on the cookware so it prevents burns and this is a safe hot plate. Moreover, it is easier to clean as there is no open flame nor hot burner for food sticking.
Safety Features
As it works with induction, this unit also needs compatible induction cookware to be able to work. This means cast-iron pots, as well as aluminum enameled steel and iron, and magnetic bottoms on stainless steel cookware. The plate comes with safety features such as auto-pan detection, as well as protection from over-heating, etc.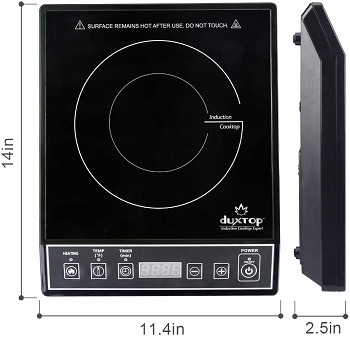 Lightweight & Compact
It is lightweight with a compact design so that you can easily transport it and store it when necessary. The elegant style with modern features makes it easily fit into different decors. This means you can take it anywhere with you while traveling and also use it as a stove extension in your kitchen when necessary. It will easily blend in so you can do some cooking on it.
Short Description:
works with magnetic induction to heat up cookware
control panel with LED display
15 power levels between 200 and 1800 Watts
15 temperature levels between 140 and 460 Fahrenheit
lightweight and compact for traveling and storage
Best Electric Travel Hot Plate
Cusimax Safe Hot Plate
7.4-Inch Single Burner
This electric travel hot plate features a single burner with a 7.4-inch cooktop which is ideal for traveling. As it has a compact and lightweight design, it can be used in different spaces that can be small. The front side features an indicator light and a turning knob with seven settings on the thermostat knob suitable for cooking different meals. There is also an on and off knob on the front side. The maximum size of pots is 7.4 inches in diameter.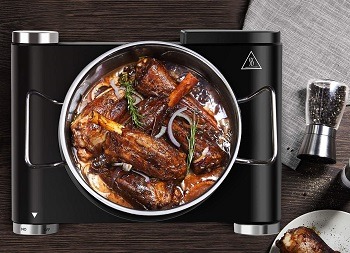 Safety Shutoff Function
The hot plate is suitable for use of any kind of cookware in your house, unlike induction hot plates. It is protected from overheating and has an automatic safety shutoff to prevent injuries or damage to the unit. It can be used when traveling on any countertop surfaces without slipping as it comes with non-slip feet to keep it in place. It is durable for long-lasting use and is easy to keep clean.
For Versatile Cooking
This electric travel hot plate has a cast iron hot plate with 1500 Watts of power. It measures 11.6 inches in length, 7.9 inches in width, and 2.71 inches in height. As it is compact in size, it can be easily portable with you when traveling to make a variety of meals. You can cook soup, pasta, vegetables, boil water, make eggs, and many other smaller dishes.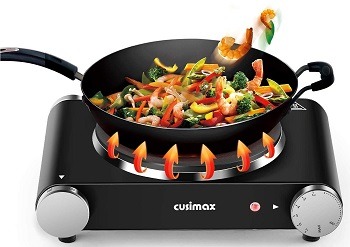 Non-Stick Cast Iron 
The electric single burner hot plate is made of durable cast iron to spread heat evenly and for minimal heat loss. As it has no open flame, food won't stick and burn on the cooktop surface. It can be easily cleaned with a damp cloth once it has cooled down. When the temperature gets too high, the unit will turn off as it features an overheating protection function.
Short Description:
1500-Watt electric hot plate
features a 7.4-inch electric cooktop surface
lightweight and compact for confined spaces
seven temperature settings on the thermostat
safety features include overheating protection
11.6 inches long, 7.9 inches wide, and 2.71 inches high
Best Single Burner Travel Hot Plate
IMUSA Single Hot Plate
Heat Distributing Coils
This portable single electric burner hot plate is a great alternative to a stove for dorm, RV, and ideal to use as a traveling cook on any countertop. This single burner features heat distributing coils and a turning knob for regulating and adjusting the cooking temperature. It comes in black color and features an indicator light and non-slip feet for firm and sturdy use.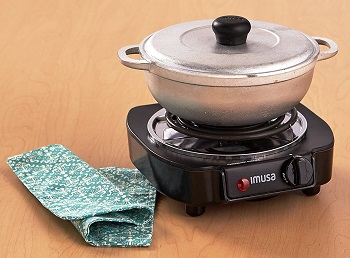 Stainless Steel Drip Tray
It is powered by electricity and can be used anywhere with access to a plug. The 1100-Watt coils are located above a stainless steel drip tray so that it can be easily cleaned when needed. Its compact and space-saving design makes it ideal for use while on the go and traveling. The knob lets you adjust the temperature from low to high for cooking different meals.
Read The Manual
This hot plate stove top comes with a manual which you should read before you start using this travel hot plate. It should not be used for longer than 60 minutes in a period of 2 hours. Apart from traveling, it can also be used in the kitchen when needed, or in small studio apartments, dorm rooms, offices, etc.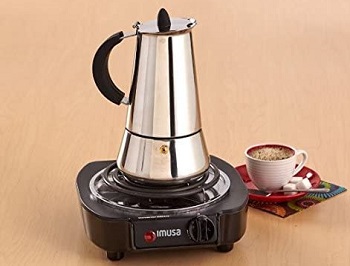 Clean After It Cools Down
The power indicator light notifies you when the travel hot plate is in use to prevent injuries and damage. It will take some time to cool down after use as well, so you should be careful not to clean it straight away. The hot surface transmits the heat to the cookware, so you should be careful not to touch it.
Short Description:
1100-Watt heat distribution coils
a stainless steel drip tray under the coils
turning knob for regulating the temperature
a power indicator light for safety
should not be used over 60 minutes in 2 hours
a space-saving compact design ideal for travel
single burner with non-slip feet
Best Small Travel Hot Plate
Maxi Matic Hot Plate
Temperature Control
This small hot plate for travel features a 1000-Watt electric single burner with a control knob that includes warm, low, medium, and high-temperature settings. The hot plate surface is constructed with heavy-duty cast-iron to evenly distribute heat across the plate for cooking various dishes. The base is cool to the touch and features rubber feet that help against slipping on any surface.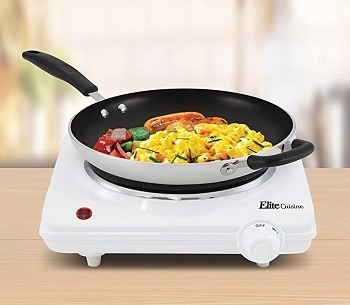 Non-Stick Plate
The power indicator light helps with safety to know when the unit is turned on to prevent burning damage and injuries. It is easy to keep clean and works with aluminum, copper, stainless steel, and many other types of cookware, unlike induction hot plates. The plate is designed against food sticking for quick and easy cleanup with a damp cloth. It cannot be washed or emerged in water. It heats up quickly so you don't have to take long when cooking while traveling.
Compact & Portable
This mini electric plate comes in white color and is compact to use in smaller spaces, which also makes it easily transportable. You can use it while traveling in your hotel room, or in your recreational vehicle. Likewise, it can even be used in the office or small confined spaces without a proper kitchen as a hot plate to boil water for coffee or tea.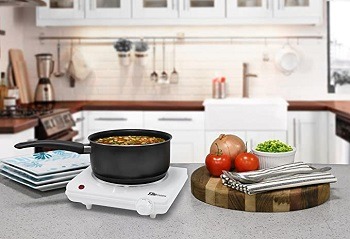 First Time Use
Before using this mini hot plate for travel, it is important to know that the first 15 minutes of the first use will result in some smoke and a slight smell. Running it on the low setting for 15 minutes when using it for the first time will help here. It will make sure the protective substance on the heating element burns and then you can use it for cooking.
Short Description:
uses 1000 Watts of power
warm, low, medium, and high-temperature settings
heavy-duty single burner with a cast-iron hot plate
the base is cool to the touch with non-slip feet
compact enough to transport and use when traveling
Best Portable Travel Hot Plate
Cuisinart Electric Hot Plate
Coil-Less Double Burner
This portable electric stove for travel is a countertop electric burner. It features a 1300-Watt larger hot plate and a 500-Watt smaller hot plate so that you can cook food and quickly heat it up. The coil-less plates are made with cast-iron so they are durable and easy to clean after use. The housing comes in a brushed stainless steel finish and easily compliments any space.
Knob With 6 Settings
Each hot plate comes with its 'ready' and 'on' indicator lights, as well as control knobs with an off position and a minimum level along with 5 other temperature levels. The feet are non-slippery so that you can use it on any countertop as your alternative to a stove while traveling. It adds two burners to your kitchen when needed, but can also become an alternative to the stove for travel purposes.

Fits Confined Spaces
The lower temperature settings are ideal for keeping your food warm, while the higher temperatures can be used to cook meals. It can be used for parties and holiday meals when you need any extra help but is also small enough to fit into confined spaces while traveling. You can use it in dormitories, boats, and other recreational vehicles, as well as in offices and hotels when traveling for work and other reasons.
Portable For Travel Purposes
This double burner hot plate is 11.5 inches long, 19.5 inches wide, and 2.5 inches high. It adds flexibility to cooking as it has two heating surfaces while still being compact enough for portability. It acts as a great portable electric stove for travel so you don't have to worry about staying hungry as it will help cook meals and keep them warm.
Short Description:
11.5 inches long, 19.5 inches wide, 2.5 inches high
two control knobs and indicator lights
1300-Watt larger burner and 500-watt smaller burner
cast-iron coil-less double burner
non-slippery feet for stability on countertops
portable thanks to the compact size
Best Induction Travel Hot Plate
NuWave Tiny Hot Plate
600, 900 or 1300 Watts
This 1300-Watt induction travel hot plate is constructed with magnetic induction coils located inside the surface of the cooktop plate. It has three wattage settings so that you can choose to use 600, 900, or 1300 Watts. It produces heat in cookware directly, without heating up the cooktop surface itself. Apart from the induction hot plate, it also features a control panel for setting all the features up.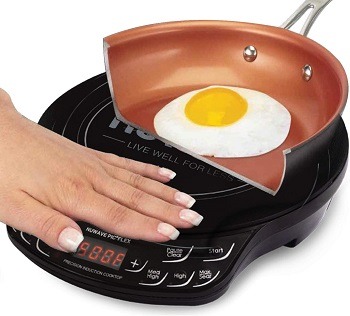 100 To 500 Fahrenheit
This electric stove hot plate allows you to cook food on temperatures between 100 and 500 Fahrenheit so that you can even cook steak with it. The temperature can be set up in increments of 10 degrees, so it's easy to choose the temperature you need for cooking a certain meal. Upon removing the cooking pot from the plate, it immediately stops the heat conduction. If you set up a timer, the hot plate will turn off as soon as time reaches zero.
Portable Size
It is 11.95 inches long, 10.25 inches wide, and 2.35 inches high. Thanks to the compact size and lightweight design, you can take this travel hot plate anywhere with you so that you can always prepare and cook your favorite dishes. That means that you can use it even in your recreational vehicles, backyard, or even as a camping hot plate. This is also where adjusting the wattage comes in handy.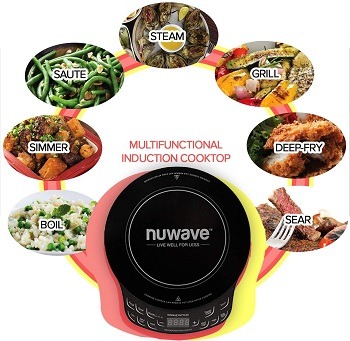 Comes With A 9-Inch Pan
As you need induction-ready cookware to work with this model, with the purchase of this product you will get a compatible 9-inch fry pan with a non-stick coating. It is even suitable for use on gas and electric stoves, as well as in ovens. This induction hot plate is safe to use and uses less energy as it heats up only the cookware.
Short Description:
11.95 inches long, 10.25 inches wide, 2.35 inches high
compact and lightweight for transportability
includes an induction-ready 9-inch pan
can use 600, 900, or 1300 Watts
cooking temperature between 100 and 500 Fahrenheit
temperature increments are 10 degrees
control panel with buttons for settings
What To Consider In Travel Hot Plates?
In case you want to cook your own food while traveling, a travel hot plate might come in handy. However, choosing the right model requires a little knowledge about different types of cooktops, which features make them easily portable, how powerful they need to be, as well as how adjustable temperature levels are.
Different Types – The market offers single or double burner hot plates, as well as cooktop surfaces that work with just electricity or magnetic induction. The latter is safer to use and more energy-efficient because it heats up only the cookware, while electric hot plates heat up the cooktop surface which then heats up the cookware. On the other hand, electric models work with any kind of cookware, while induction models need special cookware.
Portability – When looking for something that is easy to take with you, consider models that are light in weight and that don't take up too much space. Glass cooktop surfaces are easier to break but are usually also more convenient to clean. Single burners might be more convenient, as they don't take up as much space as double burners. However, they are an option if you cook a lot.
Watt Power – Hot plates come with different wattage, which can sometimes even be adjustable. Generally, the higher it is, the more cooking it can do. The travel hot plates reviewed in this article range up to around 1500 Watts, which should be enough to deal with different cooking needs.
Temperature Levels – Most hot plates nowadays come with a turning knob or a control panel that lets you adjust the cooking temperature. The temperature level mostly ranges between 100 to 450 or 500 Fahrenheit. The models with turning knobs usually only label temperatures in levels without stating the exact temperature, which is the case with models with control panels.
Versatile Use – Investing in a travel hot plate can come in handy whenever you want to cook something on your recreational vehicle, boat, in your dorm or hotel room. Moreover, it can even be used in your house, when you need an extra cooktop surface in your kitchen or on your patio. It is ideal for cooking when moving houses and not being able to use your kitchen.
To Wrap It Up
In short, I would recommend the Duxtop 1800 Watts travel hot plate that works with the help of magnetic induction. The featuring control panel allows you to adjust the time up to 170 minutes, the temperature between 140 and 460 Fahrenheit, and the power between 200 and 1800 Watts. If you want to use a hot plate while going on adventures and camping, you can find out more information in this article about the best camping hot plates and check out currently popular models. To check out other small models, take a look at my post about the best mini and small hot plates on the market.