Desperately searching for a small hot plate to take anywhere with you?
Then take a look at this in-depth article where you can check out the reviews of many small heating plate models I chose after researching the market. As they are available in different designs and with different features, you can also learn about the things that are important to focus on when buying one.
The Rundown
Best 6 Mini & Small Hot Plates
Best Of Best Mini Hot Plate
Ovente Tiny Hot Plate
Stainless Steel & Ceramic Glass
This small hot plate comes in silver color with stainless steel housing and a crystallite glass infrared burner. The indicator light and the control knob are located on the front side of the unit that can be used on any countertop surface. The non-slip feet with rubber keep it stable so it doesn't slide while cooking.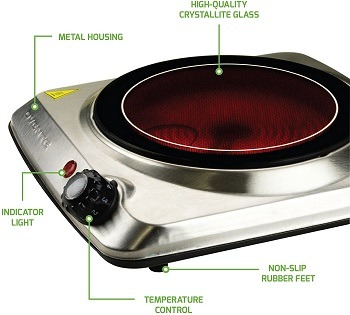 Safe To Use
The 1000-Watt electric countertop burner features a thermostat for temperature control, letting you adjust the heat by turning the knob. The ceramic glass cooking surface spreads heat evenly and works with any type of cookware. It is safe to use as it has no open flame, doesn't slide on the countertops, and warns you when it's on with the indicator light. After unplugging and letting it cool down, you can use a damp cloth to clean it.
7-Inch Burner
The 7-inch cooktop is ideal for use in any small space where it will easily fit in thanks to its modern and sleek design. As it weighs only 3 pounds, this slim hot plate can be used in dorm rooms, offices, RVs, at a camping site, etc. You can even use it in your kitchen when you are entertaining and need more cooktop surface.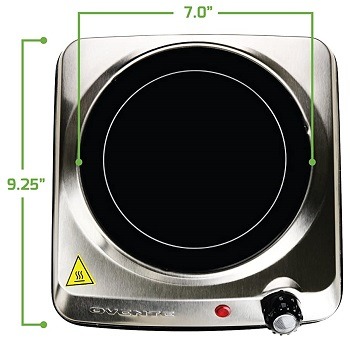 For Small Spaces
The compact and lightweight size makes this hot plate ideal for small spaces without kitchens. If you travel for work, love camping, or simply need an extra burner in the kitchen from time to time, this model will help you cook with temperature control.
Short Description:
1000-Watt with thermostat control
indicator light and rubber feet for safety
stainless steel and ceramic glass cooktop
7-inch cooking surface for small spaces
the slim design weighs only 3 pounds
Best For Travel Small Hot Plate
Maxi-Matic Small Heating Plate
Heavy-Duty Construction
This hot plate comes in the white color of the housing and features a flat single burner with cast-iron construction. The base is cool to the touch for safety and rubber feet on the bottom make sure it is stable on countertops. The front side of the housing features an indicator light and a turning knob for temperature adjustments.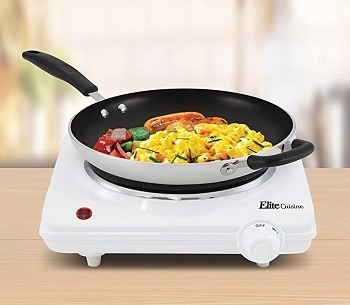 For Versatile Cooking
The 1000-Watt small hot plate offers warm, low, medium, and high-temperature levels for versatile cooking. The heavy-duty heating element spreads heat evenly and is compatible with any type of cookware. It is easy to maintain and keep clean.
Compact Size
This travel hot plate measures 9 inches in length and width and is 3.25 inches high. As such, it can be used in any space with a power outlet, bringing a cooking top even to spaces without a kitchen, which is ideal for travel. This small hot plate for travel can be used in RVs, dorm and hotel rooms, or offices.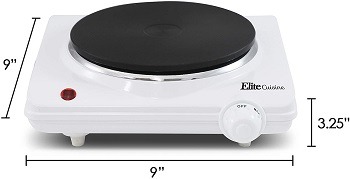 Non-Stick Surface
Its space-saving design makes it ideal for small kitchens and otherwise confined spaces where a regular stove would take up too much space or wouldn't even be able to fit in. This mini hot plate for travel has a non-stick surface so that you can easily clean it after every use.
Short Description:
9 inches wide and long, 3.25 inches high
cast-iron flat single burner
warm, low, medium, and high settings
rubber feet for stability on countertops
ideal for travel and confined spaces
non-stick surface for maintenance
Best Electric Mini Hot Plate
Proctor Silex Hot Plate Mini
1000-Watt Coil Burner 
This 1000-Watt electric single burner features a coil burner with a stainless steel drip tray built into the white housing. It has a control knob for temperature and a power indicator light. The coils heat up according to the temperature set on the turning knob, from low to high temperatures.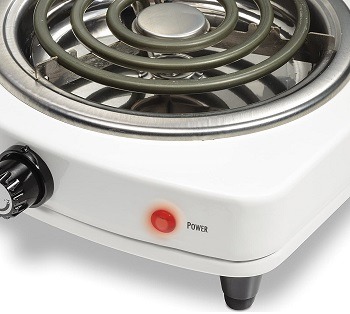 For Home & Away
It can be used for preparing meals anywhere with a power outlet as it is powered by electricity. It can be used as an extra burner in the kitchen when cooking holiday meals or entertaining larger groups. However, it can also be used on the go in spaces without a kitchen. After you are done cooking, wait for the coils to cool down, then lift them to clean the drip area.
Restrictions Of Use
This portable cheap electric hot plate is powerful enough to cook meals and compact enough to store away and use on the go. You can use it on holidays in hotel rooms without a kitchen, small studio apartments, and other confined spaces. However, this model should not be used for longer than 60 minutes in 2 hours.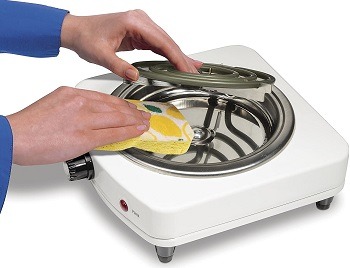 User Manual
This mini hot plate is intended for indoor use and must not be left turned on unsupervised and close to flammable materials. When placing it on any countertop surface, make sure it is flat and heat-resistant. It is advised to use the user manual to be able to operate it safely and properly.
Short Description:
1000-Watt single coil burner
turning knob for temperature settings
intended for indoor use only
compact and portable size for on the go
for flat heat-resistant countertops
restricted to 60-minute use in 2 hours
coils lift for cleaning the drip tray
Best For Coffee Small Hot Plate
DasMarine 500W Small Heating Plate
Lightweight & Space-Saving
This mini hot plate features a 3.9-inch cooktop surface and is 3 inches high. It weighs only 1.94 pounds so that you can take it anywhere with you and use it without taking up a lot of space. It can be used with any cooking pot or pan that is compatible in size and flat-bottomed for easy contact with the cooking surface.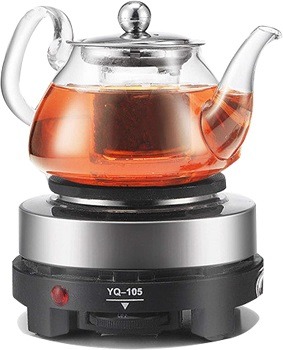 5 Temperature Gears
The knob for controlling the temperature has 5 gears so that you can cook small meals, make coffee, tea, or heat milk and wine. When you are not using the mini portable electric stove, it is advised to turn it off and unplug it from the power outlet. Moreover, it should not be immersed in water or other liquids for cleaning.
Portable Mini Stove
This small hot plate for coffee is easily portable, so you can take it anywhere with you. It is ideal for offices, dorm rooms, and other small spaces without a kitchen. As it is extremely lightweight, you can even place it in your carry bag and take with you to use anywhere with access to electricity.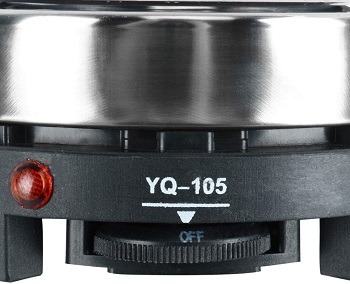 Ideal For Coffee & Tea
When not in use, this 500-Watt coffee hot plate will take up minimal space for storage. This electric mini stove hot plate is not intended for cooking large meals, but can efficiently boil water for coffee and tea, as well as prepare soup and porridge meals.
Short Description:
a 3.9-inch mini cooktop surface
compact size for portability and travel
for coffee, tea, porridge, and soup
used in offices, dorm rooms, small spaces
5 gears of temperature control
Best Induction Mini Hot Plate
NuWave Precision Tiny Hot Plate
For Precision Cooking
This 1300-Watt small induction hot plate is designed for precision cooking with touch buttons on the control panel. It requires induction-ready cookware so that the coils inside the surface can create a magnetic field to heat the pot or the pan. With the purchase of this product, you will also get a 9-inch fry pan suitable for induction hot plates.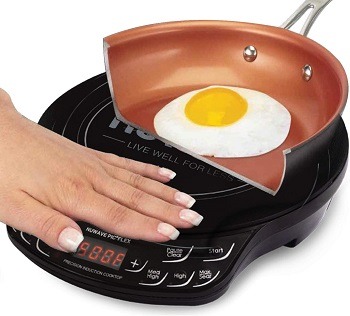 100 To 500 Fahrenheit Degrees
The control panel lets you adjust the temperature, set the timer, and choose between different power levels while cooking. The range of temperature is between 100 and 500 Fahrenheit degrees, all in 10-degree increments, and can easily be set by using a button on the panel. You can choose between 3 power settings of 600, 900, and 1300 Watts.
Saves Energy & Money
Thanks to the power levels and the temperature range, you can use this small hot plate to boil, simmer, grill, or deep-fry. It is a great energy-efficient unit that saves you money on the energy bill by wasting less energy than other kinds of electric models. Without the open fire, there is also less risk of burn and damage. It also automatically shuts off when cookware is removed for safety reasons.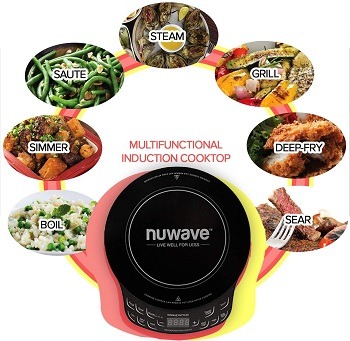 Portable Size
This model is 10.25 inches long, 11.95 inches wide, and only 2.35 inches high. This compact design saves space and lets you use it in any small spaces for cooking, such as RVs, studio apartments, dormitories, etc. You can take this 12-inch hot plate with you when camping and traveling. With adjustable power and a high range of temperatures, you can use this for versatile cooking.
Short Description:
1300 Watts induction cooktop surface
comes with a 9-inch compatible frypan
100 to 500 Fahrenheit temperature settings
can use 600, 900, or 1300 Watts
portable and compact size for travel
more energy-efficient than other electric models
Best For Warming Small Hot Plate
Chef Buddy Miniature Hot Plate
Non-Electric Model
Unlike the rest of the small hot plate models in this article, this one is intended to keep food warm, rather than cook it. It also works differently than the rest of the electric hot plates. It features a stone center and side handles that stay cool to the touch.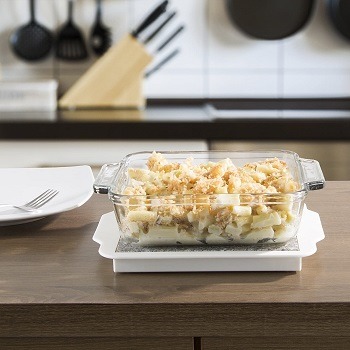 Stone Center Transfers Heat
The hot plate to keep food warm is constructed from polypropylene and granite materials. The length measures 9 inches, while it is 10.25 inches wide and 1 inch high. The stone center is fitted into a base and keeps the heat for longer after it is heated up. The warm granite core transfers the heat to the cookware to keep the meal inside warm.
Heats Up In The Microwave
To warm up this plate, you will simply have to put it inside the microwave for a few minutes. It can be safely taken out of the microwave, as the handles stay cool to the touch. As it is non-electric, you can use it in any indoor or outdoor space.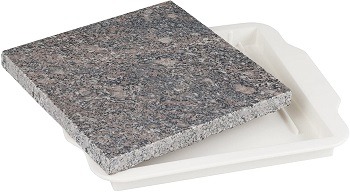 For Indoors & Outdoors
It fits nicely with any interior or exterior, as it features a granite insert and white plastic base. For cleaning, you can take out the granite core that measures 7.75 inches in width and length. It is safe to use because it requires no batteries or cords.
Short Description:
non-electric hot plate to keep food warm
granite stone center with white plastic base
9 inches long, 10.25 inches wide, 1 inch high
heats up in the microwave
can be used indoors and outdoors
removable granite core for cleaning
carry handles stay cool to the touch
What To Consider In Mini & Small Hot Plates?
As small hot plates are usually needed when traveling and cooking in confined spaces, you should keep in mind their size and some other performances. For example, different models use different wattage levels, offer different temperature ranges, so that the hot plate can be used for versatile cooking and keeping food warm.
Wattage – Mini hot plates usually use around 1000 Watts and sometimes even let you choose between different power levels. This is ideal when cooking on boats or in recreational vehicles, to adjust the power to space. At the same time, higher power levels will let you cook larger meals.
Portable Size – It is also important to make sure you don't buy a heavy and large hot plate that will be hard to transport and use in small spaces, such as dorm and hotel rooms, and other spaces without a kitchen. Smaller sizes are also easier to store when not in use.
Multifunctional – As they are small in size and save space, you can use them in your kitchen when you need an extra burner. At the same time, you can take them with you to the office, or your studio apartment. Likewise, they are a great option for students in dorm rooms, or when traveling and camping.
Temperature Range – Apart from different power, the temperature levels can also differ from model to model. The one with wide ranges of temperatures can thus be used for more versatile cooking, such as boiling, steaming, frying, grilling, etc.
Plate Type – The market offers a variety of models, including electric and induction hot plates. Electric models can have coils, be coil-less, or use infrared technology to cook. They can use any kind of cookware. Induction plates, on the other hand, need induction-capable cookware but are way more energy-efficient than other models.
To Wrap It Up
In sum to this article about the best mini and small hot plates, I would recommend the Ovente plate with a 7-inch cooktop surface. The infrared burner uses ceramic glass that spreads heat evenly and is easy to clean. It uses 1000 Watts and lets you set the cooking temperature by turning the knob. If you want to use a hot plate while camping, check out my selection of camping hot plates. Apart from small models, the market also offers single burner hot plates which are also small, so if you are interested, take a look at the best single burner hot plates.