Need a low wattage hot plate to take along on your travels?
Keen on learning more about low wattage electric hot plates?
Don't worry, we've got you covered! Continue reading this article to find out about different types of electric hot plates and learn where you can take your low wattage hot plate with you. Here you can also find out about other features of hot plates so that you can choose the best model for your needs.
The Rundown
Best 6 Low Wattage Hot Plates
Best Of Best Low Wattage Hot Plate
Maxi-Matic 750-Watt Hot Plate
Coils Above A Chrome Tray
This 750-Watt electric single burner hot plate features coils fitted above a chrome dip tray with a control knob that lets you choose the temperature level. You can place it on any countertop because it has non-slip feet that will keep it stable and protect it from slipping.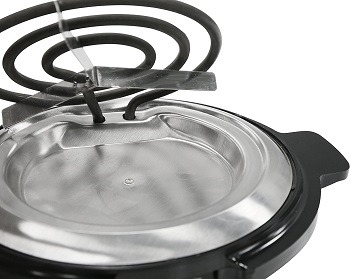 Low, Medium & High Temperatures
The heating element with coils heats up the cookware according to the temperature level set on the control knob. It allows you to choose between low, medium, and high levels for different types of cooking. It should be easy to clean as the coils are lifted off the drip tray that collects any spillage.
Ideal For Small Spaces
This low wattage hot plate is compact and portable so that you can use it while traveling, spending time in your boat or recreational vehicle. It is also great for use in other confined spaces without a kitchen, such as dormitories, offices, and studio apartments.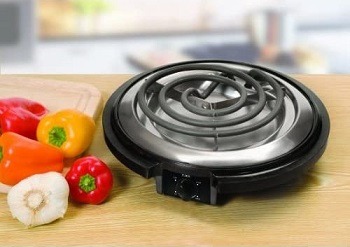 Convenient Cool-Touch Handles
As the coils can be lifted off for convenient cleaning of the drip tray once they are cool. Cleaning should be done by using a warm damp cloth. The handles are located on the side of the single burner and stay cool so that you can adjust the position even during cooking.
Short Description:
uses 750 Watts for cooking
low, medium, high levels of temperature
chrome drip tray under the coils
compact and portable design for small spaces
non-slip feet for stability
handles are cool for convenient locating
Best Single Burner Low Wattage Hot Plate
Haofy 500-Watt Hot Plate
5 Temperature Levels
This low wattage hot plate is powered by electricity and should be plugged out of the power outlet after switching the unit off. The red indicator light shows when the plate is heating and turns off once it acquires the wanted temperature. This model comes with a turning knob that adjusts the temperature in 5 levels.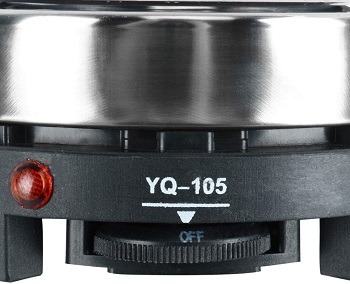 Fast Heating 500-Watt Model
The portable single burner uses 500 Watts to heat up fast. It can be used on the go when traveling for work, camping, staying on a boat, or other recreational vehicles. Thanks to its compact size, it can even be used in spaces without a kitchen, such as student dormitories. The 3.9-inch cooktop surface comes built into a 2.95-inch high housing that is 5.3 inches wide.
Overheating Protection
This small and safe hot plate can work with any kind of cookware, including copper, aluminum, cast iron, and stainless steel. The built-in thermal fuse protects the unit for overheating to prevent injuries and damage. It does so by automatically cutting off the heat for a few seconds when it reaches the set temperature and then continues the heating process.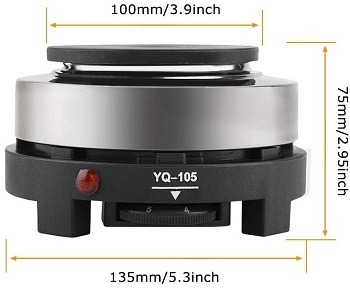 First-Time Use
When using this model for the first time, make sure to burn off the protective film on the surface by putting the temperature on setting 5 for about 10 minutes. It will produce a small amount of smoke and then be able to work normally.
Short Description:
500-Watt single burner with
3.9-inch diameter cooktop for small spaces
off switch and indicator light
the thermal fuse prevents overheating
5 temperature levels on the knob
Best Countertop Low Wattage Hot Plate
Cusimax Infrared Low Wattage Plate
Ceramic Glass Cooktop
This countertop hot plate features an infrared single burner with a ceramic glass cooktop. It is compatible to use with any type of cookware with a maximum diameter size of 7.9 inches. This 1500-Watt model lets you adjust the power so that it can be used in different spaces and for different meals. The power levels can be adjusted between 100 and 1500 Watts.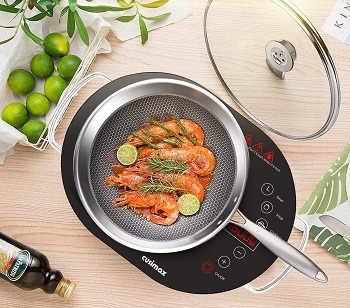 Control Panel With LED Screen
This low wattage hot plate comes with a built-in fan that helps to cool down the unit faster and prevents overheating. The model also has a control panel with an LED screen where you can adjust the power and set up the timer from 1 to 180 minutes. It has an oval shape and measures 4.13 inches in depth, 18.5 inches in width, and 12.13 inches in length.
Portable With Handles
Because of its compact size, it can be used in any space and stored when not needed. The feet allow stability on any countertop. It is easily portable with handles located on the sides of the stainless steel housing. It heats up fast and can be used to cook pasta, soup, vegetables, warm sauces, etc.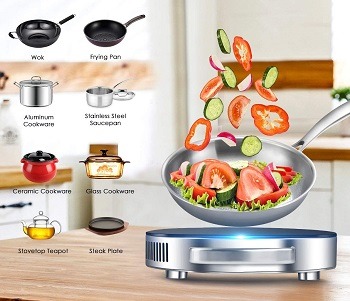 User-Friendly
The ceramic glass surface is easy to clean by wiping a damp cloth over the cool surface. Unlike induction hot plates, this electric countertop hot plate has no radiation and is thus harmless. It is also quiet during use. Place it on any countertop surface and you can cook a variety of meals with different power settings.
Short Description:
1500-Watt ceramic glass hot plate
power is adjustable between 100 and 1500 Watts
control panel with buttons and LED screen
compact size with handles for portability
harmless with no electromagnetic radiation
cools down with the built-in fan
easy to clean with a damp cloth
Best Induction Low Wattage Hot Plate
SPT Low Wattage Cooktop
Black With Silver Details
This hot plate model comes in black color with silver details and has a sleek design. It can be used as an extra burner in the kitchen or taken with you on trips for cooking in small spaces even without a kitchen. It will easily fit into any decor and can also be stored when not in use.
Induction-Capable Pots & Pans
This induction low wattage hot plate is powered by electricity and features an induction cooktop surface. It requires induction-capable cookware to be able to function properly. If you are not sure whether your pot is suitable for it, there is a trick you can do. In case a magnet sticks to the bottom, it can be used with this cooktop surface.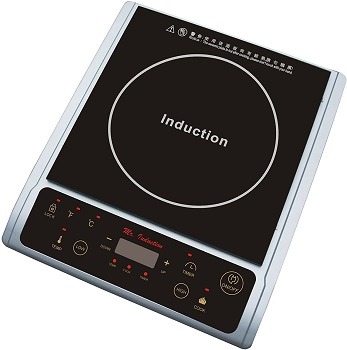 7 Power Levels 
This unit offers 1300 Watts of power, but lets you adjust it between 7 levels. You can choose between 100 and 1300 Watts in 200-Watt increments. The temperature can also be adjusted between 100 and 390 Fahrenheit degrees.
Control Panel With Auto-Lock
Both the power and temperature adjustments can be done by touching the buttons on the control panel. It also features a timer that can be set up to 8 hours which is also convenient for precise cooking. It is also safe to use even around the kids as it has an auto-lock on the touch buttons.
Short Description:
works with induction-ready pots and pans
7 power levels between 100 and 1300 Watts
temperature between 100 and 390 Fahrenheit
control panel with touch buttons and auto-lock
comes in black color with silver details
Best Cheap Low Wattage Hot Plate
Aroma Housewares 1000W Hot Plate
Matte Black Finish
This single burner hot plate is powered by electricity and uses 1000 Watts. It comes in matte black color and features a round cooktop built into a squared housing with 10-inch long sides. It is compact for portability or using as an extra burner in the kitchen when needed.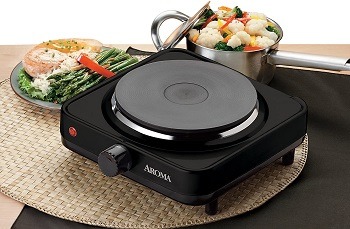 Four Temperature Settings
The cooking surface is constructed with a die-cast metal material that is durable and easy to keep clean. It features a control knob with an off switch and four temperature settings. It lets you choose between warm, low, medium, and high levels. The indicator light warns you when the unit is on and heating up.
For Travel & Small Spaces
Its compact design makes it easy to transport from one place to the other. You can take it on trips with you in your recreational vehicle, boat, or even use it in your hotel room while traveling. Moreover, it is suitable for studio apartments and door rooms or even cooking while camping.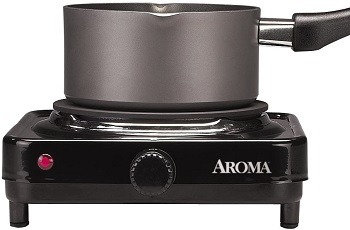 Straightforward Maintenance
After you are done with cooking, you should let this low wattage hot plate cool down and then clean it. It is made for convenient cleaning and easy maintenance with hard surfaces so food doesn't get stuck in places. This way this cheap hot plate is more hygienic to use.
Short Description:
uses 1000 Watts
the matte black color finish
die-cast construction of the cooking surface
easy to clean and portable
control knob with 4 temperature levels
the indicator light for safety
Best Food Warmer Low Wattage Hot Plate
Chefman Low Wattage Electric Hot Plate
For Warming Food
Unlike the rest of the models in this article, this low wattage hot plate is designed to keep food warm, rather than to cook food. It consists of a warming tray that is 21 inches wide and 16 inches long with a glass surface on top. The housing features an indicator light and two handles on the sides for carrying.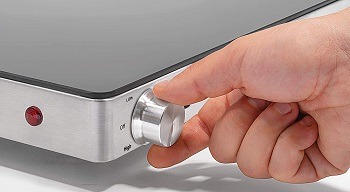 Protected From Overheating
The turning knob offers low, medium, and high levels of temperature up to 265 Fahrenheit degrees. You can use this hot plate warmer to heat up the food or keep it warm throughout the day. It is protected from overheating so that you can use it all day long. However, it should not be used for longer than 72 hours at once.
400 Watts
The side handles are convenient for storing or transporting the unit from one place to another. It uses 400 Watts and is suitable for any kind of heat-resistant cookware and bakeware. This includes glass and aluminum pans, pots, casseroles, and baking trays.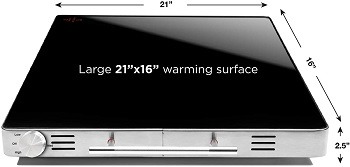 For Parties & Holiday Meals
The handles on this low wattage hot plate food warmer are constructed from aluminum material so that they can stay cool to the touch for safe carrying. The hot plate is large enough to fit several dishes at once, which makes it ideal for party food or holiday meals. As it keeps food warm or quickly warms it up, you can always have food ready for serving at the perfect temperature.
Short Description:
400-watt electric warming tray
easy to clean glass surface top
heats up food or keeps it warm
temperature adjustable up to 265 Fahrenheit
for heat-resistant cookware and bakeware
aluminum handles are cool to the touch
21 inches wide and 16 inches long
What To Consider In Low Wattage Hot Plates?
In case you are searching for a low wattage hot plate to use while traveling, in dorm rooms, recreational vehicles, and boats, you should keep a few things in mind. Electric hot plates can have a coil and coil-less cooktops, or infrared and induction cooktop surfaces. Their additional features include control knobs and panels for temperature and power adjustments. It is also important to look out for compact design and safety features.
Plate Type – Electric hot plates can have coils as a heating element, or a cooktop surface that hides coils inside. The latter is more convenient for maintenance. Likewise, the cooktop surfaces can also be infrared and take less time to heat up. Finally, induction plates are the most energy-efficient out of all the types, so they can save you some money on the electricity bill.
Wattage – The market usually offers hot plates with power over 1000 Watts. However, they are also available with power under 1000 Watts and more powerful units also allow power adjustments. This means that you can use different power levels for different cooking and in different spaces.
Temperature –  Most hot plates allow you to adjust the temperature up to 450 Fahrenheit degrees so that you can use one unit for preparing different foods. The temperature adjustments are usually done by turning the knob or using the temperature buttons on the control panel.
Portability – As low wattage in hot plates is usually needed for using the unit in recreational vehicles and boats, their size is also important. As you want to be able to use it in confined spaces, a hot plate should be compact in size and constructed from durable materials. That way they can endure traveling and can be used anywhere with a power outlet.
Safety Features – Although hot plates should not be left unattended when they are on, it is also important that they can't overheat. Look out for models of low wattage hot plates with built-in fans or thermal fuse that shuts off the heating element for some time once the set temperature is obtained. This will prevent burning injuries and damage.
To Wrap It Up
To sum up this article about the best low wattage hot plates, I would like to recommend you look into purchasing the Maxi-Matic 750-Watt model. It features a chrome drip tray that can easily be cleaned after the coil heating element cools off. It has handles for convenient handling and lets you adjust the temperature on the control knob. If you want to check out models that are suitable for carrying, take a look at my in-depth article about travel hot plates. You can also read about other smaller models of hot plates in this article where I have reviewed many mini and small hot plates out there.