Have you been looking for the best electric single burner that provides powerful performance?
Then my post might help you with your search!
Listed below, you can find my reviews of the 15 best models on the market. Check them out, compare their designs, features, and prices, and choose the one that meets all said parameters the best.
The Rundown
Single-Burner Hot Plate: Definition That Won't Confuse You
This hot plate features one burner, also known as a cooktop, suitable for only one pan/pot at a time. In the terms of usage, a single-burner hot plate is just an additional cooking appliance or a model for small spaces or traveling.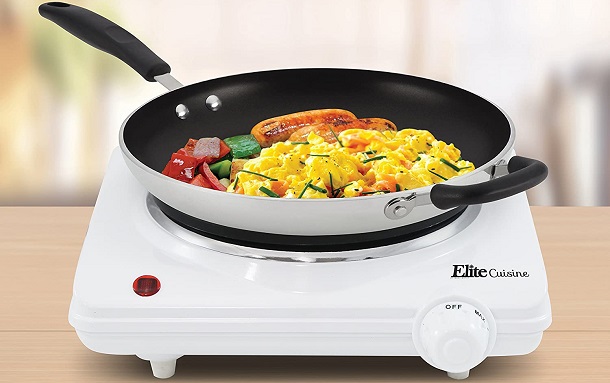 One Burner As The Key Feature
Although single burner model have just one cooktop, they still come in versatile sizes. The usual diameter range of these models goes from 6 inches to 12 inches. Models with smaller cooktops are suitable for on-the-road life, while bigger units can be used on an everyday basis in the kitchen.
Singles vs. Doubles
Besides the evident size difference, the key difference is their power. Single-burner models have up to 1800 watts for one burner only. Doubles can have the same power but they divide it into 2 burners so they actually operate with smaller power.
Why Should I Consider Buying A Single Model?
Every model has some advantages which make it attractive for purchase. Here are 2 pros you should definitely have in mind if you're thinking about getting such a hot plate.
Price Suitable For Everyone's Pocket
What is great about these models is that they offer cooking efficiency at affordable prices. They're starting from $20 and up.
Features Great For Learning & Professional Work
With a user-friendly design and control panel, single burners are great learning appliances, as well as industrial plates for professional kitchens. All you need to have in mind is that you choose a suitable model so it meets all your needs.
What Types Of Single Burners Can I Get?
You can choose a classic electric hot plate or a gas model. Here is what you should know about each of the models.
Electric Models With Single Burner
Electric hot plates are great as they are suitable for both indoor and outdoor use. All you need is an available power outlet and that's it. Here are the main functions of such models.
There are 3 types of cooktops these models can have. Cast iron burners with exposed or hidden coilless, induction surface, or infrared operation. Cast-iron ones actually provide classic heating up operation, identical to your kitchen stove. Induction cooktops use electromagnetic waves to heat up the cookware, while infrared operations use the combination of radiant coils and halogen lamps to transfer the heat to the cooking pot.
1000 to 1800 watts is the usual power of electric burners. The lower end of this range is suitable for RVs and camping trips. Medium and high powers are suitable for home use.
100 to 460 Fahrenheit degrees is the usual temperature range you can set your single-burner hot plate. That also allows you to use the appliance for different cooking operations.
Electric models use up to 1,8 kWh, depending on their wattage power.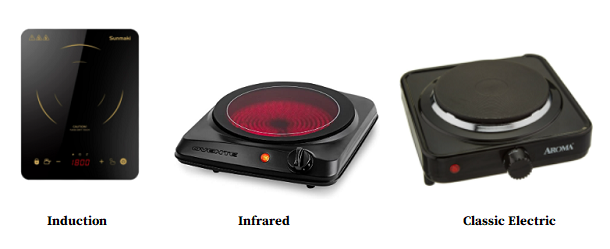 Single-Burner Gas Hot Plates
Gas hot plates mostly come with an industrial design or design suitable for camping and other outdoor activities. Here is the info about their power, fuel, and temperature options.
Single burners in gas models are made from cast iron. They have an open flame so they are suitable for professional kitchens which meet the highest safety standards, and private outdoor use.
7,000 to 16,000 BTU is the usual power a gas single-burner can have. Now, this is really high power. For comparison, 7,000 BTU equals 2,052 watts. That's why gas models are great for commercial use.
Gas models can cook at up to 500 Fahrenheit degrees. However, you will rarely need to cook at such high power. The temperature is adjustable.
These models are powered with propane, butane, or some other natural gas. The size of a burner defines the size of a gas canister, mostly 8 oz or 16 oz.
Additional Singles' Info: Construction & Cookware
Besides the functions which are certainly the most important factors when choosing a single burner, there are a few specifications that need to be considered too.
Construction Defines Durability
Most one burner hot plates have a strong design made out of sturdy metal materials. That includes materials such as stainless steel, cast iron, and aluminum. Some models combine these materials in order to ensure even greater strength and durability.
Cookware: Choose A Compatible Type
Only induction cooktop requires special cookware which features magnetic bottom. Every other type of burner, both electric or gas, is suitable for any cookware, no matter the material of the making.
Top 15 Electric Single Burner Stove Reviews
Elite Cuisine ESB-301F Burner
Stable Design
This hot plate features a very simple, stable design. It comes with a flat non-stick cooking surface, an easy-to-turn rotating temperature control knob, a built-in light indicator that keeps you informed about the machine's status, etc. Its bottom non-slip feet ensure that it can stand firm atop your countertops.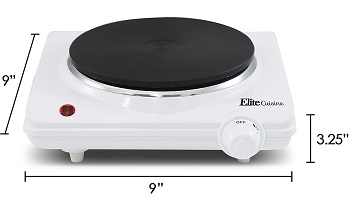 Powerful Performance
You can be sure that this electric hot plate provides amazing performance. It distributes heat evenly throughout the cooking surface and ensures efficient performance.
Duxtop BT-200DZ Burner
Touch Sensitive Panel
The great thing about this model is that it comes with a touch-sensitive control panel with a backlit display. It is conveniently placed on the top front side of the burner to ensure that you can easily access it and adjust its parameters to your likings.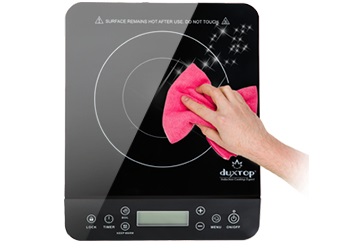 Power & Temperature Controls
This burner induction hot plate allows you to adjust its cooking power between 100 to 1800 Watts. You can also set the desired temperature level between 100 to 460 degrees Fahrenheit. Its long timer allows you to adjust it between 1 minute to 10 hours.
Camplux TC01GB Single Burner
Adjustable Heat Flame
The Camplux burner is powered by 9,500 BTU and has piezo ignition. This power is enough to provide efficient heat and temperature that can be controlled by a simple adjustable knob.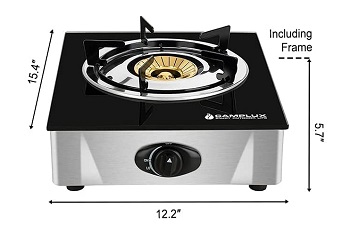 Suitable For Various Cookware
This burner model is great for 5 to 8.6 inches big pots. It can work with a kettle, soup pot, wok, and saucepan. While in use, the burner is stable and sturdy, as well as perfectly safe for every cooking operation.
Cusimax ES-3102 Single Hot Plate
Spacious Cooking Surface
This large single burner electric hot plate features a spacious 7.4-inch cast-iron cooking surface. It is compatible for use with versatile cookware. This includes glass, iron, stainless steel, aluminum, copper, and frying pans. It also works with steak plates and woks.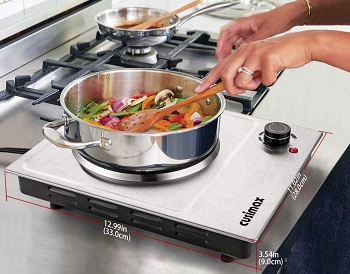 Low Maintenance
You won't have any trouble keeping this hot plate perfectly clean. Its stainless steel housing is highly resistant to rust, corrosion, stains, and other exterior damages that often occur in busy kitchen environments.
Sunavo HP102-D2 Hot Plate
7-Inch Burner Ring
This model features a 7.1-inch burner ring that is suitable for use with versatile cookware with a flat bottom diameter of up to 7.5 inches. Due to its powerful and efficient performance, you can boil 1000ml of water within 7 minutes.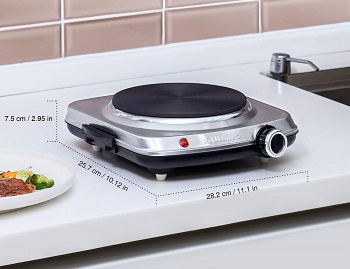 Temperature Controls
Another great thing about this 1500 Watt single electric burner is that it provides 6 different temperature levels. To switch between them simply turn the rotating control knob on the front side of the plate. The indicator light will let you know when the burner reached its cooking temperature.
Ovente BG61B Induction Burner
Simple Design
This is another 1 burner electric hot plate that features a very simple design. With its small footprints, you won't have any trouble finding the perfect place for it atop your countertops. Additionally, its bottom feet provide it with the needed stability.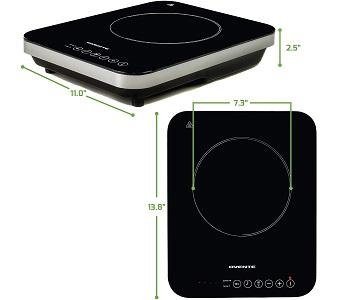 Accurate Controls
Like all listed models, this electric countertop burner also allows you to control its performance. Its touch-sensitive controls are very simple and easy to adjust. Click on the enclosed link and find out more about its design, performance, and features it has to offer.
IMUSA GAU-80305 Single Burner
Space-Saving Design
This model also comes in a space-saving size. Its slim design makes it much easier to transport and to store while it is not n use. Since there is no possibility of flare-ups, you can use the burner both indoors and outdoors.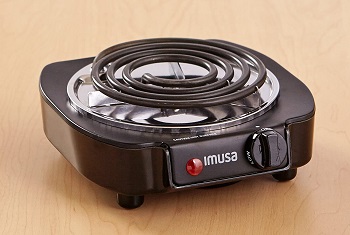 Coiled Heating Element
As opposed to the previously reviewed models, this 1 burner hot plate features a powerful 1000-Watt coiled heating element. Once you are done using it you can easily lift it and clean the bottom drip pan. Make sure that you give it a proper time to cool down first.
Waring SB30 Hot Plate
Cast Iron Burner
This burner features a powerful 1300 Watt heating surface. Since it is made out of highly conductive cast iron material, you can be sure that it provides amazing performance.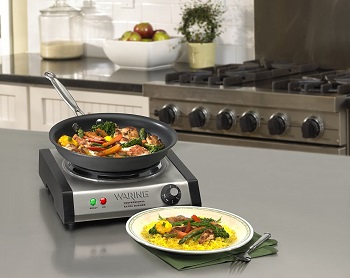 Using Tips
There are some guidelines you should follow when using this one-plate electric stove for the first time. To burn its top protective film, you should turn it on, set the highest temperature level, and leave it for about 4 minutes. After that, it will be suitable for continuous use.
Dr.Hows Mini Stove Burner
Mini & Efficient Unit
This is a mini stove burner that is completely portable. It is lightweight too, so you can easily carry it with you while traveling, camping, and hiking. Despite its size, the burner is rather powerful with its 6,200 BTU.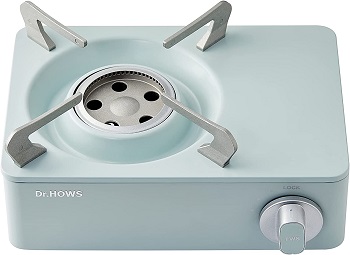 High Safety Features
The burner is designed to be safe. It features a child lock and dual safety components with a gas-cut-off reset button and a secondary safety device. Thanks to that, the burner ensures the highest safety during usage.
Cusimax Glass Single Hot Plate
User-Friendly Design
This is another model that features a user-friendly design. It comes in an oval shape and features backlit touch-sensitive controls. With its 1500 Watt heating element, it will reach the set cooking temperature as quickly as possible with minimal heat loss.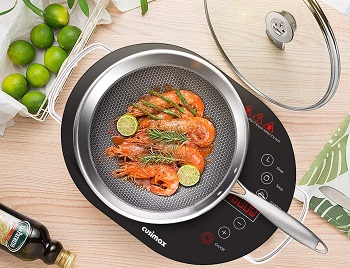 Easy To Transport
You can easily carry this single electric hot plate around. It comes with two side handles that allow you to move it around without worrying about the possibility of heat burns. Most importantly, you can use it almost anywhere where you can find a regular power source.
Techwood Infrared Burner
High-Power Performance
This single electric plate provides a high-power 1500 Watt performance. It can heat up to its cooking temperature in about only 15 seconds. The best thing is that you can use it for versatile cuisine and with versatile cookware including pots, pans, woks, stainless steel kettles, etc.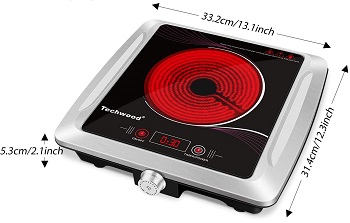 Time & Power Controls
You can adjust its timer in 1-minute increasements up to 180 minutes and adjust its cooking power between 400 and 2000 Watts. To do so simply use the touch-sensitive controls at the bottom of the unit.
SHINESTAR Camping Stove
2 Gas Options
This stove with a single burner can work efficiently with both an 8 oz butane canister and a 1 lb propane tank. It comes with an adapter hose so that you can conveniently use the gas source you prefer.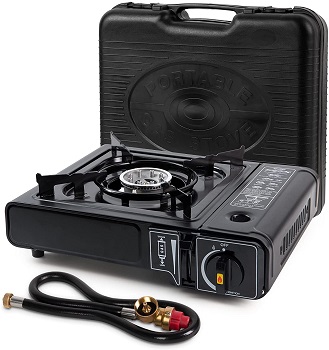 5 Minutes For Boiling
Thanks to the 7,800 BTU of power, the burner delivers high heat output. It can boil 4 cups of water in just 5 minutes. It also has automatic ignition so you can easily start up the cooking operation.
iSiLER CHK-CCA02 Hot Plate
Large Control Panel
This single hot plate electric stove features a large touch-sensitive control panel with backlit controls and a built-in display. It offers a child-safe locking mechanism that keeps your kids from turning the burner on. It also comes with a fan cooler that keeps it from overheating.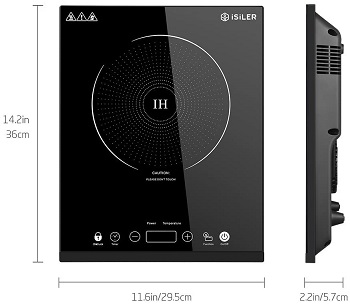 Simple Controls
You can adjust the temperature of this burner in 20°F increments between 140°F  and 460°F and power in increasements of 100 Watts between 100 and 1800 Watts.
Horynar TS-01 Single Burner
High Heat Output
This single burner uses propane as its main power source. It has 13,000 BTU of power which ensures efficient and high heat output. The propane burner adopts 360° oxygen intake and provides full burn.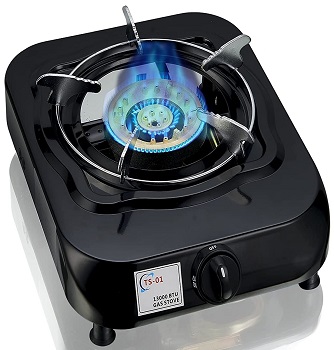 Strong & Smart
The burner has thickened body made from stainless steel. Thanks to that, it is strong and durable. The cooktop is ideal for cookware of size 6 inches or more. It also features a smart protection switch.
GasOne B-5350 Burner
270,000 BTU
This is a really powerful single-burner unit. It comes with a 270,000 BTU power which ensures impeccable performance. The burner is gas-powered and uses propane to work.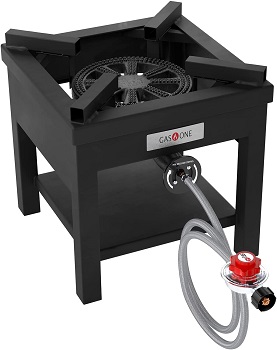 Stable & Sturdy
The burner is a high-pressure heavy-duty unit that is designed to be stable and sturdy. It features a portable design and is great for outdoor use while camping. The burner is made from a combination of steel and cast iron.
No Matter The Number Of Burners, Safety Comes First
The size, burners, power source, or some other functions don't impact the level of safety each hot plate needs to have. The same goes for a single burner. Here are the key features such models have, no matter if you use them for camping, business, or home use.
Safety Lock
This feature locks the control panel so that you or your kids can't accidentally tamper with settings while the hot plate is working.
Built-In Thermal Fuse
The fuse protects the unit from overheating while it ensures the possibility of continuous use for making multiple servings.
Well-Designed Bottom
You don't want your pot with hot boiling water to fall down from the cooking surface. Stability and security is the number one feature every hot plate must-have. That is ensured with a combination of a well-designed bottom with rubber feet.