Struggling to find an electric countertop burner suitable for your needs?
In that case, go through this article where you can learn more information on such hot plates including double and single burners in different sizes, as well as burners with hidden and exposed coils, infrared, and induction burners. Also, check out the guide for buying the best countertop electric burner and find out which features make electric burners safe and easy to use on countertops.
The Rundown
Best 6 Electric Countertop Burners
Best Of Best Electric Countertop Burner
Cuisinart Countertop Burner
Two Cast-Iron Burners
The Cuisinart electric double burner comes with separate temperature controls for each burner. The cast-iron burners come with a supply of 1300 and 500 Watts for large and small burners respectively. Each control knob offers 6 temperature settings so that you can cook different things on them, and at the same time. As they are coilless, the burners are durable and easy to keep clean.
Cooks & Keeps Food Warm
By using the lower heat settings, you can keep the food warm or easily warm it up when needed. The higher temperature settings let you cook an entire meal on this electric countertop burner. It can be used in your kitchen when you need the extra cooking surface, but also in smaller spaces where there isn't enough room for regular stoves.

Compact & Portable Size
If you live in a dorm room, a studio apartment with a small kitchenette, you can use this cast iron hot plate for cooking. It is compact and portable enough so that it can even be taken on trips in RVs, boats, or used in offices, etc. The brushed stainless steel housing is stylish enough to fit into any interior design.
Suitable For Countertops
The non-slip legs with rubber are great for stability and safety on any countertop surface. It is 22.5 inches wide, 15.25 inches long, and 5.75 inches high so that it can fit on any countertop surface without taking up too much space. The indicator lights alert you when the unit is on for safety reasons.
Short Description:
22.5 inches wide and 15.25 inches long
rubber legs against slipping on countertops
1300-watt and 500-watt cast-iron burners
separate indicator lights and control knobs
compact enough for portability and travel
Best Double Burner Electric Countertop Burner
Cusimax Hot Plate
Black Stainless Steel Body
This double burner has an 1800-Watt power supply and is suitable to use with cookware that has a maximum diameter of 7.4 and 6.1 inches as the burners aren't the same size. The 2-burner electric countertop stove comes in black stainless steel that is durable and is easy to maintain clean.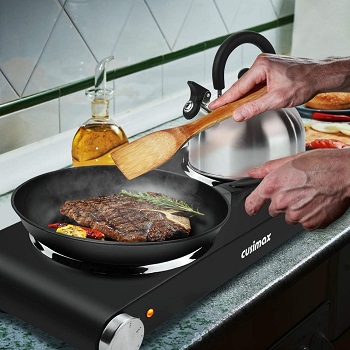 Durable & Stable Design
Each burner comes with an individual control dial that lets you select the desired temperature for cooking. The non-slip feet are great for safety when used on any countertop surface. This Cusimax portable electric stove can be used in any kitchen and small space where you want to cook. It is durable and can be cleaned by wiping it with a cloth after it cools down.
Wide Temperature Range
The cast-iron burners have 7 individual temperature settings so that you can boil water, cook sauces, fry breakfast foods, and even deep fry meats and other foods, or cook pasta and vegetables. The unit may cycle on and off to maintain the desired temperature. After use, you can store it away as it doesn't take up a lot of space.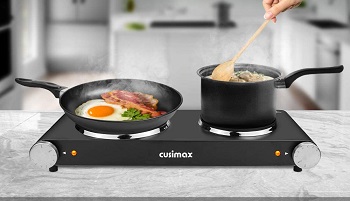 How To Use?
When using it for the first time, this electric countertop burner may emit some smoke. This is due to the burning of the protective coating on top of the cooking surfaces. The smoke will go away after one to two first uses and is no reason for concern. When it is in use, do not touch the surface as it will be hot. The Cusimax 1800w double hot plate takes 20 minutes to cool down after turning off.
Short Description:
for 7.4 and 6.1-inch diameter cookware
separate temperature controls with 7 levels
durable and easy-to-clean black stainless steel
non-slip feet for safe countertop use
cycles on and off to maintain the temperature
ideal for versatile cooking in small spaces
Best Infrared Electric Countertop Burner
Ovente Countertop Burner
7-Inch Ceramic Glass Plate
This single burner features a 7-inch infrared crystallite ceramic glass cooktop in a stainless steel body. It comes with a temperature knob and a power indicator light. Unlike induction cooktops, the infrared countertop burner is compatible to use with any type of cooking pot and pan. The best results are achieved when the diameter of cookware isn't bigger than 7 inches.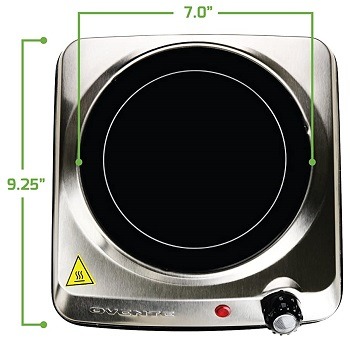 Lightweight & Compact
As it weighs only 3 pounds, it is easily portable and can be used on any countertop with non-slip feet. It is slim and compact for use in small kitchen areas, as well as in busy kitchens. With a sleek stainless steel and glass design, it easily fits into any kind of kitchen style.
1000-Watt Power Supply
Cleaning the Ovente countertop infrared hot plate burner is easy and fast by using a damp cloth. The 1000-Watt model cooks food fast and heats the cooking surface in a few seconds whilst spreading the heat evenly so there are no cold spots on the glass cooking surface.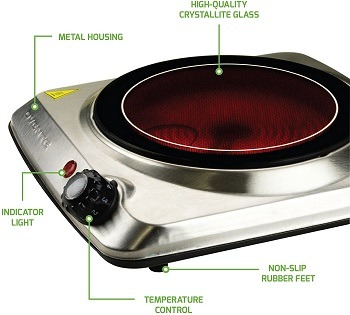 Ideal For Travel 
As you can set up the desired cooking temperature on the thermostat, you can cook many different meals on this unit. It can be used in recreational vehicles, boats, dorm rooms, studio apartments, camping sites, and more. That way you can always enjoy quality home-made cooking without the need for a big kitchen stove.
Short Description:
1000-watt ceramic glass infrared burner
7-inch hot plate suitable for any cookware type
lightweight and compact design for travel
spreads heat evenly and heats quickly
for busy kitchens and confined spaces
easily cleans with a damp cloth
non-slip feet make it safe for countertops
Best Portable Electric Countertop Burner
Cadco Electric Burner
8-Inch Coiled Burner
This Cadco 1500-watt single burner comes in a stainless body and features an 8-inch coiled heating element. On the front side of the electric countertop burner, there is also a power indicator light, a turning temperature knob, and an on and off switch. The temperature levels start from warm and low, to medium, and high settings.
Ideal For Pressure Canners
The power light indicates when the burner is turned on for safety to prevent burn injuries and other damage. As it is not constructed from glass material, like most kitchen stovetops nowadays, you can use this model for your pressure canner. It will be able to endure the weight under which a regular glass stove might break.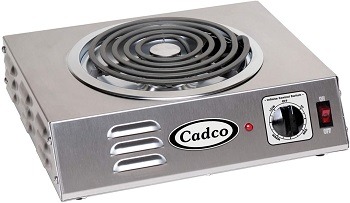 Compact For Travel & Storage
As the coils are level, the cookware put on top will not tremble or lean to one side. It is sturdy and ideal for canning projects in your kitchen. However, the 1500-watt hot plate size makes this a great portable electric countertop stove. You can use it anywhere on the go and also store it when you don't need it or even pack it in your suitcase.
How To Clean?
This model is 14 inches wide, 12.25 inches long, and 4.13 inches high. It is easy to keep clean by following a few instructions steps. The drip pan under the coils can be cleaned after the coils cool off because then you can tilt them up. The stainless steel body can be cleaned with a damp cloth and mild detergent. The unit must not be immersed in liquid.
Short Description:
single burner, 14 inches wide, 12.25 inches long
8-inch coiled burner and stainless steel body
on and off switch and power indicator light
warm, low, medium, and high-temperature levels
portable size and compact for storage
Best Small Electric Countertop Burner
Ovente Induction Burner
7.3-Inch Induction Cooktop
This small hot plate features a 7.3-inch induction cooking surface and a control panel for settings adjustments. The panel features a display screen with a child safety lock button, a timer button, on and off button, and adjustment buttons. The LED display shows the temperature, power, and timer settings for energy-efficient cooking.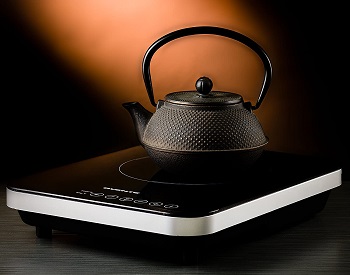 Induction-Capable Cookware
To cook on this small electric countertop stove, you will have to use cookware with magnetic bottoms to be able to produce electromagnetic induction. The induction-ready cookware includes magnetic stainless steel, enameled iron or steel, and cast-iron cookware with flat bottoms.
Timer & Temperature Options
You can cook with a timer set between 1 and 180 minutes and on 8 preprogrammed temperature settings between 140 and 465 Fahrenheit degrees. The 1800-Watt unit weighs 5.5 pounds and measures 11 inches in length, 13.8 inches in width, and 2.5 inches in height. It is small enough not to take up too much space on your kitchen countertop, yet powerful enough to cook food in spaces without a stove.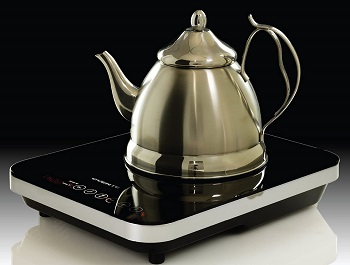 Safe To Use
The ceramic glass surface is easy to keep clean and looks great in any space with a modern design. The Ovente induction countertop burner is packed with many safety features that make cooking easy and worry-free. It features a diagnostic error system and overheating protection, as well as automatic safety shutoff when cookware isn't detected.
Short Description:
7.3-inch ceramic glass induction cooktop
requires cookware with magnetic bottoms
LED display and control panel for settings
1800-watt power and 8 preset temperatures
11 inches long and 13.8 inches wide
compact design with many safety features
Best Induction Electric Countertop Burner
Duxtop 9620LS Burner
Digital Double Glass Burner
This Duxtop 9620LS LCD portable double induction cooktop is powered by 1800w and is a great digital electric countertop burner model on the market with sensor touch. The control panel with sensor touch features two independent control zones so that each burner can be managed separately.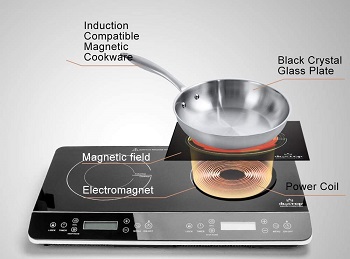 Requires Special Cookware
The surface of this induction electric countertop burner is constructed from premium glass material that is easy to keep clean. To be able to cook food, you will need induction-capable cookware. To check if you have such a cooking pot or pan at home, you can try sticking a magnet to the bottom. If it sticks, you can use it on this double burner.
Adjustable Temperature & Power
The temperature can be adjusted from 100 to 460 Fahrenheit degrees for each burner. The left burner features an 1800-Watt power supply and the right burner can use up to 1000 Watts. Choosing between different cooking modes lets you prepare different food precisely. You can boil water, fry, and deep fry, as well as sautee among other applications.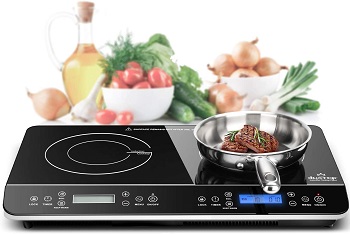 Two-Fan Heat Dissipation
This electric countertop burner comes with many safety features so that it can be used on any countertop surface without fear of overheating. There are two fans on this safe hot plate to help dissipate the heat quickly. It can be used outdoors, and also in small spaces and it won't take up too much space when stored away.
Short Description:
two induction cooktops with separate controls
1800-Watt unit with LCD screen display
safety features include overheating protection
premium glass surface for easy cleaning
requires compatible cookware with magnetic bottoms
double fans help to dissipate heat quicker
for outdoors and use in small cooking spaces
What To Consider In Electric Countertop Burners
In case you want to invest your money in an electric countertop burner, first, you should consider some general information to help you choose the best option on the market. For starters, they come in different types, with hidden and exposed coils, or work with the help of infrared and electromagnetic induction technology. Also, check out the wattage and temperature range they offer. Finally, look for some of the safety features listed below that help to make countertop electric stove top burners safe for countertop use.
Exposed & Hidden Coils – Burners with hidden coils are usually constructed from cast-iron and thus very durable to use. Models with exposed coils can be a bit less durable and usually cannot be used with cookware as heavy as cast-iron burners can endure. Both models need to cool down before you can clean them up, with cast-iron models usually easier to maintain clean.
Infrared Burners – This type of electric burner features a glass cooking surface that goes red the more it heats up. Compared to cast-iron burners, this type of hot plate takes only a few seconds to heat up. The glass infrared surface distributes heat more evenly for better cooking and usually offers a wide temperature range for precise cooking.
Induction Burners – Unlike the rest of burner types, this type works only with special cookware. Cooking pots and pans need to have magnetic bottoms and you can check whether they do by sticking a magnet to the bottom. If it sticks, you should be able to use it on this type of burner. Induction models are usually more energy efficient as they work to heat cookware without heating up the surrounding surfaces as much.
Wattage & Temperature Range – Electric hot plates usually have a power supply between 1000 and 2000 Watts. It is also usual that double burners come with a higher overall power supply, as they need to work two cooking zones. When buying one, make sure to go for powerful models, but not something too powerful that could burn your food. As for temperature, it can be adjusted from low to high levels on turning knobs. On the other hand, models with control panels usually let you choose precise temperatures.
Safety Features – To be sure what you end up buying a safe for countertop use, look for models with non-slip rubber legs. This will provide the unit with stability and prevent possible damage and injuries. Also, look for models with durable built-in fans that will help to dissipate the heat and thus be safe for countertops. A built-in thermal fuse is also important as it prevents electric burners from overheating.
To Wrap It Up
To finish off this article about the best electric countertop burners, I would recommend looking further into the Cuisinart countertop burner. With durable materials of stainless steel housing and cast-iron double burners with different power supply, you can choose between 6 temperature levels for cooking food and keeping it warm. If you wish to use such a kitchen appliance as a stove top, go through this review article of hot plate stove tops to learn more. For other types of double burners, take a look at my reviews of the best electric double burner hot plates.