Trying to find the best hot plate stove top that meets your demands?
If yes, you've come to the right place!
In this article, find out about the features of different stovetop models that are easily portable while also giving you the performance you need to cook food, even on the go. You can find out more information on single and double burners, as well as countertop and portable models available on the market.
The Rundown
Best 6 Hot Plate Stove Top Models
Best Of Best Hot Plate Stove Top
Cuisinart Hot Plate Stovetop
Separate Temperature Levels
This double electric hot plate stovetop features a brushed stainless steel housing with two cast-iron burners. Each of the burners has an independent thermostat for adjusting the cooking temperature. The 1800-watt unit has a smaller and a larger burner, with 500 watts and 1300 watts of power respectively.
Two-Sized Burners
The large burner lets you cook food, while the smaller can be used to warm up food when it gets cold or keep it warm all the time. Both control knobs have 6 heat settings for regulating the temperature when cooking and keeping food warm. The 'on' and 'ready' indicator lights are positioned next to each of the turning knobs for added safety.

Compact & Portable
With non-slip feet, this stovetop is ideal to use on any counter or table in your kitchen, as well as in places without a kitchen. It is 5.75 inches high, 15.25 inches long, and 22.5 inches wide. With two burners, it can be used for adding to the cooktop surfaces in your kitchen, while also being compact enough for portability.
Stylish & Durable
With its silver and black color combination, this hot plate complements any space easily. You can use it for cooking in kitchenettes in studio apartments, dorm rooms, spending time on your boat, recreational vehicle, etc. The cast-iron plates are durable and also easy to keep clean.
Short Description:
brushes stainless steel and cast-iron construction
1300-watt and 500-watt coilless burners
15.25 inches long, 22.5 inches wide
two control knobs with 6 temperature settings
stylish and easy to keep clean
Best Electric Hot Plate Stove Top
CUKOR Portable Stove Burner
Two 7.1-Inch Burners
This 1800-Watt hot plate has two infrared burners with separate control dials and two power indicator lights. Each burner has a 7.1-inch diameter and needs only a few seconds to heat, unlike cast-iron burners that take longer. The burners are made from ceramic glass that is durable and efficiently spreads heat for even cooking.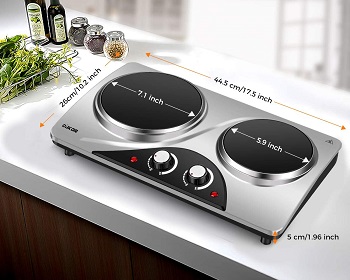 Stainless Steel Body
When you need an extra cooktop surface in your kitchen, this hot plate stove top model won't take up a lot of space, while working with any type of your cookware. The pots and pans can have a maximum diameter of 7.1 inches and can weigh up to 22 pounds. The body is constructed from stainless steel for durability and the whole unit easily wipes clean.
Keeps From Overheating
When you set up the temperature, the plate will work to keep the infrared burner at that temperature, which means it will automatically turn on and off. That way you can cook food with precise temperature levels without overheating. The power indicator will thus also turn on and off to warn when the desired temperature is reached.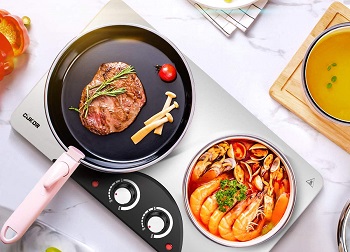 Portable Design
Using this portable stove burner is easy as it comes with non-slip legs and in a compact size for transportability. You can use it in your kitchen, or when traveling in your RV, studio apartment, etc. When using this hot plate for the first time, there might be some smoke and smell that will stop when the protective coating burns.
Short Description:
can be used in kitchens and small spaces
two 7.1-inch infrared ceramic glass burners
the durable stainless steel body is easy to clean
works with any type of cooking pots and pans
maximum cookware diameter is 7.1 inches
cycles on and off to maintain the set temperature
Best Countertop Hot Plate Stove Top
Maxi-Matic Portable Stove
Durable Cast-Iron
This double burner hot plate comes in black color and has a 6-inch and a 7-inch stovetop surface. Each burner has an individual temperature knob for heat adjustments and its power indicator light. With cast-iron construction, the burners are very durable and capable of spreading heat evenly.

Choose The Temp Level
The hot plate stovetops are flat and can be heated to low, medium, and high temperatures. Opposite to induction hot plates, this type of hot plate does not have restrictions when it comes to which type of cookware you can use on it. You can use aluminum, copper, cast-iron, as well as stainless steel, and other heat-resistant pots and pans.
Safe For Countertops
Rubber feet keep the portable electric countertop stove stable at any surface so that you can use it on countertops in kitchens, recreational vehicles, as well as in offices and other small spaces, even when traveling. The cast-iron material of the hot plate stove top prevents sticking so that it is easy to maintain clean.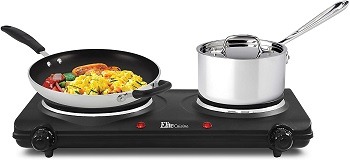 Space-Saving Design
When not in use, this safe hot plate won't take up too much storage room. At the same time, you can use it in many different spaces and for different applications. From cooking for larger groups to keeping food warm at a buffet station, this double burner is a great addition to any kitchen.
Short Description:
6-inch and 7-inch cast-iron burners
independent low, medium, and high settings
flat surface works with any kind of pot and pan
compact design for portability and storage
rubber feet for stability on countertops
can be used in kitchens, dorm rooms, offices, RVs
the non-sticking surface is easy to clean
Best Double Burner Hot Plate Stove Top
Cusimax Hot Plate Stovetop
Burners In Two Sizes
This double burner comes in a stainless steel housing and with cast-iron cooking surfaces. Apart from cast-iron, it is also available to purchase with infrared cooktop surfaces. The larger burner can work with cookware up to 7.4 inches in diameter, while the smaller burner is suitable for cookware with a maximum diameter of 6.1 inches.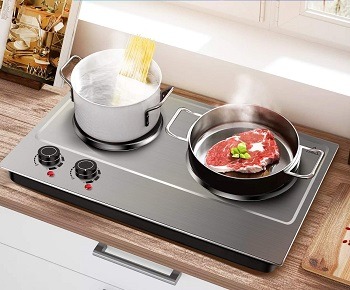 11 Temperature Levels
For minimal heat loss, aluminum and glass cookware work the best with the flat hot plates. The turning knobs are used to turn the burners on and off and to regulate the temperature for cooking food. Each knob offers 11 temperature settings. The plates use 900 watts of power each and cycle on and off to maintain the set temperature. The cast-iron material takes longer to heat than infrared plates.
Ideal For Confined Spaces
The cast iron hot plate is safe to use and won't slide on the surface whilst cooking thanks to rubber legs. It can be used every day, especially in confined spaces where you can't fit a regular stovetop. In that case, this portable electric stove top 2-burner comes in so that you can cook your food even in dorm rooms, RVs, offices, etc.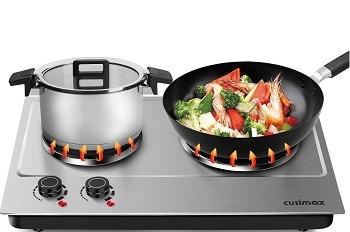 Safety Features
The thermal fuse protects the hot plate stove top model for overheating. The short power cord also adds to the safety, so that you can't trip over it and cause damage. You can keep food warm, but also boil water, simmer, fry, and deep-fry your favorite foods.
Short Description:
stainless steel and cast-iron materials
two 900-Watt hot plates in two sizes
each turning knob has 11 temperature levels
a thermal fuse protects from overheating
cycles on and off to obtain the desired temperature
Best Single Burner Hot Plate Stove Top
Maxi-Matic One Burner Stove
Exposed Coil Burner
Unlike the reviewed models above, this single burner electric hot plate stove top model features only one burner and also has exposed coils as a heating element. With 750 Watts of power, it is a great choice for dorm rooms, RVs, and when camping. The low-wattage model has a turning knob with off, low, medium, and high positions for cooking at different temperatures.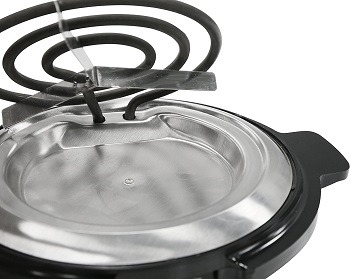 Features A Chrome Drip Pan
The drip pan under the exposed coils is constructed from chrome and is easy to keep wipe clean from food debris and spillage. To clean the drip tray, you can lift the coils after they cool down for better access. It works with all types of cookware, as long as the pots and pans are resistant to heat.
Suitable For Traveling
This portable one burner electric stove is suitable for traveling, letting you cook in any space where you can get access to electricity. When using at home while cooking for larger groups, you can even keep the food warm by leaving it at low temperatures. The cool-touch handles make relocating easy even while the burner is turned on.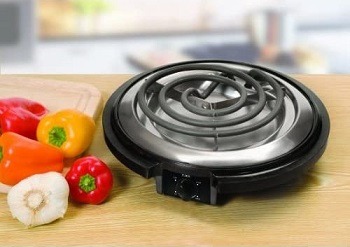 Rubber Legs
As it is small in size, the portable single burner electric stove won't take up a lot of cooking space and will be easy to store even for travel in suitcases, etc. Rubber legs protect the unit from moving around while you are stirring the food inside the pot or pan. The coiled burner heats quickly for fast cooking.
Short Description:
750-Watt single coiled burner
the chrome drip tray is easy to clean
small in size and ideal for traveling
low, medium, and high heat settings
cool-touch handles allow portability
ideal for offices, camping, dorm rooms, RVs
Best Induction Hot Plate Stove Top
iSiLER Stovetop Hot Plate
Sensor Touch Panel
Compared to all aforementioned models, this hot plate stovetop uses electromagnetic induction to heat cookware for cooking food. The 1800-Watt plate features a single burner with a sensor touch control panel. The control settings offer 18 power settings from 100 to 1800 Watts and 17 temperature levels between 140 and 460 Fahrenheit degrees.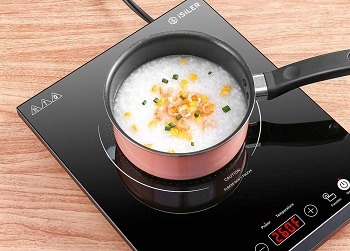 Safe To Use
Apart from adjusting the wattage and the heat, you can also use the large touch buttons to set up a timer up to 3 hours in 1-minute increments. It is safe to use with a child safety lock, rounded edges, and protection from overheating. The premium glass surface can be easily kept clean and only needs wiping with a damp cloth.
Needs Induction-Capable Cookware
By using the control panel for adjustments, you can cook different food precisely, including steaming, grilling, boiling, or deep frying. To make sure you can cook on this induction hot plate, you will need cookware that is induction-capable. To check whether your pots and pans are suitable, you can try sticking a magnet to the bottom. If it sticks, you can use it on this countertop electric burner .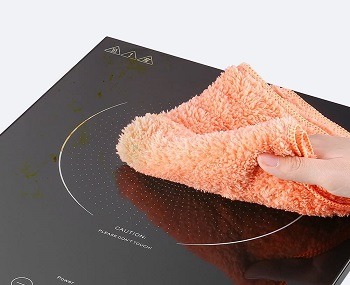 For Busy & Small Spaces
Stainless steel, steel, and cast-iron cookware are great for induction hot plates. This hot plate is suitable for cookware in sizes between 3.9 and 8.6 inches in diameter. The space-saving design is great to add a cooking surface to a busy kitchen, as well as to use in space without a kitchen.
Short Description:
easy-to-clean premium glass induction burner
features a sensor touch control panel
adjustable temperature, wattage, and time
cooks on temperatures between 140 and 460°F
suitable for cookware between 3.9 and 8.6 inches
cookware needs to have a magnetic bottom
safety features including overheating protection
What To Consider In Hot Plate Stove Tops?
Consider investing in a hot plate stove top model if you need to add to your kitchen cooking surface from time to time. The market offers induction, coiled, coilless cast-iron, and infrared options with single and double burners so there is plenty to choose from. Make sure to go for models that are powerful and can reach the temperature you need for making your food.
Cast-Iron Vs. Infrared – Unlike coiled models that have exposed coils for a heating element, cast-iron hot plates are more durable and also easier to keep clean. Infrared models, on the other hand, take much less to heat but don't have to be as durable with the glass cooktop surface. They are also easy to keep clean.
Induction Plates – Unlike the above-mentioned models, induction hot plates can be safer to use and also waste less energy. They are suitable for cookware with magnetic bottoms that heat with electromagnetic induction. They are more energy-efficient as the pots get heated without heating up the cooktop surface first. They usually come with digital control panels.
Single Or Double Burner? – Double burners give you more cooking surface so that you can make two meals at once. Single burners are more compact in size but can't cook as much food at once. The models with two burners might be a good ideal for kitchenettes in studio apartments and similar spaces, allowing more cooking options at once.
Power – Most electric hot plates nowadays use power between 1000 and 2000 Watts. The more powerful the model is, the easier it will be to cook on. However, more wattage also means that food can burn more easily, so keep that in mind. When using a hot plate on the go, it is convenient to go for models that let you choose between wattage levels.
Temperature Range – Since using a hot plate stovetop usually means you don't have access to cooking in usual kitchens, the temperature range is very important. The higher the range is, the more cooking options are available to you. A temperature range from 100 to 500 Fahrenheit degrees seems like a good deal to be able to cook a variety of dishes on such a unit.
To Wrap It Up
The Cuisinart hot plate stovetop stands out among the rest of the models in this review. It is durable for everyday use or use on the go, while also offering you two plates with different power and letting you easily control the temperature while cooking. If you fancy the idea of using large models in kitchens instead of regular stoves, read about large hot plates on the market. To check out which models are especially convenient for cooking on the go, take a look at this in-depth article on the best travel hot plates.