Nutella is a worldwide sensation! Well, how can it not be – we're talking about a delicious sweetened hazelnut cocoa spread with many (MANY) chocolate layers and nuances. And who can say no to that?
Today, there are so many innovative chocolate recipes with incredible twists regarding the final flavors. With that in mind, do you think you have tried every possible food combination containing our chocolate-favorite Nutella? There is always a good chance that someone in your neighborhood is using this ingredient in a different way. In ours, we heard Nutella is perfect with butter. So we decided to try it out for ourselves. Results? Just wait and see!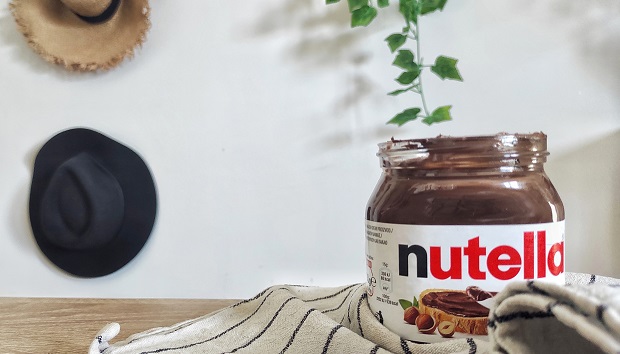 Nutella – Thousand Layers Of Chocolate Heaven
Nutella. Such a simple word but known in the entire world. This chocolate spread is one of the Ferrero Brands and it presents a story of love and passion. Originally, the first recipe was shaped into a loaf that could be sliced and spread on bread. Throughout the years, the factory experimented with different types of spread – after the loaf, the paste was transformed into a creamy product, and after that – into the Nutella we know today! Oh, and we can officially say that the recipe which is consumed daily and on a worldwide basis is simply perfetto!
Fun fact – did you know that February 5th is World Nutella Day? Well, now you do know so make sure to give this day a proper chocolate love!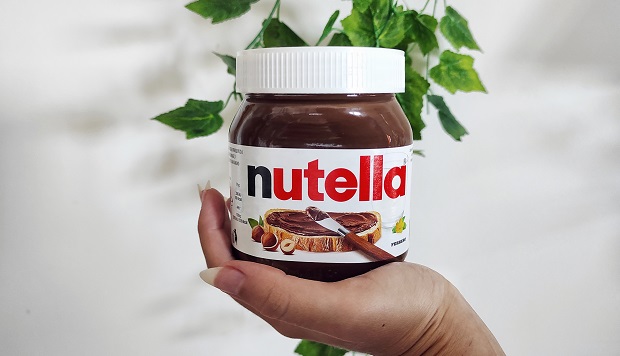 So what flavors are we talking about here? Nutella is made with only 7 quality ingredients that have been carefully selected. Those are sugar, palm oil, hazelnuts, skimmed milk powder, fat-reduced cocoa, soya, and vanillin. In the end, we're talking about an authentic taste of hazelnuts and cocoa while the creaminess seduces everyone's taste buds.
Today, you can use Nutella in many different recipes, not just as a classic breakfast spread. It is used in the combination with dough and biscuits, in the preparation of croissants, cakes, cookies, and sweets. The possibilities are endless, and that includes a butter combo too!
Wait, You Said Butter?
Yes, butter! Or butter spread, or some other variation of butter, all options are welcomed, it all depends on your personal preferences.
So, to put it simply, a butter spread is a combination of butter and oil. Usually (we must say usually as there are so many different variations of this spread), it has an easily spreadable texture and mild nuances. High-quality butter spreads can be used both with savory and sweet ingredients. That includes cured meat or jam and honey. For example, in Croatia, it is common to combine butter spread (most often Margo nova) with fruit jam. Quite a delicious breakfast!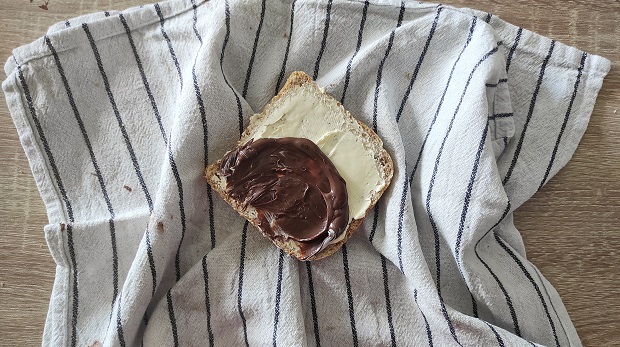 Of course, high-quality spreads made of butter are known to be enriched with vitamins such as A, D, and E, and made of top-quality oil.
The main question is still here – does butter really goes that well with Nutella?
Combination With A Slippery Twist
Nutella and butter are quite different ingredients. They have different consistency and texture. Maybe that's why they're such a good match? Nutella, as a classic chocolate spread is quite dense, it has a stronger texture, it is richer, and has many layers. You know what we mean –  chocolate at its finest! As you eat chocolate, you will notice that it gets sticky on your teeth or your fingers. What a perfect texture, right?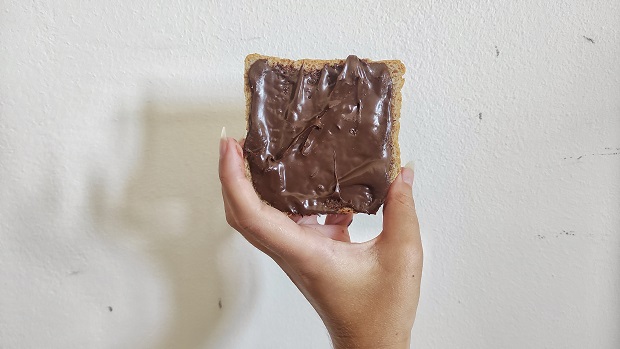 On the other hand, butter, as it contains oil, is a bit easier ingredient and it has a creamy texture. We can say that butter is a slippery ingredient that just flows. Thanks to that, it ensures a good basis for many spreads that go on its top, especially the spreads with dense texture as chocolate has.
So, what do you get when you put together Nutella and butter? You get a delicious spread with a perfectly combined texture. The butter spread will make Nutella chocolate more slippery and make all the nuances slowly flow between your taste buds.
Nutella Butter Combo: Test
We can't really write about any food combination without testing it by ourselves, right? Well, we did try out this combination. These are the results. Spoiler alert: do not continue to read this if you don't have chocolate nearby – you won't have the strength to fight your cravings!
What Did I Use?
I used Nutella, Margo nova (butter spread), and bread toast. Just those 3 ingredients. I spread the butter (on my first try, I used too little butter so needed to repeat this step) and then placed Nutella on it.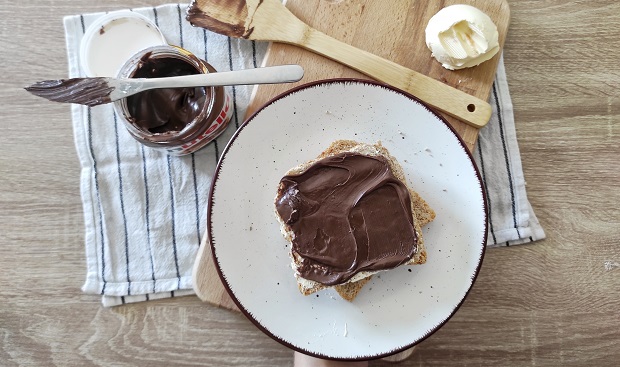 So, Is It Tasty?
I must admit, once you try it, you will barely feel the butter but as you're chewing that bite, you'll feel just a hint of butter which is deliciously combined with Nutella. Butter nicely contributes to the heavy texture of chocolate and it makes chocolate slowly flow through your mouth and taste buds.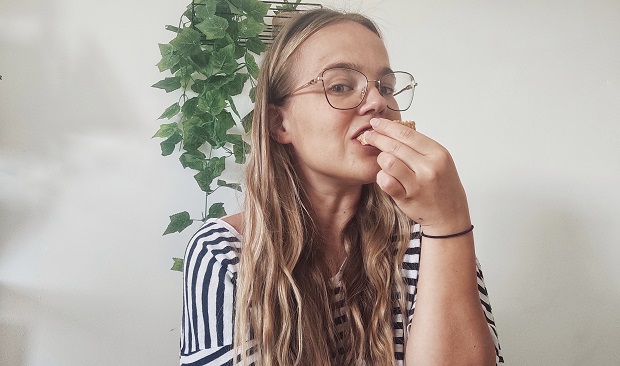 Will I Try It Again?
Well, as I talked to some of my friends, they say that they ate this combo when they were kids so they already have this Nutella combo incorporated into their diet. As for me, this was the first time I tried something like that. It is delicious, definitely, and you can't really feel the taste of butter, only a few hints of it so it doesn't ruin the flavors of Nutella, which is one of the most important parts.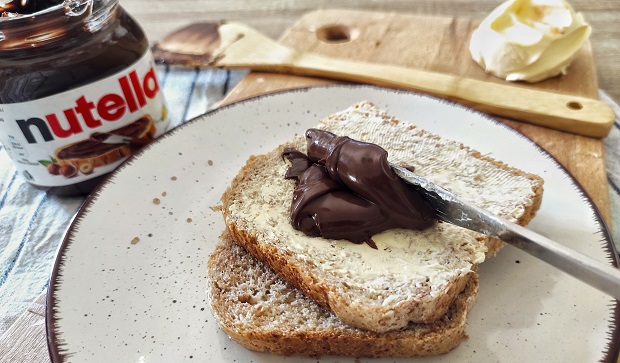 However, since this is something new in MY diet, I think I'll have to work really hard to remember to stop, add butter, and then cover the bread with Nutella. Habits, right?
Important Question: What Butter Spread Is The Best?
I would recommend the one you usually use in the combination with jam. There are some differences between the butter spreads but in the end, it all comes down to the butter nuances you mostly prefer. In Croatia, I use Margo nova, nothing else. I combine it with jam, potatoes, and other food ingredients, including Nutella now.
To Wrap It Up
By using common and everyday ingredients, you can bring some interesting and delicious twists into your everyday diet. This time, we decided to try and test a unique combo of Nutella and butter spread. Final verdict? Delicious! The butter nicely contributes to the silky creaminess of the chocolate, without messing up the fullness of Nutella nuances. This combination definitely gets a thumbs-up!