Desperately searching for a good hot plate food warmer?
Then you've come to the right place!
Here you can check out the reviews of both electric and non-electric models, suitable to use at buffet stations, or in your office, kitchen, and other spaces. You can also learn about the features that make a good hot plate warmer so that you know what to look for when buying one.
The Rundown
Best 6 Hot Plates Food Warmers
Best Of Best Food Warmer Plate
Oster Hot Tray Food Warmer
Includes Three 2.5-Quart Pans
This electric chafing dish has a stainless steel body with three warming trays and domed lids made from a transparent material. The overall hot plate food warmer measures a warming area of 20 by 13 inches. Each of the three pans measures 5.11 inches in width, 8.58 inches in length, and 2.44 inches in depth. The 2.5-quart pans are also removable so the hot plate can be used without them, as well.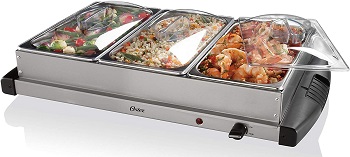 Temperature Adjustments Dial
When the heating element is turned on, the power indicator light will warn you about it. Next to the indicator light at the front side, there is also a control knob for temperature adjustments. That way you can set the temperature according to the food you are trying to keep warm for perfect temperatures.
Traps Moisture & Heat
As it comes with transparent lids, they help to keep heat and moisture trapped in, letting you keep up to 3 different meals warm at once. A great solution for keeping food warm at buffet stations, in restaurants, for holiday dinners, parties, etc. No matter the occasion, with this hot plate you can keep food warm for ideal serving temperature.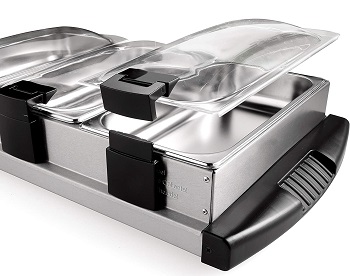 Cool-Touch Side Handles
With transparent lids, you can let your guests serve themselves with food as they can view what's inside each pan without opening it. The control knob features low to high-temperature settings for a variety of dishes. The buffet server comes with cool-touch handles that prevent burn injuries and let you transport the unit when necessary.
Short Description:
20 by 13-inch stainless steel warming surface
comes with three 2.5-quart pans with lids
temperature knob and power indicator light
low to high-temperature settings available
ideal for keeping food warm at different occasions
Best Buffet Server Hot Plate Warmer
NutriChef 3 Plate Warmer
Three Food Containers
This NutriChef electric warming tray lets you keep food warm with a maximum temperature of 175 Fahrenheit degrees. The temperature can be adjusted by using the turning knob located on the front side of the unit. The three containers with transparent lids help to keep food warm.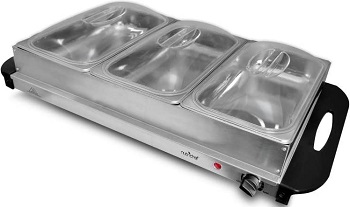 Safe For Countertops
The serving containers are easily removable for when you want to use the hot plate without them, as well. The handles on the food warmer plate are great for transporting it if necessary. It is safe for kitchen countertops and other surfaces, allowing you to keep food warm wherever you might be.
Transforms Into A Hot Plate
You can use the hot plate buffet server to keep food warm for birthday and office parties, holiday dinners, as well as other gatherings. The buffet server hot plate easily transforms into a hot plate by removing the containers. You can make breakfast or sautee vegetables, cook cutlets and burgers on it.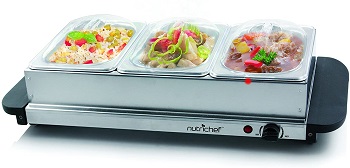 Durable & Quiet
Its lightweight design makes it easily portable by using the side carry handles. The buffet warmer and hotplate is easy to keep clean by removing the containers. It also lets you use different cookware to place on top to warm up the food. The NutriChef 3 buffet warmer server is durable and doesn't make a lot of noise.
Short Description:
includes three food containers with lids
temperature knob with a max temp of 175°F
removable containers for easy cleaning
can also be used as a hot plate for cooking food
lightweight for transportation with carrying handles
safe for counters and other surfaces
Best Electric Hot Plate Food Warmer
NutriChef Food Warming Tray
Stainless Steel & Glass Materials
This 180-Watt hot plate warmer can be used in any space with access to a power outlet. The electric hot plate food warmer has a stainless steel construction with a glass surface. Its thin design is ideal for countertops without taking up too much space. It comes with carrying handles so that you can also transport it.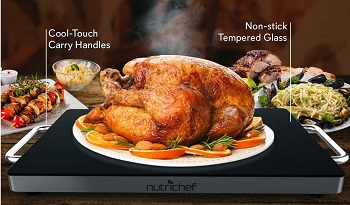 For Heat-Resistant Cookware
The heat resistant tempered glass is non-sticking and easy to maintain clean. It is suitable to use with baking sheets and casserole dishes, as well as any other heat-resistant cookware. The turning knob for heat regulation lets you choose the temperature up to 203 Fahrenheit degrees. The LED power indicator light will warn you when the heating is on, and you can turn it on and off with a switch.
For Any Occasion
As it 16.5 inches long and 11 inches wide, it can be used to keep more dishes warm at once. You can use the electric hot tray food warmer to keep food warm at buffets, parties, family gatherings, and other occasions. It will keep the food at an optimal temperature so that it always tastes good upon serving.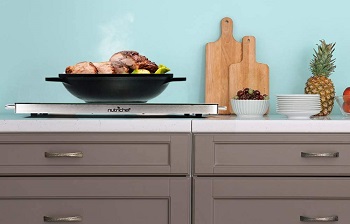 Thin & Portable
With the space-saving and portable design, this model is ideal for every kitchen. With low power consumption and energy efficiency, you won't have to worry about food going cold whilst entertaining. Including handles, it measures 21.2 inches in length, 12.3 inches in width, and 1.6 inches in height.
Short Description:
16.5 inches long and 11 inches wide
stainless steel and glass construction
glass surface for heat-resistant cookware
temperature adjustments up to 203°F
LED indicator light and on and off switch
space-saving thin design for any countertop
ideal for keeping food warm when entertaining
Best Glass Food Warmer Plate
Chefman Hot Tray Food Warmer
Easy-To-Clean Glass Surface
This food warmer plate features a glass surface and comes in a large 21 by 16 inches size. From low to high-temperature options, you can keep the food warm throughout the day or quickly heat it when needed. The glass surface can be easily cleaned, while the carrying handles allow convenient transport when needed.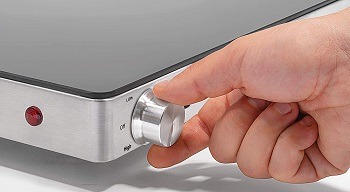 Three Temperature Options
The power indicator light is on when the glass warming tray is heating for added safety. The knob with three temperature settings is located on the side for quick adjustments between low, medium and high options. It can keep several dishes warm at once thanks to its size.
Stay-Cool Handles
The maximum temperature is 265 Fahrenheit degrees and the thermal fuse prevents overheating for safe use. Its modern and sleek design complements any kitchen interior and looks nice even in front of guests. Even when the unit is hot, the carrying handles stay cool to the touch for transport.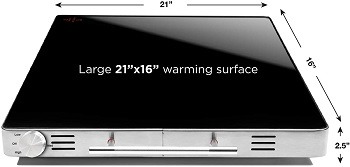 For Any Cookware Type
This hot plate food warmer can be used to keep food warm all day long, but should not be left turned on for more than 72 hours at once. The 400-Watt model can be used with any kind of heat-resistant cookware. No matter the event you have, you can ensure the food stays warm for deliciousness and enjoyment.
Short Description:
21 inches long and 16 inches wide
keeps several dishes warm at once
can also be used to quickly heat food
glass surface is easy to keep clean
the thermal fuse prevents overheating
Best Hot Stone Hot Plate Food Warmer
Chef Buddy Plate Warmer
Granite Stone Center
This model differs from the above reviewed models as it does not have to be plugged in to be able to work as a hot plate warmer. It features a granite stone center with a white polypropylene frame and is 9 inches long, 10.25 inches wide, and 1 inch high.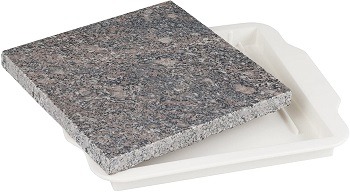 Microwave It For A Few Min
As the stone center becomes hot, it can keep food warm for longer, while the handles stay cool to the touch. To heat the plate, you can pop it in the microwave for a few minutes. After it gets hot, the granite core transfers warmth to the cookware placed on top and thus keeping food inside warm.
For Indoor & Outdoor Use
The stone insert can be removed from the frame so that it is easy to keep clean. As it requires no batteries or cords to run, you can use this type of warmer inside your house, as well as outdoors. The granite stone measures 7.75 inches in length and width.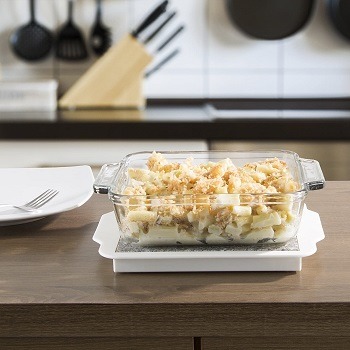 Non-Electric Model
This non-electric warming tray can be used on your table while eating to keep the food inside warm, or outdoors in your yard and other spaces. It is also available to buy in packs of two, three, or four.
Short Description:
9 inches long and 10.25 inches wide
plastic frame and granite stone core
granite center is 7.75 inches long and wide
place in the microwave for a few minutes
can be used indoors and outdoors
heat transfers from stone to cookware
Best For Mugs Hot Plate Warmer
Mr Coffee Warming Plate
Warms Beverages In 2 Min
Unlike the rest of the food warmer plate models in this article, this unit can be used as a mug warmer plate. The 17-watt warmer comes in black color and is designed to warm up any beverage in about 2 minutes. The plate is designed to easily fit any mug on a circular surface with an outer edge.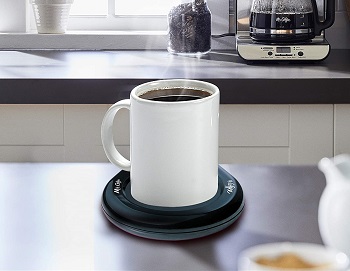 Compact & Portable
The indicator light alerts you once your coffee, tea, or other beverage gets hot. You can even use it to heat soup. As it comes in a compact size, you can take it anywhere with you by placing it in a tote or other bag. It also has an on and off switch.
Extended Power Cord
Using it in your office, dorm room, or any other space where you might want to warm your beverage is easy. It comes with a long power cord so that you can plug it in and use almost anywhere. You don't have to worry about keeping your favorite warm drink from going cold as long as you have access to electricity.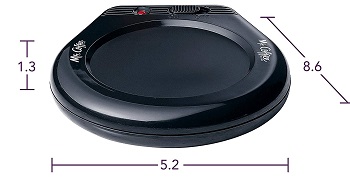 For Many Mug & Cup Styles
It is designed to fit many different styles of cups and mugs to keep tea, coffee, cocoa, and other drinks warm. To maintain clean, simply wipe the surface. You don't have to worry about your warm drink going cold in your office or even at home.
Short Description:
on and off switch with power indicator
uses 17 watts to warm up beverages
takes about two minutes to warm drinks
can be used for coffee, tea, cocoa, or soup
small and easily portable in totes
designed for many styles of cups and mugs
for use in offices and more
What To Consider In Food Warmer Plates?
Whether you want to keep food warm when hosting parties, holiday dinners, or everyday use, you might want to invest in a hot plate warmer. They are a great addition to any kitchen so that you never have to serve cold food to your guests again. Make sure to look for models that offer a high enough temperature, with portable sizes and convenient designs.
Electric Or Non-Electric – Electric models require access to a power outlet and keep the food warm while letting you choose between different temperature levels. Non-electric models need to be preheated in the microwave to be able to keep food warm.
Temperature Options – Electric models come with turning knobs that usually let you adjust the temperature level between low, medium, and high settings. Although they come with different maximum temperatures, they are usually not over 250 Fahrenheit degrees. By adjusting the temperature, you can keep different food warm without burning it.
Power – Electric models do not use a lot of wattage to be able to keep food warm. They usually use under 200 watts to heat the surface of the hot plate. With such an energy-efficient unit you can never go wrong when you want to keep food at an optimal temperature for the best taste.
Design & Portability – Depending on how many dishes you want to keep warm at once, you can decide which size to get. Opt for models constructed from durable materials like stainless steel and glass as they will also be easy to keep clean. To easily transport the plate go for models that come with cool-touch handles.
Compatible Cookware – Apart from food containers that can come with the hot plate to be used as a buffet server, you can also use almost any other cookware on the surface of the hot plate food warmer. As long as it it heat-resistant, you can place glass and metal pots and pans, and even baking sheets and aluminum foil on top of the heating surface.
To Wrap It Up
If we had to choose one model from this list, we would go for the Oster hot plate food warmer. With removable food containers and lids that trap in heat and moisture, you can use it as a buffet server as well as with any other kind of heat-resistant cookware. It is durable and quiet, and also easy to transport with cool-touch handles. If you are interested in other such models, read my in-depth article about hot plates to keep food warm. To check out models that can keep food warm but can also cook food, visit this article with my list of low wattage hot plates.