Are you looking for the best commercial hot plate for cooking?
In this article, you can read about commercial grade hot plate models to find out more information about their characteristics. Moreover, you can read the reviews of gas and electric single and double burners, as well as induction hot plates.
The Rundown
Best 6 Commercial -grade Hot Plates For Cooking
Best Of Best Commercial Hot Plate
Waring Double Commercial Burner
1300 & 500-Watt Burners
This commercial 2-burner hot plate features a brushed stainless steel body with two cast-iron cooking surfaces. The heavy-duty housing is built to withstand frequent use and is easy to keep clean. The two burners come in different sizes and use 1300 and 500 Watts of power for cooking and simmering food respectively.
Even-Heat Distribution
Each burner has a 'ready' and 'on' indicator light as well as a turning knob for temperature adjustments with off, minimal, and other 5 level positions. The bigger burner measures 7 inches in diameter, and the smaller 6 inches. The cast-iron burners deliver heat evenly so that there are no cold patches on the surface.

Safe For Countertops
The ready indicator light will let you know when your desired temperature has been reached to avoid guessing and allow precise cooking. The rubber feet are great for cooking on any countertop without slipping. After you are done cooking, unplug the unit from the power outlet.
Heavy-Duty Construction
Cleaning is easy as the heavy-duty commercial construction is meant for everyday use. Simply wipe the electric double burner hot plate clean after it cools down. It won't take up too much space but will let you cook food fast, while also giving you a hot plate for warming and simmering food.
Short Description:
heavy-duty brushed stainless steel housing
two cast-iron 6- and 7-inch hot plates
separate control knobs for temperature
separate 'on' and 'ready' indicator lights
1300 and 500-Watt power supply
Best Double Burner Commercial Hot Plate
Star Hot Plate Commercial
Solid Cast-Iron Burners
This electric hot plate is equipped with two burners and two infinite control knobs for individual adjustments for each burner. The French-style burners are constructed from cast-iron and allow even distribution of heat across both burners. The turning knobs are made out of heavy-duty metal.
Adjustable Legs 
The two burners are fit into a unit that measures only 12 inches in length, 28 inches in width, and 11.69 inches in height. The front and the top of the hot plate are constructed from stainless steel with sides made out of aluminum. The 4-inch legs are also adjustable for fitting into kitchen countertops.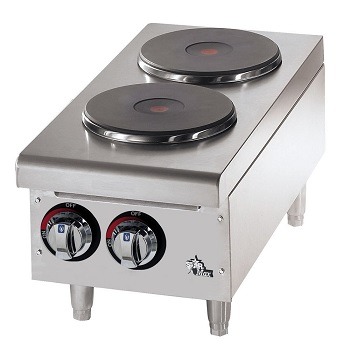 Compact Design Saves Space
The solid burners prevent spillage to go into the equipment and the cleaning of the unit is simple once it cools down after use. The compact design of this commercial hot plate is ideal for when you need an electric unit in your commercial kitchen zone without taking up too much space.
Individual Temperature Levels
By adjusting the heat of the burners individually, it is convenient to cook two things at once. Increasing the level of heat can be done by turning the knob from the off towards the on position. This non-electric hot plate is durable and made to last for frequent commercial use.
Short Description:
12 inches long, 28 inches wide, 11.63 inches high
two solid cast-iron French-style burners
individual heavy-duty metal control knobs
4-inch adjustable legs for saving space
stainless steel top and front, aluminum sides
even heat distribution on cast-iron plates
Best Griddle Commercial Hot Plate
Dulong Commercial-Grade Hot Plate
22-Inch Cast Iron Griddle
This commercial BBQ hot plate has a 22-inch griddle that is half flat and half grooved for preparing different foods. The griddle features splash guards on the back and the sides to prevent hot oil and grease from splattering around. The cooking surface is made from cast iron and has a non-sticking layer for mess-free cooking.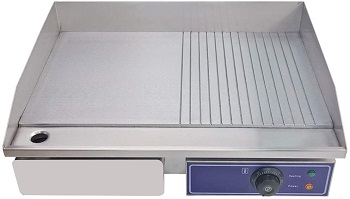 Temperature Up To 572°F
The temperature of the griddle can be changed by turning the knob so that you can cook different food on it more precisely. The heat can be adjusted up to 572 Fahrenheit degrees and distributed evenly across the whole griddle. The stainless steel body is made to endure heavy-duty commercial use.
Excess Grease Drainage
The 2000-Watt commercial hot plate griddle also features a hole connected to a waste tray by a grease channel. That way all of the excess grease and oil are drained from the meats to leave food tender and delicious. The tray is easily removed from the unit for fast and convenient cleanup.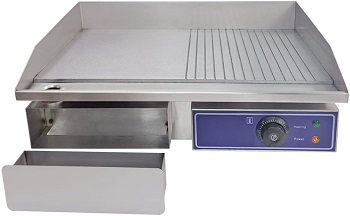 Versatile Use
Designed for both home and commercial use, it can be used to make breakfast, BBQs, pizza, grilled cheese, pancakes, etc. Before, apply cooking oil to the griddle, and after cleaning the griddle, as well. It will help to protect the griddle from rust.
Short Description:
22-inch cast-iron electric griddle
for home and commercial use
half flat, half grooved hot plate
adjustable heat knob up to 572°F
grease channel and waste tray
back and side splash guards
non-stick layer for mess-free cooking
Best Induction Commercial Hot Plate
Warmfod Commercial Cooktop
Requires Compatible Cookware
Compared to the above-reviewed models of commercial hot plates, this hot plate uses electromagnetic induction to heat cookware and cook food. Because of this, it needs special indication-ready cooking pots and pans that have flat and magnetic bottoms to be able to induce the electromagnetic field.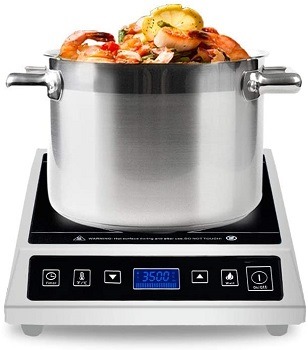 Digital Control Panel
The 3500-Watt unit features a digital control panel with an LED screen for setting adjustments. An on and off button, as well as a timer, a power button, and buttons with up and down arrows, are available on the panel. You can choose between 8 preset temperature and power settings between 140 and 465 Fahrenheit degrees, and 500 to 3500 Watts.
For Restaurants & Caterings
If you are more comfortable working with Celsius degrees, you can switch from Fahrenheit measures on the digital panel, as well. The dual fan system helps to dissipate heat more efficiently for a quicker cool down. The stainless steel body is constructed to endure everyday use in industrial restaurants, catering services, etc.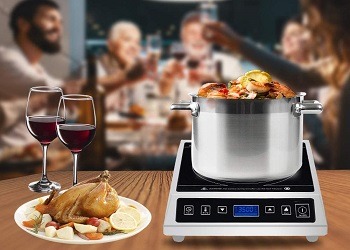 Safety Features
This commercial induction hot plate is safe to use and packed with features such as overheating protection, as well as low and high voltage warning, and a diagnostic error message system. This unit is 15.2 inches long,  12.6 inches wide, and 3.4 inches high so that it doesn't take up too much space on the countertops.
Short Description:
15.2 inches long, 12.6 inches wide
for industrial restaurants and caterings
requires special induction-ready cookware
digital control panel with LED screen
8 temperature and power presets
Best For Commercial Kitchen Hot Plate
ATOSA Heavy Duty Hot Plate
Two Gas Burners 
This commercial hot plate features two burners with a power of 25000 BTU per burner. The burner grate and the burner are both removable when needed for thorough cleaning. For easy maintenance, the body is built from heavy-duty stainless steel that prolongs run time, as well. The unit also comes with 4-inch legs.
Suitable For Commercial Kitchens
To fit it into a commercial kitchen more easily, you can adjust the legs on this model. Each burner has an individual thermostat knob for temperature adjustments so that you can cook two things at once. The commercial kitchen hot plate comes in stainless steel color so that it easily fits the other appliances and the overall design.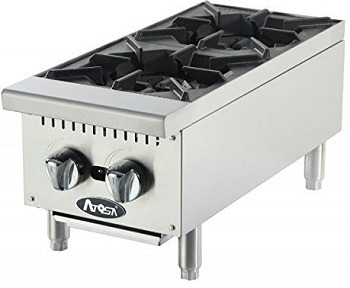 Designed To Save Space
This gas hot plate for commercial kitchens measures 27.6 inches in length, only 12 inches in width, and 13.1 inches in height. As it is only 12 inches wide, it won't take up too much space in the cooking zone. That way it can be incorporated into kitchens while also saving space, especially in busy kitchens.
Hygienic & Durable
This commercial hot plate gas model is powerful and well built to last and endure frequent use. It is resistant to corrosion and easy to maintain clean for hygienic cooking. Apart from supplying sanitation standards, it is also safe to use in the foodservice industry.
Short Description:
two gas burners with 25000 BTU per burner
stainless steel body and 4-inch adjustable legs
individual thermostat knobs for heat control
ideally fits into commercial kitchens
27.6 inches long, 12 inches wide, 13.1 inches tall
saves space with compact design in busy kitchens
Best For Restaurant Commercial Hot Plate
CookRite Four Burner Hot Plate
Four Gas Burners
This commercial hot plate is ideal for restaurants and powered by liquified petroleum gas. Each burner has an independent control knob for adjusting the heat by turning it to increase and decrease the level. The total power of 100000 BTU means that each burner has a power of 25000 BTU.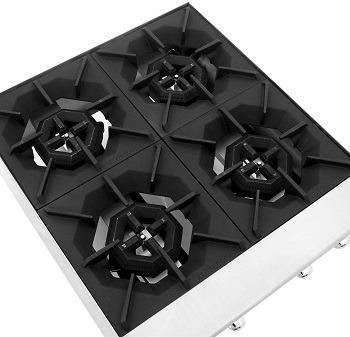 Suitable For Countertops
The open-style tubular burners are made from stainless steel and come with cast-iron grates to support cookware of different sizes. With four adjustable stainless steel legs, this unit can be placed on top of kitchen counters for various cooking needs. It is 24 inches wide, 27.6 inches long, and 13.1 inches high.
For Indoor Commercial Use
The liquid propane range is ideal for restaurants where various meals have to be prepared at the same time and each at a different temperature level. This model is made for indoor use, and perfect for concessions stands, diners, and food trucks. It is water and oil proof for easy cleaning.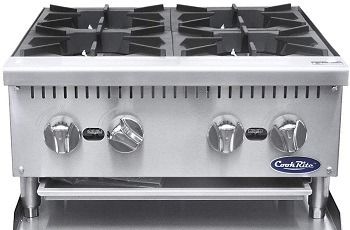 User-Friendly
A waste tray is located under the commercial propane hot plate and collects excess oils and grease so that cleaning can be done more easily at the end of the day. Sliding the pots and pans from one burner to another is also easy and spill-free as they are all connected and equally high.
Short Description:
four liquid propane stainless steel burners
independent thermostat knobs for heat control
each burner has a power of 25000 BTU
24 inches wide, 27.6 inches long, 13.1 inches high
tubular burners with cast-iron burner grates
ideal for restaurants, food trucks, diners, etc
includes a waste tray for quicker cleanup
What To Consider In Commercial Hot Plates?
If you are looking for a commercial hot plate for sale, there are a few things to consider before settling on a model you want to buy. Firstly, consider whether you should go for gas or electric models, as well as induction hot plates. Also, think of the heat control and power needed to be able to cook food in commercial kitchens, restaurants, etc.
Electric Hot Plate – This type of hot plate is very popular for home use, as well as traveling, and cooking in small spaces. Some heavy-duty models are available as well and they usually feature one or two burners made from cast-iron that spread heat evenly for precise cooking and with adjustable temperatures. Stainless steel body construction makes it withstand frequent use.
Gas Hot Plates – Unlike electric models that don't have an open flame, gas models allow you to adjust the intensity of the flame by turning a control knob. They are available to purchase in two-burner and four-burner styles, depending on how much cooking surface you need. Gas models are usually more powerful than electric, as well.
Induction Hot Plates – Powered by electricity, this type of hot plate uses electromagnetic induction to turn cookware into a source of heat for cooking food. For this reason, you need to use special cookware with flat and magnetic bottoms that are compatible with induction cooking surfaces.
Number Of Burners – Both electric and gas models are popular in two-burner size that can cook two meals at once, but is also small enough not to take up a lot of space in busy commercial kitchens and restaurants. Gas models are also available with four burners to give you more possibilities for preparing several food dishes at once. You can decide on the number of burners according to how much space you have available.
Temperature & Power – To control the heat, hot plates have temperature knobs that let you adjust the intensity by turning the knob. Choosing between different temperature settings means you can use the hot plate for a variety of cooking needs. When it comes to the power of these kitchen appliances, electric models usually have up to 3500 Watts of power supply.
To Wrap It Up
Out of the reviewed bunch, the Waring double burner is a great option for a commercial hot plate. It features two burners in different sizes that allow you to cook and warm food at the same time. Constructed for durability, it can withstand frequent use. For electric options only, read this post about commercial electric hot plates. If you are interested in four burners, take a look at the 4-burner hot plate list.