Are you looking for a commercial electric hot plate?
Can't decide between single and two burners?
In this article, you can read more about both types of commercial electric hot plates and find out about the models available on the online market. Moreover, you can read reviews of single and two-burner hot plates that are great for commercial and restaurant use, including griddle hot plates, etc.
The Rundown
Best 6 Commercial Electric Hot Plates
Best Of Best Commercial Electric Hot Plate
APW Wyott Commercial Plate
7.5-Inch Heating Element
This commercial electric hot plate features a heating element with exposed coils. The heating element has a diameter of 7.5 inches. The overall construction of stainless steel is very durable and suitable for heavy-duty use. The overall measurements of this unit are 12.75 inches in length and width, and 7.125 inches in height.
Infinite Temperature Knob
On the front side of the commercial hot plate, there is a power indicator light that alerts you when the unit is on for added safety. The turning knob with infinite controls is located next to it for temperature adjustments. By adjusting the heat, you get to cook different meals precisely.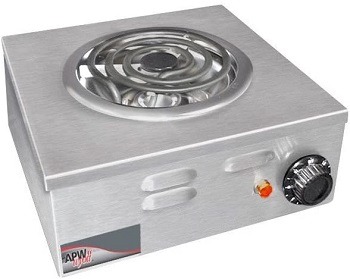 Supports Large Cookware
With a power supply of 1650 Watts, you can use it for cooking different meals. The heavy-duty body supports stockpots that are larger in size for convenient cooking. With its thick design, it supports and enables larger placement on the stovetop.
Vents On All Sides
To ensure proper ventilation of this model, it features vents on all sides for quicker cooldown. It cycles on and off automatically with the pilot light to maintain the temperature and prevent overheating. By purchasing this product, you can get a single burner commercial hot plate that is built to last.
Short Description:
uses 1650 Watts for cooking
single 7.5-inch electric burner
infinite temperature knob for heat control
heavy-duty stainless steel body
vents on all sides for a quick cooldown
Best For Restaurant Commercial Electric Hot Plate
Star Commercial Plate
Independent Heat Controls
This type of restaurant electric hot plate features two burners with separate heat controls. The two French-style burners are solid and suitable for cooking without spillage going into the equipment. Each burner has a flat surface constructed from cast iron material.
Space-Saving Design
Two burners are fitted into a surface top of 12 inches so that it does not take up too much space. It is ideal for restaurants who need an electric hot plate without taking up too much space in the kitchen. As it is housed in a stainless steel top and front with aluminum sides, it is durable and also easy to keep clean.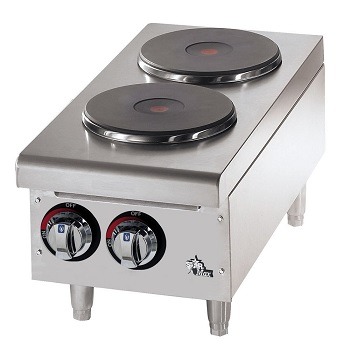 4-Inch Adjustable Legs
To easily fit it into restaurant kitchen space, this large hot plate comes with 4-inch adjustable legs so that you can make it taller or shorter if needed for the best cooking position. Apart from a 12-inch length, this model is also 28 inches wide, and 11.63 inches high.
Heavy-Duty Temperature Knobs
The control knobs with infinite temperature control are constructed from heavy-duty metal material and protected by bullnose made from stainless steel. That way the user is protected from burn injuries, as well. Without taking up too much space, you get a heavy-duty double burner commercial electric hot plate suitable for restaurants.
Short Description:
12 inches long, 28 inches wide, 11.63 inches high
4-inch adjustable feet for saving space
two cast-iron French-style burners
independent heavy-duty metal control knobs
the top and front constructed from stainless steel
electric double burner ideal for restaurants
Best Double Burner Commercial Electric Hot Plate
Waring Commercial Hot Plate
Cast-Iron Burners
This commercial 2-burner hot plate features 1300-Watt large and 500-Watt small heating elements. Both burners are constructed from durable cast-iron material and housed in a brushed stainless steel body. Thanks to the durable materials, this unit is easy to maintain clean.
Adjustable Temp With 6 Levels
The burners have a 6-inch and a 7-inch diameter suitable for cookware of different sizes so that you can cook two meals at once. Each burner has a 'ready' and 'on' indicator light, as well as its independent temperature knob with off, minimum, and other 5 levels of heat. That way you will know when the burner is ready to use.

Cooks & Keeps Food Warm
The electric countertop burner can be used for fast cooking, while the smaller burner lets you simmer, warm food up, or keep food warm constantly. The burners heat quickly and the heat spreads evenly across the cast-iron material. For safe use on countertops, this commercial electric hot plate comes with rubber feet.
Size
This unit measures 19.75 inches in width, 12.25 inches in length, and 3.25 inches in height. The commercial heavy-duty model does not take up too much space on countertops but is built for long-lasting use. To clean the unit after use, unplug it, and leave to cool down then wipe.
Short Description:
6-inch and 7-inch cast-iron burners
1300-Watt and 500-Watt power supply
separate 'ready' and 'on' indicator lights
individually adjustable temperature knobs
19.75 inches wide and 12.25 inches long
features a durable stainless steel body
rubber feet for safety and stability
Best Single Burner Commercial Electric Hot Plate
Boswell Electric Hot Plate
Coiled Heating Element
This single burner hot plate is 12 inches long, 9 inches wide, and 4 inches high. It features a heating element with exposed coils and a control knob. The control knob lets you adjust the temperature by turning it. The heat can be adjusted up to 240 Celsius degrees.
For Restaurants & Catering 
This commercial electric hot plate is designed for use in restaurants and is also an ideal solution for catering. The housing is constructed from stainless steel material for durability. This strong model distributes heat evenly over the exposed coils so that there are no cold patches while you are cooking.
Stainless Steel Drip Tray
Under the coiled heating element, there is a stainless steel drip pan that collects spillage and food debris for easier cleaning. The ending panels of the body are cool to the touch for convenient and safe handling so that you don't burn yourself if you need to carry it while still warm.
Lightweight & Portable
Since this small hot plate doesn't come in large size, it is easily portable and does not take up a lot of space when in use, or when stored away. It weighs only 3 pounds which also helps with transport and use in both restaurants and for catering services.
Short Description:
12 inches long, 9 inches wide, 4 inches high
single electric burner with exposed coils
lightweight and portable, easy to store
ideal for restaurants and catering
adjustable temperature up to 240°C
Best Induction Commercial Electric Hot Plate
Warmfod Commercial Hot Plate
3500-Watt Single Burner
Unlike the above-reviewed models in this article, this commercial electric hot plate works with the help of electromagnetic induction. It features a single burner that uses a power supply of 3500 Watts for cooking food. It is resistant to high temperatures, does not slide on surfaces, and comes in a stainless steel body.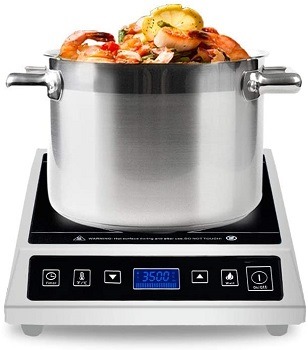 Digital Control Panel
Besides the heating element, the safe hot plate also features a digital LED screen with various buttons for setting adjustments. Apart from the on and off button, there are also up and down arrows on buttons for adjusting the timer, the temperature, or the power. You can cook by changing the temperature or the cooking level.
8 Temp & Power Presets
The screen can show you the temperature in both Celsius and Fahrenheit degrees. By using the control panel, you can choose between 8 temperature settings from 140 to 465 Fahrenheit degrees. Likewise, you can also adjust the power setting between 500 and 3500 Watts in 8 presets. You don't have to worry about cooking at high heat settings thanks to the dual fans that help with the cooldown.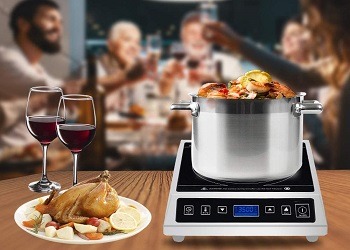 Multifunctional Use
This induction hot plate measures 15.2 inches in width, 12.6 inches in length, and 3.4 inches in height. To be able to cook, you have to use cookware with flat and magnetic bottoms. This hot plate is designed for use in industrial kitchens, restaurants, hotels, and catering services.
Short Description:
single induction burner uses 3500 Watts
needs cookware with flat and magnetic bottoms
15.2 inches wide, 12.6 inches long
digital panel with LED screen for adjustments
8 temperature and power settings available
140 to 465°F, 500 to 3500 Watts
Best Griddle Commercial Electric Hot Plate
DULONG Commercial Electric Plate
Half-Flat, Half-Grooved Griddle
This commercial electric hot plate features a 22-inch griddle that is half flat, half grooved. It is designed to fit countertops and is made out of stainless steel with a cast-iron non-stick griddle surface. With a power supply of 2000 Watts and comes with an adjustable knob for temperature control.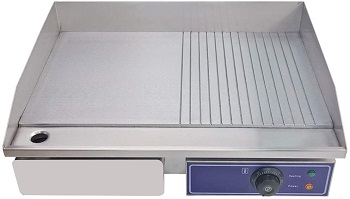 Wide Temperature Range
You can adjust the heat up to 572 Fahrenheit degrees and this large temperature range is great for different cooking needs. The griddle hot plate surface works to evenly distribute the heat for precise cooking. While grilling food the oil and grease splatter is prevented from splashing around thanks to the backsplash guard and the side splash guards.
Easy & Fast Cleaning
A waste tray is located under the griddle and collects the grease and oils that come through a small channel on the surface of the griddle. The excess grease is thus easier to clean by removing the tray, which is also faster. This model is great for both home and commercial use.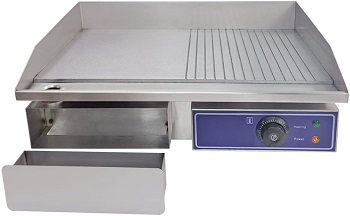 How To Use?
To ensure your griddle stays in the best condition, use a layer of cooking oil after you clean the surface to prevent rust. This griddle hot plate can be used for preparing pancakes, breakfast, pizzas, cheese, burgers, etc.
Short Description:
22-inch cast-iron cooking surface
adjustable temperature knob up to 572°F
half flat and half groove hot plate
waste tray connected with a grease channel
distributes heat evenly for precise cooking
side and backsplash guards prevent splattering
can be used at home or commercially
What To Consider In Commercial Electric Hot Plates?
Commercial electric hot plates should have a heavy-duty construction built to last for frequent use. If you can't decide between single and double burners, read about their features below. Moreover, electric hot plates can have exposed or hidden coils with a cast-iron surface, or use electromagnetic induction for cooking. It is important to make sure the temperature range and the power supply is also good enough for versatile cooking needs.
Single Or Double Burner? – When choosing between single and two burners, it is important to keep in mind the size and how much cooking you want to do on it. Double burners take up more space, but also offer you more cooking surface for preparing more food at once. However, just like single burners, they also usually feature a space-saving design ideal for busy commercial kitchens.
Exposed & Hidden Coils – Electric hot plates usually have a cast-iron or coiled heating element. Cast-iron models have hidden coils so cleaning is easier than lifting the exposed coils to access the tray beneath for cleanup. Both models can be made very durable, although cast-iron models are usually the most reliable for use even with heavy cookware.
Induction Hot Plate – Unlike the above-mentioned types, this type can be used only with induction-ready cooking pots and pans. It means that they need to have a flat and magnetic bottom to be able to induce the electromagnetic field and create heat in pots for cooking. They are energy efficient and easy to keep clean.
Temperature Settings – By turning a knob or using a digital control panel, you can adjust the heat level on hot plates. Each model usually has a different temperature range, but most models come in the range between 100 and 450 Fahrenheit degrees. Thanks to the adjustable temperatures, you can use one hot plate for versatile cooking.
Power – A power supply measured in wattage usually ranges between 1500-watt hot plate and 3500-watt hot plate. The more powerful the unit is, the quicker it can make food, and more versatile the cooking can be. However, watch out for possible burns in your food when using a high power supply for cooking. Some models let you choose between more power levels for more precise cooking.
To Wrap It Up
In conclusion to this article, we would like to recommend the APW Wyott model as one of the best commercial electric hot plates, although all of the models on the list are highly recommended. It features a 7.5-inch single burner with 1650 Watts of power in a heavy-duty stainless steel housing. It lets you adjust the temperature by turning a knob. If you are interested in single burners, check out my list of electric single burner hot plates. For double burners, read my in-depth article on electric double burner hot plates.