Looking for a single electric hot plate?
Not sure whether to go for coiled, coilless, or induction models?
Don't fret! Here you can check out reviews of all three types with important information to help you recognize the best model for your needs. Moreover, you can learn more about one-burner hot plates and what features the models on the market have to offer.
The Rundown
Best 6 Electric Single One-Burner Hot Plates
Best Of Best One Burner Hot Plate
Elite Cuisine Electric Burner
Uses 1000 Watts To Cook
This electric single burner hot plate uses 1000 Watts for fast cooking. It comes in white color with a control knob, a power indicator light, and a single cast-iron heating element. The knob has off, warm, low, medium, and high positions for controlling the temperature for different cooking needs.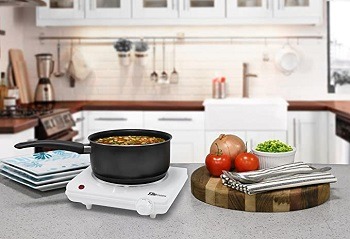 Stable & Safe 
The base of this cast iron hot plate stays cool to the touch when cooking and the non-slip feet at the bottom prevent sliding on the surface with a rubber material. The cast-iron hot plate is flat and easy to keep clean. The Elite Cuisine electric single burner measures 9 inches in width and length and is 3.25 inches high.
Non-Stick Flat Plate
As it doesn't take up a lot of cooking space, it is ideal for use on the go and in confined spaces where there is no room for a big stovetop. The Elite Cuisine single burner hot plate works with any type of cookware and allows for versatile cooking by adjusting the temperature on the control thermostat. The flat cast-iron hot plate is non-sticking and thus easy to maintain clean after each use.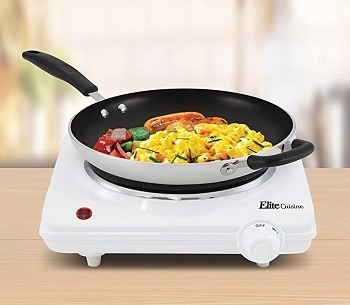 Even-Heat Distribution
The Elite Cuisine single flat burner hot plate distributes heat evenly across the burner for faster cooking. It is ideal for students who live in dorm rooms, or for kitchenettes in studio apartments, RVs, etc. Apart from cooking, you can use it this unit to keep food warm. It is ideal for holidays in your home and away.
Short Description:
9 inches wide and long, 3.25 inches high
4 temperature settings on the knob
rubber feet against slipping for stability
cool-touch base and indicator light
non-stick cast-iron flat hot plate
Best Countertop Electric Single Burner Hot Plate
Oster Single Hot Plate
Anti-Slip Feet
This electric single burner hot plate comes in black color and is 9.84 inches long, 9.06 inches wide, and 3.62 inches high. The solid disc heating element heats up according to the temperature set up on the control knob. It stays stable on the surface thanks to non-skid feet.
For Warming & Cooking Food
By using the high-temperature settings, you can cook food and then keep it warm for ideal serving temperature by adjusting the temperature to lower settings. The 900-Watt Oster single burner hot plate spreads heat evenly throughout the hot plate and is easy to keep clean.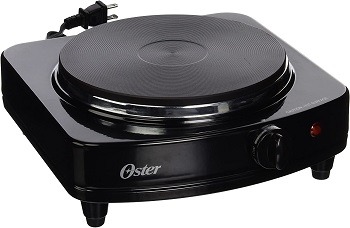 Compact Size
Using this one burner hot plate on any countertop is easy as it takes up minimal cooking space. Because of this, you can take it along with you on your boat, RV, when camping, etc. The 31.5-inch long cord makes plugging in easy, but make sure not to trip over it to keep yourself safe.
Versatile Cooking Options
You can boil water, make pasta, cook vegetables, keep sauces warm, and more with this safe hot plate. The single countertop burner is ideal for any kitchen when preparing a lot of food or cooking when away from your kitchen.
Short Description:
9.84 inches long, 9.06 inches wide
power indicator and thermostat control knob
non-skip feet for stability on countertops
spreads heat evenly and cleans up easily
900-watt motor for cooking and warming food
space-saving design for kitchens and travels
Best 1500W Single Electric Hot Plate
Cadco One Burner Electric Hot Plate
Silver Stainless Steel Housing
This Cadco 1500 watt single burner hot plate is made from heavy-duty stainless steel with an exposed coil heating element. It features an on and off switch, an infinite control knob for temperature settings, and a power indicator light. The silver color of the housing easily fits into different interiors.
8-Inch Hot Plate Surface
The coiled hot plate features a high-speed 8-inch heating element and has a dripping tray underneath. The construction materials are easy to keep clean with a damp cloth and mild detergent after the unit cools off. The coils can be lifted to expose the drip tray for easier cleaning.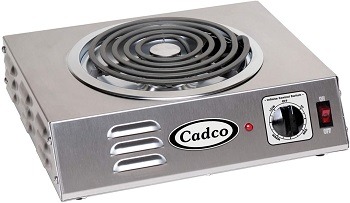 Extra Cooking Surface
This single electric hot plate is 14 inches wide, 12.25 inches long, and 4.13 inches high. Thanks to its size, it can be used in the kitchen to add to the cooktop surfaces when you are making big meals for parties and holidays. When not in use, the 1500 watt single burner won't take up too much storage room.
Cooks Different Meals
The low, warm, medium and high settings on the thermostat are great for cooking different meals. Apart from cooking, you can also keep the food at warm temperatures to be able to serve food to your guests without it going cold.
Short Description:
uses 1500 Watts for cooking
8-inch exposed coil heating element
4 settings on the temperature control dial
14 inches wide and 12.25 inches long
on and off switch and indicator light
heavy-duty stainless steel housing
keep clean with a damp cloth and mild detergent
Best Induction One Burner Hot Plate
Duxtop 1 Burner Hot Plate
Control Panel With Sensor Touch
This induction one burner hot plate comes in black color and is available to purchase in a silver or black detail frame. The control panel with sensor touch has an LCD screen along with an on and off button, safety lock button, timer button, and preset boiling and 'keep warm' cooking modes.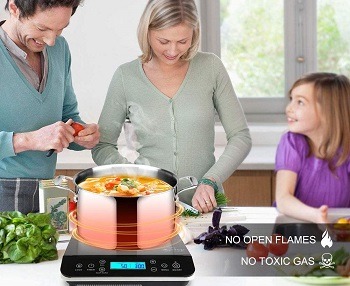 20 Preset Power & Temp Settings
It works by using electromagnetic induction to heat special induction-ready cookware while saving energy. The induction single burner hot plate uses 1800 Watts and lets you choose between 20 power settings from 100 to 1800 Watts for different cooking needs. Apart from power, you can also adjust the temperature between 20 preset levels from 100 to 460 Fahrenheit degrees.
Safety Features
This glass hot plate will need pots and pans with magnetic bottoms to keep food warm at 140 Fahrenheit degrees between 1 and 30 minutes or for cooking at different power and temperature settings. The auto-pan detection function ensures safety by automatically shutting off the unit after 60 seconds of no cookware detection.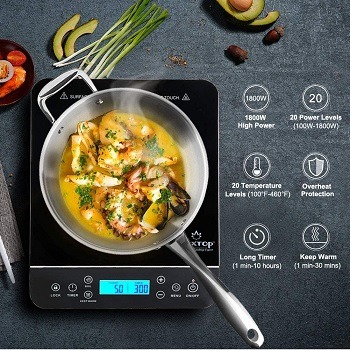 Non-Stick Glass
The cooking surface is made out of glass for easy cleanup with a non-stick surface. It is 11.41 inches long, 14.05 inches wide, and 1.33 inches high to fit any countertop even in small spaces. You can steam, fry, or deep fry, as well as use this hot plate to cook soup and pasta.
Short Description:
11.41. inches long and 14.05 inches wide
uses cookware with a magnetic bottom
20 power and temperature settings available
100 to 1800 Watt and 100 to 460 Fahrenheit
safety features include auto-shutoff
Best Large Electric Single Burner Hot Plate
Cuisinart CB30 Hot Plate
6 Temperature Settings
This Cuisinart single burner hot plate comes in a brushed stainless steel housing and features a coilless heating element with a flat surface for easy maintenance. The 'on' and 'ready' indicator lights are positioned on the front side of the unit along with a thermostat knob with 6 temperature settings and an off position.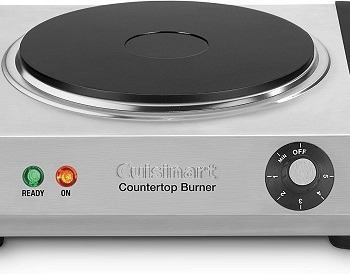 Silver & Black Design
With the combination of silver and black color, this electric single burner hot plate complements any kitchen or other small spaces without a kitchen. By adjusting the knob from lowest to highest heat settings, you can prepare different meals, all on one burner.
1300-Watt Large Plate
This unit is 11.5 inches long, 11 inches wide, and 2.5 inches high. The rubber feet are non-slippery for use on any surface in your house, studio apartment, dorm room, boat, RV, etc. The 1300-watt large single burner electric hot plate features a heavy-duty cast-iron plate for even heat distribution.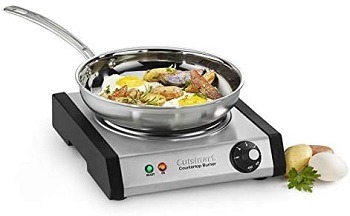 For Home & Away
By using this large hot plate, you can cook in your kitchen or any space without one, as long as you have an access to a power outlet. It is compact enough for portability and also durable to take with you wherever you go. It works to keep your food warm and can even cook an entire meal.
Short Description:
11.5 inches long, 11 inches wide, 2.5 inches high
1300-watt cast-iron one burner hot plate
stainless steel housing for easy maintenance
on and ready indicator lights
thermostat with 6 temperature options
non-slip feet suitable for any countertop
Best Portable Single Electric Hot Plate
Aroma Single Burner Hot Plate
Maximized Contact With Cookware
This Aroma single burner hot plate comes in black color and features a curved design for better contact with cookware. The metal finish is easy to clean by wiping with a cloth after cooking is done. The temperature dial offers 4 heat settings and the power indicator light warns you when the unit is on.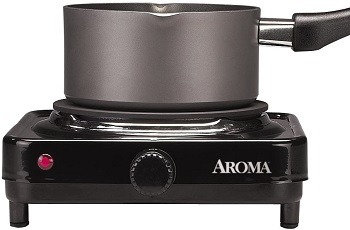 Durable Die-Cast Metal
The die-cast metal construction is durable for everyday use in the kitchen or travel purposes. It is ideal to use when camping and traveling as it is compact and lightweight. However, it can also serve as an extra cooktop surface in your kitchen when hosting parties and making holiday meals.
For Small Spaces
As it is 10 inches long and wide, it won't take up too much space in your kitchen and will also work great in other confined spaces where you might have to warm up your food or cook. This is why you can use it in your office, boat, RV, at a camping site, and more, as long as you have a power outlet.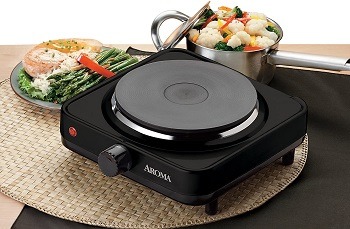 Easily Portable
The 1000-Watt portable single electric burner can be used for versatile cooking at home and away from home so you can take it with you anywhere. Use a travel hot plate for entertaining parties at home, when camping on the beach, making coffee and warming up food in the office, etc.
Short Description:
1000-watt single burner with a curved design
black metal finish is durable and easy to clean
compact and lightweight for portability
measures 10 inches in length and width
ideal for travel and cooking away from home
4 heat settings and power indicator light
for camping, office, boat, RVs, kitchens
What To Consider In Single Electric Hot Plates?
To make sure you need up buying the best electric single burner hot plate, look out for the next few features and technical specifications. Also, look out for compact and durable models if you want to travel with it. Depending on your cooking needs, you will also have to make sure you get the model with enough wattage and temperature settings.
Coiled & Coilless – One-burner hot plate models can have exposed or hidden coils. Usually, hidden coils are easier to keep clean as they have flat surfaces. They can also be more durable as exposed coils can bend, while heating elements with hidden coils usually feature heavy-duty constructions.
Induction Plates – On the other hand, induction heating elements require induction-capable cookware with magnetic bottoms to be able to heat and cook food. They waste less energy as they heat cookware directly without first heating up the burner and then transferring the heat, like other electric models.
Durability – Most electric burners have stainless steel housing which is easy to keep clean and also durable for everyday use. Cast-iron heating elements are also a great option that can endure the weight of the cookware and food. Induction models usually have glass surfaces so they need to be carefully handled if used when traveling to prevent breaking.
Compact Size – Unlike double burners, electric single burner hot plates take up less space and can be used in confined spaces like kitchenettes in studio apartments, dorm rooms, offices, etc. If you are looking for a portable hot plate, a single burner is usually the best idea.
Wattage & Temperature – Most single burners use around 1000 to 1800 Watts of power and offer temperature ranges between 100 and 400 Fahrenheit degrees. Induction models let you adjust both the power and the heat for cooking. Meanwhile, other electric models usually only let you control the temperature by turning the thermostat.
To Wrap It Up
To conclude this article about one-burner hot plate models, I would like to recommend the Elite Cuisine electric burner. It uses 1000 watts to spread heat evenly and can be used on any surface with rubber feet against slipping. By turning the knob, you can choose warm, low, medium, and high settings to cook food. For other types of electric burners ideal for countertop use, check out this post where I have reviewed many electric countertop burner models. For other small models, take a look at my in-depth article about small and mini hot plates.