Need a double electric hot plate?
Looking for an efficient way to cook on the go and add more cooktop surface to your kitchen from time to time?
In this article, you can check out the models with different designs, including induction and cast iron cooktop surfaces, as well as portable two-burner hot plates.
The Rundown
Best 6 Electric Double Two-Burner Hot Plates
Best Of Best Double Electric Hot Plate
Elite Cuisine Two Burner
6 & 7-Inch Cast Iron Burners
This Elite Cuisine double burner hot plate features a 6-inch and a 7-inch flat cast-iron cooktop in a black housing. Individual control knobs and indicator lights are located under each burner for temperature adjustments. Each knob can be set to low, medium, and high temperatures. It uses 1500 watts for fast cooking.

Even-Heat Delivery
The two-burner electric hot plate is compatible to use with any type of heat-resistant pot and pan and allows you to cook two meals at once. The heavy-duty cast iron construction delivers heat evenly and, along with adjustable temperature, lets you cook many different meals.
Anti-Sliding Rubber Feet
It is easy to keep this cast iron hot plate clean and should be wiped after it cools down thanks to the non-sticking cooking surface. It lets you cook soups, steak, pasta, and breakfast such as fried eggs with bacon. You can place it on any flat surface securely, as it comes with rubber feet that prevent sliding on countertops.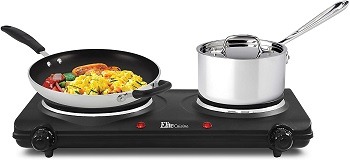 Space-Saving Size
This model is 16.5 inches wide, 9 inches long, and 3 inches high. Thanks to its compact and space-saving design you can use it in small kitchen areas in studio apartments, dorm rooms, or even in your kitchen. It can provide you with extra cooktop surfaces so that you can prepare food for a large group of people.
Short Description:
6-inch and 7-inch cast iron double burners
non-sticking cooking surface for easy cleaning
16.5 inches wide and 9 inches long
individual temperature controls and indicator lights
rubber feet for stability and safety
Best Induction Electric Double Burner Hot Plate
NutriChef Double Burner
Control Panel With Cooking Modes
This induction hot plate has two burners controlled by independent settings on the control panel. It measures 23.6 inches in width and 14.2 inches in length. The control panel has preset buttons for frying, steaming, and boiling water on the digital LCD display screen. Each burner has independent temperature settings for making different food while using both burners at the same time.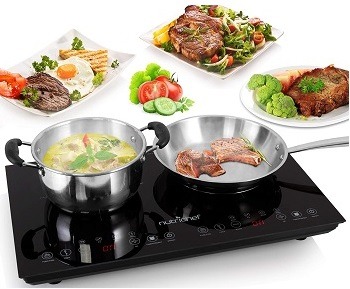 Ceramic Tempered Glass
The electric double burner hot plate has a ceramic tempered glass surface that is resistant to stains and easy to keep clean. Each burner has a 6.7-inch diameter and each element uses 1800 watts of power for quick heating so that you can prepare your food faster.
High Energy Efficiency
By using induction-capable cookware, you can use this safe hot plate with double burners to cook two meals at once. The induction plate is highly energy-efficient and wastes less energy while cooking by using electromagnetic induction to heat the cooking pot. The burners are suitable for cooking pots and pans with a diameter between 12 and 26 centimeters.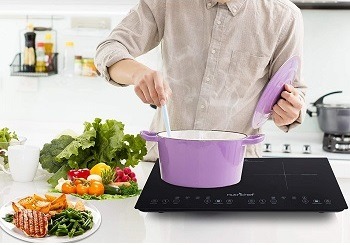 Safe To Use
The simple plug-in design allows you to use this induction double burner on any countertop and in any space with a power outlet. You can use it even around children as locking the control panel will freeze all the buttons for safety.
Short Description:
23.6 inches wide, 14.2 inches long
fry, water, steam cooking mode buttons
control panel with digital LDC screen
two 6.7-inch ceramic tempered glass burners
individual temperature controls for each burner
resistant to stains and easy to clean
Best Stove Two Burner Electric Hot Plate
Cuisinart 2 Burner Hot Plate
6 Temperature Settings
This 1800-Watt model includes two cast iron burners with separate control knobs and indicator lights for safety. The larger burner uses 1300 watts, while the small one needs 500 watts of energy. The control knobs offer 6 temperature settings each for cooking different dishes at different temperatures.
Durable & Easy Cleaning
The cast iron construction is durable and easy to keep clean by simply wiping the plates after they cool down. The Cuisinart double burner hot plate stove top can fit onto any counter with non-slip feet for stability and safety while cooking, making it a perfect double hot plate electric stove. It can be used in spaces without a kitchen, or as an extra cooktop in the kitchen.

Cooks Or Keeps Food Warm
While cooking on the larger burner, you can use the smaller one to keep food warm. The 'ready' indicator light will let you know when the burner achieves the set temperature. The brushed stainless steel housing is sleek and modern enough to complement any decor.
Portable Design
Apart from using the Cusimax 1800w double hot plate in your kitchen when entertaining a large group of people, you can also use this two-burner electric hot plate in confined spaces, like dorm rooms, RVs, boats, or studio apartments. It is compact and portable to easily use in all these spaces.
Short Description:
1300-watt larger and 500-watt smaller hot plate
each burner has 6 temperature settings
'ready' and 'on' indicator lights
heavy-duty cast iron burners
non-slip feet for safety and stability
cooks food or keeps it warm
brushed stainless steel housing for easy cleaning
Best Portable Two Burner Hot Plate
Oster 2 Burner Hot Plate
900 & 600-Watt Burners
This electric double burner hot plate comes in a brushed stainless steel housing with 1500 watts of power. The larger of the burners uses 900 watts and can be used for fast cooking. On the other hand, the smaller 600-watt burner can be used to simmer food or keep it warm. You can control the temperature of each burner, as they have separate thermostats.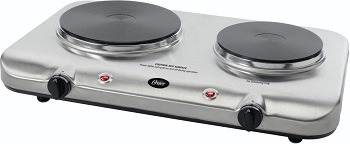 Safety Features
You can use this Oster double burner hot plate on any countertop surface as it has non-slip feet to add to the stability of the unit. The indicator lights warn you when the burners are on for added safety. The coilless heating elements are easy to keep clean and suitable for extra help in the kitchen, as well as spaces without a kitchen.
Compact Size
This portable electric double burner measures 23.62 inches in length, 12.4 inches in width, and 3.62 inches in height. It is compact enough to take with you when traveling, to cook in hotel rooms, RVs, on boats. It is also a great option for cooking in dorm rooms and studio apartments.
Easily Portable
The compact design with two cooking elements makes this travel hot plate a perfect choice for a portable electric stove double burner. It allows you to cook food and keep it warm at the same time. It can be stored away when not in use and come to save you for holiday meals and parties when cooking for a lot of people.
Short Description:
23.62 inches long, 12.4 inches wide
portable and compact design for travel
900-watt and 600-watt hot plates
for cooking and simmering food
non-slip feet and indicator lights for safety
Best Countertop Two Burner Electric Hot Plate
Aroma Two-Burner Plate
Die-Cast Metal Construction
The durable die-cast metal construction with solid surfaces prevents food from getting stuck and falling into the unit. It is easy to keep clean and the black metal finish easily fits any house decor. Cleaning should be done after the food is cooked and the unit cools down.

Three Temperature Settings
Each burner has its own temperature control knob and indicator light for precise cooking. You can choose between three temperature settings for each burner and cook two meals at once. The 1440-watt double electric hot plate is ideal for parties to prepare larger amounts of food,  providing you with the extra cooking surface. However, it can also be used on the go.
Compact For Countertops
The feet on the hot plate prevent the unit from moving around while you are cooking, keeping it stable and safe on any countertop surface. It won't take up too much space on your kitchen counter, as well as on your boat, or in your small kitchenette in studio apartments or dorm rooms.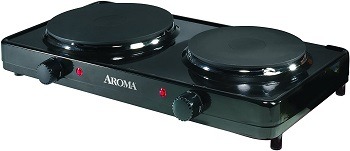 Curved Design 
This two-burner hot plate is designed for faster cooking and its curved design makes contact with the pot easier and maximized. The portable compact design makes the Aroma double burner hot plate perfect for home use and travels for precision cooking wherever you might go.
Short Description:
die-cast metal construction in black color finish
durable and easy to keep clean
separate temperature controls and indicator lights
designed for safe countertop use
precision cooking with three temperature settings
curved design for maximum cookware contact
Best Cheap Two Burner Hot Plate
IMUSA Double Electric Hot Plate
1750-Watt Exposed Coils
Unlike the rest of the models in this article, this cheap hot plate features two burners with exposed coils. The 1750-watt unit can be used both indoors and outdoors, as long as you have access to a power outlet. Each of the coiled burners has a thermostat knob with off, low, medium, and high positions for temperature adjustments.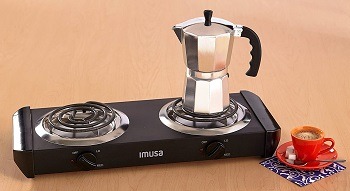 Stainless Steel Drip Pans
This two-burner electric hot plate comes in black color and has side handles for carrying. The non-slip feet keep the model stable while cooking to prevent any accidents and keep you safe. Under each of the burners, there is a stainless steel drip tray for any spillage. It is easy to keep clean by wiping once the hot plate goes cold.
Heat-Resistant Handles
With non-slip feet and carrying handles, you can safely transport this plate and use it on any stable surface. The power indicator lights illuminate when the burners are turned on for added safety. The 24-inch width is big enough to cook two meals at once, but also small enough to fit any space.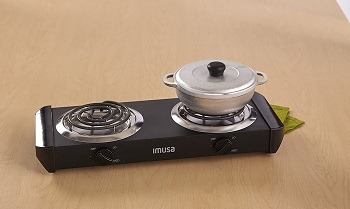 Affordable Price
The coils distribute heat for cooking on the set temperature, while the handles and the knobs stay cool to the touch. The space-saving design is ideal for studios, small kitchens, dorm rooms, boats, or recreational vehicles. The Imusa double burner hot plate is very affordable and available to buy for under 25 dollars on Amazon.
Short Description:
1750-watt hot plate with two coiled burgers
can be used indoors and outdoors
low, medium, and high temperatures
easy-to-clean stainless steel drip trays
carrying handles and knobs stay cool to the touch
space-saving design with a 24-inch width
ideal for cooking in small spaces
What To Consider In Electric Double Burner Hot Plates?
A double electric hot plate can have hidden or exposed coils, or use electromagnetic induction to cook food. It is important to have in mind whether you will use it at home or on the go, and how powerful it needs to be to choose the best double burner electric hot plate for you. Also, keep in mind the type of food you want to cook on it, and how big the cookware can be to suit the size of the hot plate. Lastly, also look for models with safety features.
Exposed Or Hidden Coils – Electric models with hidden coils are usually more durable than models with exposed coils. They are also easier to keep clean and can endure larger and heavier cookware. However, models with coils are also available and are usually very affordable. They usually have indicator lights and thermostats for adjusting the temperature.
Induction Plates – Compatible with special cookware, induction plates use electromagnetic induction to heat the cookware, wasting minimum energy to cook food. They usually come with a control panel for adjusting the power and the temperature and are great for precision cooking. They usually have glass surfaces so you need to be careful not to break it if you are going to transport it.
Single Vs. Double Burner – As electric double burner hot plates have two cooking surfaces, they are bigger in size than single burner hot plates. However, they can still be compact enough not to take up too much space. They are great for cooking more than one meal at once. Some models are designed with differently sized burners so that you can cook and keep food warm at the same time.
Power – Most double burners use around 1500 Watts of power or more. As double burners sometimes come in different sizes, they also use different wattage to cook food. The more power a burner has, the faster it can cook food, and the more versatile cooking you can do on it. Low wattage burners are usually only enough to simmer food or keep it warm.
Additional Features – Burners come in different sizes so they can use different sizes of cookware for preparing meals. Make sure to check the manual so that you don't use cookware that is too big or too small because that can affect the cooking process. Also, look for models with rubber feet and overheating protection for added safety while cooking.
To Wrap It Up
In my opinion, the best two-burner electric hot plate is the Elite Cuisine double burner hot plate. It features 6-inch and 7-inch burners with individual low, medium, and high-temperature settings. Its compact design is suitable for small spaces or as an extra cooktop in your kitchen. To check out models of other electric burners, take a look at my selection of the best electric countertop burners. For other large hot plates, check out this article about large electric hot plates.