Interested in buying a safe hot plate to use in your house and on the go?
Wish to learn more about the safety features of hot plates?
Then check out this article where you can find out how to use a hot plate to ensure safety. You can read reviews of electric and induction models in different sizes and designs available on the market, all with safety features that make cooking stress-free.
The Rundown
Best 6 Safe Hot Plates
Best Of Best Safe Hot Plate
Duxtop Hot Plate Auto Shutoff
Induction-Ready Cookware
This safe hot plate works with magnetic induction and requires compatible cookware to be able to function properly. To check whether the cookware you own is induction-ready, try sticking a magnet at the bottom. If the magnet sticks, you can use the pan or pot for this hot plate. The 1800-Watt model features a control panel with a touch screen.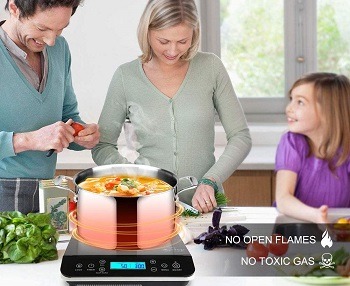 Adjustable Temperature & Power
This small hot plate lets you adjust the temperature between 100 and 460 Fahrenheit degrees so that you can use it to cook different food at different temperatures. Moreover, it lets you choose between 20 power settings, from 100 to 1800 Watts. It is more energy-efficient than other electric or gas types, as it wastes less energy to heat cookware and prepare food.
Packed With Safety Features
For safety, while cooking, the child safety lock keeps the settings unchanged after they are set by locking all the buttons, apart from the on and off switch. After taking cookware off the unit, it will also automatically turn off in 60 seconds to prevent any injuries or damage. It also lets you set up a timer, anywhere between 1 minute and 10 hours.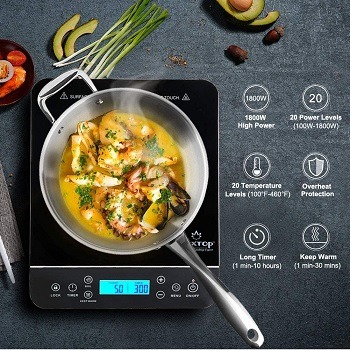 Prevents Overheating
As the panel is constructed from glass, it is easy to keep clean. You don't have to worry about this kitchen appliance overheating, as it is designed to prevent that from happening. There is no open flame, which is also good for safety. You can cook, fry, steam, and boil safely, no matter where you are using this hot plate.
Short Description:
1800-Watt plate with touch screen control panel
temperature range between 100 and 460 Fahrenheit
20 power settings between 100 and 1800 Watts
child safety lock prevents changes to the settings
automatic-pan detection with auto-shutoff
Best Double Burner Safe Hot Plate
NutriChef With Safety Lock
Control Panel With LCD
This 1800-Watt model features two ceramic burners and works with magnetic induction. Apart from the double burner, it also features a control panel with two sets of settings and an LCD screen, so that you can adjust each burner to your cooking needs, use both or just one at a time.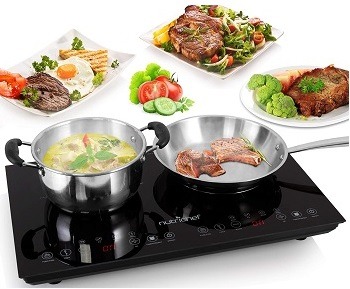 Safety Child Lock
The lock function on the control panel locks all the buttons so that they can't be changed or cause injuries to children. Some of the buttons also have preset functions, such as frying, steaming, and warming food. The induction-ready cookware can be sized between 12 and 26 centimeters.
No Flame For Safety
The ceramic tempered glass cooktop surface is easy to keep it clean because it is resistant to stains. As there is no visible flame, it is also much safer to use for preventing burning damage. However, you can adjust the temperature of each burner to cook different meals at once.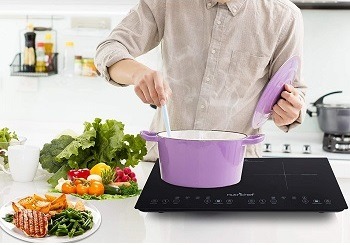 Suitable For Countertops
You can safely place this electric double burner hot plate on any surface or countertop where it will stay without moving thanks to the bottom feet. The safe hot plate needs to be plugged in so it can work and the cord is short for safety reasons.
Short Description:
two induction ceramic glass tempered burners
control panel with safety lock and LCD screen
suitable and safe for countertop use
individual temperature adjustments for burners
fry, steam, warm preset functions
stain-resistant and easy to clean
Best Single Burner Safe Hot Plate
CUKOR Ceramic Hot Plate
Infrared Technology For Cooking 
This 1200-Watt single burner has a 7.1-inch diameter and uses infrared technology to cook food. It is suitable for cookware with a maximum diameter of 7.1 inches and a maximum weight of 22 pounds. Unlike induction plates, this infrared model is compatible with any kind of heat-resistant cookware.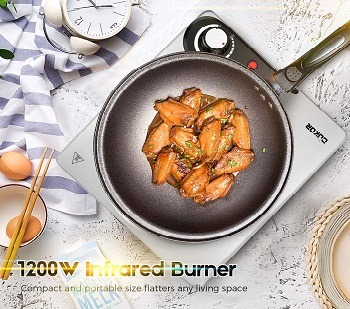 Durable & Compact
The stainless steel housing is durable for consistent use, and also good for cooking while traveling. Not only is it durable, but also compact in size to work in any kind of small space as well. It weighs 3.26 pounds and measures 10.6 inches in length, 9.25 inches in width, and 2.16 inches in height.
Safe To Use
The ceramic burner spreads heat evenly while the thermal fuse prevents overheating. It also cycles on and off to maintain the set temperature automatically. The desired temperature can be set by turning the control knob on the unit. After use, wait for the hot plate to cool, then clean it with a damp cloth.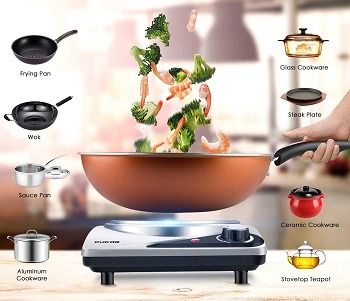 Slip-Resistant & Portable
The indicator light notifies you when the unit is heating to keep you safe. As there is no flame, it is also less probable to start a fire easily. The slip-resistant feet keep this safe hot plate stable on the surface while cooking. Its compact size makes it ideal for small kitchens, boats, RV, or student dormitories.
Short Description:
7.1-inch ceramic glass infrared burner
suitable for cookware up to a 7.1-inch diameter
indicator light and temperature control knob
a thermal fuse prevents overheating for safety
9.25 inches wide, 10.6 inches long
compact and lightweight size for travel
non-slip feet for stability on countertops
Best Countertop Safe Hot Plate
Durabold Plate With Overheat Protect
Durable Cast Iron Burners
This hot plate comes in black color with two durable cast-iron burners with a 6-inch and a 7-inch diameter. With a combined power of 1700 Watts, the large burner uses 1000, while the smaller uses 700 Watts for cooking. The spacing between the burners lets you fit two pots to cook two meals at once.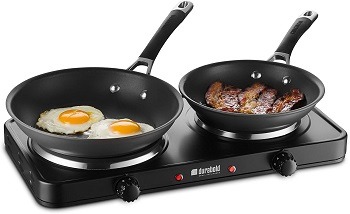 Variety Of Cooking Applications
Each burner has a temperature control knob and a power indicator light, letting you adjust the individual temperatures of the burner. The even distribution of heat on both heaters lets you cook food properly, without cold patches. You can boil, fry, simmer, or warm food up with a warm, low, medium, and high-temperature setting. The electric model is compatible to use with any type of cookware.
Designed For Countertops
Compared to coiled plates, cast-iron hot plate burners are much easier and safer to keep clean. In case of spillage, it will stay safe and be easy to clean after the plate cools off. Positioning this hot plate on any countertop is safe with the non-slip feet that prevent the unit from moving, even on granite and marble surfaces.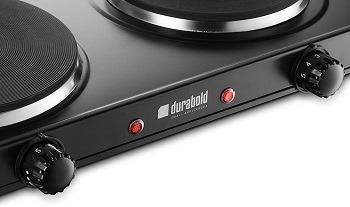 Safe From Overheating
To ensure safety and prevent damage and burn injuries, the hot plate has protection from overheating. Once the temperature goes too high and above the set temperature, the hot plate turns off to cool it back down. Once the set temperature is achieved again, it will turn back on.
Short Description:
6-inch and 7-inch cast-iron burners
1700-Watts with two thermostat knobs
warm, low, medium, high temperatures
non-slip feet for stability on countertops
overheating protection and ease of cleaning
Best Induction Safe Hot Plate
iSiLER Induction Hot Plate
Large Sensitive Touch Buttons
This 14.2 inches long and 11.6 inches wide hot plate with a premium glass surface features an induction cooktop and a control panel with sensor touch. The touch buttons are large and sensitive to the touch for easy setup. It lets you adjust the power between 100 and 1800 Watts. Moreover, the temperature range is from 140 and 460 Fahrenheit degrees.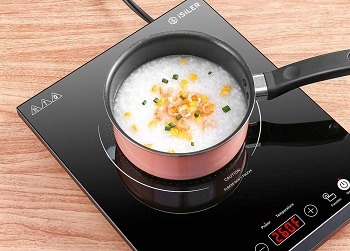 Induction-Ready Cookware
By setting up the temperature in 20-degree increments, you can use this hot plate for different cooking needs. The 6.7-inch cooktop surface is compatible to use with cookware from 3.9 to 8.6 inches in diameter. Likewise, the pots and pans have to be compatible with magnetic induction to work on this model.
Safety Features
To keep the environment and users safe, this singe burner hot plate comes with a child safety lock to freeze all the buttons in case you have children. The built-in thermal fuse keeps the temperature of the unit under 563 Fahrenheit and protects the plate from overheating. The fan with 6 blades makes sure the heat dissipates quickly for a longer runtime of the appliance.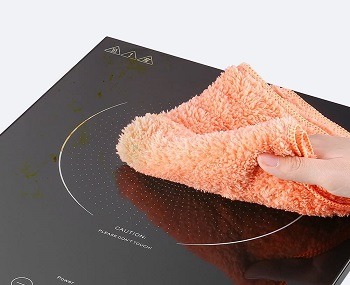 For Kitchen & Travel
The safe hot plate is easy to keep clean by simply wiping the glass surface when it cools down. It can be used in your kitchen when you need an extra cooktop for large family dinners and parties. However, it is also compact so you can use it in smaller spaces while traveling, as well.
Short Description:
a 6.7-inch premium glass cooktop surface
control panel with sensor touch for adjustments
adjustable temperature and power settings
140 to 460 Fahrenheit with 20-degree increments
power adjustable between 100 and 1800 Watts
safety child lock and overheating protection
Best Electric Safe Hot Plate
Cusimax Hot Plate Safe
7.4-Inch Cooking Surface
This electric model features a single cast iron heating plate in a black stainless steel housing. The heating element measures 7.4 inches in diameter and can work with any type of cookware, unlike induction plates. The 1500-Watt hot plate features a thermostat knob for temperature adjustments, a knob with on and off functions, and an indicator light.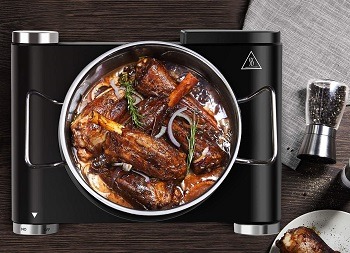 7 Temperature Settings
The knob offers 7 temperature settings for cooking at different temperatures. Apart from cooking, you can also use it to keep food warm so you never have to serve cold food again. Its modern design makes it suitable for any decor and is ideal for confined spaces. It measures 2.71 inches in height and is 11.6 inches wide and 7.79 inches long.
Safety Functions
Positioning this plate on any countertop is safe with rubber feet that prevent slipping. The indicator light warns you when the hot plate is on for safety. At the same time, the hot plate is protected from overheating and has an automatic safety shutoff.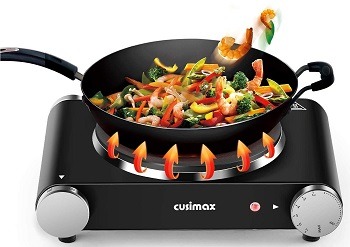 Suitable For Travel
This safe hot plate is durable and easy to keep clean by simply wiping with a wet cloth. As it has no open flame, it is also safer than gas hot plates. You can use it in your kitchen, studio apartment, on your boat, in your RV, and any other space with a plug.
Short Description:
cast-iron hot plate in a stainless steel housing
compatible with any type of pots and pans
temperature knob with 7 settings
overheating protection with automatic shutoff
cooks food or keeps it warm
safe to use on countertop surfaces
compact and portable size with modern design
What To Consider In Safe Hot Plates?
Safe hot plates feature power indicator lights and thermostat temperature controls to avoid danger. Thermal fuses are also useful at preventing overheating and burns. Here you can read more about the safe types of hot plates and their features.
No Open Flame – Unlike gas hot plate models, electric models have no open flame, which makes them a safer option. Coilless heating elements, infrared technology, and induction hot plates are thus much safer to use. Out of the bunch, induction hot plates are the safest as they only generate heat in cookware by using electromagnetic induction and turn cookware into a source of heat.
Power Indicator Light – When the power light illuminates on the hot plate, it warns you that the unit is plugged in and heating up. It leaves no space for debating whether the plate is heating up, warning you not to touch it to prevent burn injuries.
Temperature Adjustments – Induction hot plates usually feature a control panel that lets you use buttons to set up the desired temperature. When it comes to other electric models, you can do so by turning a thermostat knob. Thanks to different temperature settings, you won't have to cook different meals at the same temperature, which can be unsafe.
Overheating Protection – A thermal fuse built into the hot plate helps to prevent the unit from overheating, which could result in injuries and other damage in your kitchen. It works to stop the heating of the hot plate in case it reaches a dangerous temperature that could start a fire.
Other Safety Features – To be able to safely place and use a hot plate on any countertop surface, non-slip feet with rubber are a great accessory. In induction hot plates, there is also an automatic shutoff function, so some units shut off soon after you remove cookware from the cooktop surface.
To Wrap It Up
To sum up this in-depth article about safe hot plates, I would recommend the Duxtop safe hot plate. With no visible flame, adjustable temperatures and power, child safety lock, and automatic shutoff, you can enjoy cooking without worrying about your safety. Also, take a look at the selection of the best low wattage hot plates available on the market to check out their safety features and find out where to use them. For countertop options, consider this list of electric countertop burners.