Are you interested in buying a double burner hot plate?
Then my post might help you with your search!
In the next few segments, you can find my short reviews of the 15 best models on the market. Check them out, compare their designs and features, and find the one that fits your budget perfectly.
The Rundown
What Is A Double Burner Hot Plate?
This is a classic hot plate or a portable stove that has 2 burners and is designed to provide an efficient cooking operation.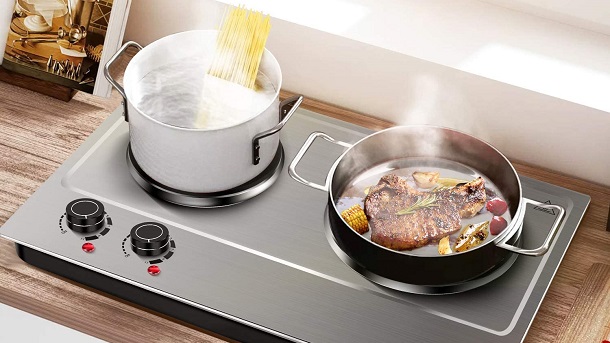 Is It Better Than Those Models With Single Burners?
Both single and double burner models have their own advantages, however, you can't really compare them since they are designed for different purposes. Single burners are great just as additional burners, while double burners are designed for a greater volume of cooking or small spaces where you can't fit a classic stove.
2 Burners Suitable For Various Use
Double hot plates have many great advantages. To name a few, here are the key factors as to why you should consider getting such a model.
Who Needs This Model?
Double burners are great for home, professional kitchens, dorm rooms, RVs, boats, and more. They are perfect for those who cook a lot of food on a daily basis or don't have enough room to place a classic kitchen stove in their apartment.
User-Friendly Design Great For Beginners & Professionals
What is great about these models is that they have a modern or industrial design and they are really easy to work with as they only have a simple control panel/knob and that's it. With that in mind, they are great for both beginner cooks and professional chefs who don't have time to work with complicated appliances.
Private & Professional Use
Speaking of different use possibilities, double burners are great for home use, but commercial use as well. The only difference is that home models are classic electric ones, while hot plates for professional business are usually a gas stove, as they are more powerful in order to meet all the demands of commercial use.
Suitable For Travel Too
If you're going camping or on a road trip with your RV, you can definitely take your double burner too as it comes with portable size and weight. However, have in mind that you'll need an available power outlet if you wish to use such a hot plate.
Indoor Or Outdoor Use? Both!
You can use an electric double hot plate both indoor and outdoor. Just remember – a power outlet is a must. If you have a gas model, you can only use it outside, unless you need it for commercial use, then you can use it indoors but only if your kitchen meets all the safety measurements.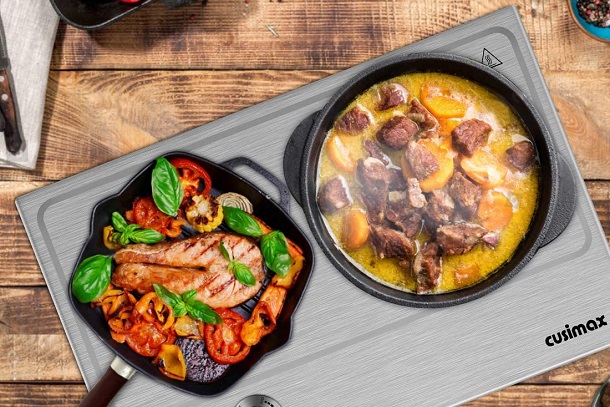 Add A Griddle & You Can Grill
If you can't decide whether to get a grill or a hot plate, listen up – if you get a hot plate, you can use it for grilling too, only if you put a griddle over the cooktop. How cool is that!
What To Know About These Double Burner Models? Here Are The Specifications
Hot Plates with double burners are rather specific models. They are divided into a couple of different types and have good specifications which ensure great efficiency and durability.
2 Hot Plate Types
These models can be powered by gas or electricity. A gas model needs to be connected with propane, butane, or some other natural gas container, while an electric model requires an accessible power outlet in order to work.
Gas Hot Plates vs. Electric Models: Difference
The gas model has an industrial design and higher power so it is suitable for commercial use. Such a model is known as a portable gas stove and it heats up really quickly. Electric hot plates have a modern design and flat surface, they can have cast iron burners, induction cooking operation, or infrared process.
Are Gas Burners Better Than Electric Models?
These models can't really be compared because gas burners need to have higher power because they are mostly used for professional purposes. On the other hand, electric models are perfect for home use and their power is enough for your private needs.
Double Burners With Hidden Or Exposed Coils
Electric double burners can have hidden coils or exposed coils. The coil hot plate heats up faster, while the coilless model cools down faster because of its glass cover over the coils. Other differences are negligible.
3 Different Cooktops: Cast Iron, Infrared, Induction
Electric hot plates with 2 burners can have 3 different cooktops. A standard model has 2 cast-iron burners which provide a classic heating process. Infrared technology emits even radiant heat, while induction uses electromagnetic waves to heat up pots and pans.
What Cooktop Should I Choose?
This depends only on your preferences. For example, induction hot plates are rather expensive, while infrared models need minimal time to heat up, but aren't as durable as cast-iron double burners. Whichever you choose, it will provide an excellent cooking operation.
Palette Of Heat Levels
Even though these hot plates have double burners, they do not have different temperature levels from other models. So as single burners, these hot plates also come with a temperature range from 100 Fahrenheit degrees to 450 Fahrenheit.
How Powerful Are Electric Models?
Most electric models that come with 2 burners have a wattage power of between 1,500 and 1,800 watts. That power is divided amongst 2 burners. If both burners are the same size, then the wattage power is equally divided. If one burner is bigger than the other, then it uses more watts than the smaller one.
What About Gas Hot Plates?
These models are a lot more powerful than electric ones but they should be since they are mostly used for commercial purposes. Double burner models come with around 25,000 BTU. For comparison, 1 watt is 3.41 BTU. That means that the power of 25,000 BTU equals 7,331 watts. The gas model divides its power equally to 2 burners.
Burners Specifications
Usually, this type of hot plate comes with burners that have diameters between 5.5 inches and 7.5. In case some models have burners in different sizes, a smaller burner usually varies from 2.5 inches to 6.
There Are 3 Types Of Cooktops So Which Cookware To Use?
If you go for an induction hot plate, you need to buy specially designed cookware made of magnetic-based material. Infrared and cast-iron models, as well as gas models, are suitable for any type of cookware.
Are These Burner Models Pricey?
They are a bit, yes. Most of them come with a price of $50 and up. However, you can find more budget-friendly models if you go for coil models, they can be around $30. The price for commercial hot plates goes up to $580.
Are Hot Plates With Double Burners Big In Size?
This depends from one model to the other. You can choose between smaller and portable hot plates to those that are medium-sized and big with 4 adjustable legs. So their size varies from 15 to 30 inches.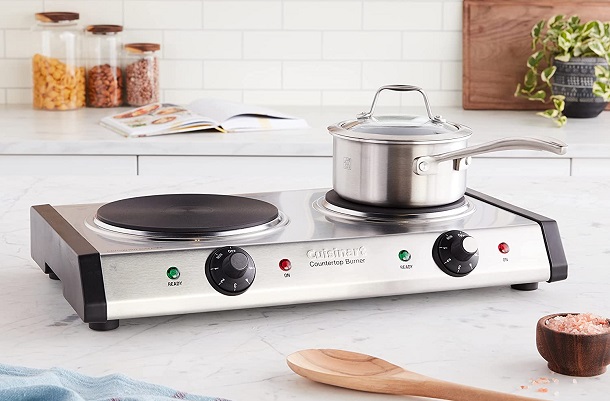 How Much Electricity Does This Hot Plate Use?
Double burners use a bit more electricity than single models, especially if you're using both of the burners at the same time. On average, these models use a maximum of up to 1,8 kWh. Single burners use somewhere between 1 kWh to 1,5 kWh.
Best 15 Double Burner Hot Plates
Elite Gourmet EDB-302BF Burner
Elite Cuisine Two Burner
Different Size Plates
This double hot plate features one 7-inch and one smaller 6-inch cooking plate. Both are made out of highly conductive cast iron material that distributes and retains the heat well. They also provide amazing non-stick properties and are very easy to clean.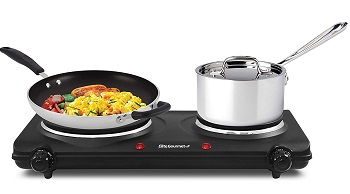 Dual Controls
Each cooking plate comes with its temperature controls with high, medium, and low settings. The two light indicators provide additional safety and inform you which cooking plate is on.
ATOSA ATHP-12-2 Hot Plate
Propane Gas
For this burner to work properly, you need to connect it to a propane gas source. Its two 25,000 BTU burners are potent and make the machine suitable for home use and restaurants.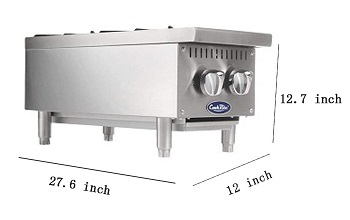 Durable Design
Another great thing about this 2-burner gas hot plate is that it is extremely durable. It is made out of stainless steel material and features a convenient countertop design. Its bottom drip tray keeps your countertops clean and ensures a mess-free performance.
Duxtop 9620LS Burner
User-Friendly Design
This double burner induction hot plate features a user-friendly design. Its coking surface is made out of premium-quality glass material, it features a backlit LCD readout display, dual heating zones, independent temperature controls, a protective child safety lock mechanism, etc.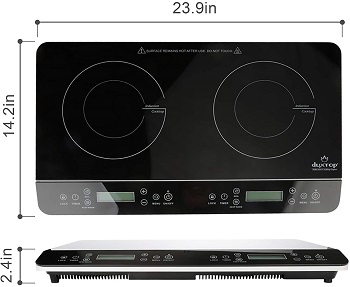 Cookware Compatibility
You need to keep in mind that this electric burner is compatible for use only with induction-compatible magnetic cookware.
Cuisinart CB-60P1 Countertop Burner
Convenient Size
This is another model that comes in a convenient size. It features a countertop design and has bottom non-slip feet that provide it with the needed stability. It comes with a larger 1300 Watt and a smaller 500 Watts round cooktop.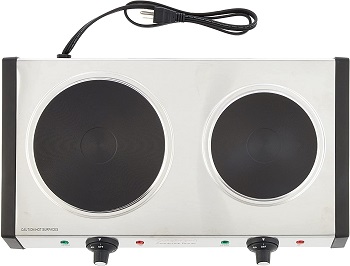 Wide Temperature Range
Note that this benchtop cooker dual hot plate offers a wide temperature range you can easily adjust to your needs. Higher settings allow you to cook your meals, while the lower ones help you keep the cooked food warm for a longer time.
CUSIMAX ES-3202 Electric Burner
Portable Size
As its category implies, this portable double hot plate comes in a convenient size that makes it easy to transport. You can use it in your RV, at a campsite, and any indoor/outdoor place that offers a regular power source you can plug it into.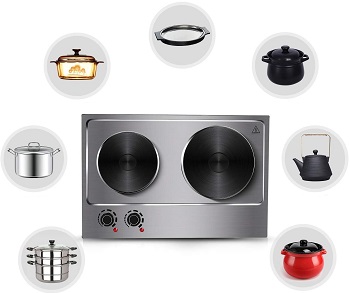 Temperature Controls
Both cooking plates come with simple temperature control with 11 different adjustable settings. The cooktops are suitable for use with cookware that features a diameter between 2.5 and 7.4 inches.
Cukor Ceramic Hot Plate
Powerful Performance
You can be sure that this infrared hot plate provides very powerful performance. Its hot plates constantly cycle on and off and maintain the set cooing temperature. The infrared technology distributes heat evenly and efficiently and ensures a completely smokeless cooking performance.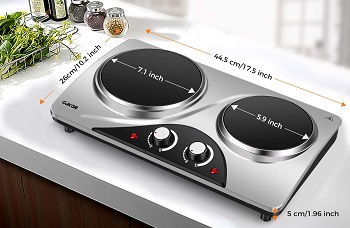 Versatile Compatibility
The great thing about this double infrared electric countertop burner is that it is compatible for use with versatile cookware including pots, pans, etc. However, it should not have a diameter larger than 7.1 inches and shouldn't weigh more than 22 pounds.
IMUSA GAU-80306 Double Burner
Indoor & Outdoor Use
The great thing about this 2-burner electric hot plate is that you can use it both in indoor and outdoor environments. Its two side handles are specially designed to ensure that they remain cool to touch throughout the cooking process. As a result, you can easily move the burner without worrying you might suffer a heat burn.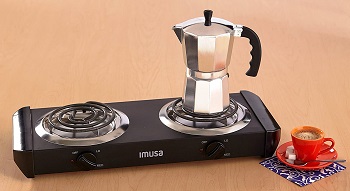 Easy To Store
Its space-saving size makes this cheap hot plate very easy to transport and store. It will fit perfectly into your kitchen cabinets and even drawers.
Sunflame Shakti 2B Burner
Strong Construction
Thanks to its high-quality stainless steel body, this burner model provides a robust and firm structure that can carry heavyweights. It is suitable for different-sized pans, pots, and bowls.

Comftorable To Use & Adjust
This model has manual ignition. The knobs are ergonomically designed to minimize physical efforts and maximize safety. Each of the burners has adjustable flame and heat control.
Waring WDB600 Hot Plate
Convenient Size
Unlike most commercial models, which feature a large footprint, this double hot plate comes in a much more convenient, space-saving size. It features durable stainless steel housing and two cast iron burners that offer optimal heat conductivity. It sits atop 4 non-slip feet that provide it with the needed stability.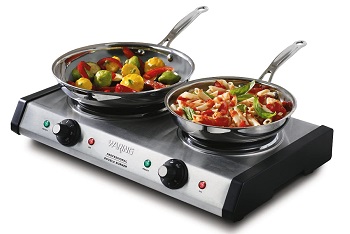 Light Indicators
Apart from independent temperature controls, each burner comes with light indicators. The red one lets you know that the burner is on, while the green one informs you when the burner reached the set cooking temperature and is ready to use.
Sunavo CB-H12 Hot Plate
Cookware Restrictions
This cast iron model is compatible for use with versatile cookware, cast iron skillets included. However, make sure that they have flat-bottom surfaces that ensure maximum contact with burners.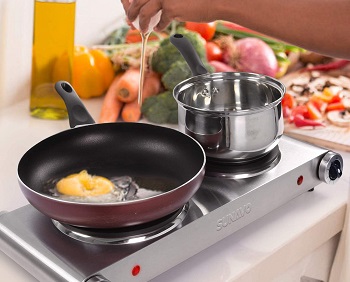 Safety Features
You can be sure that this dual hot plate is perfectly safe to use. Since it doesn't use an open flame, there is no need to worry about smoke or accidental flare-ups. Additionally, it offers powerful overheat protection that maintains the set temperature level and keeps the burners from overheating.
Butterfly Smart 2-Burner Stove
Spill-Proof Unit
This is a small convenient hot plate with 2 gas burners. It features a spill-proof design and rectangle shape. This model comes with high thermal efficiency.

Smart Features
This is a smart hot plate. It comes with a smart lock pan which provides greater stability during cooking. In order to have good heat efficiency, the unit has brass burners that ensure equal heat distribution.
Ovente BGS102B Hot Plate
Fire-Resistant Housing
You can be sure that this two-burner hot plate is safe for use in versatile indoor and outdoor environments. Its metal housing is fire-resistant and extremely durable. Since it is electrically powered, you can use it even in places where gas models are not allowed.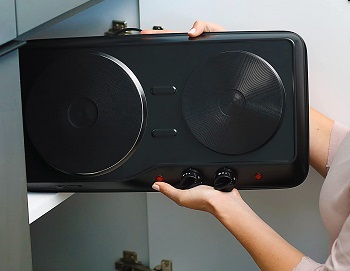 Double Capacity
Just like the rest of the listed models, this burner also allows you to cook two different meals at once. Each burner top offers temperature adjustments to ensure that you get perfect cooking results with every use.
NutriChef PKSTIND48 Cooktop
Elegant Design
This 2 hot plate cooktop features a user-friendly, elegant design. Its control panel comes with backlit controls to ensure that you can easily adjust them according to your needs. You can use both cooktops at once, or only one at a time.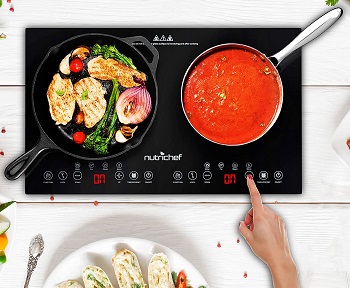 Child Lock Mechanism
What makes this model so safe for use is its child lock safety mechanism. It allows you to lock the burner's control panel. By doing so, you can prevent your kids from accidentally turning the burner on.
Camplux TC02GB Gas Stove
Steel & Glass
This aesthetic hot plate comes with a stainless steel construction. It is strong and durable, and it will withstand long hours of cooking. Besides steel, the hot plate comes with a tempered glass cooktop.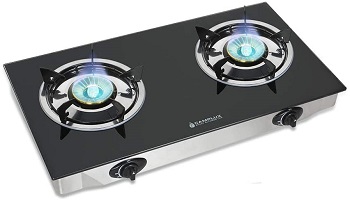 Cerfitied Parts
This model comes with CSA certified gas regulator and hose. The cooktop is well-designed in order to provide a safe and stable surface for different pans and pots. No slipping, just effortless cooking.
Barton 95551 Gas Cooktop
High Power
This hot plate model comes with a power of 17,000 BTU. The power is equally divided between the 2 burners. This unit uses propane as a power source and it provides efficient heat and cooking operation.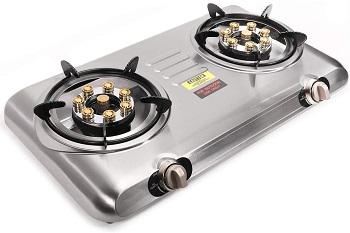 Well-Designed Burners
Both burners of this unit have inner and outer flame rings. Thanks to that, the heat is evenly distributed. Each burner has its own individual control knob for adjusting the proper temperature.
How To Use Different Types Of Double Burner Hot Plates
With so many different types of hot plates with 2 burners, you would think that they have some specific usage procedures. Well, actually, whether you use an electric model and its 3 types or just a gas model, the procedure is the same. Place the compatible pot or pan on the cooking surface, turn on your hot plate, set the temperature, and you're good to go.
Safe Features For High Performance
Double burner models are designed to provide efficient cooking operation, great durability, and above all, safe handling. Here are the safety features you can find in most of the models.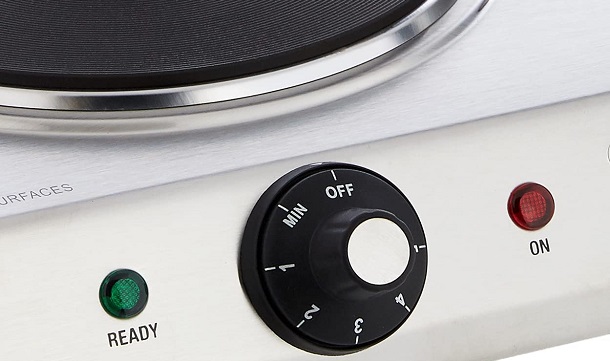 Child Lock Safety Mechanism
This component locks the burner's control panel in order to prevent your kids from accidentally turning the burner on.
Light Indicators: Additional Safety
This feature is small but helpful. It uses light to indicate when the hot plate is on and when it reaches your desired heat level.
Well-Designed Bottom
One of the key factors for safe usage is the security and stability of your new hot plate with double burners. Its bottom needs to have a stable design or even better – non-slip feet which ensure additional stability.
Built-In Fan
This component dissipates the excess heat from the machine and keeps it safe from overheating.
Cooling Down Process
Have in mind that before you wish to clean or store your hot plate, let it cool down. Once it isn't hot anymore but as cold as possible, you can safely clean it, as well as store it in a cabinet or storage room.
Cleaning Instructions: How To Maintain A Double Burner Model?
Most models that come with 2 burners are easy to clean. Coil hot plate requires some additional actions, but nothing to worry about.
Non-Stick & Flat Design For Easy Cleaning
Coilless hot plates are a bit easier to clean as they come with a flat surface. To clean such models, all you need is a cloth, mild detergent, and a bit of water. Wipe the cooktop once it is completely cooled down, wipe it one more time with a dry cloth, and that's it.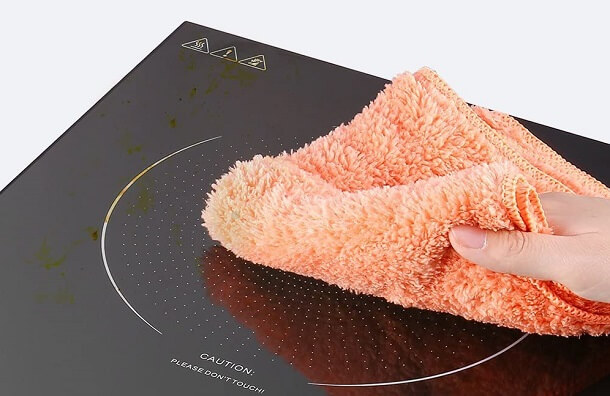 I Have A Coil Hot Plate. How Can I Clean It?
If your hot plate has exposed coils, you need to lift them up, and then clean the cooktop with a toothbrush, water, and mild detergent. Wipe the surface with a dry cloth or gentle sponge after the cleaning process.
Do All Models With Double Burners Have A Drip Tray?
No, mostly only gas stoves do. The drip tray collects the spillage, it ensures a mess-free performance and keeps your countertop clean.
Power Outlet & Gas Container: Connecting & Assembling
You don't need any specific knowledge to know and understand how to make your new hot plate work. But here are the 2 most common questions that may give you a headache.
What Power Outlet Do I Need For An Electric Model?
Most electric hot plates need a power outlet with 110/120V. This is a usual voltage power that is used in the United States and Canada. If you're living in some other country, you may need a power transformer to reduce/increase the voltage of conventional power circuits.
What Should I Know About Assembling A Portable Gas Stove?
You should not be worried about assembling a gas hot plate. All you need to do is to connect the gas container to the hot plate. You do that with a regulator or a connecting pipe. That means that you plug a regulator or a pipe into a hot plate on one side and a gas canister on the other side. And that's it!