Keen on buying a cast iron hot plate?
Hoping to learn more information about this kind of metal hot plate?
Then check out the models of single and double burners with metal surfaces on the heating elements and read their reviews to compare their features and characteristics. Moreover, you can also learn about the things to look out for when buying such a kitchen appliance to make sure it fits your needs and your space.
The Rundown
Best 6 Cast Iron (Metal) Hot Plates
Best Of Best Cast Iron Hot Plate
Cuisinart CB 30 Hot Plate
1300-Watt Burner
This hot plate features an electric single burner with a cast-iron construction and uses 1300 Watts for cooking. A turning knob for temperature regulation is located on the front side of the body along with the 'ready' and 'on' indicator lights. The lights will warn you when the heating element is on and when it reaches the set temperature.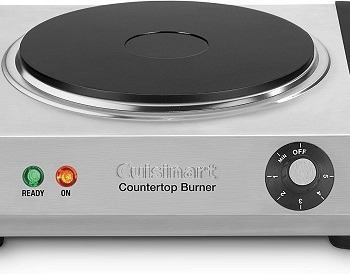 6 Heat Settings
This metal hot plate is encased in a stainless steel body for durability and has rubber feet to prevent slipping on surfaces. As the burner has no visible coils, it is easy to keep clean. When cooking, you can choose between 6 heat levels to prepare different foods.
Compact In Size
The overall measurements of this unit are 11.5 inches in length, 11 inches in width, and 2.5 inches in height. It is small enough so that you can use it in any space without taking up too much room. You can use it as an extra burner in the kitchen, or take it with you when you are traveling and living away from home.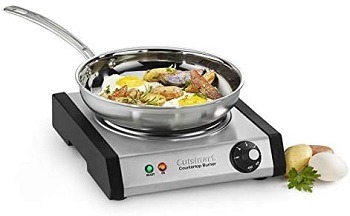 Stylish & Stable Design
By adjusting the heat from low to high, you get to cook a variety of meals in any type of cookware, while the unit stays stable and safe on the counter. It will look stylish in your kitchen, dorm room, office, etc, and be easy to maintain clean.
Short Description:
cast iron single electric burner
uses a power supply of 1300 Watts
11.5 inches long, 11 inches wide
durable brushed stainless steel housing
6 temperature settings on the dial
Best For BBQ Metal Hot Plate
Dulong Grill Hot Plate
Large 22-Inch Griddle
If you are searching for a hot plate with a cast-iron surface to use for grilling food, this model can do just that. The cast-iron hot plate has a large 22-inch cooking surface that is half flat and half groove for cooking many different meals. A waste tray located under the griddle is connected to the hole on the surface by a grease channel for draining the excess oils and grease.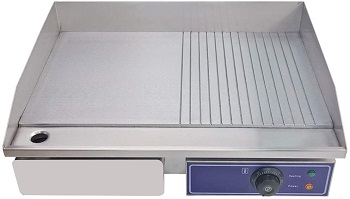 Wide Temperature Range
The temperature of the griddle can be adjusted up to 572 Fahrenheit degrees for barbecuing different meats and foods. You don't have to worry about hot oil and grease splashing around as the griddle has back and side splash protection. The waste tray is easily removable by sliding it out to clean it quickly and effectively.
Use With Cooking Oil
This cast iron hot plate for BBQ can be used to make different breakfast meals, pancakes, pizza, bacon, cheese, and much more. The griddle hot plate uses 2000 Watts of power for cooking and needs a layer of cooking oil to make delicious BBQ food. After you clean the unit, you should also apply cooking oil to the griddle to prevent rust.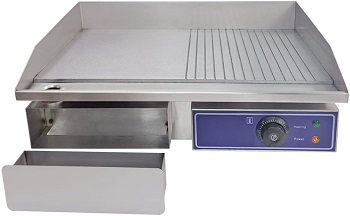 Durable Design
The stainless steel housing makes this product durable and it can even be used commercially. With a wide temperature range, you can use it for preparing a variety of foods without it sticking to the plate thanks to the non-stick coating on the griddle.
Short Description:
22-inch half flat, half grooved griddle
temperature adjustments up to 572°F
removable waste tray for easy cleaning
uses 2000 Watts of power for cooking
features back and side splash protection
for breakfast, pancakes, bacon, cheese, etc
Best For Cast Iron Skillet Hot Plate
Sunavo Hot Plate
5 Heat Levels On Each Knob
This cast-iron hot plate features two burners with independent temperature dials that both feature 5 heat settings for various cooking needs. You can use them to keep food warm or cook steaks, kinds of pasta, and much more. The large burner uses 1000 Watts, while the smaller one uses 800 Watts.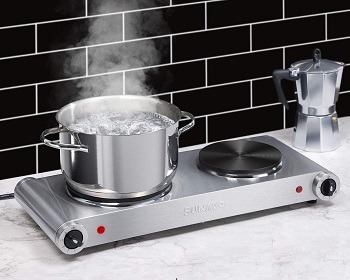 For Flat-Bottomed Cookware
It can be used to cook food in any type of cookware, including cast iron skillets. It is only important that cooking pots and pans have flat bottoms for maximum contact with the heating surface. With the overheating safety protection, this product turns on and off to prevent the temperature from getting too high.
Durable & Compact 
The body is constructed from stainless steel material for durability and ease of maintenance. It is compact and easy to transport so that you can use it even in dorm rooms, RVs, when camping, and cooking on the go. The smaller burner has a diameter of 6 inches while the bigger one is 7.1 inches.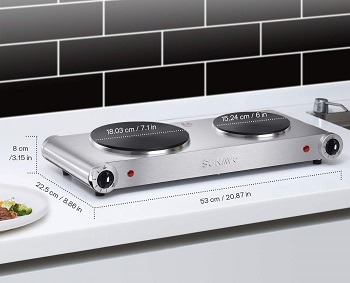 Zero Noise
The unit is 8.86 inches wide, 20.87 inches long, and 3.15 inches high. It has no electromagnetic radiation and makes no noise for safe and comfortable cooking. As it has two burners, you can use this hot plate for a cast-iron skillet on one burner, and use the other burner for other cooking.
Short Description:
6-inch and 7.1-inch cast-iron burners
20.87 inches long and 8.86 inches wide
each burner has 5 temperature settings
ideal for cookware with flat bottoms
safety features including overheating protection
easy-to-clean stainless steel housing
ideal for cooking pasta, steaks, and much more
Best Double Burner Metal Hot Plate
Durabold Metal Hot Plate
Even-Heat Distribution 
This hot plate features two burners constructed from cast iron material to deliver even heat distribution across the heating elements. The burners are encased in a stainless steel body for durability and easy cleaning. The coil-less burners are also easy to keep clean compared to the coiled heating elements.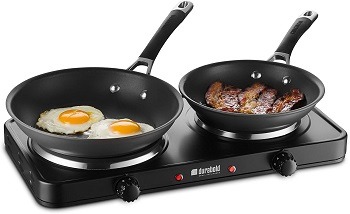 Fits Two Pots At Once
The bigger burner has a 7-inch diameter and uses 1000 Watts, while the smaller burner has a 6-inch diameter and a power supply of 700 Watts. The burners are spaced apart enough to fit two cooking pots and pans at once while the unit stays stable thanks to the non-slip feet.
Adjustable Temperatures
Each of the two burners has an individual temperature dial where you can choose between lower and high heat levels for cooking. Choosing the lower heat is ideal for keeping food warm and simmering, while higher temperatures will let you boil and fry.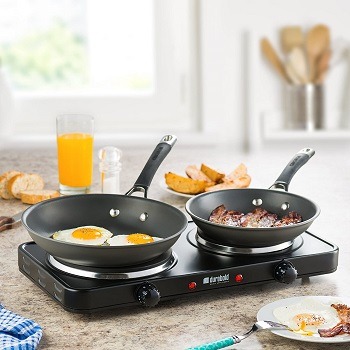 Space-Saving Design
The metal hot plate is small enough for portability so that you can use it in recreational vehicles, dorm rooms, offices, or take it out occasionally to use it in the kitchen. It will save space in busy kitchens and won't take up a lot of space when stored. Choosing between warm, low, medium, and high options, you can also use this electric double burner outdoors.
Short Description:
cast-iron burners deliver heat evenly
the 6-inch burner uses 700 Watts
the 7-inch burner uses 1000 Watts
independent heat controls for each burner
warm, low, medium, and high settings
Best Single Burner Cast Iron Hot Plate
Maxi Matic Hot Plate
Easy To Clean
This single burner hot plate uses 1000 Watts to let you cook different foods faster. The flat hot plate is made from cast iron material for easy cleaning. The heavy-duty burner can withstand different cookware sizes and materials for making delicious meals in the kitchen or spaces without one.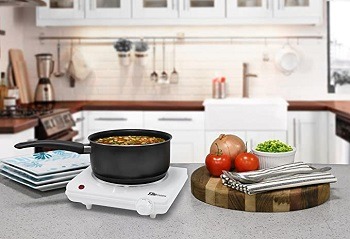 Low To High Heat
The power light indicates when the burner is turned on for safety so you don't have to be guessing when the kitchen appliance is turned on and heating to prevent burns. The turning knob lets you choose between different temperature settings from warm, low, to medium and high levels.
Countertop Design
This cast iron hot plate is designed for countertop use and won't slide on the surface with anti-slip rubber feet. The electric countertop burner is 9 inches long and wide, and 3.25 inches high so it doesn't take up a lot of space for cooking anywhere with access to electricity.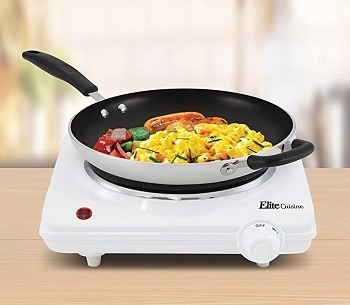 No Cookware Restrictions
The cast-iron heating surface is non-sticking and spreads heat evenly for more precise cooking without cold spots and patches. It works with any type of cooking pots and pans without restrictions, such as glass, aluminum, copper, stainless steel, and much more.
Short Description:
9 inches long and wide, 3.25 inches high
cast-iron burner spreads heat evenly
1000-Watt power supply for faster cooking
warm, low, medium, high-temperature options
anti-slip rubber legs for safety and stability
works with all types of cooking pots and pans
Best Portable Metal Hot Plate
CUSIMAX Cast Iron Burner
7 Temperature Options
This model has a power supply of 1500 Watts to operate a 7.4-inch single cast-iron burner ideal for portability. It comes in a black stainless steel body and features two turning knobs on the front side. One turning knob is used to turn the unit on and off, while the other lets you choose between 7 heat levels when cooking.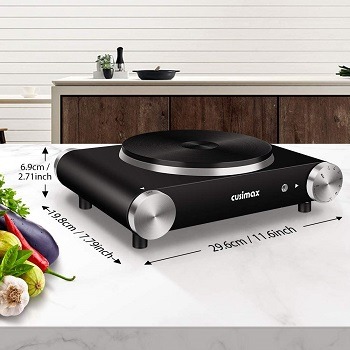 Cooks A Variety Of Dishes
To cook on this metal hot plate, you can use any type of cookware as long as it is not bigger than 7.1 inches in diameter. By adjusting the temperature, you can boil water, cook pasta, soup, vegetables, steaks, make warm sauces, or grill cheese, and more.
Space-Saving Design
The dimensions of this hot plate are 7.79 inches in width, 11.6 inches in length, and 2.71 inches in height. The compact design is made for cooking in confined spaces, such as dorm rooms, recreational vehicles, offices, and more. This travel hot plate is ideal for use on the go as it is easily portable and doesn't take up a lot of space.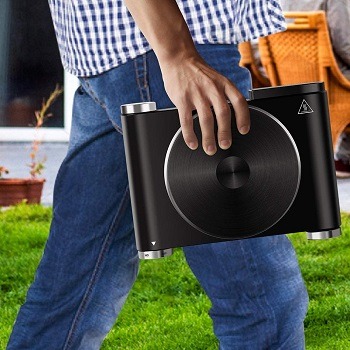 Rubber Feet For Stability
After cooking, this product should be easily wiped down with a damp cloth. Placing it on any countertop will be safe as the rubber feet will make this hot plate stable and thus safe to use. Apart from traveling, it can be used in the kitchen when you need an extra burner for cooking from time to time.
Short Description:
7.79 inches wide, 11.6 inches long
temperature knob with 7 heat levels
single 7.4-inch cast-iron burner
saves space for storage and portability
all types of cookware under 7.1 inches
easy-to-clean black stainless steel body
cooks different food at different temperatures
What To Consider In Cast Iron (Metal) Hot Plates?
The market offers a variety of hot plates with different heating surfaces, including cast-iron burners. Before you purchase such a hot plate, you must keep in mind the size and number of burners you will need. Secondly, make sure the temperature is easy to control and that the range is wide enough for your cooking demands. As these products are powered by electricity, they will also have different wattage.
Number Of Burners – Most hot plates either have one or two burners for cooking. To choose correctly, ask yourself how often you will need to use this product and how much food needs to be cooked at a time. If you will occasionally cook small meals on it, then a single burner should be enough for you. For cooking large meals and working with it more often, you might have to opt for a double burner model.
Heat Regulations – This type of hot plate stovetop comes with a turning knob for temperature adjustments. It usually lets you choose between several heat levels from low to high to answer the demand of users for wanting to cook different foods on it. Double burners have individual temperature controls so that you can cook two meals simultaneously and at different temperatures.
Wattage – Powered by electricity, this type of kitchen appliance usually uses a power supply between 1000 and 1800 Watts. When the wattage is lower, the unit won't be able to obtain really high temperatures and will be more ready to keep food warm and cook small meals. The higher power options will let you cook a variety of meals, but make sure it is not too powerful so you don't burn your food.
Different Uses – With a power supply of up to 1800 Watts, different models will let you do at least some of the following. You can cook vegetables, pasta, make soup, warm sauces, make breakfast, cook steaks, grill cheese and bacon, and much more. That way you can enjoy cooked meals even when you are not cooking in your kitchen at home.
Cookware Restrictions – Unlike induction models, burners with cast-iron construction won't require special cookware to work with. You can use any type of cooking pots and pans on it. The only restriction will be connected to the size of the burner. For optimal cooking results, it is always ideal not to use pots and pans that are larger than the burner for the best heat transfer.
To Wrap It Up
Finally, the Cuisinart cast iron hot plate stands out among the rest. It has a durable design and lets you cook on 6 different temperature levels that you can choose from by turning the heat control knob. For other durable options powered by electricity, you can take a look at this article about commercial electric hot plates. If you are interested in using a hot plate outdoors, check out this list of the best outdoor hot plates on the market.