Wonder which cheap hot plates are popular on the market?
Want to buy a hot plate without spending a lot of money?
It is doable! Continue reading this post so that you can learn more information on how to get a good product without having to spend a fortune. Check out the reviews below for cheap hot plates for sale and figure out whether a double or a single burner or some other model best suits your needs.
The Rundown
Best 6 Cheap Hot Plates For Cooking
Best Of Best Cheap Hot Plate
IMUSA Single Burner
1000-Watt Coiled Burner
This cheap hot plate comes in black color and features a heating element with exposed coils, a stainless steel drip tray under it, and a power indicator light next to the temperature control knob. The heating element has a 1000-Watt power supply and can be regulated with the turning knob to set the desired temperature.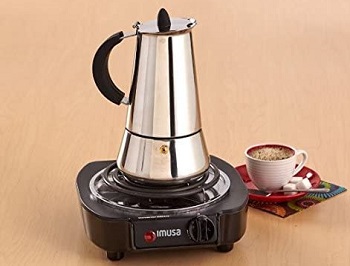 Safe To Use
This mini hot plate can be used both indoors and outdoors. It is easy to use it by regulating the temperature for cooking many different foods. The rubber feet work to prevent sliding on the surfaces while cooking for extra safety. The power light indicates when the unit is turned on for safety, too.
Slim & Saves Space
It is small in size so that you can use it in your office, busy kitchen, dorm room, etc, without taking up a lot of space. It can be used in any space with access to a power plug. The slim design will also save space while storing this unit when it is not in use.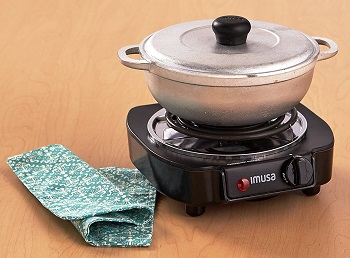 Affordable Price
Before using this product, it is advised to read the manual. Cleaning should be done after the unit cools off and the stainless steel tray can be wiped by elevating the coils above it. It is not advised to use this unit for more than 60 minutes in a 2-hour period. It is available to purchase for a price of around 20 dollars on Amazon.
Short Description:
an easy-to-clean stainless steel drip tray
a 1000-watt coiled heating element
can be used indoors and outdoors
slim size with a space-saving design
rubber feet and indicator light for safety
Best Double Burner Cheap Hot Plate
Maxi Matic Hot Burner
Durable Material
Featuring two burners, this model lets you cook two meals at once. The burners come in 6-inch and 7-inch diameters and are constructed from durable cast-iron. They are non-stick and easy to keep clean. This unit uses 1500 Watts of power and features separate heat controls to cook at different temperature settings if needed.

Low, Medium & High Settings
This safe hot plate is 9 inches long, 16.5 inches wide, and 3 inches high. It can be used with any type of cooking pots and pans and can cook food at low, medium, and high heat. The two power lights indicate when each burner is turned on to avoid damage and injuries.
For Versatile Cooking
The rubber feet lift the body of the burner off the countertop and make sure the unit can't slide while you are cooking for safety reasons. You can cook soup, vegetables, make breakfast, or even grill steaks on a skillet and make pasta meals. It is ideal for cooking while spreading heat evenly across the cast-iron surface.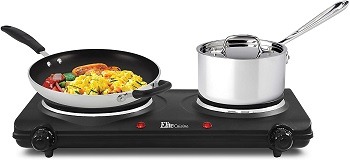 Cheap Option For Small Space
This model costs around 30 dollars on Amazon. The cheap hot plate with two burners lets you cook two meals at once. You can use it in your office, dorm room, kitchenette in a studio apartment, etc.
Short Description:
6-inch and 7-inch cast-iron burners
non-stick surface is easy to keep clean
9 inches long and 16.5 inches wide
cooks two meals at once
features two separate control knobs
ideal for cooking in confined spaces
Best Single Burner Cheap Hot Plate
Elite Gourmet Hot Plate
1000-Watt Cast-Iron Plate
This single burner uses a power supply of 1000 Watts and has an adjustable control knob that lets you choose between off, warm, low, medium, and high levels of temperatures. The heavy-duty cast iron hot plates are very durable and easy to maintain clean after each use. It also distributes heat evenly across the cooking surface.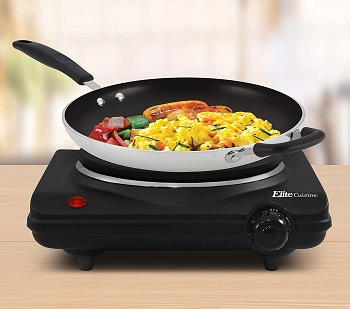 Cooks & Keeps Food Warm
The non-slip legs prevent the unit from causing trouble by sliding while you are cooking and keeps it stable. Apart from cooking in your kitchen or other space, this cheap hot plate can also be used to keep food warm at a buffet station. To avoid any injuries, this cheap hot plate has an indicator light that shows when the plate is turned on for safety precautions.
Various Uses
When you need an extra cooking surface in your kitchen or plan to cook while camping, or want to make food in your dorm room, recreation vehicle, etc, this model lets you do just that. It won't take up a lot of space so that it can also be easily stored away when you don't need it.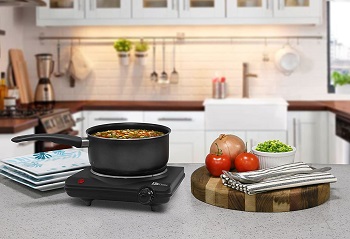 No Cookware Restrictions
You can buy this product for around 25 dollars on Amazon as it often has a reduced price. It is 9 inches long and wide, and 3.25 inches high. Works with all types of cookware so that you don't have to also invest in special pots and pans to be able to cook on this model.
Short Description:
9 inches long and wide, 3.25 inches high
an off, warm, low, medium, high heat setting
durable and easy to clean cast-iron surface
ideal for cooking away from home
non-slip feet for added safety while cooking
suitable for all types of cooking pots and pans
uses 1000 Watts for faster cooking
Best Countertop Cheap Hot Plate
Cusimax Single Burner
For Home & Away Cooking
This cheap electric ountertop hot plate lets you make your favorite homemade foods even when cooking in small spaces away from your home. A stainless steel body houses a cast-iron hot plate that is suitable to use with any type of pot and pan with a diameter under 7.4 inches.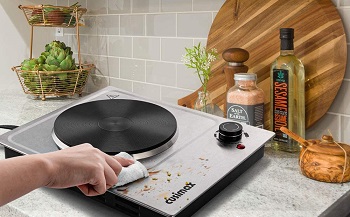 Wide Temperature Range
The adjustable temperature control and the indicator light are also located on the upper side of the model. The control knob has 11 temperature settings with an off position to easily turn this cheap hot plate on and off. You can cook breakfast, pasta, grill steak, make soup, and so much more.
Space-Saving Design 
After cooking, let the hot plate cool down and then simply wipe it clean for storage. It won't take up too much space on your countertop, but can also be put in a kitchen cupboard or pantry. It is 12.99 inches wide, 11.02 inches long, and 3.54 inches high. You can use it in the kitchen or backyard when cooking for parties, in RVs, at camping sites, etc.
Corrosion-Resistant Material
To use it safely on any tabletop or countertop, this unit has anti-slipping legs that prevent moving and make it stable while cooking. The durable materials make it suitable for everyday use with resistance to corrosion. It uses 1500 Watts and is very efficient as it heats quickly.
Short Description:
the stainless steel body is resistant to corrosion
the cast-iron plate is suitable with all cookware
12.99 inches wide and 11.02 inches long
stable and safe for countertops with non-slip feet
temperature knob with 11 heat settings
Best Portable Cheap Hot Plate
VIVOHOME Hot Plate
From 200 To 720°F
A power supply of 1500 Watts and a hot plate constructed from cast-iron with a 7.4-inch diameter can cook food at many different temperature levels. A thermostat knob offers a wide range of heat settings from 200 to 720 Fahrenheit degrees. To cook food, you can use any pot or pan with a flat bottom that doesn't have a diameter larger than the hot plate.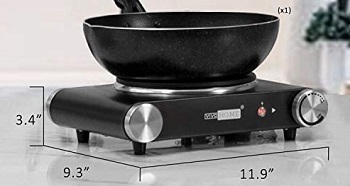 Sleek & Portable Design
To adjust the temperature, simply turn the knob so that you can cook a variety of meals, from warm sauces, soups, vegetables, to meats and steaks. Its sleek design is modern to fit into any cooking area. As it measures 11.9 inches in width and 9.3 inches in length, it is convenient for portability from site to site.
For Indoor & Outdoor Use
Its compact size makes 1500-watt hot plate a great cooking solution for camping sites, and other outdoor uses, as well as indoor uses in small kitchens of studio apartments, dorm rooms, boats, and recreation vehicles. Although small, it can be used for a variety of cooking applications, including simmering, frying, deep-frying, boiling water, etc.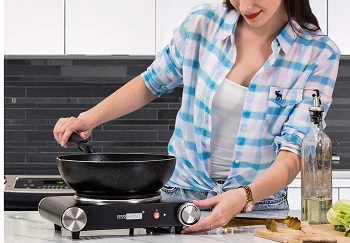 Overheating Protection
For safe use, this model cycles on and off to maintain the set temperature but avoid overheating at the same time. You can find this model on Amazon for the price of under 40 dollars. The cheap hot plate is ideal for use on the go and its compact size makes portability its best feature.
Short Description:
7.4-inch cast-iron single burner
200 to 720°F temperature levels
uses a power supply of 1500 Watts
can be used indoors and outdoors
sleek and compact design for portability
11.9 inches wide and 9.3 inches long
Best Big Cheap Hot Plate
IMUSA Double Burner
Independent Temperature Settings
With a great price of around 25 dollars on Amazon, this cheap hot plate features two burners with exposed coils. It uses 1750 Watts so that you can cook two meals at once. Each burner has its own temperature regulator in the shape of a turn-knob. It is safe to use on any countertop without sliding thanks to the legs attached to the bottom.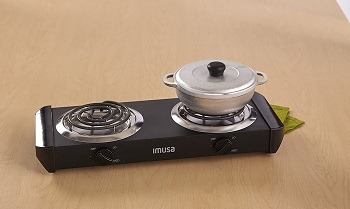 Convenient Side Handles
Each burner also has a power light that shows when the burner is turned on to avoid burn injuries and accidents. The handles are located on two sides of the burner to help with storage and transport. It is designed for use in offices, dorm room, as well as in busy kitchens when entertaining large groups of people.
Easy To Keep Clean
This large hot plate can be used in any space as long as it can be plugged in. As it comes in black color, it can complement any space without trouble. For cleaning, lift the cool coils up to get better access to the stainless steel drip tray underneath.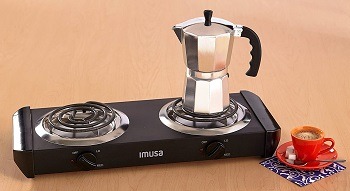 Cooks Two Meals At Once
At such an affordable price, you can get rid of your cooking problem in small spaces of your studio apartment or craving homemade food when living in a dormitory. This cheap hot plate is big enough to offer you two cooking zones with individual temperature while staying compact enough for easy handling and convenient storage.
Short Description:
two burners with separate heat control
it uses a power supply of 1750 Watts
can be used indoors and outdoors
side handles for easy portability
two coiled burners with drip tray
compact enough for confined spaces
big enough to cook two meals at once
What To Consider In Cheap Hot Plates?
Apart from staying within the budget, it is important to think of a few features when buying a hot plate without spending too much money. The market offers cast-iron and exposed coils on hot plates that usually come at affordable prices under 50 dollars. Cheap hot plates for cooking usually mean you will end up with a single burner, but some double burners can also be found. Likewise, make sure to opt for models with enough wattage and wide temperature ranges.
Cast-Iron Plates – Available to purchase as both single and double burners, cast-iron hot plates are usually very durable and a great alternative to your regular glass stove. They work to spread heat evenly across the surface so that you can cook more precisely and without any cold patches. They are also suitable for all types of pots and pans.
Coiled Plates – With exposed coils as heating elements, this type of hot plate can usually be found at an affordable price. Sometimes it might not be as durable as cast-iron models, depending on the weight you want to put on top. They usually feature drip trays underneath for collecting and food spillage. After cooling down, you can lift the coils and then clean up the mess.
Size – If you want to cook more food on a hot plate, you should look into double burners that let you cook two meals at once. On the other hand, single burners may be enough for doing some occasional cooking and won't take up as much space usually. Both single and double burners are mostly designed not to take up too much space, so they can be used in confined spaces.
Wattage & Temperature – To make sure the hot plate you end up getting can cook the food you want to make, look for powerful models. Cheap hot plates can be found with a power of between 1000 and 1500 Watts. If you want to cook more complex meals that need a lot of heat, also make sure that they can reach the temperatures you need to prepare your food.
Where To Buy? – When looking for cheap and affordable models, I would suggest you check out Amazon and other large online retailers. They offer quality models and also let you read customer reviews to see the verdict of the people who bought the product. Another advantage of Amazon is that it usually offers free delivery.