Have you been searching for a gas hot plate?
Do you wish to learn more about propane and butane models?
Then you have come to the right place!
In this article, you can find out more information about butane and propane hot plates for cooking, where to use them, and check out many different models. The options available on the market include double and single burner hot plates, commercial models, and much more.
The Rundown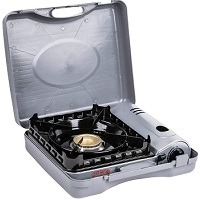 Chef Master Butane Stove Hot Plate
OVERALL RATING: ★★★★★
A single burner powered by butane is ideal for outdoor cooking with a wind guard and a hard-shell carrying case for easy portability.
Jump To Review
ATOSA Gas Powered Hot Plate
OVERALL RATING: ★★★★☆
This double burner with separate heat controls works with propane and has a compact durable design for countertops.
Jump To Review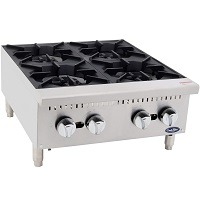 CookRite Four Burner Hot Plate
OVERALL RATING: ★★★★☆
With 4 powerful burners, you can cook a various foods at once in restaurants, food trucks, diners, on countertop surfaces.
Jump To Review
Gas Hot Plate: Definition
This hot plate is simply an open-flame model that uses gas as fuel for cooking operations. It can use propane and butane, or some other fuels such as natural gas, syngas, liquefied petroleum, or other.
Wait, A Gas Stove Or A Hot Plate?
A hot plate is a model with a flat surface and modern design. A stove can be a kitchen model or a portable model. When someone's talking about a hot plate, that is referred to as a portable gas stove. However, since hot plates are so popular, people are used to dividing them on electric models and gas units.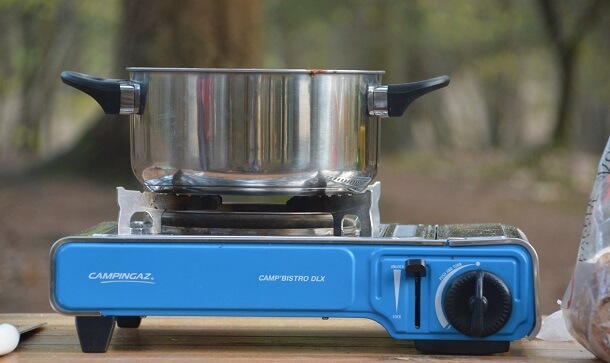 Does It Matter Which Gas I Use?
Of course it matters. Unless you're using a multi-fuel model, it isn't recommended to use propane in a butane appliance and vice versa. Every model works with specific fuel so make sure to read the manual.
Advantages Of Propane & Butane Hot Plates
Models that are powered by propane and butane are a great solution for those in need of a quick appliance for preparing food or grill.
Why Should I Choose This Model?
The fuel for the gas model is cheaper than electricity. A cooking appliance powered by gas heats up much quicker and cooks food faster. For example, an electric model needs about 10 minutes to boil water, while a gas burner will do that in 7 minutes. Besides, with this model you won't depend on the power outlet as you would with an electric option.
Commercial & Private Use
Gas appliances can be used for both professional and home use. However, there is a big difference – if you want to use a it for private use, you must use it outdoors only. On the other hand, models for commercial use are suitable for professional kitchens because such kitchens meet all the safety requirements and measurements.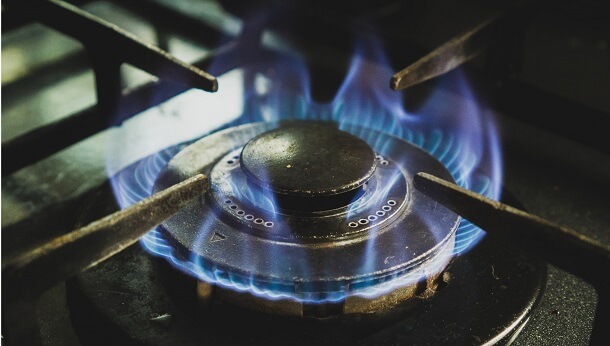 What Can This Hot Plate Do?
Models that are powered either with propane or butane are suitable for any type of cooking. You can boil water, fry, and steam. If you add a griddle at the top of a cooktop, you can use it for grilling and preparing barbecue.
Buying Guide: Specifications On Gas Burners
Before buying this model, there are a couple of things you should consider and bear in mind. Things such as gas option, construction, and power are key factors on whether or not your burner works the best as possible.
Which Is Better: Propane Or Butane?
Since propane has a higher heat output, it is a bit more efficient when it burns than butane. On the other hand, butane has great environmental benefits and it liquefies easier which makes containment easier too. Propane and butane can be used indoors, but only if a kitchen has proper air circulation and ventilation. In the end, both propane and butane have good advantages, so it all depends on your preferences.
High Quality Construction For Outdoor Use
You'll probably use your propane or butane model outdoors. That means, it needs to come with strong and durable construction since it'll be exposed to varying temperatures and other external factors which can cause rust and corrosion. Cast iron and stainless steel are the best materials of the making.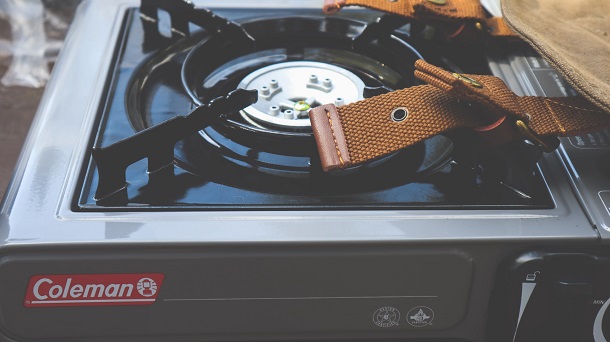 Models With Up To 4 Burners
What makes them great is the fact they can have a single burner or double burnes, as well as 3 or 4 burnes. Thanks to that, you can choose a model that is suitable for your needs.
So, Are They Big In Size?
It mostly depends on the number of burners you go for. Single and double burnes are great as portable appliances for camping, while hot plates with 3 or 4 gas burners are ideal for barbecue nights in your backyard.
BTU High Power
Most single burners have a power of up to 15,000 BTU. Double burners come with 50,000 BTU, while those with 4 burners can have a power of 100,000 BTU. Have in mind that if a hot plate has more burners, then the total BTU power is equally divided amongst them. To compare with electric models – most of them come with up to 2,000 watt power. If we convert 15,000 BTU to watts, that equals 4,398 watts.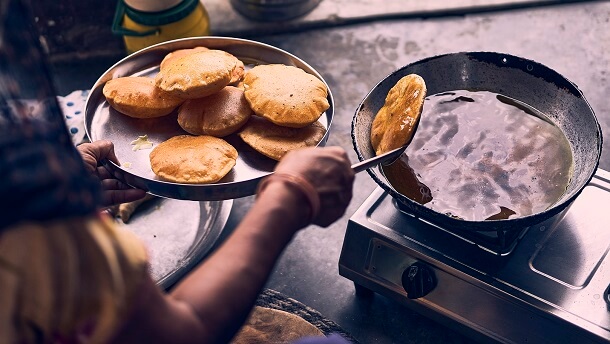 High Temperature For Fast Cooking
The temperature goes from 200 Fahrenheit degrees to 500, some have even more. Gas models have a great temperature range with adjustable heat levels. Thanks to that, it allows you to cook food faster.
What Fuel Tank Size Is Optimal For This Model?
Most of them are compatible with 8 oz fuel. That amount lasts for about 3 to 5 uses.
BBQ Prep: Should I Use Propane Or Butane Model?
There are no rules. You can either use propane or butane. The type of gas depends on the product and the gas pressure regulator such unit needs.
Adjustable Legs
Some models that use gas as the main fuel come with 4 adjustable legs. This feature eases up the usage. The legs are usually up to 4 inches high and they can be adjusted for an inch or two. This feature also ensures stability.
Best 6 Gas Hot Plates: Propane & Butane
Chef Master Butane Stove Hot Plate
SPECIFICATION:
Fuel Type: Butane
Dimensions: 11.2 x 13.2 x 4.5 inches
Weight: 5.04 pounds

Heating Element: 1
Controls Type: Adjustable Dial
BTU: 15,000
For Outdoor Adventures
This single burner is powered by butane and has a power of 15,000 BTUs. It is ideal to take with you on the go, especially for outdoor adventures where you might not have access to electricity. With a hard-shell case for portability, this single burner features a side space for attaching the butane canister.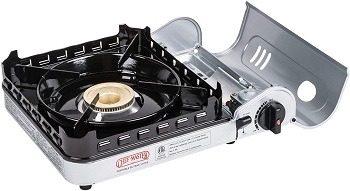 Adjustable Temperature Dial
It features a release/lock lever for safety and a temperature knob with a Piezoelectric ignition for starting the flame without having to use lighters and matches. Controlling the heat is easy by turning the knob to release more or less flame, depending on the food you need to cook.
Features A Wind-Guard
This unit is extra portable as it comes in a hard carrying case that can fit into backpacks to take along for camping, backpacking, and other sorts of outdoor trips. When cooking outdoors, you don't have to worry about the wind messing up the flame, as this model features a wind-guard.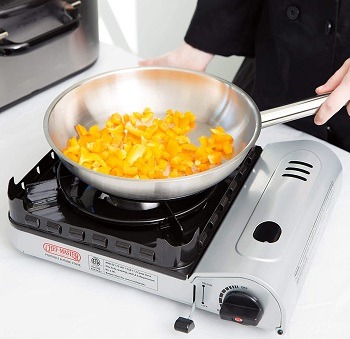 Compact & Portable
As it is packed with safety features, you don't have to worry about cooking on gas. The burner measures only 14 inches, so it is portable and won't take up a lot of space for cooking or storage. It is convenient to clean by removing the plate from the top of the burner and then ridding it of any debris and food spillage to avoid danger.
Overall:
Safety:
Power:
Size:
Weight:
Funcionality:
PRICE RANGE
from $40 to $70 depending on eCommerce offer (Amazon) and discounts
REASONS TO BUY:
Hard-shell case for portability
Wind-guard protects the flame outdoors
Piezoelectric ignition for easier fire
REASONS TO AVOID:
Made only for outdoor use
ATOSA Gas Powered Hot Plate
SPECIFICATION:
Fuel Type: LP or Natural Gas
Dimensions: 12 x 27.6 x 13.1 inches
Weight: 73 Pounds

Heating Element: 2
Controls Type: Adjustable Dial
BTU: 25,000
For Fast Cooking Needs
This 2-burner hot plate requires connecting to propane to be able to work. It has two 25,000 BTU burners for fast cooking. It can be used in restaurants or at family gatherings when cooking a lot of food fast is crucial. It can be used both indoors and outdoors, so it is great for picnics and camping sites. Apart from liquid propane, you can also switch to natural gas.
User-Friendly Design
This model of a propane hot plate is constructed with stainless steel for easy maintenance without worrying about corrosion. Under it, there is a waste tray that slides out for cleaning, as it collects food debris and grease throughout the day. Each burner has an individual knob for temperature control.
Compact For Countertops
This model is 12 inches wide, 12.7 inches high, and 27.6 inches long. It won't take up too much space on countertops, which makes it great for busy commercial kitchens and other small spaces. The legs are adjustable and stable to fit any countertop nicely.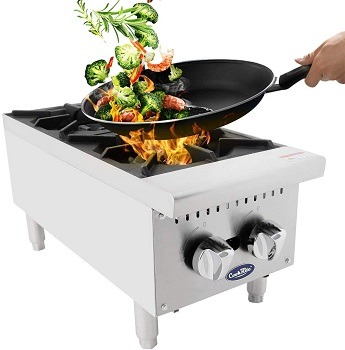 Individual Burner Operations
Cooking two things at once is possible, but you can also only use one burner without having to open the flame of the other burner. Its compact design makes it ideal for a variety of spaces, wherever you feel like cooking without needing a power outlet.
Overall:
Safety:
Power:
Size:
Weight:
Funcionality:
PRICE RANGE
from $550 to $600 depending on eCommerce offer (Amazon, Walmart, eBay) and discounts
REASONS TO BUY:
Movable waste tray
Adjustable legs
Strong enough for commercial use
CookRite Four Burner Hot Plate
SPECIFICATION:
Fuel Type: LP
Dimensions: 24 x 27.6 x 13.1 inches
Weight: 94 Pounds

Heating Element: 4
Controls Type: Adjustable Dial
BTU: 25,000 per burner
Liquid Propane Range
This four-burner hot plate is operated by liquid propane gas and ideal for commercial use where you need to cook many different dishes at once. Each burner has an individual temperature knob for heat control so that you can cook different meals more precisely on low, medium, or high heat settings.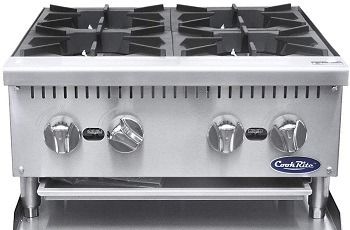 Designed For Commercial Use
This commercial model is 24 inches wide, 27.6 inches deep, and 13.1 inches high. The stainless steel legs are adjustable and the cast-iron burner grates are durable. They enable sliding the pots from one burner to the other without spills. The overall stainless steel construction is corrosion-free for durability and withstands frequent use.
Powerful Countertop Unit
It can be located on countertops without taking up too much space but giving you a combined power of 100,000 BTUs. The waste tray located under the burners collects food debris and grease for convenient and fast cleaning at the end of the day.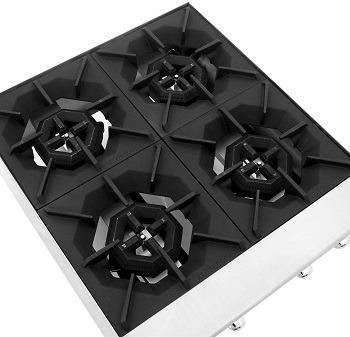 For Restaurants, Food Trucks
This hot plate lets you ignite the burners at any time with standby pilots. The durable construction is ideal for use in restaurants, diners, concession stands, and food trucks. It will blend into commercial kitchens easily with the stainless steel look and durable components.
Overall:
Safety:
Power:
Size:
Weight:
Funcionality:
PRICE RANGE
from $550 to $600 depending on eCommerce offer (Amazon eBay) and discounts
REASONS TO BUY:
Movable waste tray
Adjustable legs
Strong enough for commercial use
Gas ONE GS-3400P Hot Plate
SPECIFICATION:
Fuel Type: Butane & Propane
Dimensions: 13.5 x 11.2 x 4.4 inches
Weight: 3.1 Pounds

Heating Element: 1
Controls Type: Adjustable Dial
BTU: 8,000
Propane Or Butane Gas
This model is ideal for use on the go and suitable to operate with both propane and butane gas because it comes with converter. The single propane/butane hot plate has a power of 8,000 BTUs and comes with a carrying case for ease of portability and use on the go.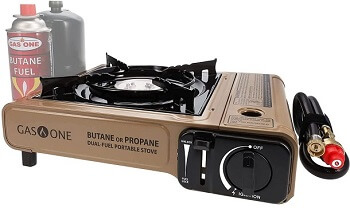 For Outdoor Cooking
This type of cooking appliance can be connected to an 8-ounce butane cartridge or a 16.4-ounce propane cylinder. The burner starts up without having to use matches and lighters as it has an electric ignition. The heat dial can be turned for adjusting the temperature to cook different things more precisely. It is great for cooking when camping, backpacking, and cooking outdoors.
Safe To Use
The burner has wind guards in four corners that protect the flame from turning off in case of blowing wind. In the case of irregular gas flow, the unit will shut off automatically for safety. The drip pan under the burner is constructed from enamel to resist the heat and clean easily. The graters on the burner are long to support even small cookware.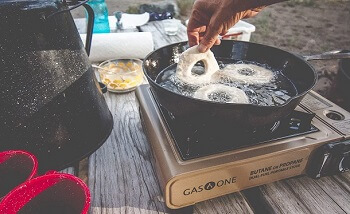 Lightweight & Compact
This portable model weighs 3 pounds and measures 13 inches in length, 11 inches in width, and 4 inches in height. Equipped with a durable carry case, you can take it anywhere with you and enjoy your warm drinks and food even when cooking outdoors.
Overall:
Safety:
Power:
Size:
Weight:
Funcionality:
PRICE RANGE
from $30 to $50 depending on eCommerce offer (Amazon, Walmart, eBay) and discounts
REASONS TO BUY:
Suitable for butane and propane
Cooks even in strong winds
Comes with hard case
Vulcan VCRH12 Hot Plate
SPECIFICATION:
Fuel Type: Natural Gas or LP
Dimensions: 29 x 12 x 13.1 inches
Weight: 140 Pounds

Heating Element: 2
Controls Type: Adjustable Dial
BTU: 25,000 per burner
Stainless Steel Construction
The 12-inch wide 2-burner hot plate features sides, top ledge, and front constructed from stainless steel materials. The heads of the burners can be lifted off for easier cleaning. With a total of 50,000 BTUs, each burner can generate 25,000 BTUs per hour.
Two Infinite Heat Controls
Each of the two burners has an infinite heat control knob. That way you can cook two things at once even at different temperatures, or simply use only one burner at a time without having to turn on both for saving the energy. This hot plate is 12 inches wide and has a waste tray located underneath the burners.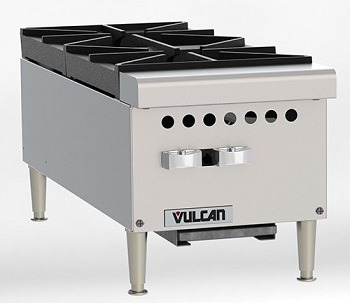 Durable For Frequent Use
The burners can be started up by the standing pilot ignition system. The grates of the burners are constructed from cast-iron for durability even through frequent use in commercial kitchens of restaurants, cafes, etc. Usually supplied with natural gas, this hot plate can also be converted to liquid propane and comes with an included conversion kit.
Adjustable Height
The adjustable 4-inch legs are great for countertop fittings. The model is 13.3 inches high, 12 inches wide, and 29.3 inches deep. This double burner is ideal for sautés, reductions, and stir fry in busy commercial kitchens of busy food services, such as restaurants so that you can offer your customers a variety of serving choices.
Overall:
Safety:
Power:
Size:
Weight:
Funcionality:
PRICE RANGE
from $1,000 to $1,200 depending on eCommerce offer (Amazon) and discounts
REASONS TO BUY:
Comes with crumb tray
Even heat control on each burner
Comes with LP convertion kit
REASONS TO AVOID:
Too expensive for performance
Suntouch Butane Hot Plate
SPECIFICATION:
Fuel Type: Butane
Dimensions: 13.4 x 11.1 x 4.6 inches
Weight: 4.74 pounds

Heating Element: 1
Controls Type: Adjustable Dial
BTU: 7,600
Powered By Butane
You can take this butane unit with you when camping, backpacking, and cooking in nature. By investing in this model, you get a hot plate that will work outdoors wherever you need it to. It is butane-operated and has a power of 7600 BTUs.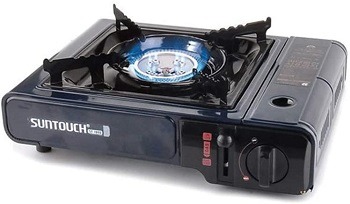 User-Friendly & Safe
The top plate can be easily detached from the unit for maintenance and to prevent corrosion. The burner is connected to a heat dial that lets you regulate the temperature level according to the food you want to cook. When cooking is done, turning the knob to the off position will detach the gas container for safety.
Measurements
When you use it outdoors, it will work even in windy settings thanks to the shield protecting the burner from the outside wind and increasing the thermal efficiency. This unit is 11 inches wide, 13.5 inches long, and 3.25 inches high.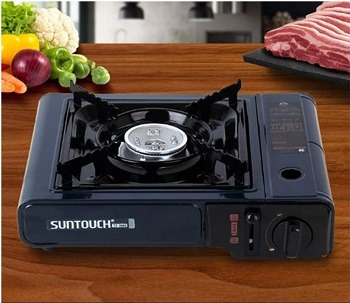 Versatile Use
This butane unit is ideal for collective dinner cooking without taking up too much space. It can be used for Korean BBQ by adding a Korean hot plate to the top of the gas burner. You can even use it when traveling and camping to make delicious home food no matter where you are.
Overall:
Safety:
Power:
Size:
Weight:
Funcionality:
PRICE RANGE
from $25 to $40 depending on eCommerce offer (Amazon) and discounts
REASONS TO BUY:
Detachable top plate
Automatically detaches gas when turned off
Wind shield for cooking outdoors
Simple Usage Without Lighter & Matches
They all have a user-friendly design and a temperature control knob for each of the burners. You set the temperature and you're good to go. Use a gas model as you would your classic kitchen stove. Simple as that.
No Need For Lighter
While there are some models that require lighter or matches for turning on the burner, most of them now come with the electric ignition system. That means that they have automatic turn-on once you set the temperature.
All The Right Safety Features
Units powered by butane or propane do have an open flame, however, they are designed to provide a safe use in every environment.
Key Safety Factors
Specific ignitions such as electric, lessen the risk of an accident while using this appliance. Safety valves lessen the risk too. They relieve excessive pressure for safer usage. Some models have the automatic shut off option in case of irregular gas flow.
Wind Protection
Wind guards protect the flame not only from turning off, but also from accidentally catching some object nearby.
Safe Burner Use At Camping
Have in mind to never use a gas burner inside or near the tent. Do not place your single burner inside a large pot to block the wind because that could lead to an explosion of the canister. Never leave a burner unattended. Use it wisely and as it is instructed, and you shouldn't have any problem with it.
Easy Breezy Cleaning
Even though electric models are easier to clean, gas models don't require much cleaning time either. Here is what you need to know.
How Often Do I Need To Clean It?
This depends on how often you use it, as well as how often you spill on it. However, it is recommended that you wipe it after every use.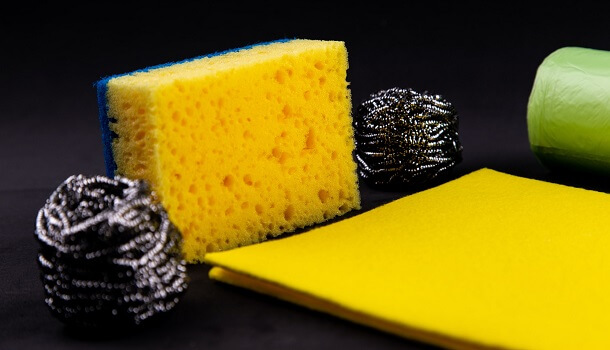 Does Deep Cleaning Need To Be Regular Too?
No, but if the flame becomes irregular or yellow, that is the alarming sign you need to clean the gas burner. Otherwise, deep cleaning once a month should do its job.
What I Need For Deep Cleaning?
Baking soda, water, white vinegar, and scrub brush or toothbrush.
Cleaning Instructions
Once your hot plate has cooled off, make a mixture of water and vinegar and use it for cleaning the surface. Make another mixture from water and baking soda. Place that paste on the hot plate and let it sit for up to 30 minutes. Use a toothbrush or a scrub brush to remove the mixture. Rinse, wipe, and dry.
How To Connect Gas To A Hot Plate?
This depends on the model you have. Here are the instructions for both butane and propane:
Butane Connecting Instructions
Check if the dial is in the off position.
Open the gas compartment on your burner.
Line up the latch stove with the divet on the canister.
Close the gas compartment.
Turn the dial clockwise until you hear a "click".
Propane Connection Instructions
To connect propane to your appliance, you need a connecting pipe. Use a pipe to connect the head attached to the regulator behind the hot plate with the one located on the propane tank.
To Wrap It Up
To conclude this article, we would recommend the Chef Master butane hot plate. It can work in outdoor conditions when camping, backpacking, and can even cook without turning the flame off when it is windy. If you'd like to check out gas and other options for commercial cooking, take a look at the best commercial hot plates on the market. In case you are interested in cooking while camping, read this in-depth article to find models of camping hot plates.