Have you been searching for a gas hot plate?
Do you wish to learn more about propane and butane models?
Then you have come to the right place!
In this article, you can find out more information about butane and propane hot plates for cooking, where to use them, and check out many different models. The options available on the market include double and single burner gas hot plates, commercial models, and much more.
The Rundown
Best 6 Gas Hot Plates: Propane & Butane
Best Of Best Butane Hot Plate
Chef Master Butane Stove Hot Plate
For Outdoor Adventures
This single burner gas hot plate is powered by butane and has a power of 15,000 BTUs. It is ideal to take with you on the go, especially for outdoor adventures where you might not have access to electricity. With a hard-shell case for portability, this single burner features a side space for attaching the butane canister.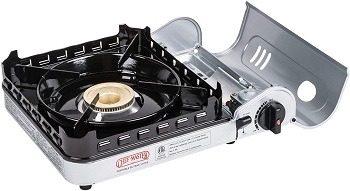 Adjustable Temperature Dial
It features a release/lock lever for safety and a temperature knob with a Piezoelectric ignition for starting the flame without having to use lighters and matches. Controlling the heat is easy by turning the knob to release more or less flame, depending on the food you need to cook.
Features A Wind-Guard
This unit is extra portable as it comes in a hard carrying case that can fit into backpacks to take along for camping, backpacking, and other sorts of outdoor trips. When cooking outdoors, you don't have to worry about the wind messing up the flame, as this model features a wind-guard.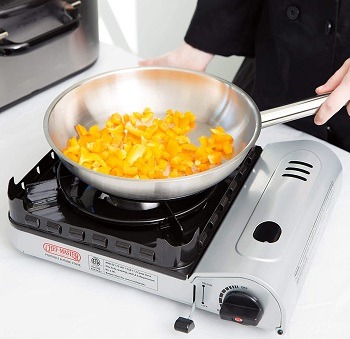 Compact & Portable
As it is packed with safety features, you don't have to worry about cooking on gas. The burner measures only 14 inches, so it is portable and won't take up a lot of space for cooking or storage. It is convenient to clean by removing the plate from the top of the burner and then ridding it of any debris and food spillage to avoid danger.
Short Description:
15,000 BTU butane-powered hot plate
a hard-shell case for portability
the adjustable convenient temperature dial
ideal for backpacking and camping
wind-guard protects the flame outdoors
Best Double Burner Propane Hot Plate
ATOSA Gas Powered Hot Plate
For Fast Cooking Needs
This 2-burner hot plate requires connecting to propane to be able to work. It has two 25,000 BTU burners for fast cooking. It can be used in restaurants or at family gatherings when cooking a lot of food fast is crucial. It can be used both indoors and outdoors, so it is great for picnics and camping sites. Apart from liquid propane, you can also switch to natural gas.
User-Friendly Design
This model of a propane hot plate is durably constructed with stainless steel for easy maintenance without worrying about corrosion. Under the hot plate, there is a waste tray that slides out for cleaning, as it collects food debris and grease throughout the day. Each burner has an individual knob for temperature control.
Compact For Countertops
This model is 12 inches wide, 12.7 inches high, and 27.6 inches long. It won't take up too much space on countertops, which makes it great for busy commercial kitchens and other small spaces. The legs are adjustable and stable to fit any countertop nicely.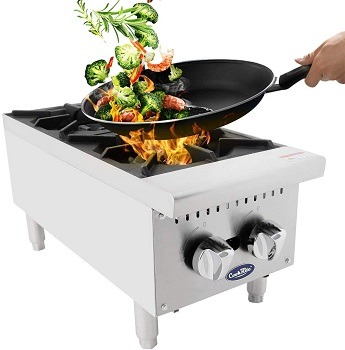 Individual Burner Operations
Cooking two things at once is possible, but you can also only use one burner without having to open the flame of the other burner. Its compact design makes it ideal for a variety of spaces, wherever you feel like cooking without needing a power outlet.
Short Description:
two 25,000 BTU propane burners
compact with adjustable legs for countertops
corrosion-free stainless steel design
individual heat adjustments for burners
12 inches wide, 27.6 inches long, 12.7 inches high
slide-out waste tray removable for cleaning
Best Commercial 2 Burner Propane Hot Plate
Vulcan Hot Plate VCRH12
Stainless Steel Construction
The 12-inch wide commercial 2-burner hot plate features sides, top ledge, and front constructed from stainless steel materials. The heads of the burners can be lifted off for easier cleaning. With a total of 50,000 BTUs, each burner can generate 25,000 BTUs per hour.
Two Infinite Heat Controls
Each of the two burners has an infinite heat control knob. That way you can cook two things at once even at different temperatures, or simply use only one burner at a time without having to turn on both for saving the energy. This hot plate is 12 inches wide and has a waste tray located underneath the burners.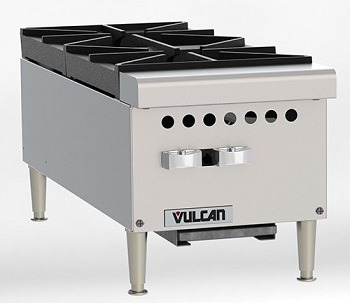 Durable For Frequent Use
The burners can be started up by the standing pilot ignition system. The grates of the burners are constructed from cast-iron for durability even through frequent use in commercial kitchens of restaurants, cafes, etc. Usually supplied with natural gas, this hot plate can also be converted to liquid propane and comes with an included conversion kit.
Adjustable Height
The adjustable 4-inch legs are great for countertop fittings. The model is 13.3 inches high, 12 inches wide, and 29.3 inches deep. This double burner is ideal for sautés, reductions, and stir fry in busy commercial kitchens of busy food services, such as restaurants so that you can offer your customers a variety of serving choices.
Short Description:
13.3 inches high, 12 inches wide, 29.3 inches deep
two burners with lift-off heads for cleaning
cast-iron burner grates for frequent commercial use
each burner has an infinite control turning knob
full-width waste tray for convenient cleaning
ideal for commercial use in restaurants
4-inch adjustable legs for countertop use
Best Commercial Gas Hot Plate
CookRite LPG Hot Plate
Liquid Propane Range
This four-burner hot plate is operated by liquid propane gas and ideal for commercial use where you need to cook many different dishes at once. Each burner has an individual temperature knob for heat control so that you can cook different meals more precisely on low, medium, or high heat settings.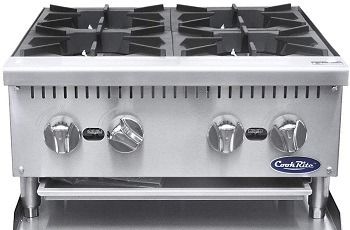 Designed For Commercial Use
This commercial hot plate gas model is 24 inches wide, 27.6 inches deep, and 13.1 inches high. The stainless steel legs are adjustable and the cast-iron burner grates are durable. They enable sliding the pots from one burner to the other without spills. The overall stainless steel construction is corrosion-free for durability and withstands frequent use.
Powerful Countertop Unit
It can be located on countertops without taking up too much space but giving you a combined power of 100,000 BTUs. The waste tray located under the burners collects food debris and grease for convenient and fast cleaning at the end of the day.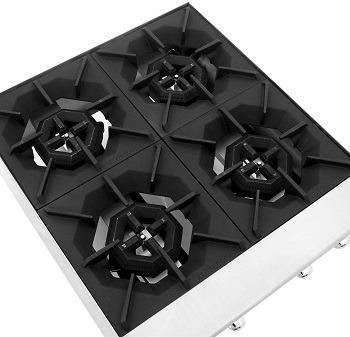 For Restaurants, Food Trucks
This propane hot plate lets you ignite the burners at any time with standby pilots. The durable construction is ideal for use in restaurants, diners, concession stands, and food trucks. It will blend into commercial kitchens easily with the stainless steel look and durable components.
Short Description:
24 inches wide, 27.6 inches deep, 13.1 inches high
cast-iron burner graters for easy cookware sliding
corrosion-free stainless steel durable construction
for restaurants, food trucks, diners, concession stands
four burners with individual temperature controls
Best Portable Gas Hot Plate
Gas ONE Hot Plate
Propane Or Butane Gas
This model is ideal for use on the go and suitable to operate with both propane and butane gas. It features a single burner with a brass head that creates a dual spiral flame. It has a power of 15,000 BTUs and comes with a carrying case for ease of portability and use on the go.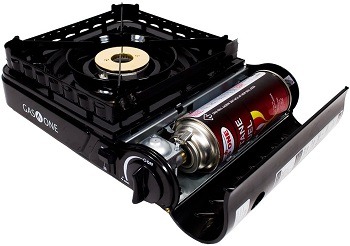 For Outdoor Cooking
This type of portable gas hot plates for cooking can be connected to an 8-ounce butane cartridge or a 16.4-ounce propane cylinder. The burner starts up without having to use matches and lighters as it has an electric ignition. The heat dial can be turned for adjusting the temperature to cook different things more precisely. It is great for cooking when camping, backpacking, and cooking outdoors.
Safe To Use
The burner has wind guards in four corners that protect the flame from turning off in case of blowing wind. In the case of irregular gas flow, the unit will shut off automatically for safety. The drip pan under the burner is constructed from enamel to resist the heat and clean easily. The graters on the burner are long to support even small cookware.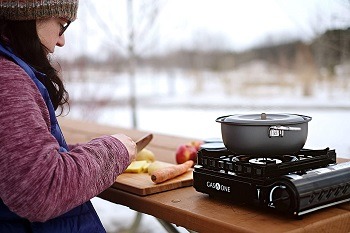 Lightweight & Compact
This gas hot plate portable model weighs 4 pounds and measures 13 inches in length, 10 inches in width, and 4 inches in height. Equipped with a durable carry case, you can take it anywhere with you and enjoy your warm drinks and food even when cooking outdoors.
Short Description:
compatible with both propane and butane gas
single burner with adjustable temperature levels
16.4-ounce propane cylinder, 8-ounce butane cartridge
wind guards in four corners for wind protection
compact and lightweight for outdoor use
comes with a carrying case for ease of portability
Best Camping Butane Hot Plate
Suntouch Butane Hot Plate
Powered By Butane
You can take this butane hot plate with you when camping, backpacking, and cooking in nature. By investing in this model, you get both a hot plate that will work outdoors wherever you need it to. It is butane-operated and has a power of 7600 BTUs.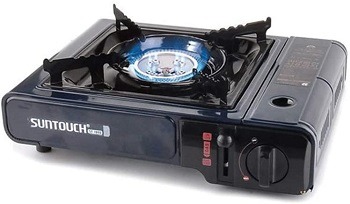 User-Friendly & Safe
The top plate can be easily detached from the unit for maintenance and to prevent corrosion. The burner is connected to a heat dial that lets you regulate the temperature level according to the food you want to cook. When cooking is done, turning the knob to the off position will detach the gas container for safety.
Measurements
When you use this hot plate outdoors, it will work even in windy settings thanks to the shield protecting the burner from the outside wind and increasing the thermal efficiency. This unit is 11 inches wide, 13.5 inches long, and 3.25 inches high.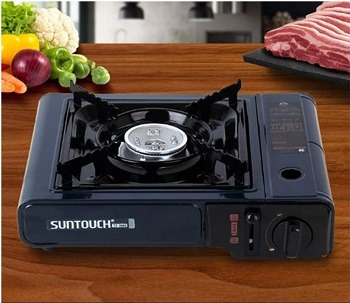 Versatile Use
This butane hot plate is ideal for collective dinner cooking without taking up too much space. It can be used for Korean BBQ by adding a Korean hot plate to the top of the gas burner. You can even use it when traveling and camping to make delicious home food no matter where you are.
Short Description:
11 inches wide, 13.5 inches long, 3.25 inches high
single 7600 BTU propane gas burner
suitable for both indoor and outdoor cooking
11 inches wide, 13.5 inches long, 3.25 inches high
detachable top plate for easy maintenance
ideal for Korea BBQ by using a Korean hot plate
blocks the wind with a shield around the burner
What To Consider In Gas Hot Plates?
The market offers powerful butane hot plates and propane hot plates as an alternative to the more common electric ones. They can be powered by different gas options and work in indoor and outdoor spaces. Here you can learn more about why you could choose a gas model instead of an electric one. Likewise, consider the size of it and whether you need a very durable option for commercial use.
Gas Options – Most hot plates on the market at the moment are designed for either propane or butane gas, with some options also available to run on natural gas. For outdoor use, butane is more often an available choice, although some models can also run on propane, or even be compatible with both options. When it comes to indoor and commercial models, they use propane more often.
Indoor & Outdoor Use – Bigger countertop models are more suitable for indoor, especially commercial use. When it comes to outdoor models, they are great for use in spaces without electricity, such as going camping, backpacking, and more. Portable models powered by gas are not recommended for use in buildings, as most new buildings forbid you to use such hot plates and grills indoors.
Gas Vs. Electric Types – If you are wondering why you might need a gas model instead of an electric one, here are some answers. Butane and propane hot plates are especially convenient for cooking in spaces without access to electricity, such as outdoor backpacking sites, etc. They can also be more powerful for faster cooking and are thus more common in commercial uses.
Size – Gas models can feature from one to four burners, sometimes even more. They come in a variety of sizes so that some models are also easily portable to use on the go. When choosing the number of burners, it is usually useful to think of the frequency of usage, how much food needs to be prepared on it, and how fast it needs to happen. Double or four-burner models are more common for frequent use and cooking more food at once.
Commercial Use – Commercial models of gas burner hot plates are usually durable and powerful options that are made for restaurant use. Constructed usually from durable stainless steel and cast-iron materials, they can withstand frequent use. Commercial hot plates also feature waste trays that collect grease and debris and are easily removable for cleaning.
To Wrap It Up
To conclude this article about the best gas hot plates, I would recommend the Chef Master butane hot plate. It can work in outdoor conditions when camping, backpacking, and can even cook without turning the flame off when it is windy. If you'd like to check out gas and other options for commercial cooking, take a look at the best commercial hot plates on the market. In case you are interested in cooking while camping, read this in-depth article to find models of camping hot plates.