In need of a camping hot plate?
Undecided between electric and gas options on the market?
Continue reading this article where we list the most important information on the characteristics and features of electric and gas stoves. Apart from learning more about them, you can read the reviews of the best models available on the market to help you find what you're after.
The Rundown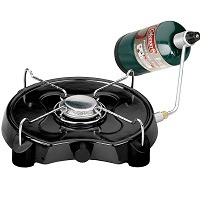 Coleman PowerPack Hot Plate
OVERALL RATING: ★★★★★
Cook outdoors at high altitudes and when it is cold by connecting a propane container to the single burner for 12-inch cookware.
Jump To Review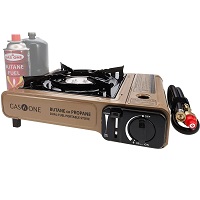 Gas ONE GS-3400P Hot Plate
OVERALL RATING: ★★★★☆
The small and portable single burner comes with propane and butane options which makes camping with it easier.
Jump To Review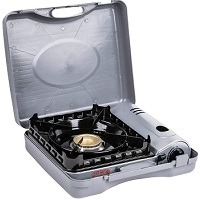 Chef Master 90019 Hot Plate
OVERALL RATING: ★★★★☆
This 14-inch hot plate comes in a case for transport and storage and is easy to keep clean and start-up with the electric ignition.
Jump To Review
What Is A Camping Hot Plate?
This is a small portable model designed for cooking or heating food and used by picnickers and campers.
Is It Actually A Portable Stove??
That depends. Most models for camping are actually portable stoves. If you're going on a camping trip with your RV, you can take a classic hot plate too. Classic models depend on the accessibility of a power outlet, gas stoves don't. Battery-operated models don't exist.
Hot Plate Ready For Action – Why Do You Need It??
What makes them great is that they are designed for adventures and for different cooking options.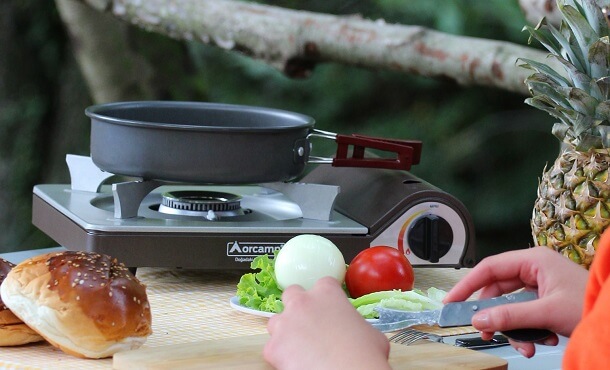 Suitable For Outdoor Adventures?
Camping models are strong and durable. They are easy to move, store, and carry, as well as easy to work with. They are designed for outdoor use and they are the best appliances for camping.
What Can This Model Do??
This mostly depends on the model you choose, but – they can do almost everything. They can boil water and thus cook and make coffee, they are great for slow cooking and frying, as well as for warming up meals.
Can I Also Use Such A Hot Plate At Home?
It depends on the model. Electric hot plates are suitable for both indoor and outdoor use, while gas stoves are suitable for outdoor use only.
Before Camping, Here Is What You Need To Consider About Compatible Hot Plates
They are quite specific since they are used outdoors, on camping sites, hikes, and picnics. Due to that, they need to meet the high specifications of design and functionalities.
Electric Models vs. Gas Stoves
Electric options are ideal in case you're traveling with an RV or your car, or you have some other source of electricity. Gas stoves are perfect because they do not depend on the power outlet and you can use them basically everywhere. Such models only need propane or butane containers to work.
So, Gas Is A Better Choice, Right?
For camping, absolutely. Gas stove is powerful and durable, and it will meet the needs of your camping trip.
Why Isn't There A Battery Operated Model?
Such models are still in the developing phase. At the moment, they aren't strong enough to boil water, let alone prepare and cook food. Since they have a maximum power of 20 watts, they can only keep your coffee warm.
Okay, But What About Other Non-Electric Hot Plates?
You can always go for a solar hot plate, but it is rather expensive. Another alternative is you get a stone hot plate. To use this model, you need to make a fire and then place a stone hot plate over it so it heats up. Then you can use it for cooking.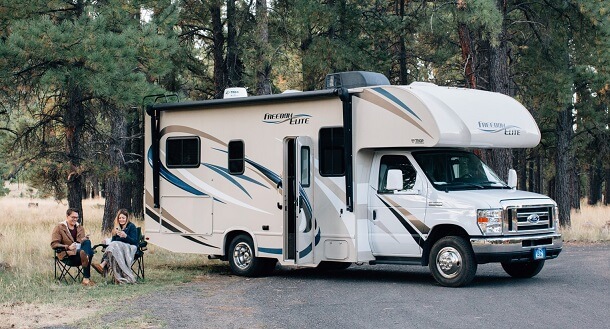 I'm Traveling With RV. Will This Hot Plate Work There?
It sure will. However, for a camping trip with an RV, go for an electric option. Since you will have an available power outlet – use it!
Small In Size
It needs to be small so you can handle it as easily as possible. Most camping stoves are big up to 14 inches which is perfect. If you want to go for an electric model, it is a bit bigger. Such models go up to 20 inches so they are a better fit for your RV.
Lightweight Feature Is A Must
If you want to be able to carry a hot plate on your camping trip, such a model needs to be lightweight too. Most camping stoves are around 4 pounds heavy. Electric hot plates are a couple of pounds heavier – they can go up to 10 pounds.
Can Camping Stove Withstand The Travel?
Yes, as long as it is built of strong and durable metal such as stainless steel or cast iron.
How Powerful Are Camping Hot Plates?
Electric hot plates have a power supply of around 1,500 watts. Gas models come with a power between 7,000 and 15,000 BTU. Gas stoves are way more powerful than an electric. For example, a gas stove with 7,000 BTU equals the power of 2,052 watts.
Temperature Range & Control
All the camping models have simple temperature control so you can set the heat level you need. When speaking of a temperature range, most burners can reach temperatures up to 400 Fahrenheit degrees. The lowest level of heat is around 100 Fahrenheit.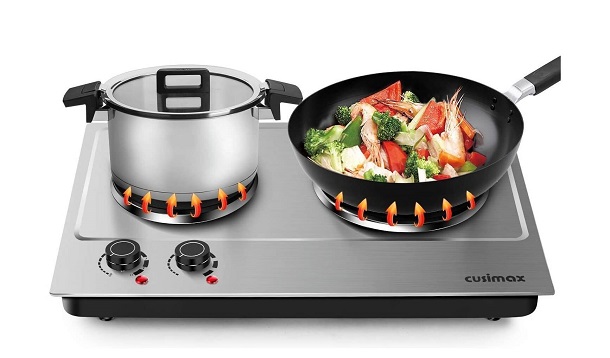 Single & Double Burners Choice
Gas stoves mostly have single burners which are up to 4 inches in size. Thus they are great for camping. Double burners are most common with electric models. They come in 2 different sizes but they are at least 6 inches big.
The Weight Limit
This varies from one model to the other so make sure to read the manual. Usually, small camping appliance can withstand around 30 pounds of weight.
Cookware Features
Cast iron skillet is a part of any classic camping gear and it is suitable for use with both electric and gas hot plates. Aluminum and stainless steel pots and pans are also great, durable, and compatible.
I Just Want To Warm Up Some Food. Can I Do It?
Of course. Just make sure to set the temperature of your warming hot plate to the minimum heat level.
Are Camping Hot Plates Pricey?
As with any other model, you can find a hot plate suitable for camping with a budget-friendly price. These models go from $25 to $70.
Best 6 Camping Hot Plates: Electric & Gas
Coleman PowerPack Hot Plate
SPECIFICATION:
Fuel Type: Propane
Dimensions: 12.5 x 4 x 13.38 inches
Weight: 0.022 pounds

Heating Element: 1
Controls Type: Adjustable Dial
BTU: 7,500
Cookware Under 12 Inches
This propane stove for camping features a single burner ideal for cooking needs while at camping sites, picnics, etc. It has a power of 7,500 BTUs and is big enough to fit cookware up to 12 inches in diameter. When connected to a 16.4-ounce propane cylinder, it can run for up to 3 hours on the highest setting.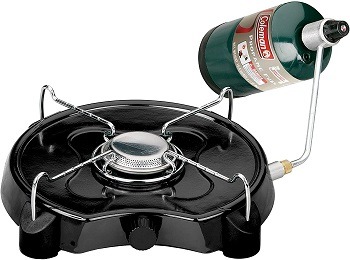 Adjustable Heat 
The chrome-plated grate is removable for simple and fast maintenance after cooking. The heat of the non-electric hot plate is adjustable by turning the temperature knob for more precise temperature control which makes cooking a variety of meals easier. You can use it when spending time outdoors, backpacking, and camping.
User-Friendly Design
The burner comes in a 3-inch size to evenly distribute the heat over the cooking pots and pans with a diameter under 12 inches. The black base that houses the burner and the grates is large enough to make cooking easy and hassle-free as it will stay stable when you are stirring the food, etc.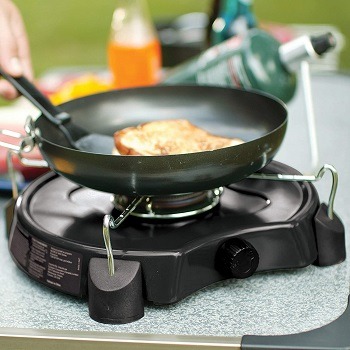 PerfectFlow System
The fuel stream will stay steady thanks to the PerfectFlow system that won't get disturbed even by low fuel supply, at high altitudes, or during the cold weather. That way you can cook while enjoying your camping activities, no matter where you are. Preparing hotpot meals will be easy to enjoy while camping.
Overall:
Safety:
Power:
Size:
Weight:
Funcionality:
PRICE RANGE
from $45 to $70 depending on eCommerce offer (Amazon, Walmart, eBay) and discounts
REASONS TO BUY:
Removable chrome-plated grates for cleaning
Steady flame in the cold, at high altitudes
Precise temperature control
REASONS TO AVOID:
Made only for outdoor use
Gas ONE GS-3400P Hot Plate
SPECIFICATION:
Fuel Type: Butane & Propane
Dimensions: 13.5 x 11.2 x 4.4 inches
Weight: 3.1 Pounds

Heating Element: 1
Controls Type: Adjustable Dial
BTU: 8,000
Propane & Butane Compatible
This portable model is powered by gas and suitable to use with both propane and butane. The unit has a power of 8,000 BTUs and can be connected either to a 16.4-ounce propane cylinder or an 8-ounce butane cartridge.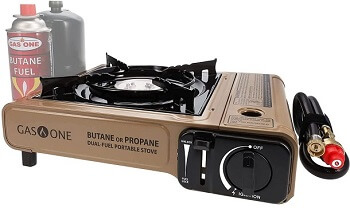 Wind Guards For Protection
The burner has a Piezoelectric ignition so that you can start up the flame without using lighters or matches. Along with the temperature dial, it is ideal for cooking while camping and spending time in nature. As camping can be done in outdoor windy conditions, the flame won't be turned off thanks to the wind guard protection fitted in the four corners of the burner.
Safety Features
The burner grates are long to support both small and large cookware and the drip tray is resistant to heat and easy to keep clean. It comes with safety features that eliminate the fear of cooking on gas as it will cut off the flow and eject the cartridge in case of an emergency.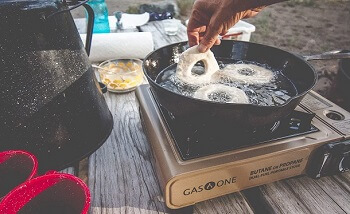 Lightweight & Portable
With a hard-shell carrying case, this camping small hot plate weighs 3 pounds and is easily portable from site to site. It can even fit into backpacks so you can take it along wherever you might want to camp. You can now spend quality time away from home and still enjoy your favorite meals.
Overall:
Safety:
Power:
Size:
Weight:
Funcionality:
PRICE RANGE
from $30 to $50 depending on eCommerce offer (Amazon, Walmart, eBay) and discounts
REASONS TO BUY:
Suitable for butane and propane
Piezoelectric ignition for easier startup
Safe fuel catrige removal
REASONS TO AVOID:
Drip pan can easily break
Chef Master 90019 Hot Plate
SPECIFICATION:
Fuel Type: Butane
Dimensions: 11.2 x 13.2 x 4.5 inches
Weight: 5.04 pounds

Heating Element: 1
Controls Type: Adjustable Dial
BTU: 15,000
Easy To Start-Up
This portable appliance features a single burner with a power of 15,000 BTUs and an automatic ignition for ease of use wherever you might be. The Piezoelectric ignition is positioned next to the turning knob for adjusting the intensity of the flame for different cooking needs.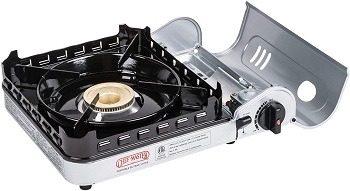 Works In Outdoor Conditions
The carrying case makes transport very easy so that you can take it along for cooking when camping, hiking, or backpacking. The shields will protect the burner from turning off so that you can cook even when it is windy outdoors. Its compact size with a measure of 14 inches also helps with transport and storage without taking up too much space.
Easy Maintenance
After you are done cooking and the unit cools off, you can separate the top plate from the case easily. Cleaning will then be quick to remove any possible food debris to prevent dangerous situations while cooking. Leaving the food debris inside can cause danger so it is advised to clean the camping hot plate after every use.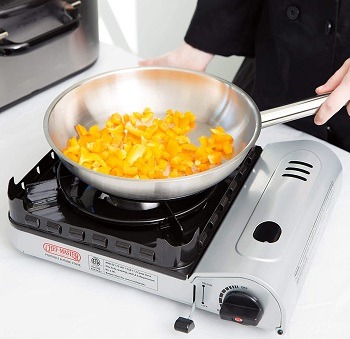 Easy To Connect
To operate the unit, you will have to connect the butane canister and then start the flame and adjust its intensity according to the food you want to cook. You can enjoy warm drinks and quick meals while camping and spending time outdoors.
Overall:
Safety:
Power:
Size:
Weight:
Funcionality:
PRICE RANGE
from $30 to $70 depending on eCommerce offer (Amazon, Walmart, eBay) and discounts
REASONS TO BUY:
Double wind guard
Even heat control on burner
Comes with hard case
REASONS TO AVOID:
Heavier than similar models
Suntouch Portable Gas Stove
SPECIFICATION:
Fuel Type: Butane
Dimensions: 13.4 x 11.1 x 4.6 inches
Weight: 4.74 pounds

Heating Element: 1
Controls Type: Adjustable Dial
BTU: 7,600
Adjustable Heat
This butane stove has a single burner that uses a power supply of 7,600 BTUs for cooking in outdoor conditions. The compartment for the butane is located next to the burner and the temperature dial for adjusting the heat level.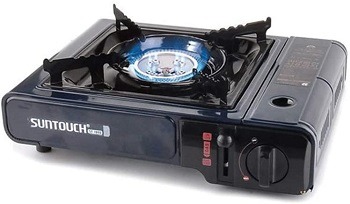 User Protection
Turning the knob will let you increase and decrease the flame. After you are done cooking, turning the knob off will automatically detach the butane cylinder for protection and explosion and accident prevention. The burner also features a shield around the flame to prevent the wind from messing with the flame.
Portable Case
After cooking, the burner head should be left to cool down. The top plate is then easy to remove from the unit for cleaning. You can remove any food debris and clean up the grease that can fall into the unit this way. The case is ideal for portability without taking up a lot of space.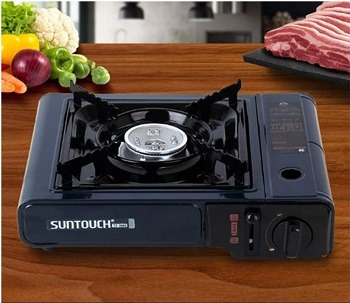 Compact For Outdoor Use
When you want to cook outdoors, this model lets you do so without a lot of hassle. It won't take up a lot of space or take a long time to heat the cookware. Ideal for camping, traveling, or cooking in both indoor and outdoor conditions.
Overall:
Safety:
Power:
Size:
Weight:
Funcionality:
PRICE RANGE
from $1,000 to $1,200 depending on eCommerce offer (Amazon) and discounts
REASONS TO BUY:
Auto detach fuel can when turned off
Detachable top plate for easier cleaning
High wind shields for protection
CUKOR Hot Plate Camping
SPECIFICATION:
Fuel Type: Electricty
Dimensions: 10.6 x 9.25 x 2.16 inches
Weight: 3.96lb

Heating Element: 1
Controls Type: Adjustable Dial
Wattage: 1,500W
Cast-Iron Hot Plate
This portable hot plate is equipped with a single burner and operated by electricity. It lets you cook meals when camping, but only if you have access to a power outlet. The burner is constructed from cast-iron material and has a power indicator light, along with a control knob for temperature regulation.
Small In Size
It is lightweight and compact in size for easy portability while traveling without taking up too much space. Likewise, it can be used in confined spaces when cooking while camping. Preheating the burner might take up to 10 minutes for the best results, and after cooking it should take about 20 minutes to cool down.
Cookware Restrictions
While the cooking surface is cooling down, you can use it to keep your food warm for longer. The stainless steel body can support cookware up to 22 pounds heavy. This electric hot plate has no other cookware restrictions but works with any material with flat bottoms.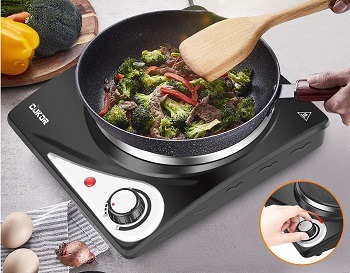 For Versatile Cooking
With a power supply of 1,500 Watts, you can cook soup, boil water, use BBQ plates for grilling food, fry, and stir-fry, and much more. It will maintain the set temperature by cycling the hot plate on and off to also prevent overheating. It can be cleaned by using a damp wipe and hard stains should be removed with the help of dish detergent.
Overall:
Safety:
Power:
Quality:
Capacity:
Funcionality:
PRICE RANGE
from $30 to $65 depending on eCommerce offer (Amazon, Walmart, eBay) and discounts
REASONS TO BUY:
1500 wattage suitable for RVs
Comes with thermal regulator for protection
Works with all cookware
REASONS TO AVOID:
Needs a power outlet to work
Not good for camping, but good for RVs
CUSIMAX Electric Portable Plate
SPECIFICATION:
Fuel Type: Electricty
Dimensions: 21 x 14.5 x 4 inches
Weight: 9.73 pounds

Heating Element: 2
Controls Type: Adjustable Dial
Wattage: 1,800W
1800-Watt Double Burners
This model comes with two cast-iron burners encased in a stainless steel body. It uses 1,800 Watts and features two temperature knobs for heat control and adjustment. It is compatible to use with all types of cooking pots and pans and can be used both indoors and outdoors. You can use it to cook at a camping site with access to electricity.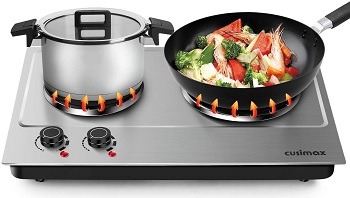 Safe & Stable
Each of the two stylish control knobs also has a power indicator light located next to it for safety precautions. It will alert you when the burner is on and heating to prevent injuries and damage. With non-slip legs, you can use it on any countertop surface for stability.
11 Temperature Levels Each
Each turning knob has 11 temperature settings for making sauces, grilling cheese, cooking soup and vegetables, pasta, scrambled eggs, and much more. The heating plates come in 7.1 and 6.4-inch sizes and are protected from overheating for safe use and have an automatic safety shutoff function in case of emergency.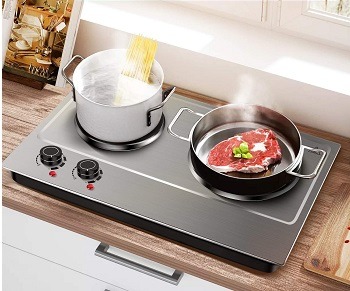 Compact Size
The unit is 19.8 inches wide and 13.1 inches long for ease of transport. Also, this makes it ideal for cooking in smaller spaces, including camping sites, but also RVs, as well as offices and dorm rooms. Just remember when using it in RV, you should be careful what else you have plugged in because it is slightly stronger than it should be (1,500w).
Overall:
Safety:
Power:
Quality:
Capacity:
Funcionality:
PRICE RANGE
from $65 to $100 depending on eCommerce offer (Amazon, Walmart, Wayfair) and discounts
REASONS TO BUY:
Two cast-iron burners with separate controls
Each temperature knob has 11 temperature levels
REASONS TO AVOID:
Needs a power outlet to work
Can be too strong for RVs
Safety Features For Camping Adventures
It is important that a model you wish to use for cooking at a camping trip is safe for usage, as well as for carrying it all around. Here are a couple of things you need to have in mind regarding this model:
Wind Protection
Make sure it has wind protection. This unit has an open flame so it needs to be protected from wind, as well as all the nearby objects that might catch on fire.
Alarm For Safety Precautions
Most models have a light indicator alarm when they're on and once they reach a set temperature. This is great as a safety precaution.
Overheating Protection In Different Models
Electric models come with overheating protection, while gas ones have automatic shut off function to prevent overheating and in case of the problem with gas supply.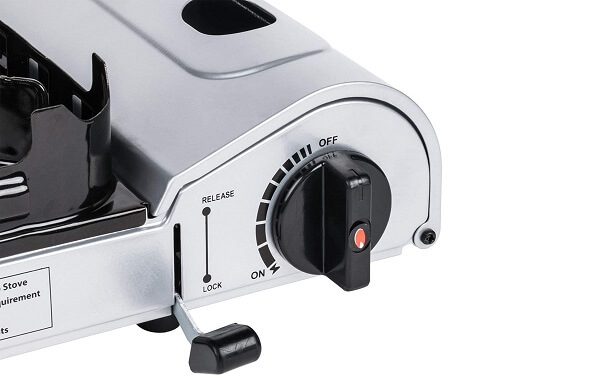 Safe & Stable Placement
Make sure to always place it on a sturdy surface so it is stable and secure for usage.
Do These Stoves Get Hot On The Bottom?
They can, yes, but that is not nearly hot enough to burn you or melt the plastic table if you place a hot plate on top of it. But just to be sure, it is a wise choice to use a mat under it. This will help to keep the heat to a minimum.
Can I Safely Carry A Hot Plate On A Hiking Trip?
Yes. Just make sure to pack it well in your backpack so it doesn't fall down and break. Also, when you use it, wait until it cools down before you pack it up.
Regularity Is The Key For Maintaining
As with any other model, this too needs to be regularly cleaned and maintained so it is safe to use, as well as to give you the best functionalities possible.
Hot Plates' Regular Cleaning
That means you need to wipe your it after every use. Classic models are quite easy to clean since they have a flat surface. You can use water and mild soap to clean such a model too.
How To Deep Clean A Camping Burner?
Here are the steps:
Unscrew the burners from the base.
Clean the holes of the burner with hot water and mild soap.
Rinse the burner with warm water.
Let it air dry for at least 4 hours.
Assembling Insturctions
Since there are electric and gas options, here is what you need to know about their canister assembling and power outlet.
How To Connect The Gas Fuel?
Take a regulator and screw it in the unit of a hot plate. To connect the gas canister, just screw in the propane or butane bottle, and you're good to go.
Power Outlet Specifications
As long as your electric unit uses less than 1,500 watts, it should be compatible with your RV outlet. This will limit the usage to no more than 15 amps per circuit in your RV.
Tips & Tricks For Better Camp Cooking
Here are a couple of tips on what you should bear in mind before taking a camping trip and regarding cooking in nature.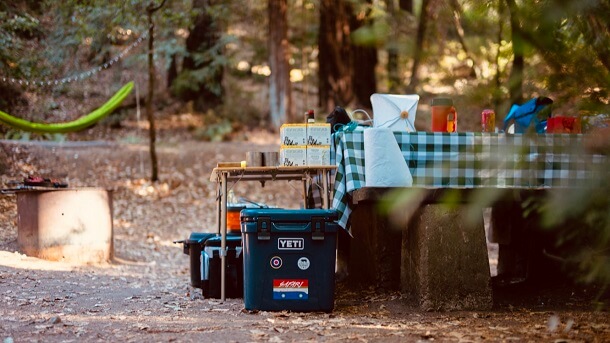 Plan Your Meals Ahead
Measure ingredients and plan your meals ahead so you don't overpack.
Keep It Simple
Don't plan on making luxurious meals. These are great appliances but they are suitable for simple cooking and frying.
Always Have Aluminum Foil
The aluminum foil keeps food warm and covers food for later use. It can also be used for cooking over an open fire.
Pack Minimal Number Of Cookware
Select and take only the cookware you plan and need to use. This action will save space.
Cover Food While Cooking
With this action, you'll cook your meals faster. It will also keep the insects away from your food.
To Wrap It Up
In my opinion, the best option for camping is the Coleman hot plate. It runs on propane and works with any kind of cookware with a diameter of up to 12 inches. It is easy to clean and works even in cold weather and at high altitudes. If you are interested in other hot plate models for outdoor use, check out my article about the best outdoor hot plates. For the best travel options, consult this list of travel hot plates to learn more.