In need of a camping hot plate?
Undecided between electric and gas options on the market?
Continue reading this article where we list the most important information on the characteristics and features of electric and gas camping stove hot plates. Apart from learning more about them, you can read the reviews of the best models available on the market to help you find what you're after.
The Rundown
Best 6 Camping Hot Plates: Electric & Gas
Best Of Best Camping Hot Plate
Coleman Hot Plate For Camping
Cookware Under 12 Inches
This propane stove for camping features a single burner ideal for cooking needs while at camping sites, picnics, etc. It has a power of 7,500 BTUs and is big enough to fit cookware up to 12 inches in diameter. When connected to a 16.4-ounce propane cylinder, this camping hot plate can run for up to 3 hours on the highest setting.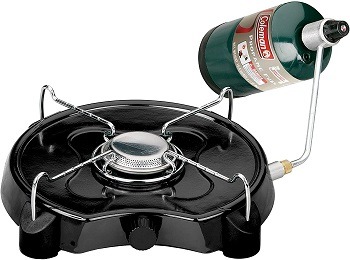 Adjustable Heat 
The chrome-plated grate is removable for simple and fast maintenance after cooking. The heat of the non-electric hot plate is adjustable by turning the temperature knob for more precise temperature control which makes cooking a variety of meals easier. You can use it when spending time outdoors, backpacking, and camping.
User-Friendly Design
The burner comes in a 3-inch size to evenly distribute the heat over the cooking pots and pans with a diameter under 12 inches. The black base that houses the burner and the grates is large enough to make cooking easy and hassle-free as it will stay stable when you are stirring the food, etc.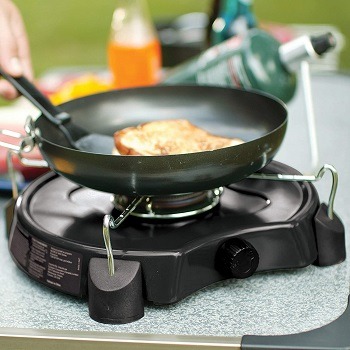 PerfectFlow System
The fuel stream will stay steady thanks to the PerfectFlow system that won't get disturbed even by low fuel supply, at high altitudes, or during the cold weather. That way you can cook while enjoying your camping activities, no matter where you are. Preparing hotpot meals will be easy to enjoy while camping.
Short Description:
single 3-inch propane burner with 7,500 BTUs
suitable for cooking pots and pans up to 12 inches
runs for 3 hours on the 16.4-ounce cylinder
removable chrome-plated grates for cleaning
steady flame in the cold, at high altitudes
Best Electric Camping Hot Plate
CUKOR Hot Plate Camping
Cast-Iron Hot Plate
This portable camping hot plate is equipped with a single burner and operated by electricity. It lets you cook meals when camping, but only if you have access to a power outlet. The burner is constructed from cast-iron material and has a power indicator light, along with a control knob for temperature regulation.
Small In Size
It is lightweight and compact in size for easy portability while traveling without taking up too much space. Likewise, it can be used in confined spaces when cooking while camping. Preheating the burner might take up to 10 minutes for the best results, and after cooking it should take about 20 minutes to cool down.
Cookware Restrictions
While the single burner hot plate is cooling down, you can even use it to keep your food warm for longer. The stainless steel body can support cookware up to 22 pounds heavy. This electric hot plate for camping has no other cookware restrictions but works with any material with flat bottoms.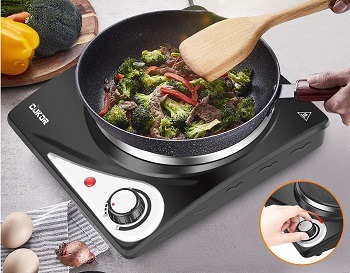 For Versatile Cooking
With a power supply of 1500 Watts, you can cook soup, boil water, use BBQ plates for grilling food, fry, and stir-fry, and much more. It will maintain the set temperature by cycling the hot plate on and off to also prevent overheating. It can be cleaned by using a damp wipe and hard stains should be removed with the help of dish detergent.
Short Description:
single cast-iron electric burner
small and portable size for camping
uses a power supply of 1500 Watts
preheat for 10 minutes for optimal results
stainless steel housing for cookware up to 22 pounds
ideal for camping with electricity access
Best Stove Camping Hot Plate
CUSIMAX Electric Portable Plate
1800-Watt Double Burners
This portable hot plate for camping comes with two cast-iron burners encased in a stainless steel body. It uses 1800 Watts and features two temperature knobs for heat control and adjustment. It is compatible to use with all types of cooking pots and pans and can be used both indoors and outdoors. You can use it to cook at a camping site with access to electricity.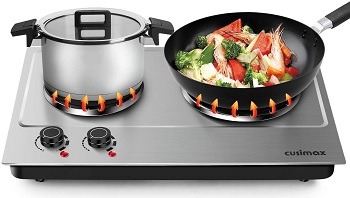 Safe & Stable
Each of the two stylish control knobs also has a power indicator light located next to it for safety precautions. It will alert you when the burner is on and heating to prevent injuries and damage. With non-slip legs, you can use it on any countertop surface for stability.
11 Temperature Levels Each
Each turning knob has 11 temperature settings for making sauces, grilling cheese, cooking soup and vegetables, pasta, scrambled eggs, and much more. The heating plates come in 7.1 and 6.4-inch sizes and are protected from overheating for safe use and have an automatic safety shutoff function in case of emergency.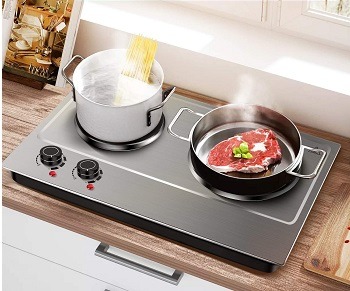 Compact Size
The portable electric stove for camping is 19.8 inches wide and 13.1 inches long for ease of transport. Also, this makes it ideal for cooking in smaller spaces, including camping sites, but also RVs, as well as offices and dorm rooms. Cook your favorite meals even when away from home by using cookware between 2.5 and 7.4 inches.
Short Description:
two cast-iron burners with separate controls
suitable for cookware between 2.5 and 7.4 inches
19.8 inches wide and 13.1 inches long
each temperature knob has 11 temperature levels
burners have 7.1 and 6.4-inch diameters
overheating protection and auto safety shutoff
portable size for cooking on the go
Best Portable Camping Hot Plate
Gas ONE Hot Plate For Camping
Propane & Butane Compatible
This portable model is powered by gas and suitable to use with both propane and butane. It comes with a single burner head constructed from brass and gives a dual spiral flame. The unit has a power of 15,000 BTUs and can be connected either to a 16.4-ounce propane cylinder or an 8-ounce butane cartridge.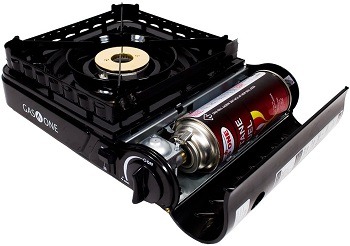 Wind Guards For Protection
The burner has a Piezoelectric ignition so that you can start up the flame without using lighters or matches. Along with the temperature dial, it is ideal for cooking while camping and spending time in nature. As camping can be done in outdoor windy conditions, the flame won't be turned off thanks to the wind guard protection fitted in the four corners of the burner.
Safety Features
The burner grates are long to support both small and large cookware and the enamel drip tray is resistant to heat and easy to keep clean. It comes with safety features that eliminate the fear of cooking on gas as it will cut off the flow and eject the cartridge in case of an emergency.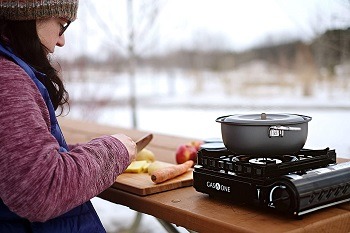 Lightweight & Portable
With a hard-shell carrying case, this camping small hot plate weighs 4 pounds and is easily portable from site to site. It can even fit into backpacks so you can take it along wherever you might want to camp. You can now spend quality time away from home and still enjoy your favorite meals.
Short Description:
weighs only 4 pounds with carrying case
single brass burner with a dual spiral flame
a Piezoelectric ignition system for ease of use
wind guards in four corners for wind protection
portable and lightweight for camping and storage
Best Gas Camping Hot Plate
Chef Master Hot Camping Plate
Easy To Start-Up
This portable gas hot plate features a single burner with a power of 15,000 BTUs and an automatic ignition for ease of use wherever you might be. The Piezoelectric ignition is positioned next to the turning knob for adjusting the intensity of the flame for different cooking needs.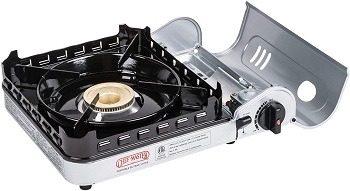 Works In Outdoor Conditions
The carrying case makes transport very easy so that you can take it along for cooking when camping, hiking, or backpacking. The shields will protect the burner from turning off so that you can cook even when it is windy outdoors. Its compact size with a measure of 14 inches also helps with transport and storage without taking up too much space.
Easy Maintenance
After you are done cooking and the unit cools off, you can separate the top plate from the case easily. Cleaning will then be quick to remove any possible food debris to prevent dangerous situations while cooking. Leaving the food debris inside can cause danger so it is advised to clean the camping hot plate after every use.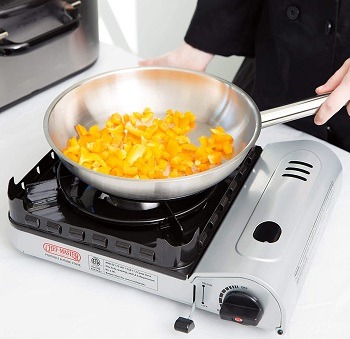 Easy To Connect
To operate the unit, you will have to connect the butane canister and then start the flame and adjust its intensity according to the food you want to cook. You can enjoy warm drinks and quick meals while camping and spending time outdoors.
Short Description:
single burner with a power of 15,000 BTUs
temperature knob and electric ignition button
14-inch size with a hard carrying case
burner shields protect the flame from wind
easily dismantles for cleaning up
transportable for camping, backpacking, hiking
Best Butane Stove Camping Hot Plate
Suntouch Portable Gas Stove
Adjustable Heat
This butane stove hot plate has a single burner that uses a power supply of 7,600 BTUs for cooking in outdoor conditions. The compartment for the butane gas supply is located next to the burner and the temperature dial for adjusting the heat level.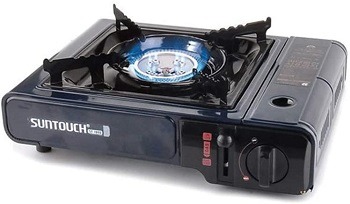 User Protection
Turning the knob will let you increase and decrease the flame. After you are done cooking, turning the knob off will automatically detach the butane cylinder for protection and explosion and accident prevention. The burner also features a shield around the flame to prevent the wind from messing with the flame.
Portable Case
After cooking, the burner head should be left to cool down. The top plate is then easy to remove from the unit for cleaning. You can remove any food debris and clean up the grease that can fall into the unit this way. The case is ideal for portability without taking up a lot of space.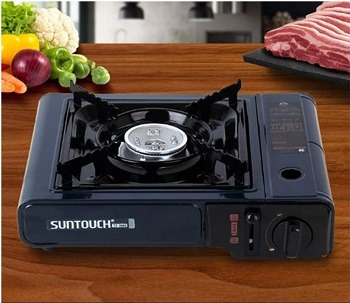 Compact For Outdoor Use
When you want to cook outdoors, this camping hot plate lets you do so without a lot of hassle. It won't take up a lot of space or take a long time to heat the cookware. Ideal for camping, traveling, or cooking in both indoor and outdoor conditions.
Short Description:
single 7,600 BTU gas burner head
easily connects to a butane container
turning knob for heat increasing and decreasing
the burner shield protects from the wind
detachable top plate for easy cleaning
comes with a case for easy portability
ideal for cooking outdoors while camping
What To Consider In Camping Hot Plates?
The most important thing to have in mind when buying the best hot plate for camping is the power supply. You can either use electricity or gas supply to cook food. The portability of the plates is also important, so look out for the size of the unit to easily take the hot plate anywhere with you. The number of burners and temperature control is also important to have in mind. Below you can also read about some other features that make cooking while camping more convenient.
Electric Types – Such a hot plate is going to be ideal when you are camping in spaces where you have access to a power outlet. By plugging it in, you will be able to cook different meals. Most single and double burners ideal for outdoor cooking will have a power supply of around 1500 Watts.
Gas Types – Gas models, on the other hand, come in very handy when you have to cook without access to a power outlet. They can be compatible with butane and propane gas contained in different sized containers for cooking anywhere in nature. They mostly come in single burner sizes with power between 7 and 15 thousand BTUs.
Portability – As you usually have limited packing space when going camping, always look for the overall measurements of the product. They will tell you how big the product is and thus how much space it will take up for storage and cooking. Campfire hot plates have compact sizes and gas models come with carrying cases for ease of portability.
Temperature Control – Both electric and gas models feature turning knobs for temperature adjustments. That way you can cook different dishes more precisely by adjusting the intensity of the heat. Electric models have a different number of settings for temperature control, while gas models also let you increase or decrease the intensity of the flame.
Other Features – To ensure safety while cooking, look for models with overheating protection in electric models. For gas models, keep in mind the automatic shutoff function in case of problems with the gas supply. Gas models should also have wind guards for flame protection so that cooking can be done even in windy outdoor conditions.
To Wrap It Up
In my opinion, the best camping hot plate is the Coleman hot plate. It runs on propane and works with any kind of cookware with a diameter of up to 12 inches. It is easy to clean and works even in cold weather and at high altitudes. If you are interested in other hot plate models for outdoor use, check out my article about the best outdoor hot plates. For the best travel options, consult this list of travel hot plates to learn more.