Can't decide between gas and electric griddle hot plate offers available on the market?
Don't worry, we've got you covered! In this article, we break down the difference between electric and gas models and list their features and specifications to help you when choosing a model. You can also read the reviews of models in different sizes and other different features to figure out which one best fits your needs.
The Rundown
Best 6 Griddle Hot Plates
Best Of Best Griddle Hot Plate
Presto Electric Griddle
Removable Handles For Storage
This griddle hot plate is constructed from aluminum material with some plastic parts. It features a non-stick surface and a base made with heavy-cast aluminum. On the sides of the base, two handles are easily removable without tools by opening the latch clips. That way you can easily store this electric hot plate griddle when not in use.

Heat Control Knob
The heat control is positioned in the corner of the 1500-Watt hot plate and lets you adjust the temperature on which the food will be cooking. Once you are done with cooking, you can remove the heat control knob for easy cleaning. When the knob gets removed, you can fully immerse the griddle for washing.
Drip Tray For Grease
When cooking on this hot plate you don't have to worry about food sticking to it and then having a hard time cleaning it. The grease and the oils drip into the tray that can be easily removed by sliding out for easy maintenance. That way you can cook food without it swimming in the excess oil for healthy eating habits.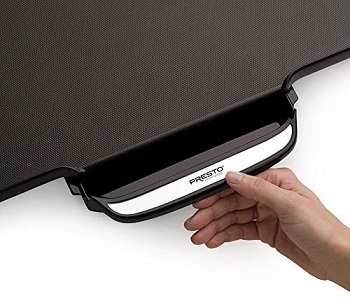 Large Surface For Cooking
This electric griddle comes in black color and can be used in any space as long as you have access to a power plug. The dimensions of this item are 11.5 inches in length, 26.25 inches in width, and 2.5 inches in height. The cooking area is 231 squared inches so that you can cook more things on it at once.
Short Description:
11.5 inches long, 26.25 inches wide
22-inch cooking surface with 231 sq-inch area
aluminum base with removable handles
slide-out drip tray collects grease and oils
non-stick cooking surface for easy cleaning
Best Commercial Griddle Hot Plate
ATOSA USA Hot Griddle
Large Surface For Commercial Use
For restaurants, bars, trucks, or concession stands, this commercial hot plate works to make different grilled food such as burgers, steaks, or breakfast foods like bacon. With a 36-inch length, 28.6-inch width, and a height of 15.2 inches, you can place this unit on countertops for preparing a lot of food at once.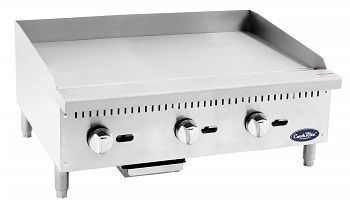 Three Control Knobs
This commercial hot plate griddle works with liquid propane and has a power of 90000 BTU. The flat top surface comes with three control knobs for adjusting the temperature manually. As it is made out of stainless steel, it is also resistant to corrosion and easy to keep clean. Moreover, it heats quickly and distributes heat evenly.
Catches Food Debris & Grease
As the commercial hot plate can be placed on any countertop, it also saves space so that you have enough room for other equipment you might need. This is possible thanks to the adjustable feet that allow you to position it to your liking. The waste tray is situated under the griddle and is removable for cleaning up the grease and debris.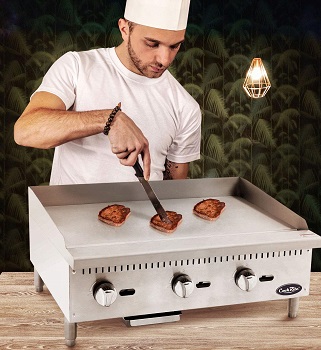 Durable But Modern Design
The durable stainless steel construction and modern design easily fit into many different interior designs while also being easy to maintain clean. The three control knobs on the front side of the gas griddle hot plate are large enough for easy regulations.
Short Description:
36 inches long and 28.6 inches wide
large cooking area with 3 independent knobs
removable waste tray catches grease and debris
durable anti-corrosion stainless steel construction
suitable for commercial use in different spaces
90000 BTU, powered by liquid propane
Best Grill Griddle Hot Plate
DULONG Griddle Stainless Steel
Cast Iron Flat & Groove Plate
With half a flat and half a groove plate constructed from the cast iron, this model is ideal for all the different grilling applications. The durable and sturdy stainless steel construction and the non-stick surface make cleaning an easy job after grilling. The temperature range is large with a maximum level of 572 Fahrenheit degrees, and the heat spreads evenly on the surface for fast cooking.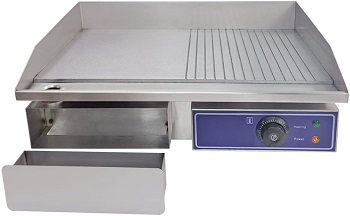 Grease Channel & Drip Tray
The grease channel leads all the excess oils and grease away from the grilling food, draining into the drip tray. The tray can be removed for easy cleaning. To prevent the splatter of oil and grease on the surroundings, this griddle hot plate also has three-sided splash guards to protect walls or other surfaces from getting stained.
Large Grilling Surface
Whether you want to make pancakes, grill cheese, bacon, make breakfast, or pizza, you can plug this electric hot plate griddle in and make your favorite food. As it comes in a large size, it is great both for commercial use and personal use when cooking for a larger group of people.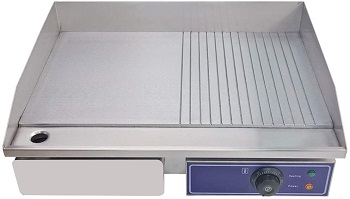 Thermostat Control
The 2000-Watt unit with a 22-inch surface is ideal for countertop use. The thermostat knob is great for cooking different foods at different temperatures. This commercial electric hot plate griddle grill hot plate stainless steel model requires an application of cooking oil after use and cleaning to prevent rust.
Short Description:
ideal for grilling different foods
the cast-iron griddle is half flat, half grooved
non-stick surface with even heat distribution
grease channel leads excess oils away
removable waste tray collects excess grease
temperature range up to 572 Fahrenheit
suitable for commercial and personal use
Best Gas Griddle Hot Plate
Blackstone Hot Plate Griddle
Convenient Shelf Additions
This griddle gas hot plate comes at a height of 36 inches with wheels on the legs. It is 62.5 inches long and 22 inches wide with a bottom and side shelves, and a paper towel holder. It also features a grease channel and a waste tray for eliminating the mess around the grilling station.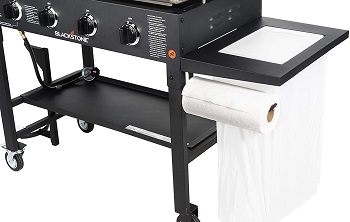 Propane Tank Fasteners
It is fueled by propane gas and features fasteners for easily attaching the propane tank to the gas griddle hot plate. It features four burners with individual temperature control so that you can cook and grill different meats and vegetables at the same time. The burners are constructed from stainless steel with a black powder-coated steel frame and cold-rolled steel griddle surface.
Comes With Caster Wheels
The caster wheels are great for transportation, storage, and wheeling around your yard. The griddle top and the foldable legs are also great for saving space when not in use. When using it, the 720 squared inch surface is great for preparing a lot of food at once. Each burner has 15000 BTUs for a combined power of 60000 BTUs.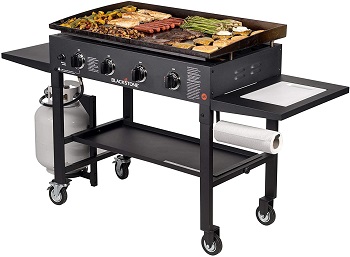 Low To High Heat Settings
As each burner has an independent thermostat, you can adjust the heat of each burner from low to high, depending on the food you are making on it. The side shelves are a great help as they have a removable cutting board, as well as hooks for garbage bags. It is an excellent choice if you love barbecue get-togethers with family and friends while enjoying grilled food.
Short Description:
features four burners with separate controls
four legs with caster wheels for 36-inch height
62.5 inches long and 22 inches wide
stainless steel and powder-coated steel construction
fueled by propane gas with tank fasteners
Best Portable Griddle Hot Plate
Broil King Griddle Plate
Non-Stick Surface
This hot plate features a non-sticking griddle with a cooking surface of 21 inches by 12 inches. It comes with a backsplash guard, handles that are cool to the touch made out of stainless steel, and a temperature dial on the side. It is easily portable by using the handles and can griddle food anywhere with a power outlet.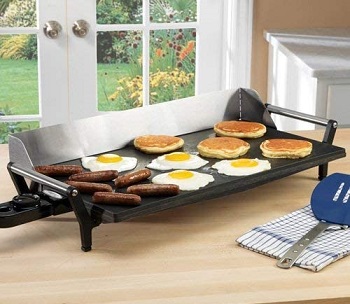 Drains Oils & Grease
Measuring overall 29 inches in width, 12.5 inches in depth, and 5.5 inches in height with a space-saving design, the travel hot plate is easy to transport with you. To prevent oils and grease from splashing around there is a stainless steel backsplash that is easily removable for storage. The grease tray is located under the griddle and is easily removable for cleaning.
Convenient Cleaning
The griddle features a hole above the waste tray so that the excessive oils and grease can be drained through it. To help with leading the oils away, the back legs of the griddle hot plate create a small slope. The griddle can be immersed in water for cleaning after removing the temperature controls.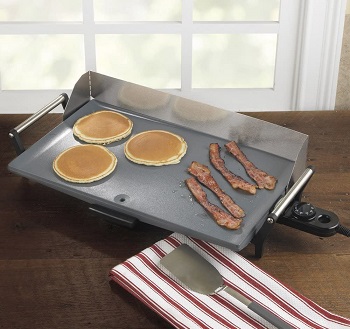 Precise Temperature Adjustments
The heat of the griddle can be adjusted up to 425 Fahrenheit degrees. It is then suitable to griddle different foods and allows you to set the temperature precisely, depending on what you want to griddle. With cool-touch handles, you can take this unit anywhere with you to prepare your favorite breakfast, lunch, or dinner.
Short Description:
the non-stick cooking area is 21 by 12 inches
stainless steel handles and removable backsplash
oils and grease drain into the waste tray
temperature dial adjustments up to 425°F
easily transportable with cool-touch handles
works anywhere with a power outlet
Best 12-Inch Griddle Hot Plate
NutriChef Crepe Maker Griddle
Comes With Utensils
The NutriChef Crepe Maker is powered by electricity and equipped with a non-stick 12-inch cooking griddle. The griddle is located on the base that features a temperature knob and an LED indicator light. With the purchase of this electric hot plate griddle, you will also get a wooden spatula and a batter spreader.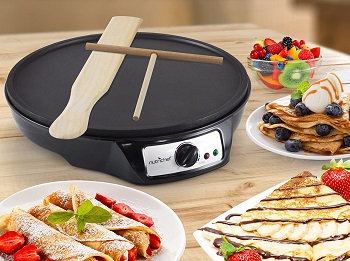 Griddles Breakfast Foods
The 1200-Watt hot plate comes with a 2.5-foot cord and can be used on your kitchen countertop, tabletops, and other surfaces. Apart from cooking pancakes and crepes, you can also use it for breakfast foods and other stuff you like preparing on a griddle. It is also compact enough for transport in case you wanna take it anywhere with you.
Non-Sticking Aluminum
Once you set up the temperature on the 12-inch hot plate, the indicator light will let you know when the temperature has been reached, so that you can start preparing your food. The non-stick surface is made out of aluminum to help you when flipping pancakes or other food and is also easy to maintain clean.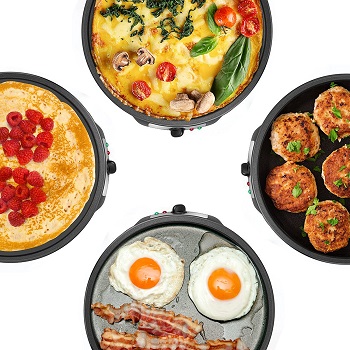 Compact For Storage & Transport
The 12-inch long, 12.9-inch wide, and 2.4-inch tall griddle hot plate is small enough to store away when not in use. Moreover, you can also take it along with you as it is easily portable with a compact size. That way you can enjoy your favorite crepes anywhere and will be easy to make with helpful kitchen utensils.
Short Description:
12-inch non-stick aluminum griddle
perfect for crepes and breakfast foods
control knob for temperature adjustments
safe for use or kitchen countertops and tables
compact enough for portability and storage
includes a wooden spatula and batter spreader
12 inches long and 12.9 inches wide
What To Consider In Griddle Hot Plates?
Let's go over some things to have in mind when choosing the perfect griddle hot plate. Firstly, know that the market offers both electric and gas models. Secondly, ask yourself how often you will be using it and how many people you plan to cook for to choose the appropriate size. To make cooking and cleaning hassle-free, also look out for the materials that construct the unit. Lastly, make sure to go for outdoor or indoor models, depending on where you want to use them.
Electric Vs. Gas – Electric models allow you to use them anywhere with access to a power outlet. On the other hand, gas plates will require you to usually purchase liquid propane to be able to fuel the unit. While electric models are more suitable for smaller sizes, gas models easily power large griddle models for preparing more food at once, including personal and commercial use.
Size – From small 12-inch models to large 60-inch units, in this article, you can find all the different sizes suitable for cooking more or less food at once. Large units are usually great for commercial use, as well as outdoor use in your yard when barbecuing with friends and family. Depending on the size you get, you might also be able to transport it more easily and make sure it is a safe hot plate to use.
Non-Stick Material – Cooking can be a nightmare if food sticks to cookware or griddle. That's why it is important to look for stainless steel and chrome materials that are easy to keep clean. However, even other materials might have a non-stick coating that is important for cooking quality food. By removing the griddle from electric and gas components, you can usually easily wash them in the sink.
Grease Drainage – Most griddle hot plates have grease channels and waste trays that collect excessive oils for delicious and healthy food. If you plan to use your model to griddle meats, this is especially important so that your food doesn't swim in oil. At the same time, waste trays can usually be easily removed and cleaned after each use. If you are buying a griddle to make pancakes and crepes, this is less important.
Where To Use Them? – If you want to griddle breakfast foods from time to time, I suggest you look into buying a countertop or portable model that is easy to store away when you don't want to use it. However, if you like to entertain and host, and like preparing delicious foods for your guests, then you might have to invest in larger griddle models that are great for outdoor use.
To Wrap It Up
Although all the reviewed models are highly recommended, this Presto electric model stands out with its non-stick surface and removable handles and legs are ideal for easy storage after use. It is big enough to cook food for several people and has a drip tray for draining the excess grease away from food. For other heavy-duty products, check out the list of commercial hot plates available on the market. To make barbecue the Korean way, consider some of the electric and gas models of Korean hot plates.