Interested in buying a 4-burner hot plate?
Then keep reading this article to find out more information.
You can read about different models of four-burner hot plates available on the market and find out about their different applications and features. Read the reviews of commercial and countertop models with four burners below.
The Rundown
Best Of Best 4-Burner Hot Plate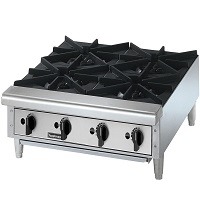 Toastmaster Gas 4 Burner
Each of the cast-iron burners has a power of 22,000 BTUs and an independent turning knob to cook food with a natural gas supply.
Jump To Review
Best Commercial 4-Burner Hot Plate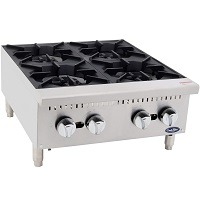 CookRite Four Burner Hot Plate
This liquid propane range is ideal for restaurants, food trucks, featuring a corrosion-, oil- and water-proof construction.
Jump To Review
2 Best 4-Burner Hot Plates
Best Of Best 4-Burner Hot Plate
Toastmaster Gas 4 Burner
Powerful Gas Cast-Iron Burners
This hot plate comes with 4-inch adjustable legs that are suitable for countertop use. The plate has four gas cast-iron burners with a high power of 22000 BTU. The surface is 24.1875 inches wide and 28.875 inches long. The grates positioned over the burners are made from heavy-duty cast iron and are easily removable when needed.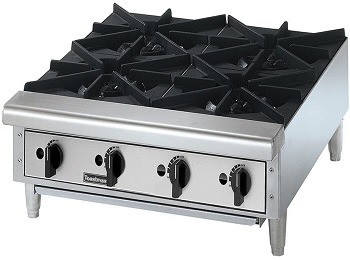 Works With Natural Gas
To operate this non-electric hot plate, it comes ready for natural gas supply and requires a 0.75-inch NPT gas connection. Each burner has a turning knob for temperature adjustments so that you can cook different foods at different temperatures simultaneously. The drip tray is positioned under the body of the hot plate and is removable for cleaning.
Adjustable Height 
With the adjustable 4-inch legs, this unit is around 12 inches tall. It won't take up too much space and is even suitable for busy kitchens. With a durable design, it will withstand even frequent use.

Suitable For Commerical Use
This 4-burner hot plate lets you adjust the temperature of each burner manually, and from low to high heat levels. It is ideal for use in commercial kitchens, such as pubs, restaurants, and more.
Short Description:
24.1875 inches wide and 28.875 inches long
mounted on 4-inch adjustable legs
four gas cast-iron burners and grates
requires a 0.75-inch NPT gas connection
removable drip tray for convenient cleaning
Best Commercial 4-Burner Hot Plate
CookRite Four Burner Hot Plate
Liquid Propane Range
This model of a four-burner hot plate comes with a combined power of 100,000 BTU, so each burner has a power of 25, 000 BTU. It is suitable for countertop use and works with liquid propane. The burners are constructed from stainless steel material and have cast-iron grates.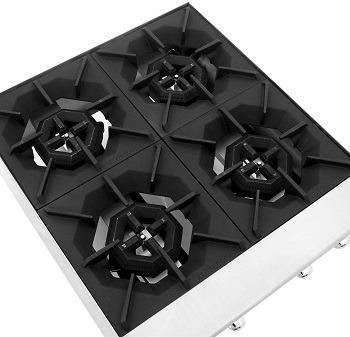 User-Friendly Design
This commercial hot plate measures 24 inches in width, 27.6 inches in length, and 13.1 inches in height. It comes with four adjustable stainless steel legs to easily adjust it to the countertop where you are going to locate it. The grates on the top are ideal for sliding pots and pans from one burner to the other without problems. The construction is resistant to corrosion for easy cleaning and maintenance.
Removable Waste Tray
The grease and debris are collected in the drip tray so that all the waste is easier to clean up at the end of the day. The accurate temperature knobs are constructed from steel material and easy to turn and adjust for temperature control. The unit is easy to keep clean as is water-proof and oil-proof, as well.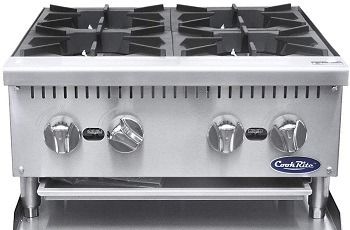 For Commercial Kitchens
The reliable design is perfect for use in commercial kitchens. It can be used for a variety of cooking needs in restaurants, diners, food trucks, and concession stands.
Short Description:
24 inches wide, 27.6 inches long, 13.1 inches high
four 25,000 BTU stainless steel burners
stainless steel legs are adjustable for countertops
easy-to-clean removable waste tray
liquid propane hot plate for commercial use
anti-corrosion, water- and oil-proof construction
What To Consider In 4-Burner Hot Plates?
The market usually offers hot plates that can be powered by electricity or gas. However, as large models, 4-burner hot plates are more common in gas ranges. They can be designed for indoor or outdoor use. Some gas ranges with four burners are ideal for commercial use. When buying a hot plate, make sure the temperature controls are easily adjustable, as well. Also, read about additional features below that are convenient for easy maintenance and handling of hot plates.
Gas Models – With a power measured in BTU, most 4-burner models range between 50,000 to 100,000 BTUs. They are usually more powerful than electric models so it is easier to power four burners at once. They can usually work with a supply of either propane, butane, or natural gas. Some models even let you change between different gas supply options.
Indoor & Outdoor Use –  Some of these hot plates are designed to be used indoors, and they usually have an open flame design. When they feature griddles, some hot plates can be used outdoors, especially for BBQ cooking. As they come in different sizes, also make sure to check the measurements so you don't end up buying something too big for your indoor or outdoor space.
Commercial Use – Many hot plates with four burners are ideal for commercial use in restaurants, diners, food trucks, concession stands, etc. For that, they need to be powerful and constructed from durable materials that can withstand high temperatures and frequent use. It is also helpful when they are designed for easy maintenance so they can be cleaned up after each day.
Temperature Control – Each burner comes with an independent turning knob for temperature control. Thanks to this, you can cook different meals at different temperatures at the same time. By controlling each of them separately, you can also easily use just one burner without turning the other ones on, and so on. This also helps with cooking different foods more precisely.
Additional Features – Some other features that help with the easy maintenance of the hot plate are removable waste trays, removable burner grates, adjustable legs, and even caster wheels on portable outdoor griddle hot plates. Waste trays work to collect all the food debris and excess grease that drains from food and are easily removable for washing after using the appliance is done for the days.
To Wrap It Up
Finally, we would recommend the Toastmaster gas four-burner. This 4-burner hot plate has an overall power of 88,000 BTUs, lets you adjust its height for countertop use, and works with natural gas. To check out models that work on propane and butane instead, visit this article about gas hot plates. If you think you could also work with three burners, read this in depth-article on 3-burner hot plates.