Are you searching for a 3-burner hot plate available on the market?
In that case, you have come to the right place!
In this article, you can find out more information about the types of three-burner hot plates available on the market. Moreover, after doing in-depth research on the market, we have chosen the three best models to review. Continue reading this article to find out about the characteristics of these electric and gas hot plates and find out about their versatile use in cooking.
The Rundown
Best Of Best 3 Burner Hot Plate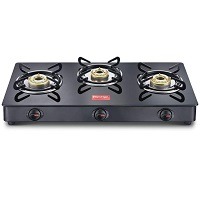 Prestige Glass 3-Burner
This model features 3 brass burners with drip trays and removable grids for different cookware sizes and is powered by gas.
Jump To Review
Best Electric 3 Burner Hot Plate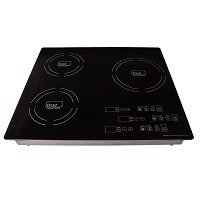 True Induction 3-Burner Hot Plate
Each of the ceramic induction burners has an individual temperature control zone and can be used on countertops.
Jump To Review
Best Griddle 3 Burner Hot Plate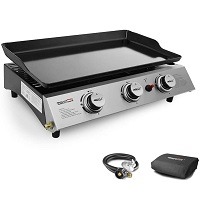 Royal Gourmet Portable Grill
This porcelain enamel griddle is powered by 3 gas burners and ideal for outdoor cooking on a non-stick 325.9 square inch area.
Jump To Review
3 Best 3-Burner Hot Plates
Best Of Best 3-Burner Hot Plates
Prestige Glass 3-Burner
Shatter-Proof Glass Surface
This 3-burner hot plate comes in black color and features a glass top surface. Three gas burners are located on the surface and they all have a design that prevents spillage from entering the inside of the unit. The toughened glass surface is shatter-proof for durability and long use.

Brass Burners With Drip Trays
The tri-pin burners are constructed from brass material and each of them comes with an independent thermostat knob for temperature adjustments. Each of the burners has a drip tray underneath for easy cleaning. The removable grid is ideal for use with both smaller and larger cookware.
For Countertop Use
The turning knobs have an ergonomic design for easy and fast handling. The product is 29.53 inches long, 17.72 inches wide, and 5.51 inches high. It is ideal for countertop use and is a great alternative to a gas stovetop. It can be used in spaces without a stove to cook various meals.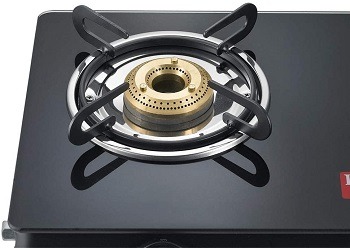 Three Meals At Once
By connecting it to a glass supply, you will have enough space to make three different meals at once. Each burner can be used at a different heat setting if necessary for precise cooking on this non-electric hot plate.
Short Description:
shatter-proof glass top surface
three brass burners with a drip tray
removable grids for cookware of all sizes
29.53 inches long, 17.72 inches wide
individual ergonomic temperature control knobs
Best Electric 3-Burner Hot Plates
True Induction 3-Burner Hot Plate
Portable & Countertop Use
This portable 3-burner hot plate uses a power supply of 3300 Watts and features a control panel with three individual setting zones, one for each burner. It is 20.5 inches long, 23.25 inches wide, and 3.5 inches high. With a weight of 25 pounds, it can be used on countertop surfaces and is a perfect alternative to classic built-in stovetops.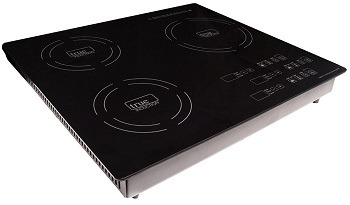 Requires Special Cookware
This type of 3-burner hot plate uses electromagnetic induction to turn special induction-ready cookware into a source of heat for cooking food. To make sure your cooking pots and pans can be used on this hot plate, they need to have magnetic bottoms. Flat-bottomed cooking pots and pans between 4.5 and 10 inches will offer the best performance.
Durable & Safe Design
Encased in a metal housing, the electric countertop hot plate is durable and stable for safe use. Upon taking off the cookware from the burner, the unit will automatically shut off for safety precautions. The ceramic glass top looks stylish in kitchens and is also easy to keep clean by wiping with a damp cloth.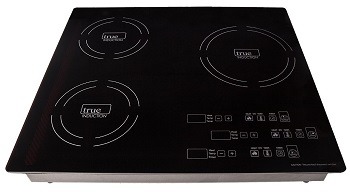 Power-Sharing Feature
The burners share the power between them, so one can run on full wattage, or two can share the wattage equally between each other for more efficient cooking. With three separate control sets, it is easy and quick to adjust each burner so that you can spend more time cooking and enjoying food.
Short Description:
20.5 inches long, 23.25 inches wide, 3.5 inches high
three induction burners with 3300 Watts of power
three separate control setting zones on the panel
induction-ready cookware between 4.5 and 10 inches
ceramic glass top encased in a metal housing
burners share the wattage for efficient cooking
Best Griddle 3-Burner Hot Plates
Royal Gourmet Portable Grill
Porcelain Enamel Griddle
This portable griddle features three gas burners with individual temperature controls. Each burner has a power of 9,000 BTUs. The griddle surface is constructed from porcelain enamel material and the body comes in stainless steel with a Piezo ignition system. A waste tray is located on the side under the griddle where it collects excess grease and oils.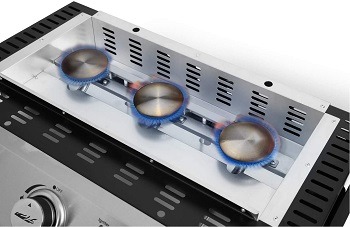 Ideal For Outdoor Grilling
This 3-burner hot plate is powered by propane and comes with a regulator for a 20-pound propane tank. You can take it with you when camping, hiking, and doing other outdoor activities for grilling food. The griddle is 24.1 inches long and 13.5 inches wide to offer a cooking surface of 325.9 square inches.
Ignition Button
The griddle hot plate has a backsplash guard and the durable control panel features also a red ignition button for starting the flame without having to use lighters or matches. You can make burgers, pancakes, fry eggs and hashbrowns, rice, and much more on the non-stick griddle.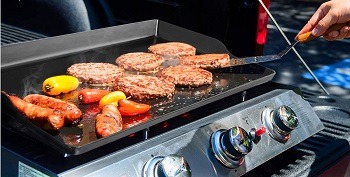 Removable Waste Tray
Whether you want to enjoy nice food on your patio or in your backyard, or you wish to have a portable hot plate to take camping with you, or to a tailgating party, this model comes in handy. The waste tray is removable for convenient cleaning and the unit is easily portable and stored away when not in use.
Short Description:
three burners with separate temperature controls
325.9 square inch porcelain enamel griddle
removable waste tray for convenient cleaning
each burner has a 9,000 BTU power
regulator for a 20-pound propane tank
portable and easy to store away
comes with a Piezo ignition starting system
What To Consider In 3-Burner Hot Plates?
As the market is filled with single and double burners, 3-burner hot plates are not as popular among users. However, they do exist and can be powered by gas or electricity. Make sure to look out for durable materials when buying such a hot plate so it can last you a long time. Also, check for temperature settings to make sure each burner can be individually adjusted. Moreover, look for some of the features mentioned below that make handling easier and safer.
Gas Types – By powering the hot plate with gas, you can only use such a unit where you have access to a gas supply. As regular stovetops can also be gas-powered, you can easily use this type of hot plate in kitchens. Compared to electric models, they are usually more powerful so you can cook a variety of meals on them.
Electric Types – With a power measured in Watts, electric hot plates with several burners usually have cast-iron, coiled, infrared, or induction cooking surfaces. Out of these types, induction models stand out as they can only be used with special cookware that features magnetic bottoms. However, they are also very energy-efficient.
Materials – Many hot plates on the market have stainless steel housing that makes them durable and easy to keep clean. Moreover, glass and ceramic top surfaces are sleek and give a modern edge to any spaces, but are also easy for maintenance and popular for induction models. Burners themselves can be made from stainless steel and brass materials when powered by gas for durability.
Temperature Adjustments – To be able to control each burner separately, hot plates come with individual turning knobs for every burner. As there are three burners, you can cook three different foods or meals at once. It is unlikely that you will have to use the same heat level for all of these meals, so individual temperature adjustments will help you cook each meal more precisely.
Other Features – Hot plates constructed from durable materials will be easier to keep clean and safer to use and store away when not in use. Make sure to check the overall product dimensions so you don't end up buying something too big for your space. Also, make sure the safe hot plate supports the size and type of your cooking pots and pans for optimal cooking results.
To Wrap It Up
To conclude this article about the best 3-burner hot plates, I would suggest you look further into the Prestige glass three-burner hot plate. It can be used as an alternative to a regular stovetop, giving you the same performance, but with such a design that you can transport it easier, and more. The three gas brass burners have individual temperature knobs for heat control. For other models powered by gas, read about gas hot plates to find out more if you are interested. If you want to check out other types of big models, visit this article about the best large hot plates on the market.