Are you searching for a 3-burner hot plate available on the market?
In that case, you have come to the right place!
In this article, you can find out more information about the types of three-burner models available on the market. Moreover, after doing in-depth research on the market, we have chosen the three best models to review. Continue reading this article to find out about the characteristics of these electric and gas hot plates and find out about their versatile use in cooking.
The Rundown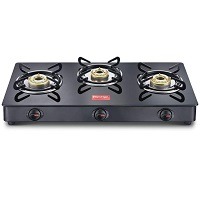 Prestige Glass 3-Burner
OVERALL RATING: ★★★★★
This model features 3 brass burners with drip trays and removable grids for different cookware sizes and is powered by gas.
Jump To Review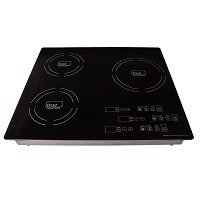 True Induction 3-Burner Hot Plate
OVERALL RATING: ★★★★☆
Each of the ceramic induction burners has an individual temperature control zone and can be used on countertops.
Jump To Review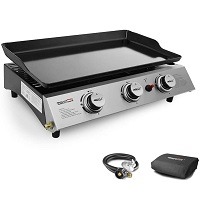 Royal Gourmet PD1300 Grill
OVERALL RATING: ★★★★☆
This porcelain enamel griddle is powered by 3 gas burners and ideal for outdoor cooking on a non-stick 325.9 square inch area.
Jump To Review
What Is A 3-Burner Hot Plate?
These are rare hot plates with 3 individual cooking surfaces. They come with a high wattage power divided into 3 working burners, high-temperature settings, and modern design.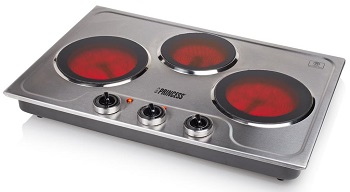 3-Burner Models vs. Standard Hot Plates: Difference
The difference is mainly in design, size, and power. The bigger the number of burners, the higher and bigger these specifications are. Other than that, 3-burner models work the same way as any other hot plate type.
Rare Models, High Price
As these are quite rare models, it doesn't come as a surprise that their price goes from $150 up.
Are There Models With More Than 3 Burners?
Yes. You can find hot plates with 4 burners, and that is the only higher number of burners some hot plates can have. Anything above that number presents classic kitchen stoves.
How Do I Know If I Need This Model Or Not?
As with any other model, you need to choose according to your preferences and needs. It all depends on what you want to do with your hot plate, how you want to use it, and how many meals do you want to prepare at the same time.
What Can A Model With 3 Burners Do?
Basically, anything that other models can do. The only difference is that you can do more of it at the same time. You can cook, boil, and fry individually.
Who Needs Such A Hot Plate?
Anyone who lacks burners for cooking, especially bigger families. If you already have a big kitchen stove, then you should probably go for a smaller hot plate with single or double burners. A 3-burner one is for bigger additional usage.
Usage Preferences
You want to use your hot plate outdoors? Great, go with a gas model which is designed only for outdoor use. You want a model suitable for both indoor and outdoor use? Then the electric hot plate is the best option for you. Just make sure you have easy access to a power outlet.
3-Burner Design & Functionalities – Here's What To Know
These models aren't any different than other classic ones with one or two burners. As you already know, the hot plate's power is higher as the number of burners is larger. Other functionalities are often the same.
Most Available Models Use Gas
In the terms of power source, electric hot plates with 3 burners are a bit rare to find and their price can jump really high. Most models with more than 2 burners are powered by gas.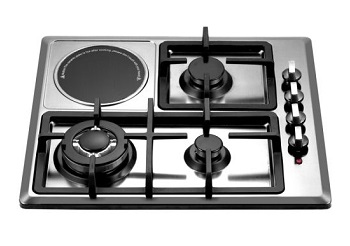 Electric vs. Gas: Specifications Of Each Model
Electric models can work in places where you have an available power outlet. Such models can have cast-iron, coiled, infrared, or induction cooktops; they are powerful and efficient. Gas models can work basically anywhere, you just need a gas fuel such as propane, butane, or natural gas. Gas hot plates are a lot more powerful than electric ones.
To Coil Or Not To Coil
You can choose a coiled hot plate with visible coils or coilless models that have hidden coils. Coiled hot plates are a bit more reliable and long-lasting compared to the hot plate cooktop and they can withstand more weight (50 pounds versus 7 pounds a glass or ceramic cooktop can hold).
Strong & Durable Construction
Like any other type of hot plate, this too is designed to be a long-lasting kitchen appliance. Most 3-burner models have stainless steel housing with glass, ceramic, or cast iron cooktop. All those materials ensure great strength and durability.
Ideal Countertop Size
The hot plates with 3 burners are designed for personal use. That means that they will be suitable for your countertop, kitchen island, and outdoor table. The usual size of a model with 3 burners goes up to 30 inches max in size.
High Wattage Is A Must
Since these electric hot plates come with 3 burners, they need to have high wattage power so each burner is efficient. Most models have a total power of 3300 watts, divided amongst the burners.
What About Gas Models?
Their power is even higher. Most of the gas models with 3 burners have 18,000 BTU or more.
Wattage vs. BTU: What Should I Know?
Both units present the power of the heat, only wattage is based on electricity and BTU on gas. 1 BTU equals 0,293 watts. That means that those mentioned 27,000 BTU are equal to 7,911 watts.
Wait, How Does The Power With 3 Individual Burners Work?
The highest wattage or BTU power, in this case, 3300 watts and 27,000 BTU, is divided equally to each of the 3 burners. If the burners come in different sizes, then the power is divided according to the size – the biggest burner gets the highest wattage power, the medium gets less power, and the smaller one gets the least power.
Temperature Settings Of 3 Burners
The temperature range is rather the same as with any other hot plate model. It goes from 100 to 450 Fahrenheit degrees. Each burner has its individual control knob or panel so you can set the heat level according to your preferences and wishes. They can all work individually, yet at the same time.
Electric Models Need A Lot Of Electricity
As the wattage power is higher, these burner models use more electricity. A 3300-watt hot plate uses 3,3 kW. Classic hot plates usually use around 1,8 kW.
Voltage Suitability
The hot plates with 3 burners need 110/120 V. This is the usual voltage power of most households, especially those in the United States and Canada. However, some models do require 220V but that is specified in the manual.
3 Best 3-Burner Hot Plates
Prestige Glass 3-Burner
SPECIFICATION:
Material: Glass
Dimensions: 28.8 x 14.2 x 6.1 inches
Weight: 16.5 Pounds

Heating Element: 3
Controls Type: Adjustable Settings
Power: 550 W
Shatter-Proof Glass Surface
This hot plate comes in black color and features a glass top surface. Three gas burners are located on the surface and they all have a design that prevents spillage from entering the inside of the unit. The toughened glass surface is shatter-proof for durability and long use.

Brass Burners With Drip Trays
The tri-pin burners are constructed from brass material and each of them comes with an independent thermostat knob for temperature adjustments. Each of the burners has a drip tray underneath for easy cleaning. The removable grid is ideal for use with both smaller and larger cookware.
For Countertop Use
The turning knobs have an ergonomic design for easy and fast handling. The product is 29.53 inches long, 17.72 inches wide, and 5.51 inches high. It is ideal for countertop use and is a great alternative to a gas stovetop. It can be used in spaces without a stove to cook various meals.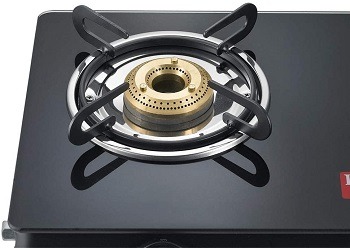 Three Meals At Once
By connecting it to a glass supply, you will have enough space to make three different meals at once. Each burner can be used at a different heat setting if necessary for precise cooking.
Overall:
Safety:
Power:
Quality:
Weight:
Funcionality:
PRICE RANGE
from $300 to $450 depending on eCommerce offer (Amazon, eBay) and discounts
Short Description:
shatter-proof glass top surface
three brass burners with a drip tray
removable grids for cookware of all sizes
29.53 inches long, 17.72 inches wide
individual ergonomic temperature control knobs
True Induction 3-Burner Hot Plate
SPECIFICATION:
Material: Ceramic Glass
Dimensions: 23.2 x 20.5 x 3.5 inches
Weight: 25 Pounds

Heating Element: 3
Controls Type: Adjustable Settings
Power: 3,300 W
Portable & Countertop Use
This portable hot plate uses a power supply of 3300 Watts and features a control panel with three individual setting zones, one for each burner. It is 20.5 inches long, 23.25 inches wide, and 3.5 inches high. With a weight of 25 pounds, it can be used on countertop surfaces and is a perfect alternative to classic built-in stovetops.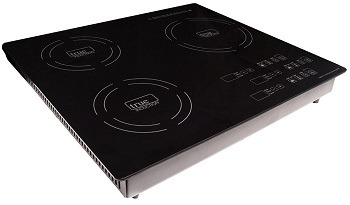 Requires Special Cookware
This type of hot plate with 3 burners uses electromagnetic induction to turn special induction-ready cookware into a source of heat for cooking food. To make sure your cooking pots and pans can be used on this hot plate, they need to have magnetic bottoms. Flat-bottomed cooking pots and pans between 4.5 and 10 inches will offer the best performance.
Durable & Safe Design
Encased in a metal housing, the electric countertop hot plate is durable and stable for safe use. Upon taking off the cookware from the burner, the unit will automatically shut off for safety precautions. The ceramic glass top looks stylish in kitchens and is also easy to keep clean by wiping with a damp cloth.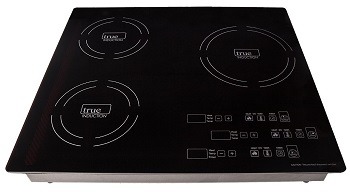 Power-Sharing Feature
The burners share the power between them, so one can run on full wattage, or two can share the wattage equally between each other for more efficient cooking. With three separate control sets, it is easy and quick to adjust each burner so that you can spend more time cooking and enjoying food.
Overall:
Safety:
Power:
Quality:
Weight:
Funcionality:
PRICE RANGE
from $500 to $600 depending on eCommerce offer (Amazon, Walmart,eBay,) and discounts
Short Description:
20.5 inches long, 23.25 inches wide, 3.5 inches high
three induction burners with 3300 Watts of power
three separate control setting zones on the panel
induction-ready cookware between 4.5 and 10 inches
ceramic glass top encased in a metal housing
burners share the wattage for efficient cooking
Royal Gourmet PD1300 Grill
SPECIFICATION:
Material: Stainless Steel
Dimensions: 25 x 18.1 x 9.1 inches
Weight: 30 Pounds

Heating Element: 3
Controls Type: Adjustable settings
Power: 27,000 BTU
Porcelain Enamel Griddle
This portable griddle features three gas burners with individual temperature controls. Each burner has a power of 9,000 BTUs. The griddle surface is constructed from porcelain enamel material and the body comes in stainless steel with a Piezo ignition system. A waste tray is located on the side under the griddle where it collects excess grease and oils.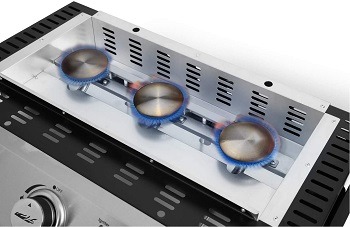 Ideal For Outdoor Grilling
This hot plate is powered by propane and comes with a regulator for a 20-pound propane tank. You can take it with you when camping, hiking, and doing other outdoor activities for grilling food. The griddle is 24.1 inches long and 13.5 inches wide to offer a cooking surface of 325.9 square inches.
Ignition Button
The griddle hot plate has a backsplash guard and the durable control panel features also a red ignition button for starting the flame without having to use lighters or matches. You can make burgers, pancakes, fry eggs and hashbrowns, rice, and much more on the non-stick griddle.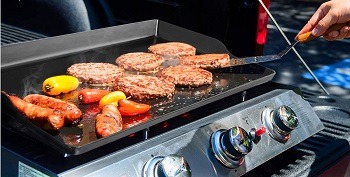 Removable Waste Tray
Whether you want to enjoy nice food on your patio or in your backyard, or you wish to have a portable hot plate to take camping with you, or to a tailgating party, this model comes in handy. The waste tray is removable for convenient cleaning and the unit is easily portable and stored away when not in use.
Overall:
Safety:
Power:
Quality:
Weight:
Funcionality:
PRICE RANGE
from $100 to $200 depending on eCommerce offer (Amazon, Walmart,eBay,) and discounts
Short Description:
three burners with separate temperature controls
325.9 square inch porcelain enamel griddle
removable waste tray for convenient cleaning
each burner has a 9,000 BTU power
regulator for a 20-pound propane tank
portable and easy to store away
comes with a Piezo ignition starting system
Safety Of The Plates With More Burners
The number of burners doesn't play any specific role regarding safety. Every type of hot plate needs to be safe while using and handling. The same goes for a 3-burner model.
What Guarantees Their Stability?
Rubber feet and/or well-designed bottom. These features ensure stability and security.
What Prevents Overheating?
Automatic shut-off and indicator lights. These two features work with the same alarming system. Once the hot plate reaches the set temperature, it automatically shuts off so the heat isn't exceeded and the indicator light goes off as the visual alarm of that setting.
Do Not Leave Your Hot Plate Unattendant
This is a general rule but it is especially important to follow it when we're talking about models with 3 burners. Make sure to watch over your hot plate and do not use all the burners if there is no need for that.
More Burners But Less Maintenance
In order to have a good and functional hot plate, you need to maintain it and clean it regularly. A 3-burner model is super easy and simple to maintain.
Equipment
You only need an old toothbrush, cloth, or a gentle sponge so you don't damage the surface.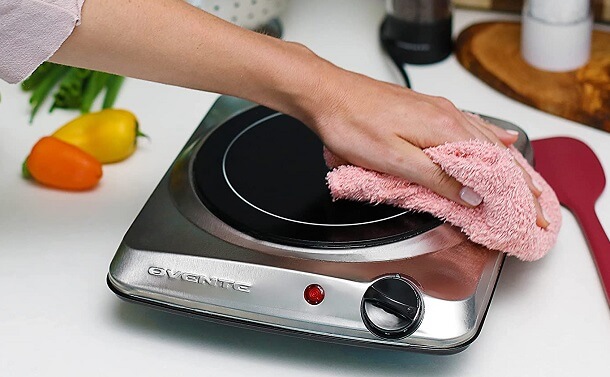 Liquid Cleaners
There are various mixtures you can use for cleaning your hot plate with 3 burners – warm water, mild detergent, or some natural degreasers such as lemon or vinegar.
Regularity
You need to clean your hot plate after every use. Deeper cleaning is recommended once every week if you tend to use it every day.
What is a deep cleaning?
That is referred to as cleaning rust. Every week, mix baking soda and vinegar, and use a toothbrush to scrub the surface of your hot plate until the rust is gone.
Coilless Models Are Easier To Clean
Due to their flat surface, hot plates with hidden coils are a bit easier to clean. However, don't be scared of coiled burners either – you just need to lift up the coils and clean them underneath them and around the burners.
To Wrap It Up
To conclude this article, I would suggest you look further into the Prestige glass three-burner hot plate. It can be used as an alternative to a regular stovetop, giving you the same performance, but with such a design that you can transport it easier, and more. The three gas brass burners have individual temperature knobs for heat control. Three burners are pretty enough and don't take a lot of space so many people choose right this type of hot plate.