In need of a stainless steel bread maker?
If yes, you have come to the right place!
Keep reading this article to learn the most important information about stainless steel bread machines and check out the variety of models the market has to offer. Read the reviews of automatic, small, home, and even roti makers that will make your life easier with many available features.
The Rundown
Best 6 Stainless Steel Bread Makers
Best Of Best Stainless Steel Bread Maker
KBS Stainless Bread Machine
Digital Touch Control Panel
This bread machine features a stainless steel body with a ceramic pan insert and has a large capacity for making bread up to 2 pounds large. The top of the product has a large view window for checking on the bread at any given time. The top of the bread maker also features a digital touch control panel for choosing among 17 automatic programs and other settings.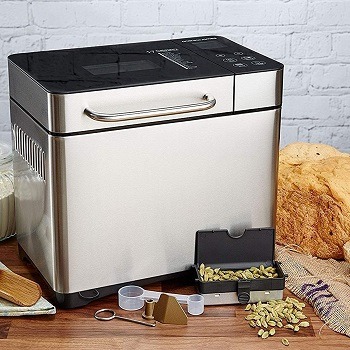 Choose Size & Color
The main settings you can choose from are the size of the bread loaf and the color of the crust. Bread can be baked in sizes of 1 pound, 1.5 pounds, and 2 pounds and have a light, medium, or dark crust, depending on your liking. The programs with 17 automatic options include soft and sweet bread, French bread, gluten-free bread, multigrain, and even options such as jam and yogurt.
Ceramic Pan & Nut Dispenser
The pan insert made out of ceramic material is healthy and hygienic, washes in the dishwasher easily. For baking with nuts and fruit, the machine dispenses it automatically at the right time, and the dispenser is easily removable. After you add the ingredients and choose a baking setting, the stainless steel bread maker will stir it, create a raw dough, then ferment and bake the bread of your choice.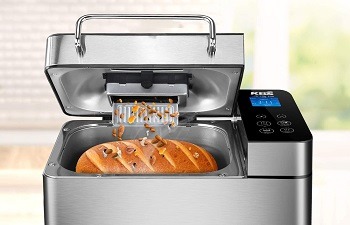 Additional Features
In case you want to delay baking, you can do so by setting the program up to 15 hours in advance for enjoying the fresh bread whenever you want to. For keeping the bread warm, you can use the warm-up setting up to one hour long. In case the power cuts off, the KBS stainless steel bread machine has a 15-minute recovery function to continue from the power interruption.
Short Description:
ceramic pan insert and stainless steel body
digital touch control panel with settings
1/1.5/2-pound loaf and light, medium, dark crust
17 automatic options for bread, jam, and yogurt
removable automatic nut and fruit dispenser
Best Automatic Bread Maker With Stainless Steel Pan
Costway Bread Maker
For 15 Types Of Bread
Constructed from stainless steel and tempered glass, this bread machine features a control panel with buttons for setting the weight, color, and timer if necessary. You can choose between 15 types of bread on the menu button, including basic, gluten-free, whole-wheat, French, and more.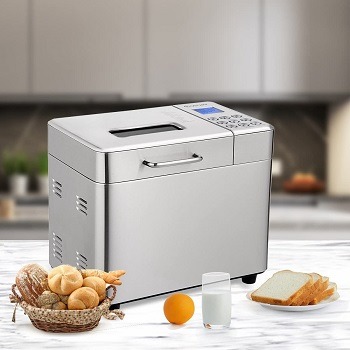 Three Weight & Crust Settings
You can choose between three weight settings to make bread that is 500, 750, or 1000 grams heavy and with either light, medium, or dark color of the crust. While the bread is being baked, you can supervise the process through the viewing window on the top lid. The inside of the lid also has a nut dispenser that will release the fruit or nuts at the right time for delicious results.
Versatile Use
Apart from baking bread, this bread maker with a stainless steel pan can make jam, cake, yogurt, and desserts. By investing in this product, you won't have to go to the bakery every morning, but enjoy fresh homemade baked goods any time you want.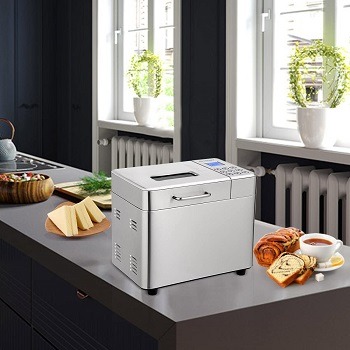 Delayed Baking Option
If you want to have fresh bread made at a specific time, you can choose the delayed option to make bread up to 15 hours later. When the baking process is finished, the unit will make a beeping noise ten times and then turn on the warming function automatically for one hour.
Short Description:
choose between 15 baking settings
makes 500, 750, or 1000-gram bread
choose between light, medium, dark crust
can also make dessert, cake, jam, or yogurt
option to delay baking up to 15 hours
features a view window and nut dispenser
Best Roti Stainless Steel Bread Maker
Brentwood Non-Stick Roti Maker
Non-Stick 8-Inch Plates
This model of a stainless steel bread maker is a bit different from the rest. It is made from stainless steel material and has two non-sticking 8-inch aluminum plates. The plates can collapse to press the dough and create tortillas and roti. The plates are easy to clean as the dough won't stick to them after making different flat baked goods.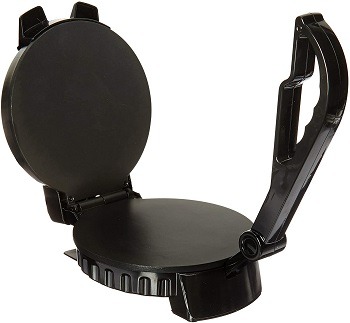 Adjustable Temperature
The top plate features a temperature dial that lets you adjust the heat from low to high levels so that you can choose how crispy or soft roti will turn out. The power and pre-heat lights indicate when the unit is on and when the set temperature has been achieved for safety and to avoid guessing for more precise cooking.
Creates Different Flatbreads
Apart from using it to make roti and tortillas, you can also use it for chapati, mandarin pancakes, and flatbread. The unit is lightweight and compact in size so that you can use it anywhere with a power outlet. It also won't take up too much space on your kitchen counter or in your store cupboard or pantry.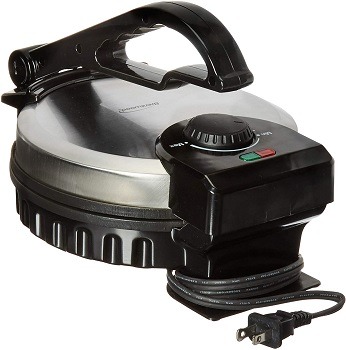 Round & Authentic Roti
This roti maker will help you achieve perfectly round shapes and authentic taste of Indian flatbread. Likewise, you can create other types of flatbread as long as you know how to create the perfect dough mix for it.
Short Description:
two non-stick 8-inch aluminum plates
turning knob for temperature adjustments
features power and pre-heat indicator lights
ideal for making different round flatbreads
makes roti, tortillas, chapati, etc
achieves round and authentic shapes
easy to clean and store away
Best Home Bread Maker With Stainless Steel Pan
Secura Stainless Steel Bread Machine
Loaf Size Up to 2.2 Pounds
This stainless steel bread maker lets you bake bread up to 2.2 pounds. Whether you have a small or a big family, this machine can also make bread in 1.1 and 1.7-pound size. The top lid features a viewing window that lets you watch the whole baking process that happens inside. Next to the lid on the top side, there is a programmable LCD screen with buttons for adjusting the baking settings.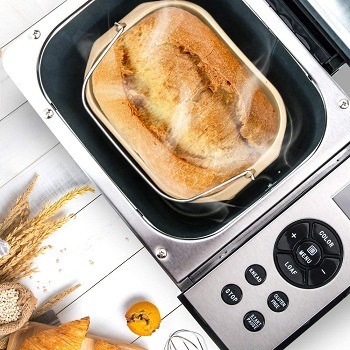 19 Programmed Options
The menu button lets you choose between 19 options for making different kinds of bread, as well as yogurt and jam. The gluten-free option is great for creating both healthy bread and cake. Apart from choosing between different loaf sizes, you can also choose between light, medium, and dark colors of the crust on your choice of bread. Ideal for home use, you won't have to make recurring trips to the bakery anymore.
Diagnostic Error Message
The LCD screen will also help you detect problems if there are any with the diagnostic error code system. In case of a power shortage, the unit can resume baking if the interruption is stopped in 15 minutes. The control panel also offers a delay baking option for up to 15 hours and a 'keep warm' option for up to 60 minutes.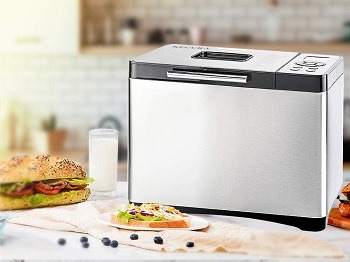 Reminder For Ingredients
In case any ingredients need to be put in when the baking process is happening, this bread machine will beep to remind you to do so. You can open the lid and add ingredients into the bread pan, such as fruits, raisins, or nuts. After baking is done, the bread pan can be removed and washed in the dishwasher.
Short Description:
bake 1.1, 1.7, or 2.2-pound loaf-sized bread
viewing window and programmable LCD screen
19 menu settings for different baking options
15-hour baking delay and 1-hour warming setting
dishwasher-safe non-stick bread pan
Best Electric Stainless Steel Bread Maker
Pohl Schmitt Bread Maker
Removable Non-Stick Pan
If you like eating different kinds of bread, this model of a stainless steel bread machine with a ceramic non-stick pan offers 14 bread settings for making a wide variety of bread types, including gluten-free, whole grain, French, or quick bread without yeast. The interior pan is removable for convenient and quick maintenance.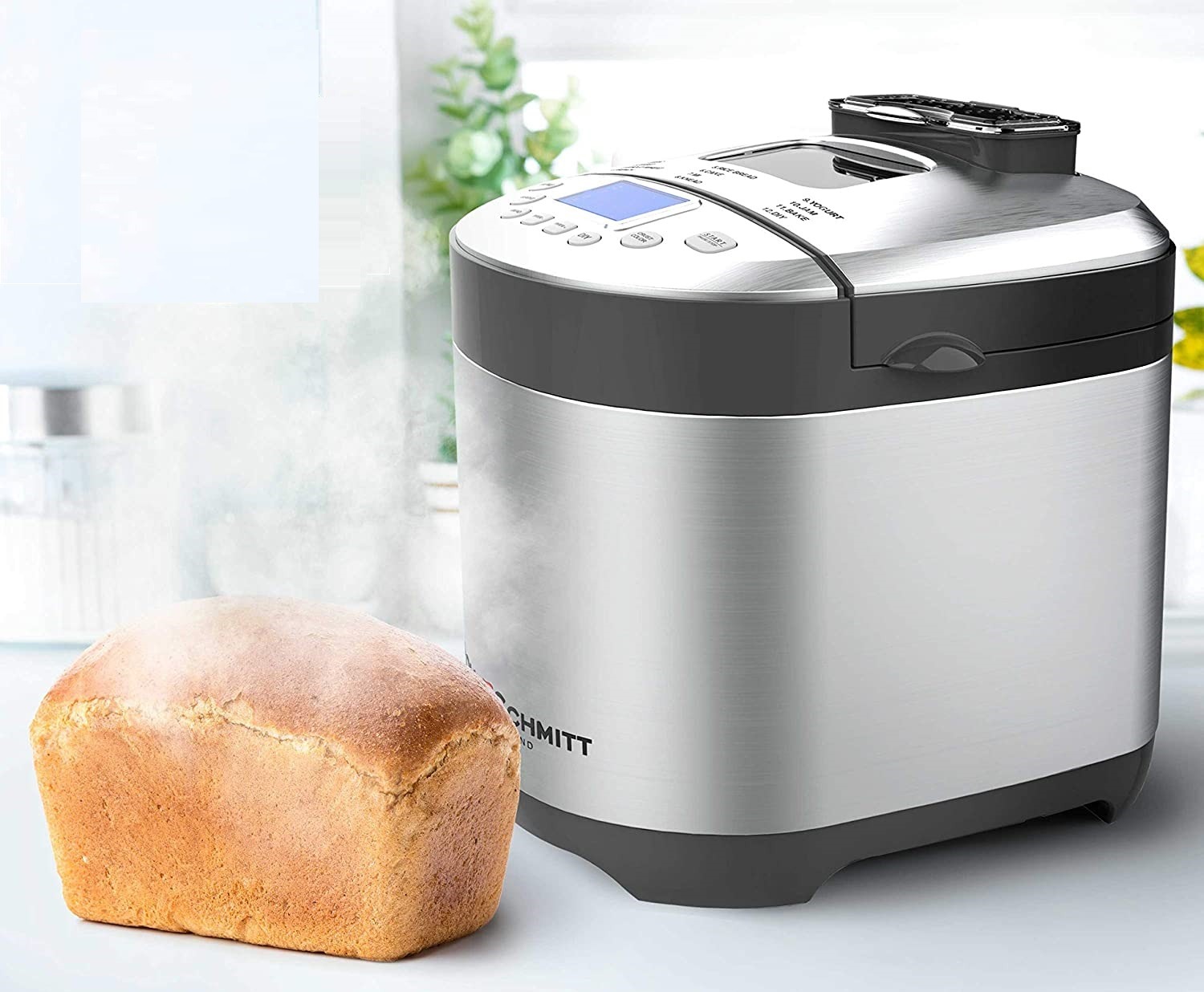 Control Panel With LED Display
The control panel comes with an LED display so that you can adjust the weight and the crust color and choose the program you want to use to make bread. On the top lid of the product, there is also a viewing window and a compartment for dispensing nuts and dry fruits.
How It Works?
To start the process, plug the electric bread maker into a power outlet, put the ingredients into the pan, then select the baking cycle, and press start to begin baking. You can observe the bread while it is baking through the window on top of the machine. While the baking cycle is happening, the unit will beep to remind you to put in any last ingredients, such as nuts and raisins.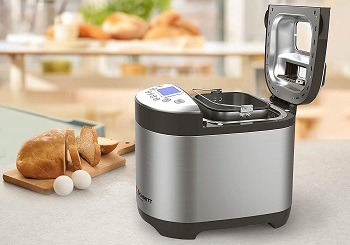 Adjustable Loaf Settings
You can choose between three loaf sizes up to 2 pounds (500, 750, 1000 grams) and 3 crust colors to always enjoy bread just how you like it. If you want to keep your bread warm after it is done, you can use the 'keep warm' setting. To enjoy a fresh batch of bread in the morning, you can use the delay option to make break at the best time according to your needs.
Short Description:
stainless steel machine with ceramic non-stick pan
choose between 14 settings of bread types
control panel with LED screen for settings
sound reminder for adding ingredients
choose between 500, 750, 1000-gram loaf sizes
viewing window and 'keep warm' setting
Best Small Bread Maker With Stainless Steel Pan
Cuisinart Bread Maker Stainless Steel
Space-Saving Desing
This small bread maker uses vertical baking to save space on your kitchen countertop. It features an LCD screen that displays programs, and your selection of crust color and loaf size. The menu offers 12 programmed options for any bread from gluten-free to artisan style, and can also make jams and sauces. The lid has a window that lets you view the baking process.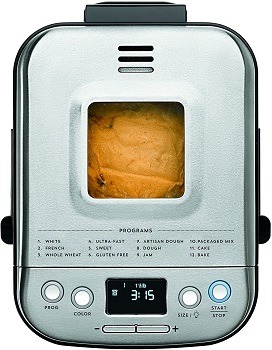 13-Hour Delay
Choose between light, medium, and dark crust and select the size of the loaf up to 2 pounds. To delay baking, use the timer button to schedule the time up to 13 hours in advance. To make healthy breads, you can even use whole grains, fruits, and nuts in your bread mix. You can also make pizza and cake in this stainless steel bread maker.
Audible Tones For Alerts
The compact design is friendly for countertops thanks to the vertical removable pan. The pan has a non-stick coating and removes easily for cleaning from the stainless steel exterior. The smart beeping noise will alert you to remove the kneading paddle when needed and make audible tones to remind you to add any necessary ingredients to the mix.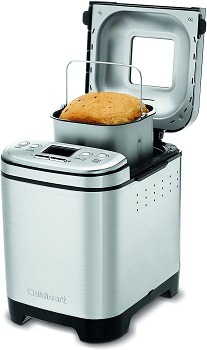 Convenient Interior Light
When the baking process finishes, the bread maker will beep 10 times to signal that it is complete. After that, it will work to keep it warm for 60 minutes. The interior light is a great feature that lets you check on the bread while it is being made inside the machine.
Short Description:
LCD screen displays programs, selected color and size
offers 12 program options for baking
homemade, gluten-free, and artisan bread options
three crust colors and three loaf sizes available
set up a delayed baking option up to 13 hours
alerts you to remove the paddle and add ingredients
vertical removable bread pan to save space
What To Consider In Stainless Steel Bread Makers?
As you are already looking to buy a durable machine that features quality materials such as stainless steel housing, ceramic pans, etc, you shouldn't worry about keeping it clean and hygienic. However, there are many other features to keep in mind, such as loaf size and types of bread the machine can bake. Here you can also read about the additional features that make bread baking easier.
Durability – With stainless steel housing, bread machines will be easy to keep clean, while also staying in shape even through frequent use. Likewise, a bread machine that has a stainless steel pan will also be durable and hygienic by cleaning it after each use.
Loaf Size & Color – Most of the stainless steel bread machines let you select between three loaf sizes and three colors of the crust. Usually, you can choose between light, medium, and dark crust colors, depending on your liking. Likewise, the weight of the loaf can also be adjusted, usually between 1 and 2 pounds, with a maximum of around 2.2 pounds.
Types Of Bread – With different programs, most bread makers will offer you a variety of bread styles that are preprogrammed for easy making. You can choose to make French, wholegrain, sweet, gluten-free, and many other types of bread. By adding nuts and dried fruits through the dispenser compartment, there are endless possibilities for making homemade, artisan, and gluten-free bread.
Extra Features – Most of the bread makers with stainless steel pans also have programmed settings for making cake, pizza, yogurt, and jam. That way you can try out different things after investing in such a machine. However, if you are not keen on experimenting a lot, it is better to stick with units that are focused on making a special type of bread for the best quality.
Special Makers – Different from the other bread makers, the market also offers stainless steel models that are designed for baking tortillas and other flatbreads. These are especially popular for making a variety of Indian flatbread types, such as roti and chapati.
To Wrap It Up
In conclusion, we think that the model of bread makers with a stainless steel pan that stands out the most is the KBS stainless steel bread machine. It lets you choose between 17 automatic programs to make bread up to 2 pounds in size. Select between light, medium, and dark crust color and loaves that are 1, 1.5, or two pounds in size. So if you don't need a big bread, check out my post about small bread makers. But, if you are interested in roti makers, check out my post about the best electric roti makers.