Are you interested in investing your money in a good electric bread maker?
In case you are, keep reading this article.
Check out the reviews of many different electric machines for making bread in different sizes, designs, and featuring different cooking programs. It can help you decide whether a smaller or bigger model will work better for your needs. Likewise, in this article, we break down the important information on the characteristics of bread machine models to help you hunt down the best model for you.
The Rundown
Best 6 Electric Bread Maker Machines
Best Of Best Electric Bread Maker
Hamilton Beach Bread Maker
Cooks Different Bread Types
This home bread maker allows you to cook bread on 12 different settings including whole grain, gluten-free, sweet, French, and quick bread without yeast in 1.5-pound and 2-pound sizes. It also lets you cook jam or cake and features an audible tone reminder for adding dried fruits and nuts into the machine. The digital display with buttons is easy to use for selecting the baking style.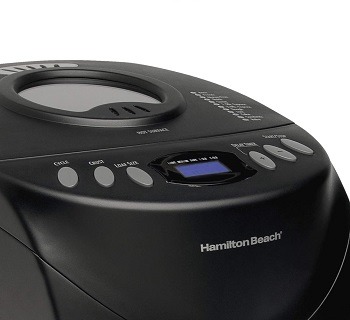 Loaf Size & Color
Apart from choosing between two loaf sizes, you can also select between light, medium, and dark crust colors. The bread pan has a non-stick layer and is dishwasher-safe for easy cleaning by removing it from the machine. It comes with two kneading paddles so that you can use one while the other one can be in the dishwasher.
Audible Reminders
Additional settings let you create artisan bread types, including flatbreads, croissants, and pizza dough. If you decide to make types of bread with nuts or fruit, the electric bread maker will alert you when they need to be added to the mixture by making a beeping noise.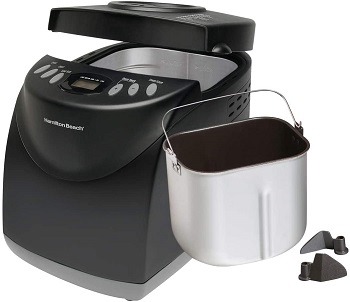 Features A Timer
The non-slip feet keep the unit stable on the kitchen counter. It is simple to use by adding ingredients and selecting the cooking program. In case you want to delay the baking time, you can use the timer to choose when baking will begin.
Short Description:
12 programmed settings for cooking
gluten-free, whole-grain, French bread, etc
cooks 1.5-pound or 2-pound bread loaves
light, medium, or dark crust color
audible reminder for adding nuts and fruits
Best Stainless Steel Electric Bread Maker
KBS XL Bread Machine
Three Loaf Sizes
This fully stainless steel bread maker comes with a ceramic pan featuring a non-sticking layer for hassle-free baking and cleaning. It can be used for baking bread in 1-pound, 1.5-pound, and 2-pound sizes and allows you to choose between three color settings of the crust. You can choose between 17 baking cycles available by clicking the menu button.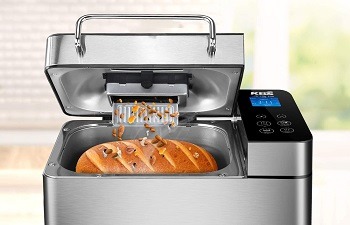 17 Baking Styles
The touch control panel is easy to use for selecting between 17 various bread styles, including sweet, soft, sourdough, gluten-free, and multigrain bread. The fruit and nut dispenser is easily detachable for releasing the ingredients at the right time during the baking cycle. It also offers a delayed cooking option for up to 15 hours, and a 1-hour warming setting.
Sleek & Durable Design
Designed with stainless steel and tempered glass, the sleek style can easily fit into any kitchen interior. The lid of the machine features a large window for viewing the baking progress with the help of the interior light. You will also get an audible reminder for adding fruits and nuts to the mixture.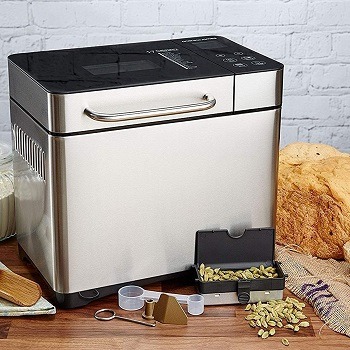 15-Hour Delay Option
By delaying the baking process up to 15 hours, you can enjoy fresh bread in the morning, or after work without having to wait. By purchasing this product, you will get to enjoy fresher and healthier bread without having to make trips to the bakery.
Short Description:
features a touch control panel for baking styles
choose between three loaf sizes and crust colors
menu with 17 baking styles to choose from
stainless steel body and non-stick ceramic pan
tempered glass lid with a viewing window
1-hour warming, 15-hour delay options
Best Roti Electric Bread Maker
Brentwood Electric Tortilla Maker
Flattens & Cooks Roti
This product is different from the above-reviewed models as it specializes in making roti and tortilla flatbreads. It features two non-stick round plates and a cool-touch handle for creating a flat dough that is then cooked at a set temperature. The control dial can be turned for choosing between different temperatures of the plates.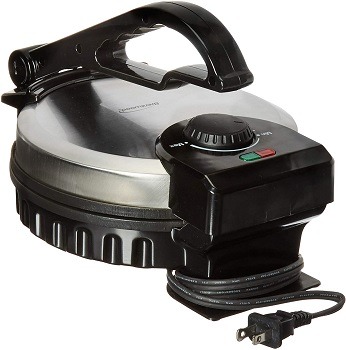 Adjustable Heat Levels
The brushed stainless steel finish is easy to keep clean and durable for long-lasting use. With a power supply of 1200 Watts, you can create 10-inch tortillas and roti out of small dough balls. By adjusting the temperature of the aluminum non-stick plates, you can get crispier or softer roti.
Multifunctional Use
The power and ready lights indicate when the unit is turned on and working and when the desired temperature has been reached for more precise baking. It can also be used for making chapati, mandarin pancakes, and other types of flatbread.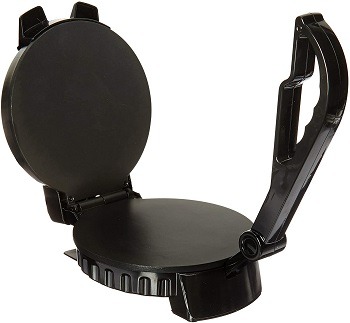 Round 10-Inch Roti
By pressing the two plates together with the help of the handle, you can create perfectly round authentic roti in a 10-inch size. This roti press won't take up too much space on your kitchen counter and will save you a lot of time you would otherwise spend on making roti.
Short Description:
two aluminum non-stick round plates
ideal for flattening and baking 10-inch roti
also works to make tortillas, chapati, and more
power and ready indicator lights for safety
turning knob for adjusting the plate temperature
uses 1200 Watts for making 10-inch flatbread
cool-touch handle for flattening dough balls
Best Automatic Electric Bread Maker
Cuisinart Electric Bread Machine
Adjustable Weight & Color
Without taking up too much space in the kitchen, this electric bread maker bakes different types of bread in a vertical bread pan. The automatic bread maker has a menu with 12 preprogrammed baking options and lets you choose between 3 sizes and 3 colors of the loaf. You can make either light, medium, or dark loaf crust and bake 1-pound, 1.5-pound, and 2-pound loaves.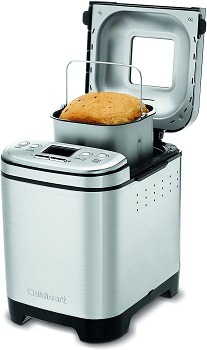 Easy To Set Up
The vertical bread pan is located inside the stainless steel body and features an interior light for checking on the baking cycle through the viewing window on the top lid. The control panel is also located on the top surface for easy setup of the baking options. The fully automatic unit does all the mixing, kneading, and baking once you put in the ingredients.
Variety Of Uses
In this automatic bread maker, you can make different types of bread, including artisan bread, and even jam, cakes, or sauces. In case you want the bread to be done at a specific time, you can use the delay timer option of up to 13 hours. After you choose the settings, they will be displayed on the LCD screen and make beeping noises for different reminders.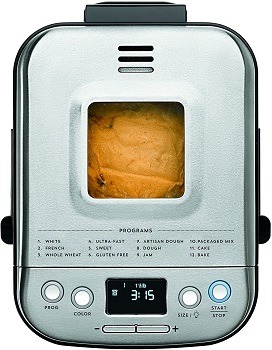 One-Hour Warming Option
The audible tones will let you know when you have to remove the paddle, add any ingredients to the mix, and will also know when baking is done. The machine will make 10 beeps and then turn the warm option for an hour to keep it warm for you. With this compact machine, you can make a variety of bread types without taking up a lot of space in your kitchen.
Short Description:
choose between 3 loaf sizes and crust colors
vertical bread pan inside a stainless steel body
12 preprogrammed baking options available
features a viewing window and interior light
13-hour delay timer and 1-hour warming option
Best Home Electric Bread Maker
Zojirushi Breadmaker
10 Baking Options
This bread machine is ideal for baking many different styles of bread at home and comes with an included recipe book in the manual to help you get creative. The control panel includes an LCD screen for setting up the baking cycle. You can select from 10 settings for baking a variety of bread types. The preprogrammed settings include whole wheat, basic, sourdough options, jam, cake, and more.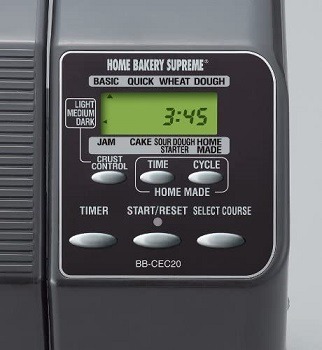 2-Pound Loaf Size
The machine has dual blades for creating a rectangular-shaped bread loaf in a 2-pound size and allows you to choose the crust finishing. The crust color can be baked in a light, medium, or dark color, depending on your preference. You can make different bakery goods in your own home in a controlled setting, choosing your own ingredients, and more for fresh artisan bread and traditional 2-pound loaves.
Non-Stick Bread Pan
This Japanese bread maker features two blades that make kneading easier and more thorough for a higher rise. After the baking cycle is set and the process starts, you can check in on the progress at any time by using the large viewing window on the lid. When baking is done, the non-stick bread pan can be easily removed for hassle-free cleaning.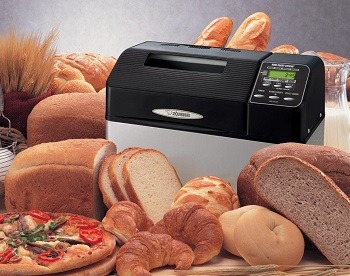 Multifunctional Maker
The 13-hour delay timer is great for delaying the baking process so that you can be greeted with fresh bread exactly when you want to. Apart from bread recipes, it can also be used to make homemade goods such as jam, chocolate cake, or a meatloaf.
Short Description:
LCD screen and control panel for settings
10 preprogrammed options for baking
non-stick removable bread pan for cleaning
light, medium, or dark 2-pound bread loaf
dual blades for thorough kneading and higher rise
wheat, basic, cake, jam, sourdough options, etc
Best Small Electric Bread Maker
Sunbeam Bread Maker
Large Control Panel
This model of an electric bread maker features a large control panel with an LED display on the front side of the unit. The pushbuttons help with selecting the settings for baking so that you can choose the loaf size and color, choose the appropriate time for the timer, and look through preprogrammed menu options.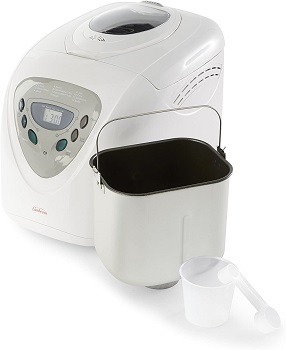 Select Between 12 Options
You can choose between a 1.5-pound and 2-pound loaf size and select light, medium, or dark crust color. The menu button lets you choose between 12 baking options, including the express cycle for quick baking. Artisan bread can be prepared in less than an hour, and you can also use it for preparing dough, jam, or cake. It is recommended to handwash the non-stick pan when removed from the machine.
Glass View Window
The instruction book comes with various recipes to create a versatility of baked goods in your home. You can check on the baking process without having to lift the lid by taking a peek through the large glass viewing window on the lid. If you need the bread to be done at a specific time, delay baking up to 13 hours with the timer option.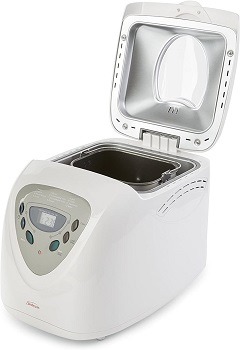 Space-Saving Design
This small bread maker won't take up a lot of space on the kitchen counter and will always prepare fresh artisan bread such as dinner rolls and cinnamon bread with raisins. Apart from the regular bread settings, this machine also offers settings for creating pizza or roll dough or baking bread for sandwiches.
Short Description:
control panel with an LED screen display
12 settings for 1.5-pound and 2-pound bread
quick baking, basic, dough, sandwich bread, etc
handwash the non-stick bread pan to keep clean
large glass viewing window for checking the process
13-hour timer for delaying the baking process
includes an instruction book with recipes
What To Consider In Electric Bread Makers?
Depending on your baking needs, the market offers electric bread maker machine models with a variety of settings. To choose the best product for your demands, keep in mind the bread size it offers and the baking options you can choose from. The number of paddles can also tell you a lot about the product, as well as the additional features. If you are not sure how to choose the best model, you can find out more about the process below.
Bread Size – Machines for making bread come with different pan sizes suitable most commonly for baking bread up to a 2-pound size. Most models will let you choose between a few loaf size settings, usually starting at around 1 pound. This is a great feature for people who might need both bigger and smaller loaf sizes from time to time. Choosing a model with loaf sizes will depend on your demands and preference.
Baking Options – With preprogrammed settings, most electric bread machines let you choose between a variety of baking styles. You can cook basic or French bread, and even gluten-free, or whole-wheat bread sometimes. When choosing a model with preprogrammed settings, you should think of which options you are willing to try out so you don't end up with a machine with too many options compared to your needs.
Number Of Paddles – Most bread machines on the market have either one or two kneading paddles for mixing the ingredients to create a dough for baking. When it comes to vertical bread pans, there is usually a single paddle for kneading, while horizontal models can have even dual blades for kneading.
Additional Features – Apart from baking settings, most of the bread-making machines also let you make jam, prepare cake, and different dough types for baking, such as pizza, rolls, etc. You can also often choose the crust color, from light and medium to dark. If you are concentrating on gluten-free baking, make sure the bread maker puts a priority on that type of baking for the best results.
How To Choose? – If you are uncertain about which model to go for, you can usually choose your price limit and then find models that are available for that price. The next step would be to check out customer reviews of those products to see what other users have to say about the functionality and durability of these appliances. Finally, if you aren't experienced, choose a bread maker for beginners that is easy to use.
To Wrap It Up
Finally, the top spot for us belongs to the Hamilton Beach bread maker. This electric bread maker offers 1.5- and 2-pound loaf sizes and can even make French bread, whole-grain, or gluten-free, and artisan bread types. If you are interested in machines for making roti, you can also check out this article about the best electric roti makers. Look at this list of cheap bread machines if you are looking to buy a bread maker without spending too much money.