Keen on buying an automatic bread maker?
Unsure about which model is the one for you?
Do not fret, but instead keep reading this article.
We break down all information that is important to keep in mind when selecting a bread maker, to ensure it is the right option for you which fits your demands. You can read the reviews of the best automatic bread machines that are compact, suitable for beginners, made out of stainless steel, and much more.
The Rundown
Best 6 Automatic Bread Maker Machines
Best Of Best Automatic Bread Machine
KBS Automatic Bread Maker Machine
Touchpad Control Panel
This automatic bread machine features a fully stainless steel exterior with a tempered glass construction on the lid. This sleek design makes it easily fit into different kitchen designs without problems. Inside the unit, this machine is equipped with a ceramic non-stick bread pan with a maximum capacity of 2 pounds. Outside the unit, the control panel with a touchpad is easy to operate and set up.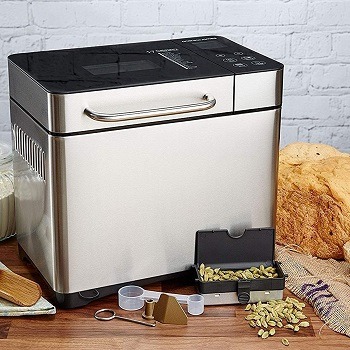 Customizable Settings
Featuring 17 automatic programs, this KBS automatic bread machine can bake soft, French, sweet, whole wheat, sourdough bread, and more, as well as prepare jam, yogurt, and cake. Apart from choosing between different baking programs, you can also select between three loaf sizes and three crust shades. That way you can make either 1-pound, 1.5-pound, or 2-pound loaves in light, medium, or dark crust shade.
Auto Fruit & Nut Dispenser
The bread pan is dishwasher safe and thanks to its non-stick coating, bakes bread evenly, and with fewer chemicals. This fully automatic bread maker also has an automatic fruit and nut dispenser that will know when to scatter these ingredients into the mix during the kneading process. It is detachable and convenient to use.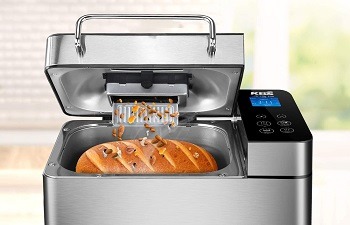 Intelligent Features
To check on the bread while it is baking, you can do so by taking a peek through the viewing window and the interior light will also help here. Likewise, you can also set a timer for up to 15 hours in advance to delay baking. In case of power interruption, this model also has a 15-minute recovery function, and can also keep your bread warm for up to an hour.
Short Description:
stainless steel housing, ceramic non-stick pan
17 settings for types of bread, jam, yogurt
1-pound, 1.5-pound, 2-pound bread loaves
automatic fruit and nut dispenser included
15-hour delay timer and 1-hour warming option
Best Compact Automatic Bread Maker
Cuisinart Automatic Bread Maker
Vertical Bread Pan
Just like the previous model, this Cuisinart CBK110 automatic breadmaker also features a sleek stainless steel exterior. It is compact in size thanks to the vertical bread pan that can bake up to a 2-pound bread loaf without taking up too much kitchen space. The bread bucket and the kneading paddle are removable from the unit for easy cleaning.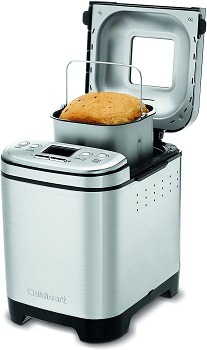 12 Automatic Settings
The lid on top of the compact bread machine comes with a viewing window that lets you monitor the baking process without interrupting it. The control panel with pushbuttons features 12 menu settings that are fully automatic for baking many different types of bread, including white, whole wheat, gluten-free, French bread, but also artisan dough, cake, or jam.
Recipe Book Included
To fully enjoy the possibilities of this unit, it comes with a recipe book inside the instructions so that you can create versatile baked goods. It also offers three loaf sizes and three crust settings, to make light, medium, or dark 1-pound, 1.5-pound, and 2-pound loaves. The baking pan is non-sticking for hassle-free cleaning and easy bread removal.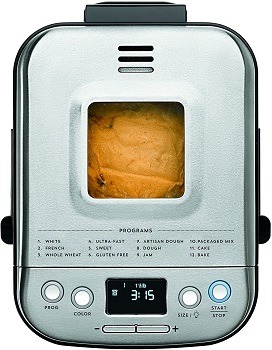 13-Hour Delay Option
The removable kneading paddle mixes and kneads the dough and has a non-stick coating. After kneading is done and the dough is baked upon rising, this bread maker will automatically start a one-hour long warming function. In case you want to have fresh bread waiting for you in the morning or after work, you can use the 13-hour timer to delay baking until it is the right time.
Short Description:
vertical non-stick removable bread pan
control panel with 12 automatic settings
for different types of bread, dough, and jam
comes with instructions and a recipe book
three loaf sizes and crust shades available
options for 1-hour warming, 13-hour timer
Best Japanese Automatic Bread Machine
Panasonic Automatic Bread Maker
Automatic Fruit & Nut Dispenser
This Panasonic automatic bread maker with raisin and nut dispenser comes in white color and controls the unit with a microprocessor to deliver even baking each time. The automatic dispenser lets you add dried fruits and nuts before the cycle begins and then scatters those ingredients at the optimum time during the kneading process.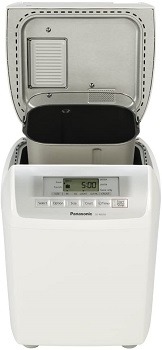 12 Baking & Dough Options
It is easy to use and operate thanks to the large LCD panel for convenient changes to loaf size, and darkness of the crust, as well as for choosing between 12 automatic settings. The 12 menu programs include baking and dough options such as basic, rapid bake, French, as well as pizza and pasta dough. You can use them to bake basic, but also whole wheat, multigrain, and tea bread, or cakes.
Heat Reflection For Even Baking
Ideal for busy lifestyles, the 13-hour delay timer works to give you a fresh bread loaf at the time you want it. When baking with nuts and dried fruits, the automatic dispenser can drop up to 5.29 ounces at the right time to thoroughly distribute it over the dough. As it does not have a viewing window, the heat reflects more evenly inside for better crust and even baking.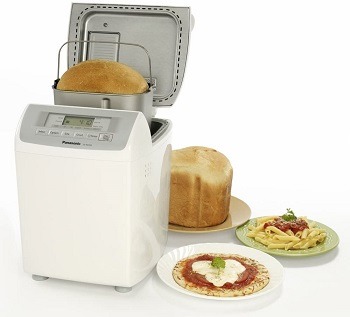 Space-Saving Design
The bread bucket features a diamond-fluorine coating which makes it non-stick and scratch-resistant for easy bread release and convenient cleaning. The bread pan can be removed from the unit with an oven mitt thanks to the handle. This Japanese bread maker does not take up a lot of space on the kitchen counter and is also compact for storage while producing medium and extra-large bread loaves.
Short Description:
extra large and medium bread loaves available
automatic dried fruits and nuts dispenser
LCD screen with 12 automatic programs
makes whole wheat, multigrain, basic bread
options for baking and dough-kneading
bread pan with a diamond-fluorine coating
counter-friendly and compact design
Best Stainless Steel Automatic Bread Maker
Costway Bread Automatic Machine
15 Available Programs
This stainless steel bread machine offers you a variety of programs for baking different types of bread, and can also be used for making jams, yogurt, cake, and other kinds of desserts. The multifunctional automatic bread maker features 15 menu programs to choose from and also allows you to set up the loaf size and the color of the bread crust.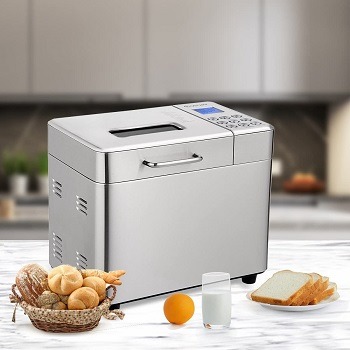 Various Bread Types
You can delay the baking process up to 15 hours, and once the baking process is done this machine will beep 10 times, and then switch to a 1-hour long warming function. The 15 baking programs include options for basic, gluten-free, whole wheat, sandwich, and French bread.  You can also use it to prepare the dough, and even jam, cake, and desserts.
Choose Size & Color
Choose between light, medium, or dark crust, and bake 500-gram, 750-gram, or 1000-gram bread loaves. After setting up the baking cycle, the Costway automatic bread maker will do the rest. However, you can keep everything under control by using the view window to take a peek inside while the bread is baking.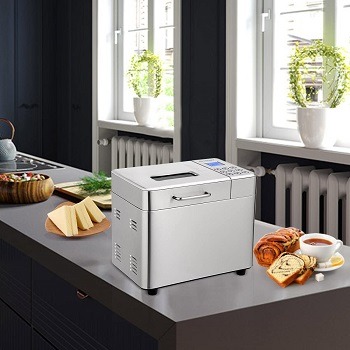 Automatic Nut Dispenser
Another automatic feature that is helpful is the fruit and nut dispenser that releases these ingredients at the right time. Create versatile bread types at home, where you can control the ingredients, while also having your hands free, as the unit does everything automatically after adding the ingredients and choosing the settings.
Short Description:
for bread types, jams, cakes, yogurt
automatic nut and fruit dispenser
15 baking settings and a 15-hour timer
500-gram, 750-gram, 1000-gram loaves
basic, gluten-free, sandwich, whole wheat bread
Best Commercial Automatic Bread Machine
Breadman Auto Bread Making Machine
Collapsible Kneading Blade
This commercial bread maker features a collapsible kneading blade, a measuring cup, a spoon, and 14 baking settings to choose from on the control panel. The kneading paddle is engineered to collapse after kneading is done to prevent a hole in the bottom of the bread loaf. The baking technology of this Breadman automatic bread maker works to deliver uniform crust and texture, as well as flavor.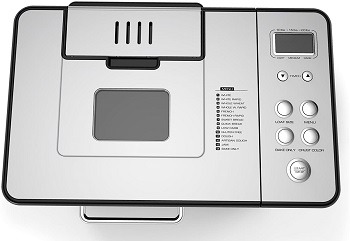 Variable Loaf Settings
Besides choosing between 14 settings, you can also select between three loaf sizes and crust colors. You can use it to make jam, cake, but also artisan bread, as well as gluten-free, whole wheat bread, and pizza dough. The loaves can weigh 1 pound, 1.5 pounds, or 2 pounds, and have either light, medium, or dark crust.
Automatic Dispenser
When baking with nuts or dried fruits, you can put them in the dispenser that will then automatically drop it into the kneading dough at an optimal time. Another convenient feature is the 15-hour delay timer, allowing you to set up the baking cycle in advance. There is also a one-hour warming setting, as well as a bake-only option.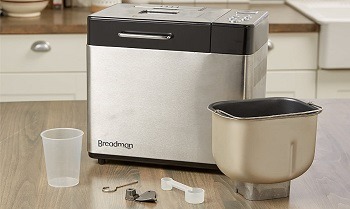 Stainless Steel Body
After using the pushbuttons on the digital display to set up the baking cycle, you can monitor the process through the viewing window located on the lid, without having to interrupt the process. With a stainless steel exterior, the machine easily blends into any kind of kitchen design.
Short Description:
14 baking setting to choose from
digital control panel with pushbuttons
features a collapsible kneading paddle
whole wheat, gluten-free, artisan bread
various bread and dough types, jam, cake
three loaf sizes and three crust colors
Best For Beginners Automatic Bread Maker
SKG 3920 Automatic Bread Machine
19 Available Settings
With 19 available programs, this SKG automatic bread maker offers versatile baing options, from different types of bread and dough to jam, and yogurt. Besides letting you select a program, loaf size, and crust shade, you can also delay baking up to 15 hours, and keep bread warm for an hour. In case of power interruption, this best bread maker for beginners features a 15-minute recovery function.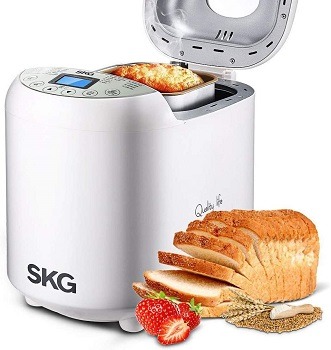 Non-Stick Bread Bucket
The SKG 2lb automatic programmable bread machine stays safe and stable on the kitchen counter thanks to the non-skid feet. The bread pan features a non-stick bread pan that makes sure the bread can be removed from it easily without sticking. This is also convenient for easy washing afterward.
Recipes For Beginners
With the included recipes, this bread maker is easy to use even for beginners. After adding the ingredients and choosing the baking cycle, it will do the rest automatically. If you want to check in on the baking, you can take a look through the viewing window on the lid.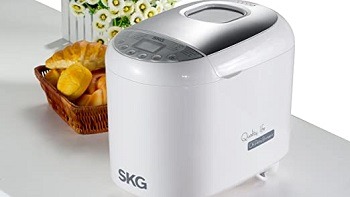 Customize The Loaf
Among the 19 settings, you can bake French, gluten-free, rice bread, or even make jam, yogurt, and much more. You can also choose how the crust turns out, by picking either a light, medium, or dark shade. The loaf can weigh 1 pound, 1.5 pounds, or 2 pounds.
Short Description:
19 baking settings for bread, jam, yogurt
15-hour delay timer, 15-minute recovery
a non-stick bread pan for easy cleaning
French, gluten-free, rice bread, and more
1-pound, 1.5-pound, or 2-pound bread loaf
light, medium, or dark crust settings
includes easy-to-follow recipes for beginners
What To Consider In Automatic Bread Machines?
When leading busy lives, many different appliances in the kitchen can help you save time and space, without sacrificing quality. Automatic bread machines can be of big help, especially if you look for some of the following features to make operation and baking even easier. Firstly, look for the appropriate size for your needs, find the menu settings you will need, and make sure it is easy to operate. Finally, consider non-sticking parts that make cleaning easier, and look for automatic fruit and nut dispensers.
Size – Look for the size of the overall machine, to make sure it can fit into your kitchen space. Likewise, look for the capacity of the bread bucket. If you have a smaller family, the market also offers a small bread machine for 1-pound loaves, but you can also get models that bake 1 to 2-pound loaves, and sometimes even 3-pound loaves.
Menu Options – According to the types of bread you want to make, also make sure to go for the automated bread making machine that offers baking cycles you want to use. Most models nowadays can not only bake bread, but also offer you possibilities of setting up kneading cycles and making jams, cake, or yogurt. Different bread types mostly include French, basic, gluten-free, whole wheat, multigrain, etc.
Ease Of Use – When looking for automatic bread making machine models, make sure you understand how to use them. If they are complicated to set up, they will take a lot of time to learn how to operate. Large digital displays with separate function buttons usually make setups easy, so even beginners in using bread machines can find their way around.
Non-Stick Parts – To make sure that bread and dough don't stick to it, go for bread pans and kneading paddles that have non-stick coatings on them. That way the bread will be easy to remove from the pan and the pan will also be much easier to clean.
Automatic Dispenser – If you like to bake bread with nuts and dried fruits, looking for a model with an automatic dispenser is crucial. That way you don't have to wait around the unit to beep and alert you to add those ingredients in. Simply fill the dispenser with nuts and fruits, and they will be automatically scattered across the dough at the optimum time.
To Wrap It Up
To conclude this article about automatic bread maker machines, let's take a final look at the model that stood out the most to use. The KBS automatic 2lb bread maker machine comes in a sleek design combination of stainless steel and tempered glass. It offers 17 programs for baking and kneading and lets you customize the size and the color of the loaf. Moreover, it comes with an automatic dispenser for nuts and dried fruits. You can also read reviews of other electric bread makers to learn more. If you'd like to invest in a bread machine without spending a lot of time, consider some of the models in this list of cheap bread machines.