Trying to find the best Japanese bread maker for your family?
Not sure which brands are reliable and popular?
Continue reading this article to find out all this information and more. Check out the reviews of the models with the best reviews online and find out about the features that make them loved amongst ordinary people who use kitchen appliances to make life easier and more enjoyable. You can check out automatic, horizontal, and bread makers with gluten-free settings.
The Rundown
Best 6 Japanese Bread Makers
Best Of Best Japanese Bread Maker
Panasonic SD-YD250 Bread Machine
Up To 2.5-Pound Loaf
With this bread maker, you can choose to bake loaves in three sizes up to 2.5 pounds. It is constructed to do the whole bread-making process, from mixing and kneading to rising and baking. You can also choose between light and dark crust colors, as well as choose between many baking options available on the control panel.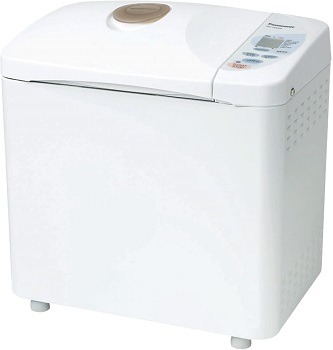 Non-Stick Bread Pan
The preprogrammed settings offer baking cycles suitable for white, French, multigrain, or whole wheat bread types. Likewise, you can use it for baking cakes and quick bread types. The bread won't stick to the surface as the baking pan has a non-sticking coating. After the bread is done, you can remove the pan by the handle for easier cleaning.
Automatic Yeast Dispenser
The top lid has a yeast dispenser that will automatically add yeast to the mix at the right time. However, it can also prepare bread types that do not use yeast, such as ginger and banana bread. This machine can also prepare dough for pizza, croissants, and many other pastries without baking.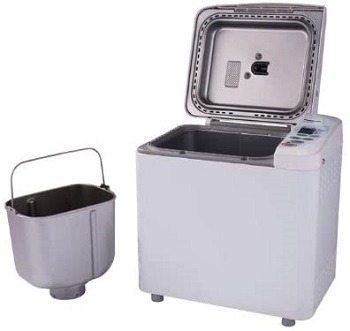 13-Hour Delay Function
In case you want to delay the baking process, you can do so for up to 13 hours to get fresh bread when you want it. The absence of the viewing window is justified for more even reflection of the heat inside the unit. The soft-touch pushbuttons help you to easily control the baking options with the help of the LCD screen.
Short Description:
choose crust color and loaf size up to 2.5 pounds
preprogrammed settings for various bread types
features a convenient automatic yeast dispenser
13-hour delayed baking timer available
easy to control with pushbuttons and LCD screen
Best Automatic Japanese Bread Maker
Panasonic SD-RD250 Bread Maker
Fruit & Nut Dispenser
With 12 automatic modes, this bread machine can be used for baking bread, kneading dough, and many other baking options. It features a dispenser for nuts and fruit to make sure they are added to the kneading mix at the right time to avoid the crushing of these ingredients. With this Japanese bread maker, you can also choose the darkness of the crust, and the size of the bread loaf.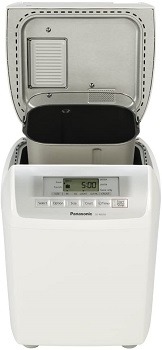 Five Working Modes
The bread pan is coated in a diamond fluorine non-stick layer for easy release of the bread when baked, as well as for hassle-free maintenance. The digital control panel comes with a large LCD screen so that you can easily choose the baking mode you want to use. It offers five modes: bake only, basic and French bread, as well as pasta and pizza dough.
Medium & Extra-Large Loaves
The 13-hour delay function allows you to choose when you want the bread to be done, so you can wake up to fresh bread or it can wait for you when you come home from work. By choosing between medium and extra-large loaf sizes, you can bake the amount of bread that will cater to the size of your family.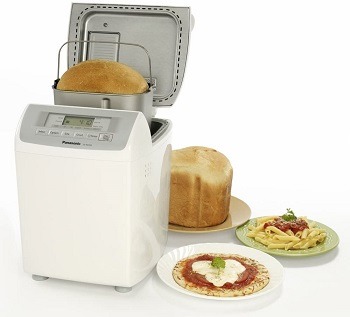 6 Baking Styles
The fruit and nut dispenser will make sure these add-ins scatter evenly through the dough. You can use it for baking the following types of bread: basic, multigrain, French, whole wheat, tea bread, and cake. By purchasing this product you can enjoy homemade baked goods without taking up too much cooking space in the kitchen.
Short Description:
for baking medium and extra-large bread
6 baking modes available on the control panel
features an automatic fruit and nut dispenser
diamond fluorine non-stick bread pan
basic, multigrain, whole wheat, French bread, etc
easy to use digital control panel with LCD screen
Best Home Japanese Bread Maker
Twinbird Home Bakery
For Japanese Ingredients
Compared to the above-reviewed models of home bread machines, this Japanese bread maker is firstly intended for use with Japanese ingredients. If you are a person who knows Japanese, visits regularly, or has Japanese friends, this model could be the one for you.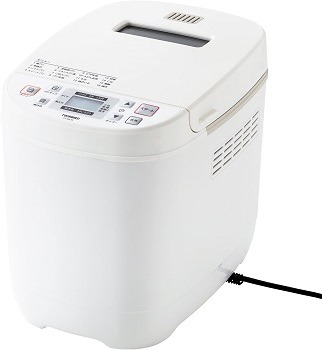 Various Menu Programs
The series of Twinbird models is known for its simple features for ease of use and even for larger models that can make two loaves at once. This model has various programs available to choose from in the menu settings, including even rice recipes such as sweet sake and mochi, or grilled rice cake.
Versatile Bread Types
Apart from making a variety of rice cakes and other goodies, the main attraction of this bread machine is the bread making. You can use it to make soft bread, bread with fruits and nuts, among other settings. It also bakes plain, wholegrain, and French bread types. Setting up is easy on the control panel to enjoy freshly baked bread at any time.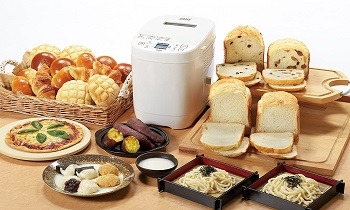 Two Bread Sizes
The 15-hour timer is great for delaying baking time so that the bread can be ready when you need it to. You can even use independent modes for kneading, fermenting, and baking. This bread maker supports two bread sizes, 1 loaf, and 1.5 loaves.
Short Description:
various programs in the menu settings
15-hour timer for delayed baking
1 loaf or 1.5 loaf sizes of bread
ideal for bread recipes with flour or rice
plain, wholegrain, French, soft bread
Best Multifunctional Japanese Bread Maker
Siroca Home Bread Maker
29 Menu Options
With this bread maker, you can bake all types of traditional Japanese bread and more. The menu setting lets you select among 29 different options for bread, different dough types, as well as butter, yogurt, and cheese. Just like the previous model, this one is also suitable for Japanese speaking people as its settings are available in Japanese.
Suitable For Rice Flour
This model comes with two different blades, out of which one is intended for cooking with rice flour. You can make bread from rice flour with or without gluten by choosing the appropriate baking cycle. You can also bake French bread, soft, sweet, rye bread, and much more, and up to 2 loaves at once.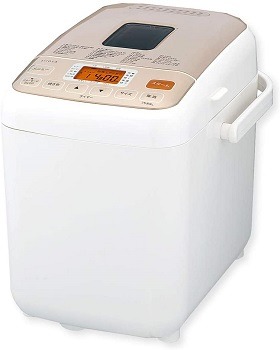 Adjustable Crust Color
The timer setting offers a delay of up to 13 hours so that you can wake up to fresh bread or have fresh bread waiting for you at any other part of the day. It comes with an option to turn off sound alerts for quiet use. Besides choosing the baking cycle, you can also select between light, medium, and brown crust colors.
Wide Variety Of Uses
Apart from full baking cycles, you can also use this bread maker for beginbers to knead, ferment, or only bake the prepared dough. You can also use to prepare dough for pasta or pizza. Likewise, you can also use it to make raw caramel and cake. Purchasing this model will give you a wide variety of Japanese goods with easy preparation.
Short Description:
29 different options available on the menu
for bread, cake, yogurt, cheese, butter, etc
rice flour bread options with or without gluten
delayed baking possible with a 13-hour timer
makes up to two loaves of bread at once
independent knead, ferment, and bake options
sound alerts can be turned off for quieter use
Best Horizontal Japanese Bread Maker
Zojirushi Breadmaker
2-Pound Rectangular Loaf
If you want to bake traditional-looking bread at home, then this Japanese bread maker could be the one for you. It is designed to bake horizontal rectangular-shaped bread in a 2-pound size. The bread pan features two blades to thoroughly knead the dough and make it rise higher. It comes with an LCD control panel for setting operations.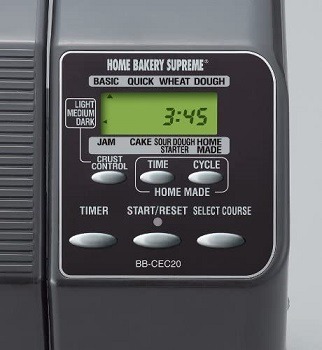 10 Baking Programs
By using the control panel, you can easily choose between 10 different programs for baking. These preprogrammed settings, among others, include basic and basic wheat bread, as well as quick versions of those two programs. You can also use it for jam, cake, sourdough, and homemade bread. The crust color is also adjustable from light and medium to dark options.
Non-Stick Baking Pan
The large window on the lid is a great feature for checking in on the bread at any time without having to interrupt the baking cycle. The timer can be set up to 13 hours to deliver fresh bread at any time of the day when you want it. The baking pan has a non-stick coating for hassle-free bread release and easy maintenance.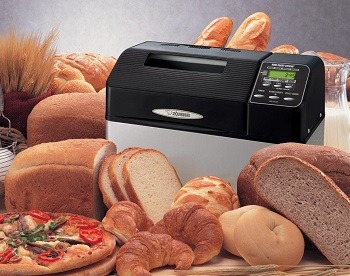 Easy To Set Up
To make any type of bread, it is advised you use fresh ingredients. After attaching the blades properly, you should measure your ingredients and add them to the bread pan. After closing the lid, choose the setting on the control panel you want to use, and the horizontal bread machine will do the rest.
Short Description:
bakes 2-pound rectangular-shaped loaves
LCD control panel with 10 preprogrammed settings
two blades in the non-stick bread pan for kneading
basic and basic wheat, quick baking, jam, cake, etc
choose between light, medium, and dark crust
large viewing window and 13-hour delayed timer
Best Gluten-Free Japanese Bread Maker
Zojirushi Virtuoso Bread Maker
3 Homemade Programs
With 10 programs to choose from, you can use this stainless steel bread maker to create many different types of 2-pound horizontal loaves. The menu settings include a homemade option that lets you program three of your bread recipes for easy use. Moreover, you can also use basic and wheat bread cycles, sourdough, gluten-free, and quick baking processes.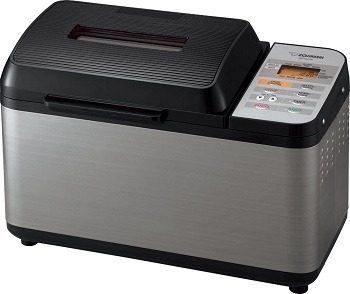 Lid Heater For Even Baking
By using two paddles inside the bread pan, the dough will be kneaded more thoroughly for a higher rise. The lid has a viewing window that lets you see the progress inside the machine, while the additional heater located on the lid promises even baking. The inner bread pan has a handle for easy removal from the bread maker.
Easy To Operate
The LCD control panel is located on the top surface for choosing between the programs more easily. It can be used for baking bread with both organic ingredients and with gluten-free flour. For quicker baking, you can also use programs that prepare bread in under two hours.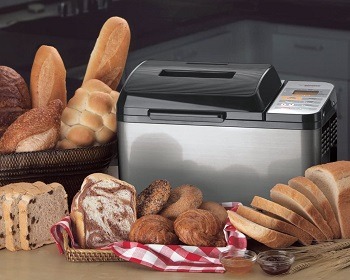 Gluten-Free Recipes
When choosing the baking program, you can also choose between light, medium, and dark crust options and even delay baking up to 13 hours. If you are looking for a way to make gluten-free bread fun, you can even try out some of the many recipes available in the user manual.
Short Description:
LCD control panel with 10 programs
homemade setting memorizes 3 recipes
lid with a heater and a viewing window
includes gluten-free settings with recipes
basic and wheat bread, quick baking, sourdough
bread pan with a handle and two kneading blades
light, medium, and dark crust colors available
What To Consider In Japanese Bread Maker Machines?
If you are uncertain about which characteristics could be important when buying a bread maker, here you can learn more. Firstly, to choose a model suitable for you, you should consider the price of such appliances. Moreover, keep their capacity in mind, as not everyone will need the same bread loaf size. Likewise, look for models that are easy to use without complicated control panels. Finally, look out for the special features and programs that these Japanese bread makers have to offer.
Price – Seeing as the market offers a wide range of models, it is important to limit yourself to your budget and then look for the features available in those models. Some models are going to be quite pricey, but you can also find decently priced models if you do not want to splash out.
Loaf Sizing – Most models of bread maker machines usually offer you different loaf sizes you can make in the same bread pan. Sizes usually vary from 1 to 2 pounds, while some models also let you make up to 2 loaves at once. Choosing the right sizing depends, of course, on your needs. How much bread you eat and how big your family is will determine what to go for so go with the 2-pound bread maker if you have a big family.
Ease Of Use – Seeing as some of these models are made for Japanese use, you should only opt for them if you understand the Japanese language. In case you don't, you can still buy a Japanese bread maker, but make sure it comes with English settings.
Baking Programs – The above-reviewed bread maker models feature different baking options and programs. If you are looking for a machine suitable for gluten-free baking, make sure it is prioritized in the setting options. Some of these models also have more than 2o options available, so this is suitable for people who want to try out many different baking recipes.
Special Features – Apart from normal soft, French, wholegrain, and quick baking cycles, some bread machines go a step further. Equipped with other preprogrammed settings, they can also let you bake a cake, make jam, yogurt, and much more. Some can even help prepare cheese, as well as other traditional Japanese baked goods.
To Wrap It Up
As our top choice, we have chosen the Panasonic SD-YD250 model. This best Japanese bread maker offers three loaf sizes up to 2.5 pounds and has an automatic yeast dispenser for releasing it into the kneading dough at the optimum time. In case you might be interested, you can also check out other types of electric bread makers on the market.