Tired of searching for the best horizontal bread machine available on the market?
Do not despair!
In this article, we break down the important things to know about horizontal bread makers so that you don't feel lost while looking for one again. Moreover, you can read reviews of many popular models on the market in different sizes, materials, and with different baking options available.
The Rundown
Best 6 Horizontal Loaf Bread Maker Machines
Best Of Best Horizontal Bread Machine
Zojirushi Horizontal Loaf Maker
2-Pound Rectangular Loaf
The first home bread maker on this list features two blades for kneading a rectangular-shaped bread which makes a horizontal loaf once baked. The bread loaf weighs 2 pounds when baking is done and can have light, medium, or dark crust, depending on which crust color you choose at the beginning of the cycle.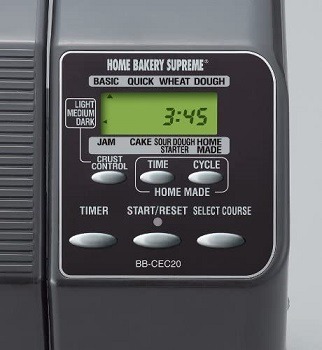 Various Baking Cycles
The 10 pre-programmed baking cycles you can choose from include, among others, basic, basic wheat, homemade, as well as jam, and cake options. The homemade function has three memory settings for programming your bread recipes. Choosing the settings is easy with the help of the control panel with a screen display.
Non-Stick Bread Pan
To bake bread, measure the ingredients, and add them to the bread pan inside the horizontal bread machine. Then choose the baking cycle you want to use on the LCD control panel and the bread maker will do the rest. The bread pan has a non-stick coating and is removable for easy cleaning after baking is done.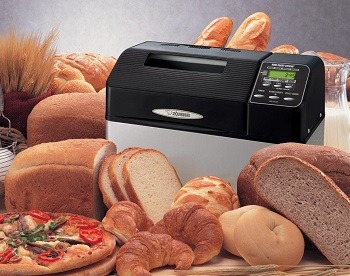 13-Hour Delay Option
The two kneading paddles will mix the dough thoroughly for a higher rise. You can sneak a peek through the viewing window to see how the baking cycle is getting on. The option for delaying the baking lets you schedule it up to 13 hours in advance and is easy to set up by using the timer button on the control panel.
Short Description:
removable non-stick bread pan for easy cleaning
two blades for thorough kneading and higher rise
LCD screen and control panel for settings
10 preprogrammed baking cycles available
bakes a 2-pound rectangular bread
Best Stainless Steel Horizontal Bread Machine
KBS Pro Bread Maker
17 Menu Settings
This model of a horizontal bread machine lets you customize the bread by choosing between 3 different loaf sizes and crust colors. You can make 1-pound, 1.5-pound, and 2-pound bread with a light, medium, or dark crust. The digital touch panel is located on the top surface for choosing between 17 menu settings and adjusting the color and size.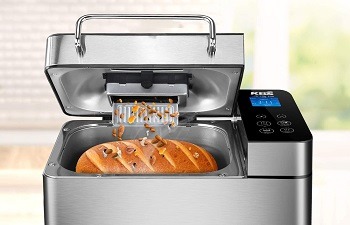 1-Hour Warming Function
The stainless steel bread maker features a ceramic removable bread pan with a non-stick coating for hassle-free baking and cleaning. The 17 automatic programs include options such as soft and sweet bread, French, gluten-free, and more. The 'keep warm' option lets you keep bread warm for up to an hour and the baking cycle can be delayed up to 15 hours.
Automatic Nut Dispenser
The top lid features a large viewing window constructed from tempered glass. The audible tone will alert you when it is time to add dried fruit or nuts to the removable automatic dispenser. It will dispense these additional ingredients at the right time. To start baking, you have to add the ingredients to the pan and then choose the baking option you want to use.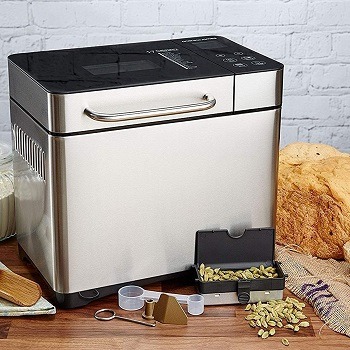 Multifunctional Use
Apart from baking different kinds of bread, this horizontal bread machine can also make jam, yogurt, and cake. By choosing the loaf size, you can bake enough bread for smaller or bigger families. The 15-minute recovery function means that the machine will be able to continue working in case of a power interruption under 15 minutes.
Short Description:
3 loaf sizes and crust colors available
digital touch panel with 17 menu options
stainless steel body and a ceramic non-stick pan
15-hour delay timer, 1-hour warming function
automatic dispenser for dried fruits and nuts
bakes different styles of bread, cake, jam, yogurt
Best Automatic Horizontal Bread Machine
Breville Horizontal Bread Maker
Up To 2.5-Pound Loaf
This horizontal bread machine can bake four sizes of bread loaves with three crust color settings. You can make 1-pound, 1.5-pound, 2-pound, and 2.5-pound bread loaf according to your family needs. The control panel comes with a smart LCD screen for easy set-up of the baking cycle. When the baking process is underway, the screen shows a progress indicator of the cycle.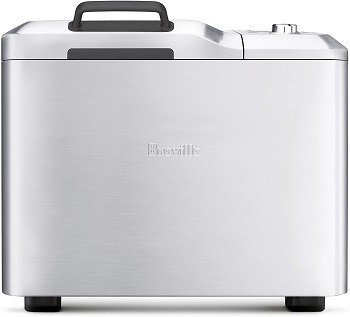 Durable Design
The bread pan comes with a handle for easy removing and has a non-stick coating for easy and quick maintenance. The body of the automatic bread maker is constructed from stainless steel material for durability and easy fitting into any kitchen interior. You can delay baking for up to 13 hours to have fresh bread at the right time for you.
Collapsible Kneading Paddle
You can make basic, gluten-free, yeast-free, whole wheat bread types, and more, including pizza and pasta dough, as well as the jam. After the ingredients are added to the bread pan, the kneading paddle will mix it and then collapse to minimize the hole at the base of the bread loaf before baking starts.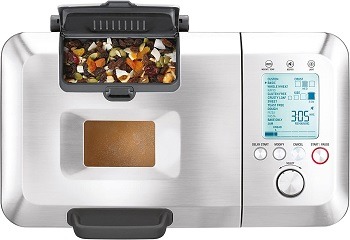 9 Custom Settings
Apart from the preprogrammed settings, you can also memorize 9 of your custom recipes for baking the bread you love to eat. The automatic dispenser for fruits and nuts scatters them across the baking dough at the right time. The viewing window allows you to check in on the baking process at any time.
Short Description:
non-stick removable bread pan with a handle
1-pound, 1.5-pound, 2-pound, 2.5-pound loaf
features a smart LCD screen and control panel
13-hour delay option and 13 automatic settings
create and store up to 9 customized recipes
automatic nut and dried fruit dispenser
collapsible kneading paddle when baking
Best Home Horizontal Bread Machine
Breadman Horizontal Loaf Bread Machine
Convection Bake
With a convection bake option, you can use this bread maker for beginners to bake bread with a crispier crust even faster than before. You can also choose between 1-pound, 1.5-pound, and 2-pound loaf sizes, depending on your needs. The top surface of the unit features a lid with a viewing window and a control panel on the side for setting adjustments.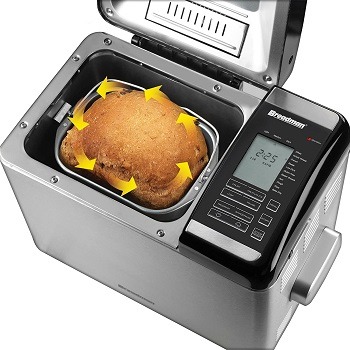 300 Baking Options
By using the control panel with a screen display, you can choose between 300 baking recipes that are pre-programmed for easy use. The bread pan is designed to bake horizontal loaves and the viewing window allows you to take a look at what is happening with the bread at any time. The lid also features a nut dispenser that is easily accessible when needed.
24-Hour Delay Option
In case you want to wake up to fresh bread or get home from work with bread ready to be served, you can program the delayed baking option up to 24 hours. The 300 preprogrammed recipes include gluten-free or low-carb bread, as well as jam, cake, or dough for pizza, bagels, or pasta. The basic bread options include French, whole wheat, and white bread.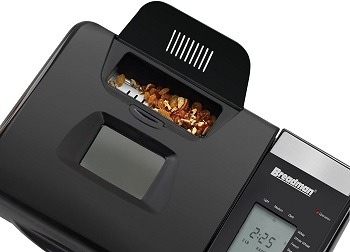 60-Minute Recovery Function
By using this horizontal bread machine, you can create many various bakery recipes at home. In case of power failure, the 60-minute recovery option will come in handy to continue the baking process when power is restored. The bread pan should only be hand washed after baking is done.
Short Description:
1-pound, 1.5-pound, 2-pound horizontal loaves
convection bake option for crispier crust faster
300+ baking recipes available to choose from
viewing window and nut dispenser on the lid
60-minute recovery, 24-hour delay function
Best For Beginners Horizontal Bread Machine
Oster Express Breadmaker
Rectangular Loaf Shape
This express bread maker can bake bread in under an hour in a 1.5-pound or 2-pound size. The bread loaf will have a horizontal rectangular shape when baked. The control panel with pushbuttons is easy to use in three steps, by adjusting the loaf size and choosing the baking cycle with light, medium, or dark crust.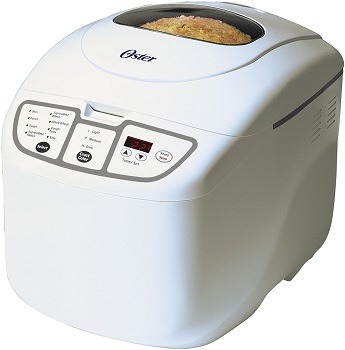 8 Settings Available
The control panel offers 8 bread settings to choose from to make different types of bread. You can bake basic, French, or whole wheat bread, choose a 58-minute express bake to have fresh bread in an hour. You can also use it for jam and marmalade by using the 'bake' option.
Non-Stick Aluminum Pan
The aluminum bread pan features a non-stick layer so that the bread doesn't stick to it for easier cleaning. The body of the bread maker stays cool to the touch for user safety. The viewing window lets you check in on the bread without having to open the lid.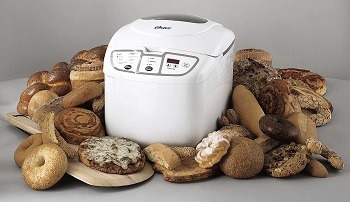 Suitable For Beginners
This horizontal bread machine is suitable to use by both beginners and experts to make fresh bread as an alternative to bakery bread with preservatives. The 13-hour function for delaying the baking time is ideal for preparing the bread to be fresh in the morning or the afternoon after work.
Short Description:
choose between 1.5-pound and 2-pound bread
three easy steps for using the control panel
choose between light, medium, or dark crust
non-stick aluminum bread pan for easy cleaning
8 bread settings available on the control panel
bakes French, basic, whole wheat bread, and more
Best Convection Horizontal Bread Machine
Cuisinart Horizontal Breadmaker
16 Available Programs
This convection bread maker circulates air to bake bread with a better texture and crust color. It offers 16 pre-programmed settings and also lets you adjust the loaf by choosing the size and the crust color. You can bake 1-pound, 1.5-pound, and 2-pound bread loaves with either light, medium, or dark crust color. The screen display with the buttons offers around 100 options for baking.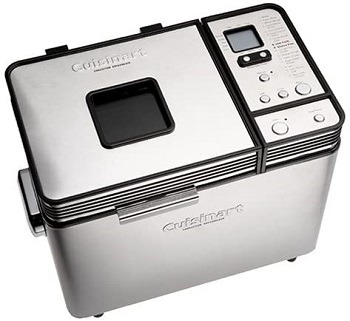 Audible Alerts
When the dough is in the kneading process, the audible tone will let you know when to throw in dried fruits and nuts to scatter them evenly throughout the dough. When kneading is done, the beeping tone will give you a chance to remove the paddle or to reshape the dough by hand for baking.
Low-Carb & Gluten-Free Options
In case you want to delay baking, you can use the timer to set it up to 12 hours in advance. Apart from the basic bread baking cycles, you can also use this bread machine for low-carb and gluten-free baking by choosing the right option in the menu settings. You can also use it for preparing jams and cake.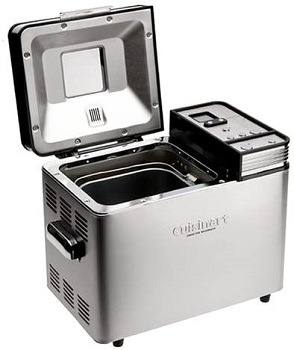 Non-Stick Bread Pan
With the help of this unit, you can make many different types of bread at home, including artisan bread, French or Italian, white, whole wheat bread, and more. After baking is done, the bread pan can be removed from the machine by the handle and will easily release the bread from the non-sticking surface.
Short Description:
convection air circulation for better texture and crust
16 preprogrammed settings for baking to choose from
3 crust colors and 3 loaf sizes available
an audible tone alerts for add-ins and paddle removing
features a 12-hour timer for delayed baking
includes gluten-free and low-carb settings
artisan, French, Italian, white, whole wheat bread, etc
What To Consider In Horizontal Bread Machines?
When buying a bread maker, one of the obvious differences is the fact that the marker offers horizontal and vertical bread makers. Here you can read about the advantages of horizontal models and find out about other features to have in mind before purchasing one. Firstly, opt for the model that offers the loaf size you want. Likewise, look for models with easy-to-operate control panels and search for the one that offers the baking programs you want to use.
Vertical Vs Horizontal – Compared to more compact vertical models, horizontal models produce loaves that have a traditional rectangular shape. This type of bread is also very common to find in stores and bakeries. Unlike vertical models that create brick-shaped bread, a horizontal bread maker will give you the traditional loaf you are used to seeing and consuming.
Capacity – The market offers a variety of bread makers in different sizes. Most models allow you to bake bread loaves in sizes from 1 to 2 pounds, sometimes even 2.5 pounds. When choosing the right model, it will depend on your needs. Bigger families should go for horizontal loaf bread machines that can make bigger loaves, while small loaf sizes should be enough for one to two people.
User Friendly – To be able to adjust the settings, bread makers usually have control panels with a digital touch screen or pushbuttons. The best models will be the makers that are not complicated to use and that won't take long to learn how to operate. Choose the models that are easy to understand and let you control the process of baking easily.
Baking Options – Bread makers come with preprogrammed cycles for baking so that you can easily choose the one that fits your needs. Some models even let you save your customized recipes so that you can use it anytime without having to spend a lot of time by the machine. Depending on how much you are willing to try out with your machine, you can choose between models with under or over 10 preprogrammed settings.
Additional Features – To make bread making as easy as possible, some features can help. For example, a large viewing window makes it easy to check in on the baking cycle without interrupting it at any time. Likewise, durable materials with non-stick layers are also needed to make maintenance as easy as possible. Nut and fruit dispensers are also helpful.
To Wrap It Up
Our top pick is the Zojirushi horizontal bread maker. It lets you choose between 3 crust sizes and makes 2-pound bread loaves. This horizontal bread machine offers 10 baking cycles and bakes bread in a non-stick bread pan for easy release and faster cleaning. For other types of electric models, take a look at this in-depth article about the best electric bread makers.