Trying to find the best bread machine for beginners available for purchase?
In that case, you have come to the right place!
In this article, we break down the most important information to keep in mind when looking to buy a bread machine suitable for newbies. You can read the reviews of small, cheap, compact bread makers, and more to find out what the market has to offer.
The Rundown
Best 6 Bread Machines For Beginners
Best Of Best Bread Machine For Beginners
SKG Beginner Friendly Bread Maker
Simple To Use
This model of a bread machine for 2-pound loaf is engineered for simple use so that even beginners can find their way around it. It comes with easy recipes that anyone can follow to add the needed ingredients, and then click a few buttons to start the baking process. The control panel is located at the top of the unit for easy access.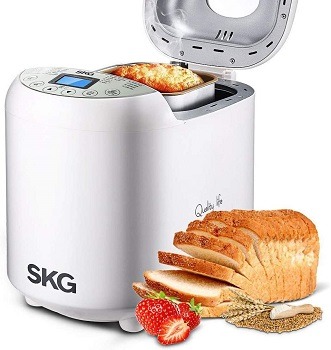 19 Baking Options
The control panel with a screen display offers 19 programs to choose from, allowing you to bake a variety of bread types, as well as jam and yogurt. Some of the bread-baking settings include French bread, rice bread, basic, and gluten-free bread.
Loaf Customization
Apart from choosing between 19 baking settings, the bread loaf can also be customized by choosing between three sizes and three crust options. You can choose between 1-pound, 1.5-pound, and 2-pound loaves in light, medium, or dark crust color.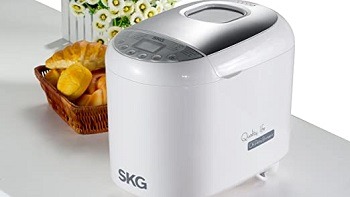 Additional Features
This bread machine for beginners can be used on any kitchen counter safely, as the non-skid feet make it stable. Whilst the machine is working, you can always take a peek at the progress inside by looking through the viewing window. The bread will easily remove from the non-stick bread pan for cleaning.
Short Description:
simple-to-use control panel with a screen
19 baking settings to choose from
three loaf sizes and crust colors available
non-skid feet, non-stick bread pan
French, basic, gluten-free, rice bread
Best Home Bread Machine For Beginners
Hamilton Beach HomeBaker
For Homemade Goodies
This product is one of the best bread machine for beginners models that let you create a variety of homemade bread types, as well as homemade jam for enjoyment in your own home. It can bake up to a 2-pound loaf, by choosing between 12 available settings on the control panel.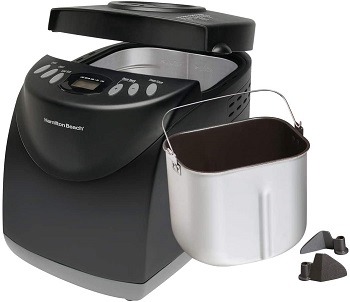 Non-Stick Parts
For convenient maintenance, the bread pan is dishwasher safe, along with two kneading paddles. Both the pan and the paddle are non-sticking to release the dough and the bread more easily. The control panel with the digital display helps to easily set up the baking cycle, by following three easy steps.
How To Operate?
For starters, add the ingredients to the pan, then select between the available cycles and press start. Some of the available settings include gluten-free, sweet, French, and quick bread. The express baking options are available to prepare 1.5-pound and 2-pound loaves in less time.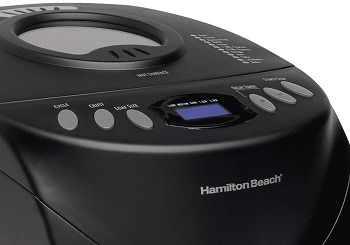 Jam, Cake & Dough
Apart from using this home bread maker to bake bread, it is also engineered to prepare the dough for rolls and pizza. Likewise, you can use it for jam, cake, or baking-only option. The whole grain option works with audible tones to remind you when to add nuts, as well as fruits.
Short Description:
1.5-pound and 2-pound bread loaves
12 settings on the digital control panel
non-stick bread pan and kneading paddles
various bread types, jam, dough options
tone alerts for adding fruits and nuts
express baking options for bread loaves
Best Cheap Bread Machine For Beginners
Oster Bread Maker
LCD Control Panel
This type of best bread machine for beginners comes in a combination of white and ivory colors, to easily blend into any kitchen decor. The top surface features a lid with a viewing window and a control panel next to the lid. The control panel includes an LCD screen and buttons for easy setups.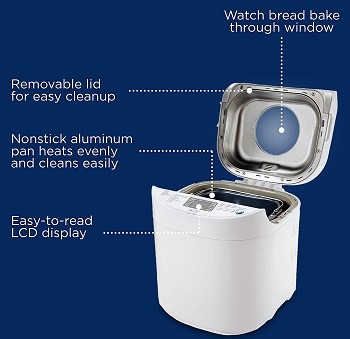 Customize The Settings
Apart from choosing between 12 bread settings, you can also select between three loaf sizes and three crust settings. Loaf sizes available are 1 pound, 1.5 pounds, and 2 pounds, to work for different family sizes. You can also choose between light, medium, and dark colors of the crust.
13-Hour Bake Delay
For delaying the start of baking, you can set up a timer for up to 13 hours to enjoy fresh bread any time you want. The express baking setting works to prepare a loaf of bread in under an hour. After you set it up, this bread machine for beginners will automatically mix, knead, rise, and bake.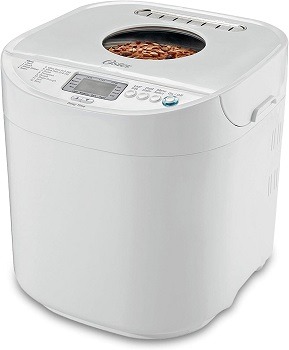 Affordable Price
For inexperienced users, the included recipe booklet will help to start learning how to prepare any type of bread with the help of the 1-pound bread maker. Apart from bread, you can even use it to prepare homemade jams and pizza or roll dough. This model is quite affordable and can be purchase on Amazon and other webshops.
Short Description:
features a viewing window and control panel
12 settings, 3 loaf sizes, and 3 crust shades
1-pound, 1.5-pound, 2-pound bread loaf
features a 13-hour delay timer for baking
the express setting bakes bread in under an hour
suitable for preparing bread, dough, jam
affordable price with included recipes
Best Small Bread Machine For Beginners
Zojirushi Home Bakery
1-Pound Loaves
Compared to the rest of the best bread machines for beginners, this one comes in a smaller size and is ideal for small households. It is engineered for baking 1-pound bread loaves, and except for bread, can be used for making cakes, jams, or dough for cookies and pasta.
Various Settings
For setting up the baking cycle, you will have to choose between settings available on the LCD control panel located on the front side of the unit. You will get to choose between regular, firm, and soft crust textures, as well as French, basic, and quick bread options.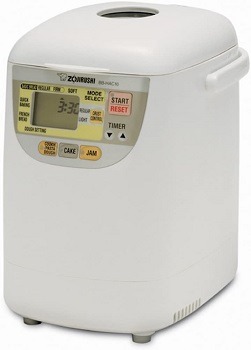 Convenient Carrying Handle
Both the baking pan and the kneading blade have non-sticking properties to make maintenance of the unit easier. The viewing window on top of the lid allows you to easily check in on the baking process while it is happening. To transport and store the unit easily, this small bread maker comes with a carrying handle.
Compact Size
To make operation easier, the included instructions and recipes will be of great help to beginners in baking. The extremely compact size won't take up too much space in your kitchen or pantry and is ideal for smaller and busy kitchens, providing enough bread for two-person households.
Short Description:
small size with 1-pound loaves
suitable for small household use
for bread, dough, cake, and jams
regular, firm, soft crust options
comes with instructions and recipes
non-stick baking pan and kneading blade
Best Artisan Bread Bread Machine For Beginners
Sunbeam Bread Machine
Simple Operation
This artisan bread machine is simple enough to operate so that even beginners in baking can use it. It is designed to bake artisan bread types in your home by following the bakery-style. It can be used for preparing a variety of baked goods, from dinner rolls and bread with cinnamon and raisins.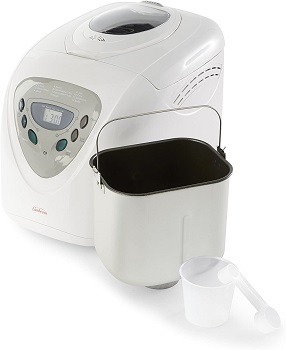 Non-Stick Bread Pan
The LCD screen with buttons is located on the front side of the unit for choosing between many different baking settings. The lid on top of the unit features a viewing window for monitoring the baking process without interruption. Inside the unit, the non-stick bread pan can be removed for handwashing.
12 Programs
To make operation easy for beginners, the included instruction book comes with various bread recipes. With the 12 available settings, you can bake different types of bread, prepare dough and jam, and choose between light, medium, and dark crust settings.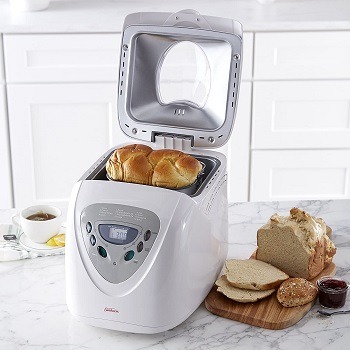 Delay & Express Baking
This best bread machine for beginners also lets you delay the baking or to make it quicker. The 13-hour timer is ideal for delaying the baking, letting you enjoy warm bread at your chosen time. Likewise, if you need bread quickly, the express baking option will make bread in under an hour.
Short Description:
bakery-style artisan bread at home
LCD panel for controls with 12 settings
removable non-stick pan for hand wash
includes an instruction book with recipes
13-hour delay and express options available
suitable for preparing bread, dough, jam
Best Compact Bread Machine For Beginners
Cuisinart Bread Maker
Premium Texture & Crust
This bread machine comes in a compact size to save you space, but can still produce up to a 2-pound bread loaf. It is constructed and engineered to deliver premium crust and texture to the bread. Featuring a control panel, it is simple to choose between preprogrammed settings to customize your loaf of bread.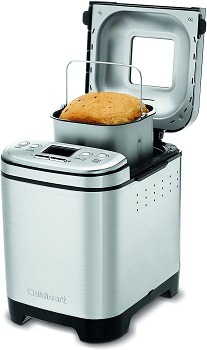 Space-Saving Design
The bread pan inside the unit is vertical to help save space on the kitchen counter. Both the kneading blade and the bread pan are removable from the machine for cleaning. The interior light and the viewing panel on the lid help to check in on the baking cycle at any time.
Versatile Operations
With 12 pre-programmed settings, this compact bread machine is easy to use for making white, sweet, gluten-free, French, or whole wheat bread. Likewise, it can be used for creating artisan-type and other types of dough, as well as to prepare jam and cake.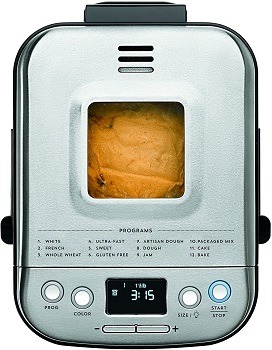 Three Loaf Sizes
Bread loaves can be customized in crust texture, by choosing between light, medium, and dark settings to bake 1-pound, 1.5-pound, and 2-pound loaves. The beeping sounds will alert you when you have to remove the paddle after kneading, or when to rack the bread and add any ingredients to the mix.
Short Description:
vertical non-stick bread pan
space-saving design for counters
12 pre-programmed baking settings
light, medium, or dark crust options
interior light and viewing window
1-pound, 1.5-pound, 2-pound loaves
suitable for bread, dough, jam, and cake
What To Consider In Bread Machines For Beginners?
To make sure you get the best bread machine for beginners available on the market, there are a few things we would like you to consider. Firstly, ease of use and operations needed to be done to bake bread. Secondly, consider the bread size you want to make. Likewise, the size of the product is also important. An available plethora of settings is also a feature to have in mind.
Simple Operation – As beginners are rarely familiar with how bread machines work, it is important to make sure the product you end up buying is easy to use. Look for control panels with screen displays that are not complicated, so that you can set up the baking cycle by following easy steps. This is where an instruction book comes in handy, and it is a bonus when it also has bread recipes included.
Capacity – Most models of bread makers on the market let you choose between two or three loaf sizes when choosing a baking cycle. These include bread loaves between 1 and 2 pounds. Depending on your needs and the needs of your family, you can choose the appropriate machine. The market even offers small models for baking up to 1-pound loaves.
Sizing – The size of the bread maker mostly depends on the bread pan. Available in both vertical and horizontal shapes, they determine the size and compactness of the unit. While vertical models usually feature space-saving designs, horizontal bread machines allow you to prepare traditional rectangular-shaped bread loaves. Smaller units are ideal for busy and small kitchen spaces.
Settings – With various available programs, bread makers allow you to bake different types of bread, as well as prepare dough, jam, and cake. Depending on the style of bread you prefer, make sure to go for the model that includes that bread program. If you are eating gluten-free, some models are also suitable for baking gluten-free bread.
Additional Features – To make bread-baking easy, some models also offer delay timers and express baking programs. That way you can program when you want the bread to be done, and can even enjoy it more quickly. To bake evenly, look for non-stick bread pans that are also easier to keep clean. Most models also come with a viewing window for monitoring the baking process inside the unit.
To Wrap It Up
To conclude this article, we have chosen the SKG beginner-friendly model as our top pick for the best bread machine for beginners. It is simple to use and offers 19 baking settings to bake bread in three sizes, and also suitable for making jams and yogurt. If you are interested in fully automatic models for ease of use, consider one of the models of the best automatic bread makers reviewed. To buy a bread machine without breaking the bank, check out this in-depth article about cheap bread machines.