Keen on buying a small bread machine?
Not sure what to look for in mini bread makers?
In that case, keep reading this article to find out about the many models in small sizes available on the market. Whether you are looking for a small bread maker that is ideal for baking smaller loaves, or different bread sizes, here you can find out more about their features. Likewise, the buying guide can help you figure out what features to concentrate on to get the best model for your needs.
The Rundown
Best 6 Mini/Small Bread Maker Machines
Best Of Best Mini Bread Machine
Zojirushi Small Loaf Bread Maker
8 Menu Settings
This Zojirushi home bakery mini breadmaker produces bread and cake in a 1-pound size. It features a control panel with a screen display located on the front side of the unit. By operating it, you can choose between different baking cycles and bread textures. The firm, soft, and regular crust textures are available to choose from, as well as 8 menu settings.
1-Pound Loaves
You can choose between baking options for basic bread, soft and French bread, quick baking setting, as well as making jam, cake, and dough for pasta and cookies. The 1-pound bread loaf is perfect for people who live alone and is also enough for two-persons households.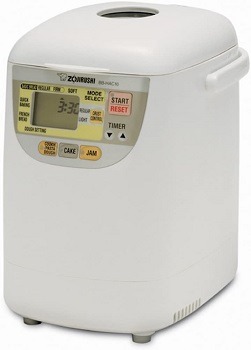 Space-Saving Design
This model comes with a sturdy handle so that relocating and storing the machine is easy to do. The slim design won't take up a lot of space on your kitchen counter while saving you the time you would have to spend on preparing bread manually. The bread pan features a non-stick layer for easier cleaning.
User-Friendly
The lid of this bread machine features a viewing window so that you can check in on the baking process at any time without interrupting it. The non-stick kneading blade is also convenient for ease of use and maintenance. The perfect size for small households and busy kitchens, this unit measures 11 inches in length, 8 inches in width, and 12 inches in height.
Short Description:
for 1-pound bread loaves and cakes
8 programs available on the menu
choose between firm, regular, soft texture
slim design with a sturdy carrying handle
non-stick kneading blade and bread pan
Best Roti Mini Bread Maker
Victoria Small Roti Press
6.5-Inch Roti
This small kitchen appliance is different from a regular bread maker, as it is designed for preparing flatbread types. It features two round cast-iron plates ideal for flattening roti and tortilla dough into 6.5-inch thin and round shapes. The metal construction is seasoned with organic flaxseed oil at high temperatures.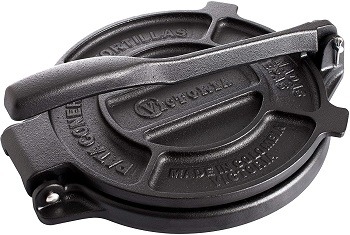 How To Use?
The sturdy pressing handle makes the preparation of roti easy. It is advised to use plastic sheets, cling film, or parchment paper and put a small dough ball between them before pressing it to create thin and round roti or tortillas. After they are pressed into shape, you can freeze them or put them on a hot griddle for cooking.
Flat Plate Construction
The plates are constructed to be flat so that they can help make flat tortillas, roti, arepas, empanadas, etc. This roti press is also suitable for gluten-free and paleo tortillas. To make sure you are using it correctly, read the instructions on use and care before you start using this small roti maker machine.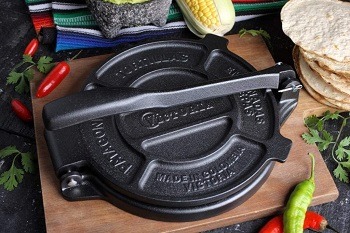 Practical Product
This low-maintenance product is great for saving you the time you would otherwise have to spend on rolling dough into thin and round tortilla or roti shapes. With this unit, you can now create a lot of flatbread types, while also saving some time.
Short Description:
ideal for 6.5-inch roti, tortillas, arepas, etc
cast-iron construction seasoned with flaxseed oil
creates thin, flat, round shapes with a press handle
suitable for gluten-free and paleo tortillas
comes with instructions on use and care
saves time and space in the kitchen
Best Stainless Steel Small Bread Machine
Cuisinart Small Bread Making Machine
Adjustable Settings
This small bread machine measures 10.25 inches in length, 11.25 inches in width, and 13.25 inches in height. It is equipped with an LCD control panel for choosing between 12 programs on the menu, adjusting the crust color from light and medium to dark, and selecting between three loaf sizes. You can make 1-pound, 1.5-pound, and 2-pound bread loaves.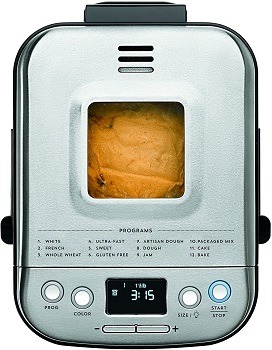 Compact Design
The compact size with a vertical bread pan lets you make bread up to 2 pounds, without taking up a lot of space in your kitchen. The kneading paddles and the bread pan both have non-sticking layers for easy cleaning. The lid also features a view window that lets you take a sneak peek at the baking progress.
Sound Alerts
This stainless steel bread maker features sound alerts that let you know when it is time to remove the kneading paddles, when to add any ingredients, or when to rack the bread. You can even delay baking for up to 13 hours if needed by using the timer setting.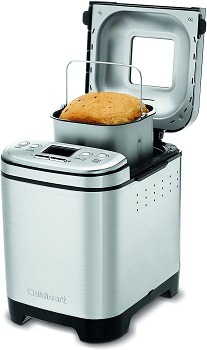 Various Baking Options
The 12 pre-programmed baking options offer a variety of different bread styles, including gluten-free and artisan bread, as well as jam and cake. You can make white, French, sweet, and whole wheat bread, as well as choose a quicker baking setting with rapid rise yeast.
Short Description:
LCD control panel with 12 menu settings
1-pound, 1.5-pound, and 2-pound loaf sizes
light, medium, dark crust shade settings
vertical bread pan for compact design
non-stick bread pan and kneading paddle
for different types of bread, jam, cake
sound alerts let you know what to do
Best Automatic Small Bread Maker
SKG Small Loaf Bread Machine
Small In Size
This mini bread machine is designed for baking 1-pound bread loaves ideal for smaller households to minimize food waste. Its small size makes sure it doesn't take up a lot of space in your kitchen, which also makes it ideal for use in smaller spaces.
19 Baking Programs
The menu features 19 programs and lets you choose between two loaf sizes and three crust shades. You can make a loaf of bread in 0.7 to 0.9 pounds or 1 to 1.3 pounds. The LCD control panel is designed for easy use, letting you choose between basic, cornbread, cake, jam, and more.
15-Hour Delay Function
The inner bread pan has a non-stick coating for easy maintenance. The ergonomic handle is sturdy so that you can transport and store the machine without a lot of problems. You can use the 15-hour timer to delay baking for waking up to fresh bread in the morning or come home to warm bread after work.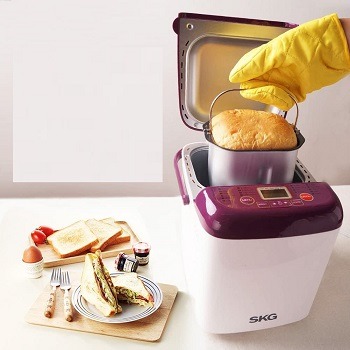 Extra Features
The automatic warming function includes 60 minutes of keeping the bread warm after it is baked. In case of power interruption, this bread maker has a 15-minute recovery function to continue with the baking cycle if the power is restored in under 15 minutes.
Short Description:
LCD control panel with 19 programs
choose between three crust shades
two loaf sizes, 0.7-0.9 pounds, 1-1.3 pounds
15-hour timer, 1-hour warming function
non-stick bread pan and carrying handle
Best Home Mini Bread Maker
Hamilton Beach Bread Maker Small
Select Loaf Size & Color
This small bread machine features a large digital display for selecting between different baking cycles, crust colors, and loaf sizes. It offers 12 settings for baking a loaf of bread in a 1.5-pound or 2-pound size, with either light, medium, or dark crust.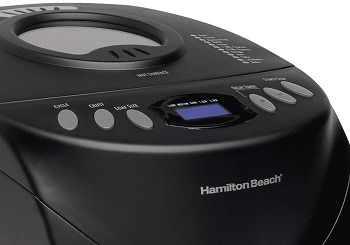 Three Operation Steps
The non-stick bread pan is safe for dishwashers for easy cleaning and comes with two kneading blades so that you can use one while the other is in the dishwasher. To start the baking process, there are three easy steps to follow by adding the ingredients to the pan, selecting the cycle, and pressing the start button.
Variety Of Baking Options
You can make a variety of bread types at home by using this machine with white, sourdough, French, wheat bread options, as well as an option to make homemade jam. Artisan bread, gluten-free, and wholegrain programs are also available to use.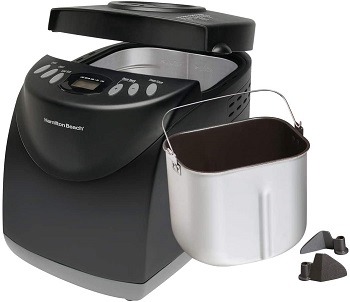 Audible Tone Alerts
Kneading the dough for rolls and pizza is also easier by using the dough setting on this unit. The audible tone on this home bread maker will remind you when you need to add dried fruits or nuts to the mix. You can even add all the ingredients and then set the timer for delayed baking if necessary.
Short Description:
large digital display with 12 settings
three crust colors and 2 loaf sizes
dishwasher safe non-stick bread pan
easy to operate by following three steps
includes gluten-free and wholegrain options
tone alerts for adding fruits and nuts
Best Compact Mini Bread Machine
Sunbeam Mini Bread Making Machine
Up To 2-Pound Loaf
With 12 cooking options and adjustable loaf sizes of 1.5 to 2 pounds, this small bread maker comes in a compact size. It measures 15 inches in length, 10 inches in width, and 13 inches in height, offering various baking options without taking up too much space on your kitchen counter.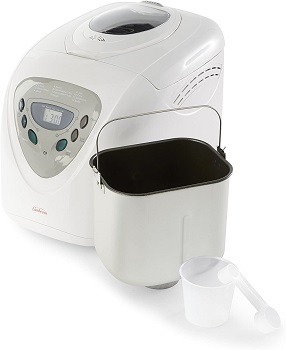 Easy To Use
The 12 baking cycles include the express baking setting, various bread type options, as well as options for making dough and jam. Besides choosing the loaf size, you can also choose between three crust colors: light, medium, and dark. The control panel comes with an LCD screen which makes operation much easier.
Large Viewing Window
The lid features a large window for monitoring the baking process without having to interrupt the cycle by opening the lid. The bread pan has a non-sticking layer and removes from the unit easily for handwash cleaning. The 13-hour timer lets you delay the baking process if needed.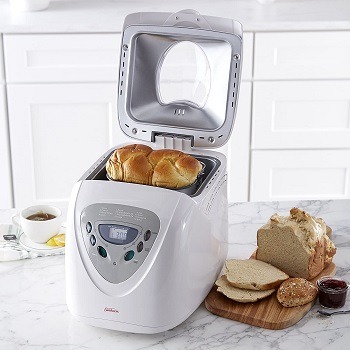 Suitable For Beginners
To help you with recipes, you will get an instruction book with many bread recipes included to help you with creativity. You can make dinner rolls, cinnamon raisin bread, and other fresh artisan-style bread. The user-friendly design is great even for beginners in bread-making.
Short Description:
select between 1.5 and 2-pound loaf size
light, medium, and dark crust colors
LCD control panel with 12 baking programs
for preparing bread types, dough, jam
non-stick bread pan for handwashing
convenient 13-hour delay setting
user-friendly and easy operation
What To Consider In Mini/Small Bread Maker Machines?
If you are interested in purchasing a small loaf bread machine, or you are looking for a bread machine that won't take up too much space in the kitchen, here is what to have in mind. The size of the loaf you want is one of the most crucial features to look for, as well as the size of the unit. The menu options mini bread making machines offer are also something to have in mind. The market offers models packed with features that make operation more user-friendly.
Loaf Size – Mini bread making machines are mostly designed to bake small loaves of bread of around 1 pound. They are ideal for small families of two or one-person households. By making a small loaf of bread, you won't have to worry about food waste as much anymore.
Unit Size – Some people look for bread machines smaller in size so they can easily fit into their kitchens without taking up too much space. These units come with vertical bread pans that help to save space, while also providing with up to a 2-pound bread loaf. That way you can get both the space-saving design and a decent size of a loaf.
Menu Options – Also very important when choosing a bread maker model, is the preprogrammed options available in the menu settings. Different models offer different features, so with some, you can make basic, French, wholegrain, gluten-free, or soft bread, as well as cake and jam. To pick the best small bread maker machine, you should go for the model that offers options you will want to use.
Easy Operation – As these products come with control panels, it is important to find the model you will know how to operate. In case you think the setup process is complicated, that model is probably not right for you. Look out for control panels with screen displays that won't require too much button-pushing to get the unit going.
Added Features – To turn bread-making into an easy practice, the models now come packed with features that help the user in the process. For example, non-stick bread pans and kneading blades make maintenance a breeze. Moreover, viewing windows let you monitor the process by peeking in through the lid without having to open it. Some models also have dough settings that help you make the perfect pizza or pasta dough.
To Wrap It Up
The model of a small bread maker we think stands out the most is the Zojirushi mini bread maker. It features 8 baking options and creates 1-pound bread loaves with adjustable crust texture. This Zojirushi 1-lb bread maker is thus ideal for small households and doesn't take up a lot of space, while the carrying handle makes transport and storage easy. If you are interested, in this article you can also read about the best compact bread makers available on the market. Also, check out the article about 1 lb bread makers which are a good solution too!