Have you been looking for the best silver dishwasher?
Look no further!
In this post, you can find all the important information about the best six models you can currently find up for sale. I will even advise you on the features you need to pay attention to when choosing the perfect dishwasher to ensure that you buy the best one.
The Rundown
Best 6 Silver Dishwashers For Sale
Best Of Best Silver Dishwasher
Frigidaire FFCD2418US Dishwasher
Stay-Put Door
This silver dishwasher comes with many user-friendly features that include multiple washing cycles, different cleaning options, temperature control, control lock, etc. It also comes with a stay-put door that allows you to open the dishwasher and let the free air flow throughout the unit to enhance the drying of the dishes.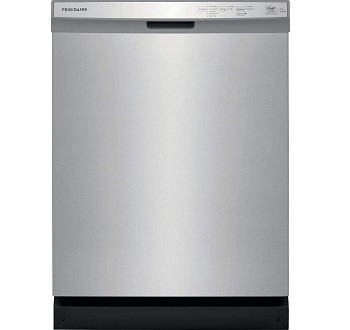 Hard Food Disposer
Another amazing thing about this dishwasher is that it comes with hard food disposer. The disposer is specially designed to dissolve and dispose of all the small food particles that fly around the dishwasher during the cleaning process. No need to worry that the dishwasher might get clogged up.
Self Cleaning Filter
Thanks to the self-cleaning filter that comes with this top control dishwasher you won't have to spend your time scrubbing greasy leftovers from the filter. It eliminates all the food particles and keeps both the dishwasher and your dishes perfectly clean.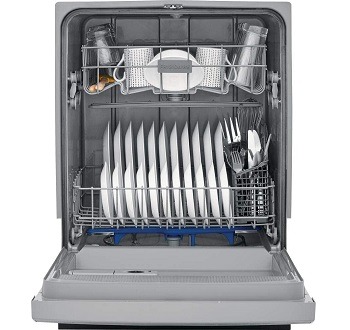 Different Certificates
The best thing about this dishwasher is that it comes with an NSF and an Energy Star certificate. Thanks to those certificates you can be sure that this dishwasher is perfectly safe to use and that it won't consume up too much electrical power or water.
Short Description:
provides a large capacity
multiple washing cycles and options
comes with a powerful filtration system
built-in hard food disposer
 heating element for powerful drying performance
noise level around 55 dBA
both NSF and Energy Star certified
Best For Large Family Silver Dishwasher
Bosch SHX3AR75UC Dishwasher
Spacious Interior
This Bosch silver dishwasher is the perfect choice for a larger family or for anyone who wants to have a dishwasher that provides a spacious interior. It comes with two separate racks and a cutlery basket to ensure that all of your dishes get a thorough wash.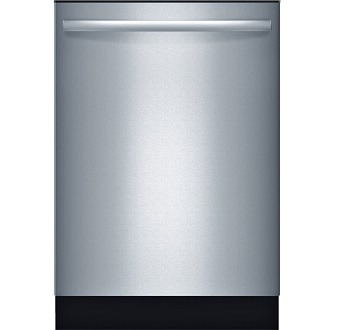 Top-Mounted Controls
Another great thing about this dishwasher is that it comes with user-friendly controls that are located atop the dishwasher's door. That means that you will easily be able to set the desired operating mode and cycle depending on what kind of dishes you are washing.
Easy To Use
Thanks to the user-friendly controls that this dishwasher provides you with, you won't have any trouble using it. Simply load it up, add the cleaning detergent and rinse aid, choose the perfect cleaning cycle and option, and press start.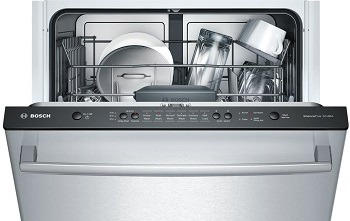 Adjustable Upper Rack
If you choose to buy this dishwasher you can forget about scrubbing larger pots and pans manually. It features an adjustable upper rack that allows you to move the rack up or lower it down t ensure that larger items fit inside the tub too.
Short Description:
14 place setting capacity
fully integrated stainless steel design
height-adjustable upper rack
top-mounted user-friendly controls
comes with an Energy Star certificate
Best Double Drawer Silver Dishwasher
Fisher Paykel DD24DAX9 Dishwasher
Double Drawer Design
Unlike other dishwasher models you can find listed in this post, this silver dishwasher features a double drawer design. This is a great thing because drawer-type dishwashers offer many amazing features and are very easy to load, unload, and set.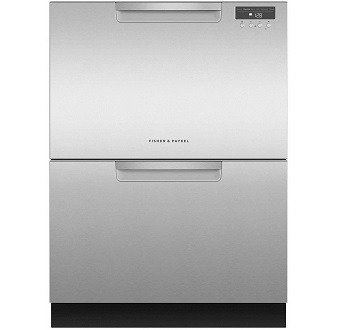 User-Friendly Controls
As I mentioned, this dishwasher offers many user-friendly features. It comes with four simple control buttons that allow you to choose between six different cleaning cycles. These include heavy, normal, Eco, fast, delicate, and rinse to ensure that you always get the best cleaning performance.
Half Load Option
Since this dishwasher comes with two separate compartments you will be able to choose whether you want to run only one or both compartments at the same time. This feature comes in handy especially when you don't have enough dishes for a full load.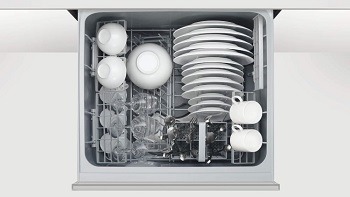 Recessed Handle
Another user-friendly feature of this dishwasher is the recessed door handle. Thanks to that feature you don't have to worry that the dishwasher door might get stuck to other kitchen appliances. Additionally, you can easily control how much you want to open the door.
Short Description:
features two separate compartments
provides multiple user-friendly controls
made out of stainless steel material
comes in a freestanding design
Best Freestanding Silver Dishwasher
SPT SD-2213S Dishwasher
Different Cleaning Cycles
Like all other dishwashers on this list, this silver dishwasher comes with six different cleaning cycles. That means that you can easily adjust the performance of the dishwasher according to your needs. For example, if your dishes are extra greasy, load them up and turn on the heavy cleaning mode.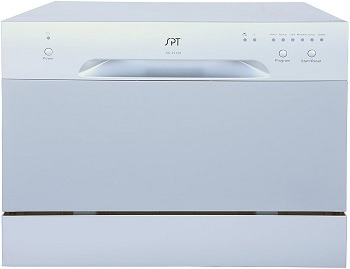 Delay Start Option
Another great thing about this dishwasher is that it provides you with a delay start feature. Thanks to that feature you will be able to load up the dishwasher, set the desired operating mode, and set the exact time when you want the dishwasher to start up to two, four, six, or eight hours.
Built-In Warning Indicators
This desktop dishwasher comes with built-in warning indicator lights that will let you know when something is wrong. For example, once the small faucet lights up you need to check if the faucet is turned on. Another thing you need to check is that the water hose is properly attached to the faucet or the faucet adapter.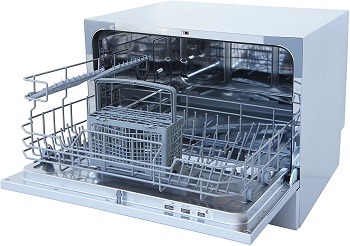 Easy To Install
You won't have any trouble installing this silver freestanding dishwasher inside your kitchen. Everything you will need is a water hose and a faucet adapter that makes the whole process much easier. There is no need for any additional plumbing or permanent installations.
Short Description:
highly practical countertop design
easy to transport when needed
multiple cleaning cycles and options
provides a delay start option
built-in warning light indicators
quick and easy to install
Best Table Top Silver Dishwasher
EdgeStar DWP62SV Dishwasher
Six Place Settings
This silver dishwasher is specially designed to provide you with up to six standard place settings. It even comes with a small cutlery basket and foldable shelves for your cups to ensure that you maximize the use of the free space.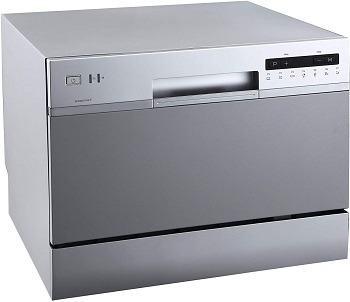 Stainless Steel Interior
You can be sure that this dishwasher is highly durable. It features stainless steel exterior and interior. Thanks to those features you can count on a long life span of the dishwasher and its resistance to the different interior or exterior damages.
Energy Efficient
The best thing about this dishwasher is that it is energy efficient. It requires the use of only 200 kilowatt-hours per year. This is about sixty-one percent less than other countertop dishwashers you can find on the market require.

Easy To Transport
Since this dishwasher comes in a somewhat smaller size you will be able to easily transport it from one location to another. It is the perfect choice for small apartments and people who live alone, but for offices and dorm rooms too.
Short Description:
accommodates up to six standard place settings
stainless steel interior and exterior
built-in cleaning aid dispensers
energy-efficient power consumption
easy to transport when needed
Best Small Silver Dishwasher
Handiy Smart Dishwasher
Mini Size
This silver dishwasher comes in a mini size. It is the perfect choice for everyone who wants to have a small practical dishwasher they can take anywhere they go. It can serve as a camping dishwasher, RV dishwasher, and for many other occasions.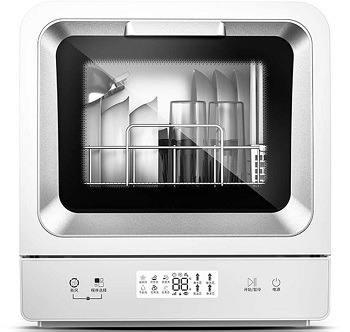 Wireless Operation
The thing that separates this unit the most is the fact that you can easily control it wirelessly via your smartphone. Everything you need to do is download the designated app to your phone and connect it to the dishwasher.
Complete Coverage
You can be sure that this dishwasher will provide you with amazing cleaning performance. It comes with a multi-angle nozzle hole that is specially designed to ensure complete,  360-degree coverage of the entire dishwasher's interior space and the dishes you place inside.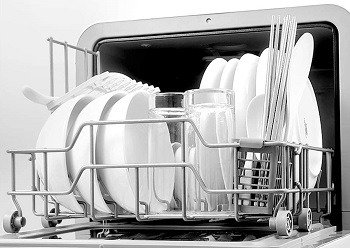 Low Operating Noise
The best thing about this black and silver dishwasher is that it produces very low operating noise levels. This feature can come in handy especially if you share your living space with someone. You will easily find the perfect place for it without worrying that its operating noise might bother someone.
Short Description:
comes in a highly practical mini size
provides a full 360-degree coverage
adjustable cleaning programs and options
produces very low noise levels
features remote wireless operation option
What To Consider About Silver Colored Dishwashers?
Silver-colored dishwashers will perfectly fit into the design of your home. All of the models you can find listed above offer many user-friendly features. Here are some tips to ensure that you find the most perfect dishwasher for your home.
High-Quality Design – To ensure that you find a dishwasher that will have a long life span looking for the models that offer high-quality design and durable construction. You can find many stainless steel dishwashers that offer both durability and a beautiful silver look.
Size And Capacity – Another thing you need to keep in mind is the size of the dishwasher and the capacity it can take in. Both smaller and larger units offer amazing features so you can simply choose based on your needs (whether you need a small dishwasher or a larger one for your family).
Multiple Controls – When choosing the best electric dishwasher make sure that it comes with different adjustable controls. That way you will be able to set the perfect cleaning mode according to the needs of the dishes you are cleaning.
Powerful Performance – Make sure that the dishwasher you choose to buy provides a powerful cleaning and drying performance. I would recommend choosing a dishwasher that ensures complete coverage of the unit's interior. That way you will always have perfectly clean dishes.
Additional Features – All of the models you can find in this post come with amazing additional features. For example, they come with hard food disposer, self-cleaning filters, produce very low operating noise, have safe and energy certificates, etc. All of the numbered features can be an amazing addition.