Are you interested in purchasing a built-in dishwasher that provides exceptional performance for its value?
Then this post might help you with your search!
In the next few segments, you can find short reviews of 15 different models that are top-rated in their own category. Check them out and find out which model suits your needs the best.
The Rundown
What Is A Built-In Dishwasher?
That is an integrated dishwasher designed to be permanently installed into your kitchen. It comes in 3 main sizes, 18 inches, 22 inches, and 24 inches. These are standard sizes that fit most standard-sized kitchens. This model is often called an under-bench dishwasher type since it is built-in in your cabinetry and right below the countertop.
2 Control Panel Options
Besides in different sizes, these models can also have 2 different control panels, front and top. There are really no specific differences between those 2, just the placement of the control panels. Top control models have hidden buttons visible only when the doors are open, while front controls located at the front of the door are visible all the time.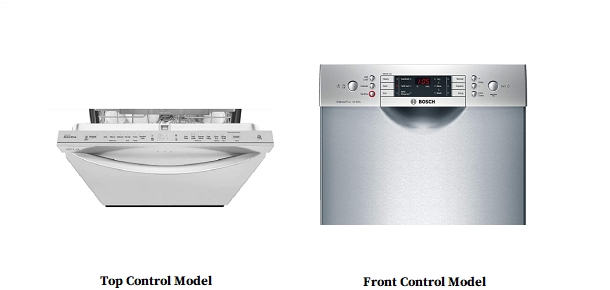 Built-In Or Freestanding: Difference
Built-in models fit beneath your countertop. They feature an "unfinished" design so they can be built-in. Freestanding models are finished on all sides so they can be placed anywhere in the kitchen.
Why Are Built-In Models More Expensive Than Freestanding?
That is only because built-in machines must be installed and that may lead to additional costs if y have to connect water lines or hire a plumber. Freestanding dishwashers don't require such a complex hook-up installation so they are often a cheaper option, especially a countertop model.
Built-In vs. Countertop Dishwasher: What To Know
We already mentioned the key components of built-in models, but what about countertop ones? They are smaller in size, can have a built-in water tank, and are easy to move around and then store in the storage room. Such models are used at the top of the countertop and are suitable for limited kitchens, apartments, RVs, and boats. Built-in models are designed for standard-sized kitchens and are permanently installed. They are made for big families.
Can Any Dishwasher Be Built-In?
Not really, no. Built-in models are specially designed to be built in the kitchen cabinetry. You can place a freestanding or countertop dishwasher in the same under-counter place where you would place a built-in one, however, you can't install such a model the same way you would do it with a built-in one.
Which Are The Most Reliable Dishwasher Brands?
There are many brands from which you can choose, but some of the most reliable ones are certainly Bosch, Whirlpool, KitchenAid, Miele, and Samsung.
Benefits & Downsides Of Built-In Dishwashers
This is an ideal dishwasher if you have enough space for building it in your cabinetry, and if you have a large family or live in a bigger household. Here are a couple of more advantages, as well as disadvantages of owning such a dishwasher.
The main advantages are:
Lasting Design. Most of the fitted dishwashers are constructed of stainless steel. And this is the absolute best material of the making. Stainless steel comes with exceptional quality, durability, and high resistance to both interior and exterior damages.
Great Loading Capacity. These models have the most spacious interior capacity. They can hold between 10 and 16 place settings at the same time. For comparison, countertop dishwashers can hold between 4 and 8 place settings.

High Sanitizing Performance. With the high temperature of the cleaning process, which can reach up to 160 Fahrenheit degrees, you will easily get rid of all the bacteria and germs from the dishes.
Time & Water Efficiency. Cleaning all the dishes by hand is really time-consuming. And it actually uses up to 27 gallons of water per wash. On the other hand, a dishwasher uses between 10 and 15 gallons of water per load, while Energy Star certified models use even less – only 3 gallons of water per load.
Dual-Zone Wash System. This feature automatically sets the spray intensity to soft for the upper spray arm and strong for the lower spray arm. Due to that, you can wash the dishes according to their dirtiness degree.
The only disadvantages are:
Complex installation. This is the biggest disadvantage of buying a built-in model. It requires some electrical and plumbing skills in order to be properly installed and placed. The best way to go is to call a professional that will do its job nicely, properly, and safely.
Professional help requires additional costs. Speaking of installation, if you decide to get a professional to install your new dishwasher, that will cost. Probably a lot.
How To Buy The Best Fully Integrated Dishwasher?
Before buying a fitted dishwasher, you need to know all about its functions. This is important so you can get a model that will meet all your needs and preferences regarding cleaning performance.
Adjustable Racks For Customization
Even though these models do already come with a spacious interior, they can also have adjustable racks which will allow you complete customization of the interior so you can fit and clean awkwardly-shaped cookware too.
Cleaning Cycles
Most of these standard dishwashers have at least 3 cycles to suit different types of items, from breakables to heavily soiled pans and pots. Some of the cycles these models have are a normal, light, heavy, and quick wash, Eco mode, and rinse only.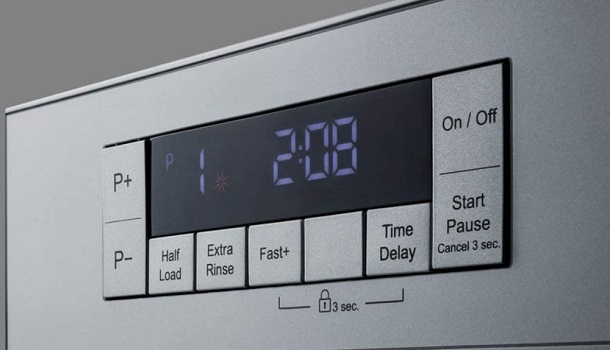 Drying Performance
There are 2 drying options your new undercounter dishwashing model may have, heated drying and air drying. The heated drying option ensures quick and efficient performance, but it needs a lot of energy to do that. On the other hand, the air-drying option needs a bit of time to dry the dishes, but it is efficient and needs a lot less energy.
Low Noise Level
Built-in models can have between 40 and 65 dB. The lower the decibel level, the quieter your dishwasher will be. This comes in handy especially if you have small kids or leave with the elderly.
Energy Star Certificate
This is a great feature. If your dishwasher comes with this certificate, it means that it not only uses just 3 gallons of water per load but also only 0.87 kWh of energy, while those without the certificate use up to 15 gallons of water and 1.59 kWh of energy per load.
Best 15 Built-In Dishwashers
EdgeStar BIDW1802SS Dishwasher
Narrow Design
Because of its 18-inch design, this dishwasher comes in a bit more narrow design. It can easily accommodate up to 8 standard place settings and provides multiple cleaning cycles and options. It produces about 52 DBs per cleaning cycle to ensure that the disturbance is kept to a minimum.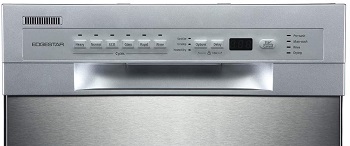 Leak Sensor
With its powerful leak sensor, this fitted dishwasher with an 18-inch unit will keep your home safe from any kind of water damages. No more floods!
Danby DDW1804EB Dishwasher
Versatile Cycles
This affordable model provides you with versatile cleaning cycles and options. All its controls are located at the top right corner of the machine to ensure that you can easily access it.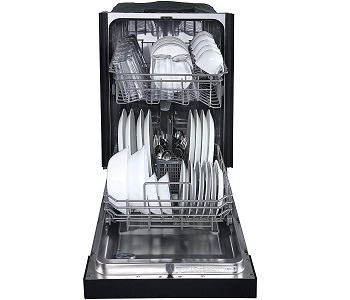 Delay Start Feature
Another amazing feature of this integrated dishwasher for under 500 dollars is its programmable delay start feature. It allows you to choose and set the next cleaning cycle several hours in advance, meaning, you can have clean dishware waiting for you when you come from work.
Fisher Paykel DD24DAX9 DishDrawer
Built-In/Freestanding Setup
Because of its simple design, you can use this double drawer designed dishwasher both as a built-in and a freestanding model. Its control panel is located in the right top corner of the machine to ensure that you can easily access it when needed.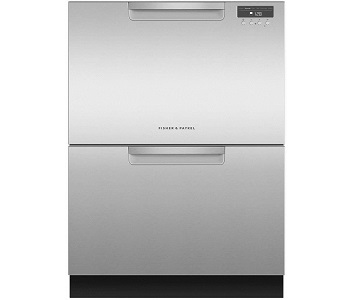 Double Drawer Design
This built-in drawer dishwasher features 2 separate drawers. The best thing is that you can run each one separately. You can even run a half-load cycle. With its multiple cleaning cycles and options, you can count on amazing cleaning results.
SPT SD-6502SS Dishwasher
Smart Wash System
The best thing about this best-rated integrated dishwasher is that it provides you with a smart wash system. It can automatically detect the soil level inside the tub and adjust the performance of the machine accordingly. Combined with its 6 different wash cycles, you can count on amazing cleaning results.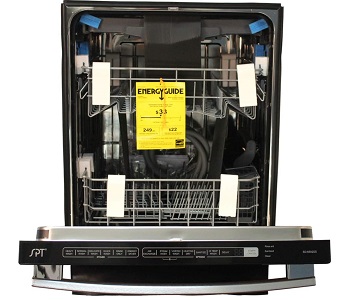 Heated Dry
Another convenient feature of this machine is its heat drying cycle that provides highly efficient results. It eliminates the need for drying the dishes manually using a kitchen cloth.
Blomberg DWT81800SS Dishwasher
Amazing Performance
With its high-pressure washing zone, rotating 360-degree spray arms, and versatile cleaning cycles and options, you can be sure that this 24-inch big machine will provide amazing results. Additionally, its MixWash cycle allows you to clean both heavily soiled and delicate dishware at once, each with different wash strength.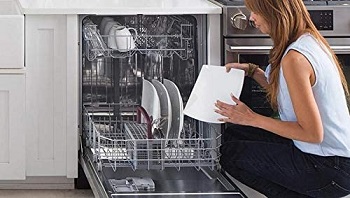 Silent Performance
Because of its advanced Brushless DC motor technology and three layers of noise-suppressing insulation, you can be sure that this model will create very low noise levels.
LG LDP6797BD Dishwasher
Elegant Design
With its black stainless steel exterior, this built-in machine will easily fit into versatile kitchen environments. It has top control design and a recessed door handle that provides it with additional elegance. Its interior is also made out of stainless steel material so you don't have to worry that it might get damaged by rust or corrosion.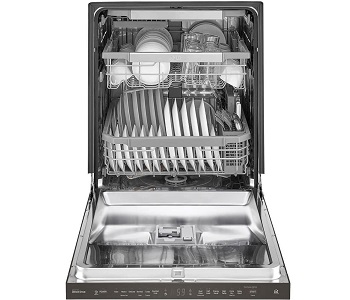 Spacious Interior
Due to its size, this black colored dishwasher will easily accommodate up to 15 standard place settings at once. Its control panel is top-mounted on the dishwasher's door to ensure that you can easily access it.
Summit DW2435SSADA Dishwasher
Simple Design
This dishwasher in silver features a very simple design. It is constructed out of high-quality stainless steel material, has a recessed door handle, and a simple control panel in its top-left corner. With its advanced sound absorption technology, it will create minimal noise levels.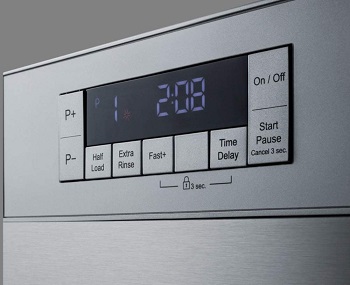 ADA Compliant
The best thing about this compact dishwasher is that it is ADA compliant. This means that all its electronic information and technology is accessible to those with disabilities.
Samsung DW80N3030US Dishwasher
Digital Touch Controls
This stainless steel model for building in features a very simple digital touch control panel. It is located on the front side of the machine to ensure that you can easily access it ad adjust its parameters when needed. Its 15 place setting capacity ensures that the dishwasher can easily accommodate a larger amount of dishware.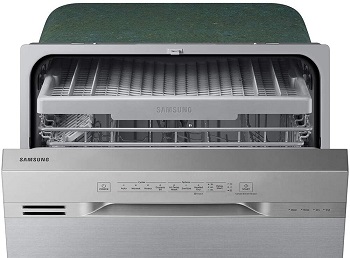 Energy Star Certified
The best thing about this model is that it provides an Energy-Star certified performance. This means that it will consume a minimal amount of power and water per cleaning cycle.
Blomberg DW51600FBI Dishwasher
Panel-Ready Design
Note that this cheap fully integrated dishwasher features a panel-ready design. Thanks to this feature you will be able to customize its design according to your likings. Its fully integrated design ensures that it will perfectly fit next to your other kitchen appliances.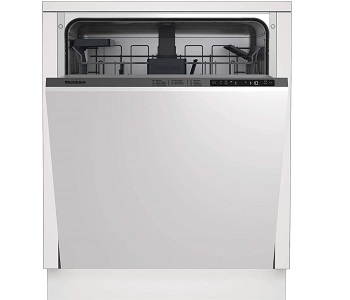 Low Operating Noise
Another amazing thing about this model is that it creates very low operating noise. More precisely, it produces about 48 DBs during its cleaning cycles. 
Bosch SGV68U53UC Dishwasher
RackMatic System
This dishwasher with a built-in water softener features a very spacious interior with 3 separate dish racks. Its RackMatic system provides you with 3 different height levels and 9 possible rack positions. It will easily accommodate up to 15 standard place settings.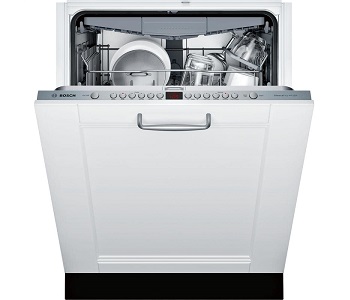 Water Softener
Because of its specially designed water softener, this dishwasher will eliminate those unwanted hard water stains and provide amazing cleaning results.
DWLXSH Integrated Dishwasher
Desired Placement
Because of its design, you can choose whether you want to use this elegant dishwasher as a countertop or a fully integrated model. It provides very powerful cleaning and drying performance and gives all your dishware proper sanitation level.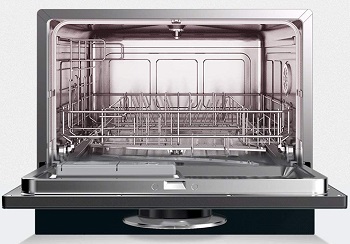 Setup Options
You can hook up this built-in countertop dishwasher to your kitchen faucet or an external water source. Either way, it will provide you with exceptional performance.
Cosmo Top Control Dishwasher
Large Capacity
Because of its convenient 24-inch design, this dishwasher can easily accommodate a large place setting capacity. It features 2 separate dish racks and an additional cutlery basket that is specially designed to ensure that the cutlery pieces don't stick together.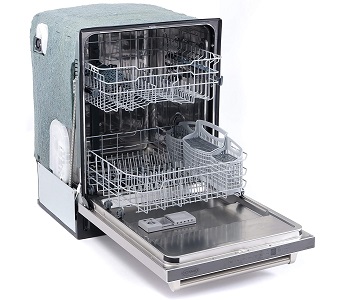 Hidden Control Panel
This built-in RV dishwasher's control panel is hidden atop the machine's door. It features simple touch control cycles and options that will provide you with amazing cleaning performance. Its detergent and rinse aid dispensers are fully automatic to ensure that the machine can do its job perfectly.
Bosch SGX68U55UC Dishwasher
Large Capacity
With its spacious tub interior, this machine is an amazing choice for a large family. It offers 2 spacious dish racks and ad additional cutlery rack and a small basket. Its adjustable RackMatic system ensures that you can set the height of each rack according to your likings.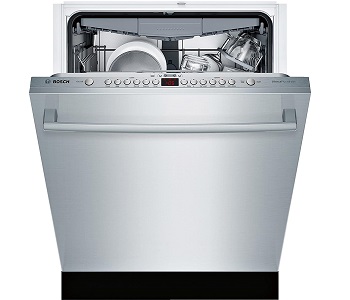 User-Friendly Features
Like so many other models, this dishwasher with large capacity also offers versatile user-friendly features. It comes with a water softener that ensures exceptional cleaning results, a powerful AquaStop leak protection system, etc.
GE GDF650SSJSS Dishwasher
Simple Design
This is another inbuilt dishwashing machine that features a very simple design. It is constructed out of stainless steel material, has a recessed door handle, and a full console control panel on its front side to ensure that you can easily access it when needed.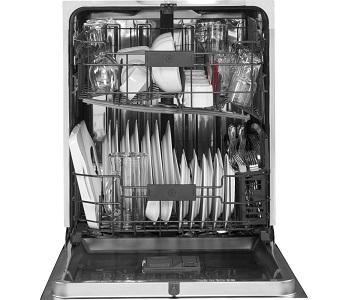 Low Maintenance
Because of its design, and no visible hardware, this dishwasher for home use requires very little maintenance. Most importantly, it provides a very powerful cleaning performance and eliminates the need for pre-rinsing.
Kucht K6502D Dishwasher
Fully Integrated Design
Just like all listed models, this model also features a fully integrated design. With its clean stainless steel design, it will fit perfectly next to the rest of your kitchen appliances. Most importantly, it is highly resistant to versatile damages and even fingerprint stains so you won't have to spend too much time on its maintenance.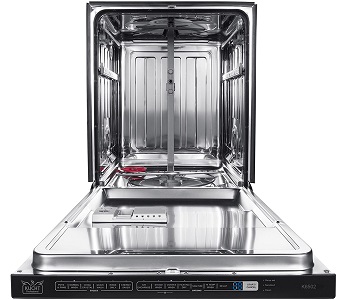 Top Control Panel
This dishwashing machine also comes with a top-mounted control panel. Amongst the versatile cleaning cycles and options it provides, you will be able to use it to clean both heavily soiled dishes and delicate glassware.
Frigidaire FGID2468UD Dishwasher
Black Stainless Steel Construction
This dishwasher features a beautiful black stainless steel exterior that will provide your home with a more sophisticated and modern look. It also has a stainless steel interior thanks to which you will never have to worry about rust, corrosion, or any other interior damages.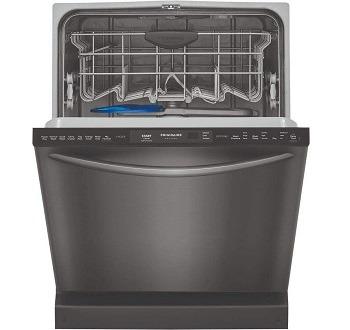 Multiple Controls
Like many other dishwashers, you can find on the market, this dishwasher also comes with a user-friendly control panel that offers multiple wash cycles and cleaning options. You can even set your favorite operating mode and the dishwasher will start that mode every time you touch the "my favorite" button.
Thorkitchen HDW2401SS Dishwasher
Large Capacity
This fitted dishwasher provides you with a large capacity. It is designed to accommodate up to fourteen standard place settings to ensure that all of your dishes perfectly fit inside the unit. It is a great choice for a larger family.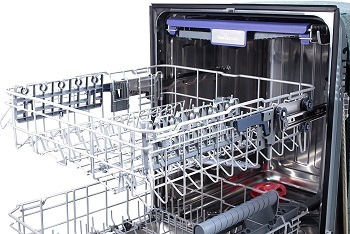 Heated Dry & Air Exchange
This dishwasher also provides multiple options. Amongst them, you will find heated dry and air exchange. Thanks to these options you can adjust and improve the drying performance of the dishwasher by letting fresh air inside the dishwasher.
How To Install Built-In Model?
As we said, that is a really complex operation. You need to have the right tools, as well as electrical and plumbing skills, and you need to know your way around water supply and drain line connections. We recommend calling a professional, however, in case you decide to try with a DIY approach, make sure to strictly follow the official manual.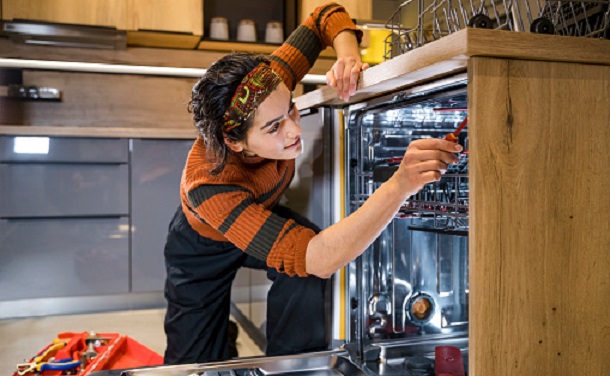 How To Replace A Dishwasher?
Basically, the same way it has been installed. You need to uninstall all the hoses and break the plumbing, remove a dishwasher, and then reapet all the installation steps you did the first time. If you called professional that first time, then call it up once again for replacing a dishwasher with a new model.
Does A Built-In Machine Needs A Cabinet?
No. It just needs an opening where the dishwasher can be installed with sufficient space to accomodate the appliance's size, as well as provide access to the kitchen's plumbing.
How To Remove The Door From A Dishwasher?
In case you damaged the door, the technology failed you, or the door just need to be repaired due to some other fault, don't take that job lightly. There are wires, buttons, and screwers, and in order to handle all that, you need to focus and follow the manual. Every dishwasher is different so make sure to call the brand customer service to see what can you do at home and when is the time to call a professional.
How To Properly Load & Use A Fitted Dishwasher?
Let's talk in detail about the loading and usage of a built-in model.
How To Load
Loading the dishwasher is a problem for many people. Here is what you should know about it.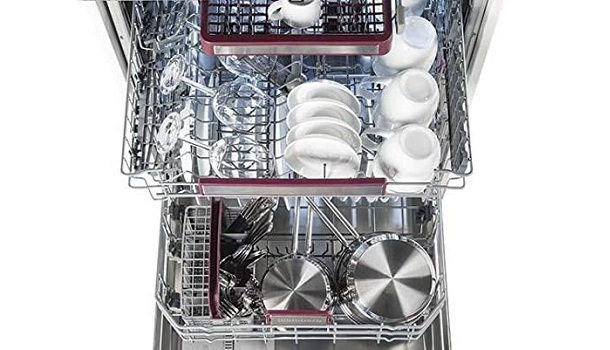 The top rack is made for cups, glasses, and small bowls. Place dishwasher-safe plastic there too.
The bottom rack is for plates, serving bowls, and other larger items. Platters, cutting boards, and other oversized pieces need to be placed toward the sides and back. Items with baked-on food need to be placed facedown and toward the lower spray arm. Pots and pans also go at the bottom rack.
Baskets are for forks and spoons. They need to be facing down. Knife handles go up.
How To Use
Follow these simple steps and use your dishwasher the proper way.
Rinse dirty dishes and then place them between racks.
Make sure the dishes don't block the water sprayer.
Get soap and put it in the soap space compartment.
Close the soap space and then close the dishwasher.
Choose the right cleaning cycles. To know which one is the right one, make sure to read the manual.
After you choose the cleaning cycle, choose the drying type too, and let the dishwasher do its job.