Have you been trying to find a powerful dishwasher that will provide you with amazing performance and a lasting lifespan?
Then check out my post about the most reliable dishwashers you can find on the market!
All listed models are top-rated in their own category. Check them out, find out more about the beneficial features they have to offer, and choose the one you like the best.
The Rundown
Why Is Reliability So Important?
Reliability is something that a kitchen appliance gains with time, especially in the terms of longevity, repairing needs, and quality. Reliability brings back the customers and gains their trust with the products. That is important, especially these days when there are thousands of different brands that try to sell their products with questionable quality.
What Makes Dishwasher Reliable?
Dishwasher brands build their companies for years. They ensure high-quality of their products, including dishwashing machines. In order to be reliable, the dishwasher must meet a couple of key points.
Construction. This component ensures strength, durability, and quality. In the terms of construction, stainless steel models are graded as the best ones on the market. They are strong and resistant to time, high temperatures, odors, and stains.

Longevity. Speaking of durable construction, that component ensures amazing longevity. Dishwasher brands that are named to be reliable ones, guarantee that the dishwasher's life can go up to 12 years.
Minimal maintenance. A reliable model won't need to be cleaned 5 times a day just to make sure that it will work properly the next day.
Minimal repairs needed. Almost all data about the needed repairs for each dishwasher brand is available online. When we're talking about these 4 mentioned points, a dishwasher can be named as a reliable one if it comes with strong construction, great longevity, minimal maintenance, and minimal or no repairs needed. Of course, there might be some small problems that can be fixed in no time, however, any long-term repairs are not welcomed.
Customer satisfaction. This is an additional point that is taken into account when discussing the most reliable appliances. This component includes all of the above points, as well as the overall performance of a dishwasher.
What Are Reliable Brands?
The top 3 reliable brands in the terms of the dishwashers are Bosch, Whirlpool, and Miele. LG and KitchenAid are also high on the scale.
How Do They Differ From Other Brands?
They have smaller percentages of repairs and serious problems that may impact the dishwasher, its longevity, and performance.
So A Brand Really Matters?
Well, yes and no. A brand's reputation is directly correlated to brand issues and reports, so in that terms, a brand names matter, yes. On the other hand, some brand names can also be overrated so that's why the dishwasher brand names do not always matter. The best way to know is to go check their customer satisfaction level and standard specifications that some dishwasher models offer you. That combination should give you a pretty good idea of which brand really matters and which one has earned its label "reliable".
Reliable Price Range For High Quality
Dishwashers that are mid-range priced are usually the most reliable ones. Mid-range goes from $500 to $1,000. Of course, some models may be cheaper due to some discounts or perhaps priced higher than $1,000, but that really depends on the model and brand. However, if you stick to these mid-range prices, you won't be mistaken.
Why Do I Need A Branded Dishwasher?
Because these specific brands have a long-term relationship with their customers. They have consistency and are graded with the highest customer satisfaction ratings. The mentioned brands with the label "reliable" are the "security" that people need in their homes when it comes to their kitchen and appliances. Besides the already mentioned components a reliable model can offer you, here are a couple of more benefits you need to know of.
Energy efficiency. Most of these dishwashers come with an Energy Star certificate. That means that such models use less energy and water per load. A certified dishwasher uses about 3 gallons of water and 0.87 kWh of energy per load. A non-certified model uses up to 15 gallons of water and 1.59 kWh of energy per load. Energy Star dishwashers are bringing you savings on the bills at the end of the month.
Excellent performance. These models come with the highest customer satisfaction. And outstanding performance is a part of that high rank. What these dishwashers bring to the table are impeccable cleaning and drying results.
Regular Cleaning? Once a week. And that is what makes these models a great choice. You don't need to maintain nor clean a dishwasher 5 times a day but only once a week and that is it. Plus, cleaning is as easy as a breeze.
No expensive machines. You don't need to invest a lot of money to buy quality. Reliable dishwashing machines don't cost thousands of dollars and yet, they ensure everything you need. That is, of course, combined with great performance, multiple cleaning cycles, and reliability. And all that is packed with a mid-range price.
Specs & Functions For High Customer Satisfaction
Let's talk about other specs and functions you can expect from a reliable dishwashing machine such as interior construction, racks, and cycles.
Built-In Or Freestanding Options
Now that we've defined the term "reliability" and what can such a dishwasher offer you, let's talk about different model options, sizes, capacities, and other specifications that you can count on by choosing a specific dishwasher model.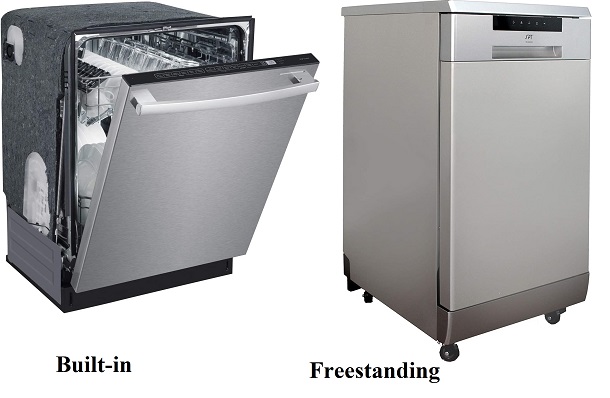 Built-In Dishwashers
These are the most popular models for washing the dishes. Here are their characteristics.
A built-in model, as the name says it, is built in the already existing kitchen cabinetry. Usually, that is somewhere near the sink so that the dishwasher can be connected to the same plumbing.
It can feature a 24 or 18-inch big unit, as well as a front or top control panel.
It can come with a panel-ready front design so you can customize it to match the rest of your cabinetry.
This model is ideal for larger families as it can fit anywhere between 14 and 20 place settings.
Freestanding Dishwashers
These are the second most popular dishwashers, often chosen because of their convenient design.
A freestanding model is finished on all sides so it doesn't have to be built-in but only placed next to the cabinetry or some other available space with the necessary plumbing. It can have 3 different designs that we're going to define now.
A classic freestanding dishwasher is permanently placed next to the cabinetry. It can feature an 18 or 24 inches big unit, as well as a front or top control panel. When it comes to its capacity, it can usually hold between 8 and 12 place settings.
A portable model comes with wheels on its bottom so it can be rolled in and out of the kitchen per your request and needs. It has the same size and control panel options as a classic model, and it can also hold up to 12 place settings.
A countertop dishwasher is a smaller model that is designed to be placed on the countertop. It can feature a unit that is big between 12 and 18 inches and hold between 4 and 8 place settings. This model is quite convenient for smaller apartments and limited spaces such as RVs, mobile homes, and boats.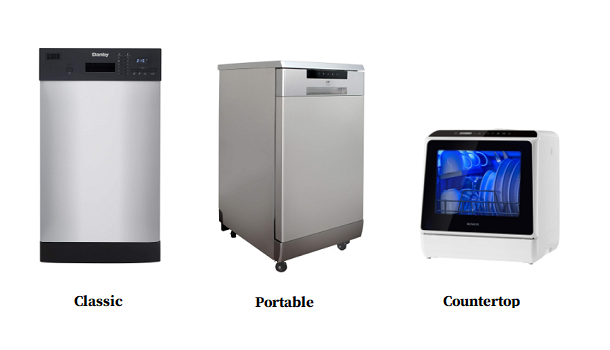 Tub Construction
We already mentioned that stainless steel construction is the one to go with. However, that goes for both interior and exterior construction. When the tub of the dishwasher is made from steel, it contributes to better cleaning and drying results.
Adjustable Racks
This is a great feature that will let you customize the interior of the dishwasher by rearranging the compartments, racks, and baskets. This feature is available only with built-in and freestanding models, as well as those that come with wheels at their bottom.
A Third Rack Is A Nice Plus
This is a relatively new addition to the dishwasher's interior. A third rack is located above the classic top rack. It is described as a drawer for utensils, flatware, cooking and serving tools, and other small items.
Multiple Cleaning Cycles
Most dishwashing machines come with pretty much the same cleaning cycles and options. Of course, the final number and categorization depend on the model you choose, however, most of them offer normal, light, and heavy wash, rinse only, quick wash, and ECO mode. Some other cycles a dishwasher can have are delicate, china, glasses only, baby care, and more.
Built-In Water Softener
This is an important feature if you have problems with hard water. A water softener optimizes the cleaning ability of water, eliminates clouding and streaking of glasses that can be caused by hard water, and eliminates deposits and stains in the dishwasher.
2 Different Drying Options
These dishwasher models don't only ensure impeccable cleaning performance but drying operation too. You can choose between 2 different drying options, so here are all details.
Heated drying isn't that popular anymore as it uses a lot of energy. Such a model has a fan or some other heated element that efficiently, quickly, and thoroughly dries the dishes.
Air drying, on the other hand, is an eco-friendly drying option. It uses room air that circulates inside the dishwasher and dries the dishes. This function is also efficient and it does its job thoroughly, however, it may take just a little bit longer for the operation to be finished. Air drying is present in most dishwashers today and it uses 15% less energy than heated drying.
Additional Smart Features
Even though smart features are a bonus for more money, they can be rather convenient. Some of them are WiFi connectivity, separate zone wash, soil sensors, delay start option, voice control systems, and more. These features are not exactly needed for efficient cleaning performance, however, they can be handy in some situations.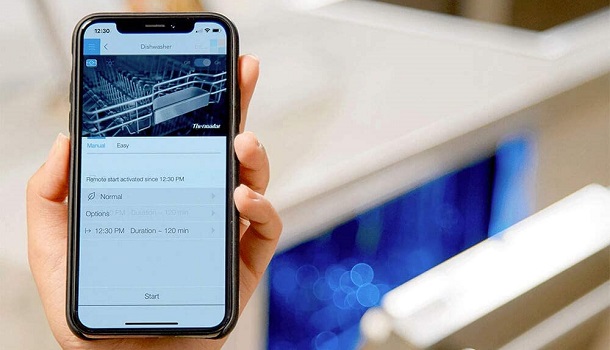 Can I Count On Quiet Operation?
Absolutely. These dishwashing models can come with a noise level that is anywhere between 38 and 55 dB. To have an ultra-quiet model, choose the one that has a noise level of less than 44 dB.
Top 20 Reliable Dishwashers
Bosch SHE3AR76UC Dishwasher
Large Capacity
This most reliable dishwashing machine provides you with a super capacity of up to 14 standard place settings. It comes with 2 racks, and the upper one is height-adjustable. With its powerful SaniDry condensation drying cycle, it will provide you with perfectly dry dishes straight out of the machine.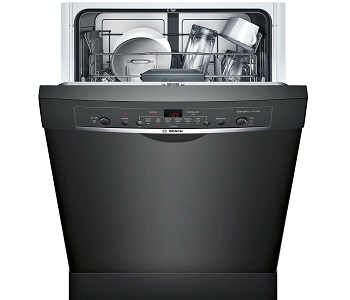 Energy Star Certified
Another one of its amazing features is powerful leakage protection that will keep your home safe from water damages. With its EcoSense technology, this dishwasher reduces energy usage by up to 20%, meaning no high utility bills.
EdgeStar BIDW1802SS Dishwasher
Narrow Design
This is the only model I reviewed in this post that features a bit more narrow design. With its 18-inch width, this best reliable dish machine is an amazing choice for smaller kitchens. It features a simple control panel with push-button controls and offers 6 different cycles and 3 different options.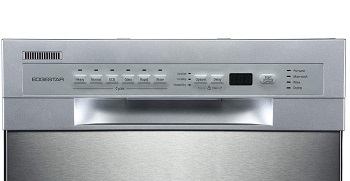 Leakage Sensor
Like the previous model, this dishwasher also comes with a leakage sensor. It is specially designed to detect a leak inside the tub and immediately stop the water flow.
LG LDT7797ST Dishwasher
Tall Tub Design
The great thing about this model is that it features a tall tub design. Thanks to this feature it will be able to accommodate a larger capacity of dishware at once. Its top third rack is height adjustable to ensure that you have enough room for all your silverware.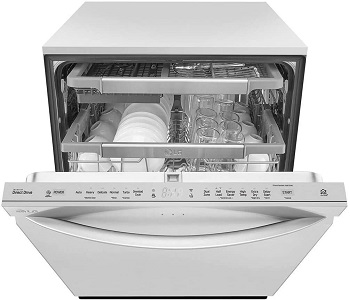 Top Mounted Panel
This dishwasher comes with a top-mounted control panel that provides you with versatile functions and features. It is even WiFi-enabled, meaning, you will be able to control it via your smartphone.
Eurodib Lamber DSP3 Glasswasher
Commercial Grade Design
This reliable dishwashing machine features a commercial-grade design. It is entirely made out of high-quality stainless steel material and comes with a 16″x 16″ square basket for your dishware. It has both wash and rinse temperature thermometers thanks to which you can easily track the temperature of the cleaning cycle.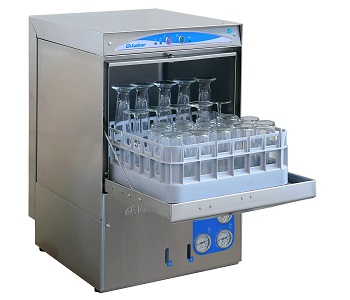 High Capacity
What makes this dishwasher such an amazing choice for commercial use is its high capacity. Each cleaning cycle lasts about 2 minutes, meaning, it can clean up to 30 racks of glassware per hour.
Sharp SDW6757ES Dishwasher
Elegant Design
This dishwasher features a very elegant stainless steel design. It features a high 14 place setting capacity and has premium LED interior lighting.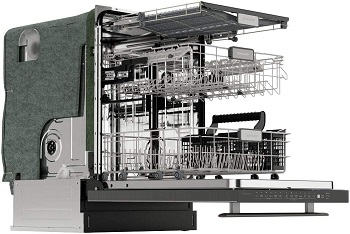 User-Friendly Features
The best thing about this most reliable dish machine is that it offers versatile user-friendly features. It offers a Power Wash cleaning system, powerful drying performance, half-load option for washing smaller loads, comes with smart soil sensors that detect how soiled your dishes are, etc.
Blomberg DW51600FBI Dishwasher
Panel-Ready Design
This dishwasher features a panel-ready design. This makes it a highly convenient choice for people who want to have a uniquely designed kitchen. You can completely customize its panel and have it match the rest of your kitchen.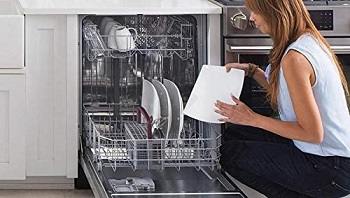 Water Softener
Its water softener is what makes this dishwasher such an amazing choice for households with hard water is its specially designed water softener. It eliminates those hard water spots and provides beautiful shiny results.
Bosch SGX68U55UC Dishwasher
Large Capacity
With its spacious interior tub, this is the perfect dishwasher for a large family. It comes with 3 separate dish racks and a RackMatic system that allows you to adjust the height of every rack. Its AquaStop Plus protection program keeps your home safe from any water damages.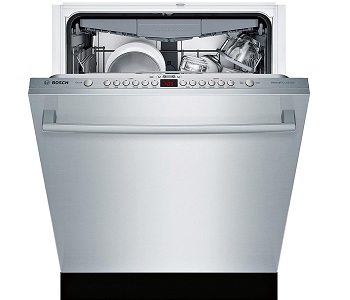 Simple Control Panel
This most dependable dishwasher also comes with a very simple control panel with push buttons. It is located atop the door to ensure that the machine features an elegant design and that its control panel is easily accessible.
Kucht K6502D Dishwasher
Elegant Design
This dishwasher features an elegant design. It is made out of high-quality stainless steel material and has a convenient handle you can use as a towel rack. Since it features a fully integrated design, it will easily fit next to your other kitchen appliances.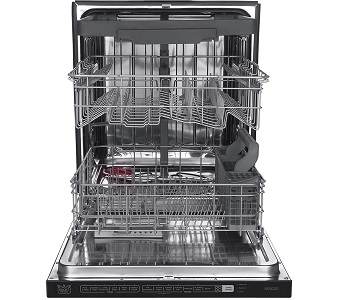 Powerful Performance
You can be sure that this machine will provide you with amazing results. It offers multiple cleaning cycles and options that ensure powerful cleaning performance.
GE GDF650SSJSS Dishwasher
Full Console Dishwasher
This full console dishwasher features a very spacious stainless steel interior that can accommodate up to 16 place settings. It comes with 2 steam-safe shelves, an adjustable upper rack, and a silverware basket. Its control panel is located on the front top side of the dishwasher's door and offers multiple cycles and options.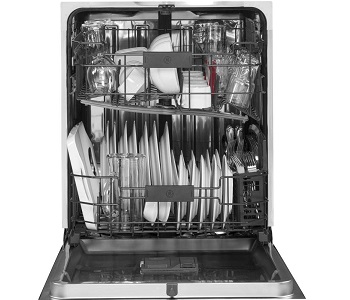 Amazing Options
Note that this dishwasher for home use offers some amazing options. It offers a powerful AutoSense cycle, powerful bottle jets, ad a Piranha hard food disposer that prevents the machine from clogging up.
Danby DDW621WDB Dishwasher
Compact Size
Compared to the previously reviewed models, this dishwasher comes in a compact countertop size. It provides you with a standard 6 place setting capacity and has a silverware basket that is specially designed to separate all your silverware pieces and give them a thorough clean.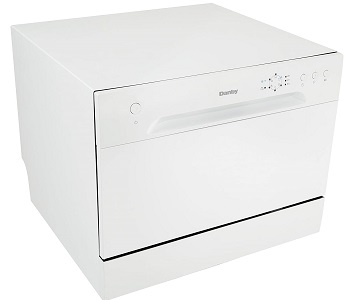 Affordable Price
Because of its price, this cheap dishwasher is an amazing choice for everyone looking for a more budget-friendly option. Since it is Energy Star rated, you can be sure that it will consume low power and water levels.
Thor Kitchen HDW2401BS Dishwasher
Big Integrated Design
Due to its size, this large capacity model is an amazing choice for everyone looking for a bigger model. Its top-mounted control panel provides versatile cycles and options you can easily adjust depending on how soiled your dishes are.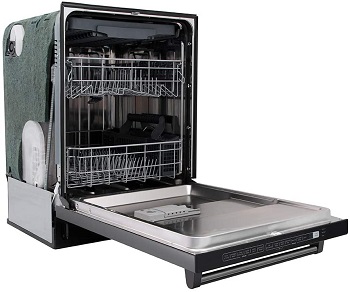 Black Stainless Steel 
This best reliable machine for dishes features a black stainless steel design. Its handle also works as a dish rack. Because of its design, you can be sure that it will fit into versatile home decors and provide them with additional elegance.
Farberware FDW05ASBWHA Dishwasher
Small Size
This dishwasher comes in a somewhat smaller size thanks to which it can easily fit atop your countertops or even inside the kitchen cabinetry. It features a convenient backlit control panel that provides you with multiple cycles you can use to clean dishware, baby bottles, fruits, and veggies, etc.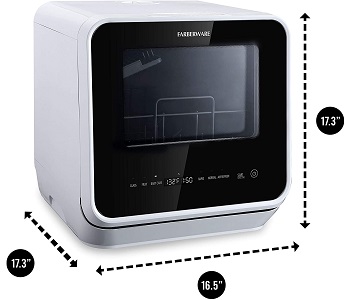 Hookup Options
The best thing about this small countertop dishwasher is that it provides you with different water inlet options. You can hook it up to your kitchen faucet or use its water tank.
SPT SD-6513SS Dishwasher
Place Setting Capacity
Because of its 24-inch size, this dishwasher can easily accommodate up to 10 standard place settings. Both its exterior and interior are made out of high-quality stainless steel material and it features 2 separate dish racks. It offers an error alarm and rinse-aid warning indicator that will inform you when something is wrong with the machine.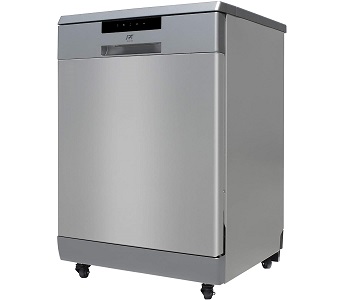 Rolling Wheels
Just like the rest of the dishwashers on wheels, this most dependable dishwasher is also very easy to move around. Because of its freestanding design, it doesn't require any permanent hookups or installations.
Frigidaire FGID2479SF Dishwasher
Cleaning & Drying Performance
This dishwasher with top-rack provides a very powerful cleaning and drying performance. Its convenient LED beam indicator is designed to shine a small light on the floor while the dishwasher is on.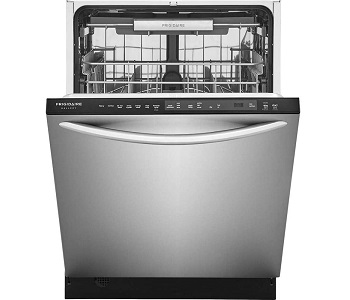 Smart Features
The best thing about this dependable dishwasher is that it provides you with versatile smart features. These include a convenient DishSense technology that adjusts the performance of the machine according to the soil level, a 24-hour programmable delay start option, an OribtClean wash system, etc.
NOVETE TDQR01 Dishwasher
Simple Design
Due to its size, this dishwasher features a very simple design. It has a fully transparent glass door window that allows you to observe the entire cleaning process.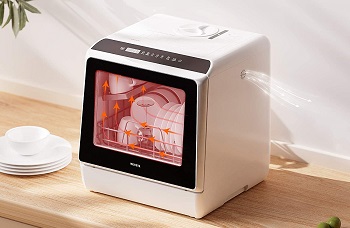 Multipurpose Use
This is another dishwasher that can be used to clean versatile items. Apart from the dishes, you can use its cleaning cycles to wash your baby's bottles and pacifiers as well as to give veggies and fruit a thorough clean. It is a highly convenient choice for smaller families.
Cosmo COS-DIS6502 Dishwasher
Hidden Controls
This dependable dishwasher comes with user-friendly controls that are hidden away atop its door. They are all touch-enabled to ensure that you can easily activate the desired one. Its multiple filtration system removes dirty water from the clean one and minimizes both water and power consumption.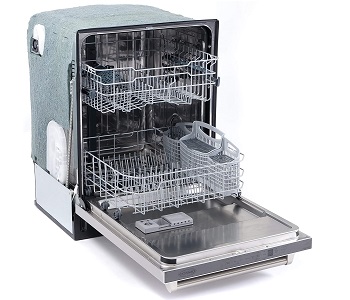 Noise Level
As its category implies, this quiet dishwasher produces very low noise levels. More precisely, it produces about 45 DBs, meaning, no one will be bothered by its noise.
Kapas KPS-XWJ01 Dishwasher
Desktop Design
This is another model that features a desktop design. This means that you won't have any trouble finding the best place for it. Its convenient glass door window allows you to precisely track the cleaning process. Most importantly, no permanent hookups are needed.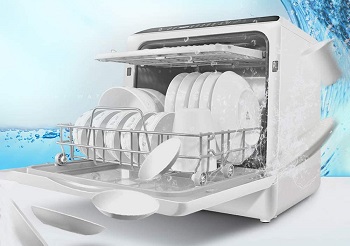 Powerful Cleaning Performance
Note that this dishwasher provides very powerful cleaning and drying performance. Its rotating spray arms are specially designed to provide full coverage. Additionally, its high temperature completely sanitizes your dishware.
COSTWAY 24717US-CYEP Dishwasher
Portable Size
Like all camping dishwashing machines, this model also comes in a convenient portable size. It can easily accommodate versatile dishware pieces. Due to the 2 different water inlet options, you will be able to use it in remote locations too, when direct water hookups simply aren't possible.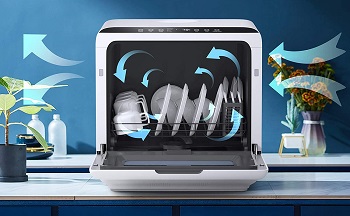 Hot Air Drying Cycle
You can be sure that this most dependable dishwasher will completely sanitize the dishware inside the tub. It uses a high-temperature airflow that will dry up your dishes and ensure you can store them in your cabinets straight from the dishwasher.
Summit Appliance DW2435SSADA Dishwasher
Front Control Display
This dishwasher features a front control display with easy-to-use buttons for a more intuitive operation. It also offers a highly advanced sound absorption technology thanks to which it will produce very low noise levels. It is even Energy Star certified, meaning, it features lower power and water usage.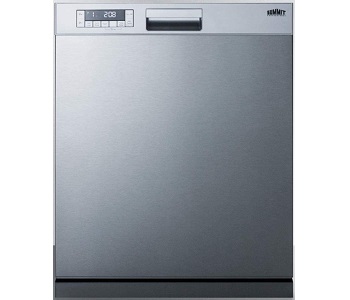 ADA Compliant
The best thing about this dishwasher is that it is ADA compliant. This means that all its technology and electronic information are accessible to those with disabilities.
Fisher Paykel DD24DDFTX9N Dishwasher
Double Drawer Design
This is the only dishwasher model that features a double-drawer design. It is specially designed to ensure that it fits with the rest of your kitchen appliances. Its controls are located on the inside of the drawer to ensure that only you can activate them.
Half Load Option
Because of its two separate drawers, you can use this dishwasher to run only one half-load cycle. Also, you can set different cleaning cycles in each drawer and clean heavily soiled dishes and delicate glassware separately, but at the same time.
How Safe Is A Dishwasher?
Completely safe. It features standard but high safety features that ensure safe handling and use. Here are some of the most common features you can find in a dishwasher.
Automatic cut-off. This feature shuts off the power of the dishwasher to prevent overheating.
Leakage protection. This feature works the same as automatic cut-off, only in the terms of water and detecting leakage.
An alarm buzzer can be found in some of the models. It uses sound to let you know that the cleaning cycle is finished.
Light indicators. They also warn you about the cleaning cycle, they only use lights to do that.

Tight seals and minimized gaps. That reduces air flow in order to limit the risk of fire from spreading due to overheating components.
Fire-resistant doors. That includes both inner and outer doors which are comprised of metal shieldings.
How Does Maintaining Contribute To Longevity?
In order to properly work, a dishwasher needs to be cleaned once a week. That includes both interior and exterior cleanup. If you clean and maintain your dishwasher, you can extend its life for a couple of years.
How To Properly Clean A Dishwasher?
Here are a couple of tips and instructions.
Remove the filter. Clean it under the running water by using a toothbrush and some mild detergent. Let the filter air dry and place it back to its place.
To clean the rest of the dishwasher's interior, run 2 cycles. In the first one, place white vinegar at the top rack. In the second cycle, sprinkle baking soda at the bottom of the dishwasher.
To clean the exterior, you can use a soft cloth and some lukewarm water. You can add mild detergent too. Just be careful when you're cleaning around the control panel. Don't use water nor detergent in that area. Just wipe the panel with a dry cloth and that's it.
What Dishwasher Brands To Avoid?
According to the overall customer satisfaction, here are a couple of dishwasher brands that have a negative reputation when it comes to the number of repairs and breakages of the dishwashers, as well as overall efficiency. Now, don't get us wrong, these brands have some models that are great and efficient, and aren't at all the ones that should be avoided. But like with any other brand, most of them have both hits and misses when it comes to their dishwasher models. Overall, before buying any dishwasher, make sure to read customer reviews, and see will the model you want be a good match for your household, as well as a reliable kitchen appliance.
Viking. Dishwashers from this brand have some serious flaws with the manufacturing, design, and – cheap parts that often leak.
Electrolux. Dishwashing models from this brand aren't energy efficient more like power-hungry.
Samsung. Even though this brand is rather popular when it comes to some of its electronic devices, that is not the case in the terms of dishwashers. According to the customers, Samsung dishwashers have design flaws and poor parts. They often have drainage issues and breakages too.
Fisher & Paykel. This brand is often referred to as a luxury brand, however, the design of the dishwashers often gives a headache to the customers. They are also expensive, yet most of them break within a year.