Are you looking for a dishwashing machine that can easily go from a home model to an RV one?
Then the portable dishwasher is just what you need!
The 20 models I found, listed, and reviewed below are top-rated in their category. Check them out, find out all about their designs, features, and prices, and find out which one works the best for you.
The Rundown
What Is Portable Dishwasher?
To put it simply, this model is just a regular freestanding dishwasher that you can move around. Such a model is designed to not need a permanent place in your kitchen and is cheaper due to the limited access to the sink. This dishwasher type can be used not only in the kitchen, but also in the RV, boat, and while camping.
Portable vs. Regular Models: Difference
Portable models are as capable as the built-in dishwashers. They can be installed in any kitchen as long as you can connect the appliance to the faucet and drain it into the sink. Portability can be the component of both electric and manual models. Built-in dishwashers are stationary models. They use electricity only to work. In the terms of size, construction, and functions, all electric models are pretty much the same.
What Types Of Dishwashers Can I Count On?
From electric models, there are dishwashers on rollers and smaller capacity countertop dishwashers. Manual models are usually divided into those that are ultrasonic and fully manual. But let's talk details.
A dishwasher with rollers is really convenient to use. You can literally just roll this narrow model in when you need to use it and roll it out when the cleaning cycle is finished.
Countertop electric dishwasher is smaller in size and it is designed to fit any kitchen countertop, including RV, boat, and apartment.
Manual models can include a bucket with two compartments for cleaning and rinsing, as well as a plastic tank that is sprinkled with water when you're turning on the knob. Both types are great when you're camping and don't have access to electricity.
Ultrasonic models are actually considered to be semi-manual. Some of the models use electricity while others are USB charged. No matter the power outlet, they are semi-manual because they do just half of the cleaning job. They produce waves in the water to clean the dishes, but afterward, you need to sanitize and rinse the dishes manually.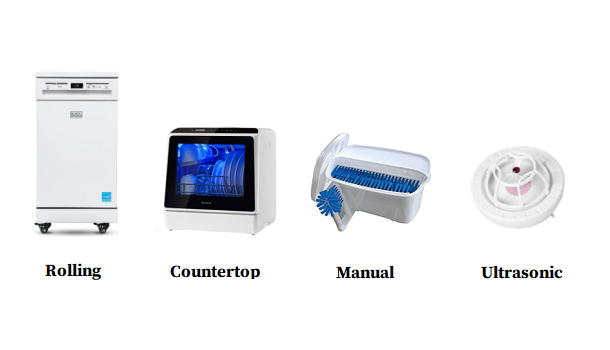 Water Inlet Options
Movable dishwashers can provide you with different water inlet options. Most electric models can be connected to a kitchen faucet using just a few simple accessories named in the manual. However, some models, such as some countertop dishwashers, come with water tanks that eliminate any need for water hookups. In the terms of manual dishwashers, you need to add water manually or fill the sink with it.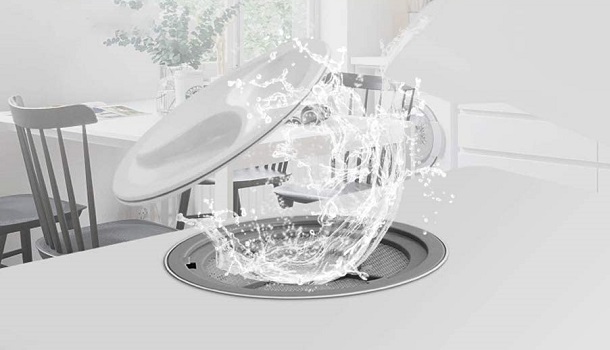 Are Portable Models As Good As Built-In?
Electric dishwashers are. They pretty much provide the same cleaning functions as built-in models, they just come with extra wheels or smaller units. Manual models can't do the cleaning operation that flawlessly.
Can I Hook Up An Electric Portable Model Permanently?
Yes. Any model designed with a focus on portability, can be connected permanently to a water source and drain. Some can even be permanently installed as under-counter dishwashers.
What Is The Price Range?
The price depends on the model. Most manual and ultrasonic models are priced between $20 and $60. Dishwashers for countertop cost between $300 and $500, while models on wheels have a price range between $500 and $800. Thanks to this high range, you can find the ideal dishwasher within your budget.
Who Needs This Type Of Dishwasher?
Anyone who wants a model designed for convenient use. This dishwasher type is great for limited kitchens, apartments, camping trips, mobile homes, boats, and RVs. The choices are endless.
Space-Saving Models
If you get a model with rollers, you can store it in a storage room so it doesn't take up the space in the kitchen. Countertop models require small dimensions of space, while manual models can be stored even in the cabinets and drawers.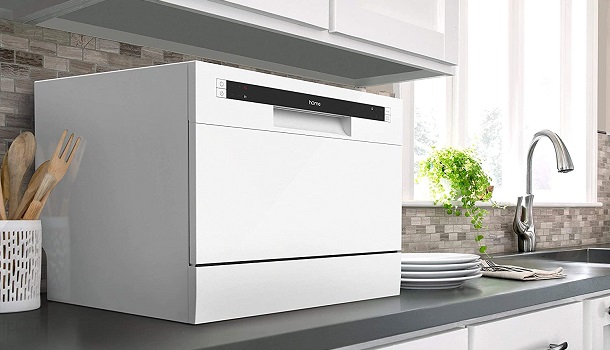 User-Friendly Features
Portability comes hand in hand with simple design. And that means an easy-to-use control panel. No one wants a too complicated machine for their camping trip, RV, or home.
What To Consider When Buying?
This only depends on your needs and preferences. A built-in dishwasher is a great feature of every kitchen, however, if you're limited on space, need an appliance for RV or boat, or perhaps a camping trip, then you should consider getting a portable model. But before any official decision, here are the functions and specifications you need to bear in mind while finding the perfect machine.
Portability Means Strong, Right?
Right. Portable appliances need to be strong to endure rolling, storing, and carrying. Electric dishwashers guarantee great longevity due to their stainless steel construction. On the other hand, all manual models are made from plastic and maybe some aluminum pieces. However, they can endure portability and storage.
Different Size & Capacity Ranges
Here are all the details on size and interior capacity, based on the model.
The Rolling dishwasher usually features an 18 or 24-inch big unit. They can hold between 10 and 16 place settings. These are standard sizes and capacities of built-in models too.
The countertop model is smaller and its unit is usually big between 14 and 18 inches. This dishwasher can fit between 4 and 8 place settings.

The manual model has a unit that is big between 8 and 15 inches. If you go for a bucket with 2 compartments, you can wash one dish at a time. If you decide to buy a dishwasher tank, you can maybe clean 2 to 4 place settings at a time.
Ultrasonic dishwasher usually features a 2 to 4 inches big unit. This model doesn't really define the capacity, your sink is.
Cleaning Cycles & Options
You probably know that manual and ultrasonic models don't really have different cycles. However, electric ones do. Both rolling and countertop appliances have at least 4 cleaning cycles. That usually includes normal, quick, and light washes, as well as rinse only. They can also come with ECO mode, glasses only, heavy wash, delicate, and more.
Is A Drying Function Included?
With dishwashers that are powered by electricity, yes. Countertop models and those that feature wheels, usually have a built-in drying option. It can be heated or air-dry. Manual dishwashers lack the drying function and you either need to let the dishes dry by themselves or wipe them with a cloth.
Delay Start Program
This is one of the additional features you can get with a portable appliance for cleaning the dishes. A delay timer allows you to program the start of the next cleaning cycle up to several hours in advance. Usually, we're talking about 3, 6, 9, or even 24 hours.
Operating Noise
A dishwasher can create between 40 and 60 dB, depending on the model you choose. The lower its decibel rating is, the quieter performance the machine will provide.
Energy Star Certificate: A Great Plus
If you're an eco-aware person then you need an Energy Start certificated dishwasher. Such a model is designed to use less water and energy per load. It uses less than 4 gallons of water and 0.87 kWh of energy per load. Models that don't have an Energy Star label use up to 15 gallons of water and 1.59 kWh per load.
20 Best Mobile Dishwashers
hOmeLabs Compact Dishwasher
Wash Cycles
Like all listed models, this dishwasher for home use also comes with versatile wash cycles and functions. They are specially designed to provide amazing cleaning performance and eliminate the need for pre-rinsing your dishware.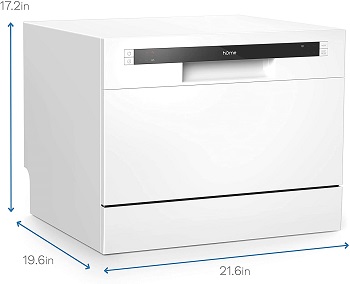 Quick Assembly
This portable home dishwasher is very easy to set up and connect to your kitchen faucet. Both inlet and drain hose and a faucet adapter come included in the package to ensure that you have to put in a minimal amount of effort.
Farberware FCD06ABBWHA Dishwasher
High-Quality Design
This dishwasher features a high-quality design. Both its exterior and interior are made out of stainless steel material that ensures the machine's lasting lifespan.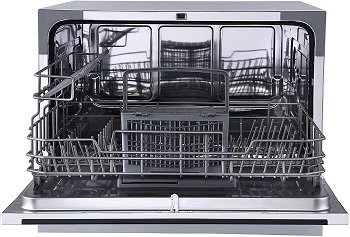 Multipurpose Use
The best thing about this steel dishwasher is that you can use it to clean versatile items. Apart from your dishware, its cleaning cycles are designed to sanitize your baby's bottles and toys. You can even use it to give your fruit and veggies a thorough clean.
Kapas Countertop Dishwasher
User-Friendly Design
This cheap dishwasher features a simple user-friendly design. Its control panel is located atop the machine to ensure that it is very accessible. Additionally, it features a transparent glass door window that allows you to observe the entire cleaning process.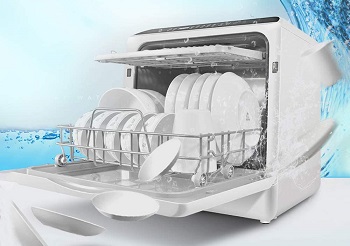 Sanitizing Performance
The best thing about this mobile dishwashing machine is that it provides you with a very powerful sanitizing performance. It uses a high 75-degree temperature during its washing process.
Farberware FDW05ASBWHA Dishwasher
Simple Design
This electric dishwasher features a very simple design. Its front door features a transparent glass door window that allows you to observe the machine's performance. All its controls are backlit and conveniently displayed on the front bottom side to ensure that you can easily access them.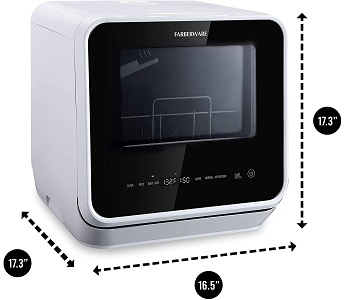 Steam Cycle
Amongst the versatile cleaning functions this portable and electric dishwasher provides, it also provides a powerful steam cycle. You can use it to sterilize your dishware, baby bottles, and toys, fruit and veggies, etc.
Novete Compact Dishwasher
Interior Lighting System
This quietest dishwasher features a user-friendly design. It has a spacious tub, interior lighting system, a glass door window, top-mounted backlit control panel, etc. With its double spray arms and powerful high-temperature drying performance, you can always count on great results.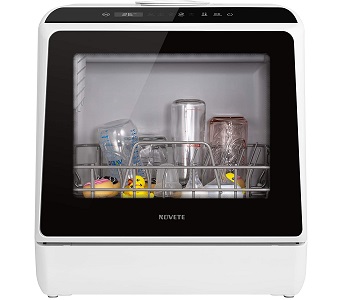 Low Operating Noise
The best thing about this machine is that it provides you with quiet performance. You will be able to run it during any time of the day or night without worrying that its noise might bother someone.
Black+Decker BCD6W Dishwasher
Child Lock Feature
Amongst the many amazing features this small countertop dishwasher provides, you will also find a child lock safety mechanism. It is specially designed to ensure that you can lock up the control panel and prevent anyone from tampering with it.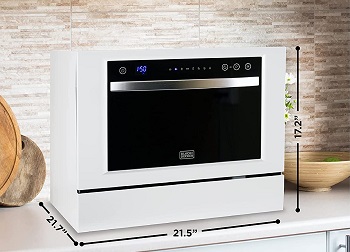 Simple Setup
The best thing about this small dishwasher is that it is very easy to set up in a short time. A 59-inch connector hose comes included in the package to ensure that you can easily connect this machine to your kitchen faucet.
EdgeStar DWP62SV Dishwasher
Place Setting Capacity
Due to its convenient size and design, this desktop dishwasher can easily accommodate up to 6 standard place settings at once. It features a dish rack, cup shelf, and an additional cutlery basket. Its stainless steel tub interior is specially designed to ensure the lasting lifespan of the machine.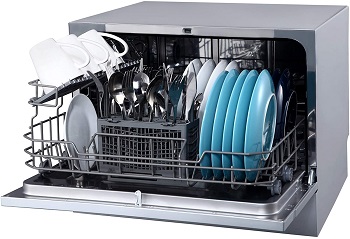 Digital Display
This portable countertop dishwasher comes with a convenient digital display in its top-right corner. It provides you with versatile cleaning cycles and functions and offers an adjustable time delay program.
Danby DDW631SDB Dishwasher
Freestanding Design
As its category implies, this dishwasher features a completely freestanding design. This means that it requires no permanent water hookups. It is Energy Star compliant so you don't have to worry that your bills might become too high due to the dishwasher.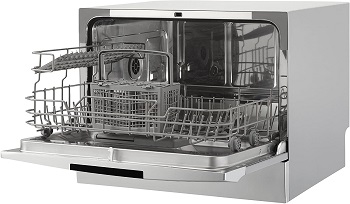 Delay Start
Another convenient feature of this portable freestanding model is its delay start program. It allows you to set the next cleaning cycle up to 2, 4, 6, or 8 hours in advance.
SPT SD-2213S Dishwasher
Generous Capacity
This is another dishwasher comes in an apartment-size design and it provides you with a generous capacity. It can fit up to 6 standard place settings and various dishware that are up to 10.25 inches in diameter.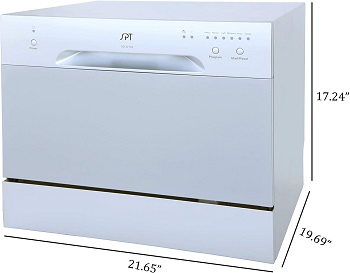 Various Cleaning Cycles
With its various cleaning cycles and options, you can be sure that this apartment size dishwasher will provide you with exceptional performance. Additionally, its warning light indicators will inform you if something is wrong with the water connection and when it's time for you to refill the rinse aid dispenser.
Ensue Countertop Dishwasher
Compact Size
This dishwashing machine comes in a convenient compact size. Thanks to this feature you will be able to fit it atop your kitchen countertops or even inside the kitchen cabinetry.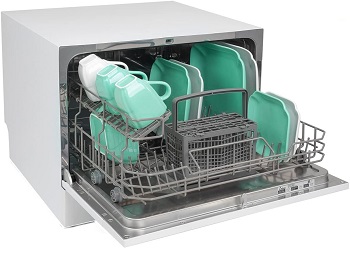 Simple Performance
With its versatile cycles and functions, this portable compact dishwasher provides a very simple performance. Simply choose the desired cleaning cycle, set it up, and press start. Its warning light indicators will let you know if something is wrong with the rinse aid dispenser or the faucet hookups.
Magic Chef MCSCD6W5 Dishwasher
User-Friendly Features
This energy star dishwasher provides versatile user-friendly features. It features a very simple electronic digital display, has fully automatic detergent and rinse-aid dispensers, a programmable delay start, etc. It also has a completely removable filter you can easily clean when needed.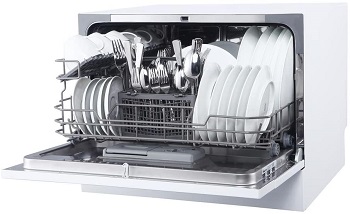 Energy Star Certified
Note that this dishwasher comes with an Energy Star certificate. This means that it will use a much lower amount of power and water per cleaning cycle.
SD-6513SS SPT Dishwasher
Spacious Design
This dishwasher on wheels comes in a spacious 24-inch size. It can easily accommodate up to 10 standard place settings at once and it provides 6 different wash programs. With its error alarm and warning light indicators, this dishwasher will inform you if something is wrong with it.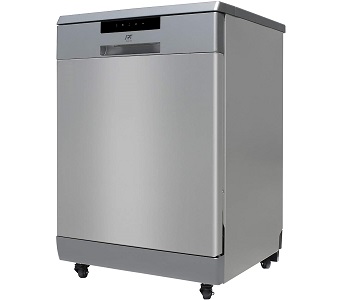 Rolling Wheels
Its bottom rolling wheels are specially designed to help you move the machine around. They are precisely placed in the 4 corners of the machine to ensure that they provide it with proper support.
DWLXSH Countertop Dishwasher
Small Size
This portable white dishwasher comes in a convenient small size. It measures 44×41.3×42.4cm and can easily accommodate up to 4 standard place settings. Most importantly, it provides a very powerful sanitizing performance during its cleaning cycles. Its high-temperature cycles will remove even the hard-baked stains from your heavily soiled dishware.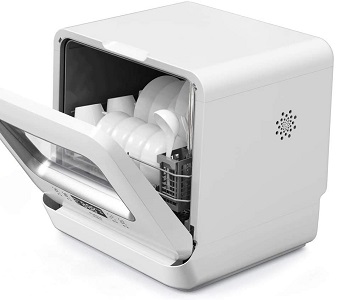 Complete Coverage
Because of its 360-degree rotating spray arms, you can be sure that this dishwasher in white color will provide you with complete coverage. Its short time cycles, low power consumption, and water-saving performance provide both quick and efficient results.
DWLXSH Dishwasher
Built-In/Freestanding Design
You can use this top-rated dishwasher with a small unit both as a built-in and a freestanding model. This makes it a highly convenient choice for kitchens, offices, dorm rooms, RVs, etc. Due to its size, it can easily accommodate up to 6 standard place settings at once.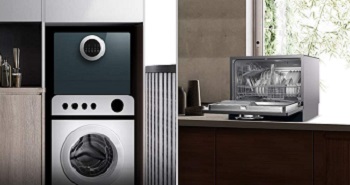 Powerful Performance
With its versatile cleaning cycles and hot air drying function, this dishwasher will provide you with amazing performance. Its control panel is located on the front side of the door to ensure that you can easily access it.
SPT SD-9263W Dishwasher
Narrow Design
Because of its size, this 18-inch portable dishwashing machine features a bit more narrow design. This means that it can easily accommodate up to 8 place settings at once. The additional delay timer allows you to program the start of the next cleaning cycle up to several hours in advance.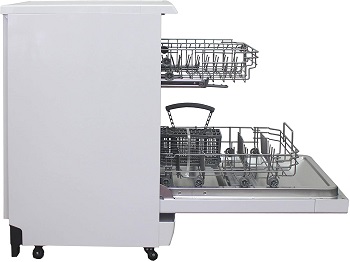 Automatic Dispensers
Just like the rest of the listed models, this 18-inch big dishwasher also comes with automatic detergent and rinse aid dispensers. Everything you need to do is make sure that they are always full before you run the next cleaning cycle.
Costway Mobile Dishwasher
Sanitizing Performance
This portable camping dishwasher uses high temperatures both during its cleaning and drying cycles. Thanks to this feature you can be sure that this machine will provide powerful sanitizing performance. Your dishware will be ready for use the minute the machine is done.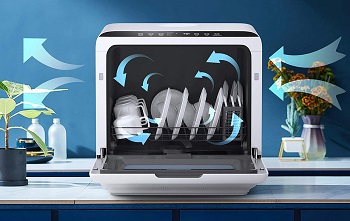 Filtration System
Note that this dishwasher for camping features a powerful filtration system. It is specially designed to ensure that no residue gets inside the water pump.
DFQX Large-Capacity Dishwasher
Easy To Use
This large dishwasher is very easy to use. Since it doesn't require any permanent installations, everything you need to do is plug it into a power source. Its control panel is located on the front bottom side of the machine and it provides you with versatile functions and a convenient time display.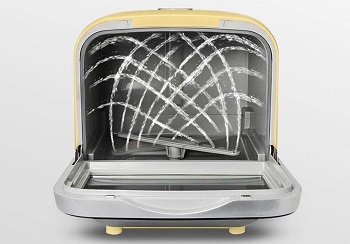 Powerful Performance
With its powerful 360-degree spray pressure washing system, you can be sure that this dishwashing machine will provide amazing performance. Even though it comes in a small size, it can still fit up to 4 standard place settings.
Red Tide Mini Dishwasher
Automatic Performance
The great thing about this machine is that it provides a fully automatic performance. Everything you need to do is make sure that its dispensers are full before every use.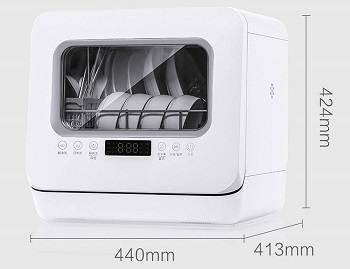 Water Inlet Options
The best thing about this portable automatic dishwasher is that it provides you with different water inlet options. You can choose whether you want to hook it up to your kitchen faucet or use an external water source. Either way, it will provide great cleaning results.
Handiy Mini Dishwasher
Cleaning Modes
This dishwasher with a tank provides you with 3 different cleaning modes. With its multi-angle nozzle hole design, it will provide you with powerful 360-degree cleaning performance.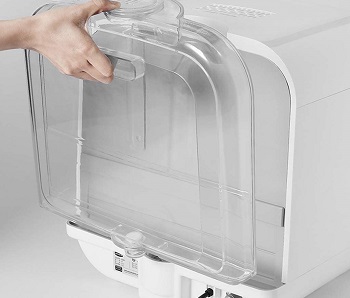 5-Liter Water Tank
Like a few other models I reviewed in this post, this dishwasher machine also comes with a water tank. It can fit up to 5 liters which is enough for one cleaning cycle to complete. It is completely transparent and removable so you won't have any trouble refilling it when needed.
Westland DWV322CB Dishwasher
Space-Saving Footprint
This dishwasher under features a space-saving footprint. This makes it a convenient choice for use at home or in the office, but also RVs, campers, and boats. It can clean up to six 4-piece place settings at once.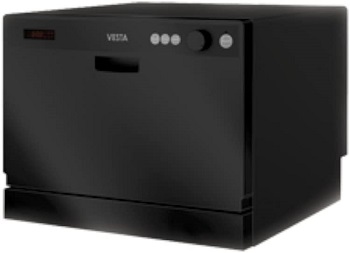 End-Of-Cycle Signal
Another convenient feature of this portable black dishwasher is its end-of-cycle signal. It is specially designed to go off the minute the cleaning cycle is done and your dishes are ready to take out. It also offers outstanding water savings that ensure much more efficient performance.
Do Movable Dishwashers Guarantee Safe Usage?
Yes, of course. Portable electric models come with certain safety features, while manual ones are simply designed to be safe. Here are the details of safety for electric dishwashers.
Safety Lock
With this feature, you lock the control panel so you can't accidentally push the buttons and disturb the cleaning cycle.
Leakage Protection
This feature shuts down the machine if it detects leakage in the tub in order to prevent pouring the water out on the floor.
Is Maintaining Demanding?
Actually, no, it isn't. No matter the model you get, you need to clean it once a week. Manual models can be cleaned under running water by using a toothbrush and mild detergent. For deep cleaning the movable electric model, run one cycle with vinegar and another one with baking soda. Also, make sure to clean the filter every 7 days by using running water, a toothbrush, and detergent.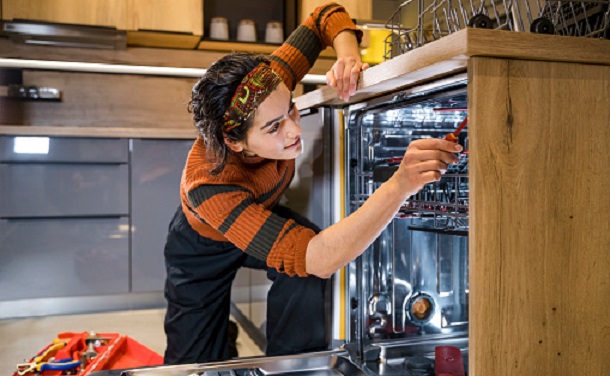 How Do I Connect This Type Of Dishwasher?
We'll divide the installation process based on the model.
Rolling Models
To install this type of portable model, you need to know some basics about plumbing.
Roll the dishwasher next to the sink.
Loosen the aerator from the spout of your kitchen sink. Unscrew the aerator and store it in a safe place.
Screw the special faucet adapter to the threaded faucet spout.
Pull the hoses from the storage compartment and connect them to the dishwasher.
Plug the dishwasher's cord into an AC outlet.
Load the dishwasher set the wash cycle, and start the cycle.
Countertop Models
These models are designed for countertop use. However, it isn't that easy to install them either. Please, check the manual for the installation process or call a professional to do that. If you want to get more familiar with the operation, check out this video.
Ultrasonic Models
No matter if you use electricity for this dishwasher or it is charged with a USB, the installation process is the same.
Fill the sink with water. Add a few drops of mild detergent.
Place the dishes into the water.
If necessary, connect the ultrasonic appliance to the power.
Place it into the sink and turn it on.
When the dishes are clean, rinse them separately.