Have you been trying to find the best budget dishwasher that provides exceptional performance?
Then you are in the right place!
Listed below, you can find my short reviews of the 20 best models that are currently available for sale. Check them out, compare the features they offer, and choose the model that works the best for you.
The Rundown
What Is A Low Budget In The Terms Of Dishwashers?
Budget-friendly options are priced between $200 and $900. A lot of high-quality dishwashers are priced in this range so you can find a great valued model with impeccable performance. This budget includes good functions, not just basic ones, and can feature stainless steel constructed dishwashers.
What Functions I Must Give Up?
Only a couple of features, really. Ultra-low noise level and some smart functions such as WiFi connectivity, interior lights, and automatic doors. Also, you probably won't get a third rack for additional space.
Different Dishwasher Types
In the mentioned price range, you can find every type of dishwasher. Here are the details.
A built-in dishwasher is a classic model that fits any kitchen cabinetry.
A dishwasher with wheels is a convenient solution when you don't want to hand wash the dishes but yet don't have enough room to build a dishwasher in the cabinetry. You can roll in or out this model, depending on your needs.
A countertop dishwasher is smaller in size so it can fit any kitchen countertop.

A freestanding model can be placed anywhere in the kitchen as all its sides are finished.
Where Can I Find An Affordable Model?
You can easily find it in your local kitchen appliance store or online on Amazon. These two options will let you compare the designs and prices, so you can find the best fit for your household.
Brands For Great Models
There are many brands that can offer you a great model for the value. But to name a few, you can look at the affordable offer from Bosch, Frigidaire, LG, Whirlpool, GE, and KitchenAid.
How Long Can Such A Dishwasher Last?
Most dishwashers, including affordable ones, last about 10 years. After that time, it is better to spend money on buying a new dishwasher rather than repairing the old one.
Benefits Of Choosing A Cheap Dishwasher
Despite the fact that you're going after a budget-friendly model, the price doesn't really impact the final product you get. Here are a couple of key factors you'll get by choosing this type of dishwasher.
All The Right Functions For Less Money
You won't get some convenient smart features but you don't really need them either. Within your budget, you'll get all the right features required for impeccable cleaning and drying performance. And that's why you need a dishwasher in the first place.
Energy Efficiency
These days, most models come with an Energy Star certificate. That means that such dishwashers use less water and energy in order to be eco-friendly. Here are more details on the consumption of such models.
A dishwasher with a certificate uses just about 3 gallons of water per load, while non-certificated models use anywhere between 10 and 15 gallons of water.
In the terms of energy consumption, the Energy Star dishwasher uses 0.87 kWh per load, compared to 1.59 kWh that is used by non-certificated models.
How To Choose The Best Dishwasher But Stay Withing Budget?
Your focus should be both on the design and the dishwasher's function. Picking the right design will bring the aesthetic to your kitchen while picking a model with the best functions money can get, will bring you impeccable cleaning and drying performance.
Details On Construction
Stainless steel is one of the best materials of the making. And in the terms of dishwashers, steel models are preferred as they are strong and durable. Also, stainless steel can hold higher temperatures, is more hygienic, and contributes to the drying performance. Your other options are plastic dishwashers or hybrid models that combine both plastic and steel. All these models are also quite durable, however, they can't hold as much heat as stainless steel can.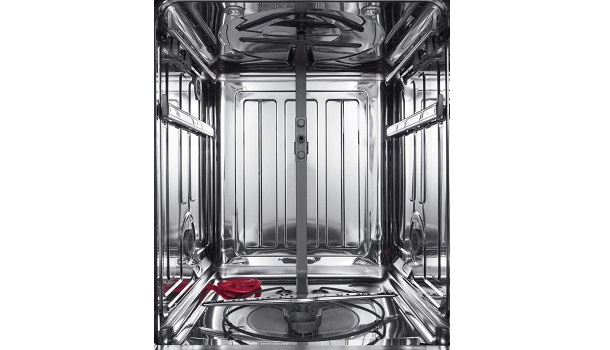 Size Specifications
Size varies from one model to the other. Built-in, freestanding, and dishwashers on wheels can have units that are big between 18 and 24 inches. Countertop models are smaller and they are usually between 14 and 18 inches big. You will have no problem finding a suitable dishwasher for your kitchen space and budget.
Interior Capacity: How Many Place Settings?
This also depends on the model. For example, countertop models are designed for smaller families and households, as well as limited kitchens and apartments. So, such models can hold between 4 and 8 place settings. On the other hand, freestanding, built-in, and models with wheels can hold between 10 and 16 place settings, and they are ideal for bigger households.
Additional Plus: Adjustable Racks
The third rack isn't included with this model, but adjustable racks are. And they will give you the spacious interior you need. With adjustable racks, you can customize the interior by using racks, compartments, and baskets so you can fit any type of cookware, including those that are awkwardly shaped.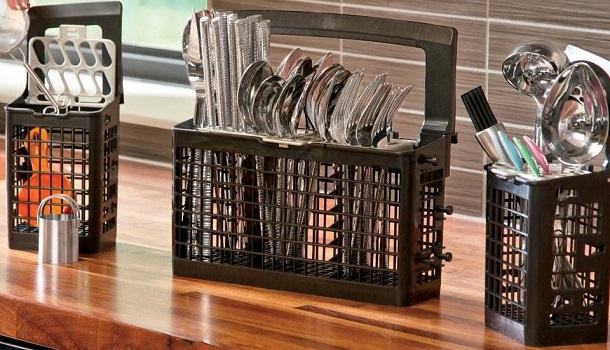 What Cleaning Cycles Can I Count On?
You can count on classic cycles every dishwasher has. That usually includes heavy, light, and normal wash, quick cycle, ECO mode, and rinse only. Of course, this mostly depends on the model so you can also find a dishwasher with baby care cycle, delicate, glasses only, and more.
Can A Cheaper Model Give Me Drying Function?
Yes. There are 2 drying options your new kitchen appliance may have. Here are the details.
Heated drying is present in most dishwashers, however, as it uses a lot of energy in the drying process, manufacturers gradually push out this feature. Such a drying option uses a heated element or a fan to quickly and efficiently dry the dishes.
Air drying is an alternative to the heated drying function. It uses room air to dry the dishes. It takes a bit of time to do so, but it gets the job done rather well. Plus, it is considered to be an eco-friendly drying option.
Built-In Smart Soil Sensors
This feature has the ability to automatically adjust the energy-consuming aspects of a wash cycle based on the soil load of the dishes. For example, if the dishwasher detects a relatively clean load, it adjusts the cycle to use less energy and water.
What Noise Level Can I Expect?
Most of these models feature a noise level between 45 and 55 dB. This isn't the quietest range but it is rather good. Expensive dishwashers feature quieter units with less than 45 dB.
20 Best Price Dishwashers
EdgeStar BIDW1802SS Dishwasher
Sound Buzzer
Due to its size, this affordable dishwasher can fit up to 8 standard place settings. It features a simple push-button control panel that provides you with versatile cycles and options. It also features a convenient sound buzzer that lets you know when the cleaning cycle is over.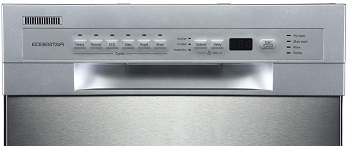 Leakage Sensor
The best thing about this model is that it comes with a leakage sensor. It is specially designed to automatically stop the water flow once a leak is detected in the tub. Your floors will remain safe from water damages.
Farberware FDW05ASBWHA Dishwasher
User-Friendly Design
This cheap countertop dishwasher features a user-friendly design with a transparent glass door window. Its control panel has backlit touch controls and is located at the bottom of the machine. With its multiple cleaning cycles and options, you will be able to use it for dishware, rubber toys, fruit, and veggies, etc.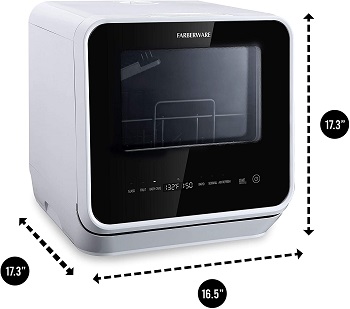 Built-In Water Tank
The best thing about this countertop dishwasher is that it comes with a built-in 5-liter water tank. Due to this feature, it requires absolutely no water hookups. You will be able to use the dishwasher any time you want and anywhere you are.
Danby DDW621WDB Dishwasher
Place Setting Capacity
Due to its size and convenient interior tub, this best budget white dishwasher will easily accommodate up to 6 standard place settings at once. You can easily place it atop your kitchen countertops or even inside your kitchen cabinetry. Its space-saving footprint ensures that you won't have any trouble finding the perfect place for it.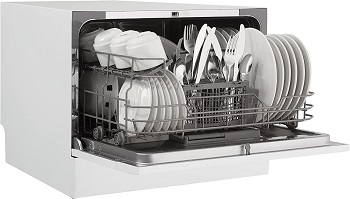 Simple Setup
To set up this dishwasher in white color, everything you need to do is attach it to your kitchen faucet. Most importantly, all required accessories come included in the package so you can complete the process in the minimal amount possible.
Farberware FCD06ABBWHA Dishwasher
High-Quality Design
This dishwashing machine features a high-quality design. It is constructed out of stainless steel material that provides it with exceptional quality and high durability against versatile exterior damages. As a result, this stainless steel dishwasher will provide you with a lasting lifespan.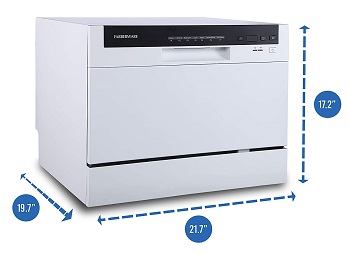 Professional Performance
Another great thing about this stainless steel dishwasher is that it provides you with professional-grade performance. It offers versatile cleaning cycles and options and creates much lower noise levels. Its convenient self-clean function is specially designed to take care of the machine's interior.
Bosch SHE3AR76UC Dishwasher
User-Friendly Features
This dishwasher comes with a variety of user-friendly features. It offers a user-friendly control panel with multiple functions and options, a spacious interior with a height-adjustable upper rack, a stay-put self-latching door, a built-in time display, etc.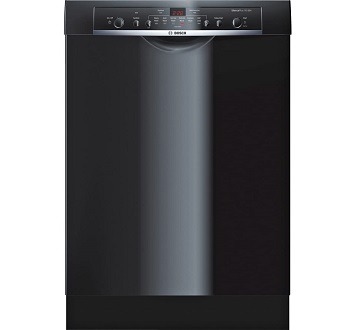 Energy Efficient Performance
Since this dishwasher comes with an Energy Star certificate you can be sure that it will provide you with energy-efficient cleaning performance. It consumes up to 279 kWh of power on a yearly basis and it exceeds the Energy Star requirements for water consumption up to sixty-nine percent.
Kapas KPS-XWJ01 Dishwasher
High-Temperature Performance
This dishwasher under $300 uses a high 75-degree temperature during its cleaning cycle. It comes with 5 different wash programs, each specially designed to provide amazing cleaning performance. Its drying cycle eliminates the need for drying the dishes manually.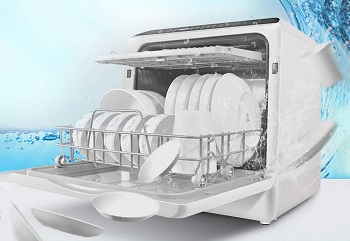 Acceptable Detergents
Keep in mind that this cheap price dishwasher is compatible for use with liquid, pod, and powder detergents. However, you should use detergent tables only with long wash cycles to ensure that they fully dissolve.
EdgeStar DWP62SV Dishwasher
Smart Wash Technology
It features one pull out dish rack, two foldable tines, and a cutlery basket to ensure that you can easily fit plates, bowls, cups, and cutlery pieces. The digital display that comes with this dishwasher is located in the top right corner of the unit. It features four simple push buttons that will help you set the desired cleaning cycle.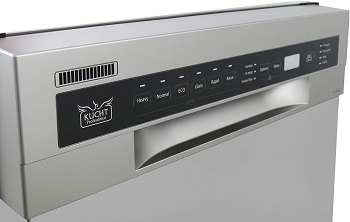 Built-In Dispensers
This countertop dishwasher also comes with built-in detergent and rinse aid dispensers. Make sure that bots dispensers are always full before you run the dishwasher to ensure that you get crystal clear cleaning results.
Novete TDQR01 Dishwasher
Small Size
As its category implies, this dishwasher comes in a somewhat smaller size. Just like all small under-sink dishwashers, it is highly convenient for use in smaller apartments, offices, dorm rooms, campers, RVs, etc.
Convenient Drying Cycle
Apart from its powerful cleaning performance, this affordable small dishwasher also provides amazing drying performance. Thanks to this feature you won't have to dry the dishware manually using a kitchen cloth. Additionally, your dishes can remain inside the machine for up to 72 hours without catching any odors.
Black+Decker BCD6W Dishwasher
Freestanding Design
This is another dishwasher that features a completely freestanding design. Thanks to this feature you won't have to make any permanent water installations for it.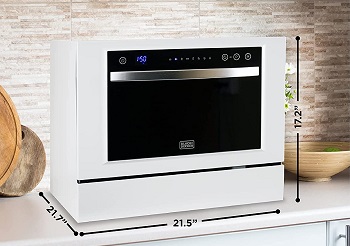 Child Lock Program
Another convenient feature of this freestanding-designed dishwasher is its child lock safety mechanism. It allows you to lock up the control panel to ensure that no one can tamper with it. To activate it, simply hold your finger over the small "lock" key.
Frigidaire FGIP2468UF Dishwasher
Spacious 24-Inch Design
This full-size dishwasher provides you with a very spacious interior. It features 2 separate dish racks and an additional cutlery basket. Thanks to this feature the affordable dishwasher will be able to fit up to 14 standard place settings at once.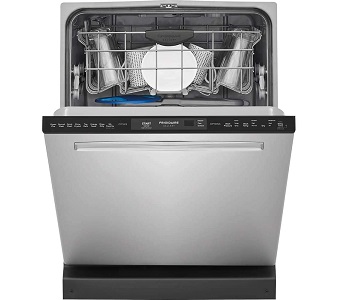 Dual OribtClean Technology
Because of its specially designed Dual OrbitClean cleaning technology, this top-control machine will easily remove all the hard-baked stains from your dishware. Its versatile cleaning cycles ensure that you can clean both pots and pans and delicate glassware.
SPT SD-2213S Dishwasher
Place Setting Capacity
Similar to most of the countertop models, this silver colored dishwasher can also fit up to 6 standard place settings at once. It accommodates versatile dishware pieces that are up to 10.25 inches in diameter.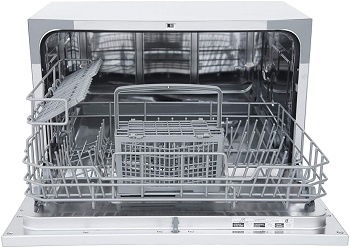 Included Accessories
Included with this silver dishwasher, there are all required setup accessories. Thanks to this feature you will be able to complete the whole setup in the shortest time possible with minimal effort input. You can easily attach it to your kitchen faucet/sink.
hOmeLabs HME010033N Dishwasher
Simple Control Panel
This dishwasher features a very simple control panel with backlit indicators. It is conveniently located on the top front side of the machine to ensure that you can easily access it and adjust its settings according to your likings.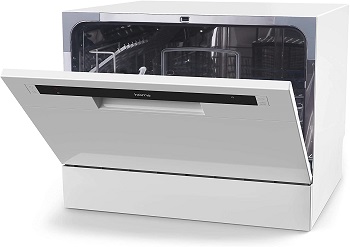 Warning Light Indicators
Another great thing about this budget dishwashing machine for home is that it comes with convenient warning light indicators. They are specially designed to inform you if something is wrong with the water installations or if a rinse container requires a refill.
Red Tide Mini Dishwasher
Double Spray Arms
Its double rotating spray arms are specially designed to ensure that this machine gives your dishware a good thorough clean. Since they use high pressure, they will easily clean both delicate and heavily soiled pieces.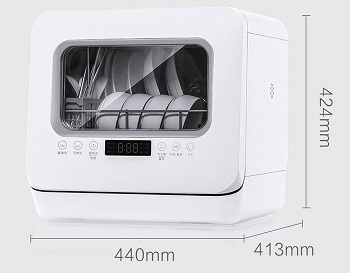 Water Inlet Options
This is another inexpensive dishwasher that provides you with different water inlet options. You can attach it directly to your kitchen faucet or use an external water source. Either way, you can be sure that it will provide you with exceptional performance.
Frigidaire FFCD2418U Dishwasher
Heated Drying Cycle
This large dishwasher provides you with a highly efficient heat drying cycle. Thanks to this feature your dishware will get properly sanitized and, most importantly, you won't have to waste your time drying the dishes manually using a kitchen cloth.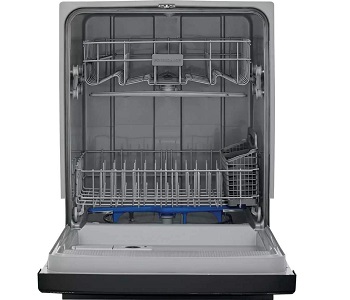 Stay-Put Door
Its stay-put door can even enhance the drying performance this most affordable dishwasher provides. The machine is both NSF and Energy Stat certified. Thanks to this feature you can be sure that it is perfectly safe to use and that no energy will go to waste.
SPT SD-9263W Dishwasher
User-Friendly Features
This dishwasher offers versatile user-friendly features. Firstly, it comes in a bit more narrow 18-inch size, offers about 6 different wash programs, comes with a warning light indicator and error alarm, etc. All setup accessories come included in the package to ensure that you can complete the setup as quickly as possible.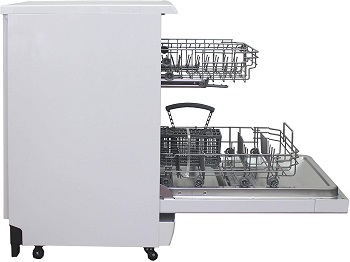 Rolling Wheels
The great thing about this best low price dishwasher is that it comes with bottom rolling wheels. They are precisely placed in the four corners of the machine to ensure that it has enough stability and is easy to move around.
DFQX Compact Dishwasher
Powerful Performance
This dishwasher with portable unit provides you with a very powerful performance. It offers multiple cleaning cycles and options and uses a rotating high-pressure spray drench system that ensures full 360-degree coverage. Due to its size, it can easily accommodate up to 4 standard place settings at once.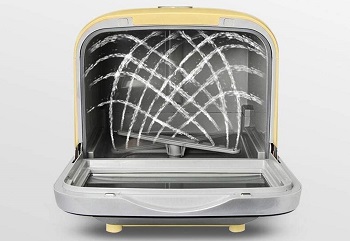 Low Operating Noise
Note that this budget portable dishwasher creates somewhat lower noise levels during its cleaning cycles. Thanks to this feature you don't have to worry that its noise might bother other household members.
Westland DWV322CB Dishwasher
Space-Saving Design
This dishwasher in black color features a bit more space-saving design. This makes it a convenient choice for smaller apartments, campers, RVs, and even boats. Most importantly, you won't have to spend too much time on its setup.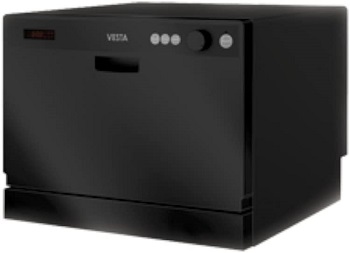 Delay Start
Another convenient feature of this black model is that it provides you with an adjustable delay start program. It allows you to set the exact time you want the next cleaning cycle to start up to 24 hours in advance.
Low Budget Don't Impact The Dishwasher's Safety Level
No matter your budget, every type of dishwasher is designed with the same safety features. That includes the following.
The leakage sensor is designed to automatically stop the water flow once a leak is detected in the tub.
The alarm buzzer and/or light indicators will let you know when the cycle is finished.

The child lock program allows you to lock up the control panel in order to ensure that no one can tamper with it.
Should A Budget Dishwashing Model Be Cleaned More Often?
No, not really. It requires to be deep cleaned once a week. To do that, run 2 cycles. The first one should be with white vinegar placed on the top rack of the dishwasher and the second one should be with baking soda sprinkled at the bottom of the dishwasher. Also, make sure to clean the filter every 7 days. To do that, just remove it from the dishwasher and clean it under the running water by using a toothbrush and mild detergent.
You can find more cleaning details in the next video.