Have you been trying to find a dishwasher that provides exceptional quality, durability, and a lasting lifespan?
Then a stainless steel dishwasher is a way to go!
Listed below, you can find my reviews of the 20 top-rated models that come with amazing beneficial features. Check them out and find out which model suits your needs the best.
The Rundown
What Is Stainless Steel?
Stainless steel is a material formed from iron and at least 10% chromium. It also contains varying quantities of elements such as silicon, nickel, manganese, and carbon.
Why Do People Prefer It?
There are many reasons for that. Here are a couple of "whys" so you can understand why everyone wants stainless steel appliances.
It is resistant to the bad stuff. It fights off rust, fire, heat, and time.
It is incredibly durable due to its strength and resistance.
It looks amazing, sleek, modern, and trendy . It can easily enhance any kitchen space.
You get a long-term value with this one.
It is an extremely hygienic material. As it presents a smooth and non-porous surface, dirt, grime, and bacteria struggle to establish themselves on the appliance's exterior.
It is a sustainable material. Stainless steel is usually created from 70% scrap metal, it is 100% recyclable, and it doesn't leach toxic chemicals during the recycling process.
What Is A Stainless Steel Dishwasher?
This material of the making is referred to as both internal and external construction. In the terms of a dishwasher, steel construction is strong and durable. On the outside, it is easy to clean and maintain, while on the inside, it is resistant to high temperatures and it enhances the drying performance.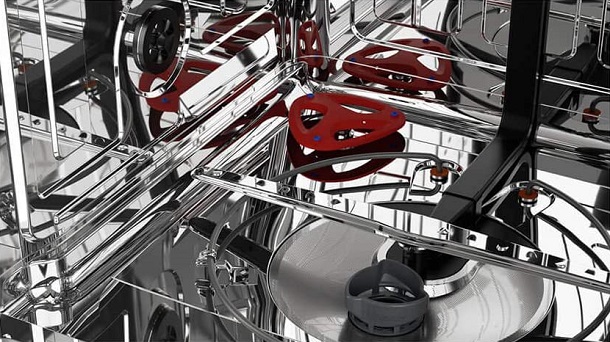 Is Steel Better Than Plastic?
When we're talking about the dishwasher's tubs, then yes. Stainless steel interiors are stronger and more resistant to cracking. They can run at higher temperatures. Due to that, the cleaning cycle will sanitize better. Also, stainless steel emits minimal noise outside. Plastic tubs are strong and durable, however, they can't handle higher temperatures as well as steel tubs can.
Steel Dishwasher Types
With the focus on the material of the making, you can choose any dishwasher model you want. However, have in mind that cheaper dishwashers won't have a stainless steel unit. Here are the details on all the models you can get.
A classic built-in dishwasher is a great option. It comes with an 18, 22, or 24-inch unit and a spacious interior that can fit between 10 and 16 place settings, depending on the size of a dishwasher.
A freestanding dishwasher comes with the same size range – 18, 22, or 24 inches wide unit and can also hold up to 16 place settings at the same time. But unlike a built-in model, this one can be placed anywhere in the kitchen, as long as it is close to the plumbings.
A portable steel dishwasher comes with wheels. You can roll it in when you need it and then roll it out when you're done with the dishes. This model can be up to 24-inches wide and can hold up to 16 place settings.
A countertop dishwasher is smaller in size so it usually has a unit that is big between 14 and 18 inches. It can hold between 4 and 8 place settings, and it is designed to fit any countertop.
Price Range: Are Steel Models Expensive?
They are a bit pricey, yes. Most such dishwashers are priced between $400 and $1,700. However, you'll get an excellent value for the price. Also, the most high-quality models are priced between $400 and $900 so you'll truly get the best appliance.
Are Steel Dishwashers Worth All The Hype?
Yes, they absolutely are. If you're not convinced with all the mentioned, here are a couple of extra factors that make such a dishwasher desirable.
Superior Drying
Thanks to the conduction, dishwashers that are made from stainless steel are able to dry the dishes faster and more effectively. Plus, such action is energy efficient.
Minimal Maintenance
Stainless steel is less porous than plastic. That means that it won't stain or absorb odors from food.
Industrial & Home Use
This material of the making, as it contributes to the strength and durability of a dishwasher, is preferred for both professional and home use.
Steel Dishwasher's Functions Are Important Too
Besides the fact that stainless steel ensures great longevity and endurance of your dishwasher, it is also important that such an appliance provide an impeccable cleaning performance too. Here are all the functions you can count on by buying this strong model.
What Cleaning Cycles Do I Need?
Well, the number and type of cycles depend on the model you get. However, most dishwashers come with 4 classic cycles, those are a normal, light, heavy, and quick wash. Some additional options a dishwasher can have are ECO mode, top rack only, delicate, rinse only, glass, and more.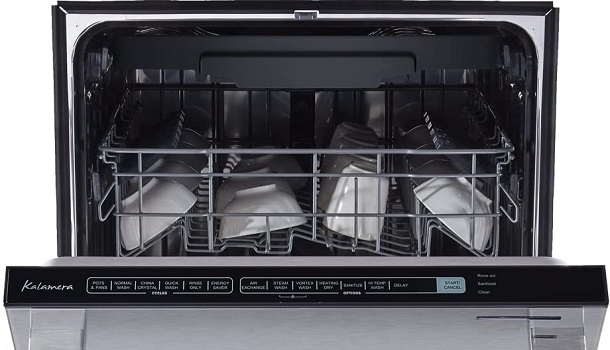 Drying Function Is A Great Feature
It is, especially if we're talking about stainless steel models. If you want such a dishwasher, you can choose between heated drying and air-dry function. Both are efficient in the terms of the dishwasher, however, air-dry is more eco-friendly as it uses less energy for the drying process.
Additional Smart Features
There are versatile features you can get with these dishwasher models. That can include smart technology such as AutoSense cycle sensor, WiFi connectivity, touch screen, time projector, interior light, alarm buzzer, automatic door, and more.
Noise Level: Optimal Decibel Level
These dishwashers can have between 40 and 50 dB. That is a great decibel range. Anything above the level of 50, will be too loud.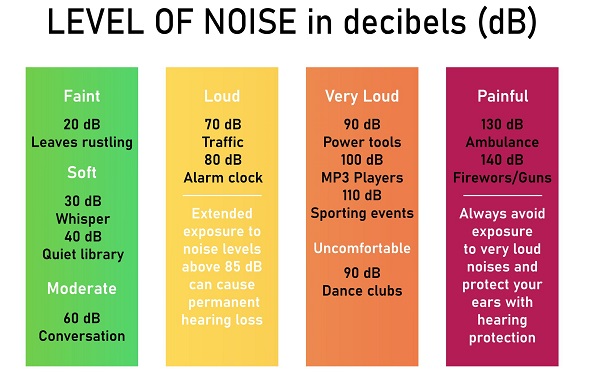 Energy Star Rated Models
If you're an eco-aware type, then go with a dishwasher that has an Energy Start certificate. Such a model uses only 3 gallons of water and 0.87 kWh of energy per load. Non-certified dishwashers use up to 15 gallons of water and 1.59 kWh of energy per load.
Best 20 Stainless Steel Dishwashers
hOmeLabs HME010033N Dishwasher
Simple Control Panel
This white dishwasher with stainless steel tub also comes with a very simple control panel. It comes with small backlit indicators that help you adjust the desired operating mode. It also features warning indicators that let you know if something is wrong with the machine.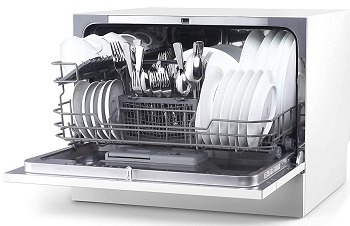 Automatic Dispensers
Like all listed machines, this desktop dishwasher also comes with automatic detergent and rinse aid dispensers. The only thing you need to do is make sure that the dispensers are full before the next use.
EdgeStar BIDW1802SS Dishwasher
Narrow Design
This 18-inch dishwasher comes in a bit more narrow size. This makes it an amazing choice for use in somewhat smaller apartments that simply don't have enough floor space for larger appliances.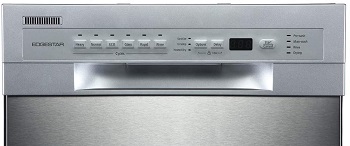 Leakage Sensor
Another amazing thing about this steel dishwasher for under 500 dollars is that it comes with a powerful leakage sensor. It is specially designed to cut off the water supply the moment a leak is detected inside the tub.
Danby DDW631SDB Dishwasher
Space-Saving Footprint
Because of its space-saving footprint, you will easily find the perfect place for this countertop stainless dishwasher atop your kitchen counters. The best thing is that you can even place it inside your kitchen cabinetry. And it doesn't require permanent water installations.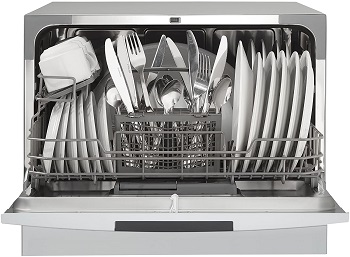 Energy Star Compliant
Note that this dishwasher provides an Energy Star compliant performance. This means that it has much lower power and water consumption per cleaning cycle.
EdgeStar DWP62SV Dishwasher
Place Setting Capacity
Due to its size, this cheap countertop dishwasher can easily accommodate up to 6 standard place settings at once. It features a dish rack, an additional cup shelf, and a cutlery basket. It can hold dishware that is up to 10.5 inches in diameter.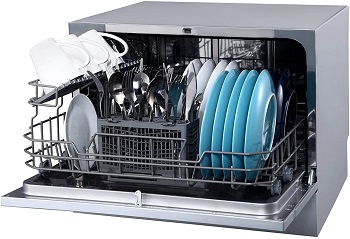 Simple Setup
This cheap dishwasher with stainless steel construction is very easy to set up. Because of its freestanding design, you can easily attach it to your kitchen faucet/sink. The required accessories come included in the package to ensure that you can complete the process as effortlessly as possible.
Farberware FCD06ABBWHA Dishwasher
Multipurpose Use
With its versatile cleaning cycles and options, this small steel dishwasher is a great choice for multipurpose use. Apart from the dishes, you can use the machine to clean baby toys, pacifiers, and bottles. You can even use it to give your fruit and veggies a thorough clean.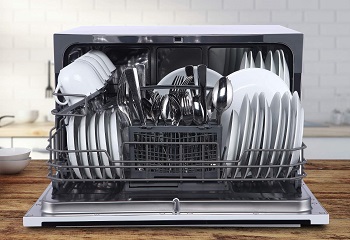 Self-Cleaning Cycle
Another convenient feature of this small dishwasher is its self-cleaning cycle. It is specially designed to keep the tub's interior clean and odor-free. The only thing you need to clean is the machine's exterior.
SPT SD-6502SS Dishwasher
Built-In Design
This is another dishwasher that features a convenient built-in design. Thanks to this feature you can be sure that it will fit perfectly with the rest of your kitchen appliances.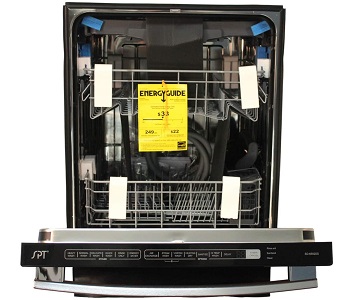 Heated Dry
Another amazing feature of this stainless steel built-in dishwasher is its SmartWash system that automatically detects the soil level and adjusts the right cleaning cycle. It also offers a powerful heated drying cycle. It eliminates the need for drying the dishes manually.
Fisher Paykel DD24DAX9 DishDrawer
Double Drawer Design
This is the only model I reviewed in this post that features a double drawer design. It has recessed door handles and a convenient control panel in its top-right corner. Its low operating noise makes it a great choice for home use.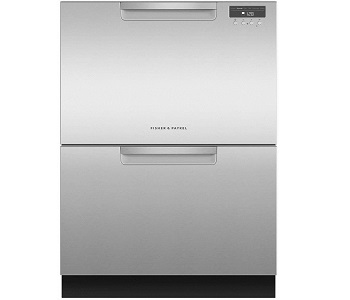 Half Load Option
Note that you can run each drawer of this stainless steel drawer dishwasher separately. Additionally, you can run only one drawer at a time. Each one comes with its own set of controls to ensure that you can easily adjust its performance.
SPT SD-2213S Dishwasher
Generous Capacity
Even though this model under 300 dollars comes in a smaller countertop size, it provides you with a very generous loading capacity. It can easily accommodate 6 standard place settings of dishes that are up to 10.25 inches in diameter.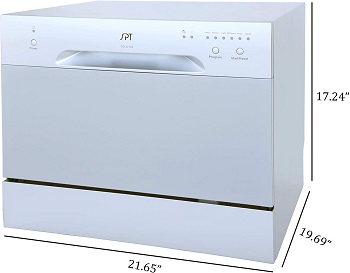 Warning Light Indicators
This stainless dishwasher also comes with convenient warning light indicators. The faucet indicator lights up if something is wrong with the water hookup. The rinse aid indicator lights up when it's time to refill the rinse aid compartment.
Cosmo COS-DIS6502 Dishwasher
Large Capacity
This is another fingerprint-resistant stainless dishwasher that provides a large loading capacity. It has 2 separate dish racks that can accommodate up to 12 standard place settings at once. It also offers a powerful filtration system that separates clean and solid water into separate chambers and ensures an efficient performance.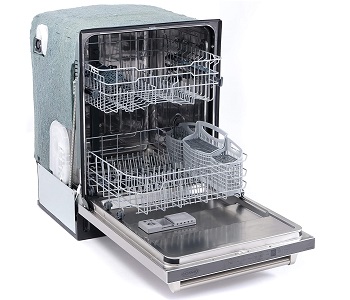 Versatile Functions
Another great thing about this tall tub model is that it provides you with versatile cleaning functions. Its control panel is located atop its door to ensure that you can easily access it when needed.
Frigidaire FPID2498SF Dishwasher
Tall Tub Design
This top-rated steel dishwasher features a tall tub design. It comes with 3 separate racks and it can accommodate up to 14 standard place settings at once. Its upper dish rack is height-adjustable. Thanks to this feature you will be able to fit larger pots and pans inside the tub.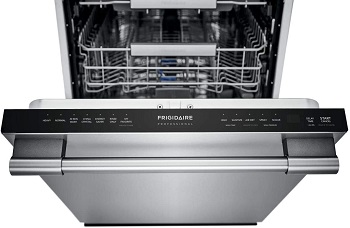 "My Favorite" Cycle
The great thing about this model is that it provides you with multiple cleaning cycles and options. It even offers a "My Favorite" setting that allows you to save your favorite cycles and options in one control key.
Whynter CDW-6831WES Dishwasher
Portable Design
This dishwasher is an amazing choice for everyone looking for a portable model. It requires no permanent water installations, meaning, you can easily use it inside your RV, camper, etc.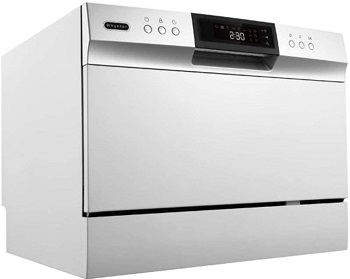 Delay Start
The best thing about this stainless steel portable dishwasher is that it provides an adjustable start-delay timer. You can easily program it several hours in advance to ensure that you have perfectly clean dishes when you come home from work.
LG LDT7808BD Dishwasher
Interior Tub Light
An amazing feature of this black steel dishwasher is its powerful interior LED tub light system. Combined with all its user-friendly features, it makes the loading/unloading process much easier.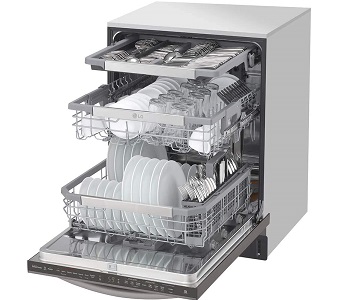 WiFi Enabled
The best thing about this black dishwasher is that it is WiFi-enabled. This means that you will be able to control it and adjust its performance using your smartphone. It even offers a "download cycle" option that allows you to find, download, and set desired operating mode.
Kucht K7740D Dishwasher
SmartWash System
The great thing about this 18-inch model is that it provides a very powerful SmartWash cleaning system. It can determine exactly how soiled your dishware is and adjust its cleaning performance accordingly.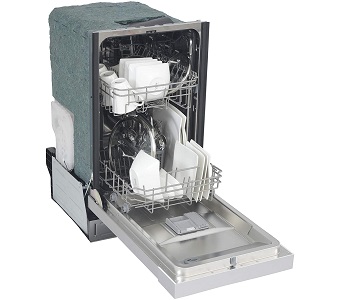 Filtration System
Its multiple filtration system ensures that this 18-inch dishwasher provides an energy-efficient performance. The filters remove soiled water from the clean one in two separate chambers. By doing so, this dishwasher ensures a much better cleaning performance.
Summit DW2435SSADA Dishwasher
Sound Absorption Technology
Apart from its spacious design, and multiple cleaning cycles and options, this 24-inch dishwasher with stainless steel construction also offers amazing sound absorption technology. It is specially designed to ensure that the machine creates a minimal disturbance. It produces about 49 DBs during its wash cycle.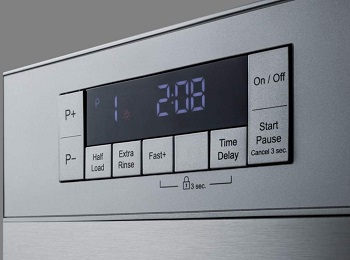 ADA Compliant
The best thing about this 24-inch model is that it is ADA compliant. This means that its technology and all electrical components are accessible to those with disabilities.
LG LDT7797ST Dishwasher
Stainless Steel Tub
Both the exterior construction and interior tub of this dishwasher are made out of high-quality stainless steel material. Thanks to this feature you never have to worry that the dishwasher might get affected by damages such as rust, corrosion, or other wear damages.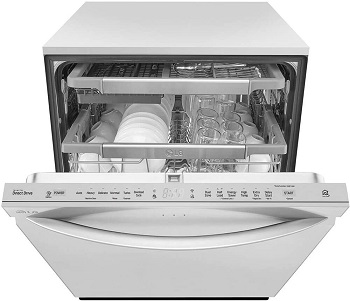 QuadWash Cleaning System
Note that this dishwasher with stainless steel tub offers a specially designed QuadWash cleaning system. It will easily clean both heavily soiled pots and pans and delicate glassware pieces.
Z Line DW-304-24 Dishwasher
Sanitizing Performance
This quiet dishwasher provides a very powerful sanitizing option. It uses water that is maintained at 156 degrees Fahrenheit. Thanks to this feature it will remove all bacteria from your dishes and give them a very thorough clean.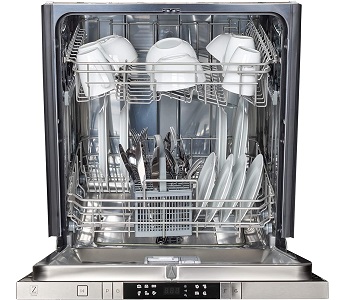 Low Operating Noise
The best thing about this machine is that it creates a very low operating noise. More precisely, it produces only about 40 DBs. You will be able to enjoy a peaceful time in the kitchen while the machine takes care of your dishes.
Jet-Tech F-18DP Dishwasher
Powerful Performance
This commercial dishwasher provides a very powerful cleaning performance. It has stainless steel wash and rinse arms that create high-pressure water jets and remove all hard-baked stains from the dishes. It also comes with a built-in heat booster that ensures powerful sanitizing performance.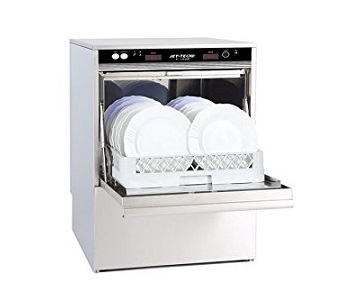 Washing Capacity
Another thing worth mentioning is that this steel dishwasher provides high washing capacity. It can clean up to 24 racks of dishes in one hour, meaning, its wash cycles last only about 2.5 minutes.
Samsung DW80N3030US Dishwasher
Simple Touch Controls
This Samsung steel dishwasher comes with a very simple touch control panel. It is located at the top of the machine's door to ensure that you can easily access it and adjust its parameters. Each control comes with an indicator light to ensure that you can easily adjust the desired cycle.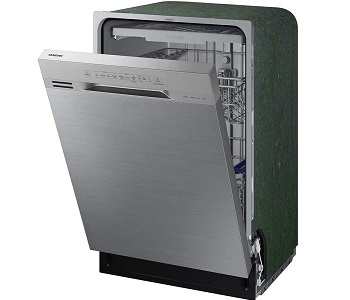 Advanced Cleaning Performance
With its versatile cycles and options, you can be sure that this home dishwasher provides amazing cleaning performance. It will work perfectly for both delicate and heavily soiled dishes.
GE GDT695SSJSS Dishwasher
Large Capacity
This is another dishwasher that provides a large loading capacity. It comes with 3 separate dish racks and an additional cutlery basket. The great thing is that both the top rack and the cutlery basket are completely removable, making the unloading process much simpler.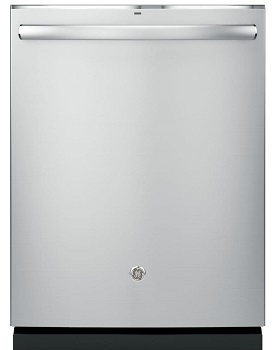 Fully Integrated Panel
Note that the control panel of this dishwashing machine is "hidden" atop its door. This provides the machine with additional elegance and prevents other people from tampering with it. It also has a convenient door handle you can also use as a towel bar.
Bosch SPE68U55UC Dishwasher
User-Friendly Display
This Bosch 800 series dishwasher features a user-friendly design. It comes with a backlit display with multiple warning indicators. It provides you with a very convenient half-load option thanks to which you don't have to run a full load.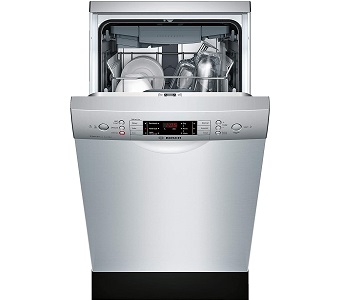 Water Softener
The best thing about this steel dishwasher is that it comes with a water softener. It is specially designed to eliminate those hard water stains that usually catch on glassware and cutlery. It ensures impeccable cleaning results with every single use.
Easy Instructions For Maintaining A Steel Constructed Dishwasher
Models constructed from stainless steel are really easy to clean and maintain. On the outside, you can use a sponge, lukewarm water, and mild soap to clean all the smudges. On the inside, clean the filter under the running water by using a toothbrush and mild soap. For the rest of the dishwasher's interior, run one cycle with white vinegar placed at the top rack and another cycle with baking soda sprinkled at the dishwasher's bottom. That will deep clean the machine. Do all the cleaning once a week.
Is It Okay To Put Steel Dishes In Dishwasher?
As most people want to know, yes, you can put stainless steel in the dishwasher as it is generally regarded as being dishwasher safe. However, you need to rinse off the cutlery before loading it into the dishwasher so you can prevent any corrosion.
Can My Stainless Steel Discolor?
Yes. Automatic dishwasher detergent residue and hard water deposits may cause unsightly white spots on pans and cookware made from stainless steel. If this happens, fill the sink with warm water and add a bit of dishwashing detergent. Soak the steel cookware for 10 minutes so you soften the spots. Scrub the cookware with a soft sponge. Dry everything with a soft, clean towel.