Are you interested in finding out what are the best dishwashers under $500?
Then keep reading my post!
All models I reviewed below offer amazing user-friendly features and ensure exceptional cleaning performance. Check them out and find out which one works the best for you.
The Rundown
What Can A $500 Budget Dishwasher Give Me?
A pretty decent model with basic features which provide good cleaning and drying performance. $500 is the beginning price range for the best quality dishwashers, so you won't really be cut off any standard cleaning feature. Usually, the dishwashwers cost from 300 to 900 dollars so 500 dollars is a middle price.
Are There Some Features That I Won't Get?
Yes, you won't get some smart features such as WiFi connectivity, interior LED lights, third rack, smart timer, and similar options. However, these features are considered to be high-end pieces so even though they are convenient, they aren't really necessary for a good quality dishwasher.
Dishwasher Model Options
For $500, you can get a built-in dishwasher, freestanding appliance, or countertop model. Here are some specific details on what specifications you can count on within this budget range.
The built-in model is bigger in size as it usually features an 18 or 24 inches big unit. It has a spacious interior and can fit between 10 and 16 place settings. This dishwasher is designed for standard-size kitchens, big households, and large families. Its control panel can be placed on the top of the door or in front.
The freestanding model comes in the same size as the built-in one – with an 18 or 24 inches big unit. The loading capacity goes between 10 and 16 place settings. Freestanding models are identical to built-in ones, they just don't require building in the cabinetry.
The countertop model comes in a smaller size so it can fit any countertop, RV, boat, and a limited kitchen. Its unit is big between 14 and 18 inches and it can hold up to 8 place settings. This model is also known as a portable dishwasher.
3 Extra Points For A Dishwasher Under $500
Along with good cleaning functions we yet need to mention, these affordable models come with 3 key benefits which you need to bear in mind before deciding on whether or not you should get this dishwasher.
Good Price For Everything You Need
$500 is a great budget for a dishwasher as it will give you everything you need for efficient cleaning performance. Affordability for enhancing the cleaning experience!
Quiet Dishwashers For Less Than 500
Even though some models do come with 55 to 65 dB of noise, you still can find a model that comes with low noise performance. That includes a 45 to 50 dB noise range.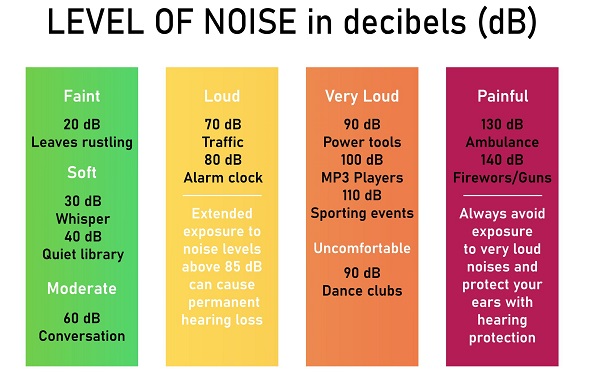 Simple Design For Simple Use
As you won't get additional smart features, you also won't have too many control buttons. That certainly eases up the usage and makes this model suitable for both beginners and professionals.
So, What Functions Come With A $500 Dishwasher?
Now it's time to talk about all the functions you get by choosing this dishwasher type.
Are Affordable Dishwashers Strong?
Yes, most of them are, as they are either made from stainless steel or plastic. Both materials are strong and durable, however, if you can choose, go with a stainless steel dishwasher. It is not only the best option in the terms of construction but also the best option for the aesthetic.
Adjustable Racks
These models can come with this feature. Adjustable racks basically allow you to customize the interior with racks, baskets, and compartments so you can easily fit in awkwardly-shaped cookware, dishes, pots, and pans.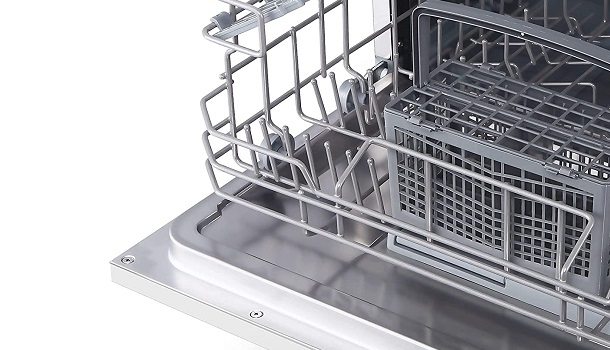 Multiple Cleaning Cycles Are A Must
And they do come with these budget-friendly models. Most of these dishwashers have 4 to 12 cleaning cycles. Some of the features that range includes are a normal, light, heavy, and quick wash, ECO mode, and rinse only.
Can I Get Drying Too Within This Budget?
Yes. Most of the models have a high-temperature drying cycle which ensures efficient and equal drying performance. Other dishwashers can feature an air-dry function that is eco-friendly.
What About Energy-Efficient Model?
Yes, you can get this too. If you choose an Energy Star dishwasher, you will save more than 10 gallons of water and almost 1 kWh per load.
Installation Requirements
You can get a model that either requires permanent water hookups or can easily be attached to the kitchen faucet. Some dishwashers even come with built-in water tanks that make them a convenient choice for transportation.
15 Best Dishwashers Under $500
Farberware FDW05ASBWHA Dishwasher
User-Friendly Design
This dishwashing machine for less than $500 features a user-friendly design. It comes in a convenient countertop design, has a transparent glass door window, a convenient backlit touch control panel with a time display, etc. It even has a built-in water tank with a capacity of up to 5 liters.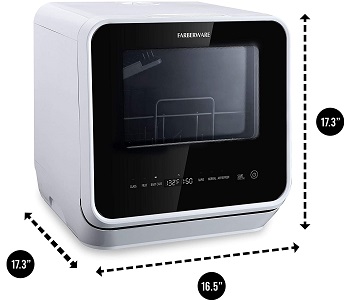 Multipurpose Use
Due to the versatile cleaning cycles and options it provides, you can use this compact model to wash versatile items. Apart from the dishes, you can use the machine to sanitize your baby's toys and bottles or to give fruits and veggies a thorough clean.
Novete Compact Dishwasher
Powerful Performance
The great thing about this dishwasher is that it provides a very powerful cleaning and drying performance. Its double spray arms are specially designed to provide complete coverage. It also uses a high-temperature drying cycle to ensure that you never have to dry your dishes manually.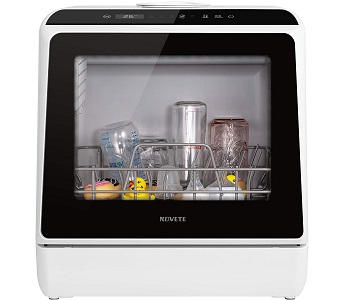 Low Operating Noise
As its category implies, this machine creates very little noise. More precisely, it creates about 50 DBs. Thanks to this feature you will be able to run this quiet dishwasher any time you want without worrying that it might bother someone.
Danby DDW1804EB Dishwasher
18-Inch Design
This built-in designed dishwasher features a bit more narrow 18-inch unit. This makes it a convenient choice for smaller apartments. Due to its size, it can accommodate up to 8 standard place settings at once. Its control panel is located in its top right corner to ensure that you can easily access it.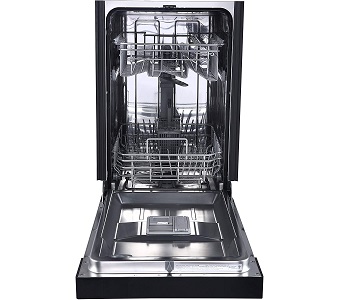 Programmable Delay
Another great option this under 500 dollar dishwasher provides is its programmable delay start feature. You can adjust it several hours in advance to ensure that it finishes on your schedule.
Farberware FCD06ABBWHA Dishwasher
High-Quality Design
Due to its stainless steel design, you can be sure that this dishwasher will provide exceptional quality, durability, and a lasting lifespan. Its control panel is located in the front of the machine to ensure that you can easily make all adjustments.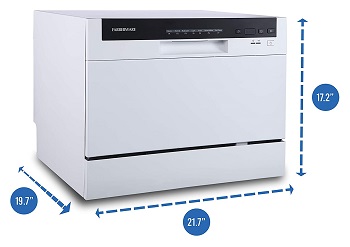 Low Maintenance
Note that this stainless steel dishwasher requires very little maintenance. It offers a highly convenient self-cleaning cycle that takes care of the machine's interior. Its design makes it a great choice for use in an office, dorm room, a camper, RV, etc.
EdgeStar BIDW1802SS Dishwasher
Convenient Push Buttons
This most reliable dishwasher comes with convenient and simple push-button controls. Its pre-wash cleaning cycle ensures that you don't have to rinse your dishes before you wash them inside the dishwasher. With its narrow 18-inch size, this reliable 500 dollar dishwasher can accommodate up to 8 standard place settings at once.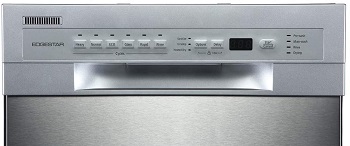 Leak Sensor
The best thing about this reliable dishwasher is that it comes with a leakage sensor. It is specially designed to detect the leak inside the tub and immediately stop the water flow. As a result, your home will remain safe from water damages.
SPT SD-2213S Dishwasher
Generous Capacity
Even though this silver colored dishwasher comes in a somewhat smaller countertop size, it can easily accommodate up to 6 standard place settings. It fits dishes that are up to 10.25 inches in diameter.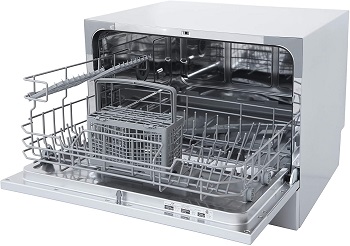 Simple Setup
This dishwasher for under 500 dollars is very easy to set up. All required accessories come included in the package to ensure that you can complete the process with as little effort as possible. You can easily attach it to your kitchen faucet/sink.
Black+Decker BCD6W Dishwasher
Simple LED Display
This dishwashing machine features a simple LED display with versatile cleaning cycles and options. Each one is specially designed to ensure that you get the best cleaning results whether you are washing heavily soiled dishes or delicate glassware.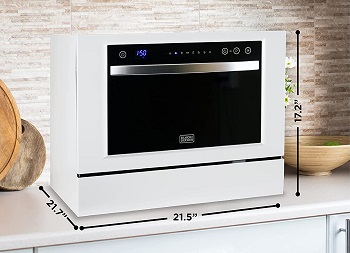 Child Lock Safety Mechanism
Another convenient feature of this mobile home dishwasher for mobile home is its child lock safety mechanism. It allows you to lock up the control panel and ensure that no one can tamper with it.
Kapas Countertop Dishwasher
Easy To Use
Like all listed dishwashers, this one is also very easy to use. Simply load it up, choose the desired operating mode, and make sure that its water tank is full or that its water hookups are properly connected.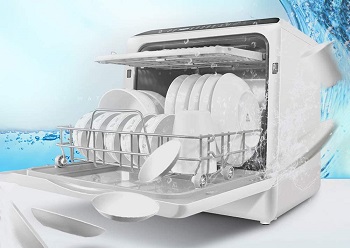 Built-In Water Tank
This is another dishwashing machine that comes with a built-in 5-liter water tank. It eliminates the need for permanent water installations. It also makes this dishwasher an amazing choice for those who often spend their time on the road.
Costway Portable Dishwasher
Compact  & Portable
This dishwasher is compact and portable. Its control panel is top-mounted to ensure that you can easily access it from any position. It has a built-in water tank with a capacity of up to 5 liters and a convenient see-through door window that allows you to observe its cleaning performance.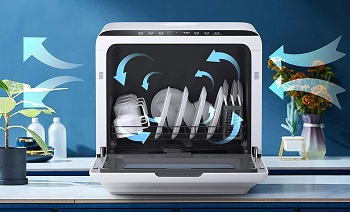 Sanitizing Performance
Although this is a somewhat smaller dishwasher, it still provides exceptional performance. It uses a 149-degree cleaning temperature that both cleans and sanitizes the dishes.
hOmeLabs Compact Dishwasher
Setting Capacity
Due to its size, this $500 dishwasher can easily accommodate up to 6 standard place settings at once. It features a dish rack, an additional cup rack, and a cutlery basket. It also offers 6 different cleaning cycles, each one specially designed to provide exceptional cleaning performance.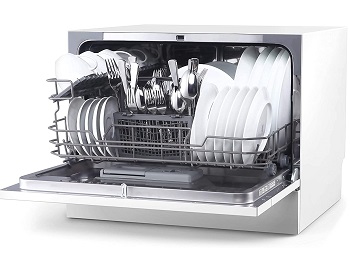 Automatic Dispensers
Just like all listed models, this dishwasher for home use also comes with fully automatic detergent and rinse aid dispensers. Everything you need to do is make sure that they are full before every use.
SPT SD-9263W Dishwasher
Rolling Wheels
This dishwasher comes with built-in rolling wheels. They are precisely placed in the four corners o the machine to ensure that you can easily move the machine around when needed.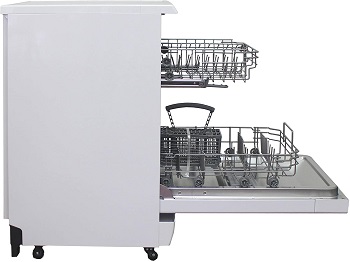 Energy Star Certified
The best thing about this $500 dishwashing machine is that it comes with an Energy Star certificate. This means that it uses somewhat lower water and power levels per cleaning cycle. Your bills won't become any higher due to the use of the dishwasher.
Ensue Dishwashing Machine
Convenient Size
This is another dishwashing machine that comes in a convenient small size. It is specially designed to ensure that it fits atop your kitchen countertops. You can even keep it inside your kitchen cabinets. It offers a standard capacity of up to 6 place settings.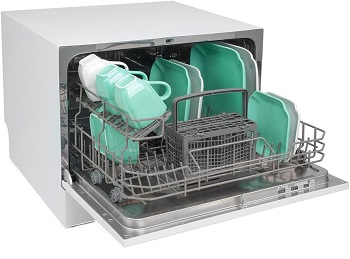 Warning Light Indicators
Another amazing thing about this model is that it comes with warning light indicators. They are added to inform you when something is wrong with the machine.
Danby DDW631SDB Dishwasher
Freestanding Design
This dishwasher also features a completely freestanding design. Thanks to this feature you won't have to make any permanent water installations for it. This also means that it is very easy to move around.
Versatile Cleaning Cycles 
Its versatile cleaning cycles are specially designed to provide you with exceptional performance. Thanks to this feature you can use this best-rated dishwasher for less than 500 dollars to clean both heavily soiled dishes such as pots and pans, and delicate items such as glassware and silverware.
Magic Chef MCSCD6W5 Dishwasher
Operating Modes
This dishwasher provides you with 6 different operating modes. It also offers an adjustable start delay timer you can program for 2, 4, 6, or 8 hours in advance. It creates noise at about 52 DBs, meaning, it isn't too quiet but it isn't too loud either.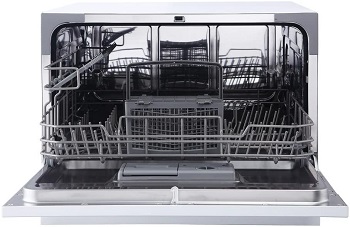 Included Accessories
Keep in mind that this white colored dishwasher comes with all accessories you may need to complete its setup. Thanks to this feature you will need minimal effort input. Most importantly, you will be able to complete the setup as quickly as possible. For more information, click on the enclosed link.
Danby DDW621WDB Dishwasher
Energy Efficient Performance
This small-sized model provides you with energy-efficient washing performance. It features very simple electronic controls and a programmable delay start timer. It also comes with a removable filter you can easily clean when needed. Click on the enclosed link to get a more detailed review.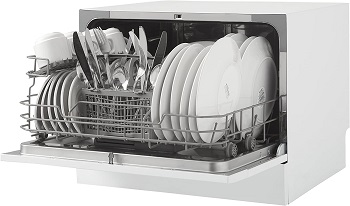 Drying System
Another convenient feature of this top-rated dishwasher is its powerful drying system. It eliminates the need for drying the dishes manually. You will be able to store your dishes straight from the machine into your kitchen cabinets.
If I Pay $500 Or Less For A Dishwasher, Is It Still Safe?
Of course, it is. The price doesn't impact the safety features of any dishwasher type. So with this model, you can count on classic leakage protection, alarm buzzer and/or light indicators, and safety lock.
$500 Dishwashers Don't Need Additional Maintaining
Just regular cleaning and that's it. Here are a few tips on how to clean your dishwasher in order to ensure its longevity.
Every 7 days, clean the filter. You can remove it and by using a toothbrush, running water, and mild detergent, clean it.
If you want to deep clean your dishwasher, run 2 cycles. In the first one, place white vinegar at the top rack. In the second one, sprinkle baking soda at the bottom of the dishwasher.
Once a week, use a soft sponge or cloth, lukewarm water, and detergent to clean the exterior of the dishwasher.
Check out this video for more details on cleaning your dishwasher.