For people that live in somewhat smaller apartments, finding the perfect kitchen appliance can be a real hassle. This is true for dishwashers too.
The great thing is that a lot of brands understand the dilemma and, as a result, have made somewhat smaller, compact models that take up very little space.
Keep reading to find out what are the top 10 small dishwashers.
The Rundown
What Size Range Is Considered To Be Small?
Dishwashers are considered to be small if they feature a unit that is up to 18 inches big. That is a maximum size. Most of such models are between 1 inch and 16 inches big. However, depending on the design, some dishwashers can be a bit wider but they still feature a rather flat height so they can be placed on the countertop or table.
What Is The Usual Size Of A Dishwasher?
Most dishwasher models feature a unit that is between 18 and 24 inches big. Those are classic built-in and freestanding types suitable for standard-sized kitchens.
Do Small Sized Models Differ From Others?
Mostly by size, that includes interior capacity too. Models that are smaller in size can hold between 2 and 8 place settings, while standard-sized machines can hold anywhere between 12 and 20 place settings. When it comes to their cleaning cycles and options, most models don't differ from larger units and they feature almost identical cycles. However, smaller models are usually a bit louder in the operation, but most often, depending on the model, they can be placed anywhere in the kitchen, as they are easier to handle, carry, and store.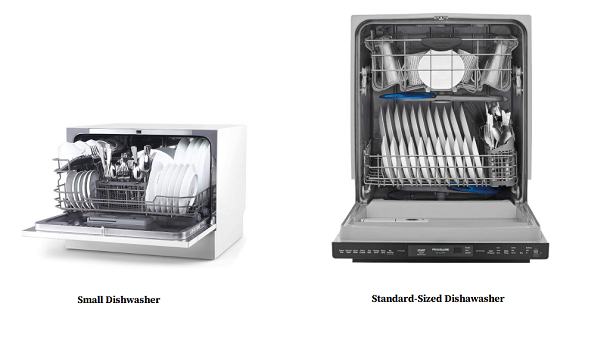 Is A Small Unit Actually Portable Model?
No. Portable models are classic dishwashers with wheels. Small models can be referred to as portable models since they can easily be moved, used, and stored, however, they are not the same as portable dishwashers.
Freestanding Or Built-In Design: Is There An Option?
Some small-in-size dishwashers can be built-in under the counter or sink if they are designed for such an installation. However, most of them are designed for countertop use only. Such models are known as freestanding ones.
3 Model Options: Electric, Ultrasonic, Manual
Dishwashers with a small constructed unit can use electricity to work or they can require your input. Here are a few details on each of the models.
Countertop dishwasher is an electric model you can place on a kitchentop. It works as other larger models.
An ultrasonic type also needs electricity to work, however, to use it, you need to place it in the sink with water and the dishes. The dishwasher will then create waves to clean the dishes. This is a good choice to ease up the handwashing, however, it isn't really that effective with the cleaning performance.
A manual model can feature 2 different designs. Such a small and cheap model can either have a tank where you place the dishes and then turn the knob to splash the water and clean them, or it can feature a bucket with 2 compartments. One compartment has a hard sponge for cleaning the dishes, while the other one is for rinsing them.
Glasswasher is a small commercial dishwasher purposed primarly for glasses. The capacity of these models is measured in racks per hour.
Small dishwasher under sink is a type that comes right below a sink instead of a countertop. However, it's a rare model produced by GE brand so the common alternative is dishwasher in a sink. You can built it in your kitchen sink and add dishware inside. There's also not a wide offer of this models to buy.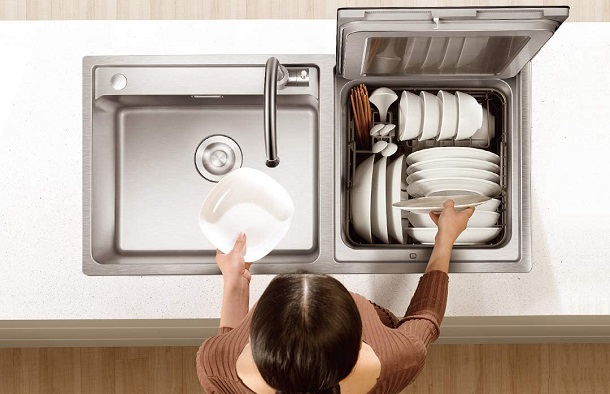 Water Inlet Options
Some of the smallest electric dishwashers require a direct water setup, while others come with a built-in water tank. Manual models also need water to be poured in, if you wish to use them. With 3 model options, you can choose the best machine for your household, mobile home, camper, or RV.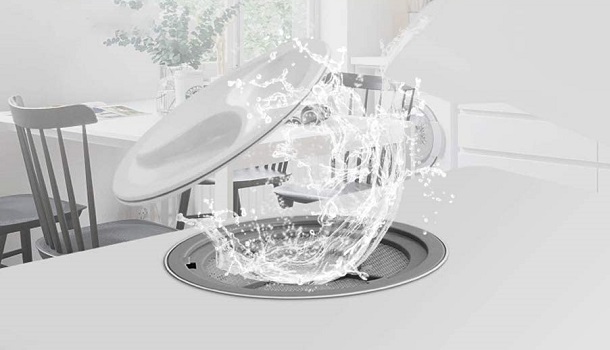 Do There Models Use Less Water And Energy?
No. Electric models use the same amount of water and energy as standard-sized models. That means they use up to 15 gallons of water and 1.59 kWh of energy per load. These models are bought because of their convenient size, not low water, and energy consumption. On the other hand, manual and ultrasonic models may use a bit smaller amounts, depending on their design.
Are Dishwashers With Small Unit Cheaper?
Yes. Usually, classic dishwashers are priced from $700 to more than $1,500. Most of these small models are priced between $35 and $600, depending on the model you want.
Are These Dishwashers Worth It?
Absolutely, especially if you get an electric model. It works the same way as any standard machine but it is suitable for smaller amounts of dishes and limited spaces.
Why Should I Get A Mini Dishwasher?
Besides the fact that such a model features a convenient size, there are a couple of more benefits of choosing a dishwasher that is small or mini in size.
Suitable For Every Space, Literally
That includes classic kitchen, apartment, dorm room, mobile home, RV, camping trip and hiking, boat, backpack, and more. Since you have 3 model options, you can easily choose the one that is suitable for your needs.
Single & Small Family Match
These dishwasher models are designed for singles, couples, and small families. They won't take too much space but they will enhance your cleaning operation.
Transparent Glass Door Window
This is a great feature for enhancing the design of a dishwasher and giving a more unique touch to your kitchen or some other space you want to use it.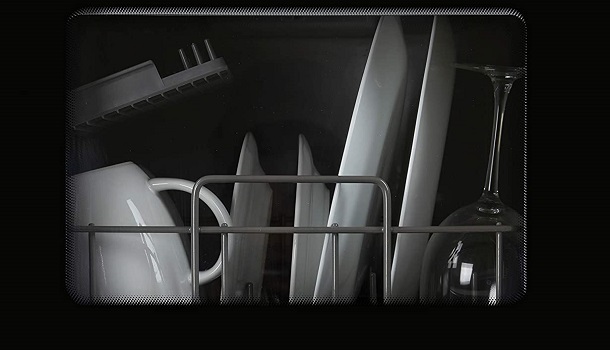 Simple & User-Friendly Design
As these are small, classic-designed dishwashers, they have user-friendly control panels so both beginners and professionals can use them without any problem. Manual and ultrasonic models are even easier to use, as you just need to turn them on or use your hands for the cleanup.
Industrial & Residental Use
Speaking of different use, small-in-size dishwashers can be used in both home and professional kitchens. As they are simple to use, they are a great fit for the demanding life of restaurants, as well as a good choice at home for enhancing the dishwashing experience.
Energy Star Option
Even though these models are chosen mostly for their size, not the lower consumption of water and energy, you can still save some money on the bills at the end of the month by choosing an Energy Star certificated electric dishwasher. With that model, you will greatly decrease water and energy consumption.
A dishwasher with this certificate uses only 3 gallons of water per load, while a non-certificated model can use up to 15 gallons.
When we're talking of energy consumption, a certificated dishwasher uses only 0.87 kWh of energy per load, while a non-certificated dishwasher uses 1.59 kWh.
Want This Size Of A Dishwasher? Here Is What You Should Know
Now, let's talk about key functions and specifications you can count on by choosing a dishwasher that is mini in size.
Strong Construction
Electric dishwashers feature stainless steel construction. Such a material of the making is the best one on the market. It is strong, hard, and durable, resistant to high temperatures, stains, and odors. On the other hand, ultrasonic and manual models are made only from plastic and maybe some aluminum details. Plastic is also a strong and durable material for dishwashers.
Interior Capacity Depends On The Model Type
Electric models can usually hold between 4 and 8 place settings. Manual units with tanks can hold up to 2 or 3 place settings, while classic manual buckets can wash one dish at a time. Ultrasonic models can wash as many dishes as you can fit in the sink.
Can A Smaller Electric Model Have Adjustable Racks?
Yes, but this is quite rare. As they are small in size, they usually do not offer customization of the interior.
Cleaning Cycles: What Options Do I Have?
Most of electric dishwashers feature at least 4 classic cycles. That usually includes normal, light, rinse only, and speed wash. But that really depends on the model. There are many cleaning options these models can have such as ECO mode, baby care, glass, heavy wash, and more.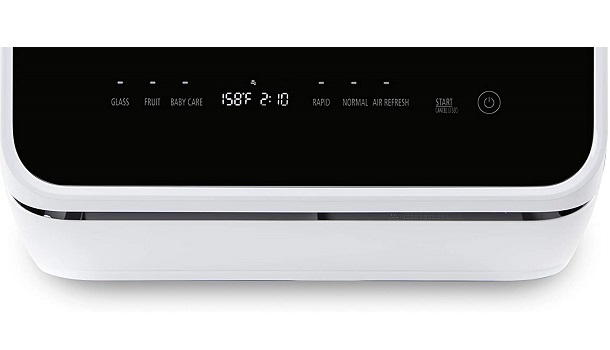 Can I Count On A Drying Function Too?
Yes. Electric dishwashers usually feature a drying function. They can have either hot drying or air-dry function. Hot drying provides a quick and efficient drying operation but it needs a lot of energy in doing so. On the other hand, the air-dry option is an eco-friendly function that needs a bit of time to dry the dishes, but it will do it efficiently and eco-friendly.
Louder Performance
This is a downside of having a smaller constructed dishwasher. Such a model usually features a noise level between 48 and 55 decibels. That is a bit louder noise level as some classic models feature less than 48 dB.
Best 10 Small Dishwashers
The following models are all small in size but different types. We will start with countertop models since they are the easiest to find on the market. Then you will see the best ultrasonic model and finally, the commercial glasswashers.
Farberware FDW05ASBWHA Dishwasher
User-Friendly Design
This dishwashing machine features a user-friendly design. It has a transparent glass door window, backlit control panel with versatile cycles, functions, and time display, a built-in 5-liter water tank, etc. Its air exchange cycle additionally enhances the machine's drying performance.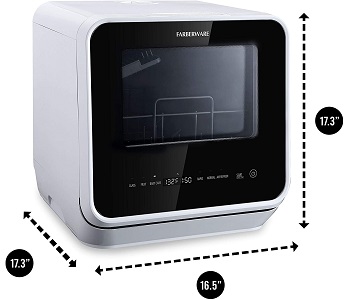 Steam Cycle
The best thing about this dishwasher is that it provides you with a powerful steam cycle. It comes in very handy especially if you want to sanitize your dishes or baby's bottles, toys, etc.
Kapas KPS-XWJ01 Dishwasher
High-Temperature Performance
What makes this desktop dishwasher such an amazing choice is its powerful high-temperature washing performance. This means that your dishware will be completely sanitized and ready for the next use.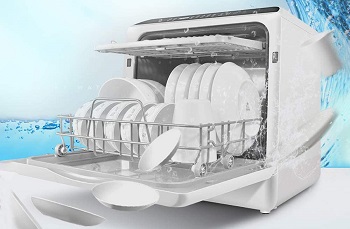 Acceptable Cleaning Aid
When washing dishes inside this mini countertop dishwasher, you can use liquid detergent, pods, or powder detergent. However, keep in mind that you should use detergent tablets only when running longer cycles. That way they will have enough time to fully dissolve.
hOmeLabs HME010033N Dishwasher
Simple Design
This is another model for home use that features a very simple design. It offers a front-loading system and has a simple control panel with versatile user-friendly digital controls.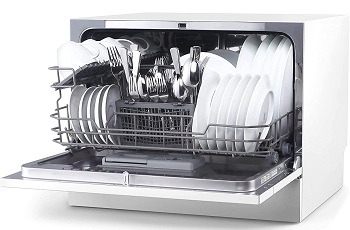 Energy Star Certified
Note that this home dishwasher comes with an Energy Star certificate. This means that it has much smaller energy and water consumption per cleaning cycle. Each of its cleaning cycles is specially designed to provide you with amazing performance and great cleaning results.
Novete TDQR01 Dishwasher
Backlit Control Panel
This small under sink dishwasher features a user-friendly backlit control panel that is mounted atop the machine. This means that you will be able to access its controls easily any time you need. Its water ports are specially designed to provide full water coverage.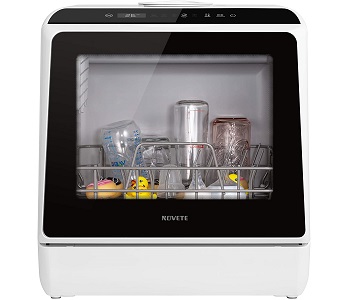 Ventilation System
The best thing about this model is that it offers a specially designed ventilation system. Thanks to this feature you will be able to leave your dishware inside the tub for about 72 hours without worrying that it might pick up some odors.
Handiy GQJKAT Dishwasher
Powerful Spray Arms
Due to its two 360-degree rotating spray arms, you can be sure that this dishwasher will provide you with powerful performance. All corners of the dishwasher's tub will be completely covered.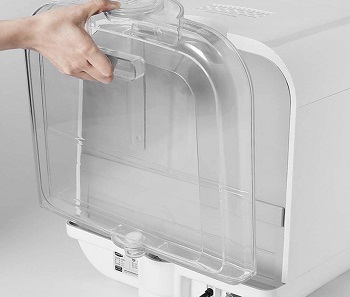 Transparent Water Tank
This is another portable dishwasher that comes with a 5-liter water tank. The best thing is that it is completely transparent and removable from the machine. Thanks to this feature you will know when it's time to refill it. Most importantly, you won't have any trouble doing it.
Red Tide Dishwasher
Load Capacity
Because of its small size, this apartment-sized dishwasher can easily accommodate up to 4 standard place settings at once. Its spray arms are precisely positioned to ensure that they provide the entire tub with complete coverage. As a result, you can always count on amazing cleaning results.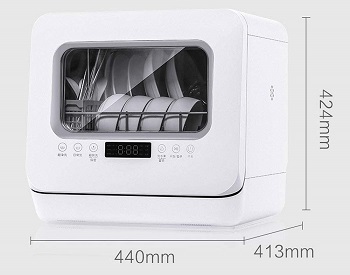 Water Inlet Methods
The best thing about this dishwasher that fits every apartment, is that it provides you with two different water inlet methods. You can either use a fixed water pipe connection or an external water container. Either way, you can count on an amazing performance.
DWLXSH Built-in Dishwasher
Built-In/Freestanding Design
The best thing about this small-in-size dishwasher is that, because of its multipurpose design, you can use it as a both built-in and freestanding machine. For that reason, its control panel is located on the front side of its door to ensure that you can easily access it when needed.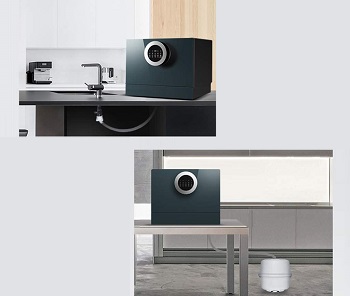 Multiple Wash Programs
Like most of the listed models, this compact dishwasher for building-in, also offers multiple wash programs. You can use it to clean heavily soiled dishware as well as glassware delicates.
Fisher Paykel DD24SI9N Dishwasher
Single Drawer Design
This dishwasher with a panel-ready design is an amazing choice for those who want to have a fully integrated model that perfectly fits next to the rest of your kitchen appliances. It is panel-ready and it provides you with an amazing "knock-to-pause" feature that allows you to stop the machine's cleaning cycle.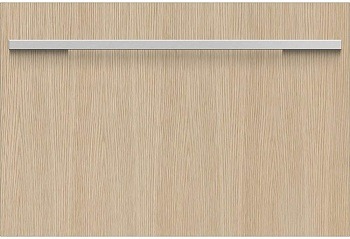 ADA Compliant
The best thing about this dishwasher drawer model is that it is ADA compliant. This means that all its electrical information and technology are accessible to those with disabilities.
Magic Chef MCSCD6W5 Dishwasher
Space-Saving Design
The Magic Chef small countertop dishwasher offers six different cleaning cycles to ensure that provide amazing cleaning performance. You won't have any trouble connecting this mini tabletop dishwasher to your kitchen faucet. Everything you need to do is add a faucet adapter to your kitchen faucet and connect the dishwasher via the water hose. No need for any direct plumbings or permanent installations.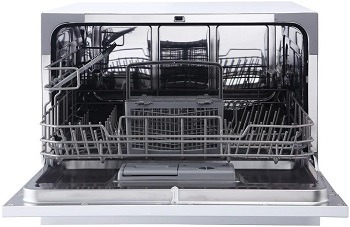 Stainless Steel Interior
The dishwasher's interior is entirely made out of high-quality stainless steel material. That means that you will never have to worry that the dishwasher might start to rust, corrode, or get damaged by the use of different dish detergents.
SPT SD-2213S Dishwasher
Six Place Settings
This dishwasher is designed to accommodate up to six standard place settings. This makes it the perfect choice for people who live alone, a couple or small family. It will fit into smaller apartments, dorm rooms, mobile homes or offices without any trouble.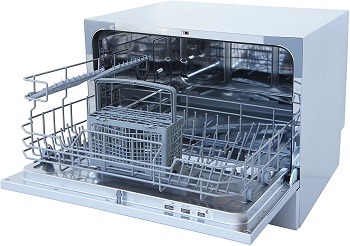 Different Cleaning Cycles
Like all other dishwasher models in this post, this one also offers multiple different cleaning cycles. These include speed, rinse, mini-party, light, normal, and heavy. Choose the perfect cycle based on what kind of dishes you are washing and how dirty they are.
Danby DDW631SDB Dishwasher
Stainless Steel Design
This Danby dishwasher is entirely constructed out of stainless steel material. This is a great thing because it means that it is highly durable and resistant to outside dents, scratches, fingerprint stains, and even rust and corrosion.
Electronic LED Display
Another user-friendly feature of this dishwasher is the electronic LED display that helps you choose and set the desired cleaning cycle. It also displays the remaining time the dishwasher needs to complete the set cleaning cycle and warning indicators that let you know when something is wrong with the dishwasher.
Black+Decker BCD6W Dishwasher
Simple Touch Controls
This small countertop dishwasher comes with very simple LED touch controls that allow you to set the perfect cleaning mode according to your needs. You can choose between seven different cycles that include soak, rapid, glass, eco, normal, 90 minutes, and intensive.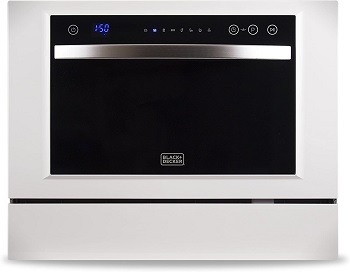 24 Hour Delay Start
Like most of the silver dishwashers, you can find in this post, this model also provides you with a delay start option. Simply load up the dishwasher and set the exact time when you want it to start with the cleaning process. You can delay it for up to 24 hours.
COSTWAY Portable Countertop Dishwasher
Camping Dishwasher
This small portable dishwasher is the perfect choice if you are looking for a machine you can take on your camping trips. It comes with a built-in 5-liter water tank that will provide you with enough capacity for a single washing cycle.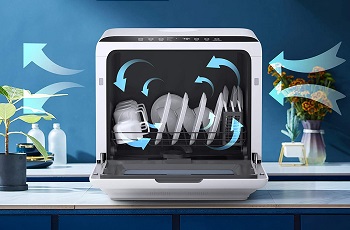 Top Mounted Panel
Controls of this model are top-mounted to ensure that you can easily access them from any position. The panel features backlit keys that ensure you can quickly make the adjustments you want.
SOVAWIN Portable Ultrasonic Cleaner
Ultrasonic Cleaner
As opposed to the rest of the listed models, this dishwasher is actually an ultrasonic cleaner you can use to clean versatile dishware pieces. Apart from dishes, you can use the cleaner to clean clothes, jewelry, and even fruits and vegetables.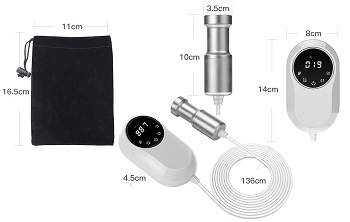 Budget-Friendly Option
Out of all models in its category, this mini portable dishwasher machine is the most budget-friendly option. This makes it an amazing choice for people with a bit smaller budget.
Eurodib DSP3 Lamber Glass Washer
High-Quality Design
This dishwasher for "glasses only" features a high-quality design. It is made out of stainless steel material and features a 16"x16" square basket that is specially designed for glassware. Its powerful heat boosters will provide you with a very powerful sanitizing performance.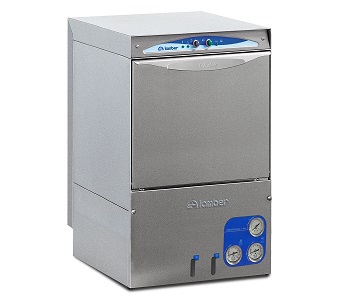 Wash Capacity
Because of its powerful 2-minute wash cycles, this bar dishwasher will be able to clean up to 30 racks of dishware per single hour. This makes it an exceptional choice for smaller bars and pubs.
Jet-Tech Systems F-18DP Dishwasher
Lasting Lifespan
You can be sure that this commercial dishwasher will have a lasting lifespan. Both its construction and spray arms are made out of high-quality stainless steel material. It also comes with fully automatic detergent and rinse-aid dispersers that will ensure sparkling results.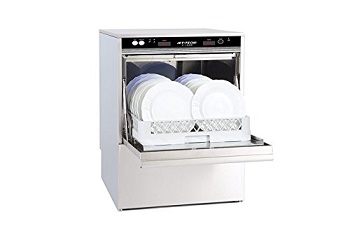 Short Cycles
Just like the previously reviewed model, this commercially-graded dishwasher also provides efficient wash capacity. It can clean up to 24 racks per single hour, meaning, its cycles last only about 2.5 minutes.
Jackson Dishstar LT Dishwasher
Built-In Design
This small commercial dishwasher features a built-in design and ses low water temperatures during the washing cycle. However, you don't have to worry that this means that it won't provide you with perfect cleaning results. It just means that it uses chemical sanitizing to clean your dishes.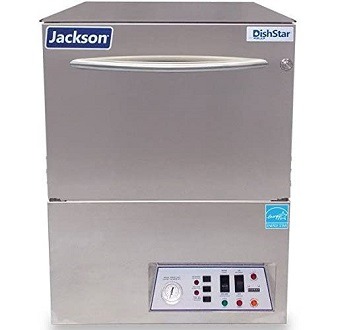 24 Rack/Hr Capacity
It is designed to clean up to twenty-four racks per only one hour. That means that it uses very short cycles which makes it the perfect choice for commercial use. A high-quality stainless steel finish gives durability to the unit and provides a bit more sophisticated look. Thanks to this feature you won't have to worry about small scratches or fingerprint stains on the dishwasher.
C.V.S Undercounter Dishwasher
Top Mounted Controls
This dishwasher comes with top-mounted user-friendly controls. Thanks to this feature you won't have any trouble choosing and setting the perfect cleaning cycle depending on how dirty your dishes are and what kind of dishes you are washing.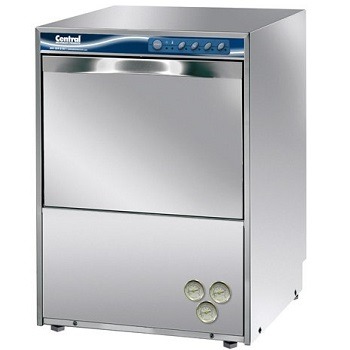 Two Minute Cycles
Because of its very short two-minute cleaning cycles, this small dishwasher is the perfect choice for pubs, bars, and even smaller restaurants. This means that the dishwasher will allow you to clean up to thirty racks of dishes in only one hour.
Hobart LXEH Dishwasher
Simple Controls
You won't have any trouble setting up desired cleaning cycles with this dishwasher. It comes with simple, user-friendly controls that are located at the top of the dishwasher. Simply urn it on, set the perfect cleaning cycle, and press the play button. Energy Star certificate ensures low energy consumption.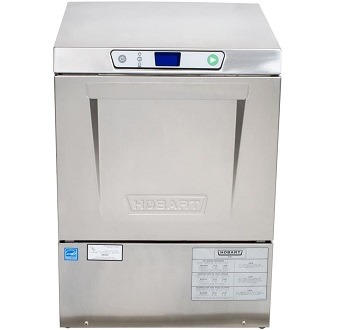 High Sanitizing Temperature
This unit also uses very high sanitizing temperatures that help you remove all the soil and debris from the dishes you place inside the unit. This means that you will get perfectly clean and bacteria-free dishes in a very short time. It features built-in detergent and rinse-aid dispensers.
Smaller In Size Models But Equally Safe
Safe handling is one of the most important factors of having a dishwasher. However, no matter the size and price, almost every model comes with great safety features that meet the highest standards. That includes the following features.
Leakage protection is a standard factor that every electric dishwasher has. This feature automatically stops the performance in case it detects the leakage.
Light indicators let you know when the cleaning and/or drying operation is finished.

The alarm buzzer uses sound to let you know about the finished cleaning cycle.
Well-designed bottom ensures the stability of any type of dishwasher, including manual models.
Speaking of manual models, they don't have leakage protection or light/alarm indicator, but they are designed to provide safe handling and usage.
Ideal Size For Minimal Maintainance
When it comes to the cleaning of your new mini dishwashing machine, here are a couple of tips on how to do it, based on the model you have.
Electric Dishwasher Type
To clean this freestanding model type, place white vinegar in the dishwasher and run a quick cycle. After that, sparkle the baking soda inside and run one more cycle. And that's it. To clean the exterior of your dishwasher, just wipe it with a cloth. Clean a dishwasher every 7 days.
Ultrasonic Model
This dishwasher type requires to be washed under running water and by using a mild detergent and toothbrush. Clean your dishwasher once a week.
Manual Dishwasher
No matter if you have a dishwasher tank or bucket, just wash it with lukewarm water and some mild soap once a week.
Installation Of A Petite Dishwasher
Since we have a lot of different dishwasher models that are small in size, here are the installation instructions for each one of them.
Classic Electric Dishwasher
This model requires a direct water setup. You can easily connect it to your sink plumbing. Just follow the instructions in this video.
Electric Model With Water Tank
This dishwasher has a built-in water tank. So you need to add water into the outlet so it can work. The amount of water is instructed in the manual and it depends on the model. Once you add water, connect the plumbing to your sink so the dishwasher can drain it once the cleaning cycle is finished. Don't forget to connect the dishwasher to the power outlet too.
Ultrasonic Dishwasher
Plug this small model into the power outlet and place it into your sink that is filled with water. Once you put the dishes in too, turn on the dishwasher and let it do its job.
Manual Dishwasher
This model doesn't actually require installation. You just need to find a stable surface to place it and use it.