Interested to learn more about the best compact bread maker models available on the market?
Then look no further!
Check out this article to read the reviews of small, automatic, roti makers, and other bread machines that won't take up a lot of space in the kitchen. In case you'd like to purchase such a product, our buying guide could help you figure out which features to pay attention to so that you can get the best model for your needs.
The Rundown
Best 6 Compact Bread Maker Machines
Best Of Best Compact Bread Maker
Cuisinart CBK 110 Bread Maker
Vertical Bread Pan
This Cuisinart CBK110 automatic breadmaker features a vertical bread pan for baking to make the unit more compact and to save more space while letting you bake bread. It lets you bake loaves in three sizes, 1-pound, 1.5-pound, or 2-pound, depending on your needs. You can also adjust the crust color and choose between 12 preprogrammed settings.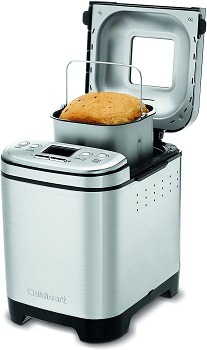 Beeping Alerts
Upon adding the ingredients and selecting the loaf size, crust shade, and baking cycle, the audible tones will alert you of other actions you have to do. The beeping sounds will let you know when to remove the paddle, rack the bread, or add any ingredients to the mix. The non-stick bread pan and the kneading paddle are both easily removable from the stainless steel bread machine for cleaning.
Various Bread Types
The control panel with the menu settings offers 12 baking cycles to choose from. After you set up the baking process, you can check in on it through a viewing window on the lid at any time. You can make white, French, gluten-free, whole wheat bread, make a cake, jam, artisan dough, and more.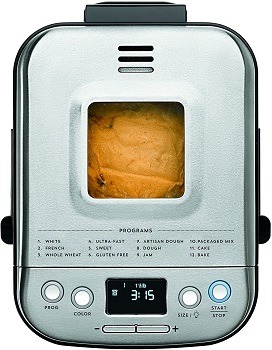 Space-Saving Design
This Cuisinart compact bread maker is ideal for even baking and has a technology that delivers premium texture and crust. It can be used for making pizza and pasta dough, and even bread and cake with fruits and nuts in it. Its compact size takes up minimal cooking space on the kitchen counter or in the storage cupboards.
Short Description:
non-stick removable vertical bread pan
1-pound, 1.5-pound, 2-pound bread loaf
12 pre-programmed settings and 3 crust shades
French, white, gluten-free, whole wheat bread
beeping sounds alert you what to do next
Best Roti Compact Bread Maker
StarBlue Compact Roti Maker
For Flatbreads 
This product differs from the first one on this list because it is constructed to work with flatbread types. It uses 1200 Watts to press and bake roti and tortillas in 10-inch diameter sizes. It consists of two flat round plates that are designed to press dough balls into round flat shapes and then bake them.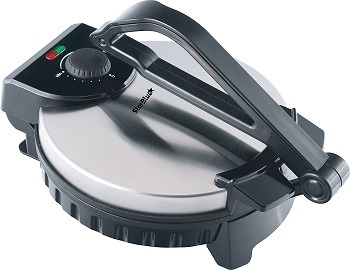 Non-Stick Material
The non-stick material makes sure that the tortillas or roti don't stick to the plates and break as a result of sticking. It features two indicator lights that alert you when the power is on and when the set temperature is reached for baking. To set the temperature, use the turning knob located on top of the unit.
User-Friendly
The durable stainless steel housing will make sure this product is long-lasting and erosion-free. After use, it should be simply wiped clean with a slightly wet cloth. By using the pressing handle on the roti press, you will be able to turn small dough balls into round-shaped thin flatbread which will then be baked at the set temperature.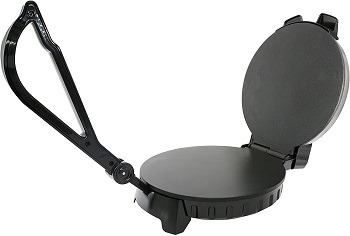 Compact Size For Storage
Since the heat of the plate can be adjusted, you can prepare different kinds of flatbreads on it. You can use it to precisely cook all roti, tortillas, and chapati. To store the unit, wrap the power cord around the base and then store standing up to take up less space in the cupboard or pantry.
Short Description:
perfect for 10-inch roti, chapati, tortillas
non-stick flat surfaces for baking
turning knob for adjusting the temperature
features a power and ready indicator light
presses dough balls into thin round shapes
compact size with the convenient storing design
Best Automatic Compact Bread Maker
Oster Compact Bread Making Machine
Three Loaf Sizes
This bread machine comes in a compact size but lets you bake up to a 2-pound bread loaf. The control panel and the screen display make the setup of the baking programs easier. Bake 1-pound, 1.5-pound, and 2-pound loaves with adjustable crust colors from light and medium to dark shades.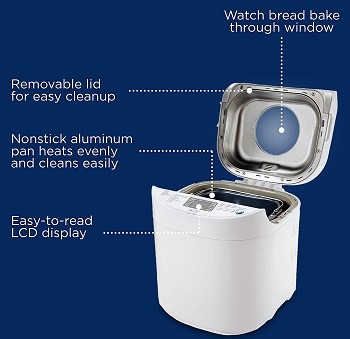 Automatic Kneading & Baking
The 12 pre-programmed settings allow you to bake different types of bread and also features an express baking cycle to make bread in under an hour. By using the delay function on the control panel, you can schedule a baking process up to 13 hours in advance. After you add in the ingredients, this compact bread maker will automatically mix, knead, rise, and bake your bread loaf.
Variety Of Settings
The 12 available programs include settings for sweet, French, basic, and whole wheat bread, as well as two express baking options, one is 58 minutes long, and the other 80 minutes. The dough option lets you prepare dough for rolls and pizza. The lid has a viewing window for monitoring the baking process without interruption.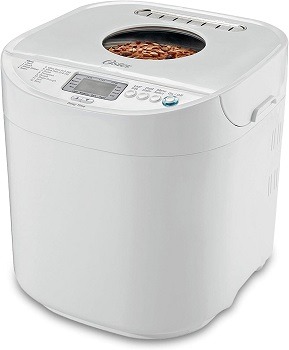 Non-Stick Aluminum
This automatic bread maker comes in a white and ivory color combination, which makes it easily blend into any type of kitchen interior, and doesn't take up a lot of space. For cleaning, the bread pan is easy to remove. It is made out of non-stick aluminum material that heats evenly and is easy to maintain clean.
Short Description:
1-pound, 1.5-pound, 2-pound bread loaves
three crust colors: light, medium, dark
12 pre-programmed baking settings
two express baking cycles from 1 to 1.5 hours
non-stick removable aluminum bread pan
basic, whole wheat, French, sweet bread
13-hour delay function available
Best Home Compact Bread Maker
Sunbeam Compact Bread Machine
Up To 2-Pound Loaves
This compact bread maker is 15 inches long, 10 inches wide, and 13 inches long. While it can produce up to a 2-pound bread loaf, it won't take up too much space on your kitchen counter. It comes in white color to easily fit into any kind of kitchen interior. The control panel and the LED screen display are located on the front side of the product for setting up the baking process.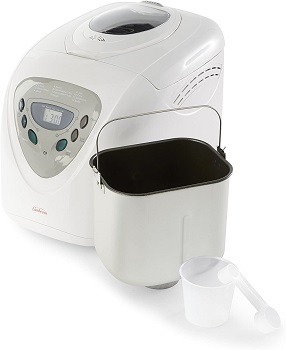 12 Baking Options
The bread pan is non-sticking and easily removed from the unit for hand-wash cleaning. The 12 available settings let you mix, knead, and bake different types of bread, all in the same unit. You can even use it to bake artisan bread types in under an hour in your home.
13-Hour Timer
The loaf size can be adjusted to either 1.5 or 2 pounds, while the crust colors available are light, medium, and dark. In case you want to wake up to fresh bread, or have warm bread wait for you after work, you can use the 13-hour delaying timer for baking.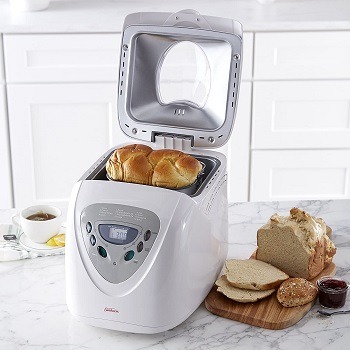 Versatile Baking Cycles
To take a sneak peek while the bread is baking, you can look through the viewing window located on the lid. Apart from baking French, sweet, basic, or whole wheat bread, this home bread maker can also prepare cake, jam, and dough for rolls or pizza.
Short Description:
15 inches long, 10 inches wide, 13 inches high
1.5 pound or 2-pound loaf size available
LED screen and control panel for setups
features 12 baking settings to choose from
view window and 13-hour delayed baking
Best Small Compact Bread Maker
Zojirushi Mini Breadmaker
Small 1-Pound Loaves
This small bread machine is ideal for smaller households with up to 2 people. It bakes a 1-pound bread loaf and takes up minimal space on the kitchen countertop. Apart from bread, this Japanese bread maker can also be used to make a cake or jam. The baking pan and the kneading blade are non-sticking for easy bread release and cleaning.
Various Baking Styles
The convenient sturdy carrying handle lets you transport this compact bread maker and store it away very easily with cord storage as well. The settings you can choose from are great for baking different types of bread and jam. You can make basic, soft, French, and quick bread, but also prepare many types of dough.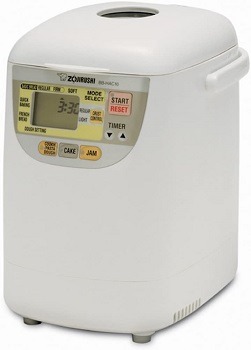 Three Crust Settings
When baking bread, you get to choose between firm, regular, and soft crust options. The LCD control panel also features a timer that lets you delay the baking cycle up to 13 hours. This way you can have fresh bread waiting for you at any time you want it.
Dough Options
By using the dough options in the settings, you can also create pasta, pizza dough, and cookie dough. If you need smaller bread loaves, but would like to enjoy homemade fresh bread, this product can help you achieve that so you don't have to waste food anymore.
Short Description:
small product for 1-pound bread loaves
can also bake a cake, jam, and make dough
13-hour delay timer on the LCD control panel
the regular, firm, and soft crust options available
for basic, soft, French, and quick bread
non-stick pan and blade, carrying handle
Best Gluten-Free Compact Bread Maker
Rosewill Bread Machine
12 Digital Programs
This compact bread machine features an automatic nut and fruit dispenser, and an easy-to-use control panel with a screen display for choosing the baking settings. Decide between 1.5-pound and 2-pound bread loaves, 12 digital programs, and 3 colors of the crust.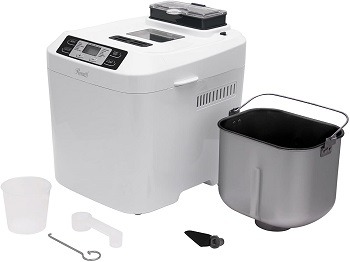 Fully Automatic
Even when you are baking with nuts and fruits, the whole cycle will be done automatically after you add in all the ingredients at the beginning. The nut and fruit dispenser will automatically scatter them across the dough at the right time, without you having to add it in the middle of the cycle.
Various Settings
Apart from gluten-free bread, you can also use this product to bake whole wheat, sweet, sandwich, or French bread, and more. The rapid baking option lets you bake a loaf of bread from scratch in under an hour. You can even delay baking up to 13 hours by setting a timer. If you wish to keep bread warm, you can choose the warming setting up to 1 hour.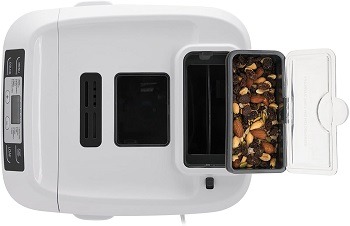 Dishwasher-Safe Parts
The transparent window for viewing the process is conveniently located on the lid of this product. The bread pan and the kneading blade are both non-sticking and removable from the unit for maintenance. They are dishwasher safe for easy and convenient cleaning.
Short Description:
bakes 1.5-pound or 2-pound bread loaves
choose between 12 programs and 3 crust colors
features an automatic nut and fruit dispenser
for gluten-free, whole wheat, French bread, etc
fully automatic with a 13-hour timer
non-stick removable bread pan and paddle
rapid cycle bakes bread in under an hour
What To Consider In Compact Bread Maker Machines?
You should consider the size because compact bread machines won't take up a lot of space, so they can be used in busy or smaller kitchens. Likewise, opt for models that offer menu settings you are willing to use. Moreover, consider the size of the bread you want to make. Some additional features that models of the best compact bread makers have are also welcome.
Benefits – Instead of buying bread in bakeries, with a compact bread machine you can make enjoy fresh bread whenever you like it while also controlling which ingredients you put in. They can also save you the money, as you can use them for many different baking programs, to bake different types of bread, cakes, and dough.
Sizing – Compact models usually have vertical bread pans, contrary to horizontal bread makers that are bigger in size. If you are worried about fitting a bread maker into your small and busy kitchen, a vertical model could be the one for you. Look for the dimensions of the unit, as the market offers a wide variety of compact models for you to choose from.
Menu Options – With a variety of baking cycles to choose from, most models will have at least 10 baking settings included on the menu. Choose the one that best fits your baking needs, especially if you are looking to bake gluten-free bread. Some other baking cycles available include basic, French, whole grain bread, as well as cakes and jam.
Bread Size – Apart from choosing between light, medium, and dark crust shades, you can also bake different loaf sizes in bread machines. Most offer 1 to 2-pound sizes, although some can go as high as 2.5 pounds. The smallest models offer 1-pound loaves, while a bit larger ones usually let you choose between 2 or 3 sizes, to accommodate the needs of your family.
Other Features – Non-stick bread pans and kneading paddles will help you with easy release of the bread and make maintenance a breeze. Also, make sure the programs and settings are easy to use and the machine doesn't make a lot of noise. The viewing window is also a great feature for monitoring the baking process without interrupting it. The timer with the delayed baking option is also convenient.
To Wrap It Up
Finally, we think the best model to check out is the Cuisinart compact bread maker. It features beeping alerts to let you know when to add the mix-ins, remove the paddle, etc. The Cuisinart compact stainless steel bread maker can bake up to a 2-pound bread loaf and has a selection of 12 preprogrammed settings. In case you are interested, also check out this article about mini and small bread makers on the market. For other types of electric models, take a look at the reviews of the best electric bread makers.