Cannot decide on which roti press is the one for you?
Do not worry, we've got you covered!
Here you can learn about the basic and additional features of the best tortilla roti makers available on the market. Whether you are looking for an electric, non-stick, or other kinds of makers for flatbreads, in this article you can read the reviews of different models to help you choose something that works for your needs and demands.
The Rundown
Best 6 Tortilla & Roti Press Makers
Best Of Best Roti Press Revel Roti Maker
Even-Heat Distribution
With built-in cord storage and ergonomic design, this roti press works to create tortillas and roti. The two-round plates feature a non-stick material that helps to eliminate the mess of the dough sticking to the surface. Both pressing surfaces distribute heat evenly for baking without cold patches.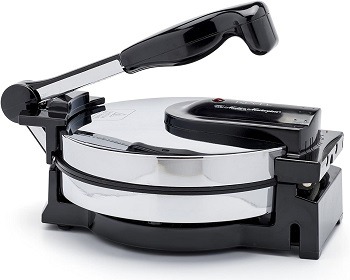 Control The Temperature
This product uses a power supply of 1000 Watts to make roti with an adjustable temperature option. After setting the temperature, you can press the roti batter to create round and flat baked bread more easily. To do so, you will have to use the press handle that is designed for durability.
Chrome Finish Body
The automatic on and off ready light will alert you for your safety when the unit is on and heating to prevent burn injuries. The body features a chrome finish that is easy to keep clean by wiping down after it cools down.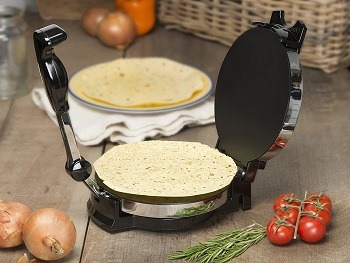 Space-Saving For Storage
This model of a press maker for tortillas and roti will be easy to store away when not in use, without taking up too much space. It can be stored vertically for taking up less space in your cupboard or pantry thanks to the stand-up storage feature.
Short Description:
non-stick round plates for roti and tortillas
features a sturdy press handle for durability
1000 Watts with a temperature control feature
built-in cord storage and space-saving design
heat spreads evenly across the round surfaces
Best Cast Iron Tortilla Roti Maker
Victoria 8-Inch Press
Low Maintenance
This tortilla roti maker comes in an 8-inch size and features heavy-duty construction for durability. It is made out of cast-iron material that is seasoned with organic vegetable flaxseed oil at high temperatures. Thanks to this feature, it will require low maintenance while allowing you to make even tortillas and roti each time.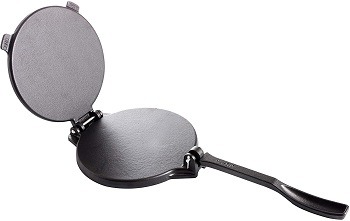 Creates Evenly Thin Roti
The cast-iron roti press is designed to avoid pinching with the improved design of the base and the handle for better resistance. Apart from making tortilla and roti, you can use it to get even and thin chapati, empanadas, arepas, and much more. The round surfaces are exceptionally flat to create even flat batter everywhere.
Pressing Recommendations
When pressing the dough of your choice, it is advised to use a plastic sheet cut from a disposable bag, cling film, or parchment paper. That way you can press the dough between the plastic layers and then freeze it or put it on a griddle for instant cooking.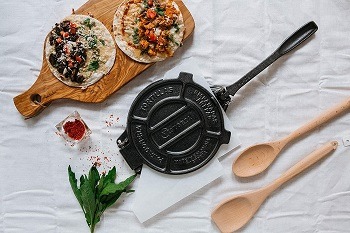 Gluten-Free-Suitable
To create perfectly round roti, this cast-iron roti maker requires you to put a ball of dough just slightly closer to the closing hinges. This model can even be used for making gluten-free and paleo tortillas. Before using the unit, it is advised you read the use and care instructions.
Short Description:
durable 8-inch cast-iron roti press
seasoned with organic flaxseed oil
makes tortillas, roti, empanadas, arepas
features completely flat pressing surfaces
can be used for gluten-free and paleo tortillas
durable low-maintenance reinforced design
Best Electric Tortilla Roti Maker
Brentwood Roti Press Maker
10-Inch Roti & Tortillas
This roti press maker is designed for creating and cooking 10-inch tortillas and roti. It has a turning knob for temperature adjustments so that you can control how soft or crispy your flatbread turns out. It is suitable for creating and baking both tortillas and roti.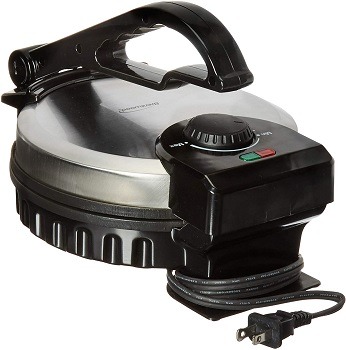 Power & Ready Indicator Lights
The power and ready lights will indicate when the unit is plugged into electricity and when the desired temperature has been reached to avoid guessing. It is ideal for making a variety of flatbread types, such as tortillas, roti, chapati, mandarin pancakes, and more.
Non-Stick Surfaces
This electric roti press has non-sticking pressing surfaces constructed from aluminum material. After you put the batter in, close the maker to press the dough and create a round shape that will then cook to the softness of crispiness, according to the chosen temperature level. Cleaning will be easy as roti and tortillas won't stick to the plates.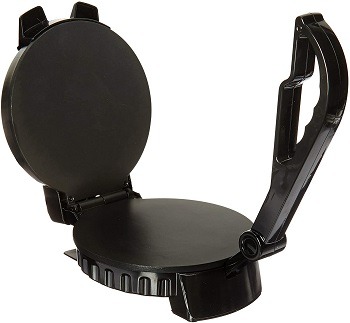 Compact Design
The electric roti maker is easy to keep clean and should not take up a lot of space on your kitchen counter when it is being used. For storing it, you can set it to stand upright to save some space in your storage area. You can use it for cooking roti anywhere with access to electricity.
Short Description:
creates and cooks 10-inch tortillas and roti
temperature control by turning the knob
non-stick aluminum press surfaces
easy to maintain clean after it cools down
stainless steel body for durability
features power and ready indicator lights
compact size saves space in the kitchen
Best Non-Stick Roti Press
Saachi Roti Maker
Adjustable Plate Temperature
This tortilla roti maker features two non-stick cooking plates that help to flatten batter and create roti, chapati, or tortillas when pressed together. The thermostat dial is located on top of the upper plate for controlling the temperature when your flatbread of choice is cooking.
Heat Spreads Evenly
The power and ready lights alert you when this product is plugged into electricity and when the set temperature is reached for safety. The heat is delivered through the non-stick plates evenly and quickly for perfectly baked roti each time you use it.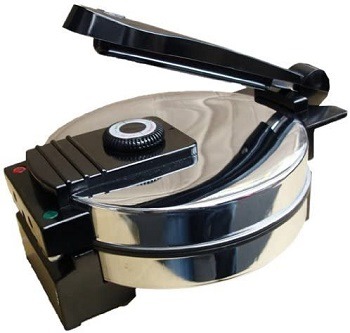 User-Friendly Design
Flattening the dough is easy with the cool-touch pressing handle. After the roti flatbread is done, releasing it will be easy by lifting the top plate without the flatbread sticking to the surfaces. After you are done, you can simply wipe the unit down with a cloth.
Compact For Storage
The chrome finish and space-saving design fit into any kitchen style easily. When you want to store it away, it also shouldn't take up a lot of space. You can also use it to make wraps, pitas, tortillas, or chapati. By controlling the temperature of the plates, cooking perfect flatbread will be easy.
Short Description:
two non-stick cooking press plates
cool-touch pressing handle for thin flatbread
ideal for roti, chapati, wraps, tortillas
adjustable plate temperature for precise cooking
even distribution of heat through the plates
Best Jumbo Tortilla Roti Maker
StarBlue Tortilla Roti Maker
Non-Stick Plate
With a power supply of 1200 Watts, this tortilla jumbo roti maker has a stainless steel body with non-sticking cooking surfaces. Roti and tortillas won't break or stick to the plates to protect the original taste and smoothness. The unit features a turning dial that allows you to control the temperature of the plates when cooking flatbread.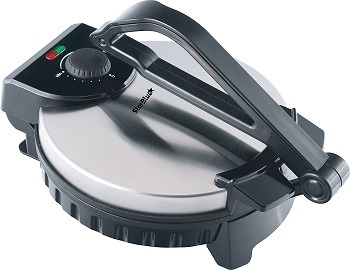 Erosion-Free Construction
The two indicator lights alert you when the unit is on and when the set temperature has been achieved so that you know how to precisely cook roti to perfection. The stainless steel maker will prevent erosion and keep the roti press durable and long-lasting.
10-Inch Flatbreads
Creating different types of flatbread in 10-inch sizes will take less time than having to buy it from shops where it might also not be as fresh. When removing roti from the plate, do not use metal utensils so that you don't scratch the non-sticking layer of the plate.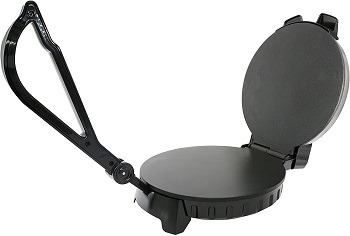 Easy To Clean
When you decide to serve spicy rice dishes, this product will help you make genuine roti that goes perfectly with these dishes. You can also use it to make tortillas, as well as chapati. Cleaning can be done with a wet cloth after use and then stored standing up on the base around which you can wrap the power cord.
Short Description:
electric roti maker uses 1200 Watts
stainless steel body and non-stick surfaces
turning dial for controlling the plate temperature
cooks 10-inch roti, chapati, or tortillas
non-stick plates prevent roti from breaking
use with non-metal utensils to prevent plate scratching
Best Cheap Roti Press
IMUSA Aluminum Tortilla Press
Creates Round Flatbread
This tortilla roti maker is made from aluminum material and very easy to use. Put a butcher paper on the plate and then add a ball of dough to it. For pressing it to create a round shape, add another paper on top and then use the pressing handle. The plates will work to flatten the dough between the butcher paper.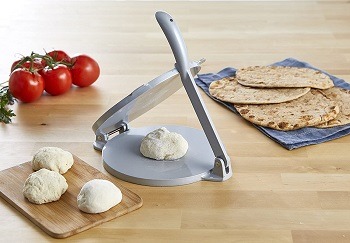 Flat Dough In One Press
This model is more lightweight than traditional cast-iron models. You can use it to create large quantities of thin tortillas and roti more easily. It will suffice to press the roti dough only once by using the leverage handle. You can create all types of tortillas and even roti thin flatbread types that will be perfectly round and thin for cooking.
8-Inch Roti
After you press the dough into a round 8-inch shape, you can cook it straight away or store it in a freezer for future cooking. You can use a griddle or a comal to cook tortillas and roti to be crispy or soft, according to your liking.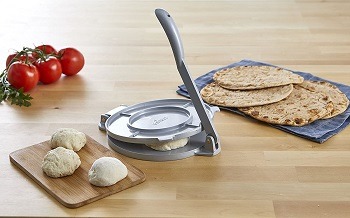 Low Maintenance
You can purchase this roti press maker for around 15 dollars on Amazon. It will help you to save time when cooking roti and tortillas, as it will be easy to use the press handle to flatten the dough. By using the butcher paper, this low maintenance product will be very easy to clean after use.
Short Description:
lightweight aluminum roti tortilla press
perfect for creating larger roti quantities
creates 8-inch roti and tortilla flatbread
creates thin and perfectly round roti
roti can be stored away for later cooking
one press is enough to flatten the dough
use with butcher paper when pressing
What To Consider In Tortilla & Roti Press Makers?
The market offers two essentially different types of roti press models and makers. One type is manual, while the other works with the help of electricity. There is a variety of different products depending on the material the models are made out of and they also come in different sizes. Most of these products are multifunctional, letting you cook different types of flatbread on it. Finally, some electric models let you choose the plate temperature for precise roti cooking.
Manual & Electric – While electric models work to press the dough into a flat round shape and then cook your roti or tortillas, manual models only let you flatten the dough out. If you prefer cooking your roti and tortillas on a gas stove, then a manual roti press will be enough for you. However, electric models will also cook the flatbread for you to save time and space.
Materials – Designed with either stainless steel, aluminum, chrome, or cast-iron, all tortilla roti makers should be durable for use. You can decide on the material based on your preference or even its look if it is important to you. Some models will fit in more nicely into your kitchen space based on the material design. It is also important to go for non-sticking surfaces for hassle-free cooking and cleaning.
Size – Different models of makers and presses for roti and tortillas have differently sized plates. Most commonly, these products can make round shapes in size from 6 to 10 inches. It will depend on your preference to choose a model in a bigger or smaller size. If you like to eat small flatbread types, then go for smaller models and the other way around.
Types Of Flatbread – Most types of these press makers are multifunctional. They are mostly suitable for creating roti, chapati, wraps, tortillas, and many other types of flatbread. This means that investing in such a product will give you a chance to try out even other types of flatbread, not just tortillas or roti.
Heat Control – If you decide to buy an electric model, you will see that they feature a turning knob for choosing between different levels of temperature. This way you can control how crispy or soft roti and tortillas will turn out. By choosing models that have even heat distribution, you will get to cook roti more precisely by choosing the temperature of the plate.
To Wrap It Up
The best tortilla roti maker is the Revel roti maker that features non-sticking plates and a temperature knob for adjusting the heat level of the round plates. It is used to flatten the dough to create round roti or tortilla shapes and then cooks them according to the set temperature. You can also check out this article about electric models to find out which models of electric roti makers are hot on the market at the moment. If you are buying a bread maker on a budget, take a look at these cheap bread makers that are reliable but don't cost too much money.