Looking to buying a bread maker on a tight budget?
Interested to see the best cheap bread machines available on the market?
Keep reading this article to learn more information. We have reviewed a wide range of models under and around 100 dollars to help you hunt down the best one for your needs. Check out the reviews of stainless steel, compact, and silicone bread makers, as well as roti makers, and find out about their beneficial features.
The Rundown
Best 6 Cheap Bread Maker Machines
Best Of Best Cheap Bread Machine
Hamilton Beach Bread Maker
Dishwasher-Safe Parts
This bread machine features a dishwasher-safe bread pan and two kneading paddles so that you can use one while the other is in the wash. It comes in black color and features a control panel with six pushbuttons and a screen display. It lets you choose between 12 menu settings, including French, sweet, whole grain, and basic baking cycles.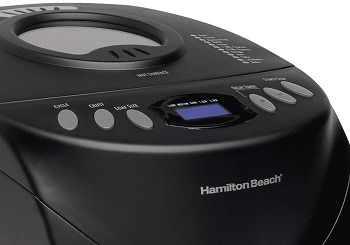 Three-Step Operation
By using the loaf size and crust color buttons, you can choose between 1.5-pound and 2-pound bread loaves in light, medium, or dark crust colors. This product is easy to set up in three steps, adding the ingredients, choosing the baking cycle, and pressing start. In case you want to delay baking, you can do that by using the timer.
Gluten-Free Setting
Apart from bread baking cycles, this product can also be used for making jam and preparing dough for rolls or pizza. As it has a gluten-free option, you can also use it to bake gluten-free bread and mixes. If you are looking for a quick way to make bread, you can use the quick cycle with baking powder or soda instead of yeast.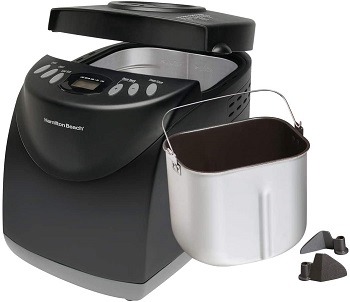 Price
You can purchase this model on Amazon for the price of around 70 dollars. In case you decide to bake with fruits and nuts, this machine will alert you when to add the ingredients with a beeping noise. The booklet with bread recipes includes all kinds of bread types, and whole grain and gluten-free options.
Short Description:
three-step set up for easy use
12 settings on the menu
1.5-pound and 2-pound loaves
light, medium, or dark crust
a dishwasher-safe bread pan
Best Stainless Steel Cheap Bread Maker
KBS Pro Bread Machine
17 Baking Settings
This stainless steel bread machine is listed for the price of around 130 dollars on Amazon, which still makes it quite affordable. It has a stainless steel body and a ceramic non-stick bread pan. The menu on the control panel offers 17 preprogrammed cycles to choose from. You also get to choose between three loaf sizes and crust shades.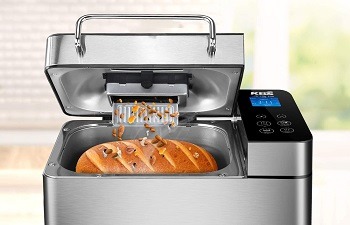 15-Hour Delay
The many baking options include whole-wheat, gluten-free, quick bread, French, natural sourdough, multigrain, and milky loaf. You can choose between 1-pound, 1.5-pound, or 2-pound loaves and light, medium, and dark crust colors. The delayed bake option lets you program the timer up to 15 hours to have fresh bread at any time.
Tempered Viewing Glass
The automatic dispenser for fruits and nuts is removable from the unit and works to dispense the ingredients at the right time of the cycle. The tempered glass on the lid is great for viewing the baking process with the help of inner lighting. The bread pan is dishwasher safe for easy cleaning.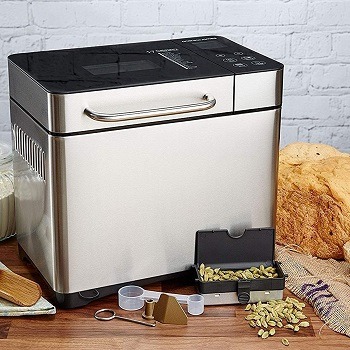 Operation Steps
After you get the material ready and choose the cycle, the cheap bread machine will stir the ingredients to create a raw dough which will then ferment and be baked. The warming cycle will start automatically after for one hour to keep your bread warm and ready for consumption.
Short Description:
stainless steel body and ceramic bread pan
the control panel offers 17 preprogrammed settings
automatic removable fruit and nut dispenser
1-pound, 1.5-pound, or 2-pound bread loaves
15-hour delayed baking option available
choose between light, medium, and dark crust colors
Best Roti Cheap Bread Machine
Victoria Cast-Iron Tortilla Press
Low Maintenance
This tortilla roti press is constructed from cast-iron material reinforced for better resistance. The cast-iron material is seasoned with flaxseed oil and requires minimal maintenance. It can be used to turn small dough balls into round-shaped thin flatbread types. Depending on the dough you use, you can create perfectly flat roti or tortillas.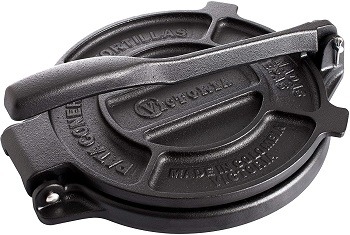 Lever Pressing Handle
The two round and flat pressing plates work to flatten the dough with the help of the lever handle. When flattening, use plastic sheets, parchment paper, or cling film and put the dough ball between them before pressing down. The dough ball should be placed just slightly off-center and then pressed before placing them on the griddle for baking.
For Various Flatbreads
With the 6.5-inch size, you can create not only roti and tortillas but also chapati, arepas, empanadas, or quesadillas. It is even suitable for gluten-free and paleo tortillas. By using this product, you won't have to opt for premade flatbread types again, but control the ingredients for homemade goodies.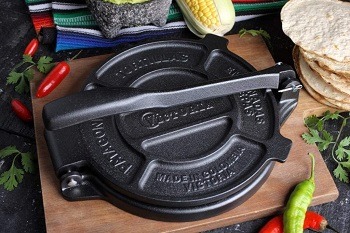 Flat & Round Roti
As the plates are constructed to be completely flat, the roti dough will also be easier to press into flat and round shapes up to 6.5 inches. At the price of around 30 dollars on Amazon, this model is affordable to make fresh roti to be served alongside Indian-style rice and sauces.
Short Description:
cast-iron construction for resistance
low maintenance, seasoned with flaxseed oil
turns dough balls into flat and round shapes
suitable for roti, chapati, tortillas, arepas, etc
suitable also for gluten-free and paleo tortillas
two flat and round plates with a pressing lever
use cling film or plastic sheets when pressing
Best Home Cheap Bread Maker
Oster Cheap Bread Maker Machine
Non-Stick Aluminum
This bread maker comes in white color and features a large LCD screen with buttons for easily setting up the operation steps. It uses a power supply of 650 Watts and can bake bread up to 2 pounds in loaf size. The non-stick pan is constructed from aluminum for even heating and easy cleaning. The lid is also removable for cleanup and the window lets you view the baking process.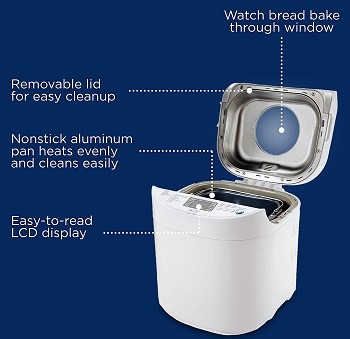 12 Baking Settings
Equipped with 12 settings, you can use this product to bake many homemade bread types while customizing the size and the crust color. If you want the bread to be baked quickly, choose the express cycle that lasts under an hour. In case you want the bread to be done at a specific time of the day, use the 13-hour timer to delay the baking.
Simple To Use
Apart from bread, you can use this home bread machine to also create dough for pizza and rolls, as well as make jam or jelly, all in your home. This model is easy to operate and set up in just a few simple steps. First, you can add your ingredients to the pan, then the audible tone will signal for you to add any mix-ins.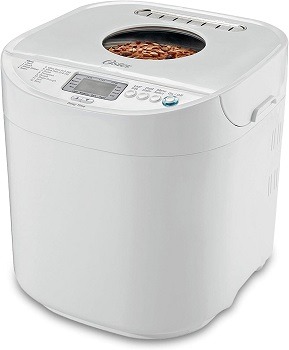 Perfect For Homes
This model is listed for the price of around 90 dollars on Amazon. This cheap bread maker is designed to mix, knead, rise, and bake all in one container, and all in your home. You can create many homemade goodies without spending too much money on the machine.
Short Description:
aluminum non-stick pan for even heating
removable lid for convenient cleaning
bakes bread up to 2 pounds in size
13-hour delay timer and express baking cycle
equipped with 12 settings for bread, dough, jam
Best Compact Cheap Bread Machine
Cuisinart Inexpensive Bread Machine
Loaf Size & Color
This cheap bread machine is currently listed for the price of around 100 dollars on Amazon. It features a vertical bread pan which makes the unit more compact for countertop use without taking up too much space. It lets you choose between 3 loaf sizes and crust colors so that you can have either light, medium, or dark 1-pound, 1.5-pound, or 2-pound loaves.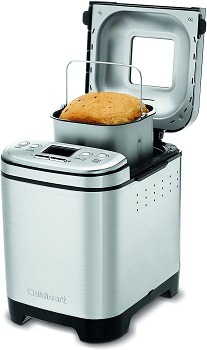 12 Baking Programs
The control panel with the LCD screen offers 12 preprogrammed options on the menu so that you can enjoy in white, whole-wheat, gluten-free, or French bread, as well as artisan dough, jams, and cakes. The top lid features a transparent window for checking in on the baking progress at any time without interruption.
Non-Stick Bread Pan
If you'd like to have fresh bread waiting for you in the morning or after work, you can set the delayed baking option with the 13-hour timer. The bread will release easily after it is baked thanks to the non-sticking property of the pan. The pan is also easy to remove from the unit for cleaning.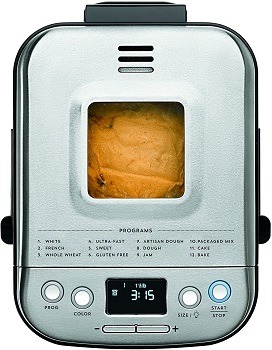 Audible Tone Alerts
When baking with dried fruits and nuts, the machine will make a beeping noise to remind you when to add any ingredients, as well as when to remove the kneading blade or rack the bread. With its space-saving size, this compact bread machine is suitable for smaller and busy kitchens as it won't take up a lot of countertop or pantry space.
Short Description:
vertical bread pan for compact size
three loaf sizes and three crust colors
features a control panel with an LCD screen
12 pre-programmed settings to choose from
for white, French, gluten-free, whole-wheat bread
removable non-stick bread pan and 13-hour timer
Best Silicone Cheap Bread Maker
Lekue Affordable Bread Maker
Suitable For Ovens
Unlike the rest of the cheap bread maker models reviewed in this article, this product is made out of silicone and suitable for use in the oven. It comes in brown color and features a unique design that lets you manually mix and knead the dough in one container which can then be put in the oven for baking.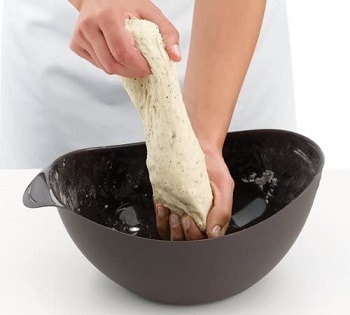 Partially-Closed Design
After you are done making the bread dough, the partially-closed design will help prevent drying out of the dough when in the oven, as the steam will be able to circulate inside. At the same time, the hot air will help to create a crusty texture on the surface of the loaf. That way you can enjoy bread with a golden crust and a perfect texture after baking it at home.
Microwave & Dishwasher Safe
This bread maker is constructed from platinum silicone that can withstand temperatures between -76 and 428 Fahrenheit degrees. Apart from being able to use it in ovens, you can also use it in the microwave. This model is also dishwasher safe for easy cleaning.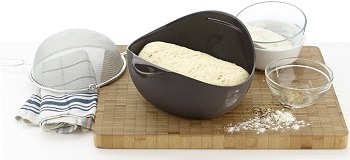 Hygienic Material
As it comes at a price of around 25 dollars, it is quite affordable if you are looking for this kind of product. It won't take up a lot of space when stored away in cupboards, as the silicone material is also flexible. This silicone bread maker repels germs for a hygienic food experience and easy cleaning.
Short Description:
platinum silicone material in brown color
partially-closed bowl design for baking
mix, knead and bake all in one container
suitable for ovens, microwaves, dishwashers
does not dry the bread loaf out
suitable for temperatures between -76 and 428°F
bakes bread with a golden crust and nice texture
What To Consider In Cheap Bread Maker Machines?
When buying on a budget, it is important to check out the price of products to limit yourself. Then you can move on to think of the other features of the best affordable bread maker, such as loaf sizing, menu settings, and more. You should also look for models that are easy to use and that don't have complicated settings. Finally, look for some of the below-mentioned added features that make bread-making easier.
Price – Most models on the market are priced over 100 dollars, or even a couple hundred. However, you can still find models with a price of under 100 dollars, or a tiny bit over that margin. However, besides minding the price, it is also necessary to look at the quality of products. You can find quality products without breaking the bank, and some of them are reviewed in the paragraphs above.
Bread Size – What kind of bread the machine can make is a very important thing to know. Most models on the market are designed to bake loaves in sizes between 1 and 2 pounds. The size you want will depend on your needs, how big your family is, and how much bread you normally consume at a time.
Menu Settings – Bread machines come with different baking settings on the menu. Usually, they have baking options that include basic, French, wholegrain bread, and sometimes even gluten-free options. Apart from bread-baking, they can also prepare dough for pizza or rolls, and even make jams and cake.
User-Friendly – To make sure the product is easy to use, look for models that don't have complicated setups and settings. Unless you understand the settings easily, it will take time to learn how to use the bread machine. That is why it is important to find the best inexpensive bread machine that is not complicated to use.
Other Features – The bread pan should be easy to remove from the unit so that it can be washed. The non-sticking property is also important for easy maintenance and easy release of the bread. Likewise, it is also important to look for settings such as gluten-free if that is what kind of bread you are looking to make. Other useful features include an automatic fruit and nut dispenser, delay timer, and 'keep warm' function.
To Wrap It Up
As the top pick, we have chosen the Hamilton Beach breadmaker. It is listed for the price of around 70 dollars on Amazon and comes with a dishwasher-safe bread pan and two kneading paddles. This cheap bread maker features 12 baking settings for baking different types of bread and preparing different types of jam, cakes, and dough. In case you might be interested in small models, give this post about mini and small bread makers a read. If you are a beginner in baking bread, check out my selection of the best bread machines for beginners.