Can't decide which home bread maker to go for?
Would you like to know more about bread making machines for home use?
In that case, keep reading this article where you can check out various models currently available on the market. Reading their reviews to find out more about their characteristics can help you decide which one is good for your needs. Likewise, you can find out about the features to look for so that you can find a quality product that is long-lasting and suits your needs.
The Rundown
Best 6 Home Bread Making Machines
Best Of Best Home Bread Maker
Zojirushi Home Bakery Virtuoso
2-Pound Horizontal Loaf
This bread making machine for home features a horizontal bread pan that can bake a 2-pound bread loaf in a traditional rectangular shape. The LCD control panel located on the top surface of the unit is user-friendly and offers 10 pre-programmed settings to choose from. You can select between regular and quick baking settings.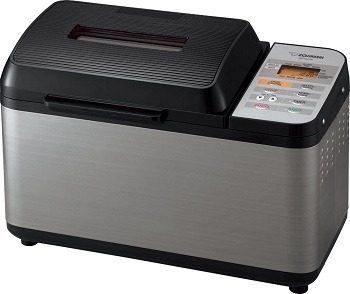 Versatile Courses
The baking settings this unit offers include basic and basic wheat, as well as quick bake options, sourdough starter, and other dough, jam, and cake options. The homemade setting lets you program your customized recipes with three memory functions. A gluten-free course is also available, and you can customize the loaf by choosing between three crust settings.
Two Kneading Paddles
In case you would like to have fresh bread at a certain time of the day, you can delay the baking cycle up to 13 hours to achieve that. The non-stick bread pan is removable from the horizontal bread machine and features two kneading blades to mix the ingredients more thoroughly for a better rise.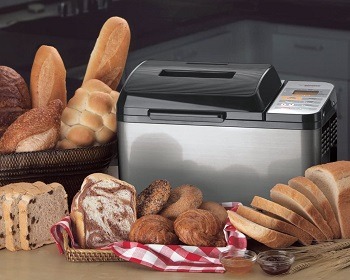 Even-Heat Distribution
The lid features a viewing window for monitoring the baking process. At the same time, the additional heater on the lid delivers for more even baking. To start baking, attach the blades, add the measured ingredients, starting with liquids, then powders and yeast, and finally, select a baking course.
Short Description:
for baking rectangular-shaped 2-pound loaves
LCD control panel with 10 pre-programmed settings
non-stick bread pan and two kneading blades
lid with a viewing window and additional heater
for various bread types, jam, and cake
Best Chapati Bread Making MAchine For Home
StarBlue Roti Maker
Non-Stick Plates
This chapati machine for home use requires you to plug it into a power outlet to be able to create round thin chapati which can then be baked at an adjustable temperature. Compared to the other home bread makers, it features two round and flat plates with a non-stick coating to allow chapati to be released from the unit without sticking and breaking. This product can be used for making tortillas, roti, and chapati at home.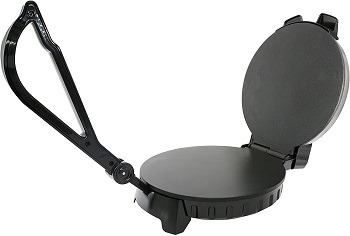 User-Friendly
Two indicator lights help you to know when the unit is turned on and when it reaches the set temperature so that you can start preparing your favorite flatbreads. The high-quality stainless steel body is erosion-resistant and sturdy for long-lasting use. To clean the unit, slightly wet cloth should be used.
Temperature Adjustments
To set up the temperature, use the turning knob located on the top side of the unit. A pressing handle will help you create round and thin shapes once you put a small dough ball between the plates. When flipping chapati, do not use metal utensils to prevent damage to the non-stick plates.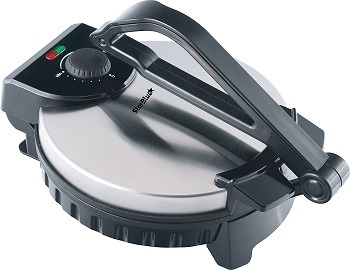 Easy To Store
The 10-inch cooking surfaces are ideal for making any from chapati, roti, tortillas, and naan bread on this tortillia/roti maker. After you are done cooking and the unit is cleaned, you can easily store it without taking up too much space. Wrap the cord around the base, and then store the unit standing up to save space in the cupboard.
Short Description:
two 10-inch non-stick flat round plates
can be used for roti, chapati, tortillas, etc
turning knob for temperature adjustments
features two indicator lights for precise cooking
pressing handle helps to make thin and round shapes
high-quality erosion-resistant stainless steel body
Best Stainless Steel Home Bread Makers
KBS Pro Bread Machine
17 Menu Programs
With this best home bread maker, you can bake different types of bread in sizes up to 2 pounds. It features 17 automatic programs, including French bread, gluten-free, whole wheat, but can also be used to prepare jam out of fresh fruit, such as strawberries. It is constructed with attractive stainless steel and tempered glass materials that can easily blend into any type of kitchen decor.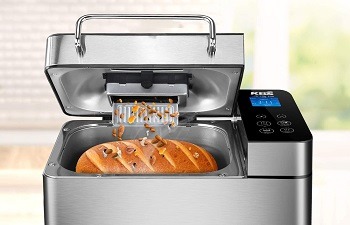 Digital Touch Controls
Apart from the viewing window on the lid, the top surface also features a digital touch control panel with a screen display for easy setups. Apart from choosing between 17 menu settings, you can also choose between light, medium, and dark crust shades. Likewise, you can bake 1-pound, 1.5-pound, and 2-pound loaves.
Versatile Bread Needs
Among the 17 baking courses, you can choose soft, sweet, French bread, multigrain, or milky loaves, as well as cake, jam, and yogurt. Sourdough, gluten-free, and raw dough options are also available. Once the ingredients are added to the bread pan, they will be mixed, kneaded, and fermented for baking.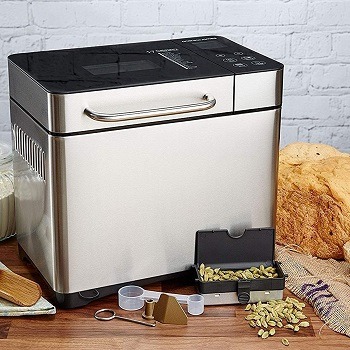 Ceramic Non-Stick Pan
The ceramic pan for baking bread features a non-stick layer and is dishwasher safer for healthier eating and easier cleaning. By choosing this bread making machine for home, you can bake various bread types at home, and even enjoy homemade yogurt, jam, and cakes.
Short Description:
17 automatic programs to choose from
bakes various bread types, jams, cakes
stainless steel and tempered glass construction
the non-stick ceramic bread pan is dishwasher safe
1-pound, 1.5-pound, and 2-pound bread loaves
light, medium, dark crust colors available
multigrain, French, soft, sweet, gluten-free bread
Best Cheap Bread Making Machine For Home
Oster Home Bread Making Machine
12 Baking Cycles
This type of the best home bread maker can be found for the price of around 90 dollars on Amazon, which is very affordable when compared to some models that cost hundreds of dollars. It offers three loaf sizes to select from and features 12 programs for various baking cycles. Apart from bread, you can also use this cheap bread machine to make jams and dough.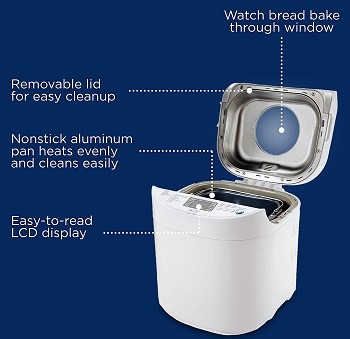 13-Hour Bake Delay
Even if you want to bake a loaf of bread more quickly, or delay the start to enjoy fresh bread at any time at home, with this product you can do so. You can program the 13-hour timer to delay baking or choose an express baking cycle to make bread in less than an hour. Bread loaves can be 1 pound, 1.5 pounds, and 2 pounds.
Alerts For Add-Ins
Apart from baking soft, sweet, basic, or French bread, this model can also make bagel dough, jam, and dough for pizza or rolls. When baking with nuts and fruits, the home bread maker will let you know when to add those ingredients with the help of audible signals.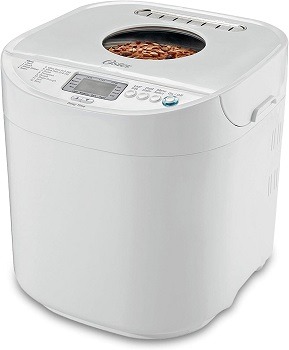 Includes Recipes
You can monitor the bread when it is baking by taking a peek in through the viewing window on the lid. For making many delicious baked goods, this bread making machine for home comes with tested recipes. Upon adding the ingredients, it will mix, knead, and rise the dough and then bake it.
Short Description:
12 programs and 3 loaf sizes to select from
1-pound, 1.5-pound, and 2-pound loaves
it bakes bread and makes jams and dough
13-hour delay timer and express courses
it comes with tested recipes to try out
Best Small Home Bread Makers
Zojirushi Home Bread Machine
1-Pound Bread
Unlike the rest of the best home bread maker models, this unit comes in a significantly smaller size, engineered to bake 1-pound bread loaves. It is ideal for smaller families and households that want to bake bread at home, without wasting any food. It features an LCD control panel that is used to select between settings for bread, dough, and jam.
Small Size
As it comes in a small size, it is especially suitable for small and busy kitchen spaces. It is 8.5 inches wide, 11.25 inches long, and 12.25 inches high. To transport it and store it easily, it comes with a convenient carrying handle. The kneading blade and the bread pan feature a non-stick coating for easier cleaning.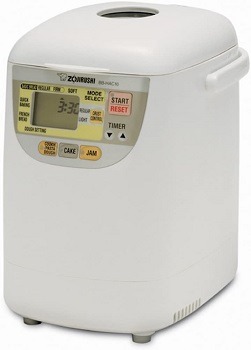 Custom Options
By using the control panel with an LCD screen, you can choose between firm, regular, and soft texture of the crust, and basic, French, and quick baking options. This model can also be used for making 1-pound cakes, but also jams, and different dough types, including cookie and pasta dough.
User-Friendly
By choosing to use the quick cycle for baking, you can have fresh and warm bread ready in under two hours. The delay option lets you use the 13-hour timer to bake bready in the morning, or the afternoon after work. This small bread machine is user-friendly and works by following a few easy steps.
Short Description:
1-pound bread loaves for smaller households
includes settings for bread, dough, jam
carrying handle for transport and storage
non-stick kneading paddle and bread pan
includes quick cycle and 13-hour delay timer
choose between firm, regular, soft crust
Best Convection Home Bread Maker
Cuisinart Home Bread Maker
Convection Air Circulation
Compared to the other models of the best home bread makers in this article, this bread machine uses a special convection feature to circulate air through the unit and create superior texture and crust color on the loaves. It can produce 1-pound, 1.5-pound, and 2-pound loaves and lets you choose between 16 programs.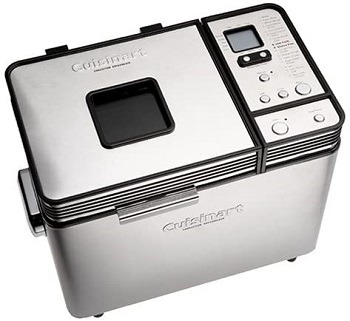 Over 100 Combinations
These preprogrammed settings include white, whole wheat, gluten-free, low carb, but also French bread, and different dough types. To customize the bread loaf to your liking, you can also choose between light, medium, and dark crust colors. By combining all the settings, you can enjoy over 100 bread, cake, dough, and jam options.
Additional Features
In case you want to bake with fruits or nuts, the tone indicator will remind you when to add these ingredients. Likewise, the beep sound can also notify you to remove the paddle or shape the bread before baking. For convenient use, you can also choose the bake-only option, a 12-hour delay timer, and a 15-minute pause.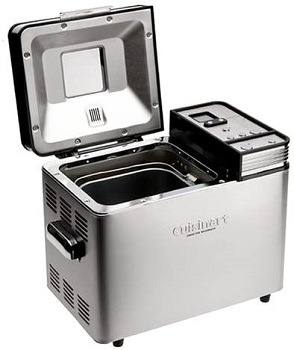 Simple Operation
Featuring a stainless steel interior, this convection bread machine also has a window on the lid for viewing the baking cycle. The control panel with buttons and a screen display is located next to the top lid for easy access and simple operation.
Short Description:
superior texture and crust with air circulation
1-pound, 1.5-pound, and 2-pound loaves
16 pre-programmed settings available
over 100 bread, jam, dough, and cake combinations
audible tones indicate when to add mix-ins, etc
bake-only option, 12-hour delay, 15-minute pause
includes gluten-free and low carb programs
What To Consider In A Bread Making Machine For Home?
Home bread makers come in different sizes and can produce different loaf sizes, as well. Featuring many different programs, these machines offer many baking options to choose from. When buying a bread maker, it is important to also consider some other features that make operation more easily and to make sure the unit is not too complicated to use.
Why Buy One? – Unlike buying bread in supermarkets and bakeries, homemade bread can offer a lot of benefits for health. When you make bread at home, you get to control which ingredients go in, to make sure they are fresh and healthy, without a lot of preservatives. Moreover, you can make sure that you always have your favorite bread ready, and you can also save some money.
Size – Available in mini and regular sizes, bread machine models are ideal for all types of kitchens. If you have a small cooking space, a compact space-saving model could be the one for you. That way you can make sure it fits into your small space without taking up too much room on the kitchen counter. Usually, models with vertical bread pans are more compact than the models with horizontal ones.
Capacity – When choosing the machine model based on the loaf sizing, it will completely depend on your needs and your family demands. The market mostly offers home bread makers with loaf sizes between 1 and 2 pounds. You can either pick a model with customizable loaf sizing or pick a model with a 1-pound or 2-pound capacity.
Programmed Settings – Most bread-making machines for home offers various baking cycles to choose from. Sometimes, apart from basic bread options, these models also have gluten-free and low carb options. Basic options include white, whole wheat, French, sweet bread, and more. Apart from bread, you can also use these units to make different types of dough and cake, and sometimes even jam.
User-Friendly – To make operation as simple as possible, look for models that are not too complicated to use. Non-stick bread pans and kneading blades are also welcome to make cleaning easier. Automatic dispensers for fruit and nuts are also convenient so that you don't have to wait around to add these ingredients at the right time.
To Wrap It Up
Our favorite model of home bread makers from this review article is the Zorijushi Home Bakery Virtuoso. It produces traditional 2-pound bread loaves and comes with 10 baking programs to make jam, cake, and bread. If this in-depth article about the best home bread maker models got you interested to learn more and check out other models, you can also read this article about the best electric bread machines and even check out the best electric roti maker models on the market.