Interested to learn about vintage toaster ovens available on the market?
In that case, read this article!
Here you can check out reviews of six different models that all have an antique or vintage vibe. Besides their qualities and applications, you can also read about technical features to have in mind when buying such a kitchen appliance. So, if you are looking for a retro coffee and toaster oven combo, air fryers, broilers, and models in funky colors, continue reading.
The Rundown
Best 6 Antique/Vintage/Retro Style Toaster Ovens
Best Of Best Vintage Toaster Oven
Nostalgia Retro Toaster Oven
Retro Details
This vintage toaster oven has a large 0.7 cubic feet capacity that can fit two 12-inch pizzas inside at once on two racks. It comes in aqua color and features retro-looking turning knobs and a retro door with a handle. The door has an oval glass window for monitoring the baking processes inside the oven, without having to interrupt them.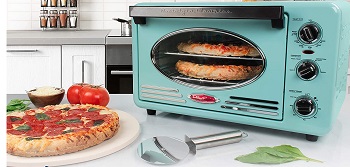 Adjustable Features
The three turning dials are to be used for adjusting the temperature, choosing between available cooking functions, and setting up a timer. The temperature is adjustable up to 450°F, while the timer can be set up for up to 60 minutes. Besides that, it also offers a stay-on setting.
12-Slice Size
If you set up a timer, the unit will make a ding noise to alert you when your food is done. The large convection toaster oven offers settings for baking, pizza, and toast, as well as broiling, and convection baking. When toasting bread, you can fit up to 12 slices into the oven at once.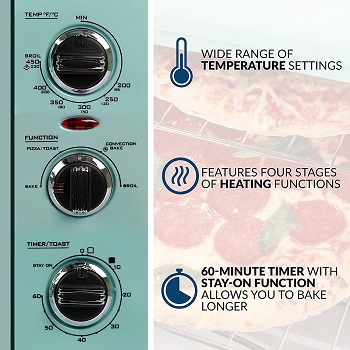 Easy Maintenance
The unit comes in a bright color and will give your kitchen a retro highlight. It is easy to keep clean, as all the crumb tray, baking pan, and wire racks are removable for maintenance. The included baking pan is made of aluminum and comes along with nickel wire racks.
Short Description:
features a large 0.7 cubic feet capacity
fits 12 slices of bread, two 12-inch pizzas
aqua color and a retro-looking design
temperature adjustable up to 450°F
baking, pizza, toast, convection baking, etc
Best Coffee Maker Vintage Toaster Oven
Elite Antique Toaster Oven
One-Station Breakfast
This retro coffee maker toaster oven combo is a great vintage addition to your kitchen, allowing you to prepare your whole breakfast on just one station in the kitchen. The unit features a 6-inch griddle on top of the unit, a toaster oven, and a 4-cup coffee maker. You can prepare toast, eggs, and coffee every morning easily.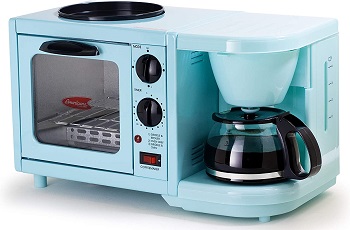 Coffee, Toast & Food
In one countertop toaster oven appliance, you get functions of three different ones, making this a great 3-in-1 vintage toaster oven. Included with the unit, you will also get a removable tasting pan, a 4-cup coffee carafe, and a removable and reusable coffee filter. The top griddle is non-sticking for convenient use.
Time & Space-Saving
By using this station for all your morning kitchen routines, you will save both time and space spent in your kitchen. It allows you to fry bacon and eggs, toast bread and pastries in a one-slice toaster oven, and prepare coffee all at the same time. The first turning dial allows you to choose a function, while the second is used for setting up a 15-minute timer.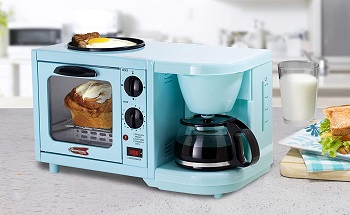 Available Options
The first dial offers you to select between griddle and broiler option, oven only, and oven and griddle option. To turn on a coffee maker, you will simply have to turn one switch on. The coffeemaker even has a pause-and-serve function for convenience, as well.
Short Description:
3-in-1 breakfast station for countertops
the coffeemaker brews up to 4 cups of coffee
features also a 6-inch griddle on top
the toaster oven for one slice of bread
a 15-minute timer and a coffeemaker switch
makes coffee and breakfast at once
Best Air Fryer Vintage Toaster Oven
Fitness Countertop Oven
Distributes Heat Evenly
This vintage toaster oven offers various cooking options, such as air frying, drying, and roasting foods, defrosting, and more. It features three dials for setting up the cooking program, temperature, and timer. For all the different cooking functions, the featuring glass tubing heating rods maintain even heat distribution.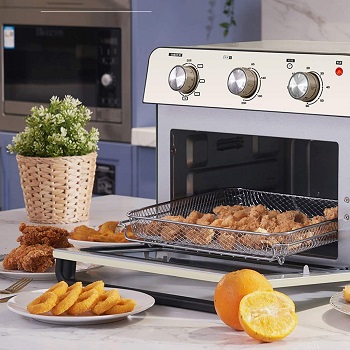 Included Accessories
This toaster oven lets you toast, bake, broil, and even keep food and leftovers warm. To be able to use this countertop unit for various cooking needs, you will get a deep fryer, a baking tray, a frying basket, and a grilling net. Depending on the food you want to prepare, you can set up a timer for up to 60 minutes.
User-Friendly & Safe
The temperature can be adjusted up to 230°C, for baking pizza, roasting chicken, broiling fish, toasting bread, and more. For easy viewing of the cooking process, the oven has a built-in light and a glass window on the door. The glass is double explosion-proof with resistance to high temperature.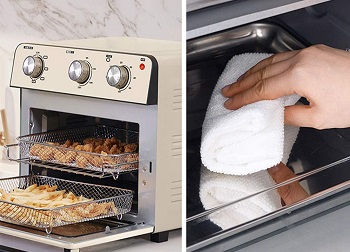 Vintage Beige
The multifunction toaster oven comes in beige color and gives off a vintage vibe, highlighting the kitchen space. It is 392 millimeters long, 365 wide, and 345 tall. It comes with a baking pan that measures 32 by 28 centimeters. The large capacity is enough to prepare family-sized meals.
Short Description:
glass heating tubes for even distribution
dials for functions, temperature, and timer
toast, broil, bake, keep-warm options
60-minute timer, 230°C maximum temperature
it bakes pizzas, chicken, broils fish, etc
a frying basket, a baking tray, a grilling net
vintage design with a beige body-color
Best 4-Slice Vintage Toaster Oven
Brentwood Toaster Oven
Adjustable Rack Positions
This vintage toaster oven comes in red color, featuring two turning knobs for setup. It has a capacity of 4 slices of bread and is also available in a combination of black and silver colors. The included wire rack has a lower and a higher position inside the oven.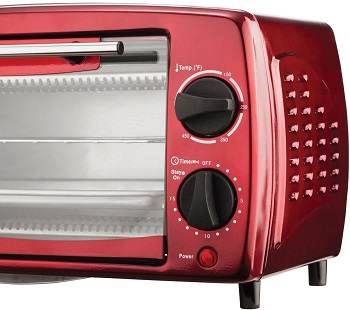 Wide Temperature Range
This stainless steel toaster oven lets you set up the cooking temperature between 50 and 450 Fahrenheit degrees. That way, you can toast, but also bake and broil inside this oven. When toasting bread, you can set up a timer for up to 15 minutes to get the shade of the bread according to your preference.
Auto Shut-off
For other cooking needs, you can choose the stay-on timer function, allowing you continuous baking and broiling for over 15 minutes. If you use the 15-minute timer, the unit will automatically shut-off once the time is up. For broiling, the unit features two quartz heating elements, one at the top, and one at the bottom.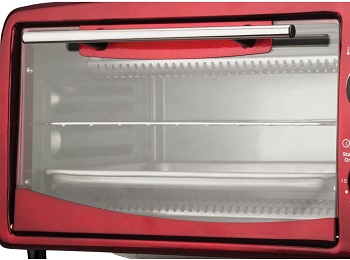 Durable Zinc Cavity
The interior of the oven is zinc-coated for durability. To access the drip tray that drops down for cleaning, simply lean the unit backward. For safe use, the power indicator light stays on when the unit is plugged in. The included food pan and wire rack are to be used for cooking versatile meals.
Short Description:
red color with vintage details
two turning knobs for setup
temperatures between 50 and 450°F
15-minute timer and a stay-on option
for toasting, baking, and broiling
Best Broiler Vintage Toaster Oven
Elite Americana Toaster Oven
50's Diner Style
This toaster oven broiler comes in mint blue color and is designed in a 50's diner vintage style. It is large enough to fit a 12-inch pizza inside, or 6 slices of bread at once. It features three knobs for setting up the cooking temperature, timer and selecting between available cooking functions.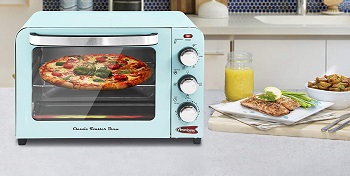 4 Cooking Functions
When toasting bread, you can set up a timer to control the toasting and get the exact shade and texture on the bread slices. The first of the three turning dials allow you to set up a temperature between 200 and 475 Fahrenheit degrees. With the second dial, you can choose between toast, bake, broil, and keep-warm functions.
Timer & Stay-On
The heating elements provide the oven with uniform heating for better baking results. Depending on the food you want to cook, you can even set up a timer for up to 60 minutes. The stay-on feature is a great addition for continuous cooking. The broiler function is used for preparing many meals for your family.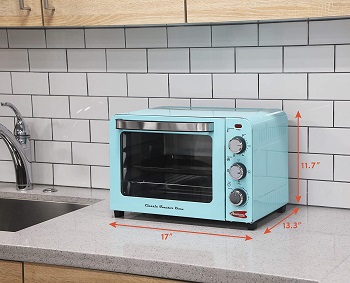 Easy-Slide Pan & Rack
This vintage toaster oven won't take up a lot of space on your counter while preparing meals for your family. It comes with a roasting pan and a grill rack that are convenient to use as they easily slide in and out. You can bake cookies, make artisan pizza or bake frozen pizza, and prepare roast dinners.
Short Description:
50's diner retro style in mint blue
fits a 12-inch pizza or 6 slices of bread
functions for broiling, toasting, baking
200 to 475°F for versatile cooking
includes a baking tray and a grill rack
60-minute timer with stay-on option
Best Aqua Vintage Toaster Oven
Nostalgia Retro Breakfast Station
3-In-1 Appliance
With this breakfast station, you can prepare coffee, toast, and eggs by using just one appliance in the kitchen. It comes in aqua color and features a toaster oven, a coffeemaker, and a family-sized non-stick griddle. The griddle is removable for easy cleaning, along with the crumb and oven trays, and the oven rack.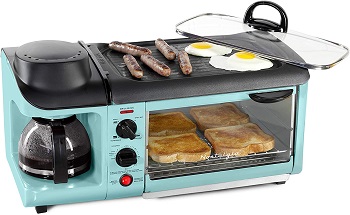 4-Slice Size
The toaster oven features a see-through glass door for viewing the baking processes. It can fit 4 slices of bread or a 7-inch pizza inside. Featuring a 30-minute timer, you can use it for not just toasting bread, but also for baking cookies, casseroles, and more. The timer knob offers settings for light, medium, and dark toast.
4-Cup Carafe
The griddle on top of the unit can be used for making eggs, hashbrowns, sausages, omelets, and pancakes and features a glass lid. The coffeemaker can hold up to 4 cups of coffee and includes a glass carafe, a scoop for coffee, and a reusable filter.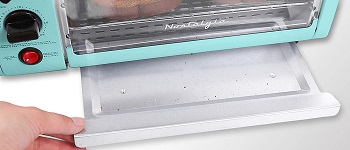 For Campers & RVs
This 3-in-1 unit is a great choice if you love teal, turquoise, and aqua toaster ovens and want to save space in your kitchen and small apartment. It is also suitable for use in campers and recreational vehicles. A crumb tray holds all the crumbs and grease for clean countertops.
Short Description:
3-in-1 breakfast station in aqua color
a toaster oven, a coffeemaker, a griddle
the oven fits 4 slices of bread, a 7-inch pizza
light, medium, and dark toast options
4-cup coffeemaker with a reusable filter
for small spaces, campers, RVs
a non-stick griddle for breakfast foods
What To Consider In Vintage Toaster Ovens?
The market offers antique toaster ovens in different sizes, colors, and with different cooking functions available. Firstly, make sure to opt for a model that offers enough capacity for your needs and consider the cooking functions it provides you with. Secondly, take into consideration the ease of use and ease of maintenance.
Retro Style – Toaster ovens can be designed in vintage and antique looks for anyone who is a lover of the past times. They usually come in bright colors and can be used for versatile cooking while giving your kitchen counter a vintage highlight.
Capacity – The marker offers both smaller and larger ovens. Some can hold only one or two slices of bread, while some can be used for toasting up to 12 slices of bread at once, or baking even two 12-inch pizzas simultaneously. Most are available in sizes that fit on kitchen countertops without taking up too much space.
Cooking Functions – Besides toasting bread, these ovens can usually also bake cookies, pizza, make roasted dinners, broil foods, etc. Some models offer many combos, such as toaster oven air fryer dehydrator models. Some of the retro-style toaster ovens even let you cook coffee and make breakfast foods on a griddle at once.
Ease Of Use – A toaster oven needs to be user-friendly so that you don't have to spend a lot of time learning how to use it. Firstly, make sure the cooking functions are labeled clearly and that the control panel is intuitive to use. That way, anyone will know how to operate the unit and use it to its full potential.
Maintenance – Some vintage toaster ovens have dishwasher safe contents, such as oven racks and baking trays for easy cleaning. They are easy to remove from the oven, along with the drip tray which collects grease and crumbs. The crumb tray should be often cleaned, as well as the other removable parts.
To Wrap It Up
The Nostalgia retro toaster oven is our favorite vintage toaster oven that can bake two 12-inch pizzas at once or 12 slices of bread. It lets you adjust the temperature up to 450°F, and features a 60-minute timer. It has a retro-styled interior and can be used for baking, convection baking, pizza, toast, and more. In case you are interested in other specific styles, consider our selection of yellow toaster ovens available on the market. If you love pink hues, check out the best pink and purple toaster ovens.