Have you been trying to identify the best traits in stainless steel toaster ovens?
Unsure of which model to invest in?
In that case, continue reading this article where you can read reviews of black stainless steel, 2-in-1, small, convection, and toaster models suitable for countertop use. Besides that, you can also read about technical specifications and features that make the best toaster ovens on the market so that you know exactly what to look for.
The Rundown
Best 6 Stainless Steel Toaster Ovens
Best Of Best Stainless Steel Toaster Oven
Oster Digital Countertop Toaster Oven
One-Touch Programs
This Oster stainless steel toaster oven has an extra large capacity for family-sized meals. It cooks and bakes even and fast thanks to the convection feature. It features a digital control panel, so that programs such as toast, bake, broil, defrost, warm, and pizza are just a click away.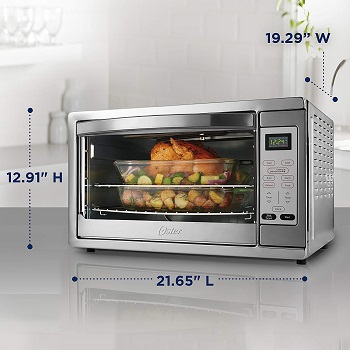 Extra-Large Capacity
The extra large convection countertop oven has an interior that can fit up to 18 slices of bread at once, even a family-sized chicken, or two take and bake pizzas. It fits two oven racks inside and comes included with a baking pan, as well as a broiling rack. The temperature ranges between 200 and 450°F for versatile cooking.
Additional Cooking Space
The timer can be set up for up to 90 minutes and will automatically shut off the unit after cooking is done. It will keep the kitchen cooler, save you energy, and serve as a great alternative to a conventional oven. At the same time, it can be used as an extra cooing appliance when preparing large amounts of food for parties and holidays.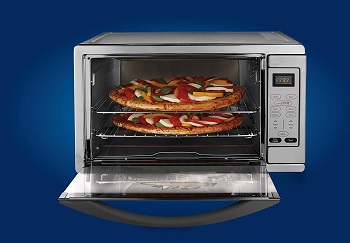 Turbo Convection
The two oven racks offer adjustable positions inside the oven, depending on the food you want to cook inside. A broiling rack is integrated inside the oven, and the included baking pan makes different cooking needs very easy. The turbo convection baking feature will make cooking much faster.
Short Description:
extra large capacity for family-sized meals
convection baking for fast, even results
toast, bake, broil, pizza, warm, defrost, etc
adjustable temperature from 200 to 450°F
integrated broiling rack, baking pan included
Best Black Stainless Toaster Oven
Toshiba Convection Toaster Oven
Non-Stick Large Cavity
This black stainless steel toaster oven features a digital control panel with three control knobs for easy set up. Inside the large cavity, you can fit 6 bread slices or a 12-inch pizza, a 4-pound chicken, cookies, or casseroles. The interior is non-stick coated and offers two rack positions, while the door handle stays cool to the touch.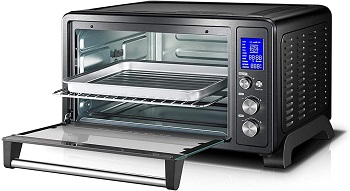 9 Versatile Programs
The temperature control knob allows you to set up the cooking temperature between 150 and 450 Fahrenheit degrees. The digital control panel offers 9 cooking programs, including toast, bake, broil, convection, rotisserie, pizza, bagel, and more.
Included Accessories
Included with the black stainless toaster oven, you will get a removable crumb tray, a baking rack and pan, a rotisserie kit and lifter, and a rack clamp. The timer can be adjusted up to 2 hours by turning a time control knob. The toaster oven black stainless steel model cooks evenly thanks to the convection fan and the upper and lower heating elements.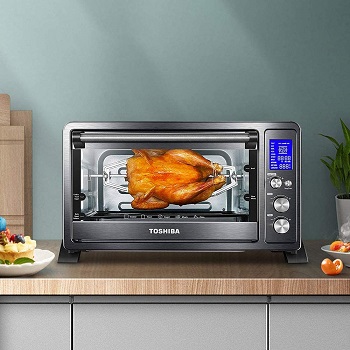 Sleek & Easy To Use
The rotisserie option revolves meat on the fork slowly for uniform browning and crusting on the chicken. With the stainless steel exterior and black color, this appliance gives a sleek style to any kitchen space. The bright display is easy to read, while the functions are easy to set up.
Short Description:
fits 6 slices of bread, a 12-inch pizza
non-stick interior with two rack positions
adjustable temperature between 150 and 450°F
9 programs available on the digital panel
rotisserie, pizza, bagel, toast, bake, broil, etc
stainless steel construction in black color
Best 2-In-1 Stainless Steel Toaster Oven
Hamilton Beach Toaster Oven 31156
Simple Lever Switch
This Hamilton Beach stainless steel toaster oven differs from the other models in this review article as it features both a toaster oven and toaster slots on the top. To switch between modes, simply slide the lever between toaster and oven settings. The oven is big enough to fit a 9-inch pizza inside, while the toaster slot is wide enough to fit bagels and artisan bread slices.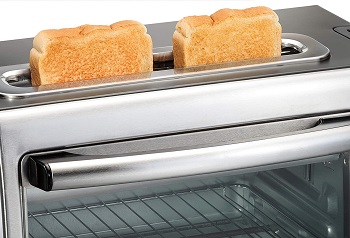 Temp & Timer Controls
The 2-in-1 toaster oven stainless steel model features a turning knob for setting up the temperature up to 450°F, allowing you to bake, broil, and toast. The timer control knob lets you set up the time for up to 60 minutes, and even features a stay-on function.
Space-Saving Unit
The Hamilton Beach 31156 countertop toaster oven stainless steel model is constructed from stainless steel material and will help you declutter the kitchen space by incorporating both an oven and a toaster in one appliance. When toasting bread, you can easily select the toast shade to your preference.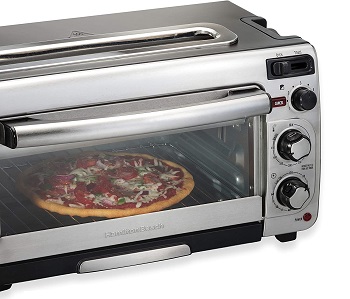 Adjustable Rack Positions
When toasting bread in the slot, the bread lifter makes it easy to take the bread out. The toaster oven with toaster on top offers two positions for the oven rack, so that it can be used for making muffins, baking potatoes, casseroles, and more. If you set up the cooking timer, the unit will shut off automatically after the time is up.
Short Description:
features a toaster slot and a toaster oven
lever slide switches between the two modes
adjustable temperature, a 60-minute timer
a shade selector for customization
the oven fits a 9-inch pizza inside
a wide toaster slot for bagels and artisan breads
the oven can toast, broilg, and bake foods
Best Small Stainless Toaster Oven
Black And Decker 4-Slice Toaster Oven
4 Cooking Modes
This small stainless steel toaster oven is designed to fit 4 bread slices or a 9-inch pizza. Circulating the hot air throughout the oven, this appliance possesses natural convection for fast and even cooking results. The function control knob is used for choosing between convection bake, toast, and broil options, or the keep-warm setting.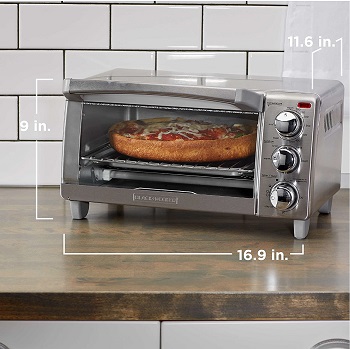 Adjustable Toast Shade
The temperature control knob is used for precisely setting the temperature between warm settings and 450 Fahrenheit degrees. The timer knob lets you set up the cooking time for up to 30 minutes, featuring a stay-on function, and offering settings for different toast shades.
Compact Size
Included with the small convection toaster oven, you will get a crumb tray, a broil rack, and a baking pan for easy operation. Both the rack and the pan are designed to fit inside the oven perfectly. Thanks to its compact size, it won't take up too much of the precious countertop space, while providing you with versatile cooking options.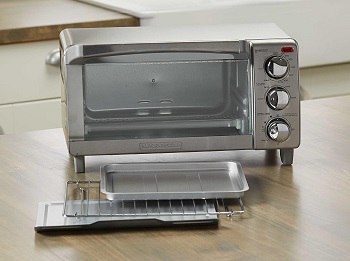 Shiny & Durable
The stainless steel mini oven is 9 inches tall, 16.9 inches wide, and 11.6 inches deep. Constructed from stainless steel, the Black and Decker stainless toaster oven will be easy to clean, giving a shiny touch to your kitchen decor, while staying durable. The viewing window is wide for keeping an eye on the cooking progress.
Short Description:
it fits 4 bread slices, a 9-inch pizza
fast and even cooking with convection
convection bake, broil, toast, keep-warm
adjustable temperature and toast shade
a broil rack, baking pan, crumb tray included
Best Convection Stainless Steel Toaster Oven
Calphalon Toaster Oven Black
40% Faster Results
This Calphalon toaster oven is constructed from stainless steel material and comes in the combination of black and dark grey colors. It is equipped with quartz heating elements for 40% faster heating and preheating. The interior of the oven is also large enough to fit up to a 12-inch pizza inside without problems.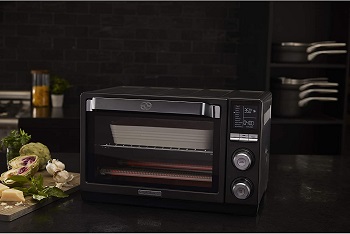 11 Available Settings
The stainless toaster oven features a digital screen display for easy setup, offering 11 cooking presets. It can be used for toast, bake, roast, broil, pizza, bagels, cookies, defrosting, dehydrating, and even reheating and keeping food warm. Setups are very straightforward as the interface is very intuitive to use.
Included Pans & Racks
Included with the digital convection toaster oven, you will also get a wire rack, and pans for baking and pizza, as well as a dehydrator rack. To monitor the cooking process, you can take a peek inside through the glass door, and the interior light will also be of help.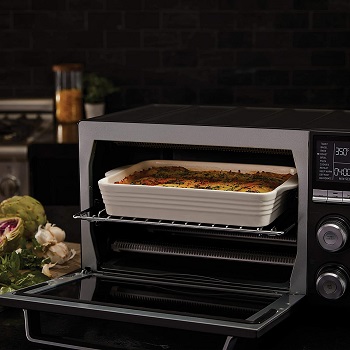 Durable Metal Construction
The metal construction makes this stainless steel convection toaster oven durable for long lasting use, with a sleek design thanks to the black shiny appearance. With the convection feature, you will achieve crispy food and be able to prepare apple chips, beef jerky, and other foods with the deyhdrating option.
Short Description:
quartz heaters for 40% faster cooking
intuitive control panel with 11 options
bake, toast, broil, pizza, dehydrate, defrost, etc
large enough to fit a 12-inch pizza inside
baking and pizza pans, dehydrator and wire racks
a see-through glass door and an interior light
Best Countertop Stainless Toaster Oven
Breville Smart Compact Toaster Oven
8 Preset Programs
This countertop toaster oven intelligently distributes stable and accurate heat over the four featured quartz heating elements for perfect results each time. It offers 8 cooking settings, including toast, bake, broil, roast, as well as options for pizza, bagels, cookies, and even reheating food.
Generous Size
Inside the stainless toaster oven, you can fit a 12-inch pizza, a chicken for roasting, a 6-cup muffin tray, or 4 bread slices at once. When setting up the cooking program, the digital control panel will calculate the time and temperature for cooking. The LCD screen is orange before and during cooking, and turns blue once cooking is done.
Straightforward Maintenace
To be able to easily clean the Breville smart oven with air convection, the toaster oven stainless steel model is non-stick coated on the interior walls. The crumb tray is easy to slide out for cleaning, as it collects drips, grease, and crumbs inside the oven.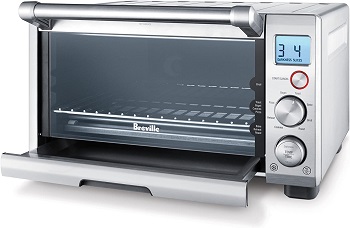 Space-Saving Design
The compact oven saves space on the kitchen counter, while being of great help for preparing breakfast, lunch, and dinner. Its silver color can easily fit into any kitchen style, while staying durable thanks to the stainless steel material.
Short Description:
intelligent heat distribution for perfect results
features four quartz heating elements
8 cooking settings on the backlit LCD screen
calculates the cooking time and temperature
easy-to-clean non-stick interior oven walls
compact design for saving countertop space
toast, bake, broil, roast, pizza, bagels, cookies, etc
What To Consider In Stainless Toaster Ovens?
To get the best toaster oven with stainless steel construction, consider among the different sizes available on the market. Likewise, make sure it is easy to use and that it offers cooking programs you are willing to try out. Among other things, also check out the cooking accessories it comes with to make operation as easy as possible.
Stainless Steel Material – If you want a timeless looking toaster oven for your kitchen space, then you won't go amiss with a stainless steel body construction. It is durable for long-lasting use, while also giving the space a shiny look  with a sleek design. It usually comes in silver and black colors.
Sizing – To get the best stainless toaster oven for your needs, make sure its size is appropriate for your demand. The market offers smaller models that hold up to 4 bread slices of once, with 6-slice models being the most common. However, if you need bigger capacities, the market has a solution, offering models that can hold even over 10 slices of bread at once.
Cooking Options – A toaster oven can usually do more than just toast bread. Some models allow you to also bake and broil, while some go a step further, offering cusomt presets for pizza, bagels, cookies. Some models even let you air fry, dehydrate, and can be used for rotisserie, and more.
Ease Of Use – A toaster oven should always feature a control panel that is intuitive to use with clearly labeled functions. If the interface is easy to use, you won't have to spend a lot of time on learning how to operate it. Smart toaster ovens are especially easy to set up with one-click operations and even smartphone and voice control.
Accessories – A baking pan and a wire rack are usually included with the purchase of the toaster oven. A crumb tray is usually included and easy to remove so that you can clean it from grease, drips, and crumbs. Sometimes, you will even get a pizza pan, rotisserie kits, and other accessories for easy operation.
To Wrap It Up
As the best stainless steel toaster oven, we have chosen the Oster digital stainless steel countertop oven. It has a very large capacity that fits up to 18 bread slices at once. With the digital control panel, cooking programs are just one click away. The stainless steel material is easy to keep clean and also durable. If you wish to purchase a model with cool-touch body, consider some of the reviewed cool-touch toaster ovens. In case you are a fan of French doors on kitchen appliances, check out our selection of double door toaster ovens.