Looking to buy a small convection toaster oven?
In that case, read this article!
We have combed through the market in our quest to find the best compact convection ovens and chosen 6 different models to review for you. Besides the reviews, this article also offers you insight into qualities and features to keep in mind when buying a toaster oven to fit your demands.
The Rundown
Best 6 Small/Compact Convection Toaster Ovens
Best Of Best Small Convection Toaster Oven
Breville Convection Toaster Oven
5 Quartz Elements
If you are an avid lover of smart technology in kitchen appliances, this Breville smart oven convection toaster oven could be the one for you. It features element IQ to deliver the appropriate amount of power at the appropriate time. Featuring 5 quartz heating elements, it can be used for 9 different cooking functions.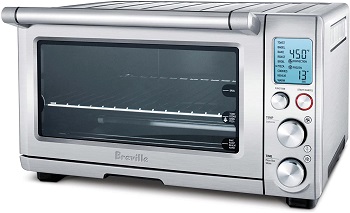 Versatile Presets
Among the 9 available presets, you can toast bread, bagels, make cookies, pizza, bake, broil, and roast foods. It even allows you to keep food warm or reheat it if necessary. The small convection toaster oven can fit up to 6 slices of bread at once or even a 13-inch pizza.
User-Friendly Design
The smart toaster oven features a backlit LCD screen that changes from blue to orange color during the cooking process. To choose between the presets, turn the function knob while focusing on the presets showing on the screen display. The temperature and timer knobs are also easy to turn for adjustments.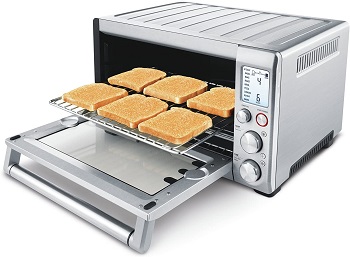 Uniform & Fast Results
You will get perfectly uniform results every time as the heat will be intelligently delivered across the 5 heating elements. The built-in convection fan circulates the air inside the oven and speeds the cooking program for faster results. It is not too large, making it a great compact choice for kitchen countertops.
Short Description:
smart cooking with 5 quartz heating elements
9 different cooking presets on the LCD screen
it fits 6 slices of bread, a 13-inch pizza
toast, bagels, pizza, cookies, roast, bake, broil
convection air fan circulates hot air for fast cooking
Best Countertop Small Convection Toaster Oven
Black & Decker Convection Toaster Oven
Easy To Setup
This countertop toaster oven is the right choice for people who need a model that is easy to set up by simply pressing a button. It features a screen display with pushbuttons for setting the timer and temperature and choosing between programs for cookies, pizza, frozen snacks, potatoes, and more.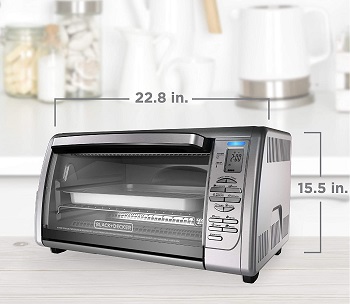 Hot Air Circulation
If you want fast results with uniform cooking, you can choose the convection setting that will circulate hot air throughout the oven cavity. The cavity can fit even a 12-inch pizza inside, and the convection setting is just a push of a button away.
Included Accessories
Inside the Black & Decker countertop convection toaster oven, you can bake, broil, toast up to 6 bread slices at once, prepare bagels, and more. A broil rack and a baking pan come included with this small convection toaster oven. For easy cleaning, the crumb tray is easy to remove.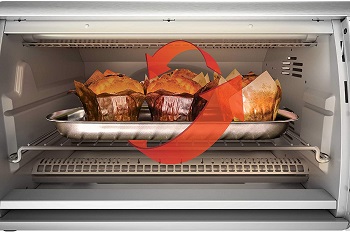 Two Rack Positions
Despite its compact design, the unit features a deep interior that can be suitable even for whole chickens, casseroles, and more. The rack offers two positions for easy fitting differently sized foods inside for better cooking results. The inner cavity is non-sticking for easy cleanup.
Short Description:
a screen display with pushbuttons for setup
the convection setting circulates hot air
it fits 6 bread slices, a 12-inch pizza
a broil rack and a baking pan included
non-stick interior, removable crumb tray
bake, broil, toast, potato, pizza, bagel, etc
Best Digital Small Convection Toaster Oven
Cuisinart Chef's Convection Toaster Oven
15 Presets
This digital convection toaster oven is compact for countertops but can fit a 13-inch pizza and even baking pans with 9 by 13-inch measurements. The interior has 0.95 cubic feet of capacity and comes with an interior light. The screen display offers 15 digital functions for versatile cooking with a selector knob and LED pushbuttons.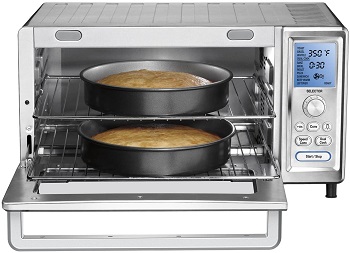 Auto-Eject Rack
Among the cooking functions, you can choose between dual cooking, speed convection, baking, broiling, toasting, roasting, keeping food warm, and much more. Inside the oven, the rack automatically ejects for the convenience of inserting and removing food easily.
Generous Capacity
The oven can fit up to 9 bread slices and even a 13-inch pizza inside. To get the perfect toasting results, you can customize the number of toast slices you put in the oven. For uniform cooking, sides the convection feature, the appliance has 5 quartz elements.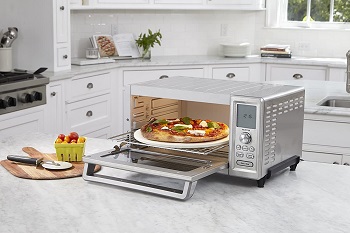 Easy To Use
The digital interface of the small convection toaster oven is user-friendly for fast and easy operation. The convection touch button allows you to turn on the convection feature at any time during the programs for fast and consistent baking results.
Short Description:
a 0.95 cubic feet capacity fits 9 bread slices
15 digital functions on the screen display
bake, broil, toast, roast, speed convection, etc
features an auto-eject oven rack
5 quartz elements for uniform cooking
the convection feature is a touch away
customizable slice number for toasting
Best Cheap Small Convection Toaster Oven
Hamilton Beach Convection Toaster Oven
Safe & Easy Cleaning
This Hamilton Beach 6-slice easy-reach convection toaster oven allows you easy access to the kitchen counter and the food inside. The door opens upward so the food can't spill on it, preventing messy glass doors, for easy cleaning. The control panel features three turning knobs for setting up the temperature, timer and choosing between cooking functions.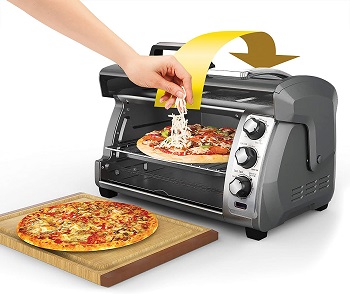 3 Cooking Options
The temperature control knob allows you to set up the temperature up to 450°F. The timer knob lets you set up the cooking time to 30 minutes and even features a stay-on feature. The function knob has three options available, including bake, broil, and toast settings.
Auto Shut Off
Included with the small convection toaster oven, you will get a wire rack and a baking pan. The wire rack has two positions available for fitting different types of food inside the oven. When you set up the timer, the ready-bell signal will alert you when the time is up and automatically shut off the appliance.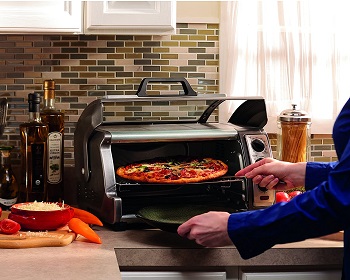 Affordable Price
This toaster oven can be purchased for the price of around 70 dollars on Amazon, making it a great toaster oven under $100. The convection function circulates air, baking food faster, and more even. Inside the oven, you can fit a 12-inch pizza and 6 bread slices.
Short Description:
features a roll-top door to easily reach food
features three control knobs for easy setup
adjustable temperature up to 450°F
convection air circulation for fast and even results
30-minute timer, bake, broil, and toast settings
Best 4 Slice Small Convection Toaster Oven
DeLonghi Convection Toaster Oven
Heat Insulated Door
This small convection toaster oven offers you 9 presets for cooking many different foods on your kitchen countertop. It is easy to use with a screen display and two turning knobs while insulating the heat to stay safe for your counter. It features a double glass door that locks the heat inside the oven, emitting up to 30% less heat.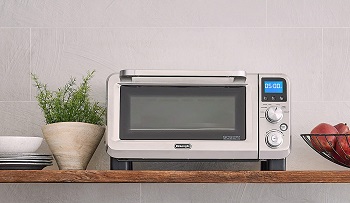 Fast & Precise
The oven offers up to 40% faster heating with the help of a convection fan and heating elements for precise results. It also saves energy and time by preheating up to 60% faster. You can monitor the cooking inside the oven with the interior light while peeking in through the see-through glass door.
Compact Design
The 9 preset programs take the guesswork out of baking cookies, pizza, broiling, baking, toasting, and more. It can even reheat and keep food warm. It is compact enough for countertops while allowing you to fit a whole chicken or pizza inside the oven cavity.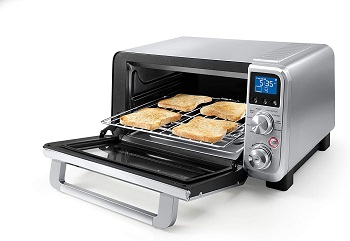 Included Contents
The interior cavity is non-stick coated and resistant to scratches for easy cleaning. A baking pan and a pizza pan are included with the purchase, along with a wire rack, and a removable crumb tray. Besides being compact for kitchen spaces, a stainless steel toaster oven also offers a sleek style to it.
Short Description:
9 cooking presets with a screen display
double glass door with 30% less heat emission
40% faster heating, 60% faster preheating
bakes pizzas, cookies, broils, toasts, etc
compact stainless steel appliance for countertops
non-stick and scratch-resistant oven interior
Best Pizza Small Convection Toaster Oven
KitchenAid Convection Toaster Oven
Broiler & Baker
This small convection toaster oven comes in silver color with a see-through glass door and a silver handle. It can be used not just for toasting bread, but also for keeping food warm, broiling, and baking pizza. With the convection technology, it bakes faster, while delivering uniform results.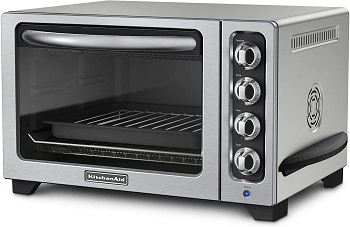 Adjustable Temperature
You can adjust the oven temperature up to 450°F by turning the temperature control knob. A 60-minute timer can be set up by turning the timer knob, reminding you when the dish is cooked and ready. The oven comes with two stainless steel racks to fit two 12-inch pizzas inside.
Stainless Steel Parts
Besides the oven racks, you will also get a broiling pan with a grill and a crumb tray, both made from stainless steel. Besides the pizzas, the oven can fit two cornish hens inside at once. The interior of the oven is non-stick coated for easy cleanup after cooking.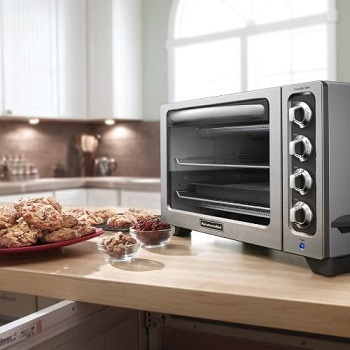 Large Capacity
When toasting, you can fit up to 6 slices of bread inside the oven at once. Likewise, you can use it for baking up to a 4-pound chicken and four chicken breasts. The convection bake setting will deliver faster and more even results. The toaster oven broiler is compact for countertops with a large baking capacity.
Short Description:
for toasting, baking, broiling, keeping warm
temperature adjustable up to 450°F
two stainless steel racks fit two 12-inch pizzas
easy-to-clean non-stick coated oven interior
it fits 6 slices, 4-pound chickens, 4 chicken breasts
includes a baking pan and a crumb tray
convection technology for faster baking
What To Consider In Small Convection Toaster Ovens?
Besides the size of the convection toaster oven, you should also consider its ease of use and check out which cooking options it offers you. Moreover, the market offers those small appliances with many different accessories to make operation as easy as possible. Finally, here you find out why a convection oven is very useful in the kitchen.
Convection Feature – A toaster oven with a convection feature works to circulate the hot air inside the oven. That way, it reduces cooking time, while also saving energy. It can provide more uniform results, making all toasting and baking more even. It makes food crispier on the outside and can even have a dehydrating effect.
Size – To get the best compact convection oven, the market offers models with a capacity of usually up to 6 bread slices. That way, they will have a generous capacity, while staying compact to save space on the countertop. Some models can fit even one or two 12-inch pizzas inside.
Ease Of Use – The best small convection toaster oven will be easy to use, with clearly labeled functions and controls. That way, it will save you the time you would otherwise have to spend on complicated setups and learning how to use them. For models with screen displays, look for ones that are easy to read with intuitive interfaces.
Cooking Options – A smart oven compact convection model will offer cooking presets with appropriate oven temperatures and cooking times. Multifunction toaster ovens will be able to do much more than just toast bread. They can usually also broil, bake, roast, keep food warm, bake cookies, and pizza. Some models can even air fry with convection, or be used for rotisserie, and more.
Accessories – Included with the appliance, you will usually get a baking pan and an oven rack. They should be easy to remove for cleaning. Some models come with multiple wire racks and even allow you to customize their position inside the oven. A crumb tray is also included for collecting grease and drips for easier maintenance.
To Wrap It Up
The best small convection toaster oven is the Breville convection toaster oven. We have chosen it as it is versatile in use with user-friendly design while offering fast and uniform results. It features 5 quartz heating elements for baking, broiling, toasting, pizza, cookies, and more. For small models that offer air frying possibilities, check out our selection of small air fryer toaster ovens. If you'd like to see which larger model that market has to offer, consider some of our large countertop convection toaster ovens.